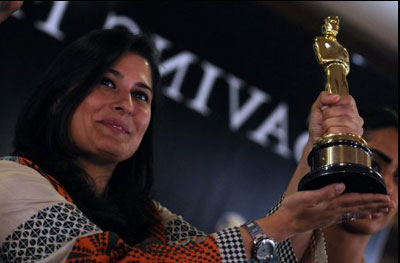 Pakistan acid women fear backlash over Oscar film
'British Pakistani victim of "honour killing "previously drank bleach'
Women in the Muslim World Need Genuine Reform
Islamic Society Rejects Family Law that Protects Women's Rights in Bahrain
Encyclopedia of Women in Islamic Cultures to Reach Larger Audience
Belly Dancers in Egypt Worry About Possible Islamist Takeover
Pak eases rules for married Hindu women to obtain ID cards
Complied by New Age Islam News Bureau
Photo: Pakistan acid women fear backlash over Oscar film
URL: http://www.newageislam.com/islam,-women-and-feminism/new-age-islam-news-bureau/arabic-school-in-new-delhi-forced-to-drop-plan-to-admit-girls/d/7429
--------
Arabic school in New Delhi forced to drop plan to admit girls
Harish V Nair
May 24, 2012
Two months ago, when the 350-year-old prestigious Anglo Arabic Senior Secondary School at Ajmeri Gate decided to open its doors to girl students, it was considered a significant move. But the school management soon realised that time was not yet ripe to start co-education as there was stiff opposition from many of its staff and local politicians. The decision has subsequently been revoked.
The issue came to fore before the Delhi High Court when a Muslim girl challenged the denial of admission.
"It is an issue of mindset. They had decided to take in female students, but it seems due to a particular situation prevailing there, they are unable to execute it", the bench headed by acting chief justice AK Sikri said.
"It was a welcome decision... Unfortunately some staff members created a fear psychosis and discouraged parents from sending their women wards to the school," said her petition.
School manager Atyab Siddiqui admitted to the problems in introducing co-education.
Justice Sikri has directe the Delhi Government standing counsel Najmi Waziri to take up the issue with the Directorate of Education.
http://www.hindustantimes.com/India-news/NewDelhi/Arabic-school-forced-to-drop-plan-to-admit-girls-HC-intervenes/Article1-860396.aspx
--------
Pakistan acid women fear backlash over Oscar film
May 24, 2012
ISLAMABAD: Survivors of acid attacks whose plight became the focus of an Oscar-winning documentary now fear ostracism and reprisals if the film is broadcast in Pakistan.
Sharmeen Obaid-Chinoy made history earlier this year when she won Pakistan's first Oscar, feted across the country for exposing the horrors endured by women whose faces are obliterated in devastating acid attacks. Her 40-minute film focuses on Zakia and Rukhsana as they fight to rebuild their lives after being attacked by their husbands, and British Pakistani plastic surgeon Muhammad Jawad who tries to help repair their shattered looks.
When 'Saving Face' scooped a coveted gold statuette in the documentary category in Hollywood in February, campaigners were initially jubilant. The Acid Survivors Foundation Pakistan (ASF) had cooperated on the film but some survivors now fear a backlash in a deeply conservative society - and are taking legal action against the producers.
"We had no idea it would be a hit and win an Oscar. It's completely wrong. We never allowed them to show this film in Pakistan," said Naila Farhat, 22, who features fleetingly in the documentary. She was 13 when the man she refused to marry threw acid on her face as she walked home from Independence Day celebrations. She lost an eye and her attacker was jailed for 12 years. After a long, painful recovery, she is training as a nurse.
"This is disrespect to my family, to my relatives and they'll make an issue of it. You know what it's like in Pakistan. They gossip all the time if they see a woman in a film," said Farhat. "We may be in more danger and we're scared that, God forbid, we could face the same type of incident again. We do not want to show our faces to the world."
Lawyer Naveed Muzaffar Khan, whom ASF hired to represent the victims, said legal notices were sent to Obaid-Chinoy and fellow producer Daniel Junge on Friday. The survivors, he said, "have not consented for it to be publicly released in Pakistan", adding that such agreement was required for all the women who featured in the film, no matter how fleetingly. Khan said the producers had seven days to agree not to release the film publicly in the country, or he would go to court to seek a formal injunction.
"They (survivors) were absolutely clear in their mind in not allowing any public screening as that would jeopardise their life in Pakistan and make it difficult for them to continue to live in their villages," he told.
But Obaid-Chinoy insisted the women signed legal documents allowing the film to be shown anywhere in the world, including Pakistan. She said Rukhsana had been edited out of the version to be shown in the country out of respect for her concerns, adding she was "unclear about the allegations" and would respond to the legal complaints "when a court orders us". Rukhsana was not reachable for comment.
http://www.dailytimes.com.pk/default.asp?page=2012\05\24\story_24-5-2012_pg7_8
--------
'British Pakistani victim of "honour killing "previously drank bleach'
May 24, 2012
LONDON: Shafilea Ahmed, a British Pakistani girl suspected of being the victim of "honour killing", previously drunk bleach because she feared being abandoned by her parents in Pakistan, her sister told the British court on Wednesday. Alesha Ahmed was giving evidence in the trial of parents Iftikhar and Farzana. Chester Crown Court has heard Alesha saw the alleged murder but kept it secret for seven years. On Wednesday, she spoke about a family trip to relatives in Pakistan in 2003. She said marriage proposals for Shafilea were discussed. At one point "there was a general conversation and a remark was made to Shafilea which I think triggered her drinking the bleach. [My mother] said something along the lines of Shafilea will be staying there and not going back. It was done in a humorous way but was very serious as other people were present". Shafilea went to the outside bathroom, Alesha said, and a few minutes later everybody heard a scream. She was holding her stomach and there was a bottle of bleach on the floor with the lid off, the jury was told. Asked about her mother's reaction, Alesha said she had a "distinct" look on her face. In hospital, Mrs Ahmed told her to say she drank bleach by mistake, Alesha alleged. But when the sisters were alone, her sister admitted it was deliberate, the jury heard. asif mehmood
http://www.dailytimes.com.pk/default.asp?page=2012\05\24\story_24-5-2012_pg7_17
--------
Women in the Muslim World Need Genuine Reform
05/24/2012
Ida Lichter, M.D.Author, Muslim Women Reformers: Inspiring Voices Against Oppression
In the latest edition of Foreign Policy magazine, Muslim reformer Mona Eltahawy called for a genuine revolution in the Middle East. Unlike the Arab Spring, this one would release women from oppression. "First we stop pretending," she said. "Call out the hate for what it is."
Is misogyny prevalent and gaining traction in the Muslim world and why did most women vote for Islamists in Middle East elections?
Recently, Muhammad Morsi, a leading Egyptian presidential candidate and head of the Islamist Muslim Brotherhood's Freedom and Justice Party, called for instituting sharia law and banning women from running for president.
Even women who observe Islamic dress codes are harassed in Cairo, and during last year's demonstrations for freedom in Tahrir Square, women were molested and subjected to virginity tests.
In Tunisia, where women had the most freedom prior to the uprising, female academics and students have been pressured by Islamists to wear the hijab.
Extremist militants harass Yemeni women for not wearing the veil, and underage marriage is justified under cover of religion in Yemen and elsewhere in the Middle East.
Saudi Arabia, custodian of the Islamic holy sites, provides a relentless global campaign of extremist Wahhabi teaching. Saudi women are denied equal citizenship and punished for being raped, and although their lot has improved under King Abdullah, the next monarch could set the clock back.
When Kuwaiti women won the vote in 2005 and eventually won four seats in 2009, they were supported by the government, although opposed by Islamists, who accused them of being agents of the West and subverting religious, family and sexual values. In this year's poll, no women were elected and the female members lost their seats.
Courageous "suffragettes" in Iran, who opposed discriminatory laws by taking part in peaceful rallies and the One Million Signatures Campaign, have been arrested and detained.
With the drawdown of foreign troops in Afghanistan and the Taliban pressing for victory, human rights for women will be up for barter again. In 2009, President Hamid Karzai brought in oppressive laws that sacrificed Shia women's rights, presumably for his political advantage.
Under coalition pressure, he ordered a review, but no similar restraints will apply after foreign troops leave.
In Turkey, the Justice Ministry figures showed that premeditated homicide against women had risen from 66 in 2002 to 953 in 2009, associated perhaps, with better reporting, but many local authorities have not implemented government reforms for charging perpetrators.
Women in other Muslim lands suffer increasing discrimination and violence. In northern Mali, there have been reports of rape by armed Islamist Tuareg groups, who are attempting to impose the veil and religious law. The Nigerian Islamist movement, Boko Haram, is engaged in a sustained brutal insurgency, with the aim of implementing a full Islamic state. Religious police in Aceh order women to wear headscarves, and they recently caned a couple for having premarital sex.
Fundamentalist governments have used women against women. In Iran, those demonstrating against unfair laws were beaten by a squad of women-only police, and female patrols have arrested young women for clothing violations.
Azza al-Jarf, a female FJP member of Egypt's parliament, has reportedly called for laws to prevent women from seeking a divorce, and for fathers to ensure their daughters are circumcised.
Well-organised Islamists, who appeared more honest and promised jobs and other social improvements, easily appropriated the Arab Spring uprisings and put up women candidates who reflected their views. Their Islamist ideology that romanticises seventh century and misogynist perspectives would push back women's rights in the region and hasten its export into the wider Muslim world.
Veteran Saudi reformer Wajeha al-Huwaider believes Muslim women were oppressed for centuries and imprisoned "in the dungeons incorrectly referred to as 'their homes.'" It is no easy task for captives to release themselves, and then only to confront a society preoccupied with patriarchal control of dress, choice of spouse, fertility, travel, education and so on. Moreover, in rural areas where religion holds sway, many women are illiterate, isolated from reformers, and unaware of any rights they may have.
Reformers attempt to expose cultural practice that cites tradition and religion to justify abuse of women. They also discredit men's claims to honour and elevate women, pointing out the real agenda is a male-dominated society that fears and infantilises women and accords them second-class status.
Reformers demand change to gender discriminatory laws and they have a window of opportunity in the Arab Spring. However, their task will grow increasingly urgent and difficult if they have to face political Islam, expressed in state legislation, police, prisons and paramilitary militias.
The US administration has not supported women reformers, opting to deal mainly with Islamists, and Western feminists have also disregarded the dissidents. However, in the absence of real freedom for women, there will be no long-term peace, progress or people power in the region.
Considering their predicament, it is understandable that many women have internalised subjugation, accepted the views of their oppressors, and elected Islamists without critical evaluation.
Shirin Ebadi described the 1979 Islamic revolution as "a revolution of men against women ". Hopefully, the same will not apply to the Arab Spring.
A version of this article was originally published in The Australian.
http://www.huffingtonpost.com/ida-lichter-md/women-in-the-muslim-world-need-genuine-reform_b_1536386.html
--------
Islamic Society Rejects Family Law that Protects Women's Rights in Bahrain
Bahrain Activist under Al Wefaq National Islamic Society
22 May, 2012
The Family Law was approved by Bahrain's King Hamad bin Isa Al Khalifa, on May 27, 2009.
Currently, and due to strong Shiite clerics' opposition to the law, it only applies to Sunnis and protects the rights of women in the Sunni Sharia law courts. Since it became law, supporters have pledged to continue their fight for a just law for women of all faiths.
The people of Bahrain pride themselves of being one of the most progressive nations in the Middle East, especially in terms of ensuring equal rights for women. This fight is far from over and this week a group of Bahraini women asked the United Nations for help.
Their goal: to make the nation's Family Law – which sets out rights in domestic disputes such as divorce, child custody and inheritance cases – applicable to ALL women.
Full report at:
http://bahrainpulse.com/al-wefaq/al-wefaq-islamic-society-rejects-family-law-that-protects-womens-rights-in-bahrain/
--------
Encyclopedia of Women in Islamic Cultures to Reach Larger Audience
By Sarah McCullough
May 21, 2012
The Encyclopedia of Women and Islamic Cultures (EWIC) tells a complex story of Muslim women that is often missing from mainstream news sources. Thanks to a grant from the Henry Luce Foundation, this scholarly reference guide will now reach a larger audience.
"The timeliness of this project is the urgency of challenging the rise of Islamophobia in this country," says Suad Joseph, Distinguished Professor of Anthropology at UC Davis and editor of the EWIC. She argues that "it's time for this country to learn that it must not characterize and demean whole categories of people and cultures."
The Encyclopedia of Women and Islamic Cultures is a project 17 years in the making. The original print edition brought together a whole field of research in a way that no journal or publication had previously done. The EWIC online edition continues to add to the project, currently featuring over 1,400 articles covering 430 topics written by over 1,000 scholars around the globe. Choice, the magazine for librarians, ranked the EWIC as essential for libraries, their highest honor for reference materials. A significant portion of the materials are available online for free, with all of Volume I translated into Arabic.
The project is a model of interdisciplinarity. "All of humanities are represented in this encyclopedia, as are social sciences," says Joseph. In fact, she does not think of the articles as being exclusive to the humanities or social sciences; they are wedded. Rather than following a traditional alphabetical format, the EWIC volumes follow themes, such as Volume 1: Methodologies, Paradigms and Sources, Vol. II: Family, Law and Politics, Vol III: Family, Body, Sexuality, and Health, Vol IV: Economics, Education, Mobility and Space, and Vol V: Practices, Interpretations, and Representations.
Full report at:
http://uchumanitiesforum.org/2012/05/21/encyclopedia-of-women-in-islamic-cultures-to-reach-larger-audience/
--------
Belly Dancers in Egypt Worry About Possible Islamist Takeover
By: Kamel Saleh
May 23, 2012
Fears of an Islamist takeover in Egypt are not only limited to the secularists, leftists and moderates. They have now extended to a large segment of intellectuals and artists, notably dancers.
There are clear indications that some are terrified at the prospect of a rise of Islamist fundamentalists to power. One Egyptian dancer called Sophia expresses her concerns, saying it would not only affect her, but the tradition of belly-dancing as a whole.
Another dancer named Sama al-Masri discusses the issue more equivocally. She defends the Muslim Brotherhood, claiming that the Brotherhood will support her art career. She says she "knows a group of Salafists and Brothers personally, and they treat her with utmost kindness, tenderness and humanitarian compassion without displaying any worldly desires," as she put it.
The contradictory positions of Sofia and Sama are reflective of the concerns of large segments of Egyptians. Some have grown worried as the Islamists and Salafists have made their positions increasingly clear through a number of actions, including the prosecution of actor Adel Imam for some of his movies. Some of them have also demanded that dance and kissing scenes be cut out of all Egyptian films.
Full report at:
http://www.al-monitor.com/pulse/culture/2012/05/prohibiting-womens-dancing-ends.html
--------
Pak eases rules for married Hindu women to obtain ID cards
May 25 2012
Islamabad : Pakistan has eased regulations for issuing national identity cards for married Hindu women, who had been facing problems in obtaining them in the absence of a law to register marriages of the minority community.
The National Database and Registration Authority (NADRA) has inserted a new provision in the application for the national identity cards whereby a married Hindu woman is required to submit only an affidavit as proof of marriage.
The provision was added on the directions of the Supreme Court, which had asked NADRA to amend its rules for issuing national identity cards to Hindu women.
The amended application form for the identity cards was introduced on Wednesday and a formal notification was issued by authorities, officials said.
In the absence of a law to register Hindu marriages, women from the minority community had been facing problems in obtaining identity cards as they were unable to provide proof of their marriage.
According to the notification, the affidavit submitted by a Hindu woman should have her husband's name and be countersigned by him.
No further proof of marriage will be sought from applicants.
Officials said the move by NADRA would ease the processing of applications from the Hindu community.
The federal government is also working on the draft of a bill to register Hindu marriages.
http://www.indianexpress.com/story-print/953840/
--------
URL: http://www.newageislam.com/islam,-women-and-feminism/new-age-islam-news-bureau/arabic-school-in-new-delhi-forced-to-drop-plan-to-admit-girls/d/7429