New Age Islam News Bureau
07 December 2021
• Saudi Women's Participation in Economic Sector Reaches 33.2%
• Malala Calls For Stronger US Support of Afghan Women
• Polygamy Proves an Uneasy Bedfellow for Modern Indonesia
• Women Activists In Afghanistan Demand Inclusion In New Taliban Government
• Indecent Comments on Women: Bangladesh PM Sheikh Hasina Asks Minister to Quit
• Turkey Marks 87th Anniversary Of Women's Suffrage
Compiled by New Age Islam News Bureau
URL: https://www.newageislam.com/islam-women-feminism/arab-women-documentary-femicide/d/125917
--------
Arab Women Lead 'New Generation' In Documentary Film-Making; Tackling Subjects from Femicide to Revolution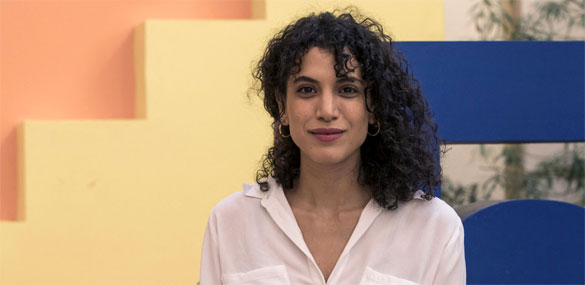 Iraqi actress and director Zahraa Ghandour
------
Farid Farid
December 7, 2021
Alongside celebrities gracing the red carpet at film festivals in Egypt, the traditional powerhouse of regional cinema, young Arab women directors are making their mark with documentaries tackling subjects ranging from femicide to revolution.
Taking a break from networking at the El-Gouna Film Festival on the Red Sea in October, Iraqi actress and director Zahraa Ghandour, 30, discussed her feature documentary "Women of my Life".
"The main theme is the life and death of young women and girls in Iraq. It explores how Iraqi society deals with femicide as if it's normal," she told AFP.
Ghandour said that "in the last few years, a new generation has come to the fore born in the 90s and 2000s with a new direction", especially after October 2019 protests calling for the toppling of the ruling class in Iraq.
"We want to break free from the stereotypes that world cinema boxes us into," she said.
"It's like there are trends and they (international backers) want us to fit into these funding guidelines," said Ghandour.
"What if I want to make a horror movie? I want to make what I want as long as it's of high quality."
"Women of My Life", in which she plays one of the main characters, follows the gruesome death of a young woman suspected to have been carried out by male relatives.
"As Iraqis in general, our lives are unstable but the targeted killing of women in particular... cannot be trivialised," she said.
- Rich tableau -
For Rafia Oraidi, an independent Palestinian producer, the fractured landscape of life under Israeli occupation provides a rich tableau for narratives.
Working with Palestinian-American film-maker Hind Shoufani on "They Planted Strange Trees", the international crew has been adding final touches in post-production.
"It's a meditative journey set in Galilee that tracks the daily life of residents of the village where the director hails from," said Oraidi.
Oraidi points to independent Palestinian directors such as Hany Abu-Assad and Elia Suleiman whose films have won Oscar nominations and prizes at Cannes.
"Without the personal attention of film-makers, patience and persistence... despite the conditions we're living under, we wouldn't have a single film on screen," she said.
"We want to show there are lots of other stories in Palestine besides war, destruction and the occupation," Oraidi said.
She said the biggest challenge for independent Arab film-makers was a lack of facilities such as custom-made studios.
This "balloons the budget and we're forced to partner up with other co-producers to get funding", she said.
- Faring better than Hollywood -
Tunisian screenwriter and director Fatma Riahi is in the early stages of a long feature, "My Father Killed Bourguiba", that attempts "to tell the history of Tunisia in the last 30 years through a biographical and personal narrative".
Focused on her father, the documentary follows his role in a plan to overthrow Habib Bourguiba's regime in a 1987 military coup and its current reverberations after the 2011 revolution that toppled his successor Zine El Abidine Ben Ali.
"I hope the film... gives an alternative reading... of Tunisian history... from coups to revolutions to what we're currently experiencing under (President) Kais Saied," the director in her mid-thirties said.
Saied himself sacked the government and seized wide-ranging powers on July 25 citing an "imminent threat" to the country.
"For women in Arab cinema, the number of directors for example is always less than men. It's not just a regional phenomenon but also global," Riahi told AFP.
But Arab cinema appears to be faring better than Hollywood, where out of the 250 biggest films released last year only 18 percent were directed by women.
A 2019 study by Northwestern University in Doha, for example, found that around 50 percent of all film-makers in the Arab world were women.
Source: Yahoo News
https://news.yahoo.com/arab-women-lead-generation-documentary-025309999.html
--------
Saudi Women's Participation In Economic Sector Reaches 33.2%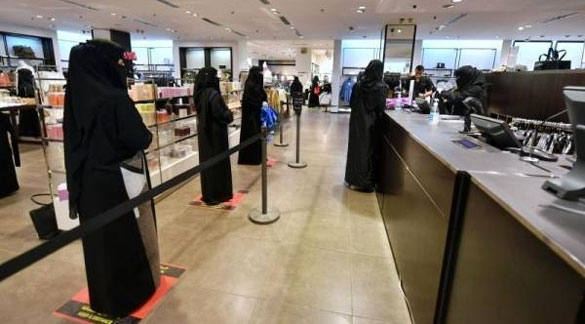 Saudi women's participation in economic sector reaches 33.2%
----
December 06, 2021
RIYADH – Saudi Arabia's Family Affairs Council (FAC) stated on Sunday that Saudi women are active participants in all realms of the Kingdom's development process. The participation of Saudi women, who constitute 49 percent of the total population, in the economic sector has reached 33.2 percent. The report of the council coincided with the latest statement of the General Authority for Statistics (GASTAT) that revealed that more than 293,000 women have so far entered Saudi Arabia's employment market.
According to FAC report, the remarkable growth in women's effectiveness came in accordance with the Kingdom's decisions taken to support Saudi women to empower and confront potential challenges, and that increased opportunities in front of them to have a vibrant entry and active participation in almost all major sectors.
The FAC noted that the most important initiatives and services that have been worked out to guarantee women's rights include amending the social security system and regulations; expanding the private sector options in employing women; supporting women in their work without discrimination; and operate and develop the Family Violence Reporting Center and Child Protection. The Family Affairs Council seeks to strengthen the status and role of the Saudi families, with identifying the developmental needs of the families in all regions of the Kingdom.
Source: Saudi Gazette
https://saudigazette.com.sa/article/614392/SAUDI-ARABIA/Saudi-womens-participation-in-nbspeconomic-sector-reaches-332-nbsp
--------
Malala calls for stronger US support of Afghan women
7 Dec 2021
Human rights advocate Malala Yousafzai, who survived an attack by the Pakistani Taliban in 2012, argued on Monday for stronger US support of Afghan girls and women during a visit to Washington.
"Afghanistan right now is the only country where girls do not have access to secondary education. They are prohibited from learning," the 24-year-old, who works with female Afghan activists, noted in remarks standing alongside US Secretary of State Antony Blinken.
"This is the message of Afghan girls right now: We want to see a world where all girls can have access to safe and quality education," she added, while presenting a letter addressed to President Joe Biden from a 15-year-old Afghan girl named Sotodah.
Sotodah wrote in her letter that "the longer schools and universities remain closed to girls, the more it will shade hope for [their] future," according to Yousafzai.
"Girls' education is a powerful tool for bringing peace and security," added Yousafzai, reading the letter, "If girls don't learn, Afghanistan will suffer, too."
Secondary schools in Afghanistan, where the Taliban regained power this summer, have reopened for boys only, and only men are permitted to teach.
"We hope that the United States, together with the UN, will take immediate actions to ensure that girls are allowed to go back to their schools as soon as possible," Yousafzai noted before a private meeting with the secretary.
Blinken, whose country this summer hastily withdrew its troops from Afghanistan after 20 years of war, saluted Yousafzai as "an inspiration to girls and women around the world," and someone who "by her work, by her efforts, is making a real difference".
Source: Khaleej Times
https://www.khaleejtimes.com/world/malala-calls-for-stronger-us-support-of-afghan-women
--------
Polygamy proves an uneasy bedfellow for modern Indonesia
DECEMBER 7, 2021
AMANDA HODGE
Twenty years after Ustad Hafidin broke the news to his first wife that he had taken a second, Indonesia's self-styled polygamy coach says he is on a mission to bring the ­practice "back to life".
The grey and balding 51-year-old – husband to four wives, ex-husband to two, and father to 25 children – claims to have carved out a career in the Muslim-maj­ority nation off the back of persistent curiosity about his personal circumstances.
"People come to me for marriage advice and many would ask questions about polygamy ­because they see that I am in a successful polygamous marriage," he says at his Banten home on the ­island of Java.
"I felt rather than starve by ­giving free advice, I might as well monetise it."
Reactions to his two-day ­"Successful Polygamy Mindset" seminars ($450) and one-on-one tutorials ($1500), both of which he advertises through social media, have been mixed at best.
Indonesian society may be growing more religious but ­polygamy is still a bridge too far for most who see it as a male indulgence, and those who promote it face fierce blowback.
The National Commission on Violence Against Women says polygamy – not illegal in Indo­nesia but tightly regulated and mostly practised quietly – is the "doorway" to heightened domestic violence and divorce, and that promoting it is "equivalent to promoting violence against women and children".
Ariati Dina Puspitasari, who chairs the women's wing of ­Muhammadiyah – one of Indonesia's largest Muslim associations – says polygamy is "dangerous" and could cause "long-term harm to social, demographic and economic conditions".
Indonesia's Islam-based Prosperous Justice Party (PKS) sparked condemnation in September by calling for polygamy to be part of the state's Covid-19 ­response. Several polygamy ­dating apps have also been forced to close.
But few have attracted more controversy recently than Hafidin, whose decision to take as his fourth wife a 16-year-old student from his Islamic boarding school drew outrage amid an ongoing battle to stamp out child marriage.
Now 19, Mita Mufida says she had felt unsure about his proposal ­because she had "considered him a father figure" and had hoped to go to university. But she had been swayed by her parents' encouragement and Hafidin's (unfulfilled) assurances that she could still study.
Hafidin is unrepentant and says it is "entirely the man's prerogative to decide who he wants to take as his wife".
"If all four of his wives are young virgins, that's perfectly fine. No religious scholar will disagree with that," he says.
Many have also taken issue with his recent admission that he divorced a wife after she reached menopause (though they still share a foodcart business and she lives in his household).
"He divorced her because she menopaused? Ya Allah (My God), please spare your followers from men like these who will leave me because of something out of my control," film and television actor Prilly Latuconsina wrote last month.
Such reactions seem only to steel Hafidin's resolve to "repair the public's negative mindset about polygamy" and fix "incorrect" polygamy practices, such as men who mistreat their wives or marry only to fulfil sexual d­esires.
He says most issues in poly­gamous marriages are just "management problems and likens having multiple wives to scaling up a business.
"Isn't it the same? The structure of the business is already good and profitable, so you wish to expand it," he says. "You want to hire more ­employees, you want to increase production, you want to maximise profits, you want more cus­tomers."
Among those who say they have benefited from Hafidin's ­advice is 32-year-old civil servant "Danu" who secretly took a second wife – a widowed colleague with a seven-year-old – just three years after marrying his university sweetheart and having their first child together.
By the time Danu joined his seminar, his first wife had kicked him out, and his second felt ­unloved. Now, he says, they're all preparing to move into a shared household next year.
"The biggest lesson I learned from there was how to be a good husband, no matter how many wives you have. And I had been a bad husband to both wives," he says.
Hafidin says almost all the men he meets are "completely ready for polygamy" and it is overwhelmingly women who must be convinced.
To do so, he says, "I send them on a soul-searching journey, so they know who they really are. And truly, after the seminar, whatever the quality of their husband, these women will be happy.
"I myself have four wives, but if you ask them they will say they feel it's as if I have only one."
Amanda Hodge is The Australian's South East Asia correspondent, based in Jakarta. Previously based in New Delhi, she has lived and worked in Asia for more than a decade covering social and political upheaval fr... Read more
Source: The Australian
https://www.theaustralian.com.au/world/polygamy-proves-an-uneasy-bedfellow-for-modern-indonesia/news-story/19274b2d03de01e654cbc1f33aff97b3
--------
Women Activists in Afghanistan Demand Inclusion In New Taliban Government
Kabul, Dec 6 (UNI)
Women activists in the Afghanistan capital here held demonstration demanding their inclusion by the Taliban in the government formation.
While expressing their dissatisfaction with the decree issued on December 3 by Taliban for Afghan women, the women said their rights could not be determined in the manner Mullah Hibatullah Akhundzada presented.
Women activists called on the international community to press the Islamic Emirate to uphold the rights of women, TOLOnews reported.
"Many women are the breadwinners of their family. The government lacks a programme for them. The destiny of the girl students remains ambiguous," said Sabira Akbari, a women rights activist, on Sunday.
Farida, a civil rights activist said, "Women's inclusion in political, social and economic affairs is their right and it should be given to them because if this right is taken from the women, the government is broken."
The activists said the Taliban should have women's inclusion in government's formation.
"The denial of the Taliban's offer to the UN to secure the seat caused (the Taliban) to throw dust on the eyes of the people, because we have not had any reaction from the Taliban during the past four months that we have pleaded, but now they issued this decree," said Madina, a civil rights defender.
Meanwhile, Huda Khamosh, a poet said, the latest decree of the Taliban has revealed that "they didn't consider the main rights of the women."
Earlier, Akhundzada has said in a statement, "Woman is not a property, but a noble and free human being; no one can give her to anyone in exchange for peace deal and or to end animosity." The Taliban had released a decree on December 3 calling for the enforcement of women's rights in Afghanistan.
Source: Uni India
http://www.uniindia.com/afghan-women-demand-inclusion-in-new-taliban-government/world/news/2584496.html
--------
Indecent Comments on Women: Bangladesh PM Sheikh Hasina Asks Minister to Quit
Dec 7, 2021
Prime Minister Sheikh Hasina has asked State Minister for Information and Broadcasting Murad Hassan to resign from the cabinet for his offensive and derogatory remarks on women that sparked waves of criticism.
"The prime minister has asked him to step down from his post within 24 hours," Obaidul Quader, roads, transport and bridge minister and also general secretary of ruling Awami League, told reporters last night.
"The prime minister gave this directive while I talked with her this evening," he said, adding that he has conveyed the message to the state minister at 8:00pm.
The directives came as outrage continues to pour in over the comments Murad made during an online interview and also during a phone conversation with two film actors.
Different woman and rights bodies, political organisations, lawyers and cross section of people deplored the remarks terming those indecent, vulgar, racist, and misogynist.
They demanded his immediate removal from the cabinet and legal action against him.
During an interview on Facebook page NahidRains Pictures, posted on social media on Saturday, the state minister made some offensive comments on BNP Chairperson Khaleda Zia, acting chairman Tarique Rahman and his daughter Zaima Rahman.
He then got embroiled in another controversy when an audio clip of a phone call between him and actor Emon and movie actress Mahi leaked and went viral on social media.
During the conversation with the actress, Murad was heard passing abusing comments and pressing to her to come to a city hotel where he was staying.
As she was refusing, Murad threatened to haul her to the hotel by members of law enforcement and intelligence agencies. He even threatened to rape her.
Before this, the state minister had asked Emon to hold the actress by the neck and bring her to him.
Mahi, in a video message from Makkah, where she went to perform Umrah, said she was a victim of circumstances. "I was very embarrassed that day and also after the conversation got leaked."
She further said the state minister has got what he deserved.
Contacted yesterday, Emon authenticated the audio clip and said the conversation took place around two years ago. Talking to The Daily Star, he said, "When a minister calls, it cannot be avoided."
Murad could not be reached over phone despite repeated attempts. He also did not respond to text messages.
After the interview and the phone conversation went viral on social media, many came down hard on the state minister.
Acclaimed film director Mostofa Sarwar Farooki, wrote on his Facebook page: "As a citizen, I am so angry. I want to believe that other members of the cabinet would be ashamed to sit at the same table with this man. In this short life I have had the opportunity to see a couple of ministers. I had praised some of them in my writings. I believe they don't want this man to be their face."
Also yesterday, the BNP sought explanation from the government regarding its stance on Murad's comments on Khaleda Zia and her family members.
"…. Murad has claimed whatever he did, he did it on instructions of the prime minister and she knows everything. This is dangerous," Mirza Fakhrul Islam Alamgir, secretary general of the party, said while addressing a discussion at Institution of Engineers, Bangladesh.
Fakhrul also said Murad was once the publicity affairs secretary of Mymensingh Medical College unit of Chhatra Dal, the student wing of BNP and later joined AL's student body Chhatra League.
Naripokkho, a women rights organisation, in a statement questioned how a lawmaker and state minister can pass "vulgar and derogatory misogynistic remarks" against female and asked for the prime minister's intervention.
Ain O Salish Kendra said such remarks by a person holding responsible government position is unacceptable, and hoped that the government will take action in this regard.
Supreme Court Bar Association (SCBA) Secretary Md Ruhul Quddus demanded Murad immediately withdraw his remark and offer apology before the nation, otherwise there would be necessary legal action.
Source: The Daily Star
https://www.thedailystar.net/news/bangladesh/news/indecent-comments-women-pm-asks-murad-quit-tomorrow-2911166
--------
Turkey marks 87th anniversary of women's suffrage
December 05 2021
Women in Turkey, who got the right to vote and be elected in 1934 before many European countries, celebrated the 87th anniversary of getting full suffrage on Dec. 5.
Many municipalities and institutions across the country conducted seminars depicting women's role in politics as many national and provincial women's organizations posted messages thanking Mustafa Kemal Atatürk, the founder of modern Turkey.
Female local heads across the country gathered in the Ayvalık district of the northwestern province of Balıkesir as the women societies in the western province of İzmir conducted a silent "women's march" demanding equalitarianism in politics.
Turkish Businesswomen's Association also published a message asking more women to join politics and defend the rights of women.
Every year, Dec. 5 marks the "Women's Rights Day" in Turkey since Atatürk addressed the Turkish women on Dec. 5, 1934, urging them to "use this right competently and with discretion."
On this occasion, President Recep Tayyip Erdoğan posted a video message. "Turkish women got this opportunity much earlier than many women in Europe, and this is an important indicator that reflects Turkey's view of women," he said in the video message.
Reminding the representation of women in Turkish parliament has not topped more than 4 percent in six decades after Atatürk's passing, he stressed, "This calamity changed after Justice and Development Party [AKP] came to power in 2002."
"Although [Turkish] women gained full suffrage in 1934, they started to use their rights freely under the AKP," Erdoğan stated.
Source: Hurriyet Daily News
https://www.hurriyetdailynews.com/turkey-marks-87th-anniversary-of-womens-suffrage-169874
--------
URL: https://www.newageislam.com/islam-women-feminism/arab-women-documentary-femicide/d/125917
New Age Islam, Islam Online, Islamic Website, African Muslim News, Arab World News, South Asia News, Indian Muslim News, World Muslim News, Women in Islam, Islamic Feminism, Arab Women, Women In Arab, Islamophobia in America, Muslim Women in West, Islam Women and Feminism