New Age Islam News Bureau
3 Aug 2013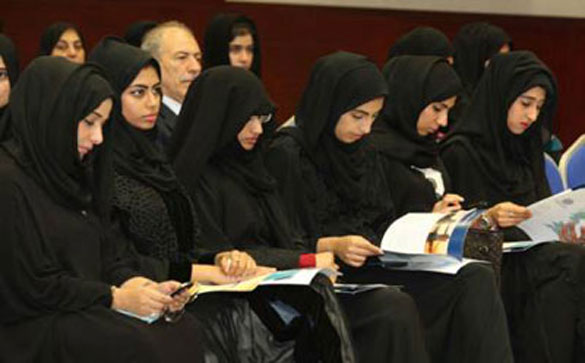 Photo: Emirati female students, during the Press conference at Zayed University Convention Centre
----------
• Indian Muslim Women Fight for Justice in Sharia Court
• First Female UAE Delegate Named To UN
• Prostitution Ring Busted In Oman
• Christian Girl under Death Threat of Village Landlord in Pakistan
• 60 Female Emirati Students to Visit Scotland for Multiculturalism & Leadership Programme
• Eid Campaign Puts Smiles on Orphans' Faces in Kuwait
• Four Girls of Six-Months to Six Years Found Abandoned At A Park
• Injured Afghan Girl, Farida Finds A Second Home In U.S.
• King Saud University, a Civil Organization to Help Reduce Divorce Rate
• Uzbek Leader's Daughter, Gulnara Karimova under French Probe
• Children Distract Women Worshipers at Taraweeh in Medina
• Proposals for Dr Aafia's Extradition Sent to PM
Compiled by New Age Islam News Bureau
URL: https://newageislam.com/islam-women-feminism/arab-women-face-hostile-society,/d/12880
--------------
Arab Women Face Hostile Society, Running For Local Office
Hassan Shaalan
03 Aug 2013
They're educated, progressive and want to make a difference, but the patriarchal Arab society buffets their efforts to take part in local politics. However, some intrepid Arab women refuse to heed society's mores and insist on contending in October's municipal elections.
But even these women limit their aspirations to council membership – none dare run for council head. "I thought about these options, but I quickly let go since these decisions are made according to family considerations, not according to ideology or merit," said Daria abu-Eita, director of the Culture Division in the Taybeh municipality.
"Women don't have their families and society's support in local politic. It's as if everything is meant only for men. No one will vote for a woman," she lamented.
Abut Eita
Abu-Eita deplored the current situation, in which society, she said, demeans Arab women. "Women have to be involved in politics and party to the decision making process," she said.
Hifa Azzem
"An Arab woman can run any system and manage a municipality, sometimes better than men. Social conventions can always be changed and broken, but it takes time and a lot of effort and struggles."
Abu-Eita's criticism of Arab society was shared by her fellow Taybeh resident and local council candidate, Hifa Azzem, director of the Tala Association for promoting women.
"Unfortunately, the Arab society always tries to silence women and doesn't allow her to be part of local councils' decision making," she said.
"I always said I intend to run for office, but men take all the power. I was ostracized for even thinking about running."
Time to fight
Ibtisam Mahamid from Fureidis, project manager in the Shin Association for equality in representation, thought in the past about running for office but quickly gave up when she realized what forces stand against her. "The idea was born after I took a course in women leadership, but it wasn't enough because Arab society in Israel is still ruled by patriarchal clans. The patriarch of the largest clan decides who will be our leader."
Mahamid deplored women's status in Arab society, which she said excludes them in spite of the times.
But she also had some grief with women themselves. "The Arab woman has managed to study and attain higher education and senior roles, but still women don't have proper self-value," she said.
"There were several attempts by village women who wanted to contend in the elections, but were stopped by a brother, a husband or a cousin, which turned the thing into a familial conflict which often escalates into violence against women.
"Many of them are not considered to be leaders, among other reasons, because of religion."
Mi Badoi
Pharmacist Mi Badoi of Kfar Kassem was not deterred by the opposition and decided to head on and run for the municipal council. "I consider myself a successful woman who can run the municipality even better than men," she asserted.
"It's time to fight for our rights in the elections, and not let ourselves be used only as ballot-dealers. A Kfar Kassem woman deserves to be part of local politics. The fact that I wasn't accepted for the elections shows that there are still elements who wish to demean women."
Some, like political activist Maria Kabha from Kafr Kara, believe that politics are not the only route to influence and change. "I intend to enter politics, but not for any price," she said.
"I think residents should be helped to solve the problems and improve the village. Political office has a price, and I'm at the right age, but there's a significant gap between what there is and what ought to be."
Kabha also had a message for men: "Women must be integrated in the elections and to those who consider it a manly occupation I'll say that they are not aware of women's abilities and their real desire for public work. They ignore it, and don't want to admit and see the truth since it threatens their social existence in certain systems."
http://www.ynetnews.com/articles/0,7340,L-4413002,00.html
--------------
Indian Muslim Women Fight for Justice In Sharia Court
By Altaf Ahmad
August 03, 2013
Indian Muslim women have set an example for women the world over by setting up their own Sharia courts, where, proponents say, women can be heard and given their due rights.
"We are brutalised the way the judgments are pronounced in favour of men in the Sharia courts run by Mullahs. The Qazi (arbitrator) passes his decree without listening to our problems and we are left with no option," said Noorjehan Safia Niaz, founder of Bharatiya Muslim Mahila Andolan (BMMA), which has set up Sharia courts in various parts of the country.
"Our Sharia courts are functional in Chennai, Bhopal, Pune and Mumbai. The courts run on a daily basis. The number of cases – particularly matters related to divorce – is increasing day by day. Women who are victims of domestic violence are approaching us on a regular basis."
Sharia courts are emerging in response to deep delays in India's legal system coupled with a growing intolerance of crimes against women.
According to the National Crime Records Bureau, "Crimes against women are recorded every three minutes. In every 60 minutes more than one woman is raped, in every six hours a married woman is tortured, beaten, burnt or driven to suicide".
The Indian legal system endorses such courts as far as they deliver according to religious needs. If the complainant or the respondent is not satisfied with the outcome, higher courts can be reached by the aggrieved.
"Our legal system gives us two options: either accept the law of the land and settle all our matters in the court established by law, or if Muslims want to avoid the court, they can settle the matter through informal institutions like Dar al-Qada (Sharia court)," Noorun Nahar Firdausi, a practicing advocate in family law at Delhi High Court, told Khabar South Asia.
Islam supports women's rights
Moreover, Muslim women advocates say, subjugation and mistreatment of women is a distortion of the Qur'an. Women-run courts aim to treat women with the dignity Islam accords them.
"We are living in a male-dominated society, where women are considered as child-producing machines or treated as mere objects for demonstration. From home to work, she is exploited everywhere and if she complains, she is stigmatised. This happens in every community, whether Muslim or non-Muslim," Nasreen Hamid, joint editor of Voice of Millions and Global Women's Lib chairwoman, told Khabar.
"Islam has given full liberty to women. She can choose her partner, can work independently, and can have her say in every sphere of life. Where is that Islam practiced now? Clergy have misrepresented Islam and misinterpreted the Qur'an."
BMMA convenor Zubeda Khatoon agrees. "Women have full right to live with liberty and dignity according to the Qur'an. We feel cheated, deceived and marginalised in society due to injustice meted out to women. We have every right to stand up and organise ourselves," she told Khabar.
"We are not against male domination nor do we want to create any kind of conflict within our community. We want women to be heard and given her due right and status as per Sharia law. Unfortunately, Sharia is misinterpreted, resulting in injustice to women."
The All India Muslim Personal Law Board (AIMPLB) has given cautious approval to the women-run courts.
"Islam is the religion of justice – women are most respected and honoured under Sharia law. Women enjoy equal rights and have say in every affair of life. If women find it fit to solve their problems through such courts, I think no one has a problem. Trouble arises when imbalance in society occurs," AIMPLB Secretary Moulana Muhammad Wali Rahmani told Khabar.
"AIMPLB has five prominent scholarly female faces in its executive council out of 20 members. We have never restricted any woman from doing any social service. 'To serve mankind' is what Islam teaches us, and our beloved prophet has urged us to handle feminine matters with utmost care, respect and mercy," he said.
http://khabarsouthasia.com/en_GB/articles/apwi/articles/features/2013/08/03/feature-02
--------------
First female UAE delegate named to UN
03 Aug 2013
Abu Dhabi: Lana Nusseibeh was sworn in as the first UAE's woman delegate to the United Nations before His Highness Shaikh Mohammad Bin Rashid Al Maktoum, Vice President and Prime Minister of the UAE and Ruler of Dubai on Thursday.
Emirati women have today become an important partner in decision-making in the UAE, as they have assumed the highest positions with four female ministers in the government, which is one of the highest female representations in the Arab world.
There are also seven female members out of 40 members in the Federal National Council in its current session, which accounts for nearly 18 per cent of members, and female ambassadors appointed in Sweden, Spain and Montenegro, plus Consul-General in Milan.
Lana was Director, Policy Planning Department at the Ministry of Foreign Affairs.
She joined the Ministry of State for Federal National Council Affairs in August 2006 as Director of Communications running the regional and international media and communications strategy for the first UAE elections to the House in December 2006. In this role she also developed key position statements for UAE government spokespersons and handled domestic and international media relations as well as communications management during the election period.
From August 2007 Lana established and headed the research unit at the ministry which aims to provide policy research and recommendations on key issues that impact the development of the UAE. She has worked on various governmental committees on diverse policy related topics.
Lana worked directly with the Minister of State for Federal National Council Affairs, who is also the Minister of State for Foreign Affairs, Chairperson of the National Committee to Combat Human Trafficking, Chair of the Committee to Monitor Issues that Impact the Reputation of the UAE and Deputy Chair of the National Population Committee. She is frequently part of UAE delegations abroad as part of the Minister's team. Her areas of policy work include parliamentary affairs, human trafficking, human rights issues and labour market reform.
Prior to that, Lana was a research analyst at the Gulf Research Centre, Dubai, in the security and terrorism programme where she contributed to research publications on Gulf security issues as well as articles for regional and international media.
She received her Bachelor of Arts and Masters in History from Cambridge University, England. She received a second Masters degree with distinction from the School of Oriental and African Studies (SOAS) in London.
The UAE was first-ranked in the region in terms of female education -- female students outnumber their male counterparts in schools and girls make up about 70 per cent of higher education graduates.
The Cabinet had issued a resolution that aimed to reinforce women's participation in boards of directors in government companies and associations – a move that made the UAE only the second country internationally to commit to including females in administrative positions.
http://gulfnews.com/news/gulf/uae/government/first-female-uae-delegate-named-to-un-1.1216112
--------------
Prostitution ring busted in Oman
03 Aug 2013
Muscat: Police in Oman arrested members of a prostitution ring in the industrial port town of Sohar, about 230km north of Muscat, according to a Royal Oman Police (ROP) press release on Thursday.
"We have arrested 12 Asian expatriates, including three women," a spokesman for the ROP's Public Relations Department said, adding that the accused faced multiple charges.
He said that the defendants were charged with human trafficking and prostitution as well as violating the country's residency laws. "Some of the arrested are illegal residents in Oman," he pointed out.
The police, he said, received information that a particular apartment was being used by some expatriate women for nefarious activities.
"A Criminal Investigation team from Sohar police station raided the apartment and arrested the accused red handed," he said, adding that a large amount of cash, believed to be income from prostitution, was also found from the place.
All the 12 accused were handed over to the Public Prosecution for further action.
"We would urge apartment owners to ensure that their tenants are not using the premises for any illegal activities," he appealed. The ROP spokesman also asked residents to report any such activity to police.
Meanwhile in Muscat, police arrested three Asians for forging Oman visas and selling them to people here.
"The three accused were caught with all the paraphernalia used to forge visas," the ROP spokesman said. He added that interrogation of the accused revealed that they had forged visas and sold to a number of people in Barka town, about 100km north of Muscat.
The ROP also continued its crackdown on drug peddlers with the arrest of two Asians in the northern parts of the country.
"The accused were caught red-handed in Shinas (about 300-km north of Muscat)," he said.
The police recovered two kilogrammes of heroin and 7,000 Omani riyals (Dh66,774) cash from the accused. Both were handed over to the Public Prosecution.
"We would appeal to residents to cooperate with us in fighting the scourge of drugs in the country," he said and added that people should report any drug related activities to the police.
A bootlegger was arrested in Muscat's Ghubra area with a large quantity of alcoholic beverages and a teenage citizen was held in Seeb area for stealing jewellery from the residence of another Omani.
http://gulfnews.com/news/gulf/oman/prostitution-ring-busted-in-oman-1.1215667
--------------
Christian Girl under Death Threat of Village Landlord for Marriage in Pakistan
Abbas Kassar
03 Aug 2013
HYDERABAD, Aug 2: A Christian girl resident of Padri Goth (Priest village) near Sanghar city of Sindh was being hounded by an influential landlord of Sanghar who was forcing her to have illicit relations or marriage otherwise he would kill her and her whole family while the girl was running to save life from Danghar to Karachi to Lahore and to (now)Hyderabad. Addressing press conference along with her aunte and a local lawyer Ramesh Kumar Gupta, she narrated 3 years pathos she was suffering due to harassment and threats of landlord Ghulam Muhammad Kori of Snaghar. She narrated that her father was a driver and they were 7 sisters and brothers. She was staff nurse at Chiniot hospital Korangi,Karachi but the landlord Ghulam Muhammad hounded her there and tried to kidnap her. She left job due to fear of this man and remained out of job for 2 years. She said when she joined Liaquat National Hospital Karachi in 2012 this man reached there and started to harass her with theat to make life of her and her family like hell. She said on 26 May on the occasion of her Sagai at her village Padri Goth, Ghualm Muhammad brought police who picked up her father and brothers and left them only when they agreed to cancel her Sagai( engagement). She said now he has started to claim that she was his wife. She made it clear that she is Christian and has never changed her religion and has never married him. She also said that now this man has filed a case of robbery against her She demanded from human rights bodies, president, prime minister, Sindh chief minister, IG and DIG concerned to help her get rid of this man who was terrorising her and her family. It may be mentioned here that the grils belonging to minority Hindu and Christian community were being kidnapped, converted and then married to Muslim men since last many years but no authority in Pakistan was there to stop this violence against minorities. Thousands of Hindu families have migrated to India to find safer place to live with honor and dignity as they consider Pakistan difficult land to live for minorities. Kishan Chand Parwani former MNA had said few months ago that more than 50,000 Hindus had migrated to India to save honor of their women and girls under threat of conversion.
http://dailymessenger.com.pk/pakistan/2013/08/02/christian-girl-under-death-threat-of-muslim-landlord/
--------------
60 Female Emirati University Students to Visit Scotland for Multiculturalism & Leadership Programme
03 Aug 2013
Dubai: Around 60 female Emirati students from universities all over the UAE are set to travel to Scotland this month as part of Al Maktoum College of Higher Education at Dundee-Scotland Multiculturalism & Leadership Programme's 16th session.
The programme, which will take place from August 12 to September 10, aims to strengthen ties between national and international educational institutions, enhance students learning performance and develop their multiculturalism concepts.
Mirza Al Sayegh, Chairman of the Board of Directors of the Al Maktoum College shared some advice with the students during a press conference held in Zayed University in Dubai to orient the students and parents about the trip. "What we have here are the best 60 Emirati female students who will have the chance to take part in a month long multicultural trip," said Al Sayegh.
"My advice to them is to think of themselves as ambassadors and not tourists or students. In this trip they will be representing their country, leaders, universities, parents and themselves and so they should act accordingly." As part of the multicultural programme the students will take part in various workshops, lectures, discussion panels, and site tours to strengthen their leadership skills and broaden their knowledge.
Mariam Khansaheb, a 21-year-old chemical engineering student from the American University of Sharjah, who is taking part in the programme, told Gulf News about her trip expectations.
"It will be the first time that I will be travelling to Scotland, I hope that the trip will help me enhance my leadership abilities, meet different people and help me experience some independence as I will be away from my family for a whole month."
Maitha Shoaib, a former student of Zayed University who took part in the trip last year shared some of the lessons she learned from the programme.
"It was a unique experience that benefited me on a personal level as I got to challenge myself as well as on a professional level because I have gained work experience."
The programme, which is held under the patronage of His Highness Shaikh Hamdan Bin Rashid Al Maktoum, Deputy Ruler of Dubai and Minister of Finance will include visits to the top universities such as Oxford and Aberdeen, and the landmark Scottish Parliament.
They will also get to visit the famous Sandhurst Military Academy. The program will also include meetings with some Scotland's prominent figures and decision makers.
Students taking part in the programme are from universities that include: United Arab Emirates University, Zayed University, Abu Dhabi University, the British University in Dubai, the American University in Sharjah, Dubai Women's College and the College of Islamic and Arabic Studies in Dubai, in addition to Qatar University. For the first time the programme also included six female employees from Dubai Courts.
http://gulfnews.com/news/gulf/uae/education/60-female-emirati-university-students-to-visit-scotland-1.1216047
--------------
Eid Campaign Puts Smiles on Orphans' Faces in Kuwait
03 Aug 2013
Manama: For Kuwaiti philanthropist Fatima Hussain Alali, there is no time for self-complacency. "I fully appreciate your generous contributions that have enabled 100 orphans and needy children to receive clothes for Eid," she tweeted to her followers. "Yet, I swear to God, there are many other families waiting for your generosity, so do not hesitate," she said.
The campaign she had launched to help orphans and the children of needy and destitute Bidoon (stateless) enjoy Eid Al Fitr, the feast marking the end of Ramadan, the month of fasting, has been moving ahead thanks to the generosity of people touched by her vigorous humanitarian drive.
It follows a campaign she had launched to help Bidoon families deal with the extra financial pressure associated with Ramadan when expenses on food consumption rocket.
Fatima has often been praised for her charitable drive at a time when many preferred to shut their eyes and pretend there were no problems for anyone during Ramadan or for children celebrating Eid.
For her, it all amounted to having deep faith in the compassionate character of Kuwaiti nationals and in people living in the northern Arabian Gulf state.
"There are so many charitable souls in Kuwait, but locked doors need keys. I do have hope, especially that the beneficiaries are orphans," she posted on her Twitter account where she has slightly more than 8,500 followers. Her motto is "I have a dream."
The clothes-for-Eid campaign coincided with the second half of Ramadan, the most sacred month for Muslims during which they abstain from food, drink from sunrise until sunset, and engage in acts of devotion, supplication and charitable work more frequently.
However, the challenges have been at times formidable and Fatima needed greater commitment from people to offer assistance, particularly those who were keener on publicity stunts or self-serving interests than in philanthropic work.
"There are hypocrites who publicly pledge to assist, but in fact do nothing," she said.
The Eid clothes for orphans drive coincided for some time with the campaign by candidates vying for seats in the country's parliament on the July 27 elections. It was an occasion for Fatima to witness how some people wanted to lace charity with self-serving political interests.
"For instance, a lawmaker asked me to provide him with the phone numbers of needy families," she said, referring to an illegal practice used by some candidates to contact voters and offer them money for their support. "However, I told him that we did not give families money and that I was the one who distributed the items and the food. He simply refused to assist."
In another case, a potential lawmaker offered her a large sum of money if she accepted, alongside the supporters of the campaign, to stand by him.
"However, when I told him about contributing money to the campaign to raise funds for the Eid clothes for the orphans, he said that he could not help due to the heavy financial pressure."
For Fatima, lawmakers should be the ones to stand alongside the poor and the needy to be able to appreciate the significance of the work that needs to be done.
"I insist on lawmakers because those who wish to help the poor and witness their needs firsthand will certainly work for better living conditions for Kuwait and Kuwaitis," she said.
Throughout her campaigns, she adopted a direct approach with the people, highlighting people's needs and requirements to meet them. She did not hesitate to press people to come forward.
"I will be in the Mubarikiya area as part of the Eid clothes campaign. Whoever wants to assist financially should not hesitate, as donations are works of charity that God rewards," she posted.
Eid is expected to fall on Thursday or Friday, depending on the sighting of the moon that marks the end of Ramadan and the start of Shawal.
http://gulfnews.com/news/gulf/kuwait/eid-campaign-puts-smiles-on-orphans-faces-1.1215982
--------------
Four Girls Of Six-Months And Six Years Found Abandoned At A Park In Faisalabad, Pak
August 3, 2013
FAISALABAD: Four girls between the ages of six-months and six years, apparently abandoned by their parents, were found in a park in People's Colony.
A labourer, Muhammad Ali, a resident of Koh-i-Noor Flats, said he discovered the girls and took them to their house. He said he would take care of them while he looked for the parents.
He said, "I was walking in the park when I saw the girls crying. At first I thought they were lost. I looked around asking people if they had seen who the girls had been with, but no one knew."
Ali said he then asked the eldest of the girls, who seemed to be six years old. She told him that they had come to the park with their mother.
She said her mother had told her to look after her younger sisters while "she went to buy them some snacks".
The girl, who said her name was Mehak, also said that she was crying because their mother had not come back.
She said her sisters were called Maria, Kanza and Gurya.
Ali said Mehak told him that her father was a bus driver.
He said the girl did not know where their house was, adding, "but she said she was afraid that their father would beat them up for getting out of their mother's sight. She said her father often beat up their mother."
Ali said he had reported the lost children to the police.
He said he would also publish an advertisement about the children and contact the Edhi Centre to help him look for their parents.
"If they (parents) are not located, I will bring them up as my daughters," he said.
People's Colony said they were keeping an eye on Ali and were also looking for the girls' parents.
http://tribune.com.pk/story/585805/state-of-children-four-girls-found-abandoned-at-a-park/
--------------
Injured Afghan Girl, Farida Finds A Second Home In U.S.
By David Zucchino
August 2, 2013
MOORESVILLE, N.C. — The dark-haired girl wearing an "American Girl" T-shirt blended in with the other giggling girls flopped on their bellies and watching cartoons inside a darkened classroom.
All that distinguished 11-year-old Farida was an eye patch she had decorated with purple glitter and a fancy "F" to cover her missing left eye. Four years ago, in Farida's remote village in southern Afghanistan, shrapnel from a buried Taliban bomb tore through the eye as she played outside her mud-walled home.
That explosion killed two of Farida's brothers and a sister, and wounded her mother. The vision in Farida's left eye is forever gone, but a new world has opened for her here in the lush Carolina Piedmont, where she has had several eye surgeries and has fallen in love with a second family.
After visits here three consecutive summers, Farida acts and sounds as American as her two host sisters, Hannah, 12, and Macy, 7, who shared their home with her this summer. Farida speaks nearly flawless English, laced with coded kids' jargon familiar to any American parent. She calls her host parents, Asheli and Eric Thompson, "Mommy" and "Daddy."
Seven thousand miles away, her Afghan family anxiously awaits the latest return of a girl who until four years ago had never left her home district. In a decisive act of courage, Farida's father, Abdul Rauf, defied the Taliban and permitted his daughter to leave home with an American charity that provides U.S. medical care for injured Afghan children.
The Taliban dominates the family's province, intimidating locals and killing those who side with the government in Kabul or who work for U.S. forces. Insurgents run shadow courts, cutting off hands, gouging out eyes or stoning to death those who violate their dictates.
Abdul Rauf, 47, is a farmer, a thin, wizened man with a flowing silver beard and calloused hands. After his daughter was wounded in 2009, a neighbor told him about Solace for the Children, a North Carolina-based charity that had helped another injured village child.
Rauf was faced with a wrenching decision — placate the Taliban and condemn Farida to a life of poverty and deprivation, or allow her to leave home in the care of the hated American infidels.
"Some people were saying if the Taliban finds out, they'll cut off your head," Rauf said in December in Kabul, where he was reunited with Farida after the girl's second summer in the U.S.
"I asked these people: Are you afraid to have your own children treated? Will you sacrifice your own flesh and blood?" he said, wrapping Farida in a hug. "I told them: Something good is happening here. Don't be afraid."
Sandy Tabor-Gray, a Solace coordinator from Mooresville who accompanied Farida to Kabul, fought back tears as she listened to Rauf in the charity's Kabul shelter that day.
"He's risking everything for his daughter," she said. "I'm in awe of this family's courage."
Farida is too young to fully comprehend the cultural and religious chasm between rural Afghanistan and middle-class America. But being thrust into a new world at a tender age has reshaped and molded the girl from the Afghan village. She has embraced life in America. She wants to go to school and make her own choices, supported by her father.
"This little girl is blessed beyond belief to have a father who wants her to have everything possible," Asheli Thompson said.
Since March, Farida has lived with the Thompsons in Mooresville, outside Charlotte. She's the second injured Afghan girl the family has taken in. Three summers ago, they hosted Sahar, then 7, who had lost an eye and had part of her face destroyed in a Taliban acid attack.
The Thompsons considered Sahar their daughter, and they have come to think the same of Farida.
A trip to Disney World tops Farida's list of favorite things about America, just ahead of McDonald's and the Atlantic Ocean. Over the Fourth of July weekend, she accompanied the family to Myrtle Beach, S.C., and saw an ocean for the first time.
Farida wears glasses to correct the vision in her right eye. Her left eye socket had been fitted with a conformer shell, a clear plastic lens designed to allow her eyelid to blink without rubbing the suture line from surgeries. But the socket closed over the device, and Farida will need further treatment.
She wears her purple eye patch most days. When around her host family, Farida is comfortable enough to remove it and leave the socket exposed beneath her glasses.
Her legs and abdomen are laced with rough, weathered scars from the explosive that detonated as she and her siblings played in a dirt courtyard. She says she remembers the accident clearly — the blast that killed her brother after he stepped on the device, and the piercing screams of her mother, who was peppered with shrapnel as she saw three of her children die.
"She wants me to bring her back some medicine. She still hurts," Farida said.
Farida has spoken just once with her family since March, on a call her American family managed to place to her father's cellphone in southern Afghanistan. (The charity asked that Farida's surname and province not be published for fear of Taliban retaliation.)
Farida worries that she's forgetting her native Pashto language after months away. At her North Carolina public school, where her teacher says students compete to sit beside Farida, she delivered a talk about Afghanistan to a sixth-grade class.
"I was really nervous," she said. "But it went OK, and I wrote down all of their names in Pashto for them."
Last week, the day arrived that Farida and the family had been dreading. It was time to drive her to the airport for her flight to Kabul, accompanied by several other injured Afghan children treated by Solace.
Farida was in tears at the airport, and so were her host sisters and parents. She had spent the morning tearfully saying goodbye to her bedroom, the neighbors, and the family hamster and dog.
"She told me she wanted to stay with us a million days," Eric Thompson said.
In Kabul, Farida's father knows that his daughter's life has been forever altered — not just her physical recovery, but her future as an independent young woman. The father of 11 children, Rauf does not want Farida married off to a relative or older man at age 12 or 14, the custom for many Pashtun girls in rural southern Afghanistan. Farida is scheduled to live at a Solace refuge in Kabul, and attend school nearby.
"Everything is different now for her. She will go to school. She'll be an educated woman," Rauf said. "I believe in my heart it's things like this that will bring peace to our country."
david.zucchino@latimes.com
http://www.latimes.com/news/nationworld/nation/la-na-afghan-girl-20130803,0,3320571.story
--------------
King Saud University, a Civil Organization to Help Reduce Divorce Rate
August 03, 2013
The King Saud University (KSU) has signed a cooperation agreement aimed at reducing the rate of divorce and associated social consequences with the Mawada Association, a civil organization involved in Muslim matrimonial services.
The document was signed recently by association President Princess Sarah bint Musaad bin Abdul Aziz and the dean of the King Saud University's Olaysha Center for Girls, Benayeh M. S. Al-Rasheed, to encourage marriages based on the Islamic morals and manners in an effort to curtail divorce.
Al-Rasheed highlighted the importance of cooperation between the university and the civil organization to strengthen the association's work and help offer concrete solutions to save marriages. Princess Sarah said the KSU will contribute in helping the association realize the agreement's objectives, which is raising awareness of the importance of a cohesive family.
KSU officials said it can't be denied that divorce is disruptive to family members, especially women and children. Divorce can have detrimental effects on children's emotional, mental and even physical health.
Studies show that children may become aggressive, hyperactive and anxious, which can lead to sleep disturbances and loss of appetite.
Such a major turn in their lives can no doubt have a damaging impact on their academic performance at school.
The rate of divorce in the Kingdom has increased dramatically in recent years, with government officials putting it at 40 percent in early 2012.
In 2010, there was one divorce per hour with 18,765 divorces occurring out of 90,983 marriages in Saudi Arabia, according to a local Arabic daily.
The newspaper also said that last year Saudi Arabia's divorce rate increased by 35 percent, making the country's figure higher than the world average of between 18 and 22 percent.
With divorce in Saudi Arabia as well as other GCC countries rising at an alarming rate, drastic measures are needed to prevent the so-called spinster population ballooning to an estimated 5 million in the Kingdom in the next there years, KSU officials said.
Family consultants claim divorce rates tend to spike during the Eid holidays.
According to experts, two divergent forces have been at the forefront in most GCC countries: modernization and tradition.
Advances in modernization, including urbanization, an easier accessibility to feminist awareness and even higher attainability academically have allowed both men and women alike to re-access their position in society and therefore the family structure.
http://www.arabnews.com/news/460064
--------------
Uzbek Leader's Daughter, Gulnara Karimova under French Probe
August 03, 2013
PARIS: French authorities are investigating a money laundering case that targets Gulnara Karimova, the Uzbek leader's daughter, among others, a judicial source said Friday.
The glamorous eldest daughter of Islam Karimov, who has ruled Uzbekistan with an iron fist since the collapse of the Soviet Union, Karimova was educated at Harvard and is closely watched as a possible successor to her 75-year-old father.
The source said a French probe was opened in February into "money laundering by an organized gang" and "corruption of a foreign official", in a case allegedly involving Karimova.
http://www.arabnews.com/news/460041
--------------
Children Distract Women Worshipers at Taraweeh in Medina
August 03, 2013
MADINAH — The director general of the Ministry of Islamic Affairs' Madinah branch advised mothers with young children to pray Taraweeh at home, rather than have their children distract other worshipers, according to Al-Madinah newspaper.
Mohamed Khatari explained that regular visits to the mosque are important for the religious conditioning of children.
Yet, he said, parents should supervise their children.
If they know that their children will distract other worshipers, they should not let them go to Taraweeh prayers, he said.
Azeeza Al-Saleh, a resident of Madinah, said many children think of the mosque as a playing area.
She suggested that every neighborhood or mosque have a nursery, or that each mosque hires a supervisor for the children.
Waad Al-Saeed, another Madinah resident, said a mother should pray at home if she cannot control her young children.
Young children distract worshipers with their running, Al-Saeed said. She said this is especially true in small neighborhood mosques.
Laila Al-Qarafi suggested the use of posters to remind worshipers of the Prophetic tradition that says: "Let your children avoid going to the mosque."
She added that taking children to the mosque for Taraweeh hurts both the mosque and the worshipers.
She complained that some mothers get angry and impolite when asked not to bring their children.
Isra, Sarah and Asma Al-Bouq, visitors to Madinah, expressed their surprise at the disorder in Madinah's mosques.
Some mothers, they said, fail to convey to their children the importance of preserving the sanctity of the mosque.
Some children litter the mosque, they added, and recommended the hiring of supervisors to oversee the children while their mothers pray.
http://www.saudigazette.com.sa/index.cfm?method=home.regcon&contentid=20130803175750
--------------
Proposals for Dr Aafia's extradition sent to PM
August 3, 2013
ISLAMABAD: Recommendations presented by a task force for Dr Aafia Siddiqui's extradition from US have been sent to the prime minister's office for final approval.
A high official at premier's office told The Express Tribune on Friday that "Prime Minister Nawaz Sharif was eager to go through the recommendations to initiate the process for Aafia's extradition," adding that he will discuss the recommendations in a cabinet meeting for the final approval after he returns from Jeddah.
Sources privy to the matter confirmed that there was a possibility that the premier might hold a telephonic conversation with President Obama over the matter. Sources claimed that after the prime minister's approval, a letter would be written to US requesting Aafia's extradition before Eid.
An official at the foreign office said "this should not be taken as an easy procedure since we don't have a bilateral treaty with US regarding prisoner exchange. However, entering into any of the two existing multilateral treaties would also take four to five months for the extradition".
The official said once Nawaz Sharif approves the recommendations the foreign office will initiate the process of signing treaties with the US.
"But this doesn't mean that Aafia's extradition would then be at an arm's length. We would then have to seek… only after the US gives its nod would we kick off the standard procedure," he added.
The recommendations were forwarded to the PM after the interior ministry and foreign office gave clearance.
http://tribune.com.pk/story/585867/initiating-process-proposals-for-dr-aafias-extradition-sent-to-pm/
--------------
URL: https://newageislam.com/islam-women-feminism/arab-women-face-hostile-society,/d/12880