New Age Islam News Bureau
8 Jun 2020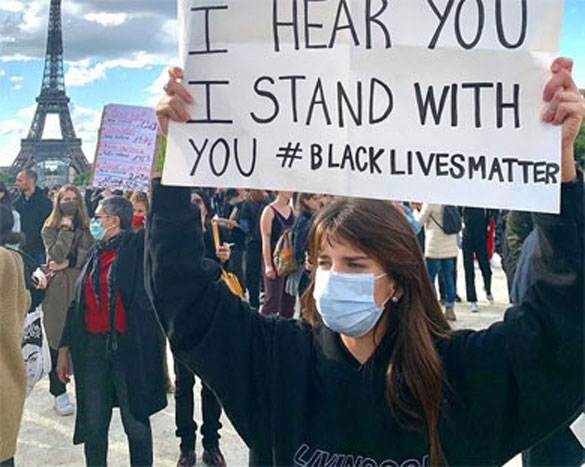 Tunisian model Sonia Ben Ammar shared images from the Paris protests on Sunday. (Instagram)
-----
• Arab Stars Sofia Boutella, Sonia Ben Ammar Join Protests in US and France
• British Singer Opens Up About 'Horrific' Bullying Due to Her Arab Heritage
• Indian Government Set to Revise Women's Legal Age For Marriage
• COVID-19: Indian Women Take Up Unconventional Jobs As The Battle For Survival Gets Tougher
• Bangladesh's First Human Milk Bank Hits COVID-19 Hurdle
• Jailed Kurdish Political Prisoner, Zeynab Jalalian, Refused Hospitalization For COVID-19
• Legal Limbo for EU Children and Wives of The Caliphate
• Now, Its Clearer; Nigeria Hates Its Women!
• Government Partners EU, UN Others to Combating Violence Against Women, Girls
• Female Pilot Flies Home to Sunshine Coast After Making History in Fight Against Islamic State
Compiled By New Age Islam News Bureau
URL: https://www.newageislam.com/islam-women-feminism/arab-stars-sofia-boutella-sonia/d/122062
------
Arab Stars Sofia Boutella, Sonia Ben Ammar Join Protests In US And France
June 08, 2020
DUBAI: Hundreds of thousands of people have taken to the streets all across the world in the past few weeks to protest the killings of African-American citizens George Floyd, Breonna Taylor and others at the hands of police. Among the protesters was a handful of celebrities.
For the latest updates, follow us on Instagram @arabnews.lifestyle
Franco-Algerian actress Sofia Boutella joined the demonstrations in Hollywood on Sunday, which she documented by way of her Instagram Stories.
It wasn't her first time showing solidarity with the protesters. The "Atomic Blonde" star also joined the Los Angeles demonstrations for George Floyd on May 31.
French-Tunisian model and singer Sonia Ben Ammar wrote to her 742,000 Instagram followers that she was "proud of my city (and all the cities) coming together peacefully and unified," alongside a series of images from the Paris protests, which also took place on Sunday.
The 21-year-old joined demonstrators to demand justice for Adama Traoré, a Malian-French man who died in custody after being apprehended by police, in addition to the killings of Floyd, Taylor and other Black Americans.
In one of the images, Ben Ammar can be seen holding up a sign that reads "I see you, I hear you, I stand with you #BlackLivesMatter."
Ben Ammar also made sure to document the demonstrations by way of her Instagram Stories.
Not only did demonstrators call for justice in Hollywood and Paris, but protestors have been hitting the streets in London, Berlin, Toronto and all across the US to express their frustration.
Among the handful of celebrities and influencers demanding justice for the lives lost due to police brutality in the US was Moroccan-Egyptian-Dutch model Imaan Hammam.
The 23-year-old catwalk star took to Instagram last week to share images from the Black Lives Matter protests that took place in Amsterdam's Dam Square.
Other celebrities taking part in protests across the globe include pop star Ariana Grande, actors Timothée Chalamet, Michael B. Jordan and Jamie Foxx, singers Kehlani and Halsey, model Emily Ratajkowski, and rappers Kanye West, J. Cole and Kendrick Lamar.
Athletes, including NBA stars Demar Derozan and Russell Westbrook also showed solidarity with the Black Lives Matter movement, taking to the streets of Compton on Sunday to protest against racial injustice and police brutality.
https://www.arabnews.com/node/1686471/lifestyle
------
British singer opens up about 'horrific' bullying due to her Arab heritage
OLIVIA MORRIS
Jade Thirlwall, a member of the popular girl group Little Mix, has opened up about the "horrific" bullying she experienced during her teenage years.
The 27-year-old British singer, whose maternal grandmother is Egyptian and maternal grandfather is Yemeni, revealed on the BBC's No Country For Young Women podcast she was bullied due to her Arab heritage.
"When I went to secondary school, I was literally one of three people of colour in the school," she recalled. "I remember one time I got pinned down in the toilets and they put a bindi spot on my forehead; it was horrific."
So much so, when the singer rose to stardom on The X Factor in 2011 along with her Little Mix bandmates – Perrie Edwards, Jesy Nelson and Leigh-Anne Pinnock – she avoided discussing the fact she was mixed race in the public domain.
"I think when I then entered the group, I subconsciously didn't want to talk about my heritage or what my background was in fear of not being as popular," she admitted. "Which sounds awful to say, but I was only 18-years-old and through years of being ashamed of who I was, I found it quite hard to talk about it."
This resulted the singer, who won The X-Factor along with her bandmates nearly a decade ago, to feel "ashamed" of her background, causing her to have an "inner battle" with herself.
Even now, nine years after winning the hit singing competition, the star admits she has a constant "inner battle" with herself.
"I have constantly had this inner battle of not really having who I am or where I fit in or what community I fit into," Thirlwall said.
She also added, "Even now I am constantly learning what the right things are to say and I would hate to talk about my race and my heritage and not say the right things."
https://emirateswoman.com/british-singer-opens-horrific-bullying-due-arab-heritage/
------
Indian Government Set To Revise Women's Legal Age For Marriage
Jun 07, 2020
Aditi Tandon
India is all set to revise the legal age for marriage for women with the government forming a high-level committee on Saturday to go into the matter and submit recommendations by July 31.
The taskforce will be headed by former Samata Party President Jaya Jaitly and will have among members VK Paul, Member, Health, NITI Ayog.
The government has notified the taskforce which will examine the correlation of age of marriage and motherhood with implications on the health of mothers and infants, impact of the age of marriage on infant mortality rate, maternal mortality rate, total fertility rate, sex ratio at birth and child sex ratio.
The very first term of reference of the taskforce relates to revisiting the legal age of marriage for Indian women, with sources saying a debate is under way for parity between legal marriageable ages for men and women in India. While the legal age of marriage for women is 18 years, for men it is 21 years.
The health argument behind raising the age of marriage among women is that child bearing at lower ages leads to complications thereby increasing infant and maternal mortality.
The fertility argument behind the move is—higher age of marriage means lesser number of reproductive years for women.
The taskforce has been asked to also suggest legislative amendments to support its recommendations besides laying down timelines by when the recommendations must be implemented.
Union Finance Minister Nirmala Sitharaman had, during the Budget Speech 2020-21, announced, "Women's age of marriage was increased from 15 years 18 eighteen years in 1978 by amending erstwhile Sharda Act of 1929. As India progresses further, opportunities open up for women to pursue higher education and careers. There are imperatives of lowering MMR as well as improvement of nutrition levels. Entire issue about the age of a girl entering motherhood needs to be seen in this light. I propose to appoint a task force that will present its recommendations in six months' time."
The ten-member taskforce will have as members Secretaries Health, Women and Child Development, Law and School Education. Three independent members are Najma Akhtar (New Delhi); Vasudha Kamath (Maharashtra); and Dipti Shah (Gujarat).
https://www.tribuneindia.com/news/nation/government-set-to-revise-womens-legal-age-for-marriage-95664
------
COVID-19: Indian women take up unconventional jobs as the battle for survival gets tougher
June 06, 2020
Lata Rani
Patna: Women in Bihar are taking up unconventional jobs to support their families as the battle for survival gets tougher by the day. While some have been pushed to the brink due to the coronavirus-induced lockdown, several others have taken up unconventional jobs due to the dire situation that their families are currently in. And given the nature of some of the jobs taken up by women, the desperation to break the stereotypes is quite evident.
Of all, the case of Sukhchain Devi is quite fascinating. A resident of Basaul village in Bihar's Sitamarhi district, the 35-year-old woman has been visiting the houses of local villagers and has been either shaving the beards of men or giving them haircuts, a job that until the other day was considered a male domain.
The woman was prompted to take up such an unconventional profession after her husband, Ramesh Thakur, became jobless following the more-than 70-day nationwide lockdown that dried up all their financial resources. Her husband, an electrician by profession, was the lone earning member in the family. The lockdown not only cost Ramesh his job, but also left him stranded in Chandigarh where he worked.
"So, I decided to visit the houses of the local villagers and give them haircuts or shave their beards to earn money," the woman told the Gulf News over the phone on Friday. She has three little children, with the eldest in Grade 7.
Attaining perfection
According to Sukhchain, she had picked up the finer points of a barber's job from her husband, some two years back, out of sheer curiosity and later started giving regular haircuts to her children to attain perfection! On a few occasions, she had also shaved the beards of the male members at home, though she had never stepped out of her house in the serious pursuit of this as a source of income. 
But the lockdown changed everything. Of late, she has been moving from village to village, looking for clients as the battle for survival got tougher by the day.
"Prior to the lockdown, my husband had been sending money every month to run the household. But after he lost his job, we were pushed to the brink of starvation. I had no option other than stepping out of my home and somehow earn money to stay alive. So I decided to use my hair-cutting skills," she said, earning something between Rs150 to Rs200 a day.
Desperate situation
According to her, majority of the villagers give flour, rice or other grains in return for her services. "Even if some pay cash, it is too little. Some pay Rs10 while others pay Rs20, but I have no option other than accepting whatever I get. The same people pay nothing less than Rs50 for a haircut when they visit the salons," she rued.
She said initially, she was quite hesitant touching the males, but gradually she overcame it given the desperate situation she was in. She wants to educate her three children — two sons and a daughter — so that they can land decent jobs when they grow up.
Equally interesting is the story of two sisters — Rani Kumari, 17, and Renu Kumari, 15, who have been running their father's job of repairing punctures. Rani appeared for her Class 10 final examination this year. Her younger sister Renu is in Grade 10. They are from the Chautarava village in West Champaran district.
The young girls were compelled to take up this unconventional job after their father Vikram Sharma suffered paralytic attacks some four years back, leaving him bed-ridden and drying up the family's only source of income.
'My daughters are my pride'
"Initially, very few people would turn up at our shop since they thought we girls won't be able to do the job with perfection. But later on, as they were satisfied with our work, they started visiting us more often," said Rani.
Today, the girls are experts at their job. Fixing punctures even in the large tyres of heavy vehicles such as trucks or cars is not a problem for them, as they deftly remove the tubes and fix the problem in no time. They have been doing this work for the past five years to support their family, but during the lockdown, their skills came in handy more than ever before — with an incapacitated father at home and hardly any other avenue available to earn a living. 
"My daughters are my pride," says Vikram, adding that it is because of Rani and Renu that the family is running smoothly and he is still alive.
https://gulfnews.com/world/asia/india/covid-19-indian-women-take-up-unconventional-jobs-as-the-battle-for-survival-gets-tougher-1.71902130
------
Bangladesh's first human milk bank hits COVID-19 hurdle
June 07, 2020
Bangladesh's first human milk bank stalled once after running into opposition by a group of Islamists last year, and it faces another prodigious hurdle now: the coronavirus outbreak.
The hardliners had resisted the idea of a milk bank that could create the risk of marriage between people who have drunk the milk of the same woman, something forbidden in Islam.
But the Islamic scholars softened their stance on the issue after the authorities defended the government's Institute of Child and Mother Health or ICMH, arguing many other Muslim-majority countries have breast milk banks.
Fitted with imported machinery, the milk bank in Dhaka's Matuail for vulnerable and motherless infants was supposed to open on Dec 1 last year, reports bdnews24.com.
But the machines costing over Tk 100 million have been left to gather dust for a long time now.
"Maybe the Alems [Islamic scholars] think that foreign donor agencies provide the funds. But those who have donated the money are all Muslims. I now sometimes switch the machines on to keep them from breaking down," said Project Coordinator Dr Mojibur Rahman.
He says the milk bank will always be careful so no religious law is violated.
The milk from one mother will be provided to only one baby. The milk from a male baby's mother will go to a male baby only while a female baby's mother will donate milk to a female baby, according to Mojibor.
He believes keeping a record of both the mothers and the babies will prevent a mix-up.
The ICMH had sent papers to the Islamic Foundation assuring the Muslim leaders of steps to ensure compliance with religious rules.
"Besides the Alems, representatives of the health ministry, Health Services Directorate and religious affairs ministry were supposed to sit with us. Even the Alems agreed to hold back their objection on some conditions.
"But that meeting has not taken place," Mojibor added, blaming the coronavirus crisis for the missed opportunity.
The relatives of a teacher of Viqarunnisa Noon School and College, who died recently after giving birth, appealed for help on social media to provide the newborn with human milk, according to him.
"It would have been easy for the baby to get human milk if the milk bank was in operation. It's been vindicated that human milk is essential for babies," Mojibor said.
A guardian of a baby that did not get milk from its mother said there were no efforts to come to aid of such babies while many companies are busy marketing baby formula.
Human milk contains substances that cannot be synthesised, which helps the babies fight viruses and bacteria and protects them from pneumonia and septicaemia.
In particular it can protect the gut from rupturing, a potentially life-threatening condition called Necrotising enterocolitis.
Breast milk also has unique fats that help the immature brain, eye and nervous system develop better for improved intellect and sight.
Dr Md Shamsul Haque, line director at the Directorate General of Health Services, said the ICMH had contacted the directorate.
"We've made initial preparations. The Islamic Foundation has been included in the process for government permission. The foundation called a meeting at the Baitul Mukarram [National Mosque]. But it has been delayed due to the coronavirus," Haque said.
Islamic Foundation Secretary Kazi Nurul Islam said they were looking "positively" at the issue. Some Islamic scholars outside of the foundation will also be invited to the meeting.
"We need to see whether we can allow it here as Pakistan, Iran, Turkey, Malaysia and many other Muslim countries have milk banks," he said.
The Foundation was planning a workshop on the acceptability of milk banks in Islam, but postponed it due to the coronavirus crisis.
"We hope to hold it some other time," Kazi Nurul added.
Supreme Court lawyer Mahmudul Hasan had sent a legal notice to the Ministry of Religious Affairs, Islamic Foundation, ICMH, Special Care Newborn Unit (SCANU) and Neonatal Intensive Care Unit (NICU) last year challenging the milk bank and demanding laying out proper conditions before launching it.
Citing Islamic rules, Mahmudul had said in the notice that children from different mothers become siblings when they drink milk from the same woman and marriage between siblings is haram.
But Mojibur, the project coordinator, said the ICMH had already fulfilled the conditions sought in the legal notice.
Dr Mohammad Shahidullah, the chairman of neonatology at the Bangabandhu Sheikh Mujib Medical University, said there is no alternative to human milk for babies.
Breastfeeding cuts the risk of child death 21 per cent, he said, citing a research.
"A baby may not get milk from its mother for one reason or another. That's where a milk bank will come in handy," he said.
https://thefinancialexpress.com.bd/national/bangladeshs-first-human-milk-bank-hits-covid-19-hurdle-1591530928
------
Jailed Kurdish Political Prisoner, Zeynab Jalalian, Refused Hospitalization For COVID-19
June 07, 2020
Kurdistan Human Rights Network (KHRN) on Sunday quoted Ali Jalalian as saying that by the order of the Intelligence Ministry, prison authorities are refusing to transfer his daughter Zeynab Jalalian to hospital for COVID-19 treatment.
Ms. Jalalian is currently held at the coronavirus quarantine of Qarchak Prison's clinic with several other coronavirus patients. Her family want her to be sent to a hospital urgently due to her worrying health condition.
Qarchak Women's Prison of Tehran is infamous for being overcrowded and for its highly unsanitary conditions. Female political prisoners are often sent there as punishment. Political prisoners are held alongside highly dangerous criminals at Qarchak.
The 38-year-old Zeynab Jalalian is the only female political prisoner serving a life sentence in Iran. She has been in prison since July 2007 when she was arrested in Kermanshah, without a day of temporary furlough as sometimes other prisoners receive.
Ms. Jalalian was sentenced to death in 2009 after a summary trial on charges of being a member of the Kurdistan Free Life Party (PJAK), a banned group in the Islamic Republic, and taking up arms against God. Her sentence was later reduced to life in prison. She has always denied the charges.
International human rights organizations including Amnesty International have repeatedly expressed concern about Ms. Jalalian's health, deprivation from proper medical care even when she was in danger of losing her eyesight, torture, lack of access to a lawyer and other ill-treatments. She has several medical conditions including a heart problem, eyesight issues and sever dental infection.
https://en.radiofarda.com/a/jailed-kurdish-political-prisoner-refused-hospitalization-for-covid-19/30657739.html
------
Legal limbo for EU children and wives of the Caliphate
By SOFIA CHERICI
As the coronavirus pandemic disfigures Europe, it is difficult to get prepared for what is to come.
The post-COVID-19 era might see the upsurge of forgotten ghosts that Europe thought it had put behind. Proliferating in the shadows, recidivist security threats have found fertile grounds in the chaos engendered by the pandemic.
Since the beginning of 2019, when the Kurdish-led Syrian Democratic Forces (SDF) freed the north-western territories of Syria from the last pockets of the Islamic State of Iraq and the Levant (ISIL), Al-Hol, al-Roj, and Ain Issa have become the three largest refugee camps in the hands of the SDF where the IS ex-combatants and their families flowed.
Estimates report that more than 13,000 foreign women and children are held in these camps.
Many EU citizens who once have fled their home to join the ranks of the Islamic State are counted among the detainees.
They and their children, whether born in Europe or the Islamic State, are now indefinitely detained in the camps.
With the death of many foreign terrorist fighters during the conflict, the question about what to do with the 'wives and children of the caliphate' pounds in the ears of the many European countries involved.
With tuberculosis already ravaging these makeshift prisons, the lack of food, clean water, medicines, and the inability to practice social distancing have made these camps ideal hotbeds for the infection to sprawl.
Despite death being a common occurrence in these places, the past months have witnessed the panic spreading with every new fatality, amplifying the existing risk of uncontrolled riots and escapes.
With the Turkish troops' incursion in October 2019, the intensification of the military operation in northern Syria has led the SDF to lose control over the camps: only a few months ago, on March 29th, a detainees' uprising in the SDF-run Ghouiran prison in the city of Hassakeh might have resulted in the escape of some ISIL members.
A juridical impasse
As the SDF has repeatedly claimed its inadequacy to manage the camps as well as to prosecute the detainees, the international community is urged to intervene.
An imperative that recalls the responsibility of the detainees' states of nationality has been widely invoked. Yet, only a handful of them have been repatriated.
The policy line of European countries towards the matter has been fragmented and inconsistent: while countries such as France and Germany have repatriated a few orphans, the UK and Denmark have refused to provide consular assistance or even stripped their nationals of their citizenships.
Europe's reluctance to recognise its responsibilities plays on a grey area of the international law: a juridical impasse from which the European women and children detained in northern Syria's camps struggle to escape.
The lack of direct legal impositions on states against international law has allowed EU member states to stall; as they sit on their hands, the humanitarian crisis in the SDF-controlled camps aggravates.
Stateless children
In contradiction with several international and domestic standards, most of the detainees have not been convicted nor being tried; as such, their long-term detention does not hold legal grounds.
What is more, the squalid sanitary and living conditions are making sure that most of the child detainees die from malnutrition and diseases.
Many children who were born in the self-proclaimed Islamic State used to hold IS birth certificates that are no longer valid.
Despite their natural right to claim for their parents' European citizenship, these children remain stateless as European countries turn to the other side.
For these children, the risk of being abducted, recruited, or exposed to the IS propaganda is perilously close.
Life in the camps may be alienating: the frustration towards a world of deprivations and unsafety in which they have been abandoned might inflame the only narrative these children were told. The risk of their radicalisation is more real now than it has never been in the past.
Despite the absence of clear obligations on states, international treaties and human rights standards reason in favour of repatriation, suggesting the existence of positive obligations on states even in cases of extraterritorial jurisdiction.
As states of nationality, European countries should be guarantors of their citizens' rights, intervening, inter alia, in case of torture and ill-treatment. Children, particularly, are protected by several frameworks - including the Convention on the Rights of the Child - imposing on states the imperative to rehabilitate children afflicted by armed conflicts.
To repatriate children and women from northern Syria is a human rights and security imperative that cannot be eluded.
Yet, women and children affiliated to the Islamic State have been often stigmatised and fingered with fear and circumspection by many. The nature of their role within the caliphate has been long debated, questioning the gravity of their fault and what defines active and passive involvement.
A Manichean view would tend to picture them as either irredeemable villains or blameless victims.
One or the other, it is arguably counterproductive to reduce these women and children to a cliché.
To better face the challenges of their reintegration in the society, it is perhaps better to accept them for who they are: complex human beings.
https://euobserver.com/opinion/148561
------
Now, Its Clearer; Nigeria Hates Its Women!
June 7, 2020
Nigeria still hates its women. That sounds ridiculous, I know. Sadly, it is as true as the fact that we were all conceived by the coming together of a sperm and an egg. Walk with me.
Nigeria still hates its women. It is sixty years of existing as a nation through thick and thin, ups and down, men and women together, yet women get no proper acknowledgement in a nation they helped to build.
This is not a gender battle; it is a battle for humanity. This is about the human's inhumanity to fellow humans.
Twenty-one years into democracy, women have stood by this land, our land of milk and honey. Yet, their tongues taste no milk or honey; whatever honey we think women have tasted, came with turmoil and resilience; it was not on a platter. Yet, they have rights as citizens. Rights they cannot enjoy.
Politically, Nigeria hates its women; its women are the enemy, it seems, as far as the politics of the country is concerned. They are not allowed to occupy elective offices because they are tagged as 'weak'; because they belong to the other room and the kitchen; because the true place of a woman is considered as being behind a man. Still, there are the other thousand and one reasons why women are not allowed to occupy elective offices. Even though women are compensated with appointments within the political system, they are still generally not allowed to assert themselves in these positions.
Socially, Nigeria detests its women. Statements like, "Women do not speak in the gathering of men", still echo in different gatherings, both verbally and non-verbally. Women tend to get shut up in a gathering of men. They cannot be seen in front, otherwise they are considered as being too forward or trying to outshine the men. The women are approached through a strategy of containment, by saying: "Let us protect you", when they are not really concerned about their safety?
One could go on and on and all the instances of how Nigeria hates its women will not be exhausted. But still stay with me.
Every day, somewhere in Nigeria, a female (young or old) is being harassed in so many different ways. Top on the list is through RAPE, which is ever recurring. I am tempted to ask if rapists do not get tired of the same old game? But how can they get tired when in a clime in which our laws appear toothless in stopping our leaders from getting tired of looting? How can they get tired when the good people of this country have decided to be quiet when the victim is not their wives, sisters, daughters, mothers, nieces, aunts or grandmothers? How can they get tired when the victim is the one who is stigmatised and not the rapist?
Some of the most insensitive commentaries in relation to the situation of the victim are: What was she doing there at that time of the day? Why did she go there in the first place? How could she have been so careless? How could she not know that she could get raped?
All these questions usually occur whenever a rape case is reported. And those who ask these never seem to get it that: She was out because she needed to and has the right to move out about freely. Perhaps, Nigeria has legally allocated a time during which women are not allowed to move about, otherwise they become game for predators.
Just recently, it looked like war had been declared on young girls, from the killing of Tina, a 17-year-old, the shock of whose demise people were yet to come to terms with, before which there was the news of the rape of a 12-year-old by 11 men. Then shortly after, there was 22-year-old Uwa who was raped and battered in a church. Doesn't it appear clearer how Nigeria hates its women?
Yearly, groups and individuals clamour for proactiveness towards all of these ugly occurrences and it falls to the rocks every single time. We have now resorted to hashtags and merely coming up on social media to say "I condemn this or that".
Dear opinion leader, it is not enough to come on social media to say you condemn this or that, we have come past the stage of making statements for the timeline; do something tangible about the ongoings: sponsor a bill to facilitate timely justice delivery, join peaceful citizens protests, amplify the voices of the oppressed on your platforms, say something if you know something, give information to the appropriate bodies. There is a lot you can do other than a statement for the timeline.
Parents are not left out of this: Those of them who stifle the voice of their girls, who are brave enough to talk about their nasty encounter with violators. They are often bothered about the family's reputation and not the well being of their children, but what is a family all about, without the concern about the mental wellbeing of the children? This repressive attitude needs to stop, if we wish to fight a gnawing culture of rape in our society, because when we stifle the voices of the violated/victims, we enable the rapists and give their dark pursuits wings to fly.
Yes! We all can certainly come together to do something serious about the menace of rape in our society. Recently, when the incidence of robberies spiked in Lagos, people rallied in different ways and put a stop to these, in a manner that has been largely successful till date. We can do the same with the alarming incidence of rape in our midst.
To think there is a law in Nigeria that seeks to tackle this issue, yet many can hardly recall this ever being triggered into action, and towards justice and deterrence. Why are there many people above the law? At least if the incidence is growing and there is no concommitant rise in the numbers of prosecution, then something darkly unholy is thriving, which we all appear complicit in. The Violence Against persons (prohibition) Act (VAPP) was passed into law in May 2015. Five years after, we are yet to see this law take real effect. Even then, and more disturbingly, only 10 States in Nigeria have domesticated this law. What about the other 26 States? Could they be enablers of violence against and the violation of our fellow citizens?
https://opinion.premiumtimesng.com/2020/06/07/now-its-clearer-nigeria-hates-its-women-by-chiamaka-okafor/
------
Government partners EU, UN Others to Combating Violence against Women, Girls
Minister of State for Budget and National Planning, Prince Clem Ikanade Agba, says that the Nigerian government is committed to the global effort at decreasing violence against women and girls by intensifying collaborations with international partners in the fight against the scourge. Agba restated the commitment on Friday in a welcome address he delivered at the first bi-annual meeting of the National Steering Committee for the Spotlight Initiative in 2020 held at the United Nations' auditorium in Abuja. The Spotlight Initiative specifically backs a national action to end violence against women and girls amid the COVID-19 pandemic while the Initiative's National Steering Committee provides overall strategic policy and political direction on implementation of the spotlight programme. The Committee is also responsible for improving coordination and accountability in the three-way partnership among the United Nations (UN), the European Union (EU) and the Government of Nigeria. Agba said, "Decreasing violence against women and girls requires global solidarity, a multi-pronged approach, and sustained engagement with multiple stakeholders," adding "I therefore wish to restate the government of Nigeria's commitment to all agreed international obligations in this regard." The minister recalled the cases of the 22-year old microbiology student at the University of Benin who was on May 28, this year, reported to have been raped, brutally assaulted and later died; and, the 18-year old student of the Federal College of Animal and Production Technology, Ibadan, Barakat Bello, who was on June 1, this year, also reportedly raped to death in her home after returning from Qur'anic lessons. According to him, "incidences such as these make it imperative for all stakeholders to do everything possible to ensure that women and girls in Nigeria have the right to live in dignity and free from violence." Agba said that the European Union/United Nations Joint Spotlight Initiative therefore represented a veritable tool for such partnership. "Let me at this point, on behalf of the Government of Nigeria, express our Country's gratitude to the European Union (EU) and the United Nations (UN) for their joint efforts at eliminating all forms of violence against women and girls, as well as other initiatives that are targeted at achieving gender equality and women's empowerment, in line with the 2030 Agenda for Sustainable Development," he stated. The minister further said that the Spotlight Initiative aligned with Nigeria's national priorities as encapsulated in the Economic Recovery and Growth Plan (ERGP) 2017-2020, whose successor plan, the Nigerian National Development Plan had, as an important pillar, ensuring that women issues were very well captured. Agba declared that the administration of President Muhammadu Buhari had, in the last five years, worked hard to address some of the issues confronting the nation in the area of violence against women and girls. He assured Nigerians and other stakeholders that the government intended to build on the gains of the past in order to conclude the work of changing, in a fundamental way, all issues relating to violence against women and girls. Minister of Women Affairs and Social Development, Dame Pauline Tallen, acknowledged the support that Nigeria had received from the Spotlight Initiative and urged all hands to be on deck in order to achieve a desirable outcome. EU Ambassador to Nigeria and Head of Delegation, Mr Karlsen Ketil, said the committee identified the need for more encouragement at state level and for scaling up high-level actions. Ketil submitted that the current national outcry over different rape cases provided a momentum for immediate action and called for a nationwide virtual townhall meeting to discuss the issue with members of the public on the way forward.
https://prnigeria.com/2020/06/07/government-partners-eu-un-combat-violence-women-girls/
------
Female pilot flies home to Sunshine Coast after making history in fight against Islamic State
08-06-20
When the Air Force's gigantic C-17A Globemaster pulls up for a mid-air refuel, its dance with a fully laden, modified Airbus A330 is a delicate one — something Flight Lieutenant Hayley Moulds knows quite well.
Flight Lieutenant Moulds said in those critical moments, her training and checklists kicked in to minimise any chance that something could go wrong.
And she ought to know — she is the first woman to have captained the RAAF's refuelling beast, designated as KC-30A.
"You definitely draw on your training to make sure that you're completely capable during those situations," the Sunshine Coast local said.
Woman standing on coastal lookout
Flight Lieutenant Hayley Moulds is enjoying a short break at home on the Sunshine Coast.(Supplied: Hayley Moulds)
Her role was to fly the multi-role tanker transport through the Arabian Gulf into Iraq and provide mid-air refuelling for aircraft from France, Germany and the United States.
The KC-30A, part of the RAAF's No. 33 Squadron, can remain 1,800 kilometres from base and offer 50 tonnes of fuel for up to four hours.
It can refuel F/A-18 Hornets, Super Hornets, Growlers, Wedgetails, C-17A Globemasters and other KC-30As.
Flight Lieutenant Moulds' aircraft has been operating over Iraq and Syria since 2014 as part of the international coalition battling Islamic State.
As a modified passenger craft, it can also carry up to 270 people and 34 tonnes of cargo.
"It's actually nice to handle," she said.
"Because it's so large you've got to definitely accommodate for the bigger movements and on the ground as well when you're steering."
tell us your location and find more local ABC News and information
Large plane above clouds flying in front of three smaller plans
F/A-18 Hornets fly alongside and are refuelled by the KC-30A transport aircraft(Supplied: Australian Defence Force)
Flight Lieutenant Moulds was on assignment at the controls of the KC-30A as the world became gripped by the coronavirus pandemic.
But while she kept flying, all the other planes vanished.
"There was hardly anyone in the air, but you're still there having to do your job," she said.
"It is definitely quite eerie.
"It's a very busy corridor with the Emirates so you're used to seeing a lot of traffic and a lot of other aircraft in the sky."
Woman in RAAF overalls walking under the nose cone of a gigantic military plane
RAAF Flight Lieutenant Hayley Moulds says flying over the Middle East during the pandemic has been eerily quiet with many commercial flights grounded.(Supplied: Australian Defence Force)
Flight Lieutenant Moulds is enjoying the gentle winter conditions back home on the Sunshine Coast after leaving the Australian Defence Force contingent stationed in the Middle East for Operation OKRA as temperatures seared through the mid-40s.
She said she was now enjoying the Sunshine Coast's blue-sky winter days, before she leaves town again later this week.
"It's absolutely spectacular," she said.
"The days here have been beautiful — I'm very happy."
https://www.abc.net.au/news/2020-06-08/sunshine-coast-raaf-pilot-makes-history-over-middle-east/12332730
------
URL: https://www.newageislam.com/islam-women-feminism/arab-stars-sofia-boutella-sonia/d/122062
New Age Islam, Islam Online, Islamic Website, African Muslim News, Arab World News, South Asia News, Indian Muslim News, World Muslim News, Women in Islam, Islamic Feminism, Arab Women, Women In Arab, Islamophobia in America, Muslim Women in West, Islam Women and Feminism