New Age Islam News Bureau
15 Jul 2017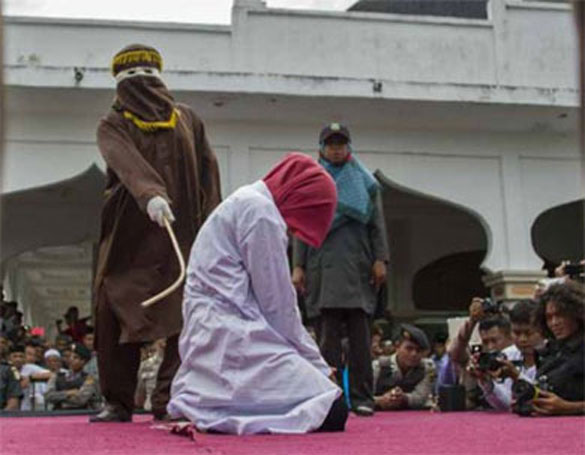 MCA religious harmony bureau secretary Chris Daniel Wong highlighted the differing position of the federal law and the state law on the caning of women. — AFP pic
-----
• MCA Man Says Kelantan Shariah Law Allowing Caning Of Women Unconstitutional
• India: Muslim Women Molested, Family Assaulted, Robbed on Train in UP's Mainpuri
• Allowed In By Trump, Afghan Girls Robotics Team Lands in DC
• Women and Children among 8 Released From ISIS Captivity in East of Afghanistan
• American eagle Hat Tips Islam with Denim Hijab for Sale
Compiled by New Age Islam News Bureau
URL: https://www.newageislam.com/islam-women-feminism/appointment-female-qazi-india-how/d/111836
--------
Appointment of Female Qazi in India and How It Hurts Patriarchal Ego
By Maham Shah
July 14, 2017
Qazi, also known as a judge or magistrate, is an important role in Islam. They are appointed to judge all disputes on the basis of justice in a timely manner without prejudice to maintain the smooth functioning of a society. Not only that, a Qazi acts as a judge in both weddings and divorces. In short, a Qazi in a Muslim society does more than just dispensation of justice.
Traditionally only men have been appointed as Qazis in Islamic courts and the appointment of women as a Qazi has been frowned upon. Many even consider the idea of a woman Qazi as being strictly forbidden in Islam. However, with the passage of time, things have slowly changed in this regard.
Recently, 16 women completed their training as a Qazi from Darul Uloom Niswan, a centre for Islamic learning and theology in India. The move has drawn strict criticism from traditional Muslim community in India who believe a woman is not fit to work as a Qazi.
The Muslim community in India seems to have bifurcated into two extremes with one side completely rejecting the idea of having a woman Qazi while the other half embraces it saying there was nothing unequivocal in Islam against having one.
The proponents of a woman Qazi believe that being a woman herself, a female-Qazi can best understand the sentiments of females who endure domestic violence. They say, a male Qazi most often shows insensitive attitude towards females victim of domestic violence and advises them to quietly "bear the pain".
This issue took centre stage back in 2008, when a famous Muslim activist named Naish Hasan asked a female Muslim scholar named Syeda Hameed to conduct her wedding rituals. Traditionally, this duty is performed by a male Muslim Mullah.
At the time, the All India Muslim Personal Law Board rejected the idea on the ground that there was no such thing as a female Qazi in Islam. While the world-renowned Islamic school, Darul Uloom Deoband, insisted there was no unequivocal statement in Islam against having a female Qazi.
However, in 2016, the All India Muslim Women's Personal Law Board appointed two women as Qazi on the condition that they would only handle counseling related issues.
The Malaysian government also appointed two women as Qazi in 2010, but again with limited powers to only take cases related to children well being and property. They were not allowed to solemnize marriages and or to take other such important cases related to women lives.
The 16 newly-graduated women Qazis in India too will not enjoy as much power and acceptability in Muslim society as their male counterparts, however, they sure will be remembered as catalyst of change by the future generations of Islamic historians.
https://www.voj.news/appointment-of-female-qazi-in-india-and-how-it-hurts-patriarchal-ego/
--------
MCA man says Kelantan Shariah law allowing caning of women unconstitutional
July 15, 2017
KUALA LUMPUR, July 15 — Civil criminal laws disallow the caning of female offenders but a Kelantan Shariah law instead allows for them to be caned if not pregnant, a MCA leader has said.
MCA religious harmony bureau secretary Chris Daniel Wong highlighted the differing position of the federal law and the state law on the caning of women.
"Under the federal Criminal Procedure Code, women cannot be caned. But under the Kelantan Syariah Criminal Procedure Enactment 2002, which includes a provision for public caning, women who are not pregnant may be caned," he said in a statement yesterday titled "Shariah court sentences limited to Federal Constitution provisions; States legislations cannot construct new punishments".
Wong was commenting on the Kelantan state legislative assembly's Wednesday approval of amendments to its Kelantan Syariah Criminal Procedure Enactment 2002, which among others will now allow Shariah offenders to be caned publicly.
Wong said that this bid to change the Kelantan law is "futile" and "merely an academic exercise", reminding the PAS-led Kelantan government that any state-level criminal law is subject to the Penal Code as a federal law.
He highlighted that the Federal Constitution's Ninth Schedule's List II or State List provides for the creation and punishment of offences committed by Muslim offenders against the precepts of Islam as falling within the state government's jurisdiction, except for matters included under the Federal List or matters falling within the federal government's jurisdiction.
"In simpler terms, states can make law to create offences against the precepts of Islam except in regard to matters included in the Federal Lists," he said.
"PAS' move only serves to confuse the people, and even worse, encroach into existing federal legislation ie the Penal Code which outlines punishments for offences, and the provisions of the Federal Constitution," he said.
Kelantan cannot immediately enforce public caning for Shariah offenders, as the approved amendments to the state law would first require royal assent from the Kelantan Sultan before being gazetted and enforced.
In a report by local paper The Star today, Kelantan exco member Datuk Nassuruddin Daud said that "caning in Islam is not meant to torture but to teach the offender a lesson so as not to repeat the offence", noting that it was unlike "whipping in Western-influenced secular laws that can cause bleeding".
He said those caning Shariah offenders are told not to hold the cane above the shoulder when carrying out the punishment in order to inflict less pressure and avoid causing bodily injuries, adding that the cane is specified to be 1.22 metres long and with a diameter of 1.25 centimetres.
http://www.themalaymailonline.com/malaysia/article/mca-man-says-kelantan-shariah-law-allowing-caning-of-women-unconstitutional
--------
India: Muslim Women Molested, Family Assaulted, Robbed on Train in UP's Mainpuri
Jul 14, 2017
Members of a Muslim family were beaten up and their women allegedly molested before being robbed of cash and jewellery by a group of hoodlums aboard a passenger train in Uttar Pradesh's Mainpuri district on Wednesday.
The incident happened after Mohammad Shakir (50) and his family, returning from a wedding, boarded the Shikohabad-Farukkhabad passenger, which did not have GRP personnel, from Bhongaon at night.
Reportedly, the culprits snatched the mobile phone of Faizan, a physically challenged child of the family. As Shakir and his relatives objected, the accused got violent.
According to other passengers, the accused also passed comments on the women of the family, provoking Shakir and his three male relatives to strike them.
The accused hit them back and called their friends, who boarded the train at subsequent stops and assaulted them with batons and iron rods, and also pelted stones, breaking the train's window panes.
"My family members suffered fractures, head injuries and internal injuries. Some even lost consciousness," Shakir told the police, adding that the accused also molested the women, and fled with jewellery and Rs 60,000 cash.
The injured were admitted to RML Hospital in Farukkhabad, and an FIR was lodged with Farukkhabad GRP. Later, the FIR was transferred to Mainpuri GRP for probe.
Police detained four youths. However, they were not found to be involved in the incident.
Officiating SP of GRP, O P Singh said these youths and other passengers had given clues that may lead to the culprits.
A video shot by one of the victims' family member showed there were around 15 assailants, a number of whom had got in after the train stopped at Pakham station.
The SP said investigations are on. "We will nab them soon."
http://www.hindustantimes.com/lucknow/muslim-women-molested-family-assaulted-robbed-on-train-in-up-s-mainpuri/story-vhYney6tgslEFLqfpSJ4TK.html
--------
Allowed in by Trump, Afghan girls robotics team lands in DC
July 15, 2017
WASHINGTON: An all-girls robotics team from Afghanistan has arrived in Washington following a last-minute intervention by President Donald Trump.
The six girls landed early Saturday at Washington Dulles International Airport after a journey from their hometown of Herat, Afghanistan. They were greeted by Afghanistan's ambassador to the United States.
The girls will participate in the three-day competition starting Sunday in the U.S. capital.
Ambassador Alice Wells is the acting U.S. Special Envoy for Afghanistan and Pakistan. She says in an interview that the girls symbolize Afghanistan's accomplishment with U.S. and global help to increase the role of women in Afghan society.
The team says they were twice denied visas by the U.S. Their situation attracted international attention and Trump intervened to have them "paroled" into the country without visas.
http://nation.com.pk/international/15-Jul-2017/allowed-in-by-trump-afghan-girls-robotics-team-lands-in-dc
--------
Women and children among 8 released from ISIS captivity in East of Afghanistan
Jul 14 2017
At least eight civilians including women and children were released from the captivity of the militants affiliated with the Islamic State of Iraq and Syria (ISIS) terrorist group in eastern Nangarhar province of Afghanistan.
The provincial government media office in a statement said the civilians, including five children and two women were kept as captives by the terror group in Haska Mina district.
The statement further added that the civilians managed to escape from the captivity of the terror group as they were kept by the militants of the terror group as captives.
It is believed the women and children belonged to a ISIS group member who was killed during the operations, the provincial government said, adding that the ISIS group member had taken his family with him after joining the ISIS ranks.
The provincial government also added that the civilians are currently being kept in the custody of the security forces and investigation is underway in this regard.
The anti-government armed militant groups have not commented regarding the report so far.
This comes as the Afghan forces are busy conducting counter-terrorism and clearance operations in some restive districts of Nangarhar as the ISIS loyalists have been attempting to expand their foothold and activities in certain districts of the during the recent years.
The US forces based in Afghanistan have also stepped up airstrikes against the anti-government armed militants in Afghanistan.
The airstrikes were increased particularly after the former US administration granted broader role to the US forces to resume counter-terrorism operations, a step that was taken after growing instability in the country, mainly due to the insurgency led by the Taliban and ISIS militants.
http://www.khaama.com/women-and-children-among-8-released-from-isis-captivity-in-east-of-afghanistan-03140
--------
American Eagle hat tips Islam with denim hijab for sale
By Cheryl K. Chumley
July 14, 2017
American Eagle is reaching out to the Muslim community and offering up a denim hijab for sale at its online locations.
So much for the American in the Eagle. Apparently, a hijab is now considered traditional American garb?
The company's nabbed the services of Muslim model Halima Aden to style the head covering and help sell it to America's youth.
"She caught our attention at 2016's Miss Minnesota USA, where she competed in a burkini & hijab," tweeted American Eagle, beneath a fast-moving few-second video of Aden doing a few dance steps in the streets while wearing various outfits all capped by the hijab.
"Wear it your way," the product details read. "Make it as original as you are."
Just don't let ISIS see you. Or disapproving dads who wouldn't hesitate an honor kill on their too-Westernized daughters.
The advertising campaign didn't get into all that. But let's be real. The hijab isn't exactly a fashion statement. It's a sign of female enslavement, all in the name of Allah.
That's not to say women who wear it can't look pretty, though.
But beware the acid. That's all I'm sayin.'
Nike's recently come out with a hijab as well.
"It you have a body, you're an athlete," is that company's tag line about its hijab.
That's perhaps a bit of a stretch on standards. But it's a nice slogan — a nice inclusive reach-out to the couch potato crowd. And the Muslims.
The problem, of course, with all this hijab campaigning is that it's being sold on a deceptive note. The hijab is not exactly a fashion scarf. It's an item many Muslim women are forced to wear while in the presence of males — ostensibly, to show modesty. But the fact it's often forced — the fact that the failure to wear it in the presence of males can get a woman lashed, or raped, or otherwise punished, at least in some Muslim communities — should be a red flag about its political and cultural significance. And on the score, it seems odd that American companies targeting a mostly American customer base would feel the need to offer such an item. The companies are either blind to the realities of Islam, or purposely trying to mask its truths. On one hand, it's just a piece of clothing for sale. On the other, it's an overall and unsettling seepage of Islamic ideologies into a largely unaware demographic of American population — and for young women looking to the next fashion trend, the Hijab, with its anti-freedom, anti-West, anti-equality messages, just ain't it.
http://www.washingtontimes.com/news/2017/jul/14/american-eagle-hat-tips-islam-denim-hijab-sale/
--------
URL: https://www.newageislam.com/islam-women-feminism/appointment-female-qazi-india-how/d/111836
New Age Islam, Islam Online, Islamic Website, African Muslim News, Arab World News, South Asia News, Indian Muslim News, World Muslim News, Women in Islam, Islamic Feminism, Arab Women, Women In Arab, Islamophobia in America, Muslim Women in West, Islam Women and Feminism