New Age Islam News Bureau
02 January 2022
• App Puts Up Hundreds Of Images Of Indian Muslim Women In 'Online Auction' To Insult Them, Journalist Files Complaint
• Tunisian Ons Jabeur And 10 Arab Sportswomen To Watch In 2022
• Najd crowned women's handball champions
• Pakistan women cricketers determined for stellar performance in 2022
• "To Hurt A Woman Is To Insult God": Pope Francis In New Year's Speech
• The Underground Sperm Smuggling Ring That Helps Palestinian Women Have Their Imprisoned Husbands' Babies
URL: https://www.newageislam.com/islam-women-feminism/indian-muslim-women-online-auction/d/126082
-----
App Puts Up Hundreds Of Images Of Indian Muslim Women In 'Online Auction' To Insult Them, Journalist Files Complaint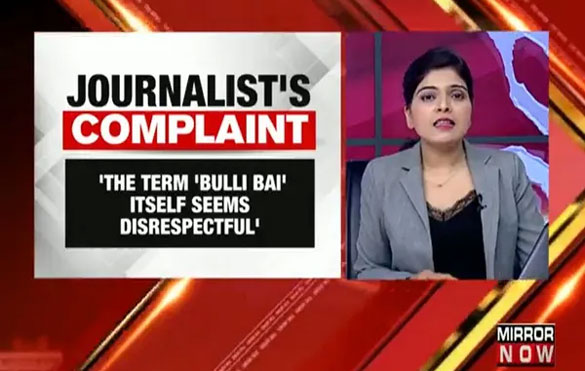 Scroll Staff
02-01-2022
An online application that put up doctored photographs of Muslim women to harass and insult them through an auction has attracted the condemnation of social media users on Saturday. This is the second time in a span of a year that such an app has been created.
In July, an app called "Sulli deals" had posted hundreds of images of Muslim women for "online auction". "Sulli" is a derogatory term used to refer to Muslim women.
The new app, named "Bulli Bai", reportedly works in a similar way as "Sulli Deals", reported NDTV. Muslim women with a number of followers on Twitter have been targeted on the both the apps, which were uploaded on repository hosting service GitHub.
A complaint was filed on Saturday by Delhi-based journalist Ismat Ara, who posted a screenshot of the website bulli.github.io that had put up her photograph.
"It is very sad that as a Muslim woman you have to start your new year with this sense of fear and disgust," she said. "Of course it goes without saying that I am not the only one being targeted in this new version of #sullideals."
In her complaint, the journalist said that bulli.github.io had posted a doctored photograph of her "in an improper, unacceptable and clearly lewd context". "I am often the target of online trolls and this seems to be the next step in such harassment," she said.
The journalist said that "offences of sexual harassment under sections 354A(iv) [making sexually coloured remarks], 506 [criminal intimidation], 509 [words or gestures intended to sexually harass women] of the Indian Penal Code and Sections 66 [damaging computer data] and 67 [transmitting obscene material] of the Information Technology Act" had been clearly committed.
Deputy Commissioner of Police (south-east district) Esha Pandey said that "appropriate legal action" would be taken, The Indian Express reported.
Meanwhile, Union Information Technology Minister Ashwini Vaishnaw said that GitHub had blocked the portal on Saturday morning. He added that the Indian Computer Emergency Response Team and the police are "coordinating further action".
Shiv Sena MP Priyanka Chaturvedi said on Saturday that she had spoken with the Mumbai Police commissioner and the Maharashtra director general of police about investigating the matter. "Hoping those behind such misogynistic and sexist sites are apprehended," she said.
All India Ittehadul Muslimeen chief Asaduddin Owaisi said the app was "disgusting" and alleged that "inaction by authorities has made these criminals brazen".
The Network of Women in Media described the matter as "shocking and totally condemnable". The organisation noted that it had sought action against the creators of the Sulli deals app.
In July, a first information report was lodged based on a complaint received on the National Cybercrime Reporting Portal against the app, the Delhi Police Cyber Cell had said. However, the police have not made any arrests yet in the "Sulli deals" case, according to The Indian Express.
We request you to support our award-winning journalism by making a financial contribution towards the Scroll Ground Reporting Fund. The fund will ensure we can continue to ask the questions that need to be asked, investigate what needs to be uncovered, document what must not go unrecorded.
Source: scroll
https://scroll.in/latest/1014120/app-puts-up-photos-of-muslim-women-in-online-auction-journalist-files-complaint
-----
Tunisian Ons Jabeur And 10 Arab Sportswomen To Watch In 2022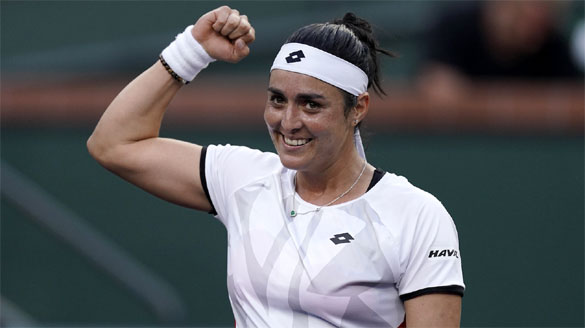 Tunisian Ons Jabeur
----
Reem Abulleil
Jan 2, 2022
The Tunisian continues her historic rise up the WTA rankings and kicks off her 2022 campaign at No 10 in the world.
The 27-year-old enjoyed a history-making 2021, becoming the first Arab player – man or woman – to make it to the top 10 in tennis, peaking at No 7 in November.
She became the first Arab to win a WTA title when she triumphed in Birmingham last June, and followed that up by becoming the first Arab woman to reach the quarter-finals at Wimbledon.
"As you know I'm someone that likes challenges and especially likes to say the goals out loud. I want to keep breaking records, I want to keep making history and giving even more the example for the athletes out there," Jabeur told reporters in Abu Dhabi last month.
"I want to continue my journey and be able to win more titles, prove myself that I deserve the spot in the top 10. I'm very ambitious for next year, I'm going to expand more the team, I'll let you know when everything is confirmed and it's going to be a great season hopefully."
Having already secured six victories in the F4 UAE championship, the Emirati teenager made history in 2021, by becoming the first woman to step on the podium in the Italian F4 Championship, when she finished third at Misano last June.
"What an amazing feeling! I got my first podium, and it was quite unexpected. Obviously, I knew I had the pace and I could reach the top three, but it is a dream come true for me," Al Qubaisi said after the race.
The 19-year-old from Abu Dhabi, following in the footsteps of her father Khaled and her older sister Amna, has made a lasting impression on racing in Italy for Prema Powerteam and will be eyeing further success this year in Formula 4 and the Formula Regional Asian Championship.
Now 18, the midfielder recently turned up in a photo on Zinedine Zidane's Instagram, who met with Jefry and Emirati footballer Nouf Al Anzi as part of a campaign for their shared sponsor, Adidas.
Jefry is the first woman from Saudi Arabia to be named as an ambassador for Adidas and she is thrilled to play a part in promoting women's sport in the country.
"I am happy with the development of women's football in Saudi Arabia, and I aspire to do more with the hope that the spotlight will be on more female talents," she said.
In December 2019, at just 12 years of age, Goda became the first African to be ranked No 1 in the ITTF Under 15 girls' cadet category.
Last September, age 13, the Egyptian prodigy defeated Africa's most successful female player Dina Meshref 4-2 in the semi-finals to become the youngest finalist in the history of the African Table Tennis Championships.
At the ITTF World Youth Championships last month, Goda won gold in the U15 girls' doubles event and took silver in the singles, to finish her landmark 2021 on a high note.
An Olympic champion in the making, Goda's journey is already a remarkable one and she already has her sights set on making more history in 2022.
The 33-year-old Moroccan is the first Arab to earn playing privileges on the Ladies European Tour and just wrapped up her 11th full season competing on the circuit.
In 2021, Haddioui qualified for her second consecutive Olympic Games, where she stunned with an ace on the seventh hole in Round 2 before concluding her Tokyo campaign in 43rd place.
The Agadir resident's 2021 season was highlighted by an 11th-place finish at the Czech Ladies Open and more recently an eighth-place finish at the Aramco Team Series event in Jeddah.
Back from maternity leave, the former world No 3 made a winning return to the PSA tour a few weeks ago, defeating compatriot Hana Ramadan to reach the quarter-finals of the CIB Squash Open Black Ball, just five months after giving birth to her baby daughter Farida.
El Tayeb, who slipped to No 9 in the rankings, will be looking to climb her way back up and challenge fellow Egyptians Nour El Sherbini and Nouran Gohar at the top.
The first Egyptian to win a WTA 125 title, the first Egyptian woman to win a match at a Grand Slam, the first Egyptian to reach a WTA final, the first Egyptian woman to crack the top 100 … Sherif's extensive list of firsts achieved in 2021 earned her a nomination for the tour's Newcomer of the Year award.
The Cairene finished her season ranked a career-high 61 in the world and will be searching for new heights as a new campaign gets underway this month in Australia.
The 21-year-old Lebanese has qualified for the Beijing 2022 Winter Olympics, where she is set to compete in the slalom and giant slalom events.
Currently training at her base near Les 3 Vallées in France, Ouaiss enjoyed a strong 2020-21 campaign with four victories in slalom and giant slalom in Cedars and great showings at FIS events in Montenegro.
Egypt's most successful swimmer rebounded from a difficult Tokyo 2020 Olympics with some strong performances at the World Championships in Abu Dhabi last month, reaching the final in the 100m butterfly and the semi-finals in the 50m freestyle and 50m butterfly events.
The African record-holder, three-time Olympian, and two-time World Championship bronze medallist is looking to hit some best times in this upcoming season, with an eye on the World Aquatics Championships in Fukuoka in May.
At the tender age of 15, Al Khatib has already represented the UAE at a World Championship, thanks to the wildcard she received to compete in Abu Dhabi last month.
The teenage backstroker recently picked up two gold medals and a bronze at the Arab Swimming Age Group Championships in the UAE and is looking to take another step forward in her young career in 2022.
Source: The National News
https://www.thenationalnews.com/sport/2022/01/02/ons-jabeur-and-10-arab-sportswomen-to-watch-for-in-2022/
-----
Najd crowned women's handball champions
ARAB NEWS
January 01, 2022
RIYADH: Najd have won the first women's handball championship cup organized by the Saudi Handball Federation at Dar Al-Uloom University Hall in Riyadh.
The teams were Najd, with Jeddah Hands and Al-Majd in the first group, and Najd Al-Mustaqbal, Elite and Al-Himma making up the second group.
Opening the tournament, the women of Najd showed their strength and determination to win the title early, beating Jeddah Hands a 4-11.
Jeddah Hands player Alaa Sindi said she underwent intensive training with her team in preparation for the launch of the first women's league in the Kingdom for the game.
And she said she joined referee courses and participated as a goalkeeper and a referee at the same time in the tournament that concluded in Riyadh.
"With my team, Jeddah Hands, I played this tournament as a goalkeeper," she said. "I followed many training courses in goalkeeping as well as referee courses. I was hoping that we would win the championship. In Riyadh, we competed with five other teams from Jeddah and Riyadh."
She said she was relatively new to the game, but said loved it a lot, adding that she was not put off by the roughness of the sport.
Source: Arab News
https://www.arabnews.com/node/1996326/sport
-----
Pakistan women cricketers determined for stellar performance in 2022
By Sohail Imran
January 02, 2022
LAHORE: Pakistan women cricketers say that COVID-19 has affected sports activities in 2021. It was not easy to play after the COVID-19 break, and the results of the series against South Africa and the West Indies were not in favor of the Pakistan team.
But the national women's team players are determined that they will not repeat the mistakes in 2022 and will only focus on the Women's World Cup, scheduled to be held in 2022.
Source: Geosuper
https://www.geosuper.tv/latest/12735-pakistan
-----
"To Hurt A Woman Is To Insult God": Pope Francis In New Year's Speech
by Chandrajit Mitra
January 01, 2022
Vatican City: Pope Francis used his New Year's message on Saturday to issue a clarion call for an end to violence against women, saying it was insulting to God.
Francis, 85, celebrated a Mass in St. Peter's Basilica on the day the Roman Catholic Church marks both the solemnity of Holy Mary Mother of God as well as its annual World Day of Peace.
Francis appeared to be in good form on Saturday following an unexplained incident on New Year's Eve where he attended a service but at the last minute did not preside over it as he had been expected to.
At the start of the Mass on Saturday, he walked the entire length of the central aisle of basilica, as opposed to Friday night, when he emerged from a side entrance close to the altar and watched from the sidelines.
Francis suffers from a sciatica condition that causes pain in the legs, and sometimes a flare up prevents him from standing for long periods.
Francis wove his New Year's homily around the themes of motherhood and women - saying it was they who kept together the threads of life - and used it to make one of his strongest calls yet for an end to violence against them.
"And since mothers bestow life, and women keep the world (together), let us all make greater efforts to promote mothers and to protect women," Francis said.
During an Italian television programme last month, Francis told a woman who had been beaten by her ex-husband that men who commit violence against women engage in something that is "almost satanic".
Since the COVID-19 pandemic began nearly two years ago, Francis has several times spoken out against domestic violence, which has increased in many countries since lockdowns left many women trapped with their abusers.
Public participation at the Mass was lower than in some past years because of COVID restrictions. Italy, which surrounds Vatican City, reported a record 144,243 coronavirus related cases on Friday and has recently imposed new measures such as an obligation to wear masks outdoors.
In the text of his Message for the World Day of Peace, issued last month, Francis said nations should divert money spent on armaments to invest in education, and decried growing military costs at the expense of social services.
The annual peace message is sent to heads of state and international organisations, and the pope gives a signed copy to leaders who make official visits to him at the Vatican during the upcoming year.
Source: Ndtv
https://www.ndtv.com/world-news/violence-against-women-insults-god-pope-says-in-new-years-speech-2683126
-----
The underground sperm smuggling ring that helps Palestinian women have their imprisoned husbands' babies
Fouad AbuGhosh
2nd January, 2022
From the moment Hossam Al Attar passed the phial containing his semen to his wife, Farhana, she knew she had only a small window to act.
Their hands moved furtively, trying to avoid the attention of the Israeli prison guards who kept a wary eye on Farhana during one of her rare visits to the facility where Hossam had been imprisoned since 2009.
Her heart pounding in her chest, she left the prison and drove an hour to the Gaza border, where she began the arduous process of crossing the Israeli checkpoint to the other side.
But her mission was of vital importance – the container of semen was the last hope the couple had for fulfilling a long-held dream: to conceive a child.
Farhana and Hossam were married in late 2008, young and in love. Only three months later, Hossam was arrested by Israeli forces during the Israel-Gaza war, and sentenced to 18 years in prison.
With the prospect of a long separation, they hatched a plan to secretly transport Hossam's sperm to a clinic in Gaza, the coastal enclave on the Mediterranean that has been sealed off from the world by Israel and Egypt for more than a decade.
Before making her visit to her husband in prison, Farhana sought help from Dr Baha Al Ghalayini, considered one of Gaza's best-known IVF doctors.
The Cambridge-educated Palestinian gynaecologist and obstetrician trained under Patrick Steptoe, the late British pioneer of in-vitro fertility treatment.
The semen samples Dr Al Ghalayini receives vary in their condition, with many brought to him in makeshift containers. Once received, they are immediately frozen in specialised storage.
There is no publicly available data on how many Palestinian couples have conceived using sperm smuggled from Israeli prisons, but anecdotally there have been dozens since the mid-2000s.
First there is the delicate task of smuggling the semen out of the prison cell, then the frantic journey to the Gaza border, then the time-consuming crossing at the Israeli checkpoint, and finally – provided the semen survives that long – the medical procedure itself on the other side.
"It was hard and risky, especially for the smugglers. Whoever does this puts his life in danger," said another Palestinian woman in Gaza, Sherine Al Sakany.
Sherine conceived twins from semen smuggled six years ago from the Israeli prison where her husband is currently serving a 28-year sentence.
Next was Farhana's procedure itself. Using sperm taken from Hossam's container, Dr Al Ghalayini and his team carefully fertilised one of Farhana's eggs and surgically planted it inside her.
In 2014, Gaza was bearing the brunt of bombardment from Israeli warplanes during one of the deadliest conflicts between Israel and Hamas – the militant group that controls Gaza – in several decades.
Sheltering at home, as shells exploded on streets around her, Farhana received a call from Dr Al Ghalayini. Tests showed the embryo he had cultivated in his lab and inserted into Farhana's uterus was healthy.
Many Gazans see conceiving a child using such methods as an act of resistance to Israel and Egypt's years-long blockade of Gaza, which has made contact between those living in the territory and the outside world extraordinarily difficult, if not impossible.
Now seven years old and never having met him, she knows little of her father except for what she can glean through photos and stories her mother tells her.
Some nights, Jannat wakes in the small hours and runs to her mother's bedside, where she tells her of a dream she's had where her father is sleeping peacefully next to her.
Over breakfast, she laments that her father can't take her to school and see her off at the gates, or wait for her at the sound of the bell.
Source: ABC.net
https://www.abc.net.au/news/2022-01-02/palestinian-women-smuggle-sperm-from-imprisoned-husbands/100718618
-----
URL: https://www.newageislam.com/islam-women-feminism/indian-muslim-women-online-auction/d/126082
New Age Islam, Islam Online, Islamic Website, African Muslim News, Arab World News, South Asia News, Indian Muslim News, World Muslim News, Women in Islam, Islamic Feminism, Arab Women, Women In Arab, Islamophobia in America, Muslim Women in West, Islam Women and Feminism