New Age Islam News Bureau
2 May 2019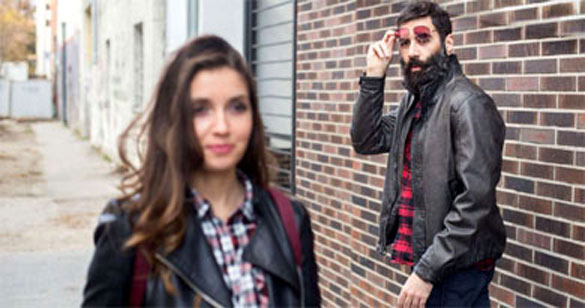 "This makes me feel uncomfortable." (Representational Photo)
------
• Any Gesture That Makes a Woman Feel Violated and Uncomfortable - From Catcalls To Long Stares And Dropping Phone Numbers - Can Get You Jailed And Fined In The UAE
• Hindu Girl Who Eloped Says Muslim Lover Must Convert, Turn Vegetarian to Marry
• Terror Groups May Be Recruiting More Women to Wage Jihad: Study
• Muslim Feminists Are Speaking Out Against the Widespread Notion That Feminism Is Not Part of Islam
• Yazidi Women Seek Acceptance For Children Born Of IS Rape
Compiled by New Age Islam News Bureau
URL: https://www.newageislam.com/islam-women-feminism/any-gesture-that-makes-woman/d/118484
--------
Any Gesture That Makes a Woman Feel Violated and Uncomfortable - From Catcalls To Long Stares And Dropping Phone Numbers - Can Get You Jailed And Fined In The UAE
May 1, 2019
Any gesture that makes a woman feel violated and uncomfortable - from catcalls to long stares and dropping phone numbers - can get you jailed and fined in the UAE.
The Dubai Police reiterated the warning as they announced that recently, 19 people were arrested after they were found 'harassing and eve-teasing' women on beaches and roads. Eleven were caught in Jumeirah, five in Al Mamzar, two on Al Khawaneej roads and one on Commercial Centre Street.
Eve-teasing, a common euphemism, is an act where women face sexual aggression ranging from sexually suggestive remarks, catcalls and, sometimes, outright groping.
In the UAE, such a harassment also covers staring at women, winking at them, blowing kisses and commenting on her body. Taking photos of women without their consent is also a crime.
Brigadier Jamal Salem Al Jallaf, director of the General Department of Criminal Investigation, said all women have the right to feel safe, secure and protected. And such crimes of harassment are "alien to the culture and traditions of the UAE", he said.
According to Article 359 of the UAE's penal code, a person shall be sentenced to detention for a maximum period of one year or to a fine not exceeding Dh10,000 - or both - if he molests a woman through words or acts in a public or a frequented place.
Ahmad Al Sayyed, senior associate of the London-based law firm Charles Russell Speechlys, said such an offence - although considered a misdemeanour - can also get a convicted expatriate deported.
"Deportation, in this case, is mandatory because the charge falls under crimes against honour, Chapter 5 of Article 121, which mandates the deportation of non-UAE nationals," Al Sayyed said.
He also urged all women to report any incident that made her feel harassed and violated.
Beachgoers a common target
Beaches are some of the most common places where harassments take place. In fact, a total of 1,725 people were arrested for committing various offences on Dubai beaches in 2018 - 289 of which involved people taking photos of women without their consent; 743 were found disturbing beachgoers; and 256 were nabbed for swimming in their underwear.
Hind Ali, a resident, said men would usually pretend that they were taking pictures of the sea but, actually, they were snapping photos of women. "This makes me feel uncomfortable."
Women must be aware of their rights and inform the authorities of any offence, said Fatima from Morocco.
Brig Al Jallaf assured the public that their patrols are working round the clock to ensure that people feel comfortable as they enjoy Dubai's beaches.
Officers in plain clothes and patrols are deployed across the emirate, especially on public beaches like Jumeirah Open Beach, Umm Suqeim Beach, JBR and Al Mamzar Beach Park. Security cameras are also installed in certain areas.
"Our aim is to make beachgoers feel safe and protected," he said.
https://www.khaleejtimes.com/nation/hefty-fine-jail-for-staring-at-women-passing-sexual-comments-in-uae
--------
Hindu Girl Who Eloped Says Muslim Lover Must Convert, Turn Vegetarian to Marry
May 2, 2019
In a unique development, an adult Hindu girl has submitted an application to Surat police in which she has said that she would marry a Muslim youth with whom she had an affair only after he converted to Hinduism and became a vegetarian.
The girl, aged 18 years and seven months, submitted the application to Katargam police a day after she and her lover were detained by the police, acting on the missing complaint case filed by the girl's parents. On April 22, the couple had fled after the girl's family reached Nanpura marriage registry office where she was going to get married to the Muslim youth.
After detaining them on Monday, police released the couple, saying that both were adults and free to take their own decisions. However, the girl returned to her family, and a day later submitted an application to the police in the presence of her parents and family members.
In her affidavit to the police, the girl stated that she had signed a contract of live-in relationship with the Muslim youth. She also stated that she wanted to marry the Muslim youth, but with certain conditions such as — he should change his religion and convert to Hinduism in the presence of his parents, he should also give an assurance that in the future he will not change his religion, he should give up non-vegetarian food and not force her to eat or cook non-vegetarian food.
"We have received such an application from the girl, in which she has mentioned that Muslim youth should change his religion and become Hindu and also leave non-vegetarian food. While submitting such an affidavit (to police), she mentioned that a copy of it should be sent to the Muslim youth and his family members," said Sub-Inspector (Katargam) A R Rathod.
Sources said that the Hindu girl and Muslim youth, who live in the same locality, started seeing each other six months ago. While the youth works with a musical band, the girl had discontinued her studies after the second year of a BCom degree course. When the girl's parents learned of their relationship, they met the Muslim youth's parents and told them to pressure their son to end the relationship. Sources said the youth's parents too did not accept the relationship and threatened to cut off all ties with their son if he continued to see her. However, standing up to the families, the couple decided to marry.
https://indianexpress.com/article/cities/ahmedabad/hindu-girl-who-eloped-says-muslim-lover-must-convert-turn-vegetarian-to-marry-5705695/
--------
Terror Groups May Be Recruiting More Women to Wage Jihad: Study
MAY 01, 2019
WASHINGTON: Terror groups may be increasingly recruiting women, data from the first large-scale research project evaluating the characteristics of women involved in jihadisminspired terrorism has found, days after Sri Lanka witnessed the country's worst terror attack.
A woman was part of the nine suicide bombers in Sri Lanka on Easter Sunday and intelligence officials say more women posing as devotees were planning to carry our terror attacks on Buddhist temples in the island nation.
A study published on Monday by the North Carolina State University in the US found significant differences between men and women in both their backgrounds and their roles within terrorist groups.
For the study, researchers drew on data from the Western Jihadism Project, based at Brandeis University in Waltham, Massachusetts, which collects data on terrorists associated with Al-Qaeda-inspired organisations.
The researchers conducted comparative analyses of 272 women and 266 men, who were matched to control for variables such as ethnicity, nation of residence and age at radicalisation.
There were significant differences in background for men and women. For example, only 2 per cent of women had a criminal background before radicalisation, compared to 19 per cent of men.
While about 14 per cent of men had no profession in the six months preceding their affiliation with a terrorist group, almost 42 per cent of women were unemployed during the same timeframe, the study found.
"The data also suggests that terrorist organisations may be increasingly recruiting women," says Sarah Desmarais, an associate professor of psychology at North Carolina State and co-author of the paper.
"For example, 34 per cent of the women in our sample were born after 1990, while only 15 per cent of men were born after 1990. Since we were able to control for age at radicalisation, this suggests an increase in women's involvement in terrorist groups," she said.
The research also highlighted different roles for women in terrorist action.
"Women were less likely than men to be involved in planning or carrying out terrorist attacks," Christine Brugh, lead author of a paper on the work and a Ph.D. student at North Carolina State University.
"Only 52 per cent of the women were involved in plots, compared to 76 per cent of men," Brugh said.
"In many ways, the roles of the women in these terrorist groups are consistent with traditional gender norms," Desmarais said.
"The women were more likely to play behind-the-scenes roles aimed at supporting the organisation," Brugh said.
"The fact that these differences are so obvious - but that no one had found them before - suggests that we are just scratching the surface," Brugh said.
The paper, "Gender in the Jihad: Characteristics and Outcomes among Women and Men Involved in Jihadism-Inspired Terrorism," is published in the Journal of Threat Assessment and Managemen
The paper was co-authored by Joseph Simons-Rudolph, a teaching assistant professor of psychology at NC State; and Samantha Zottola, a Ph.D. student at NC State. https://economictimes.indiatimes.com/news/defence/terror-groups-may-be-recruiting-more-women-to-wage-jihad-study/articleshow/69130614.cms?utm
--------
Muslim Feminists Are Speaking Out Against the Widespread Notion That Feminism Is Not Part of Islam
May 2, 2019
Amid a rise in conservative Islam in society, Muslim feminists are speaking out against the widespread notion that feminism is not part of Islam. Muslim intellectual and women's rights activist Musdah Mulia said Islam was actually "a feminist religion" that promoted equality between men and women. She said Prophet Muhammad once fought for equal treatment between men and women in the jahiliyyah society, where he was born.The term jahiliyyah itself means "ignorance" and refers to pre-Islamic Arabia, within which women were regarded as mere sexual objects and property that could be inherited from their deceased husbands."Islam then introduced the concept of dowry in society as a symbol of women's improved position. The dowry implies that women can also possess property, instead of being possessed by men," said the professor at Syarif Hidayatullah Islamic State University dur...
https://www.thejakartapost.com/news/2019/05/02/muslims-stand-defense-feminism.html
--------
Yazidi Women Seek Acceptance For Children Born Of IS Rape
May 1, 2019
The Yazidi Supreme Spiritual Council last week overturned a decision stating "all" survivors of Islamic State (IS) group crimes would be taken in, prompting a debate over how the children of women raped by IS militants might be reintegrated into the minority sect's
society in northern Iraq.
After faith leaders on the Council previously evaded sensitive specifics in their first statement, they clarified it "did not mean the children born as a result of rape, but those who were born from Yazidi parents and were kidnapped during the invasion." Yazidi survivor and Nobel laureate Nadia Murad responded to the decision in a video statement Sunday, saying "the first and last decision belongs to the survivors and their families and no one has the right to make decisions that belong to them."
"If they decide to return with their children, we as a society must respect their decision, welcome them and offer them any possible help," Murad said.
Up to 200 of the 3,500 Yazidi women who returned home after the 2014 onslaught by IS escaped with children, according to Zeynep Kaya, a research fellow at the London School of Economics Middle East Research Centre.
Resistance to the Council's original statement accepting all survivors arose as the community continued to grapple with the trauma of the 2014 genocide, its implications for a Yazidi identity under threat and stigma around sexual assault that has shamed and silenced survivors.
The community has traditionally not recognized marriage and conception between Yazidis and non-Yazidis, or accepted religious conversion. Community groups say the restrictions help the small group protect the integrity of its identity and maintain survival in the face of genocide.
Read more: Iraq's Yazidis mourn the loss of their homeland
Punishing them twice
Yazidi activist and former Iraqi parliamentarian Amina Said agreed that the families should be the ones to decide the fate of the children. "As a mother, I feel what the women are feeling," she told DW. "I can understand the community reaction because I also live in the community … but they are victims. If we close all the doors for them they will be punished twice."
Said believes the Spiritual Council made positive steps in 2015, when they allowed returning women who had been forced to convert to Islam to be rebaptized in a new ceremony, but said that they had made the wrong move this time by not consulting the community.
"If they took the time to talk with the families, with the women and with some NGOs, then I think they could find a way for the women," she said.
Stigma, genocide and the law
Some Yazidis have argued that relocation was the only way for children and the community to avoid stigma, and that protecting an already fragile community, above the interests of individual children and mothers, should be the priority.
According to Ahmed Burjus, deputy director of the Yazidi support group Yazda, one of the most painful aspects for the community has been coming to terms with children whose fathers had wrought genocide on a community that once numbered 500,000 people. Burjus said one man told him he hoped his wife would return "but not with the son of someone from Chechnya, Turkey or Saudi Arabia. You know that this person was responsible for genocide, looting all your belongings, destroying your house and killing your family. Now you are forced to bring the son or daughter of one of them to your house."
Some community members, according Burjus, also feared the children would be singled out for revenge by others who had suffered under IS, be subjected to stigma for life and would have difficulty registering as Yazidi under Iraqi law because their father was unknown but presumed Muslim.
Iraq's controversial national identity card law dictates a child should be registered as Muslim if either of the parents is Muslim, adding legal issues on top of Yazidi religious doctrine.
Although draft legislation currently before Iraqi parliament seeks to redress some aspects of Yazidi suffering, including the rights of female survivors, it does not contain exemptions for children born of rape.
"So we believe these women and children need to be respected and helped," Burjus told DW. "And the best way to do that is to resettle them outside Iraq in another country and provide them a life with dignity."
Read more: A Yazidi mother's torment in Iraq, 4 years after the genocide
Kept in limbo
Many Yazidi women who survived have already left for Germany, Europe and Australia, further fragmenting the fragile Yazidi identity, but other mothers abducted by IS have found a way to quietly reintegrate into their former communities.
Some hid their pregnancies and gave their babies to family members, others claimed to have met Yazidi husbands while imprisoned, according to Zeynep Kaya. However, most women "will probably just give up their children and babies and go back to their community; or just leave the country," she said.
"It's very hard for these women because they are basically kept in limbo," Kaya added. "They want to go back to their communities but they have to give up their children. It's another level of rejection and exclusion basically, on top of what they have already suffered."
https://egyptindependent.com/yazidi-women-seek-acceptance-for-children-born-of-is-rape/
--------
URL: https://www.newageislam.com/islam-women-feminism/any-gesture-that-makes-woman/d/118484
New Age Islam, Islam Online, Islamic Website, African Muslim News, Arab World News, South Asia News, Indian Muslim News, World Muslim News, Women in Islam, Islamic Feminism, Arab Women, Women In Arab, Islamophobia in America, Muslim Women in West, Islam Women and Feminism