New Age Islam News Bureau
10 Aug 2013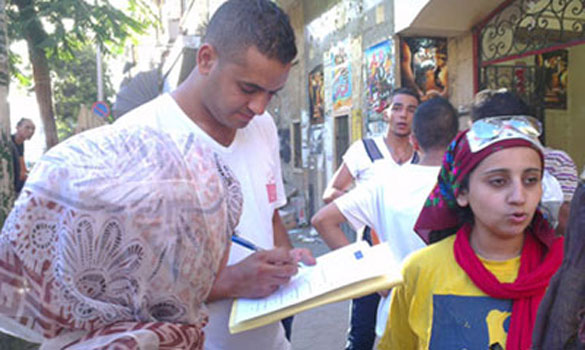 Campaigners documenting harassment cases in downtown Cairo (Photo: Ahram Arabic news website)
--------------
• 'Hema', Uncle Sam is watching you
• Nigeria Must Clarify Position on Minimum Age for Marriage
• Syrian Refugee Syriac Couple Get Married In the Monastery
• Forced Marriages in UK: School Holidays Prompt Warning
• Honour Killing Leaves Unease about Future of Afghan Women Rights
• Pakistan Women Can Now Dial-A-Doc in Karachi
• Too Smart To Have Kids – A Modern Woman's Dilemma?
• Nurse Volunteers to See the Difference Operations Make To Families in UAE
• Nigeria: 'Illegal Charges Prevent Women from Antenatal Clinics'
• Nigeria Female Teacher Defiles Two-And-Half-Year Old Girl
• High School Girl Tutors, Brings Well To Africa
Compiled by New Age Islam News Bureau
URL: https://newageislam.com/islam-women-feminism/anti-sexual-harassment-campaign-cairo,/d/12974
-----------
Anti-Sexual Harassment Campaign in Cairo, Volunteers Catch 8-10 Yr Olds In The Act
Aug 10, 2013
The anti-sexual harassment campaign "I witnessed harassment" confirms several cases of sexual harassment over the holiday weekend these past two days - including perpetrators as young as 8 and 10 years old.
The campaign deployed more volunteers around downtown Cairo during Eid El-Fitr, the holiday that ends the Ramadan month of fasting, when sexual harassment is known to explode.
Reports described everything from verbal to physical assault and mob sexual attacks.
Volunteers raise passersby's awareness and intervene when they see harassment. The group says they increased volunteers around cinemas when films start playing, when crowds are larger in number and harassment cases likewise increase.
Security forces on the ground were cooperative and assisted the group with its campaign.
The group complained, however, that the cinemas' security and employees were generally uncooperative and in many times made the campaign's work difficult.
Sexual harassment has been a growing problem in Egypt. More than 99 percent of hundreds of women surveyed in seven of the country's 27 governorates reported experiencing some form of sexual harassment, ranging from minor harassment to rape, says the UN, Egypt's Demographic Centre and the National Planning Institute in a report in April.
Last January, during demonstrations on the second anniversary of the 2011 uprising, at least 19 women were sexually assaulted by groups of men in Tahrir Square. Seven required intensive immediate medical attention.
http://english.ahram.org.eg/NewsContent/1/64/78677/Egypt/Politics-/I-witnessed-harassment-volunteers-catch--yr-olds-i.aspx
-----------
'Hema', Uncle Sam is watching you
TNN | Aug 10, 2013
BANGALORE: She is an Indian-American IT professional working for the US government. She has money troubles and her car was repossessed recently. She speaks openly of unhappiness with American foreign policy and she visits her family in India twice a year. Uncle Sam is watching her.
Or at least, Uncle Sam is asking her co-workers to keep a watch on her. Because Uncle Sam thinks she could be what he calls an "insider threat".
A security training test created by a US defence department agency warns federal workers that they should consider the hypothetical Indian-American woman "Hema" a "high threat" if she meets three or more "high risk" indicators.
"Hema" is just one of the stock characters in a slide prepared by the Defense Information Systems Agency (DISA) that also features "Todd", "Jack", "Maria" and "Samuel."
The "Insider Threat" programme developed by the Obama administration is ostensibly aimed at stopping the next Bradley Manning or Edward Snowden from spilling classified or sensitive information. But what is startling is that Hema's political dissatisfaction and her travels to her home country are treated, with scant reason, as "threat indicators" even while the slide says she demonstrates "adequate work quality". DISA's test, dubbed the "CyberAwareness Challenge", was produced in October 2012, a month before the Obama administration finalized its Insider Threat policy. Reported first by the McClatchy News Service, the slide about "Hema" is included in a section of the training about "insider threats" which are defined by an accompanying guide as "threats from people who have access to the organization's information systems and may cause loss of physical inventory, data, and other security risks."
In a statement to The Huffington Post, a Pentagon spokesman said DISA was sensitive to any civil liberty concerns that might arise from any portion of the curriculum, which is why it coordinated with 26 federal agencies "to ensure the maximum amount of input was received before going live".
"When considering personnel for a position of trust that requires a security clearance, there are many potential indicators that must be considered when evaluating for insider threat concerns," the spokesman explained. "The department takes these variables into consideration based on past examples of personnel who engaged in spying or treasonous acts."
So "Hema", the next time you are ticked off with US foreign policy, it may be wise not to speak about it, and not go to your home country even if you are a loyal citizen of the United States. Especially if you have money problems to boot. Evidently, just the act of dissenting on US foreign policy is sufficient to raise a red flag.
http://timesofindia.indiatimes.com/world/us/Hema-Uncle-Sam-is-watching-you/articleshow/21738111.cms
---------
Nigeria Must Clarify Position on Minimum Age for Marriage
Aug 10, 2013
Child marriage has once again sparked heated debate in Nigeria, after the Senate failed to remove a constitutional clause that is read by many as a tacit legitimisation of early marriage.
At issue is a clause on citizenship in Nigeria's constitution, which stipulates that citizens who wish to renounce their citizenship must be of full age - 18 years-old.
The Senate Committee on the Review of the Constitution recommended the removal of section 29(4)(b), which states that "any woman who is married shall be deemed to be of full age".
The recommendation was contended; however, on the grounds that it discriminated against Muslim women who are considered "of age" once they are married.
In a second vote, the recommendation did not receive the two-thirds majority required and the provision remains, prompting outcry from some Nigerians.
Legal loopholes
Let us be clear, Nigerian senators did not vote to legalise child marriage. The scope of the clause in question has always been limited to citizenship.
The developments do however point to a wider problem: the lack of legal clarity and consistency when it comes to the age at which women are legally allowed to marry.
Nigeria is not alone in facing this problem. While 32 African countries have set the minimum age of marriage at 18, many allow exceptions.
The Africa Child Policy Forum, a member of Girls Not Brides, has done an extensive study of minimum age of marriage laws throughout Africa. It found that in Ethiopia, for example, the Ministry of Justice has discretionary power to authorise marriages before 18.
In Burkina Faso it is the Civil Court. In Angola, the law accepts that 15-year-old girls can be married with their parents' consent, even though the age of marriage is 18.
There is much that can be done in Nigeria to address this lack of legal clarity. It could for example, ensure that more Nigerian states adopt the Child Rights Act, which defines 18 as the legal minimum age of marriage.
The country is also party to some of the most progressive treaties in the world when it comes to protecting the rights of girls and women, such as the Maputo Protocol which establishes the minimum age of marriage at 18.
As one of the first African states to ratify the Protocol, Nigeria has committed to ensuring that its protections are enjoyed by the women and girls who need them the most. Helpfully, the Maputo Protocol provides governments with some concrete and pragmatic suggestions.
Why does this matter? Minimum age of marriage legislation is a clear indication of where the government stands on child marriage. It also provides an empowering basis for children themselves, and those who work to protect their rights, to argue against perpetrators, whether in the community or in court.
Deprivation of life chances
What is more, rates of child marriage in Nigeria are high. According to UNICEF's most recent estimates, 39% of girls are married before 18 years old. Globally, it is estimated that 14 million girls a year marry as children.
Child marriage has devastating consequences for girls. Often married to much older men, it is difficult for them to assert their wishes, particularly when it comes to their sexual and reproductive health, and they are vulnerable to domestic violence and abuse.
Child brides usually drop out of school and are denied their rights to education, to health, to live in safety and to choose when and whom to marry.
Child brides are soon under pressure to prove their fertility, leading to early and frequent pregnancies. Girls who give birth before the age of 15 are five times more likely to die in childbirth than women in their 20s.
If they survive childbirth, they are at risk of pregnancy-related complications such as fistula, a debilitating injury caused by obstructed labour. It is estimated that Nigeria is home to 10% of the world's fistula cases.
Laws alone are of course not the solution, but they are one important part of the broad set of efforts needed to end child marriage.
Members of Girls Not Brides, a global partnership of more than 300 civil society organisations including in Nigeria, combine a number of different approaches to addressing this problem: educating and empowering girls; mobilising communities including religious, traditional and community leaders, to support ending child marriage; and supporting youth to become advocates for change.
Not long ago, child marriage was a taboo topic. The recent debate in Nigeria reflects growing acknowledgement that we can no longer ignore this problem.
It will not be easy to end child marriage, but we know that when a girl marries as an adult she is unlikely to marry her own daughter off as a child. With the right laws and programmes in place, we are convinced that it will be possible to end child marriage in a single generation.
http://allafrica.com/stories/201308090737.html?viewall=1
-----------
Syrian Refugee Syriac Couple Get Married In the Monastery
Aug 10, 2013
Syriac young men and women who recently escaped from the civil war-hit Syria are walking down the aisle in Turkey's southeastern province of Mardin.
Nearly 150 Syriac families have not settled in Turkey's special camps for Syrian refugees due to their safety concerns and are taking shelter in monasteries in Mardin. However this humanitarian crisis situation is also bringing happiness for some of the young people who meet at the monasteries. They are falling in love and pairing up.
The Hürriyet Daily News attended the marriage ceremony of Syrian refugee Elida and Mardin local Engin Bayruğ Aug. 7 in Mardin's Midyat district.
The antique Deyrulzafaran Monastery hosted the marriage ceremony, a first in its recent history. Syriac wine and food were served to the accompaniment of Arabic, Turkish and English songs but Syriac which was listed one of UNESCO's endangered languages list, was not used since most of the population could not speak their ancestral tongue.
The young couple's relative Ferit Özaltun said there were some 80 local Syriac families living in Mardin and the number of families that fled from Syria was 150. Özaltun said young people were meeting in the monasteries and some of them ended up getting married after a while.
"At least we find solace in the happiness of our youngsters; new families are being built, and this makes us happy," Özaltun told the Daily News.
Özaltun said even though both sides were Syriac, cultural differences might surface from time to time. "A young woman from Syria and a young man from Turkey, even though both are Syriac, have cultural, political and educational differences," he said.
Deyrülzafaran Monastery is the first Syriac foundation in Turkey to welcome the Syriac refugees, who have been avoiding refugee camps over security concerns. The Syriac community is asking for a separate camp to be established for them as they do not want to settle in the existing camps along the border.
An attempt to build a special camp for Christians who have fled from Syria to Turkey failed after a series of meetings in Ankara over the last months. The issue has been shelved for now.
Syriac families who are suffering from economic difficulties have taken refuge in Mardin, the place their ancestors were forced to leave because of political pressure. Now they wait for the end of civil war in Syria to return to their homes.
Families that can afford it are leaving Turkey for third countries.
http://www.hurriyetdailynews.com/syrian-refugee-syriac-couple-get-married-in-the-monastry.aspx?pageID=238&nID=52294&NewsCatID=341
-----------
Forced Marriages In UK: School Holidays Prompt Warning
Aug 10, 2013
Teachers, doctors and airport staff need to be alert to the problem of forced marriages over the school holidays, the government has warned.
Ministers said there were concerns about teenagers being taken abroad thinking they were going on holiday but being forced into marriage instead.
Figures suggest cases are particularly common during the summer break.
The government's Forced Marriage Unit received 400 reports between June and August last year.
Recent estimates suggest more than 5,000 people from the UK are forced into marriage every year.
More than a third of those affected are aged under 16.
The government is calling for increased awareness, and is promoting an advice line and information cards aimed at potential victims to explain how they can get help.
Tougher action
Foreign Office minister Mark Simmonds said: "The school summer holidays are the time when young people are at the highest risk of being taken overseas for a forced marriage.
"'Our Marriage: It's Your Choice' cards highlight that people who are at risk of forced marriage know they can turn to our Forced Marriage Unit for support, whether they are at home or are already abroad."
Ministers said it was wrong that teenagers who should be thinking about their exam results found themselves lured into a life of fear and subservience instead.
Aneeta Prem, founder of children's organisation Freedom Charity, said: "It's vital that young people travelling abroad for a family wedding this summer realise it could be their own wedding they'll be going to, and know who they should contact for help should they find themselves in danger."
Manchester City councillor and forced marriage campaigner Sameem Ali said little had changed in the 30 years since she was forced into a marriage in Pakistan at the age of 13.
"Although we are more aware of them, no questions are being asked.
"It has to start in schools, the teachers have to start taking on board the safeguarding of children, they have to start talking about these issues," she told BBC Breakfast.
"Because if they don't talk about it then the young people aren't going to feel comfortable in talking about it, and it's going to be a taboo subject for the next 30 years. And I think we need to get over that."
She added that she did not believe criminalising forced marriage would make a difference within her community.
"It's going to send it underground. No young child wants to put Mummy and Daddy in jail and that's the bottom line."
Shadow immigration minister Chris Bryant welcomed the "raising awareness of these issues".
"But I can't help thinking that, given it's been weeks since pupils and teachers started their holidays, it might have been more useful if Jeremy Browne and his Home Office colleagues had thought to do this before schools broke up for the summer," he added.
The government is also publishing plans to follow the example of Scotland by making forced marriage a criminal offence in England and Wales.
This could mean parents who are found guilty of forcing their children into marriage face a prison sentence.
Crime prevention minister Jeremy Browne said: "This is a serious abuse of human rights and that is why we are legislating to make it illegal."
http://www.bbc.co.uk/news/uk-23639070
-----------
Honour Killing Leaves Unease about Future of Afghan Women Rights
Aug 10, 2013
A Mullah has issued fatwa, or religious edict, for the execution of a woman named Halima who has been in hiding since April. Abdul Ghafoor ordered her father to shoot Halima in front of the villagers. According to Tolo News, Halima was accused of her illicit relationship with a man in Kokchail Village of Badghis province. Ghafoor handed over a gun to Halima's father and asked him to kill his 20-year old daughter in front of the public.
Ahmadullah ALizai, Badghiz Governor, criticized this case and said This is cruelty and we are trying to arrest those who set-up their own courts and kill women. We have to implement stringent laws on them.
After arresting the religious leader, the local police called Halima's case an anti-Islamic act as well as against human rights principles. The Badghis police chief, Sharafuddin Sharaf, told reporters, The fatwa was an illegal act. Even if that woman was guilty, she should have been tried based on Afghan Islamic law and its justice system. It was an unjust act because it was an extra-judicial trial conducted without the presence of any eye-witnesses. Halima was a mother of two children who was accused of running away with her male cousin for 10 days while her husband was in Iran. Local police said that Halima's father and the cousin are on the run.
In 2009, President Karzai issued and executive decree to reduce gender-based violence called Elimination of Violence against Women (EVAW) in 2009. However, conservative Afghan lawmakers objected to a version proposed in Parliament saying the law was un-Islamic. EVAW has not been passed. EVAW included criminalizes rape, child marriage, forced marriage, and other violations of women's rights. Now many activists and member of the public are concerned about the future of women's rights and gender-based violence after the anticipated departure of international forces and U.S. troops in 2014.
http://www.msmagazine.com/news/uswirestory.asp?ID=14530
-----------
Pakistan Women Can Now Dial-A-Doc in Karachi
Aug 10, 2013
Karachi: Pakistan's largest city and commercial centre, Karachi, is a city of extremes where the richest live alongside the country's poorest. Perfectly coiffed women with foreign degrees and fancy handbags tour around the city's designer malls. At the other end of the spectrum, a range of hurdles leave women from the poorest sections of society struggling to access basic services, particularly healthcare.
But a recently launched telehealth service is hoping to change that by giving women in Karachi, Pakistan's largest city with a population of around 18 million, access to basic health advice for free from a mobile phone.
"This is a big opportunity to improve access to woman in urban areas who have no access to basic healthcare and information, particularly during pregnancy," says Zahid Ali Fahim, head of the telehealth service run by the Aman Foundation, a Pakistan-based non-governmental organisation. Dr Fahim oversees the 26-seat call centre that has been working around the clock for the past 18 months.
According to the World Health Organisation's Global Health Observatory report, 40 per cent of premature deaths in adults in Pakistan would have been preventable through early intervention. Though there is no official WHO breakdown by gender, experts say a significant portion of those premature deaths are women. Distance to hospitals and clinics, the cost of transport, and low levels of trust in government-run services leaves men and women unable to seek the medical help they may need.
A strict social code for many women presents an additional obstacle. Low literacy rates — 57 per cent of women are illiterate in Pakistan compared with 26 per cent of men — and a lack of basic health knowledge compound the problem.
When women are able to travel to a clinic or hospital, they are usually accompanied by a male relative, leaving many unwilling — or unable — to explain their medical problem to the doctor.
"Women don't want to get healthcare services without their [male relative] presence," explains Dr Fahim, "But she cannot say anything when she goes to the facilities. The head of the family does all the talking."
Aman Foundation's telehealth service is the first of its kind in Pakistan, though similar services have been running in India for a few years. The call centre is structured in the same way as the Indian service, though it is currently operating on a much smaller scale, and is funded through a private trust that underpins all of the Aman Foundation's programmes. It capitalises on the country's booming mobile phone market, the fifth largest in South Asia.
The call centre receives around 400 calls per day. The majority of the calls are from Karachi where the Aman Foundation is well known thanks to a range of educational and health services it provides. But people from the rest of the country can use the service as well.
But gender roles are deeply embedded in society and a hurdle to the project is the fact that only 12 per cent of calls to the Karachi call centre are women. Although 63 per cent of Pakistanis have a mobile phone, the majority of users are men.
However, Dr Fahim says the service has not yet been marketed, and anticipates that the call volume will soar once the awareness campaign, planned for the coming month, is launched.
Lubna, who lives down a narrow potholed ally in Karachi, says she heard about the service from a neighbour. Social pressure, she says finally drove her to try the service: She says she didn't want her neighbours to know that she needed medical help.
"Then they start saying, 'What is wrong with that woman?'" she says.
Lubna also says she didn't want to leave the house to seek medical help because that would mean leaving her four daughters at home alone, which she believes isn't safe.
Private initiatives like the Aman Foundation's telehealth programme play an important role in providing services that the cash-strapped government is unable to provide, says Zohra Yousuf, chairperson of the Human Rights Commission of Pakistan, a Pakistan-based advocacy group.
But ultimately, Yousuf says, the key to improving women's health lies in changing deep-seated cultural attitudes that see women as second-class citizens.
"Women don't have decision-making authority over their bodies. That has to come through policy changes. In terms of policy there have been positive changes in recent years, but they have primarily been [international] donor driven," says Yousuf. "These initiatives can only go so far while these attitudes remain."
http://gulfnews.com/news/world/pakistan/pakistan-women-can-now-dial-a-doc-1.1218545
-----------
Too Smart To Have Kids – A Modern Woman's Dilemma?
Aug 10, 2013
Last week we received news from yet another study created to make all women stop in their collective tracks whether shod in comfy Converse or sky-high Louboutins – the higher a woman's IQ the less likely she is to want children. Or so says London School of Economics researcher Satoshi Kanazawa....a man who maintains that women lose a quarter of their urge to have children with every 15 extra IQ points.
Many broadsheets and tabloids in the UK have taken up this statistic with enthusiasm giving celebrity examples like Cameron Diaz who is quoted as saying "I have the life I have because I don't have children." Now is that a good thing or a bad thing? Not to mention my personal favourite, Eva Mendes, with her passionate desire not to procreate, "I don't want kids, I love sleep and I worry about everything."
Well, time to confess: I have two children, which probably makes me sub-human on the intelligence scale and I will admit a fair few brain cells have been obliterated by childbirth along the way. I, like Ms. Mendes, LOVE sleep but admit that due to worrying about everything I haven't had a good night's rest since 2004. I believe in every woman's right to choose her own path and to know that you don't want to be a parent must be liberating in many ways. However, I have two daughters who I want to educate to the best of their capabilities and passionately wish for them to develop both mentally and professionally but does this mean I am educating them out of wanting to be mothers themselves? Furthermore if educated women decide not to have children what does this mean for the future of our society as a whole? At one of my university interviews, I was asked "Why should we give you a place here if all you are going to do is get married and have children?"
When I had recovered from the shock of hearing something so archaic, I answered that if nothing I would raise intelligent and socially adept children who would grow up into achieving adults whose taxes would keep him in his old age!
Change in the Middle East
In the Middle East changes are on their way too; in Tunisia, Algeria and Lebanon only 1-5% of women aged between 15 and 19 are married and the percentage of women aged 35-39 who have never married now ranges from 15-21%. Qatari author Amal al-Malki attributes this wave of later marriage and non-marriage to education," which is a factor as well as independence, financial independence. Women are not dependent anymore on men so the whole institution of marriage has changed." In the East marriage and children are inextricably linked whereas in the West many single women who eschewed motherhood in their twenties and thirties, possibly put off by their high IQs , suddenly approach their forties and realise they do want to have children after all. It is then that one's options are limited.
All over the world women are overwhelmed with choices, whether it is to further their education, earn a living and provide for their parents or siblings, marry or not, have a family or not – perhaps that is what Dr. Kanazawa meant by his research. Which super educated woman faced with all the negative stereotyping about child rearing would willingly sacrifice herself on that altar? But I can assure you smarter-than-smart girls who are thinking of passing on babies, diapers and 3am feeds....Ladies , you have no idea what you are missing!
I have many friends who are unmarried and have chosen not to have children and are genuinely happy with their decisions; I also know many who want to be parents quite desperately. Recently one of my best friends became a mother – over the years we have debated the pros and cons of whether she should or shouldn't have a baby. I am sure my horror stories have played a part in her reticence over the years and throughout her pregnancy we have discussed what makes you ready to be a mother or not. Finally the day came and the wait was over, I received a text while I was in New York, "He has arrived and I am so in love with him." This told me everything I needed to know; there is a mother in all of us, she's just waiting to be born and it doesn't have a thing to do with her IQ.
http://english.alarabiya.net/en/views/news/world/2013/08/09/Too-smart-to-have-kids-a-modern-woman-s-dilemma-.html
-----------
Nurse Volunteers to See the Difference Operations Make To Families in UAE
Emily Cleland
Aug 10, 2013
ABU DHABI // Nurse Marilyn Parro knows exactly what corrective surgery means to children born with cleft conditions - and their parents.
The 44-year-old, who works as a recovery room nurse at Al Ain Hospital, has seen the results first-hand. She has been on six missions abroad in the last year after volunteering through Operation Smile UAE, a children's charity that recruits medical volunteers and funds free surgery and aftercare to those affected by cleft lips and palates.
"It's my passion. I have been volunteering since college. As you grow older, you are looking for something else that's better and higher," said Ms Parro, from the Philippines.
"It's an honour to do something different, something that not everybody can do, something to give service.
"I'm learning as well and not only helping."
On her trips abroad she looks after patients, normally children, in a recovery room immediately after they have undergone surgery to repair clefts.
Some of her patients have suffered by being ostracised because of their facial deformity, she said, and the operation makes an enormous difference to their lives.
"Everything will be changed. It's difficult if you are different from others," she said.
The delight and gratitude of the parents is also plain to see.
"One patient in India, when I called the mother to recovery to get her child, she was crying. She had food with her and she tried to give it to us and I said, 'it's OK, it's for you'. She was so grateful," added Ms Parro.
The UAE resident of 12 years has been on missions to Jordan, China twice, India, Rwanda and, last September, her hometown of Naga City, where the mission took place at a hospital she worked at 28 years ago.
"It was very special. It's nice to be able to go back and help people where you come from," she said.
Ms Parro said she comes across children with cleft lips and palates through her work as a nurse in Abu Dhabi and would like to see the charity offer operations in the UAE.
"It's very distressing for the parents. There are so many complications for them, especially if the parents are not educated in taking care of them," said Ms Parro. Her next medical mission is to Morocco at the end of this month.
Operation Smile UAE hopes to offer surgery to a group of suitable people in the UAE in February next year, in conjunction with an as-yet-unnamed hospital.
ecleland@thenational.ae
http://www.thenational.ae/news/uae-news/health/nurse-volunteers-to-see-the-difference-operations-make-to-families#ixzz2bbLXokyS
-----------
Nigeria: 'Illegal Charges Prevent Women From Antenatal Clinics'
Aug 10, 2013
Unauthorised charges for antenatal services in Enugu State are discouraging women from attending health facilities for antenatal services, some civil society organisations have lamented.
They also want the government to drop restrictions that require pregnant women to show tax clearance certificate before accessing health services.
Though health care and drugs for pregnant women and children in Enugu State are free, many women have been required to pay N100 and sometimes up to N500 to register for antenatal clinic, Daily Trust learnt.
A woman who gave birth in a district hospital in Nsukka said she was made to pay for vitamin and folic acid tablets which she was given during pregnancy.
"The issue of N100 represents intermediary interest, because that is not paid into government coffers," said Crownwell Chibuzor of the group Youth Education on Human Rights and Civic Responsibility.
"The vulnerable women who are pregnant cannot pay taxes and will not be expected to have tax clearance."
He told said that the tax clearance, which became a requirement long after the free health programme started, had stopped women from going to hospital.
This came as the Partnership for Transforming Health Sector (PATHS2) last week mobilised thousands of Nsukka residents, mostly women, to get them to begin using clinics recently renovated and equipped in their communities.
"The moment government tells them the tax is now removed, they are going to embrace the facilities with speed," said Chibuzor.
In a reaction, Enugu state government said it has provided a phone line where the public can report any health who demands payment for antenatal services describing it as "extortion and sabotage".
Enugu State commissioner of health Dr George Eze insisted that no tax clearance is required of pregnant women before they can access any health facility.
http://allafrica.com/stories/201308090424.html
-----------
Nigeria Female Teacher Defiles Two-And-Half-Year Old Girl
Aug 10, 2013
LAGOS — The Lagos State Police Command has arrested a woman who allegedly defiled a two-and-a half-year-old girl in Ilupeju area of Lagos.
The suspect, identified as Funmi, is a teacher in an undisclosed nursery and primary school around Ilupeju.
Sources revealed that Funmi allegedly inserted a fork into the little girl's private part.
It was gathered that the bubble burst after the toddler arrived home crying. In an attempt to pacify her, her mother reportedly took her to the bathroom for a shower. But immediately she reached out to wash the baby's private part, the kindergarten baby reportedly wailed.
The curious mother was said to have taken a closer look at her child but could not conclude what the problem was, until the child revealed the alleged deed by her teacher in school.
The mother was said to have reported the case to the police, and the school's management was informed. But all the teachers reportedly denied, saying the child might not know what she was talking about.
To ascertain the toddler's claim, all the teachers in the school were said to have been paraded before the child to identify the culprit, in the process of which she pointed at Funmi, following which she was arrested.
Police sources hinted that the case was, Wednesday, charged to a special court after the medical test conducted on the child showed that her hymen had been broken.
However, Funmi denied the allegation. In her statement to the Police, she claimed to be oblivious of the allegation.
http://www.codewit.com/nigeria-news/10770-nigeria-female-teacher-defiles-two-and-half-year-old-girl
-----------
High School Girl Tutors, Brings Well To Africa
Aug 10, 2013
A 15-year-old Newark girl is racking up the honors for volunteer efforts ranging from battling drought in Africa to hosting writing and reading workshops in her own community.
Nur Kose, a home-schooled 11th-grader, recently was named one of 10 national winners of the Kohl's Cares Scholarship program, earning her $10,000 for college. In April, Gov. Jack Markell also named Nur an Outstanding Youth Volunteer.
Each of those groups praised Nur for a different volunteer effort.
The scholarship recognized Nur's work raising money for wells in drought-stricken Africa. After meeting with the Zakat Foundation, an international Muslim charity organization, Nur learned she and her friends could pay for a well to be drilled in an area where water is scarce and clean water almost nonexistent.
"Kids in these countries are having to walk miles and miles just to get water," Nur said. "And even when they get the water, it's dirty."
Nur rallied a group of friends and started seeking donations. She made online videos explaining the plight of those she was working to help and keeping donors up to date on their progress.
"Those videos were a big part of why she was able to get all that money," said Nur's mom, Nayma. "We were hearing from people from all over the place who were watching those videos."
In the end, Nur and her friends raised enough money to drill 23 wells in countries like Somalia, Ghana and Kenya, providing easier access to water for thousands.
"She worked hard to educate the community, solicit donations and host bake sales to raise money for the purchase of new wells," said a release from Kohl's. "Thanks to her efforts and the support from her community, she was able to far surpass her goal."
The well project is only one of Nur's efforts. Markell's office recognized her work helping students with writing and getting students involved in reading.
Nur herself is an avid writer. She's penned a series of children's books about an American Muslim family.
"They're about being a Muslim in the U.S., but they're just ordinary people just like anyone else," Nur said.
Using that experience and love for words, Nur tutors about 10 fourth- and fifth-grade students at a time in writing, including several students from India and Turkey. She also hosts an online book club, where her pupils can rack up points to win awards by writing papers or completing activities based on what they read.
Nur is fond of communicating through websites – in addition to raising money with online videos and hosting the online book club, she keeps up a website, nurkose.net, with a blog, some of her writings and links to various videos, literature studies and Islamic sites. She represented Delaware at National History Day after taking first place in the state for her website explaining the Homestead Act of 1862.
Nur also blogs for the website MuslimMatters.org.
Nur said her secret for such prolific writing, website-making and volunteering is simple: She loves what she does.
"I've always loved writing, and there aren't a lot of kids my age who love it, too," she said. "I'm just hoping maybe I can do something to change that."
http://www.delawareonline.com/article/20130810/NEWS/308100032/High-school-girl-tutors-brings-well-Africa
-----------
URL: https://newageislam.com/islam-women-feminism/anti-sexual-harassment-campaign-cairo,/d/12974