New Age Islam News Bureau
17 Nov 2014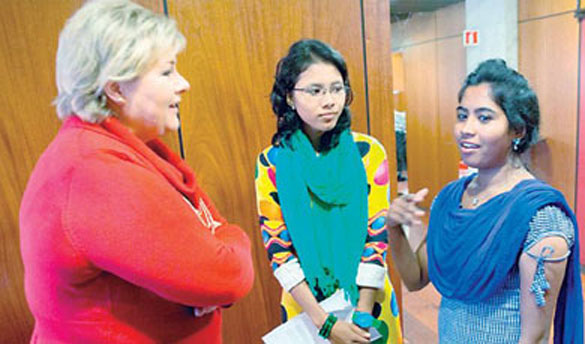 Shorna meets with Prime Minister of Norway Erna Solberg in an annual Conference on "Because I Am A Girl" held at Oslo in Norway recently
------------
• ISIS Kills Family Refusing To Marry Off Daughter, Kidnaps 14 yr Old
• Two Nobel Prizes, 65 Million Girls Still Absent From School
• Female Extremist Group Recruiting Girls in North Lebanon
• Woman Suicide Bomber 'Kills Several' In Nigerian Market
• Factory Run by Female Workers in Saudi Arabia Breaks Stereotypes
• Saudi Arabia Mulls Women's Right To Drive - But Only for Over-30s 'Without Make-Up'
• Jihadi Wives Fatwa: Just Cook for and Look after Fighters
• Iran 'Vigilante' Law to Test Rouhani on Women's Rights
• Move To Ensure Punishment for 'Honour' Killing in Pakistan
• Islamic Shops in Australia Still Selling Female Mutilation Books
Compiled by New Age Islam News Bureau
URL: https://www.newageislam.com/islam,-women-and-feminism/new-age-islam-news-bureau/annual-conference-'because-i-am-a-girl'--shorna,-described-as-'malala-of-bangladesh'/d/100053
-----------
Annual Conference 'Because I Am a Girl': Shorna, Described As 'Malala of Bangladesh'
17 November 2014
Shahida Akhter Shorna, a participant in the recent annual conference of 'Because I Am A Girl' in Norway, was described as "Malala of Bangladesh" by Norwegian Prime Minister Erna Solberg.
The Norwegian premier praised Shorna after she had shared the moving story of how she stopped her own child marriage and also the challenges she is now facing as she works to stop child marriages in her own community.
She flew to Norway on October 7 to take part in the conference 'Because I Am A Girl' which is a global campaign of Plan International and returned on October 24.
Shorna spoke as a special guest in the session on child marriage, and the role she plays in stopping child marriage where her performance was greatly appreciated.
The girl participated in the Oslo Freedom Forum and was interviewed by Norwegian media.
Shorna's story is an inspiring one. She comes from a poor family and her father Tota Mia abandoned his wife Sharifunnisa, as she failed to give birth to a boy, along with his five daughters.
Because the mother could not afford school expenses, she married off the three elder girls when they were minors.
Shorna's marriage preparations came next when she was a ninth-grader but being aware of child rights as a member of Child Organisation, supported by Plan, she knew that child marriage was a gross violation of the rights of a child.
She decided to stand up to her mother's decision to marry her off. However, after she took the SSC examination, her mother attempted to arrange her wedding. Her father would often pressurise her mother to marry her off.
Failing to convince her parents, Shorna threatened them, saying she would inform the Upazila administration and would ask for disciplinary action.
Her parents took her words seriously this time but she was disgraced by neighbours. However, with support from a child organisation, Shorna was able to overcome all the adversities.
Shorna is now an icon in her community and also an activist working to eradicate child marriage. She started off by convincing parents not to marry their minor children off. If she failed, she sought assistance from teachers, union parishad members, upazila officials and police. She has so far stopped six child marriages in her area.
The 20-year-old now studies zoology at Bhawal Badre Alam Government College in Gazipur. She works as an adviser at Shishu Forum of Mawna union under Sreepur upazila and is also a member of Child Protection Group run by Plan International. In 2012, she became the president of Shishu Forum.
Her dream now is to work for neglected children and women around the country.
In recognition of what she did to stop child marriage, Mawna union Chairman Fazlul Haque nominated her for the honorary title "Joyeeta" from his union. In 2013, she won the title from the Ministry of Women and Children Affairs.
Shorna's father now thinks he was wrong to push for his daughter's marriage. "Now I realize the importance of education. I wish her every success in life," he said.
http://www.dhakatribune.com/bangladesh/2014/nov/16/shorna-malala-bangladesh
----------
ISIS Kills Family Refusing To Marry Off Daughter, Kidnaps 14 yr Old
17 November 2014
Five members of an Iraqi family who refused to marry off their daughter to a fighter in the Islamic State of Iraq and Syria (ISIS) have been executed by the militant group in a "horrific crime," Iraq's Human Rights Ministry said over the weekend.
In a statement posted on its website Sunday, the ministry said ISIS militants executed the five family members – mother, father and three children – and then kidnapped the 14-year-old girl, taking her to an undisclosed location.
The family, according to the statement, had refused to marry off the girl to the "criminal Jamal Saddam, known as Abu Abdallah."
The statement did not say where or when the alleged killing took place. The ministry described the incident as a "horrific crime."
Early this year, ISIS, an Iraqi, Al-Qaeda-rooted group espousing fundamentalist views of Islam, seized large swathes of Iraq and Syria, later announcing a so-called "caliphate."
Western and Arab states are coordinating military air strikes against ISIS in both Iraq and Syria after the militant group began executing Western hostages in a series of videos posted online.
http://english.alarabiya.net/en/News/2014/11/17/ISIS-kills-family-refusing-to-marry-off-daughter-Iraq.html
----------
Two Nobel Prizes, 65 Million Girls Still Absent From School
By Elayne Clift
17 November 2014
This year's Nobel Peace Prize, shared by deserving recipients Malala Yousafzai and Kailash Satyarthi, shines the spotlight on the tough lives of children from impoverished countries. Through their work on behalf of children's rights, the world is reminded once again of the urgency of acting 'now' when it comes to girls' education and to child exploitation for financial gain.
Significantly, the award came as the United Nations marked the International Day of the Girl Child, a day to promote girls' human rights and to highlight gender inequalities that still lead to various forms of discrimination and abuse suffered by a huge number of the world's girls. That is not to diminish the painful lives boys lead in many corners of the world. But the issue of girls' education is so critical to a country, a community, a family, a girl, a woman, and her own children that it deserves the special attention that Malala, a 17-year-old activist - and the youngest recipient of the Nobel Peace Prize - has brought to it.
"Extremists have shown what frightens them most," Malala has said. "It's a girl with a book." She is hardly exaggerating. Just think how ISIS and the Taliban and Boko Haram confine females to sexual slavery by way of faux marriages.
Sadly, history is replete with unnamed multitudes of women denied an education. In medieval times, for instance, women who were unmarriageable or considered unruly were shunted off to convents. But there they found a haven free from subservience and perpetual childbearing, a place where they could read, write, discuss ideas - until the men in power realised how dangerous that was, and banned them from such activities in favour of religious devotion and endless embroidery.
Yet, here's what we know about the value of girls' education: it is central to a country's development and improvement. It leads the way out of poverty. And it has a direct, proven impact on reproductive and child health, economic growth, environmental sustainability, national productivity, innovation, democratic values, and social cohesion.
In the World Bank's new report, 'Voice and Agency: Empowering Women and Girls for Shared Prosperity', key findings include that "girls with little or no education are far more likely to be married [off] as children, suffer domestic violence, live in poverty, and lack a say over household spending or their own healthcare than better-educated peers; and enhanced education - the ability to make decisions and act on them - is a key reason why children of better educated women are less likely to be stunted; educated mothers have greater autonomy in making decisions and more power to act for their children's benefit".
We know that illiteracy is one of the strongest predictors of poverty and that every year of schooling increases individual wages for both men and women. We know that an educated, skilled workforce is one of the foundations of a knowledge-based society and that education makes vital contributions to lowering maternal and child mortality rates, protecting against HIV/AIDS, reducing fertility rates, and enhancing environmental awareness.
But let's put a human face on this, as CAMFED, a UK-based non-profit organisation dedicated to girls' education, has. Suppose you're a 12-year-old girl, they suggest. You went to primary school, loved learning, and enjoyed interacting with your classmates. But you couldn't go to secondary school because your family didn't have the money for school fees, uniforms, or transport. Perhaps they thought it wasn't safe. Or that your labour was needed at home. You, therefore, became a financial burden on your family and had to work to contribute money to the household. Young, lonely and sad, you are likely to have a baby before you are 15 or 16, maybe three children by the age of 20. You are more vulnerable to HIV/AIDS than your former classmates and your children are more likely to be malnourished than women who waited to have families. You have no power - no agency to make decisions - no say whatsoever over your life. And all you wanted to do was stay in school.
In Sub-Saharan Africa, there are 24 million girls like that one. Overall in the world, there are 65 million girls who are not in school.
In poor countries, 60 per cent of the present population is under 25 years of age. Without children's rights, including access to education, how are we going to realise global peace and development? In conflict-ridden areas - proliferating at a staggering rate - how will we stop the violation of children and the continued violence that occurs from one generation to the next?
Thank Heaven for a new generation of young women, and men, symbolised by Malala Yousafzai. "I know I am not alone," she told reporters on learning of her prize. "I think this is really the beginning. This decision sends a message that all people, regardless of language and religion, should fight for the rights of women, children and every human being."
That includes policymakers and politicians as well as parents. Would rather that they had the will to join her quest.
(Elayne Clift writes about women, social issues, and international development.)
—(Women's Feature Service)
http://www.kashmirtimes.in/newsdet.aspx?q=38420
----------
Female Extremist Group Recruiting Girls in North Lebanon
17 November 2014
An extremist group formed of veiled females, linked to the Islamic State of Iraq and the Levant (ISIL), is secretly working in several areas in northern Lebanon and spreading the "takfiri salafist ideology," Ad-Diyar newspaper reported on Monday.
The group is comprised of veiled women who are reportedly recruiting girls in return for large sums of money and convincing them of adopting their ideology.
Sources told the newspaper that the danger of such a group lies in the difficulty of identifying the women wearing niqab, which could cause a sectarian incitement under the pretext of violating religious freedom.
The report continues that the women underwent military and security training and some of them have an experience in sniper shooting and weaponry fields.
In October, media reports said that terrorists are plotting to attack Ashoura gatherings through explosive-rigged cars and female suicide bombers.
The army had reportedly detained Khadija Hmeid, one of the female bombers who were trained to drive booby-trapped cars.
http://www.naharnet.com/stories/en/155582-report-female-extremist-group-recruiting-girls-in-north-lebanon
----------
Woman Suicide Bomber 'Kills Several' In Nigerian Market
17 November 2014
A female suicide bomber blew herself up Sunday at a mobile phone market in northeast Nigeria, killing several people, witnesses said.
The attack happened in the town of Azare in Bauchi state, which neighbours the three states worst hit by attacks from Boko Haram Islamists.
Residents said a man who had been seen with the woman at the market was killed by an angry mob.
"A suicide bomber came into the market as it was closing and blew herself up in the middle of all the merchants and their customers," a witness said.
"I saw at least eight dead. Several other people were injured," another witness, Alyu Habib, told AFP.
"She came in the company of two men and she detonated the explosives concealed under her dress," he said.
"The two men tried to flee but they were pursued and apprehended. One of them was lynched to death whereas the other is now in custody," Habib added.
A third witness confirmed that one of the two men spotted entering the market with the woman "was killed by the angry mob." He said the "explosion set the shops on fire" and fire-fighters were working to douse the inferno.
The attack near Azare's stadium is the third bombing in the town in recent weeks.
Last week, a bomb concealed in a bag went off near a cash dispensing machine, killing several people. On Oct. 23, a bombing near a bus station killed at least five people.
http://english.alarabiya.net/en/News/africa/2014/11/17/Woman-suicide-bomber-kills-several-in-Nigerian-market.html
----------
Factory Run by Female Workers In Saudi Arabia Breaks Stereotypes
17 November 2014
The Saudi government's drive to draw more women into the labour force appears to be bearing fruit, as the jobs occupied by women seems to breaking the stereotypical ideology of suitable jobs for women in the kingdom.
A factory producing baby diapers and female hygiene pads operating in Riyadh is currently operating with a 75 percent capacity of a female labour force. The women are responsible for the offline production and manual packaging of these sanitary products. A third of the 65 women working have special needs and the assistance they require is provided such as an on-sight sign language translator.
Amina al-Shamary, the production line supervisor at the plant, told Al Arabiya that she had been working as an administrator at a hospital before deciding to utilize her experience in a different field. She has not looked back since.
The employment arrangement, she added, works well with Saudi women from conservative backgrounds, saying that a female-only environment suited the workers' preferences as some of the women minded joining a co-ed working environment.
"The owners are planning to build another factory set to employ 170 women comprising of 1/3 of the plant's workforce capacity," al-Shamary said.
Employment data issued by the Saudi Arabian Monetary Agency (SAMA) in its 2013 Annual Report showed a big increase in the number of employed women.
The increase has been particularly marked in the private sector, partly in response to government incentives to private companies to employ Saudis. Saudi Arabia currently has the lowest female labour force participation rate in the Gulf.
The SAMA employment data shows that the number of Saudi women working in the private sector increased almost fourfold between 2010 and 2012, reaching 215,840.
During 2012 Saudi women outnumbered for the first time women of foreign nationalities in the private sector, although the private sector workforce as a whole is heavily skewed in favour of foreign workers, who account for 87 percent of the total of 8.5 million.
At end 2012 women accounted for 19 percent of all Saudi workers in the private sector and 36.5 percent of Saudi public-sector employees, compared with 7.7 percent and 33 percent respectively in 2010.
The government sector was dominated by Saudis, who made up 93 percent of the 1.1 million workers in this sector of the economy.
http://english.alarabiya.net/en/perspective/features/2014/11/16/First-factory-run-by-Saudi-female-workers-.html
----------
Saudi Arabia Mulls Women's Right To Drive - But Only for Over-30s 'Without Make-Up'
17 November 2014
The formal advisory body of Saudi Arabia, known as the Shura Council, has taken the rare step of recommending to the country's absolute monarchy that it grant women the right to drive – but with some bizarre conditions.
A wind of change appears to be sweeping across Saudi Arabia as the ultra-conservative state, which organizes society according a strict version of Sunni Islam, called Wahhabism, looks prepared to reluctantly give some women the right to drive.
Following lengthy campaigning on the behalf of Saudi women's groups, the 150-member Shura Council, which is permitted to propose legislation to the King, proposed that women over the age of 30 should be allowed behind the wheel, but only until 8pm each day, and without the application of make-up, a council member told AP.
The Gulf State country of some 30 million people has no law on the books forbidding women from driving, only religious edicts supported by leading religious authorities. Muslim clerics in this Gulf State fear "licentiousness" will get out of control if women have the freedom to drive.
The ban on women drivers conforms to Saudi Arabia's strict adherence to Islamic Sharia law.
If the council's proposal gets the royal nod from King Abdullah ibn Abdilaziz, women over 30 would also need the consent of a husband, father or other male guardian to drive.
Driving hours for women would be restricted to between 7am and 8pm on Saturday through Wednesday, and from 12 noon to 8 pm on Thursday and Friday, the weekend in Saudi Arabia.
The Shura Council also recommended that female drivers stick to conservative dress and no make-up, the official said, as reported by AP. Inside the boundaries of the cities, women would be able to drive a car without a male guardian accompanying them, but outside the city limits, a male would be required to be in the vehicle with them.
There was also a recommendation for a "female traffic department" that would assist women whose vehicle has broken down on the road, for example, or who suffer sexual harassment.
A council member said the advisory board advanced the recommendations in a secret deliberation held in the past month. The member spoke on condition of anonymity because the recommendations had not been officially made public, AP said.
Part of the explanation for the new push for women's right to drive in Saudi Arabia, an issue that has been debated for decades, is that the Shura Council accepted 30 female members into its ranks for the first time in January.
Meanwhile, there have been ongoing protests and campaigns for women's right to drive, and despite threats of legal repercussions from the government. Last year, more than 60 women participated in a protest where they took to the streets, with many of them uploading videos of themselves driving to YouTube.
Part of the protest featured a YouTube video that satirized Saudi medical studies that were said to prove that driving a car damages a woman's ovaries.
Last November, a Kuwaiti woman was arrested in Saudi Arabia for driving her diabetic father to the hospital.
However, considering that the driving ban on women forces families to hire drivers, females who cannot afford such a luxury must rely on male family members to carry out the simplest errands.
http://rt.com/news/203479-saudi-women-driving-right/
----------
Jihadi Wives Fatwa: Just Cook for and Look after Fighters
17 November 2014
The Islamic State (ISIS) militant group is giving out guidelines to women on how to be the 'ultimately wife of jihad'.
According to the new rules laid out by the dreaded militant group's media wing "Zora Foundation'', women should never undertake combat roles and can contribute to jihad through "feminine manual labour" such as cooking for and looking after fighters, the Independent reported. A video with these details was posted on YouTube.
The Zora Foundation is the latest ISIS media group operating across social networking sites.
"The video talks about nursing and administering first aid, the cooking and preparation of food, the books of God, sharia science and the preparation of women for their contribution to jihad – essentially getting others to go out there," Charlie Winter, a researcher at counter-extremism think tank the Quilliam Foundation, was quoted by the British daily as saying.
"It is kind of a guideline on how to be a good supporter of jihad and have the best role in supporting 'your mujahidin' as a woman," he added.
The group, which comprises hardliner Sunni extremist militants, regularly releases propaganda showing brutal executions and violent atrocities. On many occasions, they have released guidelines to fighters while issuing threats to the West as the US-led coalition air strikes continue in Syria and Iraq.
But unlike the previous ones, these new rules specifically target women who support the Islamist fighters and give advices on how to be 'good wives of jihad'.
Zora's material, which is written in Arabic, has now been shared by ISIS supporters across social media. The social media accounts of the militant group have already garnered over 2,000 followers after they were established just over two weeks ago, the newspaper said.
http://www.ibtimes.co.in/islamic-states-ultimate-jihadi-wives-fatwa-just-cook-nurse-fighters-612803
-----------
Iran 'Vigilante' Law to Test Rouhani on Women's Rights
17 November 2014
Iran's parliament last week approved a bill that would allow paramilitary forces to return to public streets and verbally enforce strict Islamic dress codes. Meanwhile, hardliners are reportedly pushing legislation that would support and protect citizen vigilantes who also want to help enforce the Hijab. This comes in the wake of a string of acid attacks on women in Isfahan for not dressing properly.
President Hassan Rouhani repeatedly pledged to promote women's rights and relax tough dress codes during his campaign and since was elected. But how committed is he — and will he deliver?
Nasrin Afzali doesn't think so. A feminist activist now living in Canada, she once wrote for Zanan, a leading feminist magazine Iran shut down in 2007. She also received a suspended sentence of ten lashes and six months in jail for taking part in protests against gender discrimination. She sees recent events as part of a continuum that began with the Islamic revolution.
"It's just a part of the same misogynist policy that has been going on for the last 35 years," she said. "Another link in the chain of the Islamic Republic's gender ideology."
And she points out that the Isfahan acid attacks last month are not the first in recent times.
Hijab as symbol
Islamic tradition requires women to dress modestly, but how they do so varies from country to country. The hijab can include anything from a simple head covering to the chador, a full black cloak that encircles the entire head and body.
In 1936, Reza Shah Pahlavi banned traditional Islamic dress in Iran and imposed European clothing as part of an effort to modernize and secularize along Western lines — and sideline religious leaders.
The 1979 revolution came as a reaction to the repressive policies of the Shah and a rejection of the U.S., which had supported him. Many women protesters donned the hijab in a gesture of defiance as well as support of Ayatollah Khomeini, who preached a return to traditional Islamic law.
But shortly after he took power, Khomeini made the hijab compulsory and imposed tough penalties for violators. Under Mohammed Khatami, elected in 1997, women fared a little better.
"During the first years of the Khatemi era," Afzali recalled, "we thought that all the black days were finished and that we would never see the moral police in the streets. I joined the first feminist website, and we wrote about women's issues, and for the first time after the Revolution, NGOs were created, dealing with women and other social issues."
Things changed under Ahmadinejad, elected in 2005, who worked to curb the women's movement. His government shut down Zanan and allowed morality police to harass — sometimes brutally — and arrest women for improper Hijab.
In the run-up to his 2013 election, Iran's current president, Hassan Rouhani, promised to end the oppression of women and stop gender-based violence. He has repeatedly spoken out against the enforcement of tough Islamic dress codes by so-called morality police.
"Women must enjoy equal opportunity, equal protection and equal social rights," he said in comments that were broadcast live on television. In November, 2013, he banned the morality police from arresting women.
"Modesty is beyond wearing the Hijab," he said at the time. "The way the vigilantes interpret the question of modesty antagonizes our society and has negative results which is contrary to the teaching of Islam and is unconstitutional."
Rouhani and women
That kind of rhetoric seemed to indicate Rouhani is committed to improving the lot of Iran's women. But some analysts say that's too simplistic a reading.
"Rouhani is a statist," said Iranian analyst Steven Ditto. "He believes in the absolute authority of Khamenei as [Supreme Leader]. He is deeply committed to the ideals of the Islamic Revolution."
What makes Rouhani different — and what gives him the reputation of being a reformist — is his belief that small-scale reforms can actually strengthen Iran politically.
"Rouhani deeply believes that through tweaking the status quo in terms of minority rights, education, and women's rights — along with easing economic pressure on Iran through nuclear negotiations — [he can] breathe fresh air into how the Iranian "system" is viewed domestically, by ordinary Iranians," Ditto said.
"People will have pride to live in an Islamic country that combines an Islamic and Iranian identity."
And this pride will lead to development, medical and scientific advances, he said, and enable Iran to meet long-term foreign policy goals.
It is in this context, said Ditto, that we must view Rouhani's promises to women.
"There is no doubt Rouhani is committed to women's rights. But, does he care about women in and of themselves? Does he care about reform as an end unto itself? No. Rather, he views them as necessary for the ends of the state," Ditto said.
Hardliners fight back
Last month, an unknown number of men on motorcycles threw acid at women they deemed were improperly dressed. Details are fuzzy, in part because of a crackdown on media coverage of the attacks. As many as two dozen women may have been targeted.
The attacks followed an earlier announcement by the radical Islamist group Ansar-e-Hezbollah (not to be confused with Hezbollah in Lebanon), which has a history of attacking individuals and institutions it deems as "un-Islamic." On September 14, the group announced it would shortly dispatch thousands of male and female vigilantes into the streets to enforce proper dress codes.
"The attacks were very organized," Afzali said. "The assailants were guarded by others driving cars behind them. And a few days before the attack, some women say they were sent text message in warning."
She blames government conservatives and religious leaders for encouraging the violence.
"For one or two years, all of the Friday prayers have been focused on the hijab," Afzali said. They [Friday prayer leaders] were very clear. They said the verbal enforcement of the hijab is no longer enough, and people should use physical force, even 'shed some blood.'"
Isfahan's Friday prayer leader called the acid attacks "reprehensible."
In Iran, acid throwing is a capital offense. But hardliners in parliament have been looking for ways to protect vigilantes trying to enforce the hijab. Pending legislation to "promote virtue and prevent vice" would do just that.
"It's a very general law that essentially codifies something that is already in Iran's constitution," said Human Rights Watch Iran researcher Faraz Sanei.
"There's an article in Iran's constitution that essentially says that the government must create a favourable environment for the growth of moral virtues based on faith and piety and the struggle against all forms of vice and corruption," Sanei said. "The people in parliament who introduced this bill say they are simply implementing and codifying what's law already."
Parliament has already approved portions of the bill, but it's still a long way from law.
"It still has to be vetted by the Guardian Council to ensure that it is in compliance with Sharia law, and then of course after that, it has to be signed by the president and published in the country's official journal," Sanei said.
If the bill passes, Sanei worries, it could open the door to more attacks.
Rouhani has harshly criticized the bill and promised harsh punishment for the acid attackers. At least ten suspects were arrested in October — and later released.
But Iran's women, in the meantime, are dressing with a little more care.
http://www.voanews.com/content/vigilante-law-tests-rouhanis-commitment-to-iran-womens-rights/2519346.html
----------
Move To Ensure Punishment for 'Honour' Killing in Pakistan
17 November 2014
LAHORE: The Punjab government is planning to ensure stringent punishment for 'honour killings' even if heirs of the victims, mainly women, reach agreements with the killers.
The initiative has been taken by the women development department after the killing of one Farzana allegedly by male members of her family near the Lahore High Court in May this year.A summary was sent to the chief minister for permission to amend the relevant laws and he had constituted a committee under former law minister Rana Sanaullah Khan.
Sources told Dawn on Sunday that the committee had held its meeting a few days ago and discussed the proposal to make the honour killing a non-compoundable offence. But the meeting attended by government officials and members of civil society and religious scholars was informed that the idea might draw objections from religious circles.
Before 1990 the 'honour killing' was a non-compoundable offence, but it was later made compoundable in view of the opinion by religious scholars and recommendations by the Council of Islamic Ideology (CII). The view was that Islam allows a compromise in murder cases and, therefore, the offence should be made compoundable.
According to the sources, the meeting was informed that since the offence had been made compoundable under the CII instructions, the idea of making it non-compoundable would be opposed by religious circles.
An alternative proposal was presented which sought to amend Section 311 of the PPC under which courts "may" punish a murderer if it is found that the act of "Fasad Fil Arz" is involved in the case, even if heirs of the victim pardon the killer under an agreement. The pardoned killers to be punished by courts include those who have past criminal conduct, adopted brutal and shocking manner of the killing and are potential threat to society.
An amendment to the section made in 2011 also allows the courts to punish the killers pardoned under some agreements. The courts may sentence them to life imprisonment (25 years), 14 years imprisonment or even to death. According to the law, in any case the punishment should not be less than 10 years of imprisonment.
A suggestion was made at the meeting to replace the word "may" in the section with "shall" to make punishment for honour killings mandatory and fix death sentence or life imprisonment for the killers, even if they are pardoned by heirs of the victims.
The sources said that a sub-committee also comprising religious scholars had been formed to firm up recommendations and submit these in 15 days.
"The government is going to discourage honour killing by plugging loopholes in the law," an official said.
http://www.dawn.com/news/1145011/move-to-ensure-punishment-for-honour-killing
----------
Islamic Shops in Australia Still Selling Female Mutilation Books
17 November 2014
AN Australian Muslim convert who edited a book advocating female genital mutilation (FGM) has disowned the tome and urged people not to buy it.
Prohibitions That Are Taken Too Lightly was one of several books bought from Sydney bookshops by The Daily Telegraph that advocate FGM, sometimes known as female circumcision. It was edited in 2001 by Islamic convert Shifa Lynette Vivienne Mustapha who lives in Queensland — and who now says she would not "give it to anyone".
The book was written by Saudi scholar Muhammad Saalih Al-Munajjid, 54, who ­believes Mickey Mouse should be killed as one of "Satan's soldiers". It provides edicts on many behaviours it says are forbidden in Islam.
"If anyone asked if they should read it, I would say 'don't bother'," said Ms Mustapha, who added that she took on editing the book through "naivety or ignorance" and that the section on FGM was added after she finished working on it.
"I've done years of study since then and no longer have anything to do with (the book)," she said.
Ms Mustapha has also spoken out strongly against FGM and has received threats as a result.
Another book bought by The Daily Telegraph is called Important Lessons For Muslim Women, which says FGM is "obligatory" if an unmarried woman's desire is "so great". NSW minister for women Pru Goward has condemned the promotion of the "abhorrent" practice.
In May the NSW government tripled the sentence for performing FGM to 21 years' jail and introduced a new ­offence of removing a woman or girl from NSW to have it performed.
But books promoting the barbaric practice remain on sale in the Bukhari House ­Islamic Bookstore in Auburn, and The Islamic Bookstore in Lakemba.
"I am a supporter of freedom of speech, but whether it is from behind a lectern or on a page, the promotion of this inhumane and illegal practice is unacceptable," Ms Goward said. "I would be calling on booksellers themselves to pull any book ­encouraging female genital mutilation off the shelf."
Eman Sharobeem, head of the Immigrant Women's Health Service, said: "To hear that there are books promoting female circumcision is shocking."
Another book bought by The Daily Telegraph, Instructions Of Shari'ah For Women, wants to ban Western education for women. Others say women should not drive, should not work with men and must have sex if their husbands demand it.
A worker behind the counter at The Islamic Bookstore in Lakemba said he did not agree with FGM but he "could not read all 10,000 books here".
Sydney Muslim leader Jamal Rifi said FGM did not have a part in the Muslim religion, but added that discussing these issues was better than banning books. "A lot of bullshit is written in these books but it doesn't mean we are so stupid to follow it," he said.
FGM involves the removal of parts or all of the external female genitalia.
http://www.dailytelegraph.com.au/news/national/peddling-pages-of-barbaric-savagery-islamic-shops-still-selling-female-mutilation-books/story-fnpn0zn5-1227125017909
----------
URL: https://www.newageislam.com/islam,-women-and-feminism/new-age-islam-news-bureau/annual-conference-'because-i-am-a-girl'--shorna,-described-as-'malala-of-bangladesh'/d/100053