New Age Islam News Bureau
17 January 2023
• Leila Hosseinzadeh , The Iranian Activist Details 'Horrific' Prison Conditions After Temporary Release
• Yemeni Women Post Pictures In Traditional Garb To Defy Houthi Dress Regulations
• Malala Joins Oscar Shortlist Film About US Marine's Conversion To Islam
• Nayla Al Khaja, United Arab Emirates' First Woman Filmmaker Touted Among The Top 50 Most Powerful Personalities In Arab Cinema
• 'Alarming' Number Of UAE Women Failing To Get Tested For Cervical Cancer: Experts
• Iran women's ice hockey team beat Saudi Arabia to reach final in Islamic Countries Championship
• Abu Dhabi To Host First WTA-Approved Women's Tennis Tournament
• Special Olympics World Games Berlin 2023: UAE Women's Football Team Heads To Japan
Compiled by New Age Islam News Bureau
URL: https://newageislam.com/islam-women-feminism/afghan-religion-taliban-leila-hosseinzadeh/d/128896
--------
'Angry At Your Religion, Your Hearts Of Stone' — 'Afghan' Woman Curses Taliban In Viral Clip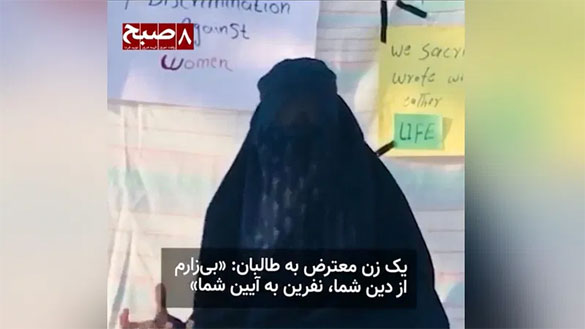 Twitter screenshot
----
Gaurvi Narang
16 January, 2023
New Delhi: A video has surfaced online showing a burqa clad woman — purportedly from Afghanistan — condemning the Taliban and their "hearts of stone". She also goes on to lament why nobody was bothered about her country.
"I am angry at this religion today. I hate your religion today. I curse upon your religion. Your hearts are as hard as stone," she is heard speaking in Persian in the video.
In the clip, a white poster on the wall behind her reads, 'Discrimination against women'.
"Oh the sad women of the city, oh the sad people of the city, oh the atheistic country of ours, today we haven't understood the religion. I am angry at this religion today," the woman adds.
The Taliban had in December placed an indefinite ban on university education for Afghan women. Prior to that they banned girls from middle school and high schools. Women are also barred from working in non-governmental organisations (NGOs).
The video was shared by Hasht e Subh Daily, an Afghan news channel.
"In recent days, a large number of women are chanting slogans against the Taliban by recording different video tapes," the media organisation said.
'Strength & power for the woman'
Many have come out in support of the unidentified woman in the viral clip, criticising the Taliban for placing restrictions on women.
One response to her video reads, "What else did anyone expect? She is just being honest", while some others said "Strength and power for this woman" and that "All Afghan women should do the same".
This video comes days after a comment made by Taliban Spokesperson Zabiullah Mujahid that overturning restrictions against women is not a priority for the group.
The Taliban's ban on women has also been criticised by governments and various groups across the world.
Khaama Press, a news service in Afghanistan reported that a number of foreign governments, including the US, UK, Germany, the European Union, the United Nations (UN), the Organization of Islamic Cooperation (OIC), and other international aid organisations strongly denounced the ban and urged the Taliban caretaker government to lift all restrictions on women.
Source: The Print
https://theprint.in/world/angry-at-your-religion-your-hearts-of-stone-afghan-woman-curses-taliban-in-viral-clip/1317868/
--------
Leila Hosseinzadeh , The Iranian Activist Details 'Horrific' Prison Conditions After Temporary Release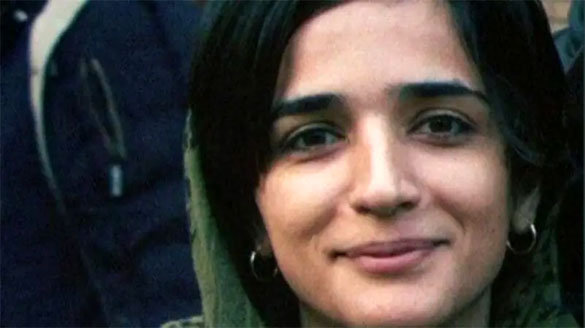 Iranian activist Leila Hosseinzadeh (Twitter)
----
16 January ,2023
Iranian activist Leila Hosseinzadeh detailed in a social media post the dire conditions of female prisoners jailed at Adel Abad prison in Shiraz, noting that sedative and anxiety pills are being given to many prisoners.
In a Twitter post on Sunday, Hosseinzadeh, who was temporarily released from prison earlier this month, described what was happening at the prison as "horrific" and said that administration of pills to prisoners was a horrible "crime."
In a thread on her personal Twitter account, Hosseinzadeh went on to say that the medical treatment of the prisoners was alarming.
She noted that inmates with medical conditions such as hepatitis were left without any medical attention. In the tweet, Hosseinzadeh recalled asking for medical tests to be carried out to determine whether she suffered from any inflammation but said the prison authorities refused.
Hosseinzadeh, who has been arrested several times over the past years, also spoke about prisoners' "lack of access" to painkillers.
In addition to the prison's lack of proper ventilation and being served with contaminated food, Hosseinzadeh described the behavior of some prison guards as a "total destruction of human dignity."
She also described an incident where a prisoner went on a hunger strike and her medical situation worsened, prompting the inmates to call the guard for help. Hosseinzaeh said the response was, "Let her die."
Source: Al Arabiya
https://english.alarabiya.net/News/middle-east/2023/01/16/Iranian-activist-details-horrific-prison-conditions-after-temporary-release
--------
Yemeni women post pictures in traditional garb to defy Houthi dress regulations
SAEED AL-BATATI
January 16, 2023
AL-MUKALLA: Yemeni women have taken to social media to publish images of themselves dressed in colorful traditional gear, defying Houthi clothing restrictions and the militia's escalating crackdown in regions under their control.
Using the hashtag #Yemeni_identity, scores of women inside and outside the country have posted pictures of themselves on Facebook and Twitter. Activists often take to social media to voice their protests.
"Our grandmothers used to wear colorful clothing and our heritage is full of colors and joy," Mozen Senan, a Yemeni writer, said while posing for a picture with a friend while wearing a colorful abaya and headscarf.
"Ansar Allah dictates our attire and wants to wrap us in black. Even if we no longer dress like our grandmothers. This is who we are today, and these are our colors," she said, using the Houthi's official name.
The online campaign comes almost a week after Houthi authorities in Sanaa informed tailors that women's abayas should be loose-fitting and black.
These Houthi clothing prohibitions are part of a growing crackdown on women, who are also prohibited from moving between towns without male guardians. The group is known for abducting and charging artists with supposed moral crimes.
Ebtehal Al-Komani, a human rights activist, said women have historically never covered their entire bodies in black clothing.
"Black (clothing) was never worn by Yemeni women. A peculiar custom that has permeated Yemeni society. It neither belongs to us nor does it belong to us," she said on Facebook, showing photos of herself and other female activists in traditional garb.
Yemeni singer Fatima Muthanna also posted similar photos of herself. "This is our vibrantly hued identity," she said in a Facebook post that garnered hundreds of likes and comments from her fans.
Since December, the Houthis have abducted and imprisoned five prominent online personalities for criticizing the militia's failure to alleviate poor economic conditions and combat government corruption.
Thousands of Yemenis have either left the country or relocated to regions under government control as the Houthis cracked down on opponents in the wake of their military power grab in late 2014.
The Houthis are still holding Yemeni model and actress Entesar Al-Hammadi, who was kidnapped in a Sanaa street for allegedly breaking the Islamic dress code.
Despite local and international calls for her release, the Houthis have reportedly held her in solitary confinement and tortured her.
Source: Arab News
https://www.arabnews.com/node/2233571/middle-east
--------
Malala Joins Oscar Shortlist Film About US Marine's Conversion To Islam
January 17, 2023
After joining Pakistan's Oscar submission, Joyland, as its executive producer, the youngest Nobel Prize laureate Malala Yousafzai, has now boarded another Oscar Shortlisted film about a US Marine's change of heart. Stranger at the Gate tells the tale of a US Marine, Richard "Mac" McKinney, who initially planned on bombing a mosque but instead converted to Islam.
The documentary has won several accolades at multiple film festivals. Suffering from PTSD, McKinney set out to explode a mosque in his hometown of Muncie, Indiana. But when he started to frequently visit the mosque to gather information about his plan, he was impressed by the kindness shown to him by the attendees and refugees present there.
Impressed by the Muslims in the mosque, he abandoned the plan of bombing the mosque and converted to Islam instead. He is now the president of the said mosque.
"This film is a powerful true story of forgiveness and redemption," Yousafzai said in a statement to Variety. "I hope the film challenges every viewer to question their assumptions and show kindness to everyone they meet." She later shared on Twitter, "When I first saw this film, it opened my mind and changed my perspective. I am honoured to support Joshua Seftel's Stranger at the Gate, a powerful true story about redemption."
Directed by Seftel, Stranger at the Gate is distributed by The New Yorker as part of the magazine's New Yorker Documentary series. "At this time of division and hate, the story at the heart of 'Stranger at the Gate' gives me hope," Seftel said. "The heroes in the film have inspired me to believe that love really can conquer hate."
Source: Tribune Pakistan
https://tribune.com.pk/story/2396341/malala-joins-oscar-shortlist-film-about-us-marines-conversion-to-islam
--------
Nayla Al Khaja, United Arab Emirates' First Woman Filmmaker Touted Among The Top 50 Most Powerful Personalities In Arab Cinema
By Sindhu Kashyaap & Pooja Rajkumari
January 16, 2023
Nayla Al Khaja was all of 8 years of age when she saw the Bollywood classic Boot Polish. Central to the film was a story about young siblings losing their parents—a feeling that tugged Nayla's heartstrings. "Everything about the movie, the largesse, the grandeur, music, black and white cinematography, and emotions got to me," she recalls. I saw the movie 12 times, at least… It left me heartbroken...I didn't want to see siblings be separated. The environment at my home was rocky as my parents were going through a separation, and I would soon be separated from my older brother in two years. Two of my films are from the perspective of the brother, as sometimes I feel he carried the bigger burden of the separation, being the older sibling," she told YourStory Gulf seated in her home office in Dubai, where she and her editors also edit her films. While Boot Polish intrigued Nayla to consider filmmaking, she was always interested in fine arts. "I again stumbled into filmmaking again when I was 19 years old," she says. This was around the time when she worked on a documentary project. This solidified her intention to work with film as a way to tell stories. "The whole energy and process was beautiful and I fell in love with it… I felt it was unlike any other art medium. That is when I was sure I wanted to get into the business of films (sic)," says Nayla.
Rediscovering filmmaking She has come a long way since then. Today, Nayla counts a number of accolades under her belt. She is the first woman film director of the United Arab Emirates and has been touted among the top 50 most powerful personalities in Arab Cinema by Variety. She was also named Business Woman of the year by Gulf Business Awards 2020 and bagged the Black Swan Award for Women Empowerment—Asia 2019, to name a few.
Nayla has two films on Netflix at the moment—Animal, a feature film about narcissism and Shadow, her most recent release. Often, she dabbles on topics about mental health and its nuances in her films, she says. This also means Nayla has to treat it right since the subject is delicate, and there still is a strong stigma associated with seeking help for mental health.
"The recent film I have done is about a young boy who suffers from Bipolar disorder…[in the film] his parents try to brush it under the carpet by behaving that there is nothing wrong with him. And in time his condition simply gets worse. It sheds the light on parents and their children and how they should pay attention, and having a mental issue is absolutely fine," says Nayla. She had written and directed her first short film Arbana in 2006, for which she was awarded the Best Emirate Filmmaker at DIFF 2007. She also won a seat at the prestigious Producers Network at the Cannes Film Festival 2018. OTT has changed things too, says Nayla. It has changed everything, they have made foreign language films accessible and desirable, she says. "It has broken down studio systems and made content accessible. They look different and view things differently. You see people of colour, different ethnicities, and genders. But the problem is when it becomes a checklist, that feels forced, and it isn't authentic then. People will sense the inauthenticity. The story should lend itself to it," says Nayla.
Building a thriving business "When I started I didn't have a lot of money and I had to raise money…while I have done that for my films this was a tough journey. It is a tedious process, you need to do the math, and find organisations that align with your thought," says Nayla. "The first six months was hard, I produced a lot of commercials… that kept the wolf at bay and then we started with our own projects," adds Nayla. Today it is a company of 12 employees. To Nayla, associating with a popular telephone brand helped when it came to raising funds. Her advice to entrepreneurs is to associate themselves with brands which can in turn elevate the startups they build. This did not mean running a business was not without its challenges. "The opportunities between men and women in film are staggeringly different. There is a study that says in universities the men and women in film are 50:50," she says. "But once they graduate, it becomes harder for women to tap into money than men. Men tend to get film funds and government grants, whereas women do not," she adds. Nayla also had to battle bias and people's perception that she could not do something simple because she was a woman. However the world has changed since then, she says.
She adds it is important to associate yourself with a brand that is known, once you do that, it elevates you as a startup. It is important to get the right associations, agencies, and brands that are well-known. This makes fundraising easier. Nayla first started by associating with a telephone brand, a popular one that helped her. While Nayla's family was happy with the idea of fine arts as a subject, they weren't completely comfortable with the idea of her getting into films. "There is a lot of baggage, drama and glamour associated with the industry, so they weren't entirely comfortable," she says. "Also it is a very male-dominated segment… the narrative is more demanding, and they were worried about the type of films I would make. But once they saw a film or two, they relaxed into the idea," says Nayla. She is now well on her way to finish her feature film 3, and is planning a rough cut for Cannes, or Toronto Film Festival. She has also signed up with AR Rahman for another film Baab. "People who are passionate about storytelling will stick around if you treat them well," says Nayla.
Source: Your Story
https://yourstory.com/ys-gulf/meet-nayla-al-khaja-united-arab-emirates-first-woman-filmmaker
--------
'Alarming' number of UAE women failing to get tested for cervical cancer: Experts
17 January ,2023
Doctors in the United Arab Emirates are urging women to get screened for cervical cancer, saying many are failing to get tested for the treatable disease.
January is Cervical Cancer Awareness month, highlighting the fourth most common cause of cancer-related deaths in women globally and a leading cause of death among women in the UAE.
With early detection through a pap smear, cervical cancer – commonly caused by human papillomavirus (HPV), for which there is a vaccine - is completely treatable.
Yet an "alarming" number of women are failing to have get a vaccine or have a routine pap smear test, said Neha K Pande, a specialist in obstetrics and gynecology at the Saudi German Hospital in Sharjah.
"When just by taking a simple and safe vaccine we can protect ourselves and our dear ones from getting this deadly disease then what is stopping us?" she told Al Arabiya English. "HPV infection is notoriously common infecting eight out of 10 women in their lifetime."
"Most of the times the infection will go unnoticed. These findings imply that HPV is as common as the common cold. Each of us are at risk of getting infected by the HPV virus. Once infected the risk of developing cancer is high. Therefore, it is extremely important to get vaccinated against the virus."
Cervical cancer occurs when there is a long-standing infection of certain types of the human papillomavirus in the body. While there are more than 150 types of HPV, only 13 of them cause cancer.
In the UAE, the HPV vaccine is available and administered at health centers and schools. Despite these efforts, uptake on vaccines is low and infection rates remain high.
"Not many cancers are preventable by simply getting a vaccine," said Dr Pande. "If you have not received the vaccine or need further information, contact your health-care provider today. Get vaccinated."
Early detection is key
According to the World Health Organization, regular pap smears can help to prevent up to 90 per cent of the most common type of cervical cancer. Early detection is vital since most women do not report noticeable symptoms until after the cancer has spread to other organs.
Early signs of cervical cancer include abnormal bleeding or abdominal pain and discomfort.
"The pap smear test looks for pre-cancerous cell changes in the cervix that might become cervical cancer if not treated appropriately," said Dr Pande. "If you have a precancerous lesion, you can be treated, and your risk of cancer decreases dramatically."
"Pap smears are readily available, relatively painless, and an easy-to-perform non-invasive test."
"It should be an important part of routine health care of all women."
"Cervical cancer in its early stages may have no symptoms at all, that means you may be harboring a deadly cancer in your body without being aware of it. Getting a regular pap smear provides the best protection against cervical cancer."
Symptoms and detection
It is recommended that woman begin scheduling pap smear from the age of 21.
But depending on a patients' medical history and risk factors, a doctor will recommend when they should start screening and when they need to repeat the test.
"About 80 percent of cervical cancers are curable if diagnosed early," said Dr Pande. "Thanks to modern medicine, women who get regular pap smear are unlikely to die of cervical cancer. Get screened today."
Dr Pranjali Singh, a specialist in obstetrics and gynecology at International Modern Hospital Dubai, told Al Arabiya English that cervical cancer is the fifth most frequent cancer among women in the UAE and the third most frequent cancer among women between 15 and 44 years of age.
Symptoms of early-stage cervical cancer may include irregular blood spotting or light bleeding between periods in women of reproductive age, postmenopausal spotting or bleeding, bleeding after sexual intercourse and increased vaginal discharge.
"Nearly all cases of cervical cancer can be attributed to HPV infection," she said. "A large majority of cervical cancer (more than 95 percent) is due to the human papillomavirus (HPV).
"It is recommended to get the HPV vaccine a few years before marriage."
She too said cervical cancer is preventable and can be cured if diagnosed at an early stage and treated promptly.
"With early detection through a pap smear, cervical cancer is completely treatable," she said, adding that the UAE Ministry of Health and Prevention recommends women aged 25 to 49 to have a pap smear every three years, and women aged 50 to 65 have a pap smear every five years.
The World Health Organization also recommends that girls aged nine to 14 be administered with the HPV vaccine.
Risk factors
Dr Koulshan Mohammad Jameel, a specialist in obstetrics and gynecology at the Canadian Specialist Hospital Dubai, said that in addition to the HPV virus, there are also other risk factors for cervical cancer.
These include smoking, long-term use of birth control pills and weakened immune systems.
"Cervical cancer can be prevented in the event of early detection, through periodic examinations of cervical cells. When there are certain changes, we resort to examining the papilloma virus that causes the disease, and in the case of a high-risk virus, we resort to the speculum and taking a tissue sample from the cervix and examining it in the laboratory."
"In the event that the case is proven, there will be other examinations such as ultrasound or magnetic resonance imaging to diagnose the cancerous stage and then treatment based on the cancerous stage."
Source: Al Arabiya
https://english.alarabiya.net/News/gulf/2023/01/17/-Alarming-number-of-UAE-women-failing-to-get-tested-for-cervical-cancer-Experts
--------
Iran women's ice hockey team beat Saudi Arabia to reach final in Islamic Countries Championship
16 January 2023
The Iranian women's ice hockey team has beaten Saudi Arabia to advance to the final stage of the Islamic countries tournament hosted by the Republic of Tatarstan.
The Iranian women's team had a tie during the Monday match, but outperformed its Saudi Arabian rival 3-1 on penalty shootouts, getting qualified to book a place in the final round of the Islamic Countries Ice Hockey Championship 2023 in Tatarstan's capital, Kazan.
Earlier in the international tournament, the Iranian girls had won their games against the United Arab Emirates, Oman, and Bahrain while losing to the host country's team.
Iran's female players are scheduled to face Tatarstan in their final match on Tuesday.
Over 300 hockey players from 14 Islamic countries are taking part in the international tournament in Tatarstan from January 14 to 17.
The event has brought together 12 men's and five women's teams from Islamic countries.
Source: Press TV
https://www.presstv.ir/Detail/2023/01/16/696438/Iranian-women-ice-hockey-defeat-Saudi-Arabia-final-match-Tatarstan
--------
Abu Dhabi to host first WTA-approved women's tennis tournament
January 16, 2023
DUBAI: Abu Dhabi is to be the newest destination for the world's professional women's tennis tour, the Women's Tennis Association and IMG announced on Monday.
The 'Mubadala Abu Dhabi Open' will be held at the International Tennis Centre in Zayed Sports City from Feb. 5 to Feb. 12. It is the first ongoing WTA-sanctioned event to take place in the emirate.
Hosted in partnership with Abu Dhabi Sports Council and investment group Mubadala, the WTA 500 event will bring together the world's top female players at Zayed Sports City's International Tennis Centre, including World No. 2 Ons Jabeur.
"I'm really excited to once again be playing in Abu Dhabi. The atmosphere and support from the fans is always incredible and I hope to continue my winning run in an amazing venue," said Jabeur, who won the Mubadala World Tennis Championship exhibition in Abu Dhabi in 2021 and last year.
Steve Simon, WTA Chairman and CEO, said: "Abu Dhabi's position in the calendar will create a unique three-week Hologic WTA Tour swing in the region, promising best-in-class player fields competing for valuable WTA points. This tournament will build on the commitment Mubadala has made in introducing professional women's tennis to Abu Dhabi in recent years."
Aside from more than 60 singles and doubles matches across eight days, the tournament will feature a variety of activities including tennis-themed games and player question and answer sessions.
Robbie Henchman, President of Global Partnerships – IMG Events, IMG Media & On Location, commented: "We are proud to bring the first-ever permanent official Women's Tour event to Abu Dhabi.
"Mubadala and Abu Dhabi Sports Council are the perfect partners to help us deliver a world class, action-packed event, with thrilling action on and off the court for fans, families and friends to enjoy."
Mubadala has supported international tennis for more than a decade and supports the Mubadala Community Cup and Mubadala Tennis in Schools Programs locally.
Homaid Al-Shimmari, Deputy Group CEO, said: "We are thrilled to be part of bringing this inaugural WTA 500 tour event to Abu Dhabi, continuing our global support of tennis and attracting world-class events to the emirate.
"This partnership complements our efforts to promote an active and healthy lifestyle in the community, and builds on the legacy of Mubadala supporting professional women's tennis in the region."
Abu Dhabi Sports Council General Secretary Aref Hamad Al-Awani said: "The tournament underpins our commitment to bring sporting events to the region and to inspire youngsters. This tournament is a testament to Abu Dhabi's abilities as hosts and organizers. You can expect the inaugural edition to be nothing short of amazing."
The event will continue the WTA's 50-year anniversary celebrations, with tickets starting at AED 50 ($13.61) for adults, while full tournament packages are available at a 15 percent discount. Children under 12 accompanied by ticket-holders can enter free for the first four days. Visit ticketmaster.ae for more details.
The Mubadala Abu Dhabi Open is being produced by IMG, the company behind the Miami Open and Madrid Open, and globally renowned cultural events such as New York Fashion Week: The Shows, Hyde Park Winter Wonderland and Frieze art fairs.
Source: Arab News
https://www.arabnews.com/node/2233631/sport
--------
Special Olympics World Games Berlin 2023: UAE women's football team heads to Japan
January 17, 2023
Abu Dhabi: The UAE women's football team is headed to Japan for a week-long training camp ahead of its participation in the Special Olympics World Games Berlin 2023 in June.
16 team members will be headed to Japan on January 20th, including six Special Olympics UAE Athletes, five Unified Partners, their coach, and the supporting technical and administrative staff.
The training camp aims to socially integrate athletes with intellectual and developmental disabilities and their peers from the unified partners through sport, based on the United Nations' 10th sustainable development goal. The camp will also support spreading the culture of sports among women, implementing the United Nation's 5th sustainable development goal of promoting gender equality.
The week-long camp is organized by UAE Football Association, Japan Football Association (JFA.JP), Japan Football Federation for Persons with Intellectual Disability (JFFID), Japan International Cooperation Center (JICE) and Ministry of Economy, Trade, and Industry – Japan (METI). This training camp will focus on growing and enhancing the technical skills of both countries' athletes, signaling the consolidated relations between the UAE and Japan.
75 athletes
This camp will also raise athletes' readiness for the World Games Berlin 2023, as the UAE delegation will participate in it with one of the largest delegations from the MENA Region, comprising 75 athletes with intellectual and developmental disabilities, 32 unified partners, and the administrative and technical staff.
Talal Al Hashemi, National Director of Special Olympics UAE, said, "I would like to thank Japan Football Association (JFA.JP), Japan Football Federation for Persons with Intellectual Disability (JFFID), and all the organizing partners for hosting this training camp. Seeing athletes train together confirms our strong bilateral relations and friendship between the two countries. We are working together, sharing knowledge and different experiences and technical skills, which impacts both entities positively, and puts our athletes on the right track for the upcoming World Games 2023."
He added, "We encourage our athletes to be part of all international events and tournaments, as this helps them explore new countries and learn more about other cultures. This is the legacy of the World Games Abu Dhabi 2019; inspiring People of Determination and supporting the culture of inclusion in society and sports."
The Special Olympics UAE National women's football team made a remarkable achievement in 2022 by securing second place in their group at the Special Olympics Unified Cup Detroit 2022.
Source: Gulf News
https://gulfnews.com/sport/uae-sport/special-olympics-world-games-berlin-2023-uae-womens-football-team-heads-to-japan-1.93261156
--------
URL: https://newageislam.com/islam-women-feminism/afghan-religion-taliban-leila-hosseinzadeh/d/128896
New Age Islam, Islam Online, Islamic Website, African Muslim News, Arab World News, South Asia News, Indian Muslim News, World Muslim News, Women in Islam, Islamic Feminism, Arab Women, Women In Arab, Islamophobia in America, Muslim Women in West, Islam Women and Feminism