New Age Islam News Bureau
1 Apr 2016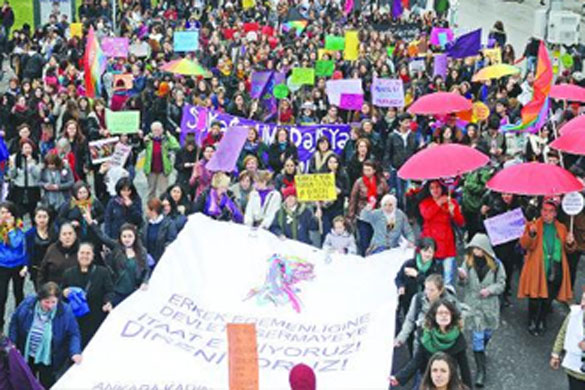 Photo: Majority of Turkish women subjected to violence, pursue legal means: Survey
------------
• Muslim Women Are Against Verbal 'Talaq': First Woman Qazi of India
• Majority of Turkish Women Subjected To Violence, Pursue Legal Means: Survey
• Muslim Rugby Player in Ireland to Wear Hijab
• Public Figures Who Rage Against the 'Burkini' Are Just Islamophobes Hiding behind Feminism
• Hijab-Shaming French Minister Spawns Twitter Hashtag Calling for Her Resignation
• 'I Want Freedom in Europe', Says Baghdadi's ex-Wife in Lebanon
• Ex-Afghan MP, Farkhunda Zahra, Talks about Fight for Women's Rights, Freedom and Change
Compiled by New Age Islam News Bureau
URL: https://newageislam.com/islam-women-feminism/an-open-letter-muslim-men/d/106836
-------
An Open Letter to Muslim Men from an Angry Muslim Woman
Hiba Khan
March 31, 2016
Dear Muslim men,
I still remember the day my mother was told her life was in danger. Her right to exist on this earth was suddenly being questioned because she decided she was exhausted. Exhausted for all her sisters, mothers and daughters who are unfortunate enough to have been born with another X chromosome rather than a Y.
What were her demands? Merely a space to pray in the mosque. Despite knowing she was potentially putting herself on the line, she stood her ground to claim what has been snatched from us. This did not happen in a faraway land, but here in the UK, and the heinous crime my mother committed that warranted such a savage response was requesting her God-given rights.
She should have been smart enough to know not to ask for something that may threaten the towering, carefully constructed, religiously disguised pedestal that has cradled the male ego for centuries. The outrageous desire to pray in a mosque that has only welcomed men since its creation represented values far too Islamic for these chauvinists.
We attended a mosque meeting advertised as being 'open to the public', and were abusively shouted down as soon as my mother attempted to make a contribution. No one had yet informed us that 'the public' does not include females.
Following police involvement, we were begrudgingly afforded a small place to pray, and saw the intimidation tactics become even more pathetic: tutting, head-shaking and sneering comments followed us round every corner. We felt unsafe.
And this isn't an isolated incident. When certain Muslim Labour councillors were accused of systematically and calculatedly blocking Muslim women from becoming MPs, I wasn't surprised. I wasn't surprised at another result of relentless animosity, the opening of a woman-led mosque in Bradford, either.
There's no religious illegitimacy here. Making room for Muslim women isn't un-Islamic. And I haven't been pushed away from my religion by sexist men in the Muslim community.
Instead, I have drawn closer to my faith. I recognise the irony of the fact that the first university in the world was established by a Muslim woman, yet today many are denied an education. That the Prophet Mohammed fought on horseback alongside a woman, and yet now, many are told to stay in their houses and denied the right to drive. That in Mecca, at God's house, I walk hand-in-hand with my husband while worshipping, but UK mosques deny me entry. That the majority of the 5,000 annual British converts to Islam are women, because they see the Quran affirming gender equality, and have realised a deeper liberation – even as a culturally asphyxiated brand of so-called Islam run by chauvinists oppresses us.
Quite simply, in being your intellectual, spiritual and social equals, we recognise the immensity of the paradox that some of you continue to propagate. Despite your fervent attempts to use mistranslations and misinterpretations of scripture and tradition to satisfy your desires, we don't believe you. We do not need strengthening, we need recognition of the different forms our strength comes in.
This is an injustice at one end of the same spectrum that groups like Isis operate on. And for those of you who do not actively enforce this injustice, by remaining complicit in the shackling of even one woman, you are shackling all of us. How can a society progress if half of it is chained?
We're desperate to pull back the paralysing grip of the lethal combination of male ego and cultural deadweight, to untangle this mess and to live how our faith truly tells us to live, relieved of our exhaustion.
Ultimately, we need you to help us reclaim Islam.
Until all of society learns to respect the half of society that bears and births them, humans will remain crippled, our social ills cannot be healed. We are hurting. Exhausted. But I have hope.
Because, as Al Ghosaibi says, 'when a wound is tired of crying, it starts to sing'.
Muslim men, you owe us our rights – and the Quran says so. Don't forget that.
Sincerely,
A Muslim woman
independent.co.uk/voices/an-open-letter-to-muslim-men-from-an-angry-muslim-woman-a6961706.html
----
Muslim Women Are Against Verbal 'Talaq': First Woman Qazi of India
Kanpur, Apr 01, 2016
Raising her voice against the verbal 'Talaq', first Woman Qazi Hina Zaheer Naqvi said almost all Muslim women are against it and 'triple Talaq' should be declared unconstitutional. She said she supports the decision of committees that have decided to make this mode of divorce unconstitutional. Undeterred by strong opposition from influential Islamic bodies to judicial scrutiny of Muslim personal law practices, the Supreme Court has decided to examine the legality of 'triple Talaq'. Naqvi said amendments must be made in the whole process of divorce.
business-standard.com/video-gallery/general/muslim-women-are-against-verbal-talaq-first-woman-qazi-33958.htm
--
Majority of Turkish women subjected to violence, pursue legal means: Survey
Meltem Özgenç – ANKARA
April/01/2016
Some 86 percent of women in a recent study by Turkey's Ministry of Family and Social Policies said they have been subjected to physical or psychological violence by their partners or family, and pursued legal proceedings in the aftermath, revealing the prevalence of violence against women across the country.
The research was undertaken by Turkey's family ministry investigate a current law in place to protect families and prevent violence against women.
According to the survey, which was conducted by interviewing some 841 women across 10 Turkish provinces alongside some 479 men who admitted resorting to violence, only around 43 percent of women who take legal action decide to continue their relationships afterwards. This figure rises to 64 percent among married women.
Physical violence is among the most common forms of violence, with some 70 percent of women reporting that they were physically assaulted by partners, family members or neighbors. On the other hand, psychological violence was reported to be the most prevalent form of violence among people who received little or no schooling, as 82 percent said they face this type of assault.
Three out of four women said they decided to litigate only after being exposed to violence for a second time. Some 87 percent of these women went to the police to file their application.
Meanwhile, 80 percent of the men who admitted violently acting out against women said they had never heard of the law to prevent violence against women. Indeed, only 39 percent of men believe the law is successful in preventing violence, while some 49 percent of women consider the law "successful."
The setbacks in the full application of the law are considered the primary obstacles in its rate of success.
Research suggests the formation of domestic violence crime units in every province and appropriately training and inspecting police officers in their manner of handling cases of violence against women.
Violence against women is a trending topic in Turkey, where at least 303 women were killed in 2015, according to data released by the We Will Stop Femicide Platform.
The legal system in Turkey has raised eyebrows over its handing of femicide cases, as many male suspects have received lower sentences for murdering women on the grounds that they had a "positive and/or respectful" demeanor during their trials. Activists have demanded the government change the law regarding sentences that can be reduced based on a suspect's demeanor during trial.
hurriyetdailynews.com/majority-of-turkish-women-subjected-to-violence-pursue-legal-means-survey.aspx?pageID=238&nID=97158&NewsCatID=509
---
Muslim rugby player in Ireland to wear hijab
Gail Bell
31 March, 2016
IRELAND's first hijab-wearing rugby player has been welcomed to training sessions at Tallaght Women's RFC in what has been described as "a real progression" for women's sport.
Muslim player Ruba Rosalina Bukhatwa - known as Rose to her team-mates - only recently joined the club but was keen to play in the headscarf she has worn since a child.
And the club was keen to facilitate her wishes, wasting no time in approaching the officiating body, the IRFU, requesting that the Griffith Law student could play competitive rugby while wearing the traditional hijab - a scarf which covers all of the head while leaving the face exposed.
Women's Development Officer at the South Dublin club, Martina Fitzpatrick, told the Irish News yesterday that she was surprised at the speed with which the IRFU dealt with the exceptional request.
"They came back in a few weeks, which was really quite surprising, to say they would permit Rose to wear her hijab - with some minor adjustments, including an agreement to tuck the scarf into her jersey," she said.
"Rose is delighted and has no problem with that at all. Obviously, safety is a vital consideration, but it is also important for players to still be able to respect their beliefs during play.
"I don't think the IRFU has ever dealt with this sort of request before, so Rose will most probably be the first hijab-playing female rugby player in Ireland.
"It is a great step forward and will hopefully attract more women to the game."
In addition to being securely fitted and tucked into and underneath her jersey, the IRFU also advised that Rose should wear a scrum cap over it to ensure that any lose parts stay close to her head for the duration of the game.
The 18 year-old, who was born in Ireland to Libyan parents and raised in Dublin as a Muslim, said she had been "excited" to wear the hijab ever since she was a nine year-old child at school.
"I was always getting asked questions, which I didn't know the answer to at the time," she told the Irish Times. "But I was just excited to wear it.
"I was never shunned out of playing sports. But when I went to Santry for athletics, where I did shot put, discus and javelin, people were more impressed than anything by it. I never got any bad comments about it.
"It was like a fashion statement at first when I was young, but when you grow older you learn more. For me I like the fact that I can represent Islam."
The rugby breakthrough comes not long after female footballer Fadhila Hajji, also from Tallaght, took to the pitch in her headscarf following the lifting of a ban on head covers during matches by Fifa in 2014.
The teenager made her debut with Dublin's first Muslim women's football team, Diverse City FC, at the Fair Play Cup on World Refugee Day in May 2014.
irishnews.com/news/republicofirelandnews/2016/03/31/news/rose-set-to-become-first-muslim-rugby-player-in-ireland-to-wear-hijab-470105/
---
Public Figures Who Rage Against the 'Burkini' Are Just Islamophobes Hiding behind Feminism
NABILA RAMNDANI
1 APRIL 2016
Those who rally against the behaviour of ethnic or religious minorities they dislike are seldom able to hide their racist motivations. This was certainly the case with France's women's rights minister Laurence Rossignol when she this week compared Muslim women who dare to support the so-called "Islamic garment market" to "negroes who accepted slavery".
The 58-year-old Socialist was ostensibly expressing her anger at items including a £49.50 swimsuit crassly dubbed the "burkini" because it covers so much flesh. The fact that it is just a flimsier version of a wetsuit was neither here nor there. To Ms Rossignol it is an unacceptable manifestation of a faith that allegedly "locks up" bodies, and thus a perfect excuse to demonise its followers.
Ludicrously for a politician in the capital of haute couture – a highly successful French industry concerned with astronomically priced clothes – Ms Rossignol suggested that firms were solely interested in another "lucrative" line of business. She found an ally in Pierre Bergé, co-founder of Yves St Laurent, who accused "complicit" designers of exploiting fashion to – heaven forbid – make profits. Mr Bergé added: "Principles should come before money."
Would those be the principles of "Liberty, Equality, Fraternity" which underpin the French Republic? Or are members of the country's five million plus Muslim minority somehow excluded from the freedom to wear what they like?
The truth is that the entire Paris establishment, Left and Right, has been rallying against Muslims for years, and this utterly contrived fashion debate is yet another example of their insidious tactics. They were successfully honed by Nicolas Sarkozy, the former conservative president who, in 2010, introduced a so-called "burka ban" to xenophobic fanfare.
Mr Sarkozy's reasoning was that face coverings worn by a handful of women – mainly converts to Islam living on housing estates – required a vicious national debate. Without providing a shred of evidence, he managed to criminalise wearers of the niqāb – a black garment draped over the entire body except the eyes and hands – by linking it with all kinds of potential threats, including terrorism. By the by – and to the delight of the bigots – Muslims in general were made to feel like an alien subspecies: detested and pilloried because of what a tiny minority of them looked like.
Now Ms Rossignol, a self-proclaimed feminist, wants to go one better, castigating Muslim women who wear anything that may have religious associations, however spurious. She even objects to those who simply cover their heads with a scarf, like Queen Elizabeth II does when she goes out with her horses. Ms Rossignol has not uttered a word about the Supreme Governor of the Church of England, or Catholic nuns, or Orthodox Jews, or any other groups of women who like to wear modest clothes, whether on the High Street, or at the beach. No, it is only Muslims who are there to be vilified in the international media.
Labouring a divisive debate about clothes so as to stigmatise a distinct community becomes part of a dehumanising agenda championing the politics of exclusion. This is especially so when it is framed using colonial references to compliant "negroes" and allegedly enslaved Muslim women from immigrant backgrounds. Incredibly, Ms Rossignol's poisonous comments actually come in the month that her government launched an anti-hate campaign across TV, radio and the Internet with the slogan "Racism begins with words".
In the face of widespread outrage at her language, Ms Rossignol rowed back slightly, saying her overtly racist words had been "misconstrued", even though she stood by her basic arguments. Mr Bergé, meanwhile, tried to partially mitigate his own views by resorting to a variation of the "some of my best friends are black" chestnut, explaining: "I live in Morocco most of the time, I am really not Islamophobic".
Some might argue that owning a supremely luxurious art deco villa and botanical garden retreat in Marrakech, as Mr Bergé does, might not exactly qualify anybody to appreciate the problems ordinary French Muslims are experiencing at the moment. Discrimination and a lack of opportunities for social advancement remain rife, and physical assaults and attacks on mosques have increased dramatically in the wake of terrorist atrocities carried out by barbaric extremists.
In such circumstances, it might be an idea for public figures to concentrate on improving the febrile atmosphere, rather than making it far worse by persecuting people over the way they choose to dress.
telegraph.co.uk/news/2016/04/01/those-who-rage-against-the-burkini-are-just-islamophobes-hiding/
-----
Hijab-shaming French minister spawns Twitter hashtag calling for her resignation
Fri Apr 01 2016
Laurence Rossignol's remarks have also led to a petition on Change.org calling for her to step down
France's women's rights minister Laurence Rossignol has sparked outrage with her recent statement that compared hijab-wearing Muslim women to "negroes who accepted slavery", reports the BBC.
In a TV interview on Wednesday, Rossignol was criticising fashion brands like H&M, Marks & Spencer and Dolce & Gabbana for marketing hijabs, saying that they were "promoting the confinement of women's bodies," France 24 reported.
When her interviewer noted that some Muslim women choose to wear the hijab, she responded, "Of course there are women who choose it. There were American negroes who were in favor of slavery."
Since then, there have been calls for her resignation, with a Change.org petition that has amassed over 26,000 signatures and the #RossignolDemission hashtag trending on Twitter.
images.dawn.com/news/1175087/hijab-shaming-french-minister-spawns-twitter-hashtag-calling-for-her-resignation
-----
'I Want Freedom in Europe', Says Baghdadi's ex-Wife in Lebanon
March 31 2016
An ex-wife of Islamic State group leader Abu Bakr al-Baghdadi, with whom he had a daughter, wants to live in Europe "in freedom," she told Swedish daily Expressen in an interview published Thursday.
"I want to live in a European country, not an Arab country," Saja al-Dulaimi said in the interview filmed in Lebanon.
Dulaimi was freed several months ago from a Lebanese prison, where she had been held since 2014 with her children on suspicion of links to extremist organizations.
"I'm branded a terrorist but I'm far from all that," lamented Dulaimi.
"I want to live in freedom," the 28-year-old said, while praising Islamic Sharia law which she said provided "freedom and rights for women."
Her seven-year-old daughter, Hagar, said she wanted to go to Europe to "study." A DNA test conducted by Lebanese authorities confirmed she was Baghdadi's child.
Born into a well-heeled Iraqi family, Dulaimi said she had been married to an Iraqi member of Saddam Hussein's personal guard. They had twins together.
Widowed, she married again in 2008, on the advice of her father, to Bagdhadi.
Dulaimi described Baghdadi, who also had children from an earlier marriage, as "a normal family man" and university professor adored by his offspring.
Baghdadi was at the time fighting in the ranks of Al-Qaida in Iraq, from which the Islamic State group was born. In 2010, he took over the reins of IS.
Washington has put a $10-million bounty on his head.
Dulaimi said she left him after just three months of marriage, when she was pregnant with their daughter.
"How he could become emir (caliph) of the most dangerous terrorist organization in the world is a mystery," she said.
"The last conversation we had was in 2009. He asked me if I wanted to come back. But I'd made my decision," she said.
"Where is my guilt? I was married to him in 2008. We're divorced now," she said.
She has since remarried, to a Palestinian man with whom she also has a child.
---
Ex-Afghan MP, Farkhunda Zahra, Talks about Fight for Women's Rights, Freedom and Change
Fri Apr 01 2016
The former Afghan parliament member and women's rights activists Farkhunda Zahra Naderi focused on the power of the Afghan women during her speech at TEDx global conferences.
Titled 'The journey of myself where I am still a traveller', Miss Naderi provided an individualistic perspective regarding the path of her life and about the building block of herself yet in a very simplified version.
She recalled the start of her career in the politics as an MP at the age of 29, saying "Regardless of the fact that I never liked politics I grew up to become an MP (at the age of 29)."
Miss Naderi further added "I worked as a lawmaker for 5 years in the Parliament and represented the beautiful province of Kabul. I fought for women's participation in the Supreme Court of Afghanistan. I was president of the Democracy and Human Rights Committee in International Inter-parliamentary Union from 2014.
I studied in Baghlan, Kabul, London and Tashkent – where I gained my BA in Law. Today, as well as fighting for justice, I also am looking at ways to engage creatively with the world such as through design work."
Emphasizing on the power of the Afghan women during his speech in the event, Miss Naderi said "I learned one thing in life that the most ordinary Afghan women are in fact the most extraordinary women and human of our land! They are like unseen and unknown treasure but they make mountains higher with pride: they are beautifully powerful!"
"I never ever can, plus I never want to be as beautiful as those Afghan women. That beauty hurts my eyes but yet inspired me: they made me revolutionary in mind and inspired me to fight for The Femininity," she added.
Miss Naderi saidaa "I believe there are many cages in life but for Afghan women that cage is very well defined. I always thought escaping from the cage is not the solution one has to confront reality and attempt to break the cage! For me breaking the first door of that cage was to break the taboo of women's participation in the Supreme Court of Afghanistan."
Farakhunda Zahra
She also added "I am a mountainous woman belonging to a mountainous nation where the pride of its history hits the peak of Hindukush and the Pamirs! So I wanted to understand and feel my mountainous nature and pay for being not only an Afghan but an Afghan woman."
The ex-lawmaker admitted that Freedom is not for free and has a price to pay; insisting that "Everyone deserves to have freedom."
"Hence, I think it is fair when we pay for our freedom and live in it rather than expecting someone to give it as a gift or to buy it for us while the majority of world's population are still missing their basic rights. As an Afghan especially as an Afghan woman I know the value of that freedom with the price of opportunities, with the value of life and the treasure of our existence!" she added.
In other parts of her speech, Miss Naderi called on the Afghan people to fight for the change as the current generation is challenged to make the history of coexistence and tolerance lively again, which once meant challenging to our neighbours.
"This is the land of bravery and freedom fighters: not only women like Gُurd Ofrid, Sultan Razia, Gohar Shad Begum and Malika Soraya, but men like Rustam, Surab, and Amanullah Khan must not be seen as tales and history but get resurrected from the pages of our books. We have to fight for the change. Even the one that left the country they need to equip themselves strongly with soft powers to return for the front lines. It is our fight so we must fight it ourselves!" she added.
She also talked about the menace of terrorism the Afghans are facing. However, she insisted that "The fight against terrorism is not only an Afghan war we cannot fight everyone's war in our land but the fight to restate our country's position is our responsibility and the Afghan fight!"
"Terror is not only our enemy but the enemy of human civilizations. It targeted us for others reasons then it targeted the world. Raising voice for human values and solidarity is the motto of 21st century citizens but surely Afghans are there on the front line with them," she added.
"This is the land that superpowers recall in their history with failure to rule. But now we must rule we must rule our destiny and future, now we must grow with our friends and coalitions," she concluded.
khaama.com/ex-afghan-mp-talks-about-fight-for-womens-rights-freedom-and-change-at-tedxkabul-0509
URL: https://newageislam.com/islam-women-feminism/an-open-letter-muslim-men/d/106836
New Age Islam, Islam Online, Islamic Website, African Muslim News, Arab World News, South Asia News, Indian Muslim News, World Muslim News, Womens in Islam, Islamic Feminism, Arab Women, Womens In Arab, Islamphobia in America, Muslim Women in West, Islam Women and Feminism