New Age Islam News Bureau
22 November 2021
• Women Banned From Appearing In Television Dramas in Afghanistan: Taliban Militant Islamist Government
• Women's Cyber Security Forum in Saudi Arabia Brings Opportunities to Horizon
• G20 Empower: Private Sector Sets the Pace to Advance Female Leadership Representation
Compiled by New Age Islam News Bureau
URL: https://www.newageislam.com/islam-women-feminism/iraqi-court-child-marriage-activists/d/125820
--------
An Iraqi Court Adjourned a Hearing to Allow a Man to Formalise His Marriage to a 12-Year-Old Girl: Mother Opposes, Activists Protest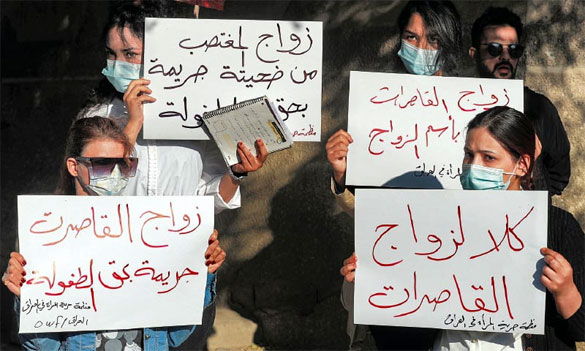 WOMEN demonstrate near a court in protest against the marriage.—AFP
-----
November 22, 2021
BAGHDAD: An Iraqi court adjourned a hearing on Sunday to allow a man to formalise his religious marriage to a 12-year-old girl, according to a lawyer for the girl's mother, who opposes the union.
Rights activists protested outside the Baghdad court with banners such as "the marriage of minors is a crime against childhood", while lawyer Marwan Obeidi said the case had been postponed until November 28.
The legal age for marriage in Iraq is 18 but can be lowered to 15 in cases of parental or judicial consent, according to charity Save the Children.
"Religious marriages are not permitted outside civil or religious courts but these types of marriages still happen regularly and can be formalised on the payment of a small fine," it said in a recent report.
The mother, who refuses to be identified, said her daughter Israa had been "raped" and that the girl's father kidnapped her.
But a department of the interior ministry dealing with violence against women said in a statement that it had met with Israa, her father and husband, seen the religious contract, and said she had assured them she had not been coerced.
Child marriage is not uncommon in conservative and rural areas of Iraq, as well as in other Arab countries.
Source: Dawn
https://www.dawn.com/news/1659512/12-year-old-girls-marriage-causes-stir-in-iraq
--------
Women Banned From Appearing In Television Dramas in Afghanistan: Taliban Militant Islamist Government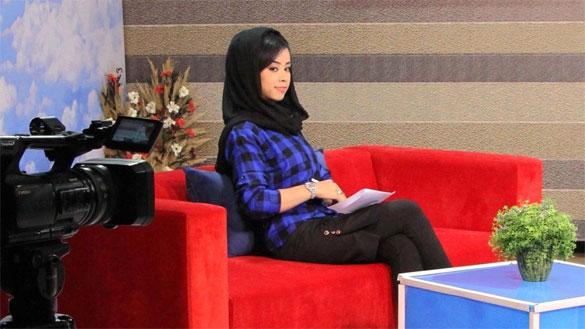 New guidelines set out by the Taliban prohibit female presenters from appearing on TV without headscarves
-----
November 22, 2021
KABUL — Women have been banned from appearing in television dramas in Afghanistan under new rules imposed by the Taliban government, BBC reported.
Female journalists and presenters have also been ordered to wear headscarves on screen, although the guidelines do not say which type of covering to use.
Reporters say some of the rules are vague and subject to interpretation.
The Taliban seized power in Afghanistan in mid-August and many fear they are gradually imposing harsh restrictions.
The militant Islamist group, which took control following the departure of US and allied forces, almost immediately instructed girls and young women to stay home from school.
During their previous rule in the 1990s, women were barred from education and the workplace.
The latest set of Taliban guidelines, which have been issued to Afghan television channels, features eight new rules.
They include the banning of films considered against the principles of Sharia - or Islamic - law and Afghan values, while footage of men exposing intimate parts of the body is prohibited.
Comedy and entertainment shows that insult religion or may be considered offensive to Afghans are also forbidden.
The Taliban have insisted that foreign films promoting foreign cultural values should not be broadcast.
Afghan television channels show mostly foreign dramas with lead female characters.
A member of an organization that represents journalists in Afghanistan, Hujjatullah Mujaddedi, said the announcement of new restrictions was unexpected.
He told the BBC that some of the rules were not practical and that if implemented, broadcasters may be forced to close.
The Taliban's earlier decision to order girls and young women to stay home from school made Afghanistan the only country in the world to bar half its population from getting an education.
The mayor of the capital, Kabul, also told female municipal employees to stay home unless their jobs could not be filled by a man.
The Taliban claim that their restrictions on women working and girls studying are "temporary" and only in place to ensure all workplaces and learning environments are "safe" for them.
Source: Saudi Gazette
https://www.saudigazette.com.sa/article/613848/World/Asia/Taliban-unveil-new-rules-banning-women-in-TV-dramas
--------
Women's Cyber Security Forum in Saudi Arabia Brings Opportunities to Horizon
Ameera Abid
November 21, 2021
JEDDAH: The number of female cyber security experts in Saudi Arabia is rising due to support and encouragement from the private and public sectors, and there will be a further boost for them in a forum being held next year.
A women's forum on cyber security will be held in Riyadh on March 1-2, with the participation of specialists, academics, and researchers from the sector.
It comes within the framework of the National Cyber security Authority's initiatives to empower women, support and encourage them, develop their skills, exchange experiences, and enable careers and leadership in cyber security.
Forum topics will cover the current situation to represent women in cybersecurity, and review efforts to build national capabilities in this arena.
Saudi women represent more than 50 percent of university graduates, representing a national asset with the potential to play an instrumental role in the Kingdom's socio-economic development.
Jude Altalhi, a cybersecurity analyst and recent graduate, told Arab News that making this field more accessible to everyone would get more women interested and involved.
Cybersecurity is a relatively new area that has gained popularity in the last few years, and she recalled her own journey. "I was glad to find that there were training camps for women and was surprised to find many women (are) interested and are excelling in it," she said.
Altalhi added that the help she received online was beneficial and valuable.
"The online resources that are available help as well, there is a whole community around cybersecurity and that has been a massive help. You can find walkthroughs and solutions that will help you in your journey. So, I feel like the community of women and the cybersecurity community as a whole is progressing very rapidly."
The forum also aims to enhance women's participation in cybersecurity, introduce opportunities in education and training to qualify them, and develop their professional and leadership capabilities to boost their competency.
Source: Arab News
https://www.arabnews.com/node/1972571/saudi-arabia
--------
G20 Empower: Private sector sets the pace to advance female leadership representation
November 18, 2021
ROME/RIYADH — The G20 Empower this year, under the Italian Presidency, identified concrete actions to be taken across three key areas of focus: the measurement of Key Performance Indicators (KPIs) to improve companies' Diversity & Inclusion policies and actions, the creation of a more resilient and sustainable women talent pipeline, and the development of STEM and soft skills and of leadership opportunities to enable women to face and lead the challenges and companies of the future.
The G20 Empower Alliance disclosed the results of this year's work by delivering its communiqué to Italian Minister for Family and Equal Opportunities Elena Bonetti and G20 Sherpa Luigi Mattiolo — representing Italian Prime Minister Mario Draghi.
Co-Chair of G20 Empower and the Private Sector Representative for Saudi Arabia Lubna S. Olayan shared the communiqué with the Saudi Sherpa Office and all members of the Saudi private sector.
The Alliance brings together representatives of the private and public sectors of the G20 countries with the common goal of accelerating women's leadership opportunities and empowerment in the private sector. This unique alliance was set up in 2020 during the G20 Saudi Presidency, after Japan and Canada supported and advocated for its creation in the preceding year.
The Alliance is intended to report on its progress and concrete efforts undertaken at the G20 Leaders' Summit, where it delivers its recommendations on the measures and policies that the governments and private sectors of the G20 countries should take to accelerate leadership opportunities for women.
The main outcomes, embedded in the Alliance Communiqué, represent the commitment of companies and government to promote change to address the gender gap in the workforce and in leadership positions which the official data very clearly evidences.
In this Communiqué, the G20 Empower Alliance highlights that evidence:
• Women's global labor force participation is only at 38.8%. 

• Women occupy only 27% of all managerial positions.
• Women sit on just 26%3 of seats on Boards of publicly listed companies across OECD countries. 

• On an international scale, the pandemic has amplified the already existing inequalities. 
In contrast, the pandemic did not affect the speed of the progress towards gender equality in Saudi Arabia.
According to the General Authority for Statistics, women's labor force participation rates increased from 17.4% in the first quarter of 2017 to a record high of 33.8% by the second quarter of 2021; their employment rate also rose by 13% during that period. This rate of acceleration may be at least partly attributable to the efforts of the Saudi government that has the economic inclusion of women as an essential goal in its Vision 2030.
Paola Mascaro, chair of G20 Empower and president of Valore D, explained: "The document we have delivered is the result of the collaboration between the representatives of companies and institutions from the G20 countries, and is characterized by an action-oriented approach, indicating in detail the methods and steps that should be adopted to achieve tangible results.
"The work carried out in the past months enables companies to immediately start implementing the priority measures and KPIs we have identified to provide a clear roadmap for the advancement of female leadership.
"The presence of women in leadership positions is fundamental for the economic growth of any country, and for this reason we have asked the World Economic Forum and the International Monetary Fund to consider women's leadership as a key indicator to assess countries' competitiveness."
In collaboration with Boston Consulting Group, the Alliance was pleased to launch its 2021 Best Practices Playbook, "Empowering Women to Lead the New Normal World," on Monday, Oct 11, with the participation of different private sector leaders within the G20 countries.
The report gathered over 150 best practices from 23 countries and various industries, providing live examples of policies and actions adopted by the private sector to strengthen the advancement of women as leaders.
"Women must have the opportunity to gain financial independence through equal access to any job or position of their choosing, with talent and work ethic determining their career trajectory, rather than gender, " said Lubna S. Olayan, the co-chair of G20 Empower and the Private Sector Representative for Saudi Arabia.
"That is true gender parity. And that is fair, that is necessary, and that is good for business and society. Personally, I look forward to my grand children never hearing that a woman was the first to serve in a role or to achieve something, because theirs is a future where true gender parity is the norm," she added.
The 2021 best practices report focuses on three fundamental axes of work to close the gender gap at leadership positions: measuring to improve, building a women's talent pipeline, and enabling women to lead the future.
Of the best practices analyzed in the survey conducted by BCG, the most common area of focus is building a women talent pipeline (68% of the 134 organizations analyzed), then enabling women to lead the future (19%) and measuring to improve (13%).
In a panel discussion titled: "Stories from the Best: What Leaders Do to Empower Women," the Olayan Saudi Holding Company shared their 20-year Diversity experience and emphasized the importance of having precise KPIs accompanied by solid engagement lines with all relevant stakeholders.
This 2021 Playbook builds on the practices collected in 2020, during the Saudi Presidency, supported by the OECD, ILO, and McKinsey, that led to the publication of the G20 Empower report "Policies and Practices to Promote Women in Leadership Roles in the Private Sector."
It aims to be a living knowledge sharing platform for organizations and leaders working on accelerating women's leadership and empowerment in the private sector and beyond. — SG
Source: Saudi Gazette
https://saudigazette.com.sa/article/613742
--------
URL: https://www.newageislam.com/islam-women-feminism/iraqi-court-child-marriage-activists/d/125820
New Age Islam, Islam Online, Islamic Website, African Muslim News, Arab World News, South Asia News, Indian Muslim News, World Muslim News, Women in Islam, Islamic Feminism, Arab Women, Women In Arab, Islamophobia in America, Muslim Women in West, Islam Women and Feminis