New Age Islam News Bureau
13 Dec 2018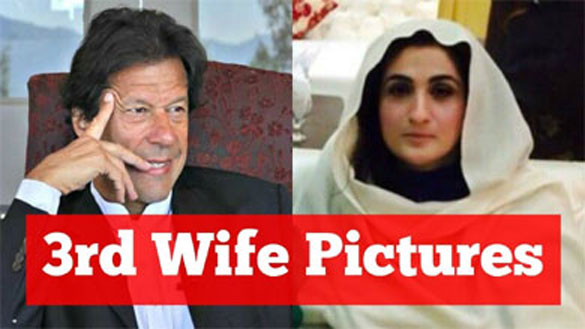 Prime Minister Imran Khan's wife Bushra Manika remained the most trending person in the country for the year 2018
-------
• Imran Khan's wife, Bushra Manika Was Pakistan's Most Googled Person In 2018
• 'Majority Of Aussie Women Sexually Harassed At Work'
• Embassy Warns Indian Maids against UAE Visit Visa Misuse
• 11 Women Inmates Refuse To Leave Dubai Jail, Go Home
• Defying War And Catcalls, Syria's Women Hop On Climate-Friendly Bikes
• Muslim Women in Assam Politics
• U.S.: Pakistani Officials Help Muslims Force Christian Women into Marriage
• Steering Committee for Women Empowerment holds first meeting
• Libyan Women Lose Hope in the Revolution
• From Sniper to Writer: How One Woman Took On the Islamic State Group
Compiled by New Age Islam News Bureau
URL: https://www.newageislam.com/islam-women-feminism/an-inside-look-elusive-world/d/117149
--------
An Inside Look Into the Elusive World of Girl Madrasas of Bangladesh
12/12/2018
Madrasas for girls are an "elusive, underground reality" that is growing but is little talked about, this according to a local Christian source.
"These are actual Quranic schools where Islam is learnt mostly by heart," the source explained. "Arabic is also taught even though teachers are not fluent in the language. What happens in essence is a sort of sanctification of the Quran, which is memorised without any real interpretation or exegesis."
In Bangladesh, girls used to study at home. In recent years, up to six million students attend madrasas, a contributor to The Guardian newspaper wrote.
What pushes families to choose this kind of schooling "is that they are free and recognised by the government," said a Dhaka merchant? "Certainly, the quality of teaching is not the same, but these schools are the best solution for many needy families, who otherwise might not have the money to send their children to school."
Bangladesh has two kinds of madrasas: private Quomi madrasas and state-sponsored Alia madrasas. There are an estimated 6,500 Quomi madrasas in the country, with almost 1.5 million students. By contrast, there are 7,000 or so Alia madrasas, which follow a standardised curriculum that includes English, Bengali, science, and mathematics.
About 30 per cent of the country's university teachers come from Alia madrasas, whose graduates tend to seek higher education.
"The main difference between the two is that Quomi schools are supported by private donations whilst Alia schools are certified and supervised," explained the source. "The curriculum followed by the former is hard to understand and may not meet government standards, whilst in the latter, religion is included but the quality of education is good and students can further pursue their studies."
Overall, "in a country of 160 million people, 1.5 million girls attending Quomi madrasas is a small number. On the positive side, these schools take care of orphans without parents or relatives who can support them."
However, in the case of madrasas, for both boys and girls, "we must look at how the Quran is taught. The sacred text is memorised without understanding its meaning. This raises an educational issue, namely that mere memorisation can lead to the sanctification of the text without understanding it."
After this kind of schooling, "young people assume they know the Quran and Arabic, which they simply memorised without any real theological explanations."
The risk "is that ensuing interpretations will be influenced by context, friendships and dangerous assumptions based on feelings of social marginalisation and the presumption of being knowledgeable about religion."
"The danger posed by this type of schooling is that it does not preclude possible behavioural radicalisation as a result of the influence of Wahhabism on Bangladesh's Islam, running counter to the country's older Sufi traditions."
Ultimately, the girls who graduate from madrasas "tend to be socially docile towards their husband," noted the source. "From a religious point of view, they tend to be inflexible and conservative in how they live their beliefs."
http://www.asianews.it/news-en/An-inside-look-into-the-elusive-world-of-girl-madrasas-45723.html
--------
Imran Khan's wife, Bushra Manika Was Pakistan's Most Googled Person In 2018
December 13, 2018
KARACHI: Google on Wednesday released its 'Year in Search' lists revealing the top most searched people, news and events in Pakistan for the outgoing year.
According to the popular internet search engine, Prime Minister Imran Khan's wife Bushra Manika remained the most trending person in the country for the year 2018, followed by Duchess of Sussex Meghan Markle, singer and actor Meesha Shafi, and journalist Reham Khan.
Although the first lady has been making the headlines throughout the year, according to Google's data, the most number of searches in her name was recorded between January and February, during the time rumours of her marriage with Imran Khan were doing the rounds.
Searches related to Meesha Shafi spiked after she became the first celebrity in the entertainment industry to accuse another celebrity, Ali Zafar, of sexual harassment.
Meanwhile, as per the Google data, people searched Reham Khan the most during June when her biography came out.
Among the other top 10 personalities trending in Pakistan, two political leaders also made it to the list. Ranked at the seventh spot, search related to economist Atif Mian spiked in September after he was removed from PM Imran Khan's new Economic Advisory Council owing to mounting pressures from religio-political groups. The other political personality on the list was Pakistan Muslim League-Nawaz leader Hanif Abbasi who was sentenced to life imprisonment in the long-running ephedrine quota case in July.
Indian actress Sonali Bendre was the sixth most searched personality, while Pakistani TV actress Iqra Aziz ninth and Indian actress Sunny Leone was the 10th most googled person of the year.
The search engine also revealed that seven of its top 10 Pakistani trends for the outgoing year were sports related. The top Pakistani search trend was Pakistan versus New Zealand series, followed by the Fifa World Cup, Pakistan vs Australia series, Pakistan Super League and Brisbane Asia Cup.
https://www.dawn.com/news/1451131/bushra-manika-was-pakistans-most-googled-person-in-2018
--------
'Majority Of Aussie Women Sexually Harassed At Work'
2018-12-11
KUALA LUMPUR — Two in three Australian women have been sexually harassed at work, with the majority of cases unreported, according to a survey released on Tuesday that highlighted challenges activists said prevent women from advancing in their careers.
Some 64 percent of women and 35 percent of men said they had been harassed at their current or former workplace, according to the survey of over 9,600 people by the Australian Council of Trade Unions, the country's main group representing workers.
The majority of those surveyed said they were subjected to offensive behavior or unwanted sexual attention. However only about a quarter of them made formal complaints, due to fears of repercussion, the survey found.
"Everyone should go to work free from the fear of harassment and unwanted sexual attention," the council's president, Michele O'Neil, said in a statement.
"For many people — mainly women — today in Australia this is not the reality. Our workplace laws have failed women who are experiencing harassment at work."
Campaigners said sexual harassment creates a workplace environment that is discriminatory towards women, which can prevent them from moving forward in their careers.
"Sexual harassment in the workplace closes off women's opportunities and supports the attitudes that make violence more likely," Merrindahl Andrew, from the Australian Women against Violence Alliance, said by email.
Australia was ranked 35 out of 144 countries in the World Economic Forum's 2017 Gender Gap Index, up from 46 in 2016 due to greater female representation legislators and managers.
Although the global #MeToo movement has helped raised awareness about sexual harassment, the advocacy group Plan International said the lack of strong policies and enforcement has discouraged victims from coming forward in Australia.
"The survey finding is disturbing, yet not surprising to us," the group's chief executive in Australia Susanne Legena said.
She urged the government to improve reporting mechanisms, including by setting up a specific hotline and enhance training for police officers to fight under-reporting of cases. — Thomson Reuters Foundation
http://www.saudigazette.com.sa/article/549961
--------
Embassy Warns Indian Maids against UAE Visit Visa Misuse
December 11, 2018
Abu Dhabi: The Indian Embassy in Abu Dhabi has warned Indian housemaids not to come to UAE on visit visa, bypassing Indian emigration rules, as such women have ended up in deep trouble.
India has banned emigration of housemaids under 30 and even eligible women can leave the country on an employment visa only through eMigrate system that ensures their welfare and protection.
However, over 400 female domestic workers in distress approached the embassy in the capital and the consulate in Dubai during the past two years on visit/ tourist visa and all of them were sent back to India, the embassy officials told Gulf News on Tuesday.
On Monday, Gulf New came across four such women who approached the embassy for help after going through disturbing experiences at the hands of unscrupulous recruitment agents and employers.
R.A, 26, from the North Indian State of Punjab, said she landed in Dubai from Delhi on a one-month visit visa and was kept at an agent's office in Sharjah for many days without any job. Her childhood friend working as a housemaid in Oman arranged the visa though an agent who did not take any money from her. She said she was lured by a Dh1,000 monthly salary as her Rs4,000 (Dh203) monthly earning as a farm worker was not enough to take care of her ailing husband and three children.
"The agent did not give me a job with a suitable employer, when I complained, he compelled me to do a 'bad job', and harassed me mentally and physically. Somehow I escaped from there," she said in tears.
H.M, 21, from Hyderabad in Telangana, who reached Dubai in similar circumstances and was kept at an agent's office in Al Ain for many days. She was sent to an employer in Abu Dhabi who harassed her mentally and physically. "When they complained, the agent also harassed me," she said.
D.K, 45 from Punjab said she was witness to the harassment experienced by H.M. "I told them not to do so but there was no help." They both escaped together one day with the help of a taxi driver.
S.V, 35, from Telangana said she was beaten up her employer who did not even pay her promised salary.
Navdeep Singh Suri, the Indian Ambassador to the UAE, said the embassy has witnessed an increase in number of such cases over the last six or seven months.
"Many of these people originate from either Hyderabad or Amritsar [in Punjab] and we have written to the central authorities and state governments in this regard [to book the errant agents]."
He said individuals who don't have the means to be tourists are coming on tourist visa and hope to get converted it into employment visa through one sponsor or another. They are at the mercy of their sponsors [or agents] and they run into difficulty. "We have come across cases of physical abuse and maltreatment. We want to bring these cases to local authorities, but unfortunately [in most cases] women are too traumatised or too afraid of the social repercussions for them.. they may have loss of face within their own families or society and they would rather quietly go back home without pressing any charges."
The embassy gives emergency travel documents and flight tickets and sends them back safely.
He said a significant problem is with the recruitment agents in India, against whom the central and state governments are taking strict action. Regarding unscrupulous agents in the UAE, Suri said: "We have had a very active discussion with the UAE authorities who are very receptive to the concerns we shared with them. I am very hopeful, considering our very exceptional relationship with the UAE, and vast reservoir of good will and intrinsic decency of Emirati people, we will soon find a satisfactory resolution to this very disturbing problem."
https://gulfnews.com/uae/india-requests-uae-to-stop-giving-job-visa-to-women-coming-on-visit-visa-1.60749401
--------
11 Women Inmates Refuse To Leave Dubai Jail, Go Home
December 12, 2018
Some women inmates in Dubai feel so at home in jail that 11 of them refuse to go back to their countries even after serving their time, an official has said.
Col Jamila Khalifa Al Zaabi, director of Dubai Women's Jail, said the 11 women didn't want to leave the prison because of the "good treatment and services" they are provided with at the facility.
Part of the jail's management is a standard, structured programme that is aimed at rehabilitating the inmates and ensuring they are given medical care and proper nutrition. They are also able to stay in touch with their families, especially their children, and get to live in a peaceful environment that is akin to a community, the director said.
What was supposed to be a facility for punishment turned out to be a place where the women got the "care" they said they wouldn't have experienced elsewhere.
One of the inmates from an Arab country, who had served her sentence, said she enjoyed a safe life in prison, something she claimed she "did not have in her home country". Not only was she being treated kindly, she was also encouraged to learn new skills and do her favourite hobbies like painting, she said.
NK, another foreign prisoner, said the women's jail is more than just a punitive institution. It has a huge library, a recreational hall for sports, a drawing room, a large open area for various matches, and more. They are free to walk around the facility's buildings and rooms and make the most of its amenities, NK said.
Al Zaabi said the Dubai Police do not scrimp on the care they provide to the inmates. Any health issues, including those they may have since childhood, are promptly addressed. The jail's food supplier is also the best in the country.
Discrimination also has no place behind bars as the women, albeit from several nationalities, are seen and regarded as equals, she said.
The prison's administration and the authorities work together to implement programmes with one primary goal - to provide all inmates with the opportunities they need to start new lives at the end of their sentence, Al Zaabi said.
https://www.khaleejtimes.com/news/crime-and-courts/11-women-inmates-refuse-to-leave-dubai-jail-go-home
--------
Defying War And Catcalls, Syria's Women Hop On Climate-Friendly Bikes
DECEMBER 12, 2018
KATOWICE, Poland (Thomson Reuters Foundation) - Two years after Syria's war began, Sarah Zein found the daily drive to her university classes in Damascus becoming impossible.
Heavy traffic and mushrooming checkpoints meant the 15-minute journey now took close to an hour. So Zein did something daring: She pulled her childhood bicycle out of storage.
In Syria, a society where taboos about women riding bikes remain strong, "there's a belief bicycle seats deflower women, and virginity is a big deal", said the 24-year-old.
That meant her ride to university was far quicker, but no fun.
"I wasn't expecting the astonishment of bystanders and the sexual harassment," Zein recalled. "Men yelled, 'I wish I could be your bicycle seat'. I went home crying."
To begin with, she did not think she would try again. But, in the end, she did – at first with a male fellow student and gradually with other women as well.
"I realized if I give up, and everyone gives up, who will do the change? It's our responsibility," she said on the sidelines of U.N. climate talks in Poland.
"I don't like the idea that women are victims. We should take action. We should do something about it. We have to protect our rights," she told the Thomson Reuters Foundation.
Zein now leads "Yalla Let's Bike", a social movement that has helped get more than 4,000 women cycling on the streets of Syria's capital.
Working with the Damascus governor, the group has pushed through the installation of 10 km (6 miles) of bicycle lanes in the city, which previously had none, as well as new bike parks.
It has also led training for women, with 32 female instructors now teaching others to ride.
The movement has organized mass bike rides for both men and women that have attracted up to 1,000 people, including one through the streets of battle-scarred Homs.
The cycling drive is helping cut planet-warming emissions in the crowded Syrian capital by getting more people out of cars, while opening up new freedoms for women, Zein said.
It is also a bright spot in a nation dragged down by nearly eight years of conflict and destruction.
"There are people out there trying to do something (positive)," said the young cyclist.
'YOU JUST FEEL HAPPY'
Zein's work has been recognized by the U.N. "Momentum for Change" initiative, which showcases novel solutions to tackling climate change by communities, cities, companies and others.
U.N. climate chief Patricia Espinosa said at the talks this week that the Damascus project showed climate action was possible, even in some of the least promising places.
"Be creative and find a way of doing things - even if the conditions of the situation normally would suggest there is little hope you can change something," she urged.
Zein's cycling movement, organized in part through Facebook, has faced plenty of challenges, not least that few women in Damascus knew initially how to cycle, or had access to a bike.
"Boys and men all have bicycles. They get to learn how to ride a bike," said Zein, who studied French literature.
But when putting together a first mass ride for women, her group had to tell participants where to rent bicycles, and organize lessons for them, she said.
Overcoming objections from parents and other relatives also took time - though it has become easier as many more women take to the streets.
Besides the benefits for the climate and women's rights, cycling is good for mental health, she said.
"You just feel happy when you ride a bicycle, more than with any other source of transportation," said Zein, who now works on disability issues for the United Nations Development Programme.
"It's scientifically proven. It releases endorphins. You're connected with nature."
Now, four years after launching her campaign, she usually sees at least several other women out cycling when she heads somewhere on her bike, she said.
Bicycle sales in Damascus, meanwhile, have risen 60 percent in the last two years – and shops report that 40 percent of the buyers are women.
On a bicycle, "they feel free", said Zein. "It's liberating women."
https://www.reuters.com/article/us-climatechange-syria-women-cycling/defying-war-and-catcalls-syrias-women-hop-on-climate-friendly-bikes-idUSKBN1OB2EM
--------
Muslim Women in Assam Politics
December 13, 2018
It was very interesting to see in the last Assam's Assembly election that Muslim women crossed their men counterpart by a huge margin in casting their votes. This could be seen mostly in the Muslim population dominated Legislative Assembly Constituencies (LACs) of Assam like Dhubri, Mancachar, Jaleswar, Abhayapuri South, Dalgaon, Barpeta, etc.. Though Muslim women are now in a position to take leading role as voters in the elections of Assam, but still their participation in Assam's active politics is negligible. Very few Muslim women are playing any important role in Assam's active politics.
As per Census 2011, Muslim population constitute 34.2% of the entire population of Assam. As women population (48.82%) is almost equal to the men population in Assam, so it may be assumed that half of the total Muslim population of Assam, i.e. 17% of the entire population of Assam would be Muslim women. But, their representation in Assam's active politics hardly reflects their percentage in the population.
Though the average percentage of women's representation in both houses of Parliament, Assemblies and Council of Ministers taken together has been around 15% in India, but the representation of Muslim women of Assam in the present Lok Sabha, Rajya Sabha and State Assembly is nil. If the Muslim women were represented according to their proportion of population of Assam, they would have represented at least 21 MLAs in the State Assembly (out of 126 MLAs), 2 MPs in the Lok Sabha (out of 14 MPs) and 1 MP in the Rajya Sabha (out of 7 MPs). Today, the 33% reservation for women at the Panchayat and local body level has increased Assamese women's representation in the Panchayats and local bodies, but due to low active political participation and representation of Muslim women in Assam, it reflects a low representation of them in the Panchayat and local bodies also.
The representation of Assam's Muslim women in the Lok Sabha, Rajya Sabha and State Assembly has always been very low since independence. The first Muslim woman MP from Assam in the Lok Sabha was Begum Mofida Ahmed in 1952 from Jorhat Parliamentary Constituency. Anowara Taimur and Naznin Farooqui became the only Muslim women member from Assam in the Rajya Sabha. Late Begum Aafia Ahmed became the first Muslim woman MLA of Assam in 1967 from Jamunamukh LAC and Anowara Taimur became the second in 1972 from Dalgaon LAC. Taimur continued to be the only female Muslim MLA of Assam till 1996 by wining Assembly elections several times in 1977, 1978, 1983 and 1991. Taimur created history by becoming the only female and Muslim Chief Minister of Assam from December 6, 1980 to June 30, 1981. She again became the Cabinet Minister of Agriculture of Assam in 1991. In 2001, Husnewara Islam became MLA from Mancachar LAC and Sharifa Begum from Rupohihat LAC. Begum Gulakhtara became the only Muslim woman MLA in 2011from East Bilashipara LAC.
Most of the political parties do not groom Muslim women towards power. They feel hesitant towards Muslim women candidature. Muslim women are allowed only if there is no alternative choice. They are considered only if there is a mandatory provision like reservation. The space has been limited to family connections rather than convictions and commitment. Begum Mofida Ahmed and Begum Aafia Ahmed belonged to elite Assamese Muslims of upper Assam and could find their position in political sphere due to family legacy. Anowara Taimur was Begum Mofida Ahmed's daughter. Husnewara Islam was widow of ex-Congress MLA Zahirul Islam and Sharifa Begum was daughter of ex-Congress MLA Dr. Muhammed Idris. Both the Muslim women could penetrate into the State politics due to the sphere created by their male family members.
Muslim women of Assam have been unable to occupy major positions in the political parties, except one or two. Their participation in informal political activities like demonstrations, mobilizations and other similar activities are much encouraged by every political party in Assam. Though BJP and Congress (I) are the largest national parties, but their Muslim woman affiliation in Assam is negligible. In 2006, AIUDF appeared in the State politics with a new hope of participation in active politics for the Muslim but not for Muslim women. The AIUDF lives on Muslim votes, die for Muslim votes, but shy away from making Muslim women visible in their parties. In 2006, AIUDF contested in 65 LACs and won 10, but they didn't nominate any Muslim female candidates. In 2011, AIUDF nominated only two Muslim women, Begum Gulakhtara in East Bilashipara LAC and Jahida Sultana Sarkar in Samuguri LAC. In the latest Parliamentary election none of the major political party nominated a single Muslim female candidate in Assam. In the latest Assam's Assembly election also none of the major political party nominated any Muslim female candidate in any winnable LAC.
Student politics is an important feature in Assam politics. The ASSU produces few Muslim political leaders in Assam. But, All Assam Minority Students Union (AMSU) produces about 50% of the Muslim political leaders in Assam. AMSU plays important role in nurturing Muslim political leaders but not female Muslim political leaders in Assam. It pays little attention in Muslim women's participation in active politics.
Muslim women are among the poorest, educationally disenfranchised, economically vulnerable, politically marginalized group in Assam. The lack of importance of the political parties, negative attitude of political leaders, lack of opportunity, low literacy rate, low level of information, economic inequality, reinforcement of cultural stereotypes, burden of domestic work, female insecurity, lack of confidence, lack of ability to communicate with public, lack of empowerment among the women and lack of proper training restrict Muslim women of Assam to take active part in mainstream politics despite having interest in it. The less number of successful Muslim female politicians in Assam also clearly reflects that common people are not in favour to bring Muslim women in active politics.
Scanty involvement of the Muslim women in the election process has kept them marginalized in power politics. They should be in a greater number in power politics so that they can address the issues concerning them. The Indian Constitution ensures the people's right to participate in politics without any distinctions. It does not matter whatever the sex and religion. The channels to enter into Parliament or Assembly are same for all. The election is the instrument of the people's play in a democratic country through which they can participate in the decision making process of its government. With active participation in the elections as competitors, Muslim women of Assam can enter into power politics and can bring fair and equal treatment for all.
https://www.sentinelassam.com/news/muslim-women-in-assam-politics/
--------
U.S.: Pakistani Officials Help Muslims Force Christian Women into Marriage
12 Dec 2018
The United States Commission on International Religious Freedom (USCIRF) published a report Tuesday accusing South East Asian nations of systematically failing to protect their populations' religious rights, noting that "state officials" in Pakistan often shield criminals forcing Christian or Hindu women into a Muslim marriage.
The report, titled "Limitations on Minorities' Religious Freedom in South Asia," tracks religious freedom variations in Pakistan, India, Nepal, Sri Lanka, and Bangladesh, finding them all lacking in enforcing religious freedom protections, even when these exist under federal law. Pakistan, an officially Islamist country, and India, which has experienced a surge in Hindu extremism, are home to the most egregious violations mentioned in the study.
The U.S. State Department designated Pakistan a "Country of Particular Concern" on Tuesday for its religious freedom violations under the International Religious Freedom Act of 1998, which also created the USCIRF. The designation is expected to trigger sanctions on the nation, which appears on the list for the first time after being added to the "Special Watch List" last year.
The USCIRF's findings appear to support the State Department's decision. The report notes that private actors commit many violations of religious freedom, but often do so with impunity. Forced marriages are high on the list of those violations.
"The Pakistani media has featured many stories with a similar series of events: a Muslim man will kidnap, sexually assault, forcibly convert, and then forcibly marry a young Christian or Hindu woman, often with the collusion of state officials, such as the police and religious leaders, and neighborhood imams," the report reads.
On the issue of forced marriage, intended to eradicate the Christian population through conversion, the report notes that some Pakistani politicians attempted to pass laws to protect Christian and Hindu women, which make up most of the religious minority population of the country. A proposed law in 2016 would have "criminalized the forcible conversion of religious minorities," but the governor of Sindh province, where the law originated, "refused to assent to the law and therefore it stands unimplemented or enforced."
Governors in Pakistan who have supported measures to prevent the violation of religious rights have suffered extreme consequences. In a notable 2011 case, Salman Taseer, the governor of Punjab, publicly expressed disapproval of the use of the nation's blasphemy law to sentence Asia Bibi, a Christian mother, to death. His bodyguard assassinated him and remains a hero among the Islamist political majority in the country.
Bibi was acquitted of blasphemy in November, after spending almost a decade in prison. She remains hidden in an undisclosed location because Islamist mobs rioted after hearing of her acquittal, freezing Pakistan's commerce and education systems nationwide.
"In Pakistan, blasphemy laws, rather than anti-conversion laws, are used to criminalize conversion and proselytization and thereby limit the rights of religious minorities," the USCIRF noted in their report this week. "Additionally, there is a prevalent, and increasing, problem of Muslims converting non-Muslims by force in Pakistan, yet Christians and Hindus who are actual victims of forced conversion to Islam have few legal remedies."
"[M]ere accusations of blasphemy trigger the wrath of violent mobs that attack religious minorities with impunity or even with support from state actors, including the local police," the report adds.
In India, the USCIRF found a different approach towards curbing the growth of minority religions. Instead of the widespread use of forced marriages, majority religious groups target interfaith couples and laws against forced marriages and forced conversion receive liberal use in cases widely believed to be consensual.
"Over the last several years, several public cases have involved false accusations against inter-faith couples related to forced conversion and marriage," the report reads. "In the Hadiya case, a woman from a Hindu family converted to Islam and married a Muslim man in 2016. Her decision caused the National Investigation Agency (NIA), the national counter-terrorism investigative agency in India, to launch an investigation into whether she was being forced to convert and marry."
Extremist mobs, in this case often Hindus, also attack these couples, facilitated by mandatory announcements on the marraiges.
"In many Indian states, mixed-faith couples seeking to marry or individuals applying to have their religious conversion certified by a court are required to publish their names on a publicly available docket," the USCIRF reports. "Hindutva supremacist groups who monitor those dockets often exert social pressure on the couples directly through digital spaces or by threatening their family members directly."
https://www.breitbart.com/asia/2018/12/12/u-s-pakistani-officials-help-muslims-force-christian-women-into-marriage/
--------
Steering Committee for Women Empowerment holds first meeting
DECEMBER 13, 2018
First meeting of "Steering Committee for Women Empowerment" constituted by Chief Minister Punjab was held on 11.12.2018 at Women Development Department, under the convenership of Minister for Women Development Punjab. The meeting was attended by Mrs. Irum Bukhari, Secretary Women Development Department, Ms. Sadia Sohail (MPA), Ms. Seemabia Tahir (MPA), representative of Industries, Commerce & Investment Department, School Education Department, Punjab Commission on the Status of Women and Aurat Foundation.
Secretary Women Development briefed the Steering Committee members about theperformance of the department with reference to previous empowerment packages announced for women since the inception of the department in 2012. While disclosing the 100 days plan of WDD under the new political dispensation, Mrs. Irum Bukhari stated that the department had realigned its targets with Punjab Growth Strategy and Sustainable Development Goals for achieving inclusive sustainable socio economic empowerment of women in the Punjab. Three goals had been earmarked under the redefined target for effective participation of women in socio economic life. She further explained that for service delivery, WDD did not intend to continue investing in brick and mortar for addressing residential issues of womenworking away from home and instead, the mushroom growth of henceforth unregulated private hostels for women would be channeled by the department for its transformation into an emerging service sector in Punjab.
https://dailytimes.com.pk/333019/steering-committee-for-women-empowerment-holds-first-meeting/
--------
Libyan Women Lose Hope in the Revolution
12.12.2018
Fatma al Omrani says she always wanted to be a journalist, but that she ended up studying accountancy because women in the media under dictator Moammar Gadhafi had a reputation for being "loyal to the regime."
"There was no freedom of expression, either for women or for anyone else," the 28 year old tells DW in Zuwara, a coastal town in western Libya, near the border with Tunisia.
Paradoxically, the civil war offered her an unexpected chance to work in the media. Born and raised in Misrata, Omrani was also there when the rebel enclave suffered the brutal two-month siege by Gadhafi's troops in the spring of 2011. Her voice became familiar to everyone in the besieged city via a radio station run by the rebels.
"Men seemed to like me being there, and they gave me space back then," she recalls. After the war, Omrani moved to Tripoli where she became the first female TV presenter in the Libyan capital after the war. She stayed until 2013 despite constant threats via social media or while reporting from the street.
A year later Omrani was back in Misrata. During a live radio program, the young journalist put the focus on the aggression women face. The studio's telephone line was overwhelmed with angry calls.
"Everybody started to insult me; only one listener supported me," she recalls. The episode was followed by death threats. "Tell Fatma that if she doesn't stop, something might happen to her," someone told her brother.
"I immediately understood that we women had played our role during the war, but that we were no longer necessary for the men ruling the country," underlines Omrani, who is active with the Tamazight Women's Movement, a group that advocates for Berber women in Libya.
Today the building that once housed Gadhafi's secret services is the headquarters of Amazigh (or Berber) language activists. For the past seven years, Libya's main minority has been working against the clock to make up for lost time after four decades during which their language was banned. Nuha al Hassi, a teacher and key figure in the field of education, is an easily recognizable face as the only woman in Zuwara who does not wear the Islamic veil.
"This country's main problem is that it is still impossible to dissociate religion from politics," Hassi says.
"After the war Libyan women understood that we had the right to speak our opinion and to participate in society, but now they want to take away everything we have achieved," Hassi says, underlining the large number of civil organizations that have emerged since 2011.
Violence against women who speak out
Apparently the situation has not improved in the east of the country — a no-go area for journalists — either. In February 2017, the spokesperson for the self-proclaimed Libyan National Army announced that all women between the ages of 18 and 45 years would have to be accompanied by a mohram, a male guardian, when travelling abroad.
Religious authorities in Tripoli's government had made an attempt to adopt a similar measure several years earlier, but the fatwa, or Islamic edict, was never formally pronounced. The same year, 2014, the renowned lawyer and women's rights activist Salwa Bugaighis was shot dead in her home in Benghazi. She was the most visible victim in a spate of killings and disappearances of women who had been politically active.
"Salwa Bugaighis' assassination was a negative turning point for women in Libya who had actively sought to participate in public and political life following the 2011 uprising," said Heba Morayef of Amnesty International in a report issued earlier this year. She also pointed to an "escalation in gender-based violence against women who continue to fight for political inclusion."
"With Salafists taking over the political structures, it's getting increasingly difficult and dangerous for women. But it's not just about religion: Men simply don't want to see us even in the streets," Asma Khalifa, co-founder of the Tamazight Women's Movement said by phone. Today based in Sweden, the 29-year-old lawyer speaks of a generation clash between the younger and bolder women and the middle-aged ones who, she said, don't see themselves as "feminists."
Dashed hopes
The Association for the Sophistication of Arab Women is another of the many organizations that have emerged in the last seven years. From her office in Zuwara, Zeituna Moamer, its director, wants to highlight the growing role of Libyan women since the end of the war.
"During Gadhafi's rule the closest thing to civil society were the Scouts and the [state] youth organization. Today women are much more aware of our rights and we are much more organized," says the 50-year-old jurist.
While acknowledging that much remains to be done, Moamer says she does not see the need to separate religion from politics. "Ours is a Muslim country, and that is our nature," says Moamer.
Among her many "open fronts" is trying to encourage women to denounce aggression directed against them. "Many are being raped in Libya, but they have nowhere to go, and they don't even dare to say," she laments.
From the only private clinic in Zuwara, psychotherapist Samar Auassoud corroborates Moamer's take on the alarmingly high number of rapes. She says that depression and anxiety is widespread among the local population.
"I find women to be much more exhausted than men," Auassoud says. "They are afraid of the ongoing chaos in the country, of the future; afraid for their children…" Suicidal tendencies are more common among women, she adds.
"They come to the clinic looking for attention: They need to be listened to, to let off steam and, above all, to cry," she says. "I guess we all expected a lot more."
https://www.dw.com/en/libyan-women-lose-hope-in-the-revolution/a-46698358
--------
From Sniper to Writer: How One Woman Took On the Islamic State Group
12 December, 2018
The first thing you notice about Joanna Palani, a former sniper for the Kurdish Women's Protection Units [YPJ] fighting against the Islamic State group in Syria, is her fearless attitude.
Originally of Kurdish origin from the Iranian province of Kermanshah, Joanna was born in the Ramadi desert in Iraq, close to the Jordanian border.
"My family was against the 'Islamic war' started by (the former Supreme Leader of Iran) Khomeini on the Sunni Kurds who paid a heavy price with blood," she told The New Arab. "Both my father and grandfather were Peshmerga fighters... By the end, we had to leave Kermanshah to Ramadi."
In 1996, at the age of three, she moved to Denmark as part of a UN refugee quota programme.
"Before I came to Denmark, I remember I made a promise to myself to make a difference. This was my plan as a three-year-old, when I was just a girl digging holes in the desert for water."
As she got older, she wanted to defy the patriarchal society which she believes rules everywhere in the Middle East, citing a sexual revolution carried out by an all-female militia with a common ideology globally.
"I have been a militant saboteur since I was a teenager, but I became a sniper during my last battle in Syria. I was trained by multiple groups in Kurdistan and outside the Kurdish territory."
Despite her aspirations, was Joanna aware of the consequences of joining the fight against the Islamic State group?
"Back then my thoughts regarding the consequences mostly contained the possibility of me being captured by IS. Never would I ever believe that the outcome, which had an impact on my life, would emerge from my own loved ones."
In fact, she confidently says that IS would have never been able to hurt her in the profound manner that her own community has.
After coming back to Denmark from Syria, she felt a sense of abandonment. She was lonely, had no money, no ID, no shelter and faced rejection from her social circle. Even though returned fighters were receiving help from the Danish authorities, in her case she felt it was chaos.
"I never had anyone showing up to my court trials. The same land which I was risking my life for was now willing to take my freedom away for no reason. I was nearly arrested at the bank after trying to take money out of my own account for food. As of now, I do not have a bank card nor a student card – technically I have nothing," she explains.
"With all due respect to the Western world, I do not look Danish so it is extra hard for me to be a civilian here with no equal possibility to live here as one either."
Hundreds of young fighters travelling to join extremist groups in the Middle East, notably in Syria, emerged from Denmark, but rather than focusing on punishment, surveillance and deterrence for those returning, the country chose to concentrate more on reintegration.
Denmark introduced the so-called Aarhus model with aims to create trust between the authorities and the social circles in which radicals operate. The model focused on inclusion and working with the community to bring the young people who may have become disenchanted and at risk from radicalisation back into the fold.
Under the programme, individuals such as returning fighters or "radicals" who want to fight abroad are assigned trained mentors and can also receive psychological counselling.
But Joanna says she was not offered any options after her return.
"Others have been taken care of, whereas I am being punished. I did not only fight for my own faith or nation, but also for the outside world which was jeopardised by the Islamic State group.
"I cannot deny the decision was completely made by myself... I need to hold to that and keep my head high," Joanna added. She also stressed the role of the authorities in taking care of their youth.
"Governments must ensure that there are progressive results with their anti-radicalisation programmes."
Joanna explained that she does not see herself posing any threat to Denmark and holds no prior criminal record either, but nevertheless she was sentenced to nine months in jail and banned from leaving Denmark with her passport taken away.
Now she says she would only like to focus on rebuilding herself after experiencing a "great deal of betrayal".
With regards to her memoir, she says: "It's one story with one woman and one voice." But trying to put pen to paper to write her story came during a difficult time. She felt isolated, lacked sleep and suffered from depression all due to the hardship and backlash she faced as a returning fighter.
However, she persisted. "If my story brings attention to the sexual revolution in the Middle East, I would be glad. I hope other girls will come forward to raise their stories," she says.
Joanna Palani's story is a thought-provoking one which makes you wonder the price one has to pay to fight for freedom against extremism. It would not be wrong to say that she has paid a hefty price for standing up for what she thought was right. As the famous phrase goes: "One man's terrorist is another man's freedom fighter."
https://www.alaraby.co.uk/english/society/2018/12/12/living-on-the-edge-with-joanna-palanis-freedom-fighter
--------
URL: https://www.newageislam.com/islam-women-feminism/an-inside-look-elusive-world/d/117149
New Age Islam, Islam Online, Islamic Website, African Muslim News, Arab World News, South Asia News, Indian Muslim News, World Muslim News, Women in Islam, Islamic Feminism, Arab Women, Women In Arab, Islamophobia in America, Muslim Women in West, Islam Women and Feminism