New Age Islam News Bureau
21 May 2013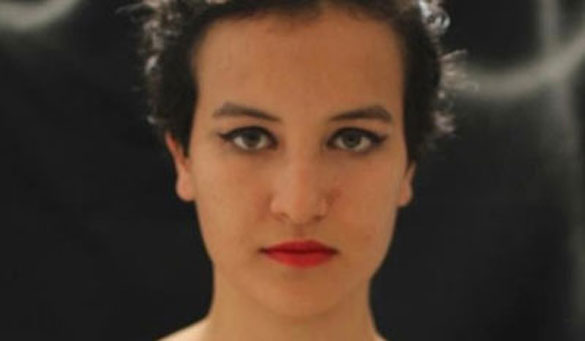 Amina Tyler, 19, was found in the midst of police scuffles with hardline Salafist group Ansar al-Shariah. (Photo via Femen France on Facebook)
----------
• Afghanistan: Surge in Women Jailed for 'Moral Crimes'
• Wife of Convicted Militant Accuses Govt of Fabricating Sinai Kidnapping
• Indian Origin Girl PIO Invents Device That Charges Phones in 20 Seconds
• Saudi Women Teachers Demand Full-Time Jobs in Demonstration
• Vandals Target Western Wall Woman Activist
• Police Ordered To Implement Court Verdict on Child Custody
• Headscarves and Long Tunics Don't Stop Iranian Women from Practising Parkour
• 12 IIIT Girls for NASA Space Settlement Contest
• Pakistan Celebrates First Woman up Everest
• Best Women's Cricketer Humaira on a Mission
Compiled by New Age Islam News Bureau
URL: https://newageislam.com/islam-women-feminism/amina-tyler,-tunisia's-'topless-jihad'/d/11670
-------------
Amina Tyler, Tunisia's 'Topless Jihad' Activist, Caught and under Arrest
21 May 2013
After months of reportedly going into hiding, the outspoken Tunisian feminist who sparked a trend of "topless jihad" has been found and arrested by Tunisian authorities earlier this week and may be charged for conducting "provocative acts."
Amina Tyler, 19, was found in the midst of police scuffles with hard-line Salafist group Ansar al-Shariah in the central Tunisian city of Kairouan on Sunday.
Tyler previously described herself as a member of the Ukrainian feminist group Femen, which uses nudity in protests.
Witnesses said she allegedly scrawled "Femen" on the wall near the main mosque and may have intended to hang a banner on the building before an angry crowd gathered and started shouting at her to leave, according to The Associated Press.
Video posted by the Tunisian online Nawaat news site shows Tyler, with dyed blonde hair, clutching a banner and being hustled away by police and put into a van as residents chased her.
A local resident shouts at the camera: "She is dishonouring us. We will protect our town, but a dirty girl like her shouldn't come among us."
Mohammed Ali Aroui, the spokesman for the Tunisian interior ministry, described her acts as provocative and said she was under investigation and may be charged for her behaviour on Sunday. He added that he understood the angry reaction of local residents to her appearance.
The ministry had banned Ansar al-Sharia's annual conference, citing it as a threat to security and public order, and sent 11,000 soldiers and police to prevent hard line Muslims, known as Salafis, from entering Kairouan.
In March, Tyler posted pictures of her topless body with the phrase "my body is my own" scrawled on it, and she went into hiding after receiving death threats. Her family took her to stay with relatives outside the capital before she escaped and hid with friends.
A month later, Tyler had been trying to leave Tunisia, her former lawyer said after a video surfaced in which the woman recounted being drugged and given virginity tests by relatives.
"Free Amina" rallies held by bare-breasted Femen activists hit Paris last month as Tyler's supporters feared she would soon face criminal prosecution.
http://english.alarabiya.net/en/News/middle-east/2013/05/21/Amina-Tyler-Tunisia-s-topless-jihad-activist-under-arrest.html
-------------
Afghanistan: Surge in Women Jailed for 'Moral Crimes'
Prosecute Abusers, Not Women Fleeing Abuse
MAY 21, 2013
(Kabul) – The Afghan government should take urgent steps to halt an alarming increase in women and girls imprisoned for "moral crimes," Human Rights Watch said today. Commitments by senior government officials to end such abuses have had little practical impact.
Statistics from Afghanistan's Interior Ministry indicate that the number of women and girls imprisoned for "moral crimes" in Afghanistan had risen to about 600 in May 2013 from 400 in October 2011 – a 50 percent increase in a year and a half. Since October 2011, there has been an almost 30 percent increase overall in the number of women and girls imprisoned in Afghanistan's prisons and juvenile detention facilities.
"Four years after the adoption of a law on violence against women and twelve years after Taliban rule, women are still imprisoned for being victims of forced marriage, domestic violence, and rape," said Brad Adams, Asia director. "The Afghan government needs to get tough on abusers of women, and stop blaming women who are crime victims."
In a March 2012 report, "'I Had to Run Away': The Imprisonment of Women and Girls for 'Moral Crimes' in Afghanistan," Human Rights Watch documented that some 95 percent of girls and 50 percent of women imprisoned in Afghanistan were accused of the "moral crimes" of "running away" from home or zina (sex outside of marriage).
These "moral crimes" usually involve flight from unlawful forced marriages or domestic violence. Women and girls imprisoned on "moral crimes" charges who were interviewed by Human Rights Watch described abuses including forced and underage marriage below age 16, beatings, stabbings, burnings, rapes, forced prostitution, kidnapping, and threats of "honor killing." Virtually none of the cases had led even to an investigation of the abuse, let alone prosecution or punishment.
"Running away," or fleeing home without permission, is not a crime under the Afghan criminal code, but the Afghan Supreme Court has instructed its judges to treat women and girls who flee as criminals. Zina is a crime under Afghan law, punishable by up to 15 years in prison. Some women and girls have been convicted of zina after being raped or forced into prostitution. Prosecution of women who are survivors of gender-based violence has continued, and many abusers of women have continued to go free in spite of Afghanistan's 2009 Law on the Elimination of Violence Against Women (EVAW Law), which created new criminal penalties for abuse of women.
While several high-level Afghan government officials, including from the police and Justice Ministry, have in the past year publicly confirmed that "running away" is not a crime under Afghan law, such statements have yet to translate into policy, Human Rights Watch said. Some legal experts have suggested that a growing view that women and girls should not be charged with "running away" has merely resulted in a shift toward charging them with attempted Zina. A charge of attempted Zina unjustifiably assumes that women outside of the supervision of their male relatives must have attempted to have sex.
Women and girls accused of "moral crimes" are routinely subjected to "virginity tests" that courts rely on for the purpose of determining virginity and whether a woman or girl engaged in recent sexual intercourse. These exams can be ordered by any police official, and some women are subjected to multiple vaginal exams without informed consent for no justifiable reason. Use of such examinations is not limited to rape cases, and examinations do not focus on documenting medical injuries or collecting physical evidence to support an allegation of sexual assault. Although medical examinations can be a legitimate form of investigation in cases of alleged sexual assault, gynaecological exams that purport to determine "virginity" have no medical accuracy. Use of such tests constitutes cruel, inhuman, and degrading treatment under international law.
"Coerced 'virginity' examinations are a form of sexual assault," Adams said. "Afghan police, without any scientific basis, are routinely forcing these unspeakable examinations on women and girls."
Some women and girls who flee violence at home are able to access help – rather than being arrested – through shelters. The number of women's shelters in Afghanistan has increased from 14 in 2011 to 18 in 2013. However, the capacity of the shelters is far too limited for the number of women who require assistance, and fewer than half of the country's 34 provinces have even a single shelter. There are no shelters in the more conservative southern half of the country.
These shelters may not be sustainable as they are entirely funded by international donors, and donor assistance is dropping rapidly as the 2014 deadline for the withdrawal of international combat forces from Afghanistan approaches. The Afghan government has shown no interest in funding shelters through the government budget and has at times taken actions detrimental to the shelters, including a 2011 effort to take over the shelters and 2012 statements by the justice minister accusing shelters of "moral corruption."
"Afghanistan's donors have a crucial role to play in supporting shelters that are literally life-saving for many women," Adams said. "They should not only help ensure the survival of the shelters that exist, but support expansion of the shelter system including in southern Afghanistan."
Human Rights Watch called on the Afghan government and its international partners to take the following urgent steps:
President Hamid Karzai should issue an administrative decree that "running away" should not be treated as a crime under Afghan law and that charges of attempted Zina should not be brought. He should exonerate or pardon everyone convicted for "running away;"
The Ministry of Interior should instruct all police of their obligation to convey immediately information pertaining to all incidents of violence against women or possible crimes under the EVAW Law to the prosecutor;
The Attorney General should issue instructions requiring prosecutors to formally investigate all allegations of crimes against women under the EVAW Law and other laws, bring charges as the evidence warrants, and fully investigate whether women accused of crimes were acting in response to abuse; and
International donors should make implementation of the EVAW Law, abolition of the crime of "running away," revisions to the Zina and family laws, and reforms to other laws that discriminate against women key issues in political engagement with the Afghan government.
"Moral Crimes" and Women's Rights in Afghanistan: Recent Developments
The number of women and girls imprisoned for "moral crimes" in Afghanistan has increased by 50 percent in the period from October 2011 to May 2013. This troubling increase has occurred during a period in which there have been some new efforts by the Afghan government to protect women. In spite of these efforts, however, there has been a failure to take successful action to end wrongful imprisonment of women.
The Afghan government and its international partners have made some progress in addressing wrongful imprisonment of women and girls for "moral crimes" since 2012. Key officials have spoken out, at least on the illegality of "running away" prosecutions. Specialized units within the Attorney General's Office have made some progress in increasing enforcement of the Law on Elimination of Violence Against Women (EVAW Law). There has been a small increase in the number of shelters for women fleeing violence, and there seems to be a growing awareness by police that many cases should be referred to family court for resolution through marriage or divorce rather than being sent to prosecutors. Some women's rights activists report that the government, from President Hamid Karzai to the level of individual police and prosecutors, has shown increased openness to hearing concerns about violence against women and working with activists, including in individual cases.
Less encouraging, however, is the continued abusive use of coerced gynecological examinations, and a lack of progress in the recruitment of female police officers. Family court, where women can seek a divorce and custody of their children, exists only in Kabul. Even the slightly expanded number of shelters is nowhere near adequate to meet the need and women in the majority of provinces and the entire southern half of the country have no access to shelters. As long as the number of women and girls imprisoned for "moral crimes" continues to increase – as it has done by 50 percent in the last year and a half – it is clear that the Afghan government needs to do much more to end abusive prosecutions of women and girls.
Below is a timeline of major "moral crimes"– related developments since March 2012:
April 11, 2012: The Attorney Generals' Office issued a directive stating that "running away" is not a crime under Afghan law and should not be prosecuted:
A circulation must be prepared and shared with all relevant prosecution offices in the center and provinces and the prosecutors should be instructed not to prepare unjustifiable case files regarding running away cases that have not been criminalized under Afghanistan laws and cannot be heard by courts and refrain from conducting baseless investigations. Other circumstances where people run away to commit any other crime are not covered by this instruction. The issue is being communicated to you so that you can take action in accordance with instruction of the High Council of Attorney General Office of the Islamic Republic of Afghanistan.
September 16, 2012: Justice Minister Habibullah Ghalib, Women's Affairs Minister Husn Banu Ghazanfar, and Deputy Interior Minister Mirza Mohammad Yarmand each strongly condemned wrongful imprisonment of women and girls on charges of "running away." Ghalib said that police and prosecutors should never send cases of "running away" to the courts. Yarmand pledged his commitment to ending abuses by the police, saying that all police had been instructed that running away is not a crime. Ghazanfar said that women and girls accused of running away are not criminals, but generally crime victims who flee to escape violence committed against them.
September 16, 2012: Fawzia Koofi, director of the lower house parliamentary committee on women's affairs, and her counterpart, Siddiqa Balkhi, the director of the upper house parliamentary committee on women's affairs, called for the government to immediately free women and girls charged with running away under Afghanistan's ambiguous and arbitrary "moral crimes" law.
October 2012: Criminal charges of "disrespect of police" are brought against Batool Muradi, after she becomes the first Afghan woman to challenge accusations by her husband of "infidelity" through DNA testing of their children.
Late 2012: The Attorney General announced plans to establish specialized units responsible for bringing prosecutions under the EVAW Law in all of the country's 34 provinces from the current 8. While the number of cases brought under the EVAW law remains very low even in provinces with these specialized units, activists consider the specialized units, funded by international donors, to be a step in the right direction.
February 2013: Gulnaz, a young woman released by presidential pardon in December 2011 after serving two and a half years of a 12-year sentence for zina after she was raped, married her rapist. Her case, which received wide coverage in the international and Afghan media, highlighted not only the frequency with which rape victims are imprisoned for "moral crimes" in Afghanistan, but also the lack of options for such women following release. Gulnaz spent over a year in a women's shelter before social and family pressures led her to marry the man who raped her as the best available option for her and the daughter she gave birth to in prison as a result of the rape.
May 2013: A parliamentary proposal to amend the EVAW Law risks limiting further the ability of women to flee violence or seek prosecution of their abusers.
Insufficient recruitment of female police officers
Female police officers have a crucial role to play in enforcing Afghanistan's EVAW Law. In Afghanistan's deeply gender segregated society, many women have difficulty even leaving their homes, and would find it impossible to report a crime, especially one involving sensitive issues of sexual assault or domestic violence, to a male police officer. In the absence of female officers, reporting crimes may even be unsafe: one woman told Human Rights Watch that when she went to a police station to report being raped, she was raped again by an officer in the station.
The percentage of women in the Afghan police has remained at about 1 percent over the last few years. A Human Rights Watch statement highlighted some of the challenges that make it difficult to recruit and retain women in the police force, including abuse and sometimes assault by male colleague in the police and a lack of the most basic toilet and changing room facilities. In spite of multiple reports of incidents of sexual harassment and rape of female police officers by male police officers, there have been no cases of successful prosecution of male police officers for these abuses and the Ministry of Interior has denied that abuses against women officers are a problem.
Continued abusive use of vaginal examinations
Afghan women accused of "moral crimes" are routinely ordered to undergo gynecological examinations that purport to provide information about whether the woman or girl is a "virgin" and whether she has engaged in recent sexual intercourse. This practice continues despite the fact that gynecological examinations that purport to determine virginity have no medical validity, and constitute cruel, inhuman, and degrading treatment under international human rights law. A modified gynecological examination that is rid of so-called virginity tests can be legitimately used for therapeutic purposes and evidence collection in rape cases, but should not be used otherwise, and should never be used without the informed consent of the woman or girl.
A senior police official told Human Rights Watch in May 2013 that these examinations can be ordered by any local police officer –"whoever sees the case first." Another senior government official said that women are often without any justification subjected to multiple examinations. Human Rights Watch found that senior Afghan government officials seem unprepared to accept that there is no scientific validity to these examinations.
Desperate need for more shelters
In 2001, Afghanistan had no shelters for women and girls fleeing violence. The 18 shelters that exist today have demonstrated that they provide an option for women that not only can keep them from being wrongfully imprisoned, but can also literally save their lives in the many cases where "honor killing" is threatened. The success of existing shelters should lead to creation of new shelters sufficient to ensure that women in every province have access to a shelter. Unfortunately, the total dependency of these shelters on international donors, combined with the often unsupportive attitude of the Afghan government toward shelters, creates real uncertainty about the long–term sustainability of shelters. The overall decline in donor support to Afghanistan reduces the likelihood that there will be any major expansion of urgently needed shelter services.
http://www.hrw.org/news/2013/05/21/afghanistan-surge-women-jailed-moral-crimes
-------------
Wife of convicted militant accuses govt of fabricating Sinai kidnapping
Wife of Sinai resident mentioned in video of kidnapped soldiers tells Ahram Online that her husband is innocent of complicity in crime, accuses interior ministry of fabricating incident
Zeinab El Gundy
20 May 2013
Hamda Abu-Sheita is a name that has been frequently mentioned since the kidnapping of seven Egyptian soldiers in the Sinai Peninsula last Thursday.
Soon after news of the kidnappings broke, Sinai-based sources said that the Abu-Sheita family, along with other detainees from Salafist-jihadist groups, stood behind the kidnapping to protest the ill treatment of their detained relatives.
Officially, Ahmed Abu-Sheita (a.k.a. Hamda Abu-Sheita) has become involved – one way or another – in the soldiers' kidnapping. In a video released on Sunday that enumerated the kidnappers' demands, his name was mentioned as a political detainee from Sinai who should be released in return for the abducted soldiers.
On Friday, it was announced that Abu-Sheita and other detainees had been transferred from Tora Prison – where he was allegedly tortured – to Al-Aqrab Prison. According to the video, his release was cited as one of the kidnappers' demands.
"We're totally against the kidnapping of soldiers," said Abu-Sheita's wife – who prefers to be called Um El-Kassem – told Ahram Online via telephone. "We support the kidnapped soldiers, along with their colleagues who remain on strike at the Rafah border crossing."
Early last week, the Abu-Sheita family received news that the 36-year-old man had been severely tortured. "We learned that he had been tortured to the point that he had lost his sight; they treated him very poorly and put him in a very small prison cell," said Um El-Kassem.
On Thursday, Younes Makhioun, leader of Egypt's Salafist Nour Party, demanded better treatment for Abu-Sheita, who was close to Salafist preachers and the Nour Party in the North Sinai city of Al-Arish. The Salafist party leader demanded an immediate investigation into the alleged torture of Abu-Sheita.
Kidnappings 'fabricated'
Um El-Kassem, for her part, believes the kidnappings were "fabricated" in order to distract attention from the torture of Abu-Sheita.
"Whoever planned this kidnapping wanted to distract attention from the ill treatment and torture of Hamda while in prison; they don't want to admit that they tortured him," said the mother of four.
She went on to accuse Egypt's interior ministry of standing behind last Thursday's kidnappings.
"If the kidnapping had been carried out by Sinai locals, they would have demanded the release of all detainees without focusing exclusively on Hamda," she asserted.
Since the kidnapping, speculation has been rife about a possible dispute between Egypt's military and presidency over how to secure the soldiers' release. The presidency denied the allegation.
On Sunday, the interior ministry released Abu-Sheita's criminal record on in its official Facebook page. According the ministry, Abu-Sheita received a death sentence in absentia in August of last year for participating in anattack on a police station in the city of Al-Arish and a North Sinai branch of the Bank of Alexandria in the summer of 2011.
Those attacks resulted in the death of one army officer, three policemen and one civilian.
"If my husband was as bad as the interior ministry claims, I would have asked for a divorce," Abu-Sheita's wife, who is also his cousin, told Ahram Online.
Framed by interior ministry?
Abu-Sheita's family insists that the interior ministry framed Hamda and that he is innocent of all the charges arrayed against him.
"Hamda was accused of being a jihadist-Salafist leader, yet last Sunday night we found people on television accusing him of being an agent of both Hamas and Israel," Um El-Kassem said.
Another name frequently mentioned as a main suspect in last week's kidnappings is Hani Abu-Sheita, Hamda's brother. Within the last 24 hours, Hani has been referred to by the media as a "fugitive" involved in the soldiers' kidnapping.
Contrary to media reports, however, Hani Abu-Sheita is not a fugitive and can currently be found in the village.
"Sheikh Hani is a prominent local Quran reader," said his sister-in-law. "The authorities want to arrest him, just like any other man in Sinai."
Sheikh Hani Abu-Sheita is also known among North Sinai-based Salafist groups. On Monday, a video appeared online showing him celebrating the launch of prominent Salafist preacher Hazem Abu-Ismail's 2012 presidential campaign (Abu-Ismail was later disqualified from the presidential race).
"After the kidnapping, my cousins were summoned by security forces," said Abu-Sheita's wife. "If my cousins were implicated in this operation, all the men in our family would have been arrested."
"We don't want special treatment, we only want the application of laws prohibiting torture," she added. "The Mubarak era was better than that of President Morsi; we're going from bad to worse."
She concluded with an appeal to the government: "Either release our people or at least treat them better while they're in detention."
http://english.ahram.org.eg/NewsContent/1/64/71920/Egypt/Politics-/Wife-of-convicted-militant-accuses-govt-of-fabrica.aspx
-------------
Indian Origin Girl PIO Invents Device That Charges Phones in 20 Seconds
Daily Mail
MAY 21, 2013
AN AMERICAN teen of Indian origin has attracted the attention of tech giant Google for her potentially revolutionary invention which charges a phone in 20 seconds flat.
The super- fast charging device has been dubbed a ' super capacitor' by 18- year- old Eesha Khare, who took home $ 50,000 from the Intel International Science and Engineering Fair that took place in Phoenix this week.
The device will make waiting hours for a phone to charge a thing of the past. The gizmo packs more energy into a smaller space than traditional phone batteries and holds the charge for longer. So far, Khare has only used her super capacitor to power a light emitting diode or LED — but she hopes that her invention will one day power cellphones, cars and any gadget that requires a rechargeable battery.
Heading to Harvard, Khare told CBS San Francisco that this is only the start and that she will " be setting the world on fire" from here.
"My Cellphone battery always dies," she told NBC News when asked what inspired her to work on the energy storage technology.
Specialising in nano chemistry allowed Khare to reduce the size of her invention. " It is also flexible, so it can be used in rollup displays and clothing and fabric," Khare said.
The super capacitor can handle 10,000 recharge cycles, more than normal batteries by a factor of 10. How an 18- year old girl has managed to figure out something that multi- national corporations have not has led to her being flooded with offers for her amazing leap forward.
Google has been in contact with Khare to explore how she plans to change the make- up of cell phone battery life.
Mail Today
-------------
Saudi Women Teachers Demand Full-Time Jobs in Demonstration
20 May 2013
About 30 Saudi women teachers have demonstrated outside the kingdom's Education Ministry, demanding full time jobs.
An Associated Press reporter saw women holding posters Monday calling for full time contracts and benefits that include steady pay and retirement packages.
Some say they have been teaching part time in government schools for more than 10 years. The teachers have demonstrated in the past outside the ministry to press their demands.
Saudi Arabia is struggling to employ some of its best educated women. The Saudi statistics agency says women represent just 15 percent of the country's workforce.
The Labor Ministry says there are more than 200,000 unemployed women seeking jobs in the kingdom, and around 75 percent of them are college graduates.
http://english.alarabiya.net/en/business/economy/2013/05/20/Saudi-women-teachers-demanding-full-time-jobs.html
-------------
Vandals target Western Wall woman activist
May 21, 2013
OCCUPIED JERUSALEM – The stairwell and door to the apartment of a woman active in promoting egalitarian prayer at Jerusalem's Western Wall were vandalized by unknown assailants, who scrawled threatening messages found on Monday.
"This is disturbing, scary, sad," the activist Peggy Cidor told AFP. "Women of the Kotel (Wall) are evil", "Peggy your time is up" and "Jerusalem is holy" were among the slogans sprayed in black paint at her Jerusalem apartment.
Full report at:
http://www.saudigazette.com.sa/index.cfm?method=home.regcon&contentid=20130521166665
-------------
Police Ordered To Implement Court Verdict on Child Custody
May 20, 2013
MAKKAH — A judge at the General Court here has ordered the city police to implement his verdict granting custody of three girls to their mother. Amoona Tawakul, lawyer of the mother, said her client filed a case three years ago for a divorced from her husband, a drug addict, and the court granted her divorce and child custody.
Full report at:
http://www.saudigazette.com.sa/index.cfm?method=home.regcon&contentid=20130521166590
-------------
Headscarves and Long Tunics Don't Stop Iranian Women from Practising Parkour
20/05/2013 / IRAN
Despite having to practise in unwieldy clothing – not to mention having to stay on the lookout for police - Iranian women are getting into the sport of Parkour. Some even create videos in which they show off their skills, and post them online. One of these brave women tells us about the challenges of practising Parkour in an Islamic republic.
Parkour involves moving around urban obstacles as quickly as possible. Athletes run up walls, scale fences, jump between roofs, do back flips, and much more. The sport first originated in the 1980s with a small group of athletes in the suburbs of Paris, but only rose to fame in the 2000s with the film "Yamakasi." Parkour has since spread throughout the world thanks to the Internet, everywhere from Gaza to Egypt to Iran.
Full report at:
http://observers.france24.com/content/20130520-headscarves-tunics-iranian-women-parkour
-------------
12 IIIT Girls for NASA Space Settlement Contest
RAJULAPUDI SRINIVAS
MAY 21, 2013
They will present their projects at the 32 Annual International Space Development Conferences in the US
Girl students of Rajiv Gandhi University of Knowledge Technologies (RGUKT) have outshone boys by bagging 12 of the 13 slots for making it to the NASA Space Settlement Contest. They will be leaving for the U.S. via Chennai on Monday. Girls performed better than boys in designing projects on space settlement for humans.
The selected students will present their projects at the 32 Annual International Space Development Conferences (ISDC), to be held at San Diego, in the US, from May 23 to 27.
Of the 38 students selected for the NASA Ames Space Settlement Design Contest-2013, 29 were girls from International Institute of Information Technology (IIIT), Nuzvid, but only 12 of them will make it to the US. Students of Pre-University and first year Engineering of the budding university have designed 13 projects on the title 'Creating alternative living for mankind on Space', said IIIT Director Ibrahim Khan.
Full report at:
http://www.thehindu.com/news/national/andhra-pradesh/12-iiit-girls-for-nasa-space-settlement-contest/article4730639.ece
-------------
Pakistan celebrates first woman up Everest
MAY 21, 2013
ISLAMABAD: Pakistan on Monday congratulated Samina Baig on becoming the first woman from the country to reach the summit of Mount Everest.
The 22-year-old Baig, from the small town of Shimshal in the Hunza valley in Pakistan's mountainous north, scaled the 8,848 metre peak early on Sunday after a gruelling expedition in rough weather.
Karrar Haidri, member executive council of Pakistan Alpine Club (PAC), said Baig had raised Pakistan's name in the world.
"She is a brave girl who summited the peak and sent us a message of her achievement and the whole Pakistan is feeling proud of her," Haidri told AFP.
Full report at:
http://www.dailytimes.com.pk/default.asp?page=2013\05\21\story_21-5-2013_pg7_7
-------------
Best Women's Cricketer Humaira on a Mission
Working hard on her game, she also coaches girls to sharpen their skills
By K.R. Nayar
May 20, 2013
Dubai: Humaira Tasneem, who won the best women's cricketer of the year award in the Shyam Bhatia annual awards, is on a mission.
Speaking to Gulf News after receiving the award from the legendary former Pakistan batsman Zaheer Abbas, Tasneem said: "I want more women to play the game here. I encourage everyone to take up the game. I am even coaching girls at the Al Sadiq Islamic school."
Tasneem has shown the way for girls in the UAE with her fine all-round performances for the national team. She has represented UAE since 2008, playing in 25 matches and taking 22 wickets at an average of 16.31 runs. Her best performance was her spell of 5 for 18 against the formidable Hong Kong side in the Asian Cricket Council (ACC) women's championship in 2013.
Full report at:
http://gulfnews.com/sport/cricket/best-women-s-cricketer-humaira-tasneem-on-a-mission-1.1186174
-------------
URL: https://newageislam.com/islam-women-feminism/amina-tyler,-tunisia's-'topless-jihad'/d/11670