New Age Islam News Bureau
18 February 2022
• Allow Us To Wear Hijab On Fridays And Ramzan, Muslim Girls Tell Karnataka HC
• Amid Debate, Women Lift Their Voices With Melodic Quran Recitation
• 'Such A Shame' Reactions As Nigerians Dressed Like Arab Women Arrested In Dubai
• Saudi Women's Football Team Lands In Maldives For First International Match
• 102-Year-Old Woman Set To Seek Nigeria's Presidency
• Anti-Islamic slogans should not be allowed on International Women's Day, Qadri writes to PM Imran
• A Saudi Woman's iPhone Revealed NSO Group's Web Around The World
• Pakistan: Women's Commission To Challenge Acquittal InQandeelbaloch Case
• From Turkish Jail, French Woman Accuses Greece Of 'Pushback'
Compiled by New Age Islam News Bureau
URL: https://www.newageislam.com/islam-women-feminism/american-model-bella-ha-hijab-row/d/126398
--------
American Model Bella Hadid Reacts To Hijab Row In India, 'Not Your Job To Tell Women…', "It Needs To Stop"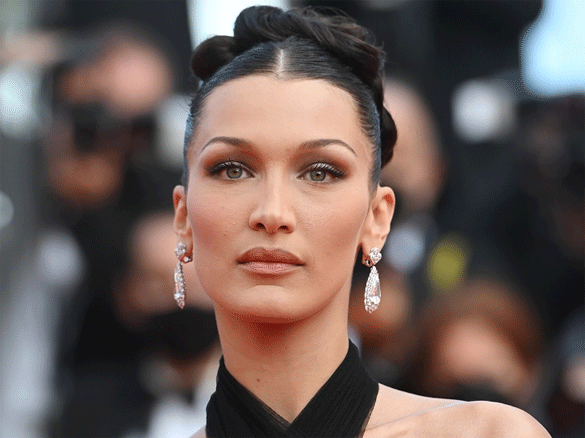 Twitter/Bella Hadid
----
18th February 2022
Mumbai: In midst of chaos and violence in the ongoing Hijab controversy in India, several celebrities have been putting out their opinion on social media. Latest celebrity to call the issue is American model Bella Hadid. Taking to Instagram on Thursday, she criticised the discrimination faced by Muslim women in India and several other countries.
Sharing snippets of global news headlines on protests on Hijab ban, the 25-year-old Muslim model wrote, "In other forms of discrimination: I urge France, India , Quebec, Belgium, and any other countries in the world who are discriminatory against Muslim women, to rethink what decisions you have made or are trying to make in the future about a body that is not yours."
She added, "It's not your job to tell women what they should or shouldn't wear, especially when it is pertaining to faith and safety.
"It's not your job to tell women whether or not they can STUDY or PLAY SPORTS, ESPECIALLY when it is pertaining to their faith and safety. Hijabi women in France are not allowed to wear their Hijab to school, to play sports, to swim, even on their ID pictures. You can't be a civil worker or work in hospitals with a Hijab. To get an internship, most universities will say, the only way to get one is to take off the hijab. It's ridiculous and really shows how Islamophobic the world is without even acknowledging it. In regards to these new Bills that are either in the process of being passed , or have already," she said.
Bella Hadid concluded saying, "It needs to stop."
Her post was liked by Bollywood actress Sonam Kapoor, who too questioned the ongoing discrimination in Karnataka and other states. Taking to Instagram, Sonam Kapoor shared a picture of a man in a turban and a woman in a hijab, and it questions why can a turban be a choice but a hijab can't.
The whole controversy erupted after the Karnataka government on February 5 issued an order mandating a dress code in all schools and colleges, with a ban on clothes that "disturb equality, integrity and public law and order".
Meanwhile, the Karnataka high court in its order last Thursday said that no religious attire will be allowed until a final verdict is pronounced in the case.
Source:Siasat Daily
https://www.siasat.com/bella-hadid-reacts-to-hijab-row-not-your-job-to-tell-women-2277795/
--------
Allow Us To Wear Hijab On Fridays And Ramzan, Muslim Girls Tell Karnataka HC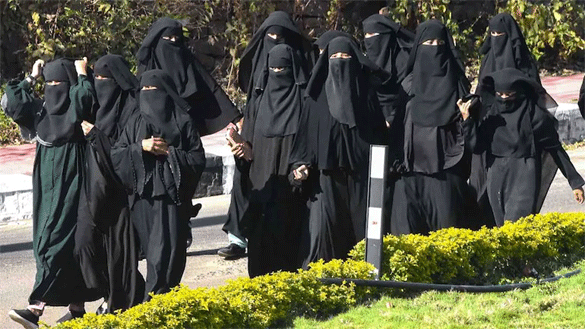 The counsel representing the Muslim girls requested the Karnataka HC to pass an order allowing girls to wear Hijab on Friday, and during the holy month of Ramzan. (Photo: PTI/File)
-----
February 17, 2022
They claimed banning Hijab amounted to banning the holy Quran. The High Court, in its interim order pending consideration of all petitions related to the hijab row, last week restrained all the students from wearing saffron shawls, scarves, hijab and any religious flag within the classroom.
"Poor Muslim girls are suffering because of restriction on wearing Hijab. I request the court to pass an order allowing girls to wear Hijab on Friday, which is Jumma day for the Muslim, and during the holy month of Ramzan," counsel Vinod Kulkarni, appearing on behalf of the Muslim girls, said before the full bench of the High Court comprising Chief Justice Ritu Raj Awasthi, Justice J M Khazi and Justice Krishna S Dixit.
Kulkarni contended there was a "mass hysteria" in the country due to the Hijab issue. He said Hijab was "not against health or morality".
According to him, banning Hijab amounted to banning the holy Quran.
On January 1, six girl students of a college in Udupi attended a press conference held by the Campus Front of India (CFI) in the coastal city protesting against the college authorities denying them entry into the classroom by wearing Hijab.
This was four days after they requested the principal permission to wear Hijabs in classes which was not allowed.
Till then, students used to wear Hijab to the campus and entered the classroom after removing the scarves, the college principalRudreGowda had said.
"The institution did not have any rule on Hijab-wearing as such and since no one used to wear it to the classroom in the last 35 years. The students who came with the demand had the backing of outside forces," Gowda had said.
Source:IndiaToday
https://www.indiatoday.in/india/story/hijab-row-karnataka-high-court-muslim-girls-hijab-on-fridays-ramzan-1914426-2022-02-17
--------
Amid Debate, Women Lift Their Voices With Melodic Quran Recitation
17/02/2022
CAIRO -
The young woman could hear her heart pounding so hard that she worried the microphone placed in front of her would pick up its sound. Seated around her were officials from Islamic nations, including her country's president. Cameras clicked.
She closed her eyes.
Al-ZahraaLayekHelmee's voice filled the spacious, columned hall with a melodic recitation of the Quran, a role customarily held by men in her country, Egypt.
For the 18-year-old, the high-profile recitation of Muslim holy text at a Cairo conference of the Organisation of Islamic Cooperation was a personal milestone — one that she also hopes would send a message to women and girls: That can be you.
"I wanted to prove that women have a great role to play when it comes to Quran recitation," she said.
Across cultures and Muslim communities, the boundaries of such a role can be subject to debate. Attitudes vary toward women publicly reciting the Quran within earshot of nonrelated men — in person, online or in other media.
While the most skilled female reciters may attain celebrity-like status in some countries, others are largely confined to private spaces or all-women audiences.
Campaigns have been springing up online to amplify the voices, and widen the reach, of female Quran reciters across the world, with many posting their recitations and encouraging others to follow suit.
It is part of a larger effort by some Muslim women who say they want to build on the historical examples of other women in their faith to expand their spiritual leadership roles in Islamic spaces.
Online, where Helmee has 1.2 million followers on Facebook, many cheer her on. Others — men and women — reprimand her in messages, urging her to "fear God" or arguing that her voice can tempt men, an idea she rejects.
The controversy "is a matter of convention more than law," said Zahra Ayubi, a Dartmouth College associate professor who studies gender and Islamic ethics.
The concern over women's public recitation, she said, emerges from the interpretation by some that a woman's voice is part of her "awrah" — nakedness or vulnerability — and should therefore be guarded from nonrelated men to prevent temptation.
But many scholars and religious bodies have contested the argument that a woman's voice in itself can be "awrah," saying it's what she says and her manner of speech that matters.
"When women are reciting the Quran, it's an incredibly powerful response to the idea that their voices are awrah," Ayubi said. "Because they are speaking the most honorable truth for Muslims, and in doing so keeping true to God's command to speak honorably."
Learning to read and understand the Quran is considered crucial for men and women alike.
But perfecting recitations, or reciting professionally, usually takes rigorous studying and practice to master elaborate rules governing such things as proper pronunciation and articulation.
For many Muslims, the voice of Quran reciters permeates daily life, blaring from car radios and smartphones or playing out on television channels. Reciters are often invited to religious or social events, sometimes moving their listeners to tears. Many devout Muslims play recordings of favorite reciters at homes or businesses to contemplate the verses or soothe their souls.
Seemi Ghazi, who teaches Quranic Arabic at the University of British Columbia, recalls how —growing up — she would wake up to the sound of her mother reciting the Quran.
"For so many Muslims, we actually experience the Quran primarily and initially through the breath, the tone, the embodiment, the voice of women, most often our mothers," she said. "So it's not as though hearing a woman's voice is something so new. It's the question of the public sphere which may be distinctive."
Ghazi, who recites Quran as part of Sufi circles she leads in Vancouver and at interfaith events, sees a blossoming of Muslim women's voices in alternative Islamic spaces, particularly on social media.
There was a time when Maryam Amir didn't even know women could be Quran reciters; today she is part of that blossoming.
The California-based Amir recalls recoiling the first time she heard a girl reciting at an event where men could hear her. She complained to the organizer.
"She was from Indonesia, and she told me, 'In Indonesia, women recite the Quran on television, in conferences, in competitions.'"
One of those women, Maria Ulfah, has made a name for herself that transcends Indonesia's borders. She's won and judged competitions at home and abroad and has been invited to recite in many parts of the world. Her recordings have carried her voice to the faithful outside of Indonesia.
At home, where she says female reciters enjoy the same status as men, some fans have named their children after her.
"In Indonesia, people are very appreciative and proud," Ulfah said.
Differences in attitudes, she argued, are largely cultural.
In California, Amir's views on the topic have evolved through her research and interactions with Muslims abroad. She has memorised the Quran, becoming a "hafiza," a role that is highly prized and encouraged in Muslim communities.
She's also studied Islamic sciences, launched a social media campaign to get women to post recitations of themselves and is now working on a new app. It features recitations by Muslim women around the world, created in collaboration with a council of Islamic scholars.
Amir says she's seen signs of a shift in attitudes.
"Since people started hearing that scholars have different opinions on this issue … people are starting to think about this differently," she said. "There are many women who memorize the Quran, but they had no idea they could recite in these spaces."
MadinahJaved, who grew up in Scotland and now lives in Chicago, has also turned to social media to highlight female reciters like herself while campaigning to inspire more to share recitations.
She is amazed by the resulting connections among women from different cultures and with different styles of recitations.
"It's important for both men and women to hear women reciters," she said. "It's important for men and boys to make space for women too, because they might have more accessibility in certain places or more privilege."
Online, Javed has encountered strong support from some, while she found others to be more focused on appearance, like whether her neck was showing, than the recitation.
As great as social media has been to raise awareness, she said, real change takes face-to-face interactions. "It's going to take a much longer time for change to happen" in some communities.
In Egypt, the makeup of the country's syndicate for reciters and those who teach Quran memorisation provides one indication of the road ahead for those advocating female representation.
Of 10,000 members, there are just about 100 women and they are focused on teaching memorisation, according to the syndicate's head, Mohamed Hashad.
Hashad said he, personally, sees no theological reasons to stop public female reciters. "It's more like social reasons," he said. "Women don't feel comfortable sitting among the men to read Quran."
Helmee, who started learning the Quran with a tutor shortly after she turned 3 and memorised it at 10, hopes that will change.
"I run into women who tell me they wish they could do the same thing I do but that it's too late for them now," she said. "I also meet women who tell me they pray their daughters would grow up to be like me."
Source:TheArab Weekly
https://thearabweekly.com/amid-debate-women-lift-their-voices-quran-recitation
--------
'Such A Shame' Reactions As Nigerians Dressed Like Arab Women Arrested In Dubai
16 February 2022
By Chukwuani Victoria
A photo showing the moment three Nigerian men dressed like Arab women were nabbed by the Dubai security operatives for impersonation has surfaced on social media.
In the viral photos, the yet-to-be identified men were seen dressed like Muslim women in hijab with their skin and faces brighten with light contour.
According to the reports, they were arrested on allegation of impersonation – pretending to be Arabs by dressing as such.
The photos have stirred mixed reactions with a lot of social media users condemning the actions of the young men all in the bid for greener pastures.
Alex _Bubb wrote; Such a shame that becaue of few bad examples in the eyes of Emiratis an other all Nigerians are bad. I met many and some of the nicest people.
Pretty boy wrote; 'I want the number of the make up artist'
Freestainworld wrote; 'This is why they have refused to give Nigerians working Visa, our people keep destroying our image every day.'
delzbaba wrote; 'gaddemit,,this is ingenious and crafty by this criminals, at first glance i didn't notice.'
Ikillbrokehoes wrote; 'This is really hilarious, some Nigerians and crimes though. cheesycheesy'
Source:NaijaNews
https://www.naijanews.com/2022/02/16/such-a-shame-reactions-as-nigerians-dressed-like-arab-women-arrested-in-dubai/
--------
Saudi women's football team lands in Maldives for first international match
February 17, 2022
RIYADH – Saudi Arabia's first-ever women's national football team arrived in the Maldives on Thursday to officially play their first international match.
The coach of the team, Monika Staab, revealed the final list of players who will face Seychelles on Feb. 20 in the first match of the national team before they play against the Maldives on Feb. 24.
The two matches will be the first on the records of the first national women's team, which is preparing to enter the monthly classification of the International Federation of Football Associations (FIFA) officially.
The final list of players included: Lama Al-Anazi, Sarah Khaled, Mona AbdelRahman (goalkeeper), Atheer Khaled, Bayan Sadaqah, Hessa Al-Saadallah, Leen Muhammad, Lana Abdel-Razzaq, Ohoud Al-Amari, Tala Al-Ghamdi, Mashael Al-Harbi (defense), Asrar Al-Shaibani, Dalia Abu Laban, Fahda Al-Saad, Juri Tariq, LayanJohari, Maryam Al-Tamimi, Farah Jafri, Noura Al-Ibrahim, RaghadMukhaizin, Sarah Hamad and Saba Tawfiq (mid-field), Al-Bandari Mubarak, Al-Bandari Muhammad, Tahani Al-Zahrani (attack)
Staab stressed that the goal of these two matches is to gain experience, saying: "Our goal is for the players to gain the necessary experience to play international matches. In addition, we seek to officially enter the FIFA classification."
About the mechanism that she followed to select the players, she said: "Since last September, we have started searching for players who can join the national team's journey and play in its official and international competitions."
A member of the Board of Directors of the Saudi Arabian Football Federation and Director of the Women's Football Department, Lamia bin Bahian, said: "I would like to congratulate all the players who have been selected. And I also like to thank the rest of the players who didn't make it to the list for the work they did during the camp until last. I urge them to continue working and trying to be with the team again."
Source: Saudi Gazette
https://saudigazette.com.sa/article/617233
--------
102-year-old woman set to seek Nigeria's presidency
Olarewaju Kola
17.02.2022
MAIDUGURI, Nigeria
A 102-year-old woman has announced her intention to run for president of Nigeria in 2023.
Nonye Josephine Ezeanyaeche threw her hat in the ring during a visit to the Nigeria Television Authority (NTA), the country's largest television network, according to local media on Thursday.
She declared her intention to provide good leadership to the country, according to Nigeria.Com, an online news outlet.
The centenarian and founder of Voice for Senior Citizens lives in Anambra State, in the country's southeast.
Since late January, about 10 prominent politicians, including serving and former governors, have announced they will seek the presidency.
Nigeria will hold general elections early next year to elect governors and members of the parliament, in addition to the president.
Source: Anadolu Agency
https://www.aa.com.tr/en/africa/102-year-old-woman-set-to-seek-nigerias-presidency/2505775
--------
Anti-Islamic slogans should not be allowed on International Women's Day, Qadri writes to PM Imran
JavedHussain
February 17, 2022
Religious Affairs Minister NoorulHaqQadri has written a letter to Prime Minister Imran Khan saying that anti-Islamic slogans should not be raised on International Women's Day, which is celebrated across the world on March 8.
The minister has also suggested celebrating International Hijab Day instead on March 8, in an effort to express solidarity with Muslim women across the globe.
In a letter to the prime minister dated Feb 9, a copy of which is available with Dawn.com, the minister said International Women's Day was celebrated on March 8 every year since the International Women's Year was first recognised by the United Nations in 1975.
He said that rallies were organised worldwide and programmes were held in an effort to eradicate societal injustice against women and to ensure they get their due rights.
Qadri pointed out that in Pakistan, a campaign was being organised under the banner of Aurat March which sought to highlight issues being faced by women.
"But the kind of placards, banners and slogans raised during the march portray as if the issue is with societal norms underlined in Islam more than women's rights," he said.
The minister said Pakistan was a Muslim country and a majority of society wished to live their lives according to the teachings of Islam. He added that Islam was a complete code of life for which there was no other alternate.
"Any group, under the banner of Aurat March or any other title, on the occasion of upcoming International Women's Day on March 8, should not be allowed to ridicule Islamic values, societal norms, hijab or modesty as such acts hurt the sentiments of Muslims in the country," he said.
He requested the prime minister to observe "International Hijab Day" on March 8, in an effort to express solidarity with Muslim women across the globe who had to struggle for religious independence and basic human rights.
Qadri said that observing International Hijab Day would help draw the attention of the global community, including the United Nations, towards the treatment of Muslim women and students in neighbouring India and Indian Illegally Occupied Jammu and Kashmir (IIOJK).
He urged the premier to use the occasion to call on the international community to put an end to India's treatment of Muslims in an effort to protect their religious freedom.
The minister concluded his letter by saying that programmes should be organised at a federal and provincial level to observe International Hijab Day. He added that the religious affairs ministry and the information ministry should be directed to draw up a strategy in this regard.
Sherry Rehman calls Qadri's letter 'concerning'
Meanwhile, Senator Sherry Rehman dubbed Qadri's letter to the prime minister as "concerning", suggesting that it was an attempt to "ban" Aurat March scheduled on March 8.
"Such a statement from a federal minister is shocking," she said, adding that March 8 is celebrated across the world as women's day. "What will you gain by imposing a ban on a march by unarmed women?"
She went on to say that no one had imposed restrictions on celebrating a day dedicated to hijab. "On the one hand, we condemn India's attitude, but on the other you talk about banning a women's march."
The senator said that International Women's Day was for women from all walks of life, adding that it aimed to raise awareness in society regarding gender stereotypes and discrimination against women.
"You are conspiring to deprive unarmed women of their freedom and rights on International Women's Day," she said.
The minister later issued a clarification, saying that "some political leaders are trying to spread negative propaganda without reading the letter."
Qadri said in his letter to the prime minister he had recommended celebrating International Hijab Day on March 8.
He noted that female students in India were facing violence and mental anguish due to their decision to wear the hijab, referring to the recent ban on the headscarf in some Indian states.
He said that organisations fighting for women's rights had also raised their voices against growing extremism and Islamophobia in India.
In pictures: Women take to streets in Mumbai as hijab row expands in India
The minister said that Pakistani society was not too liberal, devoid of basic human rights or rigid in terms of religious values, suggesting that "our society should have a moderate character".
"Obscenity and immodesty under the guise of rights should not be allowed under any circumstances," he said, adding that the contents of the letter were clear and reflected the collective thinking of Pakistani society.
Source: Dawn
https://www.dawn.com/news/1675585/anti-islamic-slogans-should-not-be-allowed-on-international-womens-day-qadri
--------
A Saudi woman's iPhone revealed NSO group's web around the world
February 17, 2022
A single activist helped turn the tide against NSO Group, one of the world's most sophisticated spyware companies now facing a cascade of legal action and scrutiny in Washington over damaging new allegations that its software was used to hack government officials and dissidents around the world.
It all started with a software glitch on her iPhone.
An unusual error in NSO's spyware allowed Saudi women's rights activist Loujain al-Hathloul and privacy researchers to discover a trove of evidence suggesting the Israeli spyware maker had helped hack her iPhone, according to six people involved in the incident. A mysterious fake image file within her phone, mistakenly left behind by the spyware, tipped off security researchers.
The discovery on al-Hathloul's phone last year ignited a storm of legal and government action that has put NSO on the defensive.
Al-Hathloul, one of Saudi Arabia's most prominent activists, is known for helping lead a campaign to end the ban on women drivers in Saudi Arabia. She was released from jail in February 2021 on charges of harming national security.
Soon after, the activist received an email from Google warning her that state-backed hackers had tried to penetrate her Gmail account. Fearful that her iPhone had been hacked as well, al-Hathloul contacted the Canadian privacy rights group Citizen Lab and asked them to probe her device for evidence, three people close to al-Hathloul told Reuters.
After six months of digging through her iPhone records, Citizen Lab researcher Bill Marczak made what he described as an unprecedented discovery: a malfunction in the surveillance software implanted on her phone had left a copy of the malicious image file, rather than deleting itself, after stealing the messages of its target.
He said the finding, computer code left by the attack, was direct evidence NSO built the espionage tool. "It was a game changer," said Marczak. "We caught something that the company thought was uncatchable." The discovery amounted to a hacking blueprint and led Apple to notify thousands of other state-backed hacking victims around the world, according to sources.
Citizen Lab and al-Hathloul's find provided the basis for Apple's November 2021 lawsuit against NSO and it also reverberated in Washington, where US officials learned that NSO's cyberweapon was used to spy even on American diplomats.
In a statement, an NSO spokesperson said the company does not operate the hacking tools it sells —government, law enforcement and intelligence agencies do. The spokesperson did not answer questions on whether its software was used to target al-Hathloul or other activists.
Discovering the blueprint
Al-Hathloul had good reason to be suspicious — it was not the first time she was being watched.
A 2019 Reuters investigation revealed that she was targeted in 2017 by a team of US mercenaries who surveilled dissidents on behalf of the United Arab Emirates under a secret program called Project Raven, which categorised her as a 'national security threat' and hacked into her iPhone.
She was arrested and jailed in Saudi Arabia for almost three years, where her family says she was tortured and interrogated utilising information stolen from her device. Al-Hathloul was released in February 2021 and is banned from leaving the country.
Al-Hathloul's experience of surveillance and imprisonment made her determined to gather evidence that could be used against those who wield these tools, said her sister Lina al-Hathloul. The type of spyware Citizen Lab discovered on al-Hathloul's iPhone is known as a 'zero click,' meaning the user can be infected without ever clicking on a malicious link.
Zero-click malware usually deletes itself upon infecting a user, leaving researchers and tech companies without a sample of the weapon to study. But this time was different.
Source: Business Standard
https://www.business-standard.com/article/international/a-saudi-woman-s-iphone-revealed-nso-group-s-web-around-the-world-122021701479_1.html
--------
Pakistan: Women's commission to challenge acquittal in QandeelBaloch case
February 17, 2022
Sana Jamal
Islamabad: As women activists are rallying against the pardon of the brother of QandeelBaloch, Pakistan's national commission on women has announced to challenge the acquittal.
National Commission on the Status of Women (NCSW), an autonomous statutory body, has announced plans to appeal the verdict before the Supreme Court following the acquittal of WaseemBaloch for the murder of his sister and outspoken social media star QandeelBaloch.
"The NCSW has grave concerns about the release of QandeelBaloch's murderer. The early release of a criminal convicted for the heinous crime of honour killing is unconscionable" said NCSW chairperson NilofarBakhtiar. NCSW will appeal to the Supreme Court against Lahore High Court's acquittal order and "pursue justice for QandeelBaloch," she said.
Strong message against honour killings
The move aims to send a strong message to the people that the heinous crime of killing women in the name of family honour will no longer be tolerated by society and courts.
In 2016, Pakistan's parliament unanimously passed legislation against honour killings, guaranteeing mandatory 25 years in prison for convicted murderers even if pardoned by the victim's family. The law was passed months after the murder of 26-year-old QandeelBaloch.
Six years later, the court decided to acquit Qandeel's killer and his brother, WaseemBaloch, after their parents said they had forgiven their son. Waseem was sentenced to life in prison after confessing to killing Baloch in July 2016, saying the star had brought shame on the family.
Pakistan's Information Minister Fawad Chaudhry said that Pakistanis should be "ashamed" of a legal system that had acquitted the slain social media star and called for judicial reforms in the country.
Source:GulfNews
https://gulfnews.com/world/asia/pakistan/pakistan-womens-commission-to-challenge-acquittal-in-qandeel-baloch-case-1.85804084
--------
From Turkish jail, French woman accuses Greece of 'pushback'
18 February, 2022
BARCELONA, Spain (AP) — A French woman is accusing Greek authorities of forcing her and other migrants back across the border into Turkey, violating her rights both as a person fleeing persecution and as a European citizen.
In court documents seen by The Associated Press, the 32-year-old woman, who has Turkish as well as French citizenship, claims she and her husband were trying to flee Turkey to escape prison sentences that were politically motivated.
They crossed the Evros River by boat into Greece on the way to France, where the woman was born and raised. But she says Greek officials mistreated her and turned her back; she is now in prison in Turkey. From her cell, the woman, who asked to remain anonymous for her safety, plans to file a lawsuit against Greece on Friday at the European Court of Human Rights.
While so-called "pushbacks" of migrants have become increasingly common despite violating European and international law, experts say the French woman's story appears to be the first such case brought to court involving a European citizen.
"We have moved from allegations to it being a public secret that pushbacks are engaged in by the Greek authorities on a regular basis," said Hanne Beirens, director of Migration Policy Institute Europe. "This would be quite a unique case…Because it would show how indiscriminately the Greek authorities are acting and how it affects people from all backgrounds."
For years, journalists, lawyers and human rights organizations have documented pushbacks by Greece of migrants and refugees across sea or land borders, denying them the right to asylum procedures. Under the principle of non-refoulement in European and international human rights law, people cannot be returned to a country where they would face torture, punishment or harm.
Greek authorities did not respond to multiple requests for comment sent by the AP to the Ministry of Migration and Asylum, the Ministry of Citizen Protection and the Greek embassy in Paris. However, Greece released a statement Thursday evening after a joint-media investigation alleged a separate pushback involving two asylum seekers later found dead on the Aegean coast.
"Greece protects the external borders of the European Union, in full compliance with international law and in full respect of the charter of fundamental rights," said NotisMitarachi, Greece's Minister of Migration and Asylum.
The French woman's story is laid out in court statements from her, her husband and her sister, including illustrations she did from prison. The AP also drew on interviews with her sister in Paris and one of her lawyers; documents including her French passport, French national ID and French marriage papers; emails, call logs, and screen shots of texts and GPS data the woman shared in real time with a lawyer.
Born to Turkish parents, the woman left France in 2013 to pursue undergraduate studies in Turkey. In April 2018, she and her now-husband were among dozens of students rounded up and accused of belonging to the "Fethullahist Terror Organization" or FETO. The couple deny all accusations.
At the time, Turkey had launched a massive crackdown against followers of U.S.-based Muslim preacher FethullahGulen, after a failed military coup in 2016. The government designated the network as a terrorist organization and sentenced close to 5,000 people to prison, according to the state-run Anadolu Agency.
The French woman was detained for 11 days but released on parole. A few months later, she was sentenced to more than six years in prison, which she appealed. In June last year, her prison sentence and her husband's were confirmed by the Supreme Court. They ultimately decided to flee, selling the family jewelry to pay smugglers to get to Greece.
The woman's family trusted that once she stepped foot in Greece, a European Union country and part of the Schengen area, Europe's visa-free travel zone, she would be safe. As the couple crossed Greece's eastern border on the morning of Oct. 19, 2021, her family anxiously awaited news from their home 90 km outside Paris. They followed the woman's movements on a real-time location tracking app.
At 9:38 a.m., the woman sent a text message on What'sApp: "We have passed."
Her family proceeded to contact both French and Greek authorities, saying the couple needed help.
"They are victims of persecution by the current Turkish government," read their email, which they followed up with phone calls. "We are VERY VERY worried for them!"
Shortly after, Greek officials stopped the couple, the lawsuit alleges. After they presented her French ID, a copy of her French passport and the French family booklet that proved their marriage, the officers asked them to kneel. They then took the couple's telephones, power bank, clothes and food and cut their shoelaces, according to the statement.
The woman says they were taken in the back of a truck to a "closed box" inside a gated area and kept there for hours with other migrants, some from Afghanistan who were barefoot. She says officers slapped one of them.
Meanwhile, in France, her family had lost contact with her and was getting increasingly worried. Her sisters scrambled to call and email both Greek and French authorities.
After they shared their concern that their sister would be returned to Turkey, an official at the Greek embassy in Paris sent a text message in French: "Since she has a French passport, there is no problem(...)Calm down. There is no danger in Greece."
The man confirmed to the AP that he had been in contact with the woman's family but said he was not authorized to speak to the press. Requests for comment to the Greek embassy in Paris were not answered. The woman's family say they also exchanged several phone calls with the French consulate in Thessaloniki, and sent an email with the woman's last known location and a copy of her passport.
After being detained for several hours, the migrants were rounded up onto a truck and taken to the Evrosriver, the woman says. They were made to board an inflatable boat without life vests.
"We continued to beg them not to send us back, explaining to them I was French and that we were persecuted in Turkey," she says in her statement.
She spoke to officials in French and English, to no avail. They were caught by Turkish soldiers on the other side and taken to a police station, she says. The next day, they were in prison.
"We are totally disappointed with Greek authorities," her sister told the AP in Paris, asking to remain anonymous to protect her safety. "We didn't think they would return a persecuted person back to the persecutor."
"We are equally disappointed with French authorities because we were abandoned," she said.
Since then, she said, her family has written countless letters to French and European Union lawmakers and officials, and even to French President Emmanuel Macron, asking for help. The French Ministry for Europe and Foreign Affairs told the AP in a written statement that officials in Paris, Greece and Turkey "had maintained a close relationship with (the woman's) family from the moment they were alerted to her situation."
They said they are also seeking a consular visit to the woman in prison in Turkey. There, she told her sister, she has been stripped naked for searches three times. In the first prison she was taken to, she said, she shared a cell with mice.
Catherine Briddick, a lecturer in International Human Rights and Refugee Law at Oxford University, said the woman's case "shows the absurdity of Fortress Europe."
"(It) should give pause to European citizens everywhere to think about what these policies are doing to us, as well as to the people we're trying to keep out," she said.
Omer Shatz, a lawyer representing the French woman along with Violeta Moreno-Lax and Francesco Gatta, argues their client was a victim of increasing racial discrimination at the borders of Europe.
"She was really begging to them, showing them her (French) IDs and travel documents but was ignored," said Shatz, legal director of Front-Lex, which challenges EU migration policies. "Why? Because the way she looks. Probably Muslim, probably looking like a refugee, probably not white."
Migration has been brought to the center stage of the French presidential campaign, with both Macron and his opponents on the right and far-right taking ever stronger stances against irregular crossings. European countries have spent billions on surveillance technology at their borders, despite growing accusations of human rights violations.
A European Commission spokesperson said it doesn't comment on ongoing legal proceedings but is "concerned about any reports of pushbacks and mistreatment....Efficient border management must be firmly rooted in the respect of human dignity and the principle of non-refoulement." The French woman's family says they received a similar response to a letter they sent the commission.
"The EU, unfortunately, has declared that Greece was the shield of Europe…it frees the Greek authorities from many constraints," said Francois Crepeau, a professor at McGill University in Canada and a former UN special rapporteur on the human rights of migrants. While in public many European officials will condemn pushbacks as illegal, he said, "in fact, they're quite happy that Greece is doing the dirty job for everyone else."
Source: AP News
https://apnews.com/article/middle-east-france-prisons-greece-europe-1c58212ff10310deebae2b769d31e386
--------
URL: https://www.newageislam.com/islam-women-feminism/american-model-bella-ha-hijab-row/d/126398
New Age Islam, Islam Online, Islamic Website, African Muslim News, Arab World News, South Asia News, Indian Muslim News, World Muslim News, Women in Islam, Islamic Feminism, Arab Women, Women In Arab, Islamophobia in America, Muslim Women in West, Islam Women and Feminism