New Age Islam News Bureau
11 Dec 2019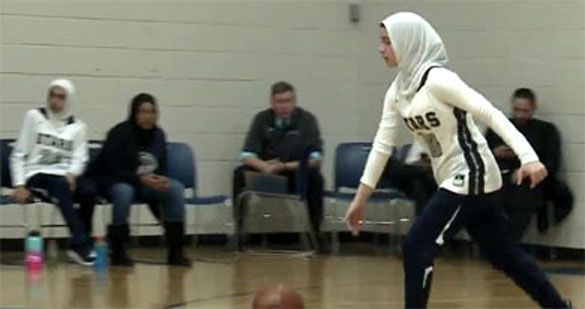 There is a growing buzz around a gym on Layton Avenue and the girls who are scoring big on the court and in life.
----
• American Airlines Forces Woman to Remove 'Hail Satan' T-shirt on Flight
• Muslim Girls Basketball Team, Wearing Hijabs, Called 'Best Kept Secret in Milwaukee'
• 'Mission Accomplished': How One Woman Built the Mosque of Her Dreams in Vegas
• Nike Introduces Swim Hijab and Full Coverage Suit
• Varisha Khan Makes History in Redmond, Becoming One of The First Muslim Women To Serve Office In Washington State
• Women's Shelters Serving Immigrants Open in Calgary and Edmonton
• Bangladesh Film about Girl Surfer Faces Calls to Be Banned
• Muslim Community Condemns Racially Aggravated Attack On Sheffield Schoolgirl
Compiled By New Age Islam News Bureau
URL: https://www.newageislam.com/islam-women-feminism/ameri-airlines-forces-woman-remove/d/120496
------
American Airlines Forces Woman To Remove 'Hail Satan' T-shirt On Flight
Written By Vishal Tiwari
December 10, 2019
A woman from America was asked to change her t-shirt or leave the plane. The woman was travelling in an American Airlines when a crew member came and asked her to remove her 'Hail-Satan' t-shirt or just leave the flight. An Indian-American woman Swati Runi Goyal was travelling from her home in Florida to Las Vegas when she faced the alleged discrimination.
Woman alleges religious discrimination
At first, when the woman was approached by the plane staff, she thought that she is being upgraded to business class but later she realised that was not the case. The woman talking to international media said that the airline staff came to her and asked that if she knew what 'offensive' meant to which she replied that her t-shirt is not at all offensive.
Swati Runi Goyal said that she regularly receives good words from people who understand the irony of the t-shirt. She is often met with giggles and thumbs up when she is out wearing the same piece of clothing. Goyal is a member of 'The Satanic Temple' which is a non-atheistic religious group based in the United States. The group focuses on organising public campaigns that promote social justice and separation of church and state.
Goyal is reportedly upset with the media for not investigating the incident properly as she shared her story hoping that the right message would spread. Goyal has accused the airline of practising religious discrimination against minorities in the country. She also said that if she can be treated this way, other religious groups like Muslims must be facing much more that she cannot even imagine.
After Goyal shared her story on social media, American Airlines reached out to her and has issued an apology. The airline had called her and offered her to refund both tickets and said that they are investigating what actually happened. American Airlines have had previous such issues involving religious discrimination. In 2016, it reportedly cancelled tickets of two Muslim women after flight attendant did not feel comfortable with them.
https://www.republicworld.com/world-news/us-news/american-airlines-forces-woman-to-remove-hail-satan-t-shirt.html
------
Muslim Girls Basketball Team, Wearing Hijabs, Called 'Best Kept Secret In Milwaukee'
Dec 9, 2019
Derrick Rose
MILWAUKEE — There is a growing buzz around a gym on Layton Avenue and the girls who are scoring big on the court and in life.
They're known among their classmates and families as the Salam Stars, the varsity girls basketball team comprised of all Muslim players.
"It's obvious," head coach Kassidi Macak said of what sparked the developing interest in the team, "First, we were good at basketball. Then, what they are wearing on the courts. It's a surprise to so many people."
They play while wearing traditional Hijabs.
The team's biggest fans call them the "Best kept secret in Milwaukee."
The Salam High School Stars won Monday night by scoring their highest point total of the season, defeating Cristo Rey Jesuit 57-29, and are now 5-1 on the season.
It seems the secret is out.
Bleacher Report recently produced a 13-minute feature video on the team and Macak.
It's been viewed more than 250,000 times on the media organization's Instagram page.
"We've gone a little bit overlooked with all the negative media that Muslims get in general that nobody tries to find a different angle," said Ream Bahhur, whose daughter, Sana Abubaker, is a freshman on the team. "The girls are so hyped up that they're in a positive light."
During Monday nights game, a camera crew from CNN was also shooting video for a future story.
"On the surface, fine," Macak said when asked how the girls handle the sudden spotlight, " When I ask them, 'Did you see it? Did you watch it?' They're like, 'Yeah, it's whatever.' Like, they're trying to be really cool about it. I can tell when they talk to each other, they're very excited."
Macak, who joined the program four years ago, also said her role as a female coach is an equally important lesson, having had all male coaches in her career.
"To have women representation, it's the same in stories. You want to see people who look like you and who you can relate to. For me, it's an awesome reward," she said.
Bahhur said the girls, most of whom are freshmen this season, have all become role models for younger students because of their play and perseverance.
"The girls don't really look at the differences themselves. But they have heard a comment or two either from another player or a fan in the stands. But they've gotten really good with shrugging it off and focusing on their game the entire time," Bahhur said.
The lesson the girls are teaching: No matter the opposition, the Salam Stars simply shine.
"What people say about you or think about you doesn't matter. If you love something and want to pursue it, and do it well, you can," Macak added.
https://www.wisn.com/article/police-handcuffed-man-caught-on-camera-stealing-police-cruiser/30179952
------
'Mission accomplished': How one woman built the mosque of her dreams in Vegas
December 10, 2019
Aysha Khan
LAS VEGAS (RNS) — Fatima Motti spent years crisscrossing the country searching for meaning in her life: as a dancer, as a wrestler, as a Sun Dancer with the Lakota Nation.
She found what she was looking for inside the prayer hall at Masjid Ibrahim.
"This place saved my life," the recent convert said after Friday prayers earlier this fall. "I was being attacked by shaytan (Satan), and then it stopped. I came here and I knew had to accept Islam."
Motti discovered the mosque after finding herself stuck in Vegas with a broken leg. When a Facebook friend sent her some verses of the Quran to comfort her, she felt like she was "on fire" after reading them, she said. So she began calling up local mosques.
She knew she'd found the right place after taking one look at Masjid Ibrahim. Motti said she'd seen the mosque and the surrounding street in a dream.
"I come here every Friday," she said, the rhinestones on her slip-on hijab glinting. "I come here because it's the only place I find light."
Stories like this bring a smile to the face of Sharaf Haseebullah, the 74-year-old Pakistani immigrant who founded Masjid Ibrahim four years ago. Haseebullah, who donated $3 million of her own to the project, appears to be the first woman to fund a mosque in North America entirely by herself.
"This is my last achievement of my life," she said. "This is my mission accomplished. Now I hope that Allah gives me a good death."
Opened in January of 2016, Masjid Ibrahim is one of a handful of mosques serving the city's estimated 10,000 to 20,000 Muslims.
The Sunni mosque serves a diverse congregation of several hundred local families, offering a Sunday school for children, regular social gatherings, service projects, computers for kids to do homework, career services for locals, an open library stocked with Islamic literature, marriage counseling, Islamic studies classes and interfaith events in partnership with other Southern Nevada communities. Every weekend, members of the mosque prepare hundreds of sandwiches to deliver to another local mosque, Masjid As-Sabur, where congregants offer them to the homeless.
The mosque has become "part and parcel" of the Vegas community, said Imam Shamsuddin Waheed, noting that non-Muslims in the area often come to the mosque seeking aid.
"Masjid Ibrahim offers a refuge," said Waheed, who was leading a congregation in Toledo, Ohio, before Haseebullah hired him about a year ago. "Our modern life can be stressful and disheartening. This place, where people gather for no reason other than to worship God, can be nothing but a light in a world that's increasingly difficult."
Haseebullah and her husband arrived in the U.S. from Pakistan in 1975 and settled first in Chicago before moving to Las Vegas. She's a pharmacist and graduated from the University of Karachi at the top of her class.
A mother of seven, Haseebullah owns a popular drugstore in the city, Raxo Drugs Inc. But her real financial gains have come from her penchant for profitable real estate investments.
Haseebullah owns dozens of properties across the country. The income from those properties pays for half of the mosque's upkeep and monthly expenses; the other half is paid for by donors.
Five years after Haseebullah and her husband moved to Vegas in 1990, they purchased nearly an acre of land on North Jones Boulevard. Her husband, also a pharmacist, offered it to her to build another pharmacy.
Haseebullah surprised him by suggesting they instead convert the run-down home on the property into a place for Muslims to worship God.
"I told him, 'We're doing so much working, running around 24/7, but what are we doing for our akhirah?'" she recalled, using the Arabic term for the afterlife. "I said, 'What are we doing for Allah? Nothing. We have the big house, the housekeeper, the nanny, we send our kids to the best private school. My kids are grown up. We don't need any more money. Now I want to use this house to teach Quran.'"
In 1997, the small building, which they dubbed Masjid Haseebullah, opened as a mosque. Dozens of families began using the space to hold congregational daily prayer, and Haseebullah offered lessons in how to read the Quran to about 20 neighborhood children, the same way she had taught her own children and grandchildren.
But after her husband died in 2005 of a brain aneurysm, forcing her to sell many of her properties in order to pay the medical bills, Haseebullah began thinking about turning the makeshift mosque into a new, full-blown Islamic community center.
"I was thinking, this one is old and just one bedroom," she said. "It was so crowded. I just started visualizing what it would look like."
By 2009, she began the process of obtaining the property's necessary zoning permits. Construction on a new, 7,000-square-foot structure began in 2012, complete with a dome, minarets, a mihrab, classrooms for Sunday school and foot-washing stations for men and women.
This time, she called it Masjid Ibrahim.
"This mosque is not for my family," she said. "This is for Allah."
Haseebullah decided not to fundraise for the mosque's construction, as is the norm among American mosques, and to instead self-fund the project. For one thing, she said, she had no idea how to go about raising money.
"It took me seven or eight years, because I don't know how to do fundraising," she said. "I just have me and my Quran. So I don't know how it happened, but this mosque was built. When Allah helps you, you always win."
Some local Muslims had also been skeptical that she, an elderly widow who spoke with an accent, would be able to bring the mosque to fruition. And those few who were willing to donate wanted to have a say in the way the mosque would be built.
"Everyone was telling me it would be too hard and it's not going to happen," she said. "But I have trust in Allah. In everything, Allah helped me."
When the mosque opened in 2016, Haseebullah made international headlines, with media seizing on the fact the mosque was likely one of a few in the world financed entirely by a Muslim woman.
Waheed said Haseebullah is a beloved community leader among local Muslims
"She's a very humble person, though," he added. "She doesn't walk around putting on any airs of authority or anything, but she's recognized as an elder whose advice and help is sought out often."
On Fridays, close to 300 people attend the mosque's jumah prayer service. On the holidays of Eid, they serve around 600 Muslims. The mosque offers a large main prayer space where men and women can both pray in congregation without a barrier dividing the genders. Still, most women choose to pray in an adjoining room where they can see the imam through a large television screen.
Haseebullah proudly showed off the the tiling along the foot baths she installed for worshippers to perform their ablutions, the calligraphy and art she commissioned outside the mosque's doors, and even the color-changing lights on the interior of the mosque's dome — "it's the Vegas thing," she said with a smile.
When a Christian couple from the neighborhood stopped by to check out the mosque, explaining that they had grown curious after driving past the structure every day, she encouraged them to come inside, then brought them along for the tour, too.
"Everyone is welcome," she said, propping open the front door and encouraging the couple to follow her within. "We're neighbors. Masjid Ibrahim is for the whole community."
https://religionnews.com/2019/12/10/mission-accomplished-how-one-woman-built-the-mosque-of-her-dreams-in-vegas/
------
Nike introduces swim hijab and full coverage suit
Tuesday, December 10th 2019
CINCINNATI (WKRC) - Sportswear giant Nike is introducing a new swim hijab and full coverage suit next year.
The new pieces aim to serve athletes' religious needs or preferences and offer a high grade of sun protection.
The material used for both is designed to be fast-drying and breathable.
In 2017, the company released a performance hijab for Muslim women.
Nike's new swim hijab and full coverage suit will be available in February.
https://local12.com/news/offbeat/nike-introduces-swim-hijab-and-full-coverage-suit
------
Varisha Khan makes history in Redmond, becoming one of the first Muslim women to serve office in Washington state
By Lily Hansen
December 10, 2019
After almost a month of counting and re-counting ballots, Varisha Khan has unseated a three-term Republican incumbent to become the next Position 1 Redmond City Council member. With her election, Khan joins Pasco City Council member-elect Zahra Roach as the first two Muslim women elected to local office in Washington state.
A second-generation Pakistani American, Khan was raised in the greater Redmond area. After graduating high school, she attended the University of Washington and became the founding director of the university's Middle Eastern Student Commission.
Before becoming a political candidate, Khan worked for various nonprofit organizations throughout King County including OneAmerica Votes where she focused on promoting inclusion and diversity in politics and the media.
"I'm someone that's very comfortable with who I am," she said. "Being myself was never a question. By continuing to put my name and face out there, I want to help other South Asians feel comfortable with being themselves too."
Khan first thought about running for Redmond City Council in February. With four of the council's seven seats up for election in November, the 24-year old started attending council meetings to observe the interactions being had between council members and learn more about each's political perspective. After meeting with a few prospective candidates, Khan narrowed in on incumbent Hank Myers and sat down to meet with him to discuss her potential candidacy.
The meeting did not go well. Myers discouraged her from challenging him in the election, asked whether she had received her husband's permission to run for office, and told her he was better suited to represent Redmond's minority population, she said.
According to the U.S Census Bureau, 48% of Redmond's 67,600-person population is composed of people of color. For Khan, the lack of minority representation at city hall, along with her conversation with Myers, pushed her to officially launch her campaign in May.
"Redmond is a diverse city with a flourishing middle class," she said. "But half of its residents continue to be left out of political conversations. We need a voice that can advocate for the city's minority communities and I think I'm the right person to do that."
Khan's candidacy was not without controversy. As a woman who wears a hijab, she knew it was likely she would face racist and Islamophobic comments from the start of her campaign. Over the course of eight months, Khan was accused of being anti-Semitic and was asked whether she planned to bring Sharia Law to Redmond. On Twitter, strangers sent messages telling her to "take that towel off your head" and "go back to your country"—that homeland being Dallas.
Khan had a rocky start to the election. Following the release of the first round of votes by King County Elections on November 5, she trailed Myers by 651 votes. Three days and five rounds of election results later, Khan led Myers by 19 votes. For the rest of the month, Khan held on to a narrow lead, patiently waiting to surpass the threshold required for a recount and call the election in her favor.
She did not make it. After the November 26 certification deadline, Khan found herself one vote short of avoiding a machine recount. A week and a half passed before she finally heard the good news on December 6: she would become the newest Redmond City Council member.
As the start of her four-year term nears, Khan is eager to get to work. Among her priorities, she plans to promote sustainability on the council and introduce a Redmond-specific version of the Green New Deal. She wants to increase the density of housing units in Redmond and lower the existing income requirements needed to apply for affordable housing.
One month after the election process began, Khan recognizes the significance of her historic win. She hopes her story inspires other young people of color to run for office and to learn more about the electoral process.
"Our election was truly a civics lesson in why every vote counts," she said. "And for that, I'm grateful."
https://iexaminer.org/varisha-khan-makes-history-in-redmond-becoming-one-of-the-first-muslim-women-to-serve-office-in-washington-state/
------
Women's shelters serving immigrants open in Calgary and Edmonton
BY CAROLYN KURY DE CASTILLO
December 10, 2019
A women's transition home that helps meet the needs of immigrant families is now open in Calgary.
It's operated by Nisa Homes, which provides long-term shelters for immigrant, refugee and Muslim women who are homeless or at risk of becoming homeless.
The women staying in the rooms of the northwest Calgary home each have stories of trauma that most of us would have a hard time imagining.
"[One woman] was finally able to get the police involved, but at that time, he chose to leave her," said Saima Mafat, the Nisa Calgary house manager.
"So she literally had no status in Canada. She was pregnant at the time, and she went through a pregnancy and delivery at a shelter."
Mafat will never forget the young Muslim woman who stayed the home this summer who was abandoned by her family overseas and her husband in Canada.
"Her ex would threaten her with stuff like, 'Nobody's going to give you a job. No one will give you status here. You'll have to go back,'" Mafat recalled.
Nisa Homes operates six transition homes in Canada, including ones recently opened in Calgary and Edmonton. All are funded by a Muslim charity called the National Zakat Foundation.
"We really understand how these women need support. There's no one there to help them. And our community, we do need to step up," said Maria Arshad, an advisor to the board at the National Zakat Foundation.
Arshad said there has been a demand for services like Nisa Homes long before they opened in March 2019.
"Before we started, we had some clients who didn't leave their situation until we opened. So they waited for us to open," she said. "And they would call us, 'Are you open yet?'"
Arshad said there were gaps in the services provided by existing women's shelters. Often, they would lack the cultural or religious understanding to be able to serve the unique needs of immigrant and refugee women.
"Language may be an issue. They don't understand the systems. It's not just one single thing; it all adds up. And there are times when the family decides they don't want to support them through the transition. I think that adds to the challenge. It all compounds the problem."
The case workers at Nisa Homes speak Arabic and Urdu. Clients have told staff that being around people who understand them goes a long way in their healing process. They feel like they are not alone and they don't have to explain themselves.
Arshad said staying at Nisa Homes has made it easier for women escaping domestic abuse to focus on healing and moving past the difficult time in their lives.
As for the Calgary woman Mafat remembers so well, she's now back on her feet with the help of Nisa Homes case workers. Her two children are enrolled in preschool. She has her own place and a part-time job.
"To see the strength in this lady — it takes courage to go through this and to be able to get out of this," Mafat said.
https://globalnews.ca/news/6279947/womens-shelters-immigrant-calgary-edmonton/
------
Bangladesh film about girl surfer faces calls to be banned
Naimul Karim
DHAKA, Dec 10 (Thomson Reuters Foundation) - A film based on the life of Bangladesh's first popular female surfer is facing calls to be banned, accused of "hurting" religious sentiments in the conservative Muslim nation.
Supreme Court lawyer Huzzatul Islam issued a legal notice to the filmmakers and filed a petition in the High Court demanding authorities revoke the censor certificate of film "No Dorai" in Bangladesh where it is unusual for women to swim in public.
The film's producer, Mahboob Rahman, said the High Court has asked the filmmakers to justify by next month why the censor certificate should not be withdrawn, adding they would fight moves to close down the movie.
Released on Nov. 29, the much anticipated "No Dorai" tells the story of a poor girl named Ayesha who falls in love with surfing and takes up the sport in defiance to her conservative society that often pushes girls to marry early.
Rahman said he was surprised by the reaction to the film - the first in Bangladesh to focus on women surfers - that dealt with poverty as well as prejudice to women in the South Asian country.
"There is a group that wants women to stay indoors," Rahman told the Thomson Reuters Foundation, adding that he had also received threats online.
"Some people are saying that Ayesha wears a bikini in the movie and that this is against our religion. There is no such scene ... these people haven't watched the movie."
The row over the film started when Islam sent a legal notice to the filmmakers on Dec. 4 calling for the movie to be banned and said some scenes in the movie "hurt religious sentiments". He did not name specific scenes.
"We want the censor board to cancel the movie's certificate. We want the movie to be withdrawn and we also want the filmmakers to apologise," Islam told the Thomson Reuters Foundation.
Surfing is not a sport that is encouraged for women in conservative Bangladesh where more than half of girls end up getting married before they turn 18, according to the United Nations, even though child marriage is banned. Rahman said he came up with the idea of a movie about surfing in Bangladesh when he met Nasima Akter, a female surfer from the southern beach town of Cox's Bazar who received global media coverage after surfing better than her male peers.
Akter was made homeless at the age of seven and found hope in surfing in Cox's Bazar which boasts the world's longest uninterrupted sandy beach.
She was featured in a documentary by U.S. filmmaker Heather Kessinger, called "The Most Fearless: An Unexpected Surf Story", that was released around 2015 when Akter was about 18.
Rahman said Akter is now married with two children and rarely surfs.
"No Dorai", however, ends on a different note with Ayesha fighting back to continue surfing.
"In Bangladesh and many places, women are oppressed and not allowed to do what they like ... we gave a different ending and made the protagonist very strong so that she fights back and inspires more women," said Rahman. (Reporting by Naimul Karim @Naimonthefield; Editing by Belinda Goldsmith Please credit the Thomson Reuters Foundation, the charitable arm of Thomson Reuters, that covers humanitarian news, women's and LGBT+ rights, human trafficking, property rights, and climate change. Visit http://news.trust.org)
https://in.reuters.com/article/bangladesh-film-women/bangladesh-film-about-girl-surfer-faces-calls-to-be-banned-idINL8N28K4C6
------
Muslim community condemns racially aggravated attack on Sheffield schoolgirl
By Claire Lewis
Wednesday, 11th December 2019
Redana Al-Hadi, aged 14, from Upperthorpe, was travelling home with her sister and a group of friends from Silverdale School when she was attacked one week ago today.
The teenager was on a single decker bus bound for Ecclesfield when the attack, which was filmed on mobile phones and shared online, took place shortly after 4.30pm.
A woman became embroiled in a row with the schoolchildren and then violence erupted and spilled out onto Ecclesall Road.
At one point in the footage, which has gone viral, the woman can be seen on top of Redana as they are both on the ground.
Redana claims the argument initially started after a man on the bus began to mock the group's accents and because the girls were wearing a hijab.
Members of the Ahmadiyya Muslim Community at the Baitul Afiyat Mosque, Sheffield, have now spoken out about the incident.
Mr Aneeq ur Rehman, Imam of the Baitul Afiyat Mosque Sheffield on Sussex street, said: "It is deeply concerning to see anyone subjected to racism and prejudice, particularly school children.
"In this case, the violent racism and Islamophobia directed at this young girl was completely unacceptable and we condemn it outright.
"There is no rational reason for why someone would harbor such hatred for a simple piece of cloth or the colour of one's skin.
"Anyone who has read Islam's holy book, the Holy Qur'an, will know that the hijab represents a message of peace, compassion, empowerment and tolerance for all.
"slam is a religion of peace and teaches love, harmony and respect for all regardless of their colour, creed or nationality.
"In order to promote the beautiful teachings of Islam, the Ahmadiyya Muslim Community in Sheffield is regularly organising sharing a meal sessions with homeless people, visits to care homes and hospitals, as well as many other charity collection events and other activities.
"It is our ardent desire that through our mutual endeavours we will one day be able to live in a society where we celebrate one another and the positivity that we bring to this beautiful country."
South Yorkshire Police said the investigation into the incident is ongoing.
A 40-year-old woman, arrested at the scene, was given a caution for assault, while a 44-year-old man arrested over the incident remains on police bail.Anyone with information should call South Yorkshire Police on 101 and quote incident number 601 of December 4.
https://www.thestar.co.uk/news/crime/muslim-community-condemns-racially-aggravated-attack-sheffield-schoolgirl-1337983
------
URL: https://www.newageislam.com/islam-women-feminism/ameri-airlines-forces-woman-remove/d/120496
New Age Islam, Islam Online, Islamic Website, African Muslim News, Arab World News, South Asia News, Indian Muslim News, World Muslim News, Women in Islam, Islamic Feminism, Arab Women, Women In Arab, Islamophobia in America, Muslim Women in West, Islam Women and Feminism