New Age Islam News Bureau
3 Dec 2019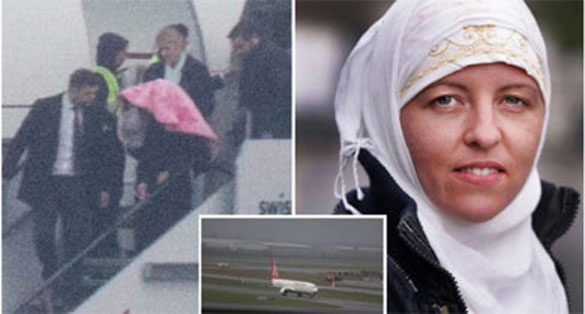 Jihadi bride Lisa Smith arrested over terrorist offences after arriving at Dublin Airport from Turkey with daughter
------
• Allow Men to Marry 2 Women to Reduce Adultery – Ghanaian Female Gospel Musician
• Islamic State bride: Who is Lisa Smith?
• In Death and Life, Lebanese Woman Shows Religious Law Fight
• Ex-Liverpool WAG 'Who Married Islamist Fighter' Charged With Funding Terror
• I Was a Shop Girl, and The Allegations At Mecca Are Not New Or Isolated
• Indian Supreme Court To Take Up Plea Against Polygamy, Nikah Halala Next Month
• Bindu Ammini Moves SC, Says Kerala Govt Must be ordered to Protect Women Trekking to Sabarimala
• Lisa Smith's Detention Extended As Solicitor Says She Has 'Strong Case'
Compiled By New Age Islam News Bureau
URL: https://www.newageislam.com/islam-women-feminism/allow-men-marry-2-women/d/120425
------
Allow men to marry 2 women to reduce adultery – Ghanaian female gospel musician
If this recommendation was made by a Muslim woman, it wouldn't be news but because no less a person than Stella Aba Seal is the one championing polygamy many people have been left shocked.
The popular gospel musician reportedly told Becky on E with Becks that if men were given the liberty to marry more than one woman, they would not be tempted to have extramarital affairs with other women.
''If a married man is responsible and I'm his first wife and he wants to marry [another wife] and he can take care of both of us...I don't have a problem with that,'' Stella Seal said.
"If you think you love the woman enough, do the needful or fix your marriage. I speak to ladies who tell me they have four to six boyfriends just because they don't know who will give them security," she added.
It is a bit difficult to decipher how polygamy will help reduce adultery.
https://www.pulse.com.gh/filla/allow-men-to-marry-2-women-to-reduce-adultery-ghanaian-female-gospel-musician/nvbv06l
------
Islamic State bride: Who is Lisa Smith?
2 December 2019
Former taoiseach (Irish prime minister) Bertie Ahern remembers Lisa Smith as a "lovely lady", who loved her job.
The 38-year-old, who has been arrested on suspicion of terrorist offences, was a soldier who worked on the Irish government jet.
She accompanied Mr Ahern and former president Mary McAleese on flights.
Originally from Dundalk in County Louth, Lisa Smith joined the Irish army and air corps after leaving school in 2000.
Eight years ago, in an interview with the Irish Independent newspaper, she described herself as a former party girl who drank too much on occasion, smoked cannabis and took ecstasy.
Her life had been turned around by converting to Islam, she said.
She married, but the marriage quickly broke down. It is understood she travelled to Syria in 2015, married a British fighter and had a baby daughter.
More recently, Ms Smith was living in a Kurdish-controlled refugee camp in Syria.
In an interview with the BBC recorded at the camp, she said she was not involved in fighting and denied training girls in the use of weapons.
She was deported from Turkey on Sunday morning.
Pink blanket
It is understood Irish government officials and members of the elite Irish Army Ranger Wing had been in Turkey for some weeks preparing for her return.
On Sunday, Ms Smith and her baby daughter arrived at Dublin Airport accompanied on a Turkish Airlines flight.
They were covered in a pink blanket and transferred to a waiting vehicle.
Gardaí (Irish police) say her child is being cared for by relatives.
Lisa Smith arrested after arriving back in Ireland
Irish woman in Syria 'has right' to return
Lisa Smith denies training girls to become fighters
Ms Smith is being questioned on suspicion of terrorist offences at Kevin Street Garda Station in Dublin.
Detectives have been interviewing her under caution about her activities, movements, communications and contacts online and in person in Africa, Europe, the Middle East and Ireland since she converted to Islam, RTE reported.
https://www.bbc.com/news/world-europe-50629420
------
In death and life, Lebanese woman shows religious law fight
BEIRUT — Nadyn Jouny's sister taped up two messages in her memory inside a closet at the family home — one of motherly love tinged with pain, another of defiance.
The first Jouny wrote to her 9-year-old son on the one day a week she was allowed to see him under a custody ruling by a Shiite religious court. "Peace be upon the holy nights when you fall asleep near me," she wrote. "Peace be upon the trace of love painted on your face and features ... This is my night."
That night, Oct. 4, would be her last with her son. Two days later, Jouny was killed in a car accident at age 29.
The second message, written by a relative, has a photo of a smiling Jouny with her son's arms wrapped around her neck. "They think your voice has disappeared. Nadyn, we are your voice; get some rest...we will fight for you," it declares.
In death as in life, Jouny — affectionately called Om Karam, Arabic for "mother of Karam" — has showcased the struggles of Lebanese women who are battling laws that give religious courts say over many aspects of their lives.
Lebanon allows its many religious sects to govern personal status issues in their communities, resulting in 15 different sets of laws over such things as rules for marriage, divorce and custody and visitation of children. In cases of divorce for Shiite Muslims like Jouny, the Shiite religious courts usually grant custody of children to the fathers at age two for sons and age seven for daughters. Jouny waged a campaign — online and in street protests — against the laws ever since she lost custody of her son and was given visitation rights of only 24 hours a week.
Supporters of the system say it reflects the country's plurality of faiths. Critics say it discriminates against women of all faiths and means women are treated differently based on their sect. For example, divorced Sunni mothers can keep sons and daughters until age 12.
"Women have really borne the brunt of the sectarian system of governance and we see that in the personal status laws," said Lama Fakih, Human Rights Watch Beirut office director. "These are egregious abuses that are resulting in violence against women, that are resulting in outcomes where children are not being taken care of by the parent that is most suited to take care of the child, where families are really not well served."
Multiple solutions and demands have been put forward: reform or oversight of the religious courts, an option of a civil system for those who don't want to use religious courts, or a unified civil personal status law for all.
Protests convulsing Lebanon for more than a month have given a new platform for those demanding change. The protests erupted over proposed new taxes and escalated into calls for the removal of Lebanon's entire political elite and its sectarian power-sharing system.
Zoya Rouhana of the feminist organization KAFA said the myriad of personal status laws is intertwined with sectarian politics.
"Unfortunately, this renaissance that we've witnessed and seen on the streets lately through the leadership of women ... is not reflected in the laws," she told a small group who had gathered to discuss a KAFA-proposed draft for a civil personal status law.
Jouny died just before the current protests. But her face or name have at times appeared on protesters' signs and banners. "The beautiful revolutionary ... Your soul is present here with us," read one. At a memorial marking 40 days since her death, candles spelling out her name in Arabic lit up a main Beirut protest square. "We cannot delay issues of women's rights ... Death does not wait," read a pin on her sister Nada's chest.
Badia Fahs, a 49-year-old who has turned out for the current round of protests, first met Jouny at a protest years ago. She remembers a young woman, her hair down, wearing — Fahs thought disapprovingly — too much red lipstick. Jouny was chanting, "Corruption, corruption, it's underneath the turbans," a controversial slogan she became known for, referring to allegations against some religious judges.
Fahs, who covers her hair with a scarf, said she was so amazed she broke into tears. "What a way to shatter taboos. I couldn't believe it," she said. "Even our men cannot talk like that."
"I would look at her and think here's this young girl who feels like she can change the world and she is not afraid — not of a sect or of clerics ... What am I lacking?" Fahs said.
Lawyer Fadia Hamzeh said she often hears criticism from her Shiite community that she is scandalizing them. She founded a Facebook page called "Revolution of a Shiite woman" to educate women about their rights in the Shiite courts, share their stories and let them know that "if you don't rebel, you won't get your rights."
"We opened the door. Most families are suffering from tragedies. I didn't create this," she said. "We must offer an example for other sects because just like we have injustices in religious courts, other sects do too."
Hamzeh was inspired by the ordeal of her sister, who made news in 2016 when she was arrested and held for a few days over her refusal to turn over her son to his father. Jouny, she said, was one of the people who helped her sister's case become public and led chants in a march to the police station where she was taken.
"Where are we headed when our mothers die feeling oppressed and when we are depriving our children of their mothers when they're still alive?" she said.
Sheikh Moussa al-Sammoury, a judge who sits on one of the Shiite courts, said, "Religious matters are not subject to street pressure. The issue has to do with God's satisfaction; God wants this or doesn't want this," adding, "The judge is not acting on a whim or on what he wants."
But, he said, he and his fellow judges have room to consider the children's best interest on a case-by-case basis. "If he's a bad father and is not to be trusted, we don't award him custody," he said.
Ahmad Taleb, a Shiite cleric, said the solution is to reform the rules of religious courts, noting that there is more than one opinion on the custody issue in Shiite jurisprudence. He supports raising the maternal custody age to at least seven while allowing judges to leave the kids with the mother longer when it's in their best interest.
"Religion in its essence is mercy, not plastic texts," he said. "People who are religiously devout, and I am one of them, demand change." He said failing to provide solutions within the religious context could drive people to look elsewhere. "Today in Lebanon, there are complaints about religious courts of all sects, Muslim and Christian."
Zeina Ibrahim, who founded a campaign to raise the age of maternal custody, said she supports the idea of a unified civil law for personal status but believes it is a "far dream." A more attainable goal, she said, is to raise the age to seven for boys and nine for girls.
She remembered Jouny, with whom she worked for years, as "extremely enthusiastic" and extremely "hurt."
In many of her photos, Jouny flashes a wide, seemingly carefree smile that belies the anguish her family says she kept private. "She would tell me, 'Mama, I'm burning from the inside. My son is getting older and I know nothing about him,'" her mother Majida said.
Married before she turned 19, Jouny's relations with her husband and in-laws soured early on. There was violence. Her sisters said they saw bruises. One day after a fight with her husband, she tried to leave only to have her husband and his mother yank Karam away, her family said. Her activism on the custody issue was born.
"She considered her cause one for all women," her father said. Her family said she advocated for many causes, including helping street children and refugees and campaigning against sexual harassment and the marriage of minors.
In the Beirut square where Jouny's family and friends gathered to commemorate her death, Zainab Kawtharani, 25, lit a candle. "Your cause is safe with us. We will continue till the end," she said she wanted to tell Jouny.
She then clutched a sign: "Your voice has been and will continue to be a revolution, Nadyn."
__
Associated Press religion coverage receives support from the Lilly Endowment through the Religion News Foundation. The AP is solely responsible for this content.
http://www.startribune.com/in-death-and-life-lebanese-woman-shows-religious-law-fight/565674912/
------
Ex-Liverpool WAG 'who married Islamist fighter' charged with funding terror
3 DEC 2019
An ex-Liverpool WAG and former beauty queen who reportedly dreamed of marrying an Islamist fighter has been accused of funding terrorism.
Amaani Noor, a former Miss Teen Great Britain finalist, is on trial for funding terrorism after she allegedly sent $45.51 (£35.18) to an Islamist organisation called Merciful Hands (MH), via Paypal, last year.
The 21-year-old, of Cinema Drive, Wavertree admitted sending the cash but denies that she knew or suspected it would be used for terrorist purposes.
A Liverpool Crown Court jury heard Noor had been introduced to MH by Victoria Webster, 28, of Nelson in east Lancashire, who earlier this year pleaded guilty to funding terrorism.
Webster sent Noor, who according to MailOnline previously dated a Liverpool winger, a message on the day the money was sent, suggesting "we must help" the family of a foreign fighter who had fallen on hard times.
The message said: "The father is a frontliner, and due to his circumstances and debts it's hard to keep food on the table."
Diana Wilson, prosecuting, told the jury that only a minute after sending the money Noor messaged Webster, saying: "So will it go to a brother who is a fighter or ex-fighter and has a family?"
Ms Wilson told the jury: "The Crown suggests that message is of some importance to your considerations."
She added: "The Crown, in this case, say that Amaani Noor knew or had reasonable cause to suspect that the money would or may be used to support people fighting against the Syrian government for a political or an ideological cause.
"The Crown say this because of her extensive messages showing interest in and support for extremist organisations.
"The fact that her husband is an Islamist Syrian fighter, her support for Sharia law, the context with her messages including the messages she has viewed on the Merciful Hands channel, the way the money was sent and the fact that immediately after sending the money she sent a message asking if the money will go to fighter or ex-fighter."
Ms Wilson added: "It is clear from the context that she did not think she was giving money to support Syrian government forces."
She then told the court that ISIS propaganda videos, several showing foreign terrorist fighters torturing, executing and beheading victims, were found on her phone.
Emails obtained after Noor was arrested in November last year show she had considered travelling to Syria to join her fighter husband, after having second thoughts.
One of the emails read: "It's been my dream to marry a fighter for a long time and my dream to be a fighter myself even longer lol."
Noor denies one count of terrorism fundraising.
https://www.dailystar.co.uk/news/latest-news/ex-wag-beauty-queen-who-21014114
------
I Was A Shop Girl, And The Allegations At Mecca Are Not New Or Isolated
Melissa Singer
Dec 03 2019
OPINION: Being both a journalist and someone with a history of working in fashion, I have seen the best and worst of what goes on in all-female workplaces.
So when I first heard rumours of allegations of bullying and discriminatory behaviour going on at Mecca, one of Australia and New Zealand's biggest beauty retailers, I was saddened but I wasn't exactly shocked.
My lack of surprise says more about what I know about retail than anything spurious about Mecca itself.
After all, the company has won several "great place to work" awards and I have always found my dealings with the people there, both as a customer and in my professional capacity, to be very positive.
And yet, when its boss, Jo Horgan, says just 0.2 per cent of Mecca's retail workforce had made a bullying complaint in the past two years, my initial reactions are: the only acceptable figure is 0.0 per cent; the true figure may be higher as people, especially women, are known to under-report workplace bullying; and, again, that I am not surprised.
After finishing high school in the late 1990s, I began working for a major fashion retailer part-time while I studied at university. In my three years there, I worked in at least five stores in two states, so I had a pretty good overview of the company's culture.
And bullying, or whatever euphemism you want to ascribe to it, was rife.
First, we worked in an environment where staff were incentivised to reach sales targets for the purpose of attaining bonuses, which resulted in highly individualistic behaviour, including the marking of territory and the interception of other colleagues.
As mostly casuals on award wages, a big sale could mean the difference between buying fresh food for the week, or living off $2 containers of boiled rice with satay sauce from the shop downstairs. And of course, we had to buy and wear the clothes to work in the store.
There was the silent treatment to the new girls, or the girls who were overly confident by the shop ringleaders. There was schadenfreude at sales gone begging, and a pecking order when it came to who did which cleaning chore at the start and end of the day.
In saying all that, we still had fun and I loved my time working there.
It's still possible to be bullied and enjoy your work. The thrill of a big sale, or an interaction with a customer who would return to say the suit I helped her buy got her that job or second date was a balm for my sometimes rattled soul.
I don't think I ever reported the incidents and just sucked it up, accepted it was part of the privilege of working there.
Unfortunately many major retailers, quite probably Mecca included, subsist on a culture of "you are lucky to be here", which often suppresses people's willingness to speak up when things go wrong.
But painting Mecca as the devil incarnate of Australian retail is wrong, and will not fix the endemic issue of bullying across a range of industries, from fashion to food. I was a shopgirl for more than three years and I can tell you that nothing contained in the allegations against Mecca is surprising or new, especially in workplaces dominated by young, majority female and often under-trained staff when it comes to conflict management and resolution.
Still, the fact the allegations have come to light shows that in 2019, as opposed to 1998, people are less willing to shut up and take it when it comes to unacceptable workplace behaviour. Social media, #MeToo and a host of other global developments mean that, thankfully, times are changing.
Mecca is not the first workplace to be tarred with allegations of bullying but hopefully, if its pledge to do better is to be believed, it might set a course for others to follow, before things escalate to the point where people experience lasting trauma. https://www.stuff.co.nz/life-style/beauty/117904510/i-was-a-shopgirl-and-the-allegations-at-mecca-are-not-new-or-isolated
------
Indian Supreme Court To Take Up Plea Against Polygamy, Nikah Halala Next Month
Dec 02, 2019
Murali Krishnan
New Delhi
A petition challenging the practices of polygamy and nikah halala prevalent in Muslim community will be heard by Supreme Court early next year. A bench headed by Chief Justice of India SA Bobde agreed to list the matter immediately after winter break when it was mentioned by petitioner Ashwini Kumar Upadhyay on Monday.
While the practice of polygamy is outlawed in India, an exemption has been made for the Muslim community under the Muslim Personal Law (Shariat) Application Act, 1937.
The Act provides for application of Muslim personal law in matters relating to marriage, succession etc among Muslim parties.
Similarly, the practice of nikah halala is also permitted. As per this practice, once a Muslim woman has been divorced, her husband is not permitted to take her back even if he had pronounced talaq under influence of any intoxicant, unless his wife undergoes Nikah-Halala, which involves her marriage with another man, who subsequently divorces her so that her previous husband can re-marry her.
The petitioner submitted that religious leaders, imams, maulvis, who propagate and support and authorize practices like nikah halala and polygamy are grossly misusing their position, influence and power to subject Muslim women. These practices which treat women as property violating their fundamental rights enshrined in Articles 14, 15 and 21 of the Constitution, it has been argued.
"It is submitted that the failure to secure the same equal rights and life of dignity for Muslim women violates their most basic human and fundamental right to life of dignity unmarred by gender discrimination, which in turn have a critical impact on their social and economic rights to say the least", the petition states.
Upadhyay submitted that polygamy violates Section 494 of Indian Penal Code which prohibits bigamy and nikah halala amounts to rape under Section 375 of IPC.
When the matter was mentioned today, Justice Bobde queried on the antiquity of the practice asking whether it has been practised for over 1,000 years.
He then said that it will be listed immediately after (winter) vacation. Supreme Court closes on December 19 and reopens on January 6.
https://www.hindustantimes.com/india-news/supreme-court-to-take-up-plea-against-polygamy-nikah-halala-next-month/story-PMbwW9YLJYnZxS5AKuLqxI.html
------
Bindu Ammini Moves SC, Says Kerala Govt Must be Ordered to Protect Women Trekking to Sabarimala
December 2, 2019
New Delhi: Activist Bindhu Ammini, one of the two women who visited the Sabarimala temple last year, on Monday moved the Supreme Court seeking safe passage for all women to visit the shrine regardless of age or religion.
In her petition, Ammini has said that the Supreme Court, while deciding to review its 2018 judgment allowing women of all ages to enter the temple had not ordered any stay, and hence, Kerala government must give protection to all women trekking to Sabarimala.
Ammini, along with another woman named Kanaka Durga, had entered the hill shrine on January 2 this year post the Supreme Court order in September 2018 allowing women of menstruating ages to offer prayers in the temple. The women were escorted by the police.
However, the Kerala government has changed its stance on facilitating women entry considerably since the Supreme Court on November 14 decided that a larger seven-judge bench should decide the matter, along with issues of other faiths such as Muslim women's entry to mosques and cases female genital mutilation in the Dawoodi Bohra community.
Despite the top court not ordering a stay, the Kerala Police has said it will not give protection to any woman unless the court asks them to.
She was also attacked with chili powder on November 26 while she was on her way to the shrine along with Pune-based activist Trupti Desai.
She had slammed the Kerala government for not giving police protection and shirking duty under the pretext that there was lack of clarity in the SC judgment, at a press conference on Sunday.
"There is no lack of clarity in the recent ruling. Those who have lack of clarity should seek clarity. Instead, the government is trying to escape from the responsibility. All political parties are trying to make political mileage out of the Sabarimala issue, eyeing on their respective vote banks," she said.
https://www.news18.com/news/india/bindu-ammini-moves-sc-says-kerala-govt-must-be-ordered-to-protect-women-trekking-to-sabarimala-2408773.html
------
Lisa Smith's detention extended as solicitor says she has 'strong case'
Mon, Dec 2, 2019
Former Defence Forces member Lisa Smith is being questioned for a further 24 hours at a Dublin Garda station as part of the criminal investigation into suspected terrorist offenses abroad.
The woman (38) is being held at Kevin Street station following her arrest on Sunday after her return to Ireland on a Turkish Airlines flight from Istanbul along with her daughter (2).
Her period of detention was extended by a Garda superintendent on Monday morning. Ms Smith, who is originally from Dundalk, Co Louth, can be questioned for up to 72 hours before being released or charged.
The Co Louth woman's solicitor, Darragh Mackin of Belfast-based Phoenix Law, said that "no evidence of any kind" linking her to a terrorist offence had been put to Ms Smith in questioning. His client had a "strong case" to make in arguing that she was a member of Islamic State but not directly involved in terror organisation Isis.
The Dundalk woman is being asked by Special Branch counterterrorism detectives about her movements, activities and communications in Europe, Africa and the Middle East since she converted to Islam about a decade ago.
The investigation has drawn on information about her movements from foreign intelligence services.
Any prosecution, should one arise, will likely rely on legislation that has so far been untested in prosecuting individuals suspected of terrorist offences overseas.
Gardaí are investigating whether Ms Smith engaged in terrorist recruitment or training, offences which carry a a sentence of up to 10 years.
Unlawful organisation
The most likely charge, if the Director of Public Prosecutions decides to prosecute, is membership of an unlawful organisation, which carries a maximum sentence of seven years.
Mr Mackin sought to distinguish between Ms Smith's travelling to Syria in 2015 to live in the Islamic State "caliphate" covering parts of Iraq and Syria declared by the terror group, also known as Isis, and any role with the group itself.
"It is not an offence in itself to travel for innocent purposes. Lisa has consistently denied and refuted any allegation that she was involved in terrorist activity or terrorism generally," he said.
Prosecutors are likely to rely on media interviews Ms Smith gave to RTÉ, CNN and other media outlets as evidence of membership of the organisation.
Mr Mackin claimed Ms Smith was being subject to "trial by media" in being accused of terrorist offences because of media interviews she gave while being held in a camp in the war-torn country.
The solicitor argued that there was a "complex religious and political backdrop" to the meaning of term Islamic State and in particular what is known as the caliphate to some Muslims.
'Euphoric land'
"There is a view that the caliphate or the Islamic State is a euphoric land to which you are obliged to commit yourself to and that if you refuse to take the opportunity to go to the euphoric place, that if you die before then, that you will live a very unhappy afterlife," he said.
This message was relayed to Ms Smith, he said. He portrayed her as a victim of radicalisation "where we see these very dangerous people deliberately taking steps to try and lure vulnerable Muslim women to certain areas".
He stressed that he had co-operated with the investigations into her. He pointed out that Ms Smith had publicly denounced Isis, which, he said, was "itself a very dangerous thing to do".
"As it stands, Lisa has given a clear account to the Turkish authorities, to the FBI and is now giving a clear account to the Garda," he said.
https://www.irishtimes.com/news/crime-and-law/lisa-smith-s-detention-extended-as-solicitor-says-she-has-strong-case-1.4101773
------
URL: https://www.newageislam.com/islam-women-feminism/allow-men-marry-2-women/d/120425
New Age Islam, Islam Online, Islamic Website, African Muslim News, Arab World News, South Asia News, Indian Muslim News, World Muslim News, Women in Islam, Islamic Feminism, Arab Women, Women In Arab, Islamophobia in America, Muslim Women in West, Islam Women and Feminism