New Age Islam News Bureau
17 Jan 2014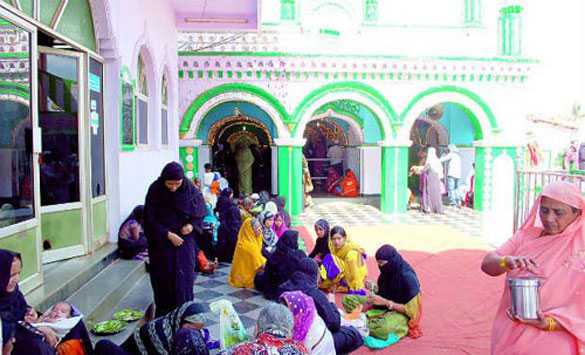 Muslim women taking part in the 2 day fair
--------------
• Woman from Gujarat Travels to Pakistan with Fake Passport to Meet 'Lover'
• Jakarta Sex Worker Implicated in Pakistan-Linked Heroin Syndicate
• Two Women Arrested In Britain on Terror Grounds
• The Law, Patriarchy and Religious Fundamentalism: Women's Rights in Pakistan
• Turkey: Jail Sought Over 'Woman in Red' Police Case
• 'Special Legislation Required To Prevent Acid Attacks', In Pakistan
• Ayesha Jaafari Feels At Home as the First Saudi Female Flight Dispatcher
• At 100, She Dreams Of Returning To Syria
Compiled by New Age Islam News Bureau
URL: https://www.newageislam.com/islam,-women-and-feminism/new-age-islam-news-bureau/all-women-event-at-aasar-shariff-dargah,-hubli,-west-bengal/d/35324
------------
All Women Event at Aasar Shariff Dargah, Hubli, Karnataka
Jan 17 2014
Hubli: The day after Milad-un-Nabi, the birthday of Prophet Muhammad, sees the Aasar Shariff Dargah in Aasar Mohalla here crowded with Muslim women, who arrive here from different parts of the country for its two day annual fair.
With men barred from entering the Dargah during the two- day fair that has been organised for over a century here, thousands of Burqa-clad women converged on it on Wednesday with their children.
After viewing the 2.5-inch hair from the beard of the prophet preserved in a box at the Dargah and offering prayers for peace and prosperity, the women got down to enjoying the fair, believing that their wishes would be fulfilled following their visit to this holy place. Many offer sweets and pray for the marriage of their children on the occasion.
The hair from the prophet's beard, which is said to have been brought here from Mecca more than a century ago, has turned the Dargah into a major pilgrimage centre of North Karnataka.
While men regularly visit it all through the year, come the day after Milad-un-Nabi and they respectfully stay away from it, making way for their women to enter it for the fair in its grounds.
"Women and children enjoy the fair while the men stay away from the Dargah. There has been a considerable increase in the number of pilgrims arriving here every year as Muslim women use this opportunity to the fullest," said Hubli-Dharwad Municipal Corporation councillor, Altaf Kittur.
The Dargah, with a mosque beside it , has also become a symbol of communal harmony as Hindu women too take part in the fair along with their Muslim friends.
http://www.deccanchronicle.com/140116/news-current-affairs/article/all-women-event-aasar-shariff-dargah
------------
Woman from Gujarat travels to Pakistan with fake passport to meet 'lover'
PTI | Jan 17, 2014
LAHORE: An Indian woman was deported from the airport here when she flew in from Doha using a fake Pakistani passport to meet a man she had fallen in love with after meeting on a social networking website.
Nagita Ramesh, who is in her twenties and hails from Gujarat state, arrived at Lahore international airport from Doha yesterday to meet Azhar, a resident of Multan city in Punjab province.
"She had come in an early morning flight. We detained her after checking her documents and eventually deported her back to Doha," an immigration official told PTI.
She told investigation officers that she "fell in love" with Azhar after interacting with him on social media. She also said she had converted to Islam.
The passport she was travelling with identified her as Nimra.
Investigators also interrogated Azhar, who had come to the airport to receive her, before allowing him to return to Multan.
Asked why the woman was not arrested, the immigration official said, "As per the law, we cannot arrest her. We deport all persons who come in with fake papers."
Indian officials in Islamabad said they were yet to be officially informed about the matter.
http://timesofindia.indiatimes.com/world/pakistan/Woman-from-Gujarat-travels-to-Pakistan-with-fake-passport-to-meet-lover/articleshow/28956033.cms
-----------
Jakarta Sex Worker Implicated in Pakistan-Linked Heroin Syndicate
17 January 2014
A sex worker, an ojek (motorcycle taxi) driver and a Pakistani national have been named suspects over their alleged involvement in an international syndicate that smuggled heroin from Pakistan to Indonesia.
Indonesia's National Narcotics Agency (BNN) first arrested the Pakistani man, identified only as S.U.K. or Umar, leading to the arrests of R.L., a 43-year-old female sex worker based in Jakarta and an ojek driver she often hired, identified only as Tr., 50.
"S.U.K. confessed to having been ordered by a friend in Pakistan to accept a bag containing narcotics from another Pakistani man who he did not know at Soekarno-Hatta Airport," said BNN spokesman Sumirat Dwiyanto. "After which he was told to hand over the narcotics to another courier: [Tr.]."
Sumirat said S.U.K. was arrested at Novotel Mangga Dua Hotel in North Jakarta on Jan. 8 after delivering a bag containing 1.5 kilograms of heroin and 942 grams of crystal methamphetamine to Tr., who was arrested a day later in Beji, Depok, south of Jakarta. R.L. was arrested shortly thereafter at a third location.
Tr. said he had received an order from R.L. to retrieve a package of drugs from Umar, according to the BNN.
"For now we suspect R.L. of controlling the narcotics syndicate," Sumirat said. "She had been communicating directly with someone in Pakistan, who assigned Umar to deliver the items."
Sumirat added this was not the first time Umar, who ran a small spare parts business in Pakistan, smuggled heroin into Indonesia. He did it for the first time midway through last year and said he was paid about Rp 12 million ($990) for each delivery.
"He arrived back in Jakarta on January 8 after stopping over in Thailand," Sumirat said.
All three suspects could face the death penalty under Indonesian law.
Over the past few years, Indonesia has seen fewer cases of heroin smuggling in comparison to crystal meth smuggling, according to Sumirat.
He said that heroin smuggled into the country mostly came from Iran, Afghanistan and Pakistan, among other places.
The BNN said it was working with the Pakistani Embassy in Jakarta and Pakistan's anti-narcotics agency to unravel the drug syndicate further.
http://www.thejakartaglobe.com/news/jakarta-sex-worker-implicated-in-pakistan-linked-heroin-syndicate/
-----------
Two women arrested in Britain on terror grounds
January 17, 2014
LONDON: British police arrested two women on Thursday on suspicion of terror offences, including one who was about to catch a flight to Istanbul, Scotland Yard said.
Counter-terror police arrested the women aged 26 and 27 "on suspicion of being involved in the commission, preparation and instigation of acts of terrorism", London's police headquarters said. A Scotland Yard spokeswoman would not comment on whether the arrests were in connection with foreign fighters travelling to fight in Syria, across the border from Turkey.
Officers "acting on intelligence" stopped the 26-year-old at London Heathrow Airport's Terminal 5 as she was preparing to catch a flight to Istanbul, the force said in a statement.
A large quantity of cash was also seized, police said.
The 27-year-old woman was arrested several hours later at a house in northwest London.
The pair remain in custody and detectives are searching two premises in London.
"Both arrests were intelligence-led and not in response to any immediate threat or risk," the police statement said.
British police have arrested a number of people under anti-terror laws in recent months on suspicion of going to Syria to fight with jihadi groups.
Two men arrested on Monday at Heathrow on suspicion of terror offences after arriving on a flight from Istanbul remain in custody.
http://www.nation.com.pk/international/17-Jan-2014/two-women-arrested-in-britain-on-terror-grounds
------------
The Law, Patriarchy and Religious Fundamentalism: Women's Rights in Pakistan
Jan 17 2014
The women of Pakistan bear the brunt of poor governance, military strife, and the corruption of the social, political and economic systems which surround them. W omen make up 49% of the population of Pakistan, yet they are continuously marginalized and discriminated against by the middle class and feudal societies, and through political and social structures which are inherently misogynistic. Recently, eruptions of violence in cities across the region have prompted new concerns that militia are specifically targeting women in their terror campaigns.
As an explicitly Muslim state, the women of Pakistan are beholden to a number of Islamic principles. For one, the family is seen as the nucleus of society, the fundamental building block from which the rest of society emerges and evolves. Women are seen to be responsible for maintaining the sanctity of the family, and are thus those who are most likely to disrupt this sanctity. As such, the woman becomes the lynch pin of an ordered society; it is on her back that responsibility and power lies, both for her family and by extension, for all of society. While the violence against women enacted in this society occurs for manifold reasons, it seems that this understanding of women as both the lynch pin and the one with the power to unravel society, is a contributing factor to the continual mistreatment of women in Pakistan.
Violence against women is seen to be of no importance to the judiciary of Pakistan, particularly the lower judiciary. Women face numerous types of violence perpetuated by the state and its agents, including rape, gang rape, torture, registration of false cases of adultery, honour killing, Jirga (an illegal, parallel judicial system for the exchange of minor girls in land disputes,) burying alive or putting before dogs, acid throwing, no free choice of marriages, restriction of freedom of movement and expression, domestic violence, sexual harassment at the workplace, snatching of children, forcing conversion to Islam, blasphemy, deprivation of property rights, disappearance after arrest and being used as sex slaves in military torture cells.
The main causes of this violence stem from a lack of proper investigative mechanisms by the police, and the presence of a strong feudal system, which contribute to the ultimate failure of the judicial system. In the urban centers of the country, the judiciary is indirectly under pressure from the landed aristocracy, as in the case of rural areas where there is no question of women getting relief (not even bail after arrest) from the lower judiciary.
In the past years, the Pakistan Desk at the Asian Human Rights Commission (AHRC) has broadly worked on the problem of violence and other forms of violation of fundamental human rights suffered by women in the country.
Several cases of gender-based violence and discrimination have become urgent appeals and have been also brought to the attention of authorities in Pakistan and relevant United Nations' Special Rapporteurs as well as the UN Human Rights Council.
The Pakistan desk of AHRC has come out with the book, The Law, Patriarchy and Religious Fundamentalism: Women's Rights in Pakistan which was based on the research conducted by Liliana Corrieri and cases worked by the AHRC.
Due to her interest in gender issues, Liliana was asked if a piece of work on women's rights in Pakistan could interest her. She was very happy to accept this assignment and throughout the process of researching and writing she proved solid dedication and firm commitment. It was a challenging task for her, considering the harshness of the cases under consideration and her Italian roots, which entail a profoundly different mindset in its understanding of human interactions and a diverse set of social norms and cultural practices.
Her unrelated background, though, could guarantee a very analytical approach and an objective analysis of those serious levels of inequality which affect women in Pakistan and translate into the disrespect they suffer from a legal, civil, social and economic perspective. In her work, Liliana explored the recent history of Pakistan, the several abuses beared by Pakistani women of all ages and the way such crimes continue to be perpetuated and condoned in the name of customs, tradition and religion. Her analysis also covered the prosecution and judicial systems operating in the country, as two fundamental state apparatuses whose inefficiency and gender-bias further bear upon any form of remedy women may hope for.
This book should not be seen as a throughout and comprehensive analysis of the status of women in Pakistan. It wants to offer an investigation based on the cases documented by the AHRC and a sincere interrogation of mindsets, attitudes and practices.
http://www.humanrights.asia/resources/books/AHRC-PUB-005-2013
------------
Turkey: Jail sought over 'woman in red' police case
Jan 17 2014
Turkish prosecutors want a policeman to go to jail for three years for tear-gassing a protester who became known as the "woman in red", reports say.
Fatih Zengin is accused of using excessive force against Ceyda Sungur, who was standing a short distance away and not behaving aggressively.
Ms Sungur became a symbol of last summer's anti-government protests after images of the attack went viral.
At least six people died and thousands were hurt in a government crackdown.
The prosecutors want Mr Zengin's dismissal and a prison sentence on the grounds that no warning was issued prior to the incident, Turkish news agencies reported.
Reuters photographer
The protests began as a peaceful demonstration against plans to redevelop Istanbul's Gezi park - one of the last green spaces in the city.
But they escalated into an unprecedented show of defiance against Prime Minister Recep Tayyip Erdogan and his government after a heavy-handed police operation to clear the site.
Ms Sungur, an academic at Istanbul's Technical University who was wearing the red dress, had gone to join the protests but found herself in front of a line of riot police.
One of them bent down and fired tear gas at her, leaving her gasping for breath.
Reuters photographer Osman Orsal captured the moment, and the images soon went viral on social media, in cartoons and as stickers and posters used by other protesters.
http://www.bbc.co.uk/news/world-europe-25754437
------------
'Special Legislation Required To Prevent Acid Attacks', In Pakistan
Jan 17 2014
LAHORE: Acid attacks are a heinous crime and special legislation is required to prevent such incidents, Adviser to the Chief Minister on Health Khwaja Salman Rafique said on Wednesday.
Rafique was at an event marking the success of Depilex Smile Again Foundation's (DSF) Women Empowerment Project that rehabilitates domestic violence victims. He said the rising cases of domestic violence against women were a cause for concern.
"Acid attacks are now not just limited to women. We have seen cases in which acid has also been thrown on men. Special legislation aimed at holding the culprits accountable is required," he added.
Rafique said that women empowerment was a priority for the government. The government's decision to establish 14 daycare centres in the Punjab to support working mothers reflected this commitment, he said.
photo 8_zpsce360372.jpg
Awais-e-Siraj, the Genzee Solutions Pvt Ltd CEO, gave a presentation on the financial and economic aspects of women's empowerment.
Dr Zahra Ahmed, a doctor at CMH Lahore Medical and Dental College, shared her views on the psychological support that had been provided to acid victims through workshops conducted last year. "As many as 30 victims were treated by the DSF in 2013. The victims underwent reconstructive surgeries along with medical, financial, psychological, moral and vocational support. DSF also facilitated job placement for these rehabilitated individuals," she added.
DSF President Musarrat Misbah said the DSF was registered with 12 hospitals across Pakistan for OPDs, referrals and surgeries. Through efforts made by the DSF and its partner civil society organizations, she said, laws to protect women from domestic violence and acid burn crimes had been passed. She said the DSF was now building a pressure group for strict implementation of these laws.
Rehabilitated acid victims attended the event and spoke about how they had managed to acquire skills through the support of DSF.
http://tribune.com.pk/story/659358/women-empowerment-special-legislation-required-to-prevent-acid-attacks/
------------
Ayesha Jaafari feels at home as the first Saudi female flight dispatcher
Jan 17 2014
Captain Ayesha Jaafari, the first Saudi woman to obtained a flight dispatcher license, enjoys working her work even though her duties are tough. A graduate of geography from the University of Tabuk, she is now completing her master's in public relations.
In a recent chat with Al-Watan Arabic daily, Jaafari opened up and shared her experiences in her challenging career path.
"I pursued the aviation track despite knowing it to be a tough one and there are not any Saudi women in the field. I consulted some male relatives working in the aviation sector about joining the course. I don't think that there is anybody who does not love aviation and driving. Every profession has its own stresses and responsibilities," she said.
As a geography major in the college, Jaafari said she found much of the coursework to be easy and even encouraged other women with backgrounds in geography to consider a career path in aviation.
"At the beginning of the course, I was surprised to see that the course mainly deals with subjects such as geography, weather conditions, and direction of winds. As I had studied all aspects of geography, it helped me a lot. I would recommend that all women graduates in geography acquire English proficiency and join an aviation course to become a flight dispatcher."
Referring to the media attention she has received, Jaafari said that she never expected that it would create such a big deal. "Twenty-three newspapers and news agencies, including Agence France Presse, followed my choice of profession. Such a specialization by a woman is rare, not only in the Kingdom but in the Gulf region as a whole. We have aviation companies which need women staffers in the flight dispatching sector," she said while refuting the general notion that the profession is only fit for men.
On the major hurdles she faced, Jaafari said: "The aviation language is different from others. The letters will be read in a way different from the normal pattern. The toughest thing that I encountered in the profession was to learn the language used by the flight crew and those working in the aviation sector."
Jaafari said that it is a highly suitable job for Saudi women as they need not mingle with men at workplace. "A flight dispatcher or flight planner must have thorough knowledge about all matters pertaining to aviation and flight, plus an excellent voice and outstanding communication capabilities."
She said she had been getting job offers from aviation companies outside the Kingdom. "I received offers but declined to leave the Kingdom at least for the time being. Perhaps, I will think about it in the future. I may accept such offers as they would give me more experience and expertise. However, that would be for a limited period of time and then I will return to the Kingdom."
Jaafari said the credit for her success story as a flight dispatcher goes to her father. "He never created any hurdles. In the beginning, he objected to me doing the aviation course and that was because he thought the subject was tough."
http://www.saudigazette.com.sa/index.cfm?method=home.regcon&contentid=20140117192788
------------
At 100, she dreams of returning to Syria
Jan 17 2014
SIDON, Lebanon — Hallum Al-Amin has just marked her 100th birthday, but the celebration took place far from her home in Syria, which she fled last year to become a refugee in Lebanon.
"I'm afraid I'm going to die outside my homeland," she told AFP a few days after celebrating her landmark birthday, in a village near the southern Lebanese town of Tyre.
"I'm waiting for the hour when we'll return to Syria," she adds. "Home is precious."
Age has robbed her of some of her hearing, and Amin is almost bent in half with age, but her memory is undiminished and she can recall the names of all 13 of her grandchildren.
She works with some of them to feed wood into a stove, which the family gathers around for warmth.
"It would have been better for me to stay in the village, despite what was happening and the poverty there," she says.
"I'm afraid of dying far from my land, my heart is here with my children, but my mind is there, in Kansafra, in Idlib," she adds.
Idlib, in northwest Syria, is among the provinces most affected by the country's conflict, which has killed more than 130,000 people since March 2011.
Amin was so reluctant to leave that at first her family went to Lebanon without her. But eventually they persuaded her to join them.
"It's true that I'm happy to be with my children and grandchildren, but my joy will be even greater when I go back to Syria," she says.
More than 860,000 Syrian refugees have fled the conflict in their country for Lebanon since the war began in March 2011, according to official UN figures, though the number is likely much higher.
Amin receives visitors seated in the corner of one of the rooms of the family's modest home.
It has two large rooms, a sitting room and a kitchen, and is sparsely furnished, with just a few basic items to meet the family's needs.
"We were desperate to get her out of Kansafra because the situation there became incredibly dangerous," says 25-year-old Ahmed Al-Ahmed, one of her grandchildren.
"It's our duty to protect our grandmother and we love to have her here with us and give her a little of the tenderness that she has given us." Amin doesn't know her exact birthday, only that she was born in 1914.
The UN refugee agency UNHCR gave her a Jan. 1 birthday and she marked her 100th year at the beginning of 2014.
"This long life is culminating with an story of displacement," says Ahmed. "We hope it won't last long."
"Grandma always asks us: why did you bring me with you here? Is it worth it to live longer? I'm 100 years old." Amin makes no secret of her desire to return home. "I left the land that I was born in and that I lived in for 100 years," she says. "Isn't that much more precious than what's left of my life?"
http://www.saudigazette.com.sa/index.cfm?method=home.regcon&contentid=20140117192758
------------
URL: https://www.newageislam.com/islam,-women-and-feminism/new-age-islam-news-bureau/all-women-event-at-aasar-shariff-dargah,-hubli,-karnataka/d/35324