New Age Islam News Bureau
17 Apr 2016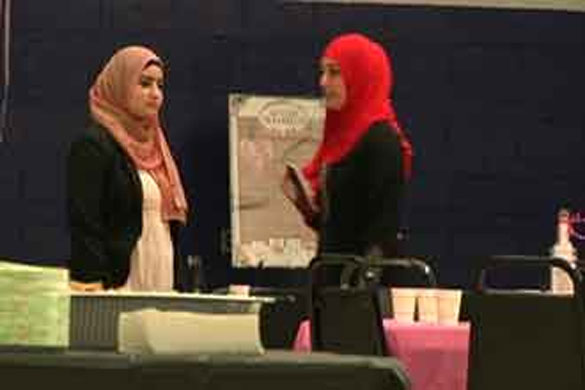 Photo: Rockford women gather for 11th annual women in Islam event
---------
• Rockford Women Gather for 11th Annual Women in Islam Event
• Rape and Brutal Murder of 6-Year-Old Afghan Girl in Iran Sparks Anger
• Southwest Air Kicks Muslim Woman off Plane for Switching Seats
• Saudi Arabia Welcomes 400 Women into Islam
Compiled by New Age Islam News Bureau
URL: https://newageislam.com/islam,-women-and-feminism/new-age-islam-news-bureau/all-india-muslim-personal-law-board-takes-up-muslim-women-s-rights/d/107014
---------
All India Muslim Personal Law Board Takes Up Muslim Women's Rights
TNN | Apr 17, 2016
Lucknow: The All India Muslim Personal Law Board on Saturday decided to depute its six women members to create awareness about rights of Muslim women enshrined in the Shariyat (Islamic jurisprudence). The Board members, who met at Nadwatul Ulama on Saturday, also directed women members to ensure concerns related to women's rights as per Shariyat were brought to the Board.
The move comes at a time when a nation-wide debate rages over rights of Muslim women on issues like the triple-talaq. The Board also discussed concerns over fundamentalists trying to wedge a rift between various sects of Islam.
Taking up the issue of adequate representation of Muslims in pending court cases, Hyderabad MP Asaduddin Owaisi proposed that best lawyers be hired to represent petitions related to the Shariyat. A unanimous decision was also taken against allowing any government interference in matters relating to Muslim personal law.
AIMPLB president Maulana Rabe Hasan Nadvi, vice president and top Shia cleric Kalbe Sadiq and all 36 members of the executive committee of the law board, including Zafaryab Jilani and Maulana Khalid Rashid Firangi Mahali were also present. Maulana Wali Rahmani was appointed general secretary of AIPLMB following death of the previous incumbent.
timesofindia.indiatimes.com/city/lucknow/AIMPLB-takes-up-Muslim-womens-rights/articleshow/51860145.cms
--------
Rockford Women Gather for 11th Annual Women in Islam Event
Apr 17, 2016
"This event primarily is to invite members of the community in, who may have driven by the mosque, may have heard a little bit about Islam, and who are curious," Muslim Association of Greater Rockford Member Lamis Diab said.
Rockford resident Lamis Diab said it's that curiosity that brings women of many different religions together this weekend. The Muslim Association of Greater Rockford puts on the event, which organizers said is meant to discuss misconceptions about being Muslim.
"People are speaking using hate speech to unite the country," event participant Isha Shaheem said. "Its very dangerous and so for me I would love dialogue."
The religion of Islam, which is what Muslims practice has sparked conversations across our nation even as a topic that presidential candidates discuss.
"Especially with the elections," Diab said. "Its getting a lot of publicity."
Local Muslims said the more publicity the more rumors there are to dispel. Also many misconceptions stem from extremists like, Isis.
"Isis has nothing with Islam," Diab said. "There are isolated incidents all over the world that happen every day where people use the name of religion for their own agenda."
Its a group responsible for deadly attacks worldwide.
"Most Muslims are just perplexed of how are they saying this message of hate, how are they saying this message of violence because we are not allowed to harm anyone," Guest Speaker Lisa Killinger said.
This event starts an important conversation about topics like violence education even items of clothing.
"They see me wearing my scarf and they automatically assume I'm oppressed, I was forced, I'm uneducated I cannot speak English, and if I do speak English I have an accent," Isha Shaheem said.
Local Muslim women hope this event brings people together respecting each other's differences and sharing similarities.
"I think its important to remember that the religion, that the foundation of every religion is peace," Diab said.
wrex.com/story/31744459/2016/04/17/rockford-women-gather-for-11th-annual-women-in-islam-event
-------
Rape and Brutal Murder of 6-Year-Old Afghan Girl in Iran Sparks Anger
By KHAAMA PRESS - Sun Apr 17 2016
A horrific report has emerged from Iran regarding the brutal murder of a 6-year-old Afghan girl who was initially raped by a teenage Iranian.
The brutal murder of the girl, Setayish Quraishi, has sparked anger both in Afghanistan and outside, with the local media reports in Iran saying the perpetrator was a 17-year-old Iranian national.
The reports further added that the incident took place in Khairabad area in Veramin city in the outskirts of Tehran, the provincial capital of Iran.
According to the reports, the girl was initially abducted and was raped by the teenager Iranian who then murdered by stabbing her to death.
The girl was also burnt with acid in a bid to hide the brutal rape and murder incident, the reports said, adding that the perpetrator attempted to burn the victim after his friend denied to help him.
He was arrested by police after reports regarding the brutal murder and rape of the girl spread in the society.
According to the semi-official Fars News Agency, a number of high level officials, including the Afghan ambassador to Iran have visited the family of the victim to offer condolences regarding the horrific incident.
The father of the victim has been reported to be a labourer who migrated to Iran nearly 16 years ago. He has demanded the authorities to serve justice and hang the perpetrator for the brutal murder of his daughter.
khaama.com/rape-and-brutal-murder-of-6-year-old-afghan-girl-in-iran-sparks-anger-0683
-------
Southwest Air Kicks Muslim Woman off Plane for Switching Seats
16 April 2016
A Southwest Air flight attendant ordered the removal of a woman of Somali descent in a headscarf from a Chicago-Seattle flight after the passenger asked her neighbour if she could switch seats with him. The flight attendant said she "did not feel comfortable" with the passenger onboard.
The woman, Hakima Abdulle, who is not fluent in English, was travelling to Seattle to assist a pregnant family member.
Her seatmate readily agreed to switch seats with her so she could have the aisle, but the SWA flight attendant told them passengers were not allowed to change seats.
Southwest Air has an open seating policy. Seats are not assigned.
The passenger was met at the gate by police, who asked the attendant if there was any reason she was being removed from the aircraft. The flight attendant said no, but she was being removed due to the FA's lack of "comfort."
Southwest Airlines issued a statement saying it wasn't racism, but they couldn't say any more to protect Ms Abdulle's privacy, though their employee "followed proper procedures in response to this customer's actions." They proved it couldn't possibly be racism, saying, "We are not in the business of removing passengers from flights without reason."
That definitely settles it, then.
Her husband, Abukar Fadaw, who spoke on his wife's behalf at a press conference to discuss the incident while Ms Abdulle was in Seattle, said his wife became upset.
"She was crying in front of everybody," he said.
"They ignored me," he said.
The couple's lawyer, William Burgess, said it is a violation of federal law for an airline to discriminate against passengers on the basis of religion - yet he said he has received about half a dozen similar reports from Muslims this year alone.
boingboing.net/2016/04/16/southwest-air-kicks-muslim-wom.html
-------
Saudi Arabia welcomes 400 women into Islam
Sat, 16 Apr 2016
Riyadh: Religious converts to Islam greatly increased in the Kingdom. Over the past four months, the number of new Muslim women has reached 400.
As per Arab News, a ceremony to honor new Muslims were conducted which was attended by Zeinab bint Abdullah Al-Rajhi, undersecretary of the student study center at the Imam Mohammed bin Saud Islamic University.
There are so many explanations offered as to why women continue to convert- Lorna, a new Muslim, also has one to told the audience in attendance how she converted to Islam:
"Before embracing Islam, I was a teacher at a Catholic church. Later, I decided to move to Saudi Arabia to seek a better life.
"My sponsor once asked me to clean up the library shelves. While I was busy working, I found a translation of the Holy Qur'an. I asked my sponsor if I could read it, and she welcomed the idea.
"Later, I expressed my desire to convert to Islam to my sponsor who took me to a preacher who helped me pronounce the Shahada (testimony of faith). And today I feel proud to be a Muslim."
The cermony began with the Holy Qur'an recitation, after which a video film on women's administration was shown.
sahilonline.org/newsDetails.php?cid=4&nid=42207
URL: https://newageislam.com/islam,-women-and-feminism/new-age-islam-news-bureau/all-india-muslim-personal-law-board-takes-up-muslim-women-s-rights/d/107014
New Age Islam, Islam Online, Islamic Website, African Muslim News, Arab World News, South Asia News, Indian Muslim News, World Muslim News, Womens in Islam, Islamic Feminism, Arab Women, Womens In Arab, Islamphobia in America, Muslim Women in West, Islam Women and Feminism