New Age Islam News Bureau
14 March 2016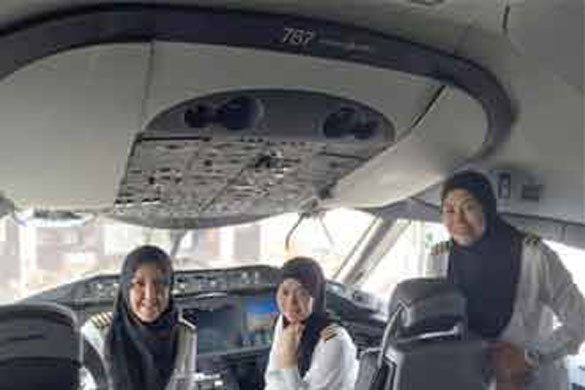 Photo: All Female Crew Lands in Country Where They Aren't Legally Allowed To Drive
-----------
• Apologises That Muslim Woman Asked To Remove Hijab
• Criminalise Marital Rape: UNDP Chief
• 'Father of Taliban' Led Moot Rejects Pro-Woman Law
• Female Police Officer Shot Dead In Kandahar Province, Afghanistan
• Four Qataris Make It to Top 100 Most Powerful Arab Women Index
• Sheikha Lubna Ranked Most Powerful Arab Woman In 2016
• Pakistan PM, Punjab CM Assure JUI-F Head to Address Reservation on Women Protection Act
Compiled by New Age Islam News Bureau
URL: https://newageislam.com/islam,-women-and-feminism/new-age-islam-news-bureau/all-female-crew-lands-in-country-where-they-aren't-legally-allowed-to-drivefestival/d/106648
-----------
All Female Crew Lands in Country Where They Aren't Legally Allowed To Drive
MARCH 14, 2016
Last Tuesday was International Women's Day, and my inbox was flooded with airline press releases about airlines operating flights staffed exclusively by women. It's great to see how far the aviation industry has progressed, though it clearly still has a long way to go.
For example, here's part of the press release from the Lufthansa Group, which I almost found embarrassing, since they couldn't even get an all female cockpit crew for an Austrian 767 (bolding mine):
In recognition of today's International Women's Day (#IWD2016), the passenger airlines of the Lufthansa Group flew with female crews into John F. Kennedy International Airport in New York. From the cockpit to the cabin, 63 female aviation professionals operated the flights, which originated from five cities throughout Europe, including Frankfurt, Munich, Geneva, Vienna and Brussels. Only one Austrian Airlines pilot was the "odd-man-out", as the carrier continues developing its female cockpit crew to include a Boeing 767 pilot.
Hopefully at some point having all female crews isn't something which is noteworthy anymore.
But here's an "all female crew" first which is especially cool, and pre-dates International Women's Day. I'm not sure how I missed it, but it gained traction on Reddit yesterday. A couple of weeks ago Royal Brunei had their first ever flight staffed exclusively by three female pilots… and it was to Saudi Arabia! Per Royal Brunei's Instagram:
RB's first ever female trio at the flight deck; Captain Sharifah Czarena, Senior First Officer Sariana and Senior First Officer Dk Nadiah in the flight deck prior to operating flight BI081 from Brunei to Jeddah wishes Brunei Darussalam a "Happy 32nd National Day"
This wasn't even for International Women's Day, but rather coincided with the country's National Day. Here's the picture of the three pilots:
Royal-Brunei-Female-Crew
Now I'm not sure if the flight being operated to Saudi Arabia was a coincidence or not, but if so, it's a pretty awesome one. Saudi Arabia is the only country in the world where women can't legally drive, so to have three female Boeing 787 pilots land a plane there (and presumably "drive" it to the gate) is great.
Not that it excuses Brunei's horrible human rights policies, but it's still pretty cool…
onemileatatime.boardingarea.com/2016/03/14/royal-brunei-female-crew/
-----------
Apologises That Muslim Woman Asked To Remove Hijab
March 13, 2016
AUSTIN, Texas (AP) — A South by Southwest volunteer has been dismissed and festival organizers apologized after an U.S. Olympic fencer who is Muslim was asked to remove her headscarf in order to get a credential.
South by Southwest registration official Amin Simms said in an emailed statement that it was "an insensitive request" and against the festival's policy to ask Ibtihaj Muhammad to remove her hijab Saturday at the Austin festival. Muhammad couldn't immediately be reached for comment.
Simms wrote that festival organizers apologized to Muhammad and that they were embarrassed by the situation.
Muhammad is set to compete for the U.S. at the Olympics in Rio de Janeiro this summer.
South by Southwest is a major festival of film, interactive media, and music.
newstimes.com/news/texas/article/Festival-apologizes-that-Muslim-woman-asked-to-6886732.php
-----------
Criminalise marital rape: UNDP chief
March 13, 2016
Clark made a significant pitch for all countries that had not made domestic abuse and marital rape criminal offences to do so at the earliest.
Just days after Minister of Women and Child welfare Maneka Gandhi submitted in parliament that the government wouldn't criminalise "marital rape", a top UN official said that the issue is one of consent, not culture, suggesting that India would be in contravention of the Sustainable Development Goals it has adopted if it did not amend the law accordingly.
"Each country needs to look at its laws in the light of what the SDGs say, and whether these laws take women forward or take them back," said UNDP chief Helen Clark in an exclusive interview to The Hindu when asked about Ms. Gandhi's statement. "I don't have anything to say on any particular individual, but it is clear to me that the critical issue is one of consent," she added.
Ms. Clark made a significant pitch for all countries around the world that had not made domestic abuse and marital rape criminal offences to do so at the earliest. "Because when it is domestic violence, the police and everyone else takes it as no business of theirs, something within the home otherwise. An assault on women at home is never something "within the family". It is a crime. It has to be recognized and dealt with," Ms. Clark, who was in Delhi to attend the IMF "Advancing Asia" conference told The Hindu.
The words of the Administrator of the United Nations Development Programme are particularly significant not just because the UNDP is monitoring the implementation of the SDGs by 2030, but because Ms. Clark is widely considered to be preparing to run for UN Secretary General later this year. When asked by The Hindu about the proposal, Ms. Clark, who was previously Prime Minister of New Zealand said wouldn't confirm her decision to run, but wouldn't rule it out. "There's never been a woman UNSG, so of course people are saying what about this time. But whoever is selected they are going to have to fit the skill-set that they need for the job," she said, adding that the process for declaring candidates had only just begun and would only get under way in July 2016. Some of the other likely candidates are also women, suggesting that gender issues, like that of domestic abuse and marital rape will take centre stage in the next few years.
On March 10th, in a written answer to a question by an MP, Ms. Gandhi had submitted the government's position in parliament, saying that the "concept of marital rape, as understood internationally, cannot be suitably applied in the Indian context due to various factors like level of education/illiteracy, poverty, myriad social customs and values, religious beliefs, mindset of the society to treat the marriage as a sacrament, etc.," which set off a furore in parliament and outside of it, with strong criticism from women's right activists.
Ms. Gandhi had essentially repeated the government's stand from April 2015, when it had said that there was no proposal to amend Section 375 of the Indian Penal Code which makes an exception to "Sexual intercourse by a man with his own wife" so long as the wife is above 15 years of age. At the time, the Minister of State for Women and Child Development Haribhai Chaudhury had admitted that the amendment had been refused by the government in a reply to the UN Committee on Elimination of Discrimination against Women.
Since then, however, the government has agreed along with about 150 to adopt the 17 Goals for 2030 set out by the UNDP. At the United Nations Sustainable Development Summit on 25 September 2015, PM Narendra Modi addressed the UNGA committing India to the goals which includes a target of eliminating "all forms of violence against all women and girls in the public and private spheres". The reference to private spheres is what the UN believes must include the criminalization of marital rape, if India is to keep that promise.
"The PM of this country (PM Modi) went to parliament to say the safety of women is a priority. So I wouldn't question the commitment, but we need to make it the goal," explained Ms. Clark. When asked for her response to the government's submission that Indian culture doesn't accept the concept of Marital rape, Ms. Clark said, "Its pretty clear in the circles I move in at the UN that rape is rape. The issue is the consent of the women, and if it isn't there it is rape."
thehindu.com/news/national/interview-with-the-undp-chief-helen-clark-criminalise-marital-rape-says-undp-chief/article8349449.ece?utm_source=email&utm_medium=Email&utm_campaign=Newsletter
-----------
'Father of Taliban' led moot rejects pro-woman law
March 14, 2016
LAHORE - Leaders of religious parties at an "Ulema Convention" hosted by JUI-S have rejected women protection bill and reiterated their stance to launch a joint movement against the government's 'un-Islamic moves'.
But at a separate gathering of religious scholars which was organised by Pakistan Ulema Council (PUC) here yesterday, the clerics agreed to sit with the government to redress reservations in the Punjab Protection of Women against violence Act, passed by Punjab Assembly a couple of days earlier.
The JUI-S hosted sitting was attended by leaders of leading religious parties.
During the meeting, they condemned the 'un-Islamic gestures' of the government and also announced to challenge the women protection act in the Supreme Court.
JUI-S head Mualana Samiul Haq, who is known as the father of Taliban, presided over the session.
Among others present on the occasion included Jamaat-ud-Dawa chief Hafiz Saeed, Jamaat-e-Islami secretary general Liaqat Baloch, Muslim Conference head Sardar Attique, JUP leader Qari Zawar Bahadur, Ehle Sunnatwal Jamaat leader Maulana Ahmad Ludhyanvi and other attended.
They termed Mumtaz Qadri's execution as "extra-judicial killing", and also demanded of the hanging of Asia Bibi, an alleged accused of blasphemy.
They said the women protection act was an attack on the family system, and against the constitution of Pakistan.
But on the other side, religious scholars of different schools of thought at PUC meeting stated that violence against women was strictly prohibited in Islam and 'Women Protection Bill' does not violate Sharia.
"Reservations on the Act will be addressed amicably as the Punjab government agreed to constitute a committee on the issue," said the speakers.
They also emphasised that unity was inevitable to annihilate challenges of terrorism, extremism and sectarian violence from Muslim world.
Addressing the meeting, PUC chairman Hafiz Tahir Ashrafi said that people of Pakistan were guardians of 'blasphemy laws'.
He categorically stated that 'blasphemy laws' can neither be annulled nor amended and any bid to transform Pakistan into a liberal country will be foiled.
"Being Pakistani, we should keep check on conspiracies to turn Pakistan into a liberal state," Ashrafi further stressed.
nation.com.pk/lahore/14-Mar-2016/father-of-taliban-led-moot-rejects-pro-woman-law
-----------
Female police officer shot dead in Kandahar province
By Khaama Press - Mon Mar 14 2016
A female police officer was shot dead by unknown gunmen in southern Kandahar province of Afghanistan, local officials said.
A local security official confirmed the incident and said the police officer was working with the provincial passport department.
The official speaking on the condition of anonymity further added that the deceased officer has been identified as Fawzia.
Kandahar, the birth place of the Taliban group, has been witnessing relative peace during the recent months, however the anti-government armed militants have recently stepped up insurgency activities in parts of this province.
Unknown gunmen shot dead two de-minders in a similar attack in Maiwand district of Kandahar province earlier this month.
Meanwhile, the Afghan intelligence operatives foiled a coordinated suicide car bomb attack in the provincial capital city of Kandahar by arresting four groups of insurgents earlier this month.
The anti-government armed militant groups including the Taliban militants have not commented regarding the reports so far.
khaama.com/female-police-officer-shot-dead-in-kandahar-province-0334
-----------
Four Qataris make it to top 100 most powerful Arab women index
Mar 14 2016
Health minister Dr. Hanan Al Kuwari and three other Qatari women are among the world's 100 most powerful Arab women of 2016, according to a newly released index.
Likely because of her recent promotion to the Cabinet, Al Kuwari moved up to 12th place in the CEO Middle East magazine rankings of the top influential women from the region, eight spots higher than last year.
She is joined by powerful Qatari women from the entrepreneurship, finance and technology sectors.
That includes former ictQatar Minister Dr. Hessa Al Jaber, who is 37th place, the CEO of QNB Capital Mira Al Attiyah (51st) and Aysha Al Mudahka, the CEO of small business incubator QBIC (80th).
Cabinet shuffle
Al Kuwari became Qatar's fourth-ever female Cabinet member when she was named Minister of Public Health in a January leadership shakeup.
Managing director of the publicly-run Hamad Medical Corp. (HMC) since 2007, Al Kuwari had risen through the ranks from her appointment as a junior administrator in the Women's Hospital.
She sits on numerous boards of health-related organizations, locally and regionally, and has a PhD in healthcare management from Brunel University in the UK.
A well-known name in the international health sector, Al Kuwari regularly features in lists of most powerful or influential Arab women.
Dr. Hessa Al Jaber is another popular pick for these listings, although she didn't make last year's CEO Middle East rankings.
Al Jaber was minister of Information and Communications Technology until January, when she lost her position in the reshuffle, which saw ictQatar become part of the new Ministry of Transport and Communications.
Last month, online business network LinkedIn announced that she has become one of a select group of its "influencers".
Meanwhile, the first female head of an investment bank in Qatar, Mira Al Attiyah, rose eight places from last year's list to take the 51st spot in the latest edition.
Al Attiyah became chief executive of QNB Capital in July 2014 and previously worked at the Ministry of Economy and Commerce (MEC), ictQATAR and technology provider Malomatia.
A Qatar University alumna (in engineering and computer science), she also undertook a graduate program in corporate innovation and entrepreneurship at Carnegie Mellon University's Tepper School of Business.
And the CEO of one of Qatar's leading business incubation centers (QBIC) Aysha Al Mudahka has come in 80th in the index.
Previously the executive director of Injaz Qatar, a not-for-profit organization for youth education and entrepreneurship, Al Mudahka has also worked for Qatar Financial Center and the Qatar Finance and Business Academy.
She is also a founding member of the Roudha Center, which promotes innovation and entrepreneurship for women.
Top women
While the magazine did not give detailed criteria for compiling the list, it said women were ranked according to the number of people whose lives they have touched and influenced.
The list focuses on business and does not include any members of Qatar's ruling family.
Overall, the UAE has the most women represented on this list (23), with Sheikha Lubna Al Qasimi ranked first. Last month, she became the Emirates' minister of tolerance.
Al Qasimi, who has previously held four ministerial portfolios, was the UAE's first female Cabinet member after being appointed minister of economy in 2004. She is also president of Zayed University.
Speaking at the Global Women's Forum Dubai last month, she described her concept of leadership as "not about power, but about what a leader can give to people. The essence is about loyalty," Emirates 24/7 reported her as saying in her keynote address.
Emirati women on the list come from a variety of sectors, including government, property, media, construction, science, culture and society.
The high representation of women from the Emirates may be reflected by the fact that the magazine which compiles the list is based in the UAE.
Women from Saudi Arabia take up 19 places in this year's index, while Egypt has 15 women represented.
Of the Gulf states in the list, Kuwait has seven of its nationals named, while Bahrain has one.
Regional rankings
CEO Middle East and another business magazine Forbes compile annual lists of movers and shakers in the region.
In the most recent Forbes list of powerful Arab business women in the world, last September, Qatar Museums' Chairperson Sheikha Al Mayassa bint Hamad Al Thani took third place.
With those rankings, candidates were ranked based on the "size of their companies … their positions, and spheres of impact," Forbes said.
dohanews.co/four-qataris-make-top-100-most-powerful-arab-women-index/
-----------
Sheikha Lubna ranked most powerful Arab woman in 2016
13 March 2016
The UAE's Minister of Tolerance, Sheikha Lubna Al Qasimi, has been ranked as the most powerful Arab woman by CEO Middle East magazine for the sixth year in a row.
Over a long political career, Sheikha Lubna has held several cabinet briefs, including as minister of foreign trade, minister of international development and minister for the economy and planning.
Click here to view the full list
She was the first ever woman to be appointed as a government minister in the UAE.
The CEO Middle East list ranks 100 Arab women from around the world according to the number of people whose lives they have touched and influenced.
In second place this year is activist, author and TV host Zainab Salbi, whose new show 'Nida'a' is designed to 'celebrate the dreams and achievements of Arab women'. Salbi is the founder of Women for Women International, an agency which has impacted the lives of more than 1.7 million.
Click here to view the full list
Another UAE cabinet member, Reem Al Hashimy, who was named as Minister of International Cooperation in the recent government reshuffle, was placed third.
Other entries in the top ten included Dalia Mogahed, former executive director of the Gallup Centre for Muslim Studies and a prominent voice in the battle to sway public opinion about the Muslim world, and Katia Bouazza, the head of capital financing, Latin America, for global bank HSBC.
There were 29 new entries in this year's list, the highest of which was Nawal El Moutawakel, a former athlete and now member of the International Olympic Committee.
arabianbusiness.com/sheikha-lubna-ranked-most-powerful-arab-woman-in-2016-624645.html
-----------
Pakistan PM, Punjab CM Assure JUI-F Head to Address Reservation on Women Protection Act
March 14, 2016
LAHORE – Prime Minister Nawaz Sharif, Punjab Chief Minister Shahbaz Sharif have assured JUI-F head Maulana Fazalur Rehman to address the "reservations" of religious circles on women protection act in a meeting today.
The Punjab CM has already constituted a committee to hold consultative meetings with clerics to address their "grievances" on the act which Punjab Assembly passed last month.
However, the prime minister has called the Jamiat Ulema-e-Islam (F) chief to his residence at Raiwind to further discuss the matter a day before the grand meeting of countrywide religious parties is going to be held at Mansoora.
It is unclear so far that whether the JUI-F leader has taken into confidence the religious parties before holding meeting with Sharifs or he took this step on his own. The Islamist parties' leaders are furious on government's "un-Islamic moves in shape of Mumtaz Qadri execution and passing of women bill from Punjab legislature."
They already announced to start a joint move against the government which according to them "bents upon changing the Islamic identity of the country into a secular and liberal state."
An insider said that the Prime Minister sought Fazlur Rehman's recommendations on the matter during the meeting and ensured the latter to also hold consultation at federal level to address the concerns of religious parties.
After the meeting, Maulana Fazal told the reporters that he conveyed the reservations of religious parties on act to the Prime Minister. He said the PM ensured him to take personal steps and hold discussions with religious circle on the issue.
"We (religious parties) must show flexibility when the government is ready for holding dialogue," he replied to a query.
Maulana said he will present details of the meeting before the religious parties' leaders at the meeting due to be held at Mansora on Tuesday.
nation.com.pk/national/14-Mar-2016/pm-cm-assure-fazal-to-address-reservation-on-women-protection-act
URL: https://newageislam.com/islam,-women-and-feminism/new-age-islam-news-bureau/all-female-crew-lands-in-country-where-they-aren't-legally-allowed-to-drivefestival/d/106648
New Age Islam, Islam Online, Islamic Website, African Muslim News, Arab World News, South Asia News, Indian Muslim News, World Muslim News, Womens in Islam, Islamic Feminism, Arab Women, Womens In Arab, Islamphobia in America, Muslim Women in West, Islam Women and Feminism