New Age Islam News Bureau
09 January 2023
• Sharifa Al-Sudairi, Saudi Mom-Of-2 Aiming High As Kingdom's 1st Female Skier
• Herat Female Entrepreneur Creates Jobs For 100 Locals
• Quranic Circles for Women Received Well in Egypt
• Facing Islamophobia, Calgary's Muslim Women Share Their Experiences Of Discrimination
• Mumbai: Speakers Counter Legislation On Interfaith Marriage At 'Love In The Time Of Hate' Event In Colaba
Compiled by New Age Islam News Bureau
URL: https://newageislam.com/islam-women-feminism/hoda-muthana-isis-extremists/d/128835
--------
Alabama Woman, Hoda Muthana, Who Joined ISIS Hopes To Return To US And Advocate Against The Extremists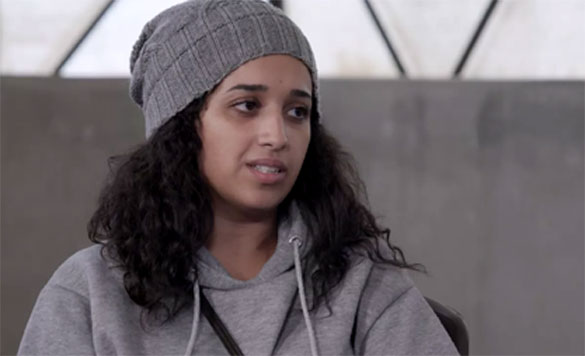 Hoda Muthana, who is from Alabama, ran away at age 20 to join Islamic State in Syria and had a child with one of its fighters.(News Movement)
------
08 January ,2023
A woman who ran away from home in Alabama at the age of 20, joined ISIS and had a child with one of its fighters says she still hopes to return to the US, serve prison time if necessary, and advocate against the extremists.
In a rare interview from the Roj detention camp in Syria where she is being held by US-allied Kurdish forces, Hoda Muthana said she was brainwashed by online traffickers into joining the group in 2014 and regrets everything except her young son.
"If I need to sit in prison, and do my time, I will do it... I won't fight against it," the 28-year-old told US-based outlet The News Movement. "I'm hoping my government looks at me as someone young at the time and naive."
It's a line she's repeated in various media interviews since fleeing from one of the extremist group's last enclaves in Syria in early 2019.
But four years earlier, at the height of the extremists' power, she had voiced enthusiastic support for them on social media and in an interview with BuzzFeed News.
ISIS then ruled a self-declared Islamic caliphate stretching across roughly a third of both Syria and Iraq. In tweets from 2015 she called on Americans to join the group and carry out attacks in the US, suggesting drive-by shootings or vehicle rammings targeting gatherings for national holidays.
In her interview with TNM, Muthana now says her phone was taken from her and that the tweets were sent by ISIS supporters.
Muthana was born in New Jersey to Yemeni immigrants and once had a US passport. She was raised in a conservative Muslim household in Hoover, Alabama, just outside Birmingham. In 2014, she told her family she was going on a school trip but flew to Turkey and crossed into Syria instead, funding the travel with tuition checks that she had secretly cashed.
The Obama administration canceled her citizenship in 2016, saying her father was an accredited Yemeni diplomat at the time she was born — a rare revocation of birthright citizenship. Her lawyers have disputed that move, arguing that the father's diplomatic accreditation ended before she was born.
The Trump administration maintained that she was not a citizen and barred her from returning, even as it pressed European allies to repatriate their own detained nationals to reduce pressure on the detention camps.
US courts have sided with the government on the question of Muthana's citizenship, and last January the Supreme Court declined to consider her lawsuit seeking re-entry.
That has left her and her son languishing in a detention camp in northern Syria housing thousands of widows of ISIS fighters and their children.
Some 65,600 suspected ISIS members and their families — both Syrians and foreign citizens — are held in camps and prisons in northeastern Syria run by US-allied Kurdish groups, according to a Human Rights Watch report released last month.
Women accused of affiliation with ISIS and their minor children are largely housed in the al-Hol and Roj camps, under what the rights group described as "life threatening conditions." The camp inmates include more than 37,400 foreigners, among them Europeans and North Americans.
Human Rights Watch and other monitors have cited dire living conditions in the camps, including inadequate food, water and medical care, as well as the physical and sexual abuse of inmates by guards and fellow detainees.
Source: Al Arabiya
https://english.alarabiya.net/News/world/2023/01/08/Alabama-woman-who-joined-ISIS-hopes-to-return-from-Syria-camp
--------
Sharifa Al-Sudairi, Saudi Mom-Of-2 Aiming High As Kingdom's 1st Female Skier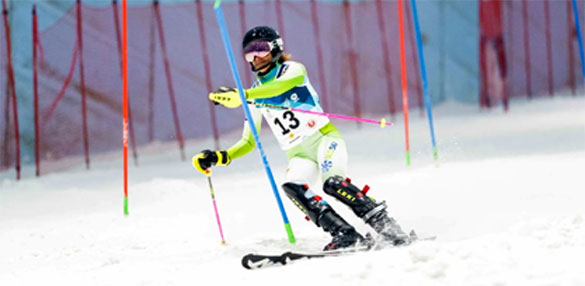 Sharifa Al-Sudairi during her recent participation in the Ski Dubai event.
-----
Aisha Fareed
January 08, 2023
Riyadh: A Saudi mom-of-two has been getting a piste of the action as the first woman to represent the Kingdom in skiing.
Sharifa Al-Sudairi hit the headlines after successfully competing in the recent Ski Dubai event.
The Jeddah-born 35-year-old found herself up against 25 top skiers from around the world in the competition but still managed to secure second, fourth, and fifth places in different categories.
She is among a growing band of Saudi sporting talents making a name for themselves as part of the Kingdom's push to promote sport for all, host major international events, and compete on the global stage.
Brought up in the Red Sea port city, Al-Sudairi went to a boarding school in Switzerland and attended universities in London where she gained a bachelor's degree in fine art and a master's degree in art and business.
Supported by her family in her dream to become a top skier, she told Arab News that her father had always encouraged her to be sporty and independent.
She said: "I have always enjoyed being active and have taken part in many different sports while growing up including tennis, basketball, surfing and, of course, skiing."
Al-Sudairi learned to ski at a young age while on family holidays in Switzerland, and she now considers her participation in the sport more as a passion than a career.
"Skiing for me encompasses all of the things that make me happy; you get to be active and healthy, while in the majesty of nature.
"Skiing on beautiful white slopes in incredible surroundings reminds me how dramatic and wonderful Earth is.
"But what started as a hobby and favorite pastime, evolved into me taking this on professionally," she added.
She was able to further develop her skills through training sessions with several race instructors at Swiss ski resorts and was recently introduced to the president of the Saudi Winter Sports Federation, Ahmad Al-Tabbaa, and the organization's vice president, Rabab Mahassen, who provided support and encouraged her to join the Saudi ski team.
The Ski Dubai tournament was Al-Sudairi's first official competition success having previously raced and won in smaller community events in Switzerland.
She said: "I won fourth and fifth place in the general races and also managed to get second place in one of the categories."
The competition was organized by the UAE's Ski Federation and the International Ski and Snowboard Federation, the world's leading governing body for the sport.
"Given my love for my country and for skiing and all the support from the federation, I decided to pursue this on a professional basis," she added.
Al-Sudairi said she was proud and honored to be the first Saudi woman to represent the Kingdom in Alpine skiing, describing it as a way to serve her country in times of positive change.
"It also means I get to play a role, among other incredible women that I admire, in being part of a movement that puts women at center stage in Saudi Arabia.
"This will hopefully encourage a whole new generation of women in the country to achieve their full potential and follow their dreams," she added.
And she hopes to be a source of inspiration for others to follow their ambitions.
"I think this is an incredible moment in Saudi history and for me, especially in the field of sports.
"I am thrilled to see the many sporting events that the country has been hosting; we have seen an increase in interest in sports among Saudi citizens and especially among youth," she said.
Source: Arab News
https://www.arabnews.com/node/2228616/saudi-sport
--------
Herat female entrepreneur creates jobs for 100 locals
January 9, 2023
A woman in Herat province has created a carpet weaving and sewing workshop for more than a hundred other women with her personal investment.
In this workshop, some women are working and others are learning carpet weaving and sewing.
Zainab Firouzi, the person in charge of this workshop, said that she is trying to support poor and homeless women.
"The environment here is completely female, this is a good environment for women to earn the family's expenses," she told to the Etilaat Roz newspaper.
According to Mrs. Ferozi, women working in this workshop receive a monthly salary of 3 to 4,500 Afghanis.
Mrs. Firouzi added that the restriction on women's employment made her act in order to provide work for women.
In her workshop, 50 women work in the carpet weaving department and 60 women work in the sewing department.
A number of women working in this workshop say that this work is a source of income for them.—Afghanistan Timews
Source: Pak Observer
https://pakobserver.net/herat-female-entrepreneur-creates-jobs-for-100-locals/
--------
Quranic Circles for Women Received Well in Egypt
January 09, 2023
The ministry said women have shown great interest in participation in these programs, which include sessions featuring reflection on the verses of the Quran and understanding its concepts, Youm7 website reported.
The events also include Quran interpretation, Fiqh (Islamic jurisprudence) and lesson on the Seerah of the Holy Prophet (PBUH), it noted.
It added that such programs are organized in line with the ministry's efforts to elevate the role of women in society and enhance their participation in Quranic activities.
They would help to promote moderate ideas and raise awareness among women, the ministry went on to say.
The Awqaf ministry will continue to hold Quranic events for women in various governorates of Egypt including Alexandria, Menofia, Al-Sharqia, and Gharbia, it underlined.
Egypt is a country in North Africa with a population of around 100 million. Muslims account for around 90 percent of the country's total population. Quranic activities are very common in the Muslim-majority Arab country
Source: IQNA
https://iqna.ir/en/news/3482007/quranic-circles-for-women-received-well-in-egypt
--------
Facing Islamophobia, Calgary's Muslim Women Share Their Experiences Of Discrimination
Jan 08, 2023
Jo Horwood, Omar Sherif
At 19-years-old, Duaa-Azeem Choudhary is already no stranger to hate.
Born in Quebec to Pakistani immigrant parents who didn't speak French, Choudhary and her family tried to escape the racism they faced in that province by moving to Calgary.
But in her new home, Choudhary became a target of Islamophobic-driven harassment while riding the bus one day. She remembers being the only person on the bus wearing a hijab when a group of men began to stare at her.
"There was a group of white guys that I noticed that kept looking back and I got dirty looks," Choudhary said. She ignored the men hoping that the situation wouldn't escalate, but after they got off the bus, they stopped directly in front of her window.
"One of them spat directly [at] my face. And I don't know, that was like a moment of shock for me because I had never experienced anything like that before and I felt singled out."
That incident happened when Choudhary was 17-years-old — two months after she put on a hijab for the first time. Before that, she says she didn't experience as much racism.
"I could certainly feel a slight change, like colder interactions … but nothing like that had ever happened, so it just took me a while to process it," she said.
Wearing the hijab
Wearing the hijab is considered an act of worship. It's both a personal and independent choice that Muslim women make when they come of age.
Inspired by her mother, Choudhary always wanted to wear the hijab, eventually making the change when she started university.
"A lot of people know that there was an incident in the Prince's Island Park and in that incident a woman who was wearing hijab, it was a hate motivated crime, and she was actually attacked," said Zainab Khan, project manager, Canadian Pakistani Support Group (CPSG) Maskan — a project intended to provide temporary shelter and demand-driven support for a women and children.
In recent times, incidents similar to Choudary's and that at Prince's Island Park have become common. Several women of the Islamic faith have been victims of both verbal and physical assaults in Calgary because of their appearance.
After the Prince's Island Park incident, Khan said that some people within the community were questioning themselves and wondering if they should allow their daughters to wear hijab.
"Should they lose their identity … those were the confusions, those were the things that were going on in the community unheard," she said.
"Those were the things that should be given voice, those experiences."
All of this has made Choudhary begin to wonder if the harassment she and others face are due to misconceptions of Islam.
A more tolerant future
At an event organized by CPSG centred around sharing concerns and recommendations about combating hate crimes and racism, Muslims and non-Muslims came together to recount their experiences and come up with ways to attempt to eradicate hate.
"If these hate crimes are happening because of false perceptions of our religion, then maybe we need to talk about what our religion is," Choudhary said.
The event is an instalment of the provincial government's anti-racism series — a plan set out by the Government of Alberta to bring about more tolerance and understanding.
More specifically, the event focused on voicing the concerns and experiences of Muslims and Muslim women — especially those who wear hijabs — in an attempt to gather information for the government to combat discrimination.
For both Choudhary and Khan, the way forward is simple. Educate people about Islam and highlight the religion's messages of peace, tolerance, and equality.
"It takes all of us to build an inclusive and diverse Alberta. And for us it's important that we learn about different cultures and religions," said Khan.
"It's all about connecting with each other and spreading the message of peace."
Young Calgary
CBC Calgary is looking for more young voices to help shape the news.
You can join our text messaging community to share your ideas.
Highlight the heroes in your life. Tell us about the challenges you're facing down, and make suggestions on what you'd like to see CBC Calgary cover next.
It could be fun, and we promise to keep you in the loop the whole way. It's free and confidential. Unsubscribe any time.
Source: CBC
https://www.cbc.ca/news/canada/calgary/muslim-women-calgary-alberta-hijab-1.6706113
--------
Mumbai: Speakers counter legislation on interfaith marriage at 'Love in the time of hate' event in Colaba
January 08, 2023
Mumbai: Prominent personalities from all walks of life emphasised on the need to counter-hate at an event on Saturday. Titled 'Love in the time of hate: State regulation of interfaith relationships', the event was organised by the People's Union for Civil Liberties (PUCL) at YMCA in Colaba.
The speakers said that the legislation on interfaith marriage is surprising in a progressive state and is meant to do away with diversity and "maintain purification of culture".
Speakers surprised at the legislation brought in Maharashtra
Among the participants were Dr Sai Thakur, Assistant Professor at the Centre of Study for Social Exclusion and Inclusive Policies, TISS; Irfan Engineer, Director of Centre for Study of Society and Secularism; Utkarsha Rupwate, Member of the Maharashtra State Commission for Women; actor Ratna Pathak Shah; and senior counsel Mihir Desai.
Terming the legislation on interfaith marriage as "state-sponsored Khap", Dr Thakur said that conversions did not happen in as many instances as it was put out to be. A case study from Kerala stated that of the 229 interfaith marriages, conversions took place only in the case of 63 (all religions). She said that the idea stemmed from the thought process that Hindu women's sexuality needs to be "protected", while that of Muslim women needs to be "exploited". She said, "It is something Savarkar said while criticising Shivaji Maharaj when he sent away the daughter of Muslim respectfully. He called it Sagud Vikruti."
Speakers said that the legislation was a surprise in Maharashtra that always considered itself to be a "progressive state". "The idea is that the choices need to be controlled and Hindu women should be within the community. It is like the Apartheid South Africa that had banned inter-racial marriage and sexual conduct," said Mr Engineer.
Lack of data, points out Women's Commission
Ms Rupwate said that the Women's Commission was surprised when the committee on interfaith was formed as there existed no data on it. "The cases that come to us regarding violence and multiple marriages are cases of the same religion and notinterfaith. It is slow poisoning," she said.
Ms Shah said the question of Hindu or Muslims never struck her until her child asked about it during riots. "Even when I was married to Naseeruddin, people said he is married, has children but no one mentioned he is Muslim. I thought that was the India I grew up in…," she said, adding that hate and disruption are difficult to sustain but one should not live in a dream world and pretend everything is fine like in films.
Mr Desai who focused on legislations and anti-conversion laws in the state said that the committee is a precursor to an anti-conversion law that is in the coming. "It's a facade of being progressive. This committee is to get the data, which will then form the basis of a law that is passed in 11 states," he said.
Source: Free Press Journal
https://www.freepressjournal.in/mumbai/mumbai-speakers-counter-legislation-on-interfaith-marriage-at-love-in-the-time-of-hate-event-in-colaba
--------
URL: https://newageislam.com/islam-women-feminism/hoda-muthana-isis-extremists/d/128835
New Age Islam, Islam Online, Islamic Website, African Muslim News, Arab World News, South Asia News, Indian Muslim News, World Muslim News, Women in Islam, Islamic Feminism, Arab Women, Women In Arab, Islamophobia in America, Muslim Women in West, Islam Women and Feminism