New Age Islam News Bureau
16 Jul 2018
• China Allegedly Tearing Off Long Dresses Of Uighur Muslim Women
• Kelantan Child Bride's Husband Says Wanted to Marry Her since She Was 7
• Muslim Woman with Headscarf Racially Targeted In US
• Bicycle Courses for Refugee Women in Germany
• Slovenian Heroines' Small Ray of Sunshine for Injured Gazan Children
• Al-Atram Is Qassim's First Female Lawyer
Compiled by New Age Islam News Bureau
URL: https://www.newageislam.com/islam-women-feminism/aimplb-endorses-nikah-halala-says/d/115846
--------
AIMPLB Endorses Nikah Halala, Says It Is Quranic Practice and Cannot Be Challenged
Parbina Purkayastha
July 15, 2018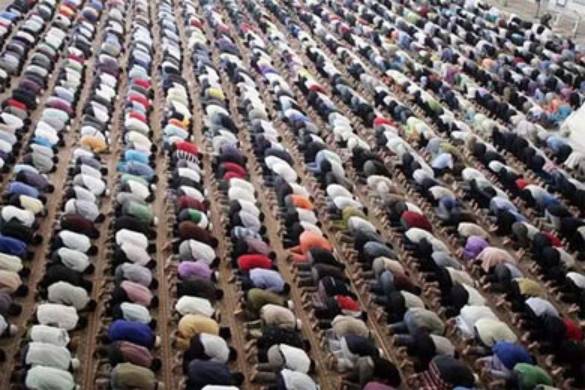 A Muslim woman with headscarf has been racially targeted by a white lady who mocked her English accent and threatened that the US immigration and customs officials would take her kids away
(Representational Photo)
------
The All India Muslim Personal Law Board (AIMPLB) has made an astonishing claim as the Supreme Court is at the helm of hearing a batch of petitions challenging nikah halala. It stated that the practice "cannot be challenged since it is quranic".
At a review meeting held in Delhi on Sunday, 40 leading members addressed issues pertaining to the community at length.
"Nikah halala cannot be challenged," AIMPLB secretary and legal counsel Zafaryab Jilani stated after the meeting.
"Nikah halala is a practice where you cannot marry your wife again after divorce unless she marries and consummates the marriage with someone else. It is a must that the wife is divorced again. This is as per the Quran and the board cannot have a different opinion," Jilani added.
Responding to a question on several nikah halala rackets being run for money and the exploitation of women, Jilani added that a "Nikah with an intention to have Halala is not valid" and the "culprits should be arrested as per law".
The board also decided that Shariat courts will be opened across 10 cities in India.
Darul Qaza centres traditionally deal with matters allowed under The Muslim Personal Law (Shariat) Application Act, 1937. Individuals were allowed to bring matrimonial and property disputes before such centres. At present, their scope is limited to seminaries.
Shariah refers to Islamic law based on the Quran and the teachings of Prophet Mohammed, known as Ahadith.
"There is no question of Shariat courts being unconstitutional. The apex court has itself ruled that Shariat courts are not parallel to the Indian courts established as per the constitution, and hence there is no question of it being illegal," said Jilani.
The board members also discussed the Ayodhya-Babri Masjid case and decided that their legal counsel, senior advocate Rajeev Dhawan, will argue for the matter to be referred to a larger bench and till then, the arguments on the main appeal would not begin. The Supreme Court is expected to hear the case of nikah Halala and polygamy from July 20.
https://www.indiatoday.in/india/story/muslim-law-board-endorses-nikah-halala-says-it-is-quranic-practice-and-cannot-be-challenged-1286497-2018-07-15
--------
China Allegedly Tearing Off Long Dresses Of Uighur Muslim Women
July 16, 2018
Beijing: There has been a sharp uptick in government-backed persecution of Christianity and other religions in China, but none are currently suffering as much as the Muslim population in the Xinjiang Uighur Autonomous Region (XUAR). Some 11 million Uighurs reside in this northwest Chinese province.
Religious observers are most in danger, with the wrong choice of clothes or the growing of a beard seen as subversive. According to a news published on Yenisafak.com Xinjiang, which is also known as East Turkistan, the clothes of Muslim women are being cut so that they are long. According to the Documenting Oppression Against Muslims (DOAM) organization, the Chinese administration is doing this because they think that the clothes of Uighur Muslim women are quite long.
China is doing all it can to cause affront – such as closing mosques, making it illegal to fast during Ramadan or forcing Uighur stores to sell alcohol. Other restrictions include recalling passports, heightened surveillance, mass collection of DNA and voice biometrics for people aged 12-65.
Of course, using the word "autonomous" to describe Xinjiang is a complete misnomer, because it has no autonomy whatsoever. Instead, thousands of Muslims are currently incarcerated in extrajudicial detention centers and reeducation camps.
The exact number of victims is impossible to verify, but estimates range from several hundred thousand upwards. Human Rights Watch, for example, claims 800,000 Muslims are detained, while Uighur exile groups estimate about 1 million Uighurs. They allege that nearly every Muslim household has been affected by these arbitrary arrests. For example, in Moyu county alone, 40% of adults have disappeared, with family members often having no idea where their loved one is.
Indeed, the number surely exceeds those imprisoned under the former "education through labor" program that China canceled in 2013. To put this in proper and stunning proportion, possibly up to one in ten Uighurs in Xinjiang are thus detained. In cases where both parents have been imprisoned, their children are sent to overflowing orphanages, often far from home.
China has sought to envelop Xinjiang and its nefarious government-sanctioned goings-on under a veil of secrecy. Chinese officials either remain silent or claim that no such re-education camps exist. The Chinese Foreign Ministry, for instance, has "not heard" of such camps.
Yet Radio Free Asia quoted one official saying in January: ".you can't uproot all the weeds hidden among the crops in the field one by one – you need to spray chemicals to kill them all.Reeducating these people is like spraying chemicals on the crops. That is why it is a general reeducation, not limited to a few people."
Describing China's philosophical approach, Adrian Zenz of the European School of Culture and Theology wrote, ".Muslim populations are to be systematically subject to reeducation 'treatment' in order to expel poisonous ideologies that have 'intoxicated' them through their 'addictive' effects. Since it is a cure, reeducation cannot have harmful effects. In contrast to criminal punishment, detainees are therefore not subjected to legal procedures that evaluate legal trespasses. Rather, this 'antidote' is applied indiscriminately and at the slightest hint of suspicion."
What happens in these camps? Zenz has identified three official types of facility: centralized transformation through education training centers, legal system schools and rehabilitation correction centers. These correspond with three levels of security. The first may be illiterate farmers who have done nothing overtly wrong other than being unable to speak Mandarin. The middle group may have had religious or "separatist" content found at home or on their phones. The worst group was those who had studied religion abroad or were somehow linked to foreigners.
Detention timeframes are supposed to be 15 days, two months or three months, though most internments actually end up being much longer – from several months to more than a year in some cases.
Some in the first category are in open camps, in that people attend compulsory study sessions in the daytime/evening and return home at night. Radio Free Asia reported on students who are unable to recall all the national anthem lyrics being berated for their stupidity, and being threatened with detention in a reeducation camp for between six months and five years if they did not learn the words within four days.
For more "serious" cases, full detention in overcrowded conditions with poor sanitation – all without legal redress – is required. Prisoners learn Mandarin and the lyrics to the national anthem as they follow a syllabus extolling the virtues of Chinese socialism. They are forced to disavow Islamic beliefs, to endlessly criticize themselves and loved ones, and to loudly praise the party. Prisoners chant for hours repetitive slogans such as, "We will oppose extremism, we will oppose separatism, we will oppose terrorism."
The pre-meal "prayer" involves chanting "Thank the party! Thank the motherland! Thank President Xi!" Surveillance cameras are designed to prevent dead spaces so that inmates are continuously monitored, even in bathrooms.
Disobedience can result in standing for hours at a time, solitary confinement and the withdrawal of food. While violence is not regular, beatings and rough treatment definitely occur. Torture devices include tiger chairs (to which prisoners are restrained) and bodysuits made of iron to restrict movement, whilst having their heads thrust into icy water is a commonly used technique.
Mental breakdowns and suicide attempts occur, while those who play along with their indoctrination program can be released when they are deemed "safe". There is also huge potential for a future religious backlash among the Uighur population as it endures overly harsh punishments. Or does Beijing intend to stamp out Islam in the XUAR? As well as the adverse psychological effects for those interred, social and economic impacts abound with so many people detained simultaneously.
This campaign being implemented by Xi and his party colleagues amounts to a horrific return to the chaotic mayhem of Mao Zedong's Cultural Revolution from 1966-76.
In fact, this is Beijing's "final solution" to the Muslim problem of Islamic extremism. Ironically, its solution is a blatant example of socialist extremism in a different direction, one that tramples human rights, forcibly changes people's religious and political beliefs, and encourages torture.
Who is the architect of this cruel campaign being waged in Xinjiang, a cultural and religious cleansing program that is attempting to rewire religious and political thought?
Chen Quanguo was appointed party secretary of the XUAR in August 2016 after replacing Zhang Chunxian, who was considered too soft amidst a series of violent incidents. Chen has not made the same mistake in Beijing's eyes, for he has been particularly harsh in his treatment of Muslims. Chen arrived from Tibet, where he had prosecuted a stiff campaign against "unrest" as party secretary there since 2011.
However, Chen's campaign has the full blessing of the Communist Party of China (CPC) and President Xi Jinping. Indeed, Xi introduced a Sinicization policy in 2015, where religions should be subjugated to socialist ideology. The CPC fears the three evils of "separatism, terrorism and extremism".
Chen is utilizing the latest technologies such as surveillance cameras, facial recognition, DNA databases and biometrics in Xinjiang. He has turned the province into perhaps the most Orwellian place on earth, where fear is ever present.
The government launched its "Strike Hard" campaign in May 2014, but it is Chen who intensified it. On 1 April 2017, a comprehensive "de-extremification" ordinance was enacted in the XUAR, around the same time that news of these re-education camps began appearing.
Zenz's research revealed that government procurement bids for constructing or enhancing these detention facilities spiked in June 2017, and remained high through till September. Zenz uncovered 73 separate bid documents totaling RMB682 million for facility construction, some of which are disguised as vocational training centers.
With overcrowding and mass detentions, even schools designed for ethnic minorities are now being turned into "de-radicalization and reeducation centers". In an echo of the Nazi practice of naming its concentration camps, one center is known to be euphemistically called "Lovingkindness School".
ChinaAid, a Texas-based non-profit organization that advocates for persecuted Christians and other religious groups in China, told ANI, "The Chinese government currently racially profiles these people, accuses peaceful citizens of having terrorist connections or spreading terrorist ideology for very simple actions such as sending benign messages to friends over social media. They are currently restricted from going abroad, and many suffer torture in a rapidly expanding network of 'political training' and 'anti-extremist' detention centers."
Indeed, the authorities are deliberately trying to stifle Islamic practices. For example, ChinaAid reported that Muslims are forced to violate their halal diet. The government orders store owners to mix halal foods with non-halal foods, and anyone who inquires about the content of the food is subject to arrest.
Religious observers are most in danger, with the wrong choice of clothes or the growing of a beard seen as subversive. China is doing all it can to cause affront – such as closing mosques, making it illegal to fast during Ramadan or forcing Uighur stores to sell alcohol. Other restrictions include recalling passports, heightened surveillance, mass collection of DNA and voice biometrics for people aged 12-65.
Even in peaceful Hui Muslim areas, China has been clamping down since late 2017. A decade ago it encouraged Islamic decor and signs in an effort to promote tourism in such places as Ningxia. Now these are all being removed and calls to prayer are being increasingly banned, Islamic books and the Quran no longer appear on bookshelves, domes are being removed from mosques, private Arabic schools have closed and some public classes in mosques ended. Some ten million Hui in China have generally coexisted peacefully with the Han Chinese.
Such measures are destroying trust in the Chinese government and causing widespread panic in religious minorities. There is also genuine fear that the Xinjiang model will be rolled out in other parts of China. Groups like the Falun Gong have long been hunted and harshly treated – for example, Falun Gong practitioners may have their organs harvested – but in its paranoia China is viewing any competing worldview with severe strictures.
Another practice that commenced last December is for Chinese officials to impose five-day-long "home stays" on Muslim – and sometimes Han – households every two months. This entails party members staying with families to ask about their daily lives, religious practices and political views, and to spread party ideology such as "Xi Jinping Thought". The uninvited officials teach Mandarin, make the hosts sing the national anthem and songs praising communism. They then report back on any problems or the need for remedial action.
Maya Wang, a senior China researcher at Human Rights Watch, commented, "Muslim families across Xinjiang are now literally eating and sleeping under the watchful eye of the state in their own homes. The latest drive adds to a whole host of pervasive – and perverse – controls on everyday life in Xinjiang." She added, "China's deeply invasive forced assimilation practices against Muslims not only violate basic rights, but are also likely to foster and deepen resentment in the region. Xinjiang authorities should immediately end the 'Strike Hard' campaign and all the related abuses."
His latest homestay practice is an extension of the "Visit the People, Benefit the People and Get Together the Hearts of the People" measure, where the Xinjiang government sent 200,000 cadres out to visit and observe Muslims to "safeguard social stability".
There is no let-up in sight either. Just this month, Zhang Jun, the Procurator-General of the Supreme People's Procuratorate, urged the Xinjiang government to expand its program in an "all-out effort" to fight extremism.
What is most remarkable is the near silence from Islamic nations about the abuses being perpetrated against Uighurs, their fellow Muslims. Pakistan claims to be China's friend, but it is also a Muslim-majority nation. Islamabad has emitted deafening silence so far. What about Indonesia, Turkey or Middle East states? There has been no concerted criticism of China from any of these countries.
As in Nazi Germany, the lie is so great, the abuses so gross, that the rest of the world is having trouble imagining it, and so it sits idly by and says nothing. US Senator Marco Rubio and Representative Chris Smith termed the Xinjiang campaign as "the largest mass incarceration of a minority population in the world today". Yet more than words are needed at this juncture.
Given the abuses that Beijing is perpetrating against its own people, what right does China have to be currently represented on the United Nations Human Rights Council? Or why are sanctions and travel bans not being imposed against Chen, other Xinjiang party officials and even Xi himself?
Xi is a hardliner. He has become emboldened to do whatever he wants in his own country. Not only that, he is trying to export Chinese socialism overseas too as he desperately craves legitimacy on the global stage.
Zenz said that Beijing was "hell-bent to pursue a definitive solution to the Uighur question". Is it working? Certainly, the number of reported terrorist attacks has reduced to zero since 2017. But this is a far wider issue than terrorism. China is doing all this in the name of fighting terrorism, but in reality this is an ideological battle where Xi wants the party and his brand of socialism to reign supreme.
Beijing has instituted a war against Islam and religion in general, anything that competes for the loyalty of the hearts of Chinese people. Xi wants socialism, the party and his own thought to enlighten China.
The danger of such a massive campaign eschewing human rights is great. Already people are abusively using the threat of being sent to a re-education camp as a way of controlling other people's behavior.
This is a blatant example of modern-day social reengineering and brainwashing. Already some are speculating that the type of reeducation camps in Xinjiang could be rolled out more widely around China.
https://www.siasat.com/news/china-allegedly-tearing-long-dresses-uighur-muslim-women-1381207/
--------
Kelantan Child Bride's Husband Says Wanted to Marry Her since She Was 7
16 July 2018
IPOH, July 16 — the 41-year-old rubber tapper who married an 11-year-old girl in Kelantan reportedly said today he had wanted to tie the knot with the girl since she was seven years old.
The father of four told BH Online today that news of his marriage had only shocked the outside world, as most of the villagers and his friends had known about his wish for a while.
The man said he had told his friends, and even shown them a picture of the girl, known as Ayu, while he was in the holy land of Mecca.
Most of them, he said, had agreed to the union as the girl was not in school and came from a poor family.
The 41-year-old said he was unsure what made him feel like marrying the girl, but claimed it was not driven by desire.
Instead, he reiterated his claim that he wanted to protect Ayu and provide welfare for her.
"When news of our marriage spread, only outsiders were shocked because most of the villagers and my friends knew about it for a while," he was quoted as saying.
"I knew Ayu since she was small because we were neighbours, and I also taught Al-Quran lessons to her... it was then I told myself 'one day I will take this girl as my wife' and I did so four years later."
"Believe me death and jodoh (destined partner) comes from Allah insult me if you must, but I am not scared or dissuaded from going through with the marriage because my new responsibility is teaching her to be closer to Allah."
The man repeated his claim that he would not 'touch' his wife until she was 16. He said the couple would be staying together if he only got married because of desire, instead of waiting for five years.
"After marriage I feel relieved because I can guide her closer to Allah while taking care of her without sinning," he was quoted as saying.
"I realised many are scolding and criticising me but they are outsiders who don't know me or Ayu's family."
The rubber tapper also hoped all three of his wives would live together in love and harmony.
His 11-year-old bride has not met with the other two wives to "protect his first and second wives' emotions".
"I promise to steer our household well. Stop insulting us, but instead pray for our happiness together," he was quoted as saying.
https://www.malaymail.com/s/1652871/kelantan-child-brides-husband-says-wanted-to-marry-her-since-she-was-7
--------
Muslim Woman with Headscarf Racially Targeted In US
July 15, 2018
A Muslim woman with headscarf has been racially targeted by a white lady who mocked her English accent and threatened that the US immigration and customs officials would take her kids away, according to a media reports. During an argument on the New York transit bus going to Staten Island, a woman named Ashley mocked the Muslim woman's accent, her ability to speak English, CNN reported.
She then continues to frighten the passenger with idle deportation threats and warned her that Immigration and Customs Enforcement (ICE) was coming for her. "Immigration at the door, Oh wait, is that ICE? They're here for you," she was quoted as saying by the New York Daily.
"I'm getting into a fight with some Muslim chick because she has an attitude. She thinks she has rights that she doesn't have," the woman tells the man recording on his cell phone, the report said. The Muslim woman had trouble getting her stroller on the bus and the other woman yelled at her. The two argued, the report said.
The white woman began to spew Muslim stereotypes, and told her that "ICE should take her kids away," it added. After the man began recording, Ashley yelled at the woman, claiming she is not a citizen and cannot speak English.
He said the Metropolitan Transportation Authority bus was headed from Manhattan to Staten Island. The authority said they are aware of the video and are looking into it.
https://indianexpress.com/article/world/muslim-woman-with-headscarf-racially-targeted-in-us-5260553/
--------
Bicycle Courses for Refugee Women in Germany
16 July, 2018
Fatien Hayajneh can still remember exactly how she taught herself to ride a bike as a little girl.
It was in the attic of her parents' home in a small village in Jordan, propping herself up on the wall with one hand and gripping the handlebars with the other. "The wall still helps me sometimes," she says with a laugh.
The 35-year-old works for the Arab club Al Tariq in the eastern German town of Fuerstenwalde. Today she's with around 20 other women at the town's traffic training area. Together with other volunteers, she's going to teach refugee women how to ride bicycles.
In preparation, Joerg Raue, chair of the local road safety council, has built a course, including wooden blocks set up to lead the cyclists in an S-bend and then a left-hand curve around a bush.
Raue says: "At the end there's a slalom and a brake-test."
He's never seen women with headscarves at the training ground before. "It's usually fourth-graders practicing for their bicycle test."
According to the German News Agency, it's the first time the course for Arab women has taken place in Fuerstenwalde.
Co-organizer Gabi Moser, who got the idea in 2015 at a bicycle workshop in Berlin with a high refugee turnout, has boned up for the session with the help of videos and training manuals.
Moser told Hayajneh about her idea, who was immediately enthused.
She had already attempted on other occasions to teach women how to ride bicycles. "There were a few bruises," she remembers.
It didn't take long for her to find enough women who wanted to take part in the course. "Many discover cycling as a piece of personal freedom," says Moser. In the relatively rural Fuerstenwalde, it's a long way to the shops or to take the children to school or nursery.
"In many Muslim countries, women are discouraged form riding bikes," says volunteer Ayse, including in her home country, Syria.
The pharmacist fled the war in Syria and has been living in Fuerstenwalde for two years. "In Syria's cities, you mostly can't cycle anyway," she adds; the roads aren't suitable for cyclists.
"The most difficult thing for adult women is the balance," she continues. While kids tend to have more problems with coordination, it's harder for adults to keep themselves on two wheels.
"I want to pick my children up from school on it," says Sawsan Younis, who is riding a bike for the second time in her life today.
The 45-year-old Syrian manages to ride in a straight line across the training ground when Moser throws a wooden block in her path. She slams on the brakes and comes to a halt.
"Well done!" says Moser, but Younis is already cycling on to the next obstacle, her headscarf fluttering in the wind.
Cycling classes for refugees are now being offered in many German cities, including courses at the German Cyclist's Associations in Munich and Voelklingen, a town near the border with France.
The club also has videos and information sheets with the most important rules of the road available for download on its website in six different languages, including Farsi, Arabic and French.
In Potsdam, just outside Berlin, there's also a club called Hand in Hand that offers courses for Arab women, with female Syrian assistants who speak both Arabic and German.
"The courses are very popular," says spokeswoman Frauke Havekost, adding that some of the women had already bought their own bicycles.
As of January 31, 2018, there were 19,188 people living in refugee accommodations in Brandenburg, the German state where Fuerstenwalde is located. Last year alone, the state took in 4,500 asylum seekers.
https://aawsat.com/english/home/article/1333066/bicycle-courses-refugee-women-germany
--------
Slovenian Heroines' Small Ray of Sunshine for Injured Gazan Children
HODA AL-HELAISSI
July 15, 2018
I would like to tell you about two women who have impressed me so much, not for who they are but for what they have done — and continue to do. They are examples of the fundamental humanitarian sentiments that all human beings should harbor in their hearts.
Their feelings of empathy go beyond words; they act to create, for a few lucky souls, a life of independence when otherwise they would lead a life of dependency, relying on others for their most basic needs. In their very special way, they epitomize humanity.
Wars worldwide — and specifically in our region — have resulted in unspeakable tragedies, leaving behind an array of victims who have been depicted as a faceless mass by the global media and remembered as such by the general public, especially if those victims are Arab or Muslim. No mention is made regarding their past or their thoughts and dreams, as is usually the case for certain other nationalities in the foreign media. No longer with a name, a family or a life, they are buried beneath a pile of similar victims, or should I say, similar numbers.
A child victim is the most painful kind. A sense of hopelessness and helplessness looms over anyone with a heart. What kind of senselessness makes it OK to kill or injure children? What kind of logic is satisfied by the maiming of innocent lives whose only crime was to be born into a family whose citizenship was "wrong?" Humankind creates to destroy, only to recreate that which they destroyed. Those who die shall be remembered by those who loved them, but those who are injured, maimed or paralyzed shall be an emotional and financial burden to those who care for them with the little they may have.
And here enters a small ray of sunshine in the midst of the ashen ruins of absurdity, in the form of two heroines from Slovenia, Mojca Tos and Tanja Miskova. They have pursued their goals through a humanitarian project called "Let Them Dream," which was established by former Slovenian President Danilo Turk. Its aim is to provide medical treatment and rehabilitation for the wounded children of Gaza — the youngest yet most often forgotten victims of war.
Injured by explosions that go beyond the physical, these children are in desperate need of help. The foundation focuses on those who have lost one or multiple limbs — in some cases all four — as well as those with severe burns. They are taken out of Gaza, with much difficulty, and flown to Slovenia, where they receive treatments including surgery, physiotherapy, skin grafts and the fitting of prosthetics. The children return to Slovenia for further treatment as they grow and the foundation has, to date, helped 199 young people aged between seven months and 25 years. They also train professionals in Gaza for the sustainability of care.
I know similar projects exist and the King Salman Humanitarian Aid and Relief Center is one such example. But, for me, meeting these amazing women and hearing them talk with such passion about these children, who come from a different land, a different culture and a different faith from their own, and seeing their incredible desire to help them by spending their lives looking for donors so that they may carry on with their mission, brought tears to my eyes — not only because of how much they have already done, but because of how little the rest of the world has done.
Hoda Al-Helaissi has been a member of the Shoura Council since 2013 and is a member of its Foreign Affairs Committee.
http://www.arabnews.com/node/1339436
--------
Al-Atram Is Qassim's First Female Lawyer
July 16, 2018
BURAIDAH — Lawyer Jamilah Al-Atram has become the first woman to register as a legal practitioner in Qassim province.
Al-Atram said she is trained to be a lawyer and a public notary.
"The Ministry of Justice aims to empower more women to join the ministry and serve the country. We need more women to practice law, which is now a male-dominated field. There is no discrimination between men and women in the courtroom. I encourage more women to pursue the legal career to represent all layers of society," said Al-Atram.
http://saudigazette.com.sa/article/539076/SAUDI-ARABIA/Al-Atram-is-Qassims-first-female-lawyer
--------
URL: https://www.newageislam.com/islam-women-feminism/aimplb-endorses-nikah-halala-says/d/115846
New Age Islam, Islam Online, Islamic Website, African Muslim News, Arab World News, South Asia News, Indian Muslim News, World Muslim News, Women in Islam, Islamic Feminism, Arab Women, Women In Arab, Islamophobia in America, Muslim Women in West, Islam Women and Feminism