New Age Islam News Bureau
13 March 2017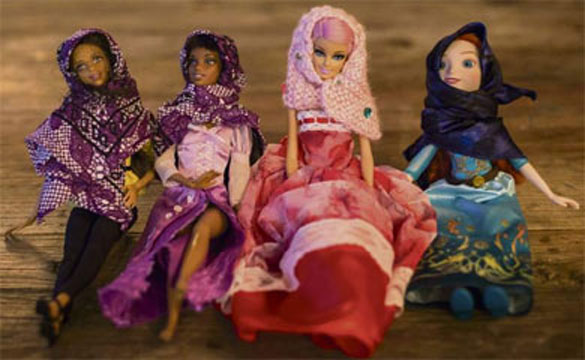 Hand-made Hijab adorned Barbies are a common sight at a Fetterman home. Marnie Staab for The Tribune-review
------
• Ahead Of Time: Bhavnagar in India Tried To Give Muslim Women Right To Divorce
• Nike Will Launch Next Year A Head Covering For Muslim Women Dubbed The 'Pro-Hijab'
• Muslim woman detective honoured by Queen sues police over racism claims
• Aiming for inclusion, Pittsburgh moms fashion Muslim dolls
Compiled by New Age Islam News Bureau
URL: https://newageislam.com/islam-women-feminism/ahead-time-bhavnagar-india-tried/d/110378
-------
Ahead Of Time: Bhavnagar in India Tried To Give Muslim Women Right to Divorce
Mar 13, 2017
AHMEDABAD: It was in 1985 that the Supreme Court passed its historic verdict in the Shah Bano case on a Muslim woman's right to alimony from her divorced husband. But little is known of the first attempts to introduce reforms in Muslim personal laws by the princely state of Bhavnagar in 1943 in Gujarat, while it was ruled by Krishnakumarsinhji Bhavsinhji.
The bill, which remains in the state archives of Gujarat, claimed that Muslim women suffered more when husbands divorced them without any prior warning or intimation. The bill, in fact, proposed to give rights to Muslim women to divorce their husbands. It witnessed fierce opposition from several quarters.
The Bhavnagar state through a gazette notification gave three months for the community to respond to proposed bill.
"The copy of the bill gives an insight into how this princely state wanted a participatory approach to the reform process. The issue was so sensitive that many sent telegrams asking the ruler to withdraw the law urging that many marriages will be destroyed," says city based historian Rizwan Kadri.
In its opening remark, the Muslim Divorce Bill of Bhavnagar had claimed that it put the suffering of the Muslim women at the heart of the proposed bill. In its preamble, the bill had taken note of cases where a husband left immediately after marrying for offshore work and did not provide for the newly married woman. It also mentions instances of domestic violence, cases of infidelity committed by husband, mental trauma suffered by women at the hands of in-laws and lack of financial support by husband.
The bill was introduced by Bhavnagar state's legislator, Sheth Kasam Usman, on February 27, 1943, in the fourth meeting of the Bhavnagar legislative 'darbar' mainly for inviting objections and suggestions. The bill proposed to give rights to a woman to divorce her husband, if a newly married wife could prove that her husband had left her and failed to keep contact or provide support to her for four years or more, and in cases of domestic violence.
http://timesofindia.indiatimes.com/city/ahmedabad/ahead-of-time-bhavnagar-tried-to-give-muslim-women-right-to-divorce/articleshow/57610301.cms
--------
Nike Will Launch Next Year a Head Covering For Muslim Women Dubbed the 'Pro-Hijab'
Age13 Mar 2017
New York: Nike says it will launch next year a head covering for Muslim women, an athletic garment it has dubbed the "Pro-Hijab". The company joins a short list of designers and apparel purveyors now making clothing expressly for Muslims, who comprise a quarter of the global population. Nike this week released a video showing female athletes wearing the hijab, which bears a big "swoosh" — the company logo — prominently on the side. The single layer, pull-on elasticised garment made of polyester was highlighted in an ad on the company's Facebook page in which it was worn by prominent Muslim athletes.
News reports said the hijab has been tested by athletes, including Zahra Lari, the first figure skater from the United Arab Emirates to compete internationally; Manal Rostom, a runner and triathlete living in Dubai; and Amna Al Haddad, an Olympic weight lifter from the United Arab Emirates.
Nike's Facebook page showed a variety of reactions to the announcement, including effusive praise from some posters like Azra Baig. "Thank you Nike for the Nike ProHijab!! As a Woman, a Muslim, a mother of two daughters, a marathoner and fitness supporter I so appreciate this athletic wear!" she wrote.
https://www.pressreader.com/
--------
Muslim Woman Detective Honoured By Queen Sues Police over Racism Claims
By News DeskPublished: March 12, 2017
An Asian Muslim detective, who was awarded an honour by the British Queen Elizabeth II, is suing the Metropolitan Police over claims of racism.
Detective Constable Nighat Hubbard is also claiming she was a victim of sexism while serving in the force.
She alleges that she was held back while white colleagues were allowed to work more complex investigations, according to The Sunday Times.
The serving officer also says in her claims, which date between 2013 and 2014, that male colleague made discriminatory comments to her and other women officers, the paper reported.
Pakistani honoured with highest youth award in Australia
Hubbard was presented with an award in 2014 for her charity work, making her the first Muslim policewoman to be honoured by the Queen.
Scotland Yard said: "We are aware of an employment tribunal claim brought by Hubbard against the Metropolitan Police Service alleging race and sex discrimination.We are unable to discuss further while proceedings are ongoing."
https://tribune.com.pk/story/1353369/muslim-woman-detective-honoured-queen-sues-police-racism-claims/
-----
Aiming For Inclusion, Pittsburgh Moms Fashion Muslim Dolls
CHRIS TOGNERI | Sunday, March 12, 2017
On the day of the Women's March on Washington — Jan. 21, the day after Donald Trump took office as President — Gisele Barreto Fetterman and her 5-year-old daughter, Grace, held a march of their own in their Braddock home.
A doll march.
There was a black doll, a doll in a wheelchair, a doll with glasses ... Fetterman has made it a point to raise Grace and her two other children in an environment of acceptance and inclusion, so nearly everyone was represented.
"Anyone missing?" she asked her daughter as they studied the lineup of dolls.
Only then did they realize an obvious omission:
There were no Muslim dolls.
"That seemed wrong," said Fetterman, who is married to Braddock Mayor John Fetterman. "The refugee population coming in is mostly Muslim, and they are not welcomed by everyone, which is painful to see. Of course, there are children among the refugees. But there are no dolls for them."
So Fetterman talked to friends, including Safaa Bokhari, 30, of Oakland, a Muslim woman from Saudi Arabia who is in the United States while her husband studies at the University of Pittsburgh. Bokhari also has a 5-year-old daughter, Salma. She and Grace play together often.
Fetterman and Bokhari searched online for Muslim dolls, found none and decided to fix that.
Enter "Hello Hijab," a small colorful piece of cloth that can be folded into hijabs for Barbie-sized dolls.
"My dream is that every school, with all the dolls they have, will have at least one," Fetterman said as Grace and Salma played nearby with Barbies wearing hijabs. "If they play with it as children, when they become adults and see someone with a hijab they'll be more accepting."
The hijabs are locally made, by hand, the first batch by Rankin resident Cindy McCune. Future production will be completed by Muslim seamstresses in Pittsburgh who will be paid $15 an hour.
The hijab will cost around $6 and be available April 1.
Hello Hijab is one of many altruistic efforts Fetterman is involved in, all of which will be found at the recently launched website www.forgoodpgh.org. Fetterman runs the site with Kristen Michaels, 34, of Edgewood; they met when Michaels visited Fetterman's Free Store in Braddock -- in which goods donated by individuals and businesses are given to those in need — and decided to launch one in Wilkinsburg.
All proceeds from Hello Hijab will go to the Islamic Center of Pittsburgh, ACLU and Community Blueprint Pittsburgh.
Mattel, the toy company that makes Barbie, did not respond to an email asking whether the company has ever produced or has plans to produce a Muslim doll.
Though Hello Hijab did not go public until Monday, word has already spread. Fetterman said she received two donated adult hijabs, to be cut up and turned into doll-sized hijabs, from an anonymous donor.
"She heard about the project through a friend at a birthday party," Fetterman said. "It made my heart explode."
The project is particularly important now, Fetterman said, because of what she and others see as a growing sense of animosity toward immigrants.
Plus, it enforces her belief in finding value in the devalued.
Originally from Brazil, Fetterman's mother decided in 1990 that she wanted to raise her kids in a safer environment. She told her children to pack their favorite belongings into a single suitcase, then flew them to New York. Her mom cleaned houses and checks coats at a night club to support her family. Fetterman and her brother chipped in by rolling newspapers. The family furnished their tiny apartment by salvaging "garbage" left out by neighbors on bulk garbage day.
"I want my children to know that the whole world is different," she said. "I'm sure many people will be offended by this, but why can't we all love each other and accept each other?"
Michaels and Bokhari are prepared for pushback.
And they vowed not to look at the reader comments following this story.
"It's just noise," Michaels said.
"Haters gonna hate," Bokhari said.
"I think there will always be people who find the negative, but we choose to find the positive in all things and that includes all people from all parts of the world," Fetterman said. "My 5-year-old will say, 'Why can't they all move here? It's more people for me to play with!' I feel the exact same way."
Nearby, Grace and Salma played with dolls.
"Would you like some juice?" said Grace, speaking for her Barbie. "Yes? Ok, I'll get you some strawberry juice."
"Thank you," Salma replied through her Barbie.
"Here you go!" Grace said, and the dolls sat down together in the doll house.
It was a scene played out in little girls' rooms around the globe.
Only in this room, the Barbies wore hijabs.
http://triblive.com/news/projects/ourstories/12009668-74/aiming-for-inclusion-pittsburgh-moms-fashion-muslim-dolls
-----
URL: https://newageislam.com/islam-women-feminism/ahead-time-bhavnagar-india-tried/d/110378
New Age Islam, Islam Online, Islamic Website, African Muslim News, Arab World News, South Asia News, Indian Muslim News, World Muslim News, Women in Islam, Islamic Feminism, Arab Women, Women In Arab, Islamophobia in America, Muslim Women in West, Islam Women and Feminism