New Age Islam News Bureau
4 Jul 2017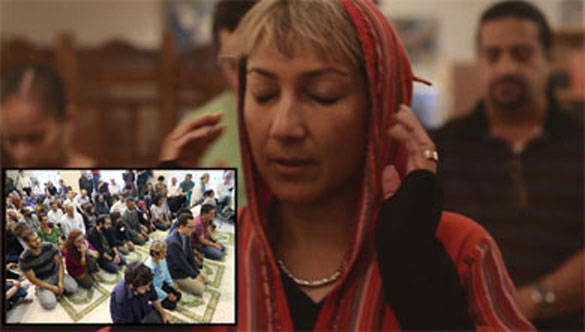 These liberal mosques champion inclusivity and equality between men and women, or feminism, in the religion, and they believe that what they are doing is for the sake of Islam
-----
• Shell Removes Malaysian Woman Cutouts over Groping Pics
• Women Directors in Pakistan to More than Double in Three Years
• ISIS Women Suicide Bombers Hit Iraqi Troops in Mosul, Kill 1
• Dubai Launches Women-Only Ambulance Service
• Suicide Bomber Dressed As Woman Kills 14 In Iraq
• How Policymakers Can Support A New Crop Of Young, Qualified Women
• 130% Spike In Saudi Women Joining Workforce; 11.1 Million Expats In Private Sector
Compiled by New Age Islam News Bureau
URL: https://www.newageislam.com/islam-women-feminism/after-msian-female-imam-made/d/111773
--------
After M'sian Female Imam Made Headlines, Will We Welcome Progressive Values in Islam on Our Shores?
04 July 2017
A few weeks ago, Malaysians were rocked by the news of a Malaysian woman being the Muazzin (the one who calls for prayer) to a congregation that was not segregated by gender and was led by a female imam (leader in prayer) at a new liberal mosque that was opened in Berlin, Germany.
Ani Zonneveld, who is an imam at a liberal mosque in the United States, called the azan at the Ibn Rushd-Goethe mosque, which was founded by Seyran Ateş, a Turkish-born lawyer and women's rights campaigner.
However, the mosque is not the only liberal mosque in existence as there are several others in the European continent and in the United States as well.
These liberal mosques champion inclusivity and equality between men and women, or feminism, in the religion, and they believe that what they are doing is for the sake of Islam so that the religion would be seen as more progressive and to remove the negative image associated with the religion.
This new liberal mosque caught the attention of many Muslims around the world and proponents of Ateş' vision supports her cause but unsurprisingly, the mufti in several Muslim nations denounces their unorthodox practice of Islam and the foundation of liberal mosques in general.
Different Understandings Of Islam Is Present In Malaysia
Since the situation had a Malaysian involved, it became a topic of interest here but some Muslims in Malaysia feel that they should not be concerned with what is happening in Berlin or in the Western countries because they are far removed from us and believe that their ideology would not reach our shores.
However, that thinking could not be further from the truth as there are Malaysians who hold similar beliefs in wanting to see more equality between men and women in the religion.
"If religions claim that men and women are created equal, then why can't women lead the prayers?
"We live in a modern era now where we're all smart enough to understand that religion is just a guideline and it's not as current as we'd expect," expressed Syazwani, 22, who proclaims herself as a liberal Muslim and applauds Zonneveld for proving that women are just as worthy and deserving as men.
As she believes that a large part of religion does not champion women's rights, it then falls onto the people to take up on the challenge since women's station, position in society and in the eyes of men will never be risen if everyone continues to follow the guidelines that she deems to be outdated.
Because of this, she says that Islam should adapt with the times and be more feminist since there is a huge gender gap within the religion and how it is projected in society.
"More and more women are fighting for gender equality and women's right and some of these causes/issues are against what Islam teaches.
"I honestly think that scholars should reevaluate what the religion teaches and make sure that it's as progressive with the time.
"The religion was introduced during a time where many things hasn't existed. How can the scholars say women are not permitted to wear five-inch heels when back then, heels didn't even exist!," she continued on to argue.
However, not all Muslim women in Malaysia subscribe to these beliefs and views as some see it to be disappointing and worrying because in their desperate need to be seen as equals to their male counterparts, it has slipped the minds of liberal Muslim feminists that men and women were created with their own unique distinctiveness.
To Natasha, 35, this is the result of the West championing feminism at a large scale and urged Muslim women to understand that what is happening overseas is not the reality of Muslim women, and to refer to the Quran and Sunnah (traditions of the Prophet Muhammad (PBUH)) instead of allowing others to influence their perceptions and opinions.
Strongly disagreeing with what liberal Muslim feminists are doing with these liberal mosques, Natasha said that men and women are already equal in the sense that Allah outlined their rights and privileges according to their unique distinctiveness.
"Allah is fair, and He is all knowing. Allah gave men more responsibility as they have their amanah (trust) towards his family, his parents, his siblings and even society.
"Yet, for women, their amanah is only to her husband but Allah blessed us that heaven lies beneath our feet - despite us having less 'responsibility' than the men."
She goes on to say that women tend to pick and choose aspects they want to be seen as equal to men but fail to realise the amanah and responsibility that comes with it, and also questions why women would want to be seen as an equal in the eyes of men but not Allah.
And while liberal Muslim feminists want to inject more of the feminist ideology into the religion to lift the status of women in Islam, Natasha said that they are forgetting two great figures in Islam that has been given high regard through the times.
"Khadija (RA) was a CEO and we have Aishah (RA) who was married at a very young age. Of course she later went onto become the second largest hadith (narrations of Prophet Muhammad (PBUH)) narrator and one of the top jurists of her time.
"Islam also doesn't oppress women. Islam doesn't ask us to dress or speak modestly because it disagrees with our individuality. It asks so because the religion teaches us to respect ourselves so that when the time comes, the right man will respect us according to how our religion has taught us.
"Islam honours women, it is the people who has failed to honour this teaching and value; not the religion," she stressed.
Islam Is About Being Just Not About Equality
The perception of Islam oppressing their women stems from the treatment of many Islamic societies in the world towards the women due to their ignorance of the religion, either by the men or the women.
Dr Sofiah Samsudin, lecturer at the Kulliyyah of Quran and Sunnah Studies, International Islamic University Malaysia (IIUM), said that because of this, it sometimes makes Islam seem too rigid to the point that it becomes an inconvenience, when in fact there are limits to the rulings that have been sent down, for example, the command for women to cover themselves.
"Surah Al-Nur verse 31 clearly states that women should cover whatever can attract the attention of men to them from the head to the chest, and wear clothing that would cover everything apart from the face and hands.
"But because they interpret the verse differently, it becomes too rigid and an inconvenience, which is not what Islam is about as it is about striking a balance or what we would call adil (just)," she explained.
While some feminists will cry out that it is oppression towards women to cover themselves just because men cannot control their desire, Dr Sofiah emphasised that the command to take care of themselves is the true honour for herself because Allah created them not for the viewing pleasure of any man but just for those who are worthy of witnessing their beauty.
"What we are seeing in society now, where women are seen as lesser beings or being objectified, is because of ignorance and the inability to control their desire, and not because of Islam.
"By disregarding the command to cover ourselves, we are only lowering our own status when Allah has lifted women to a higher degree and to be appreciated only by those who are worthy," she said.
On the question about equality in performing ibadah (acts of worship), Dr Sofiah said it is again ignorance or their shallow knowledge about who Allah is that they are prostrating to that drives them to do what they did.
"Everything that Allah created are in pairs, meaning that their existence are dependent on others and this is meant to portray the Absoluteness of Allah.
"So when the question of feminism arises, men cannot be dismissed from the discourse because they both need each other to exist because the One who created men and women know their needs.
"This does not mean that in ibadah, women are not allowed to become the imam, as they are allowed to lead a female congregation, or should be separated because they are not equal to men but it is due to the disposition of men to be easily aroused even by the shadow of a woman.
"Imagine then what men will feel if they pray side by side with women? Or when they come for congregational prayers that a women is leading it, when they are prostrating, would they be able to control their desire?
"The reason for prayers is to communicate with Allah. Everything that can be a distraction is removed from them because of His love towards them.
"One of the main basis in Islam is adil, not equality. Just look at the feet; its function cannot be replaced by the functions of the hands, nose, eyes and etc. How then can we seek for equality?
"That is why women are placed in a just place according to their creation.
"Allah created something with a perfect system for the betterment of His creations. Try to learn or understand this," she advised.
She also added that Prophet Muhammad (PBUH), who was sent to guide Muslims on the commands sent down by Allah, has never asked any of the female companions to become the imam when he was not able to, so why should we create something that has not been taught to us by the Prophet.
"I would say that the reason why these liberal Muslim feminists exist is because Allah wants us to be alert of what is haq (true) and what is batil (false), and so that we should always do some research before making a decision.
"We should seek people who we believe can give us the correct answer so that we could accept what is haq and reject what is batil," she concluded.
Muftis Must Intervene, Educate The Masses
As the ideology of liberal Muslim feminists has permeated in the Malaysian society, should we be on the lookout of a liberal mosque being built in Malaysia like those in the Western world?
Datuk Ustaz Mohd Daud Che Ngah, an independent preacher who strongly disagrees with what liberal Muslim feminists are doing, does not think that it would be a possibility in Malaysia since the building of mosques is under the purview of the mufti department.
"They can build liberal mosques in the Western world because they are not Muslim countries so the governments do not understand what Islam is.
"They also would want to win the support of the Muslim communities there, so that's why they allow the building of these mosques.
"If for some reason a liberal mosque is built here, I am certain that Muslim youths who holds fast to the true teachings of Islam will band together and rise against this mosque," he said.
However, he says that the liberal Muslim feminists can continue to propagate their beliefs through other means as the Registry of Societies (ROS) have approved the registration of organisations that champion liberal Islam.
This is worrisome because action cannot be taken against these groups after they have registered because they are protected by the Constitution.
"Because of the tolerance to practice religion, we have allowed organisations founded on the name of Islam to move freely and although they are clearly against Islamic teachings, we cannot take action against them because they are protected by the Constitution," he lamented.
Asked about what is the best method to correct the understanding of liberal Muslims about Islam, Ustaz Mohd Daud said that muftis undertaking a bigger and more visible role in educating the masses would be the best option available now.
"The responsibility now lies on the muftis as I've always asked what they have been doing all this while because if they have been aggressive in explaining the misunderstandings in Islam, the religion can grow and a lot less confusion will go around.
"As long as the muftis do not come forth and speak against those who are corrupting the religion, Islam would continue to be trampled by those who proclaim themselves as Muslims but do not adhere to its true teachings," he said.
And Islam would only be considered progressive when the believers adhere to the true teachings of Islam because progress in the eyes of Allah is when what they have leads them closer to Allah and make them realise that they are a servant of Allah, and not the other way around.
So, to be progressive is to know when to avoid those which that would lead to sin and pursue those which would bring reward, where the characteristics of progressive Muslim men and women who seeks the pleasure of Allah has been clearly stated in Surah Al-Ahzab verse 35, through ten virtues, as follows:
1. men and women who submit to Allah
2. men and women who have faith
3. men and women who are obedient
4. men and women who are truthful
5. men and women who are patient
6. men and women humble themselves to Allah
7. men and women who are charitable
8. men and women who fast
9. men and women who guard their chastity
10. men and women who remember Allah often
Evidently, in the Creator's sight and in His religion, these qualities illustrate the real worth of a person, proving there is no difference between the two sexes.
http://malaysiandigest.com/frontpage/282-main-tile/684244-after-m-sian-female-imam-made-headlines-will-we-welcome-progressive-values-in-islam-on-our-shores.html
--------
Shell removes Malaysian woman cutouts over groping pics
4 July 2017
Energy giant Shell said it is removing life-sized cutouts of a Malaysian woman in a headscarf from its petrol stations in the Muslim-majority country after photos of men groping the figure started circulating online.
The adverts featuring a female employee, wearing a red T-shirt with a Shell logo, black trousers and a black headscarf, smiling and with her thumb raised in the air, had been placed at Royal Dutch Shell's stations in Malaysia.
But images of men kissing the cardboard cutouts, holding her hand and grabbing her chest and crotch started circulating on Facebook in recent days, in what Shell blasted as "distasteful and suggestive acts".
The woman, named in local reports as 25-year-old Nor Shafila Khairusalleh, who worked at a Shell station, criticised the "extreme behaviour" of the men in the images.
"They may just be joking, but I feel humiliated because that is still myself although it is just an image," she told news portal mStar.
The Anglo-Dutch group said in a statement that "we do not condone this disrespectful act, which is completely against the culture of Malaysians and Shell´s core values. We urge netizens and members of the public to refrain from sharing these images further.
"The standee (cutout) will be removed from all our sites with immediate effect."
An AFP journalist at a Shell station in Bentong, just outside the capital Kuala Lumpur, said two of the cutouts had been removed from the forecourt and placed inside the site's shop. A staff member said the cutouts were removed Monday and were going to be placed in storage.
Shell did not say how many cutouts were removed and which stations were affected. The oil giant has a network of over 950 stations across Malaysia and serves nearly one million customers a day, according to its website.
More than 60 percent of Malaysia's population of over 30 million people are Muslim and social attitudes -- particularly outside cities -- can be conservative.
Religious conservatism has also been rising in Malaysia in recent years, chipping away at a one-time reputation for moderation and tolerance.
http://www.dailymail.co.uk/wires/afp/article-4663642/Shell-removes-Malaysian-woman-cutouts-groping-pics.html
--------
Women directors in Pakistan to more than double in three years
Usman Hayat
July 4, 2017
Pakistan has made a breakthrough on gender diversity on its corporate boards.
The Companies Act 2017, passed by the country's parliament on May 24, requires public interest companies to have such representation of women directors as specified by the Securities and Exchange Commission of Pakistan (SECP).
For listed companies, the regulator had previously specified, through the revised Code of Corporate Governance, that within three years, the board of such companies shall have at least one woman director.
There was a need for this intervention. As many as 69 out of 100 companies included in the widely followed KSE-100 Index of Pakistan Stock Exchange (PSX) have no woman director. These include 16 out of the 20 largest listed companies in terms of free-float market capitalization.
Overall, the proportion of women directors on the boards of listed companies is only 6.4 per cent. It is far below the 17.2pc representation of women in the country's parliament and their 15.8pc labour force participation rate. It is also much lower than the proportion of women directors in companies in the S&P 500 and FTSE 100, which now ranges from 20pc to 25pc.
The proportion of women directors will now more than double in three years, jumping from 6.4pc to at least 14.3pc.
The clear cut manner in which this change has been brought about makes compliance straightforward. Non-compliance will be subject to the same supervision, enforcement, and remedial mechanism that applies to a violation of listing regulations.
The business case for women directors
The business case for women directors in Pakistan is no different from that being made elsewhere in the world. It is associated with, though not established as a cause of, better decision making and lower corruption without any compromise on, if not improvement in, the financial performance.
There are also legal precedents from both developed (eg Norway, Finland, Germany) and developing countries (eg Malaysia, India, Kenya) of direct legal intervention to address gender diversity.
There are, however, wide variations across countries. In some countries, for example Japan, the proportion of women directors is even lower than in Pakistan. There are also many jurisdictions where policy makers so far have done little to address gender diversity.
The lack of established causality, mixed bag of legal precedents, and the inevitable debate on how effective the incoming women directors would be in improving the quality of board discussions did not deter the SECP from taking this decisive step forward. An evolutionary path
In an exercise that took several years, the SECP was thoroughly updating the companies' law, which was last promulgated in 1984. For gender diversity, the new law was a rare opportunity to make a breakthrough, which was not missed.
Three aspects of this important legal change are worth noting.
First, the new Companies Act containing the provision on gender diversity was passed by parliament with wide support.
Second, the change has been enabled not through subsidiary legislation but by the apex law governing companies from formation to liquidation.
Third, the requirement is for all public interest companies. This includes all companies listed on the PSX and others which have paid-up capital, turnover, number of employees, or number of shareholders above specified thresholds.
A key enabler in implementing the legal change is the Directors Training Programme offered by the Pakistan Institute of Corporate Governance.
More than 130 women have been trained under this program and more are likely to enroll.
There are also wider winds of change in favor of gender diversity in Pakistan. The country finally re-entered the MSCI Emerging Market index in 2017 after having lost its place in 2008.
Gender diversity on the boards of some of the country's large-cap companies is expected to receive support from higher foreign investment likely to consider environmental, social, and governance (ESG) issues in investment decisions.
An important precedent
Pakistan's perception on gender issues is perhaps far worse than its reality. In the 2016 Global Gender Gap Report covering 144 countries, Pakistan holds the second last position, ranked just above the war torn Syria.
Many Pakistanis and those who have visited the country would argue that there is more noise than signal in such rankings.
Leaving that debate aside, the precedent set by Pakistan for women directors shall not be insignificant.
It is the sixth most populous country in the world and a prominent name among the members of Organization of Islamic Cooperation, which, as group, has the lowest gender equality index scores.
With this major step forward, Pakistan has demonstrated that where the invisible hand of incentives is not delivering gender diversity, the visible hand of regulation needs to take corrective action.
https://www.dawn.com/news/1342968/women-directors-in-pakistan-to-more-than-double-in-three-years
--------
ISIS women suicide bombers hit Iraqi troops in Mosul, kill 1
July 4, 2017
MOSUL: Two women suicide bombers, hiding among a group of fleeing civilians, targeted Iraqi troops in Mosul on Monday morning, killing one soldier and wounding several others, an Iraqi officer said.
It was the latest counter-attack by the Islamic State group as Iraqi forces close in on the last pocket of militant-held territory in the Old City neighborhood — the scene of the last stand by IS militants.
After days of fierce battles, the territory held by the militants in Mosul, Iraq's second-largest city, is rapidly shrinking, with IS now controlling just over 1 square kilometer in all, or about 0.40 square miles.
Using women as suicide bombers was apparently the latest tactic by the militants, Sgt. Ali Abdullah Hussein told The Associated Press.
"They appeared from the basement (of a building) and they blew themselves up," Hussein said as he returned from the scene, his troops carrying the body of their slain comrade wrapped in a blanket.
The attack happened in the area of the destroyed al-Nuri Mosque, which was the focus of the Iraqi forces' push last week. Over the past three days, Hussein said at least four such attacks have targeted Iraqi forces as hundreds of Mosul's civilians are fleeing the battles in the Old City's congested streets.
After the explosion on Monday, another group of civilians appeared on the main road, prompting the Iraqi soldiers to immediately draw their weapons. They then yelled to the group of mostly women and children to back away and take another route out.
IS overran Mosul in a matter of days more than three years ago. The U.S.-backed operation to retake the city was launched last October and has lasted nearly nine months, although Iraqi political and military officials had vowed that victory would be declared by the end of 2016.
Iraqi forces launched the operation to retake the Old City in mid-June and after a dawn push last Thursday, they retook the area around the al-Nuri Mosque, which the militants had blown up just a few days earlier.
The 12th century mosque is hugely symbolic — it was from a pulpit of this mosque that IS leader Abu Bakr al-Baghdadi proclaimed the IS caliphate in July 2014.
After the Iraqi forces retook the landmark al-Nuri Mosque, Prime Minister Haider al-Abadi declared an end to IS' so-called caliphate and pledged victory was "near."
http://nation.com.pk/international/03-Jul-2017/isis-women-suicide-bombers-hit-iraqi-troops-in-mosul-kill-1
--------
Dubai launches women-only ambulance service
3 July 2017
JEDDAH: Dubai has launched the first women-only ambulance service in the United Arab Emirates (UAE).
The pink responders vehicle will operate between 11 a.m. and 11 p.m., specializing in emergency treatment for women, including maternity-related issues and deliveries. They will also repsond to children under 12-years-old.
Crews will be made up of specially trained female medics.
"The use of emergency vehicles only for women and children is among twenty-four specialized services offered by the corporation," Khalifa Bin Darai, executive director of DCA told UAE daily The National.
The ambulance will be based at Al-Twar municipality center and will cover Deira.
The service will be monitored for two months before being rolled out in Bur Dubai.
"The evaluation of the pink ambulance vehicle will be based on the number of emergency cases dealt with in a particular area. We want to ensure that many residents will benefit from the service," he said.
The ambulance is not the first time such a service was launched in the emirate.
In 2006 Dubai launched a fleet of pink taxis, designated for women and young children.
http://www.arabnews.com/node/1123636/offbeat
--------
Suicide bomber dressed as woman kills 14 in Iraq
3 July 2017
MOSUL: An Iraqi provincial official says a suicide bomber, disguised in a woman's all-covering robe, struck inside a camp for displaced people in the western province of Anbar, killing at least 14.
Councilman Taha Abdul-Ghani says the attack took place at dusk on Sunday as authorities were accommodating families that had fled from the Daesh-held town of Qaim.
Abdul-Ghani says that a police colonel was among the dead. The officer became suspicious about the person in the long robe and walked up to the attacker, embracing him — presumably to reduce the number of casualties — as he detonated his explosives.
The explosion also wounded at least 20 people.
Iraqi forces have pushed Daesh out of most of Anbar, and are now in the final stages of a major offensive in the northern city of Mosul. There was no immediate claim of responsibility for the attack but suspicion is likely to fall on Daesh, which has carried out similar attacks in the past.
An Iraqi officer says that two women suicide bombers, hiding among a group of fleeing civilians, targeted Iraqi troops in Mosul, killing one soldier and wounding several.
Sgt. Ali Abdullah Hussein says the attack was the latest by the Daesh group as Iraqi forces close in on the last pocket of militant-held territory in the Old City neighborhood. The Daesh group's last stand in Mosul is rapidly shrinking, with the militants now controlling just over 1 square kilometer in all.
Hussein says the attack happened on Monday morning in the area of the destroyed Al-Nuri Mosque.
He said that over the past three days, at least four such attacks have targeted Iraqi forces as hundreds of civilians flee the fierce fighting in the Old City's congested streets.
http://www.arabnews.com/node/1123566/middle-east
--------
How policymakers can support a new crop of young, qualified women
Hassan Al-Damluji
July 4, 2017
In the years I have lived and worked in the Middle East and North Africa I have often been struck by the remarkable and highly educated women leading change in their fields. Whether Saudis like Thoraya Obaid, who led the UN Population Fund, or Norah Al Faiz, with whom I had the privilege to work when she was in charge of girls education, Moroccans like writer and advocate Asma Lamrabet, or Iraqis like the world-renowned and sadly missed architect Zaha Hadid, Arab women have provided me with many of my role models. Perhaps the first was my grandmother, who qualified as a doctor in Baghdad in 1945, and became one of a generation of Iraqi women who saw no boundaries beyond their own abilities and ambitions. She and many like her paved the way for countless other men and women behind them.
Across our region today many women follow in that same tradition. The UAE is playing a leading role in this. Women here hold several prominent ministerial positions, and they are excelling in the professional and corporate worlds. Equally notable is the fact that the empowerment of women and girls has has become a pillar of the UAE's new policy for foreign aid and international development.
That's a remarkable step, which highlights how much further we have to go. Despite the fact that girls now perform better than boys in school-level education in most Arab countries, and account for the majority of university students in places like Algeria, Palestine and Saudi Arabia, there remain too few women in leadership positions across the board. Many formal and informal barriers still hinder the progression of hard working and well-qualified women.
That is why I have been so struck by a fellowship programme recently launched in the UAE that offers insights into how policymakers can best support the new crop of young, qualified women to become the change-makers of tomorrow, as my grandmother was.
The programme is focused on agricultural science. Improving food security is a central and urgent problem across the Mena region, as water scarcity grows ever more acute. The region will add 235 million additional inhabitants by 2050, and feeding them will mean that we need to produce ever more food despite shrinking natural resources.
Science is the key to tackle this challenge, but our region is still not harnessing all its great minds. With just 17 per cent of scientists being women, we have the worst academic gender imbalance anywhere in the world. What's more, a high proportion of those working in agriculture are women, whether tending livestock in Tunisia, growing sorghum in Yemen or carrying out any number of other important jobs in every country. Unless those devising the solutions can take gender into account, we will be failing to support the people whose food production we need to improve.
That's why I am so encouraged to see the emergence of Tamkeen, a fellowship programme that seeks to attract, develop and empower the next generation of women agricultural scientists in the Arab world. It takes its lead from a successful programme that is already operating in Sub-Saharan Africa. Agriculture does not form as large a part of the economy in Mena as it does in the rest of Africa, but many of the poorest people in our region are farmers. That means policymakers cannot eradicate poverty without helping those farmers to grow more crops. Add to this the enormous food-security challenges caused by a growing population and climate change, and it becomes clear that our region must strengthen its capacity to innovate in agriculture as much as Africa.
Tamkeen will start with scientists from the UAE, Oman, Jordan, Egypt, Lebanon, Palestine, Morocco, Tunisia and Algeria. The programme is run by the International Center for Biosaline Agriculture, based in Dubai, and aims to develop 20 women scientists per year from each country. The one-year, intensive programme is followed up with ongoing support, to strengthen and build women's scientific skills and capabilities. Tamkeen creates a regional network of Arab women researchers, linking those regional researchers with international counterparts. The effort places women's scientific contributions at the top of the agenda and in the front of minds. It's an ambitious set of goals, but if Tamkeen is able to find the resources to reach its desired scale, it will produce within a few years a wave of skilled, empowered and well-connected women working on this important development challenge.
Recently in Dubai, an initial cohort of a dozen fellows convened for the first pilot training sessions. They arrived from some of the greenest, most beautiful spots in the Arab world – the coast of Morocco, the hills of the West Bank, the rich Nile valley. Wherever they were from, they brimmed with the energy, determination and resilience that stems from a clear vision of a better future that they will themselves create.
Meeting these fellows makes you optimistic that people like this will provide their own solutions to the region's challenges . Whether through Tamkeen, or any number of other great initiatives that are now taking shape, we have the tools to allow women to take their rightful place as leaders in every field. It is up to all of us now to make sure that happens.
Hassan Al Damluji is head of Middle East relations at the Bill and Melinda Gates Foundation
https://www.thenational.ae/opinion/how-policymakers-can-support-a-new-crop-of-young-qualified-women-1.91688
--------
130% spike in Saudi women joining workforce; 11.1 million expats in private sector
July 4, 2017
Manama: The number of Saudi women joining the workforce saw a dramatic increse in the last four years, latest official data show.
A based on figures provided by the Ministry of Labour and Social Development in March, the number of Saudi women working in the private sector has increased by 130 per cent in the last four years.
From 215,000 in 2012, the number of women in the private sector jumped to 496,000 in 2016, an average of 8,500 jobs per month.
Women now represent 30 per cent of the total Saudi work force in the private sector, up from just 12 per cent in 2011, the study said.
Riyadh has the highest figure in employment opportunities for Saudi women with 203,600 jobs, representing 41 per cent of the total number.
Makkah in western Saudi Arabia follows with 106,800 jobs (21.5 per cent) well ahead of the Eastern Province with 56,400 jobs (11.4 per cent).
Around 5,800 women are working in Jazan in the south of the kingdom, representing 1.2 per cent of the labour force in the private sector. Their number was 4,900 in 2012.
The ministry is working on increasing the percentage of women in the Saudi total workforce to 28 per cent by 2020.
Expat population: 13,340,921
Meanwhile, the Saudi government has reported more than 11 million foreigners in Saudi Arabia's private sector, based on official figures.
According to the Interior Ministry's National Information Centre, 11,119,370 expatriates are employed in the private sector. They are accompanied by 2,221,551 relatives, bringing their total number to 13,340,921.
The overwhelming majority of the expatriates (10,976,854) are aged between 20 and 64. They have 1,689,874 relatives with them, the figures published in the Saudi daily Okaz on Tuesday show. Together, they total 12,666,728.
Slightly less than 10,000 foreign workers (9,646) are less than 20 years old while 132,870 are above 64 years.
Total population: 31,742,308
Meanwhile, latest figures posted by the General Authority for Statistics show that the total population of the Saudi kingdom is 31,742,308.
Saudi Arabia has embarked on an ambitious drive to boost employment among its native population, mainly women and graduates.
Several programmes have been launched to empower women economically and help them secure jobs despite stiff resistance from conservatives who have been openly against allowing women to work, especially in places where genders can mix, including supermarkets.
Women can work from home
Under the National Transformation Programme 2020, the ministry has launched several projects, including allowing women to work from home, amid expectations that it would generate 141,000 jobs.
The project is proving popular among women, mainly for those living outside major cities in the kingdom, as it provides them with flexible timings and enables them to avoid the challenges of commuting to the workplace.
Transportation difficulties are often cited along family responsibilities among the major social obstacles hindering women from taking up jobs.
http://gulfnews.com/news/gulf/saudi-arabia/130-spike-in-saudi-women-joining-workforce-11-1-million-expats-in-private-sector-1.2052841
--------
URL: https://www.newageislam.com/islam-women-feminism/after-msian-female-imam-made/d/111773
New Age Islam, Islam Online, Islamic Website, African Muslim News, Arab World News, South Asia News, Indian Muslim News, World Muslim News, Women in Islam, Islamic Feminism, Arab Women, Women In Arab, Islamophobia in America, Muslim Women in West, Islam Women and Feminism