New Age Islam News Bureau
19 Jan 2017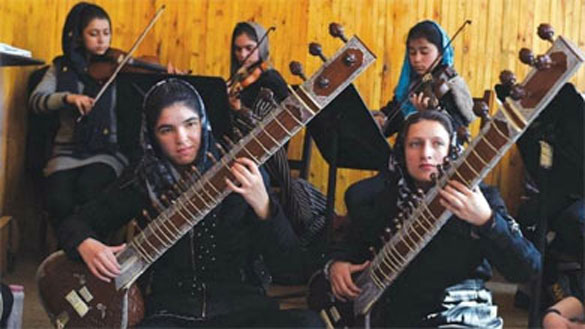 Afghanistan's first all-girl orchestra ready to perform at Davos, AFP They are led by Negina Khpalwak, Afghanistan's first female conductor
----
• Women-Only Seats On Air India Following 'In-Flight Sex Attacks'
• Muslim Women's Group Say Loyalty To Britain Is Part Of The Islamic Faith
• Views on Abortion Strain Calls for Unity at Women's March on Washington
• Malaysia: 'Women, Feminists Should Support Changes To Shariah Court Powers'
• Nigerian Govt Confirms Negotiation With Boko Haram To Free Chibok Girls
• Burqa Ban: Almost No Women In Perth Wear Garment, Imam Says
• N.J. Court Upholds Firing Of Muslim Woman For Wearing Headscarf
Compiled by New Age Islam News Bureau
URL: https://www.newageislam.com/islam,-women-and-feminism/new-age-islam-news-bureau/afghanistan's-first-all-girl-orchestra-ready-to-perform-at-davos/d/109779
-------
Afghanistan's First All-Girl Orchestra Ready To Perform At Davos
January 19, 2017
In the face of death threats and accusations they are dishonouring their families by daring to perform, the women of Afghanistan's first all-female orchestra are charting a new destiny for themselves through music.
The group is set to be catapulted onto the world stage with a performance at the World Economic Forum in Davos.
Zohra, an ensemble of 35 young musicians aged 13 to 20, some orphans or from poor families, will be performing before 3,000 CEOs and heads of state during a session on Thursday and at the closing concert on Friday.
Led by Negina Khpalwak, who will be celebrating her 20th birthday on the return flight from Europe, the girls have overcome death threats and discrimination in this deeply conservative war-torn country to play together.
With their hair hastily knotted, eyes focused on their instruments, the musicians performed in unison under Khpalwak's baton earlier this month at one of their last rehearsals in Kabul before the concert.
"She is Afghanistan's first female conductor," Dr Ahmad Sarmast, the musicologist who founded Afghanistan's National Institute of Music (Anim) and the Zohra orchestra, said proudly of Khpalwak.
Sarmast understands the risk facing women in Afghanistan who pursue music - which was banned during the Taliban's repressive 1996-2001 rule and is still frowned upon in the tightly gender-segregated conservative society.
Zohra, he says, is "very symbolic" for Afghanistan.
"It's so hard for Afghan girls. Some fathers do not even let their daughters go to school, not to speak about music school," Negina said. "For them, women are to stay at home and clean up."
Her parents, she said, stood against her entire family to allow her to attend music lessons. "My grandmother told my dad: 'If you let Negina leave to music school, you won't be my son anymore.'"
Since then, her family has left their native Kunar province in eastern Afghanistan, and moved to Kabul.
Life is hard in the capital city, jobs are scarce, but "it is better than being dead", Negina said, recalling what her uncle promised her: "Wherever I see you, I'll kill you. You are a shame for us."
Negina's goal is to win a scholarship "to study outside of the country, and study, and study". Then, she says, she will return to her country and become the conductor of the National Orchestra.
Dangerous life
Fifteen years after the end of Taliban regime, gender parity remains a distant dream in Afghanistan despite claims of progress.
According to a National Bureau of Statistics survey conducted in 2016, just 19 per cent of all Afghan women had attended school. Of women and girls under the age of 25, only 36 per cent of those surveyed said they had been to school.
"If you don't stand up you will have no future," Negina said. "I want to pave the way for other girls."
Music has offered Zohra's girls the chance of another life. Among the now adept players of the violin, piano and traditional instruments of Afghanistan, some were once street working children.
At 18, violinist Zarifa Adiba has already performed at Carnegie Hall in New York. In Davos, she will also conduct four pieces as the second conductor of the orchestra, where the young Shia Hazara girl with high cheekbones knows how to obtain focus and silence among the excited young troops.
"Being Afghan and living here is every minute dangerous for your life: you don't know where will be the next blast, and when... will it be here?" she recalls.
For musicians, she says, remembering the Taliban regime, the danger is even worse.
But far from giving up, Zarifa, whose mother never got the chance to go to school, believes that it is up to her generation to reverse mentalities.
"Now it's up to my generation to try to do something for my country, but it will take at least one generation to change," she said.
"I wish to apply to Yale University, my first choice, or to Harvard, or Stanford. I will study and make a good personality for myself and then I will come back as a positive person," she vows.
"Do you think Michelle Obama will be in Davos?" she asks suddenly. "I have been listening to all her speeches: when I hear her speaking, I feel proud to be a woman. I love Michelle Obama."
For Dr Sarmast, who wants to promote "a better side of the country than the Kalashnikov, rockets and suicide attacks", these girls are Afghanistan's best ambassadors.
"We hope to change the perception of Afghanistan abroad," he said.
http://nation.com.pk/international/18-Jan-2017/afghanistan-s-first-female-orchestra-set-to-take-davos
-------
Women-only seats on Air India following 'in-flight sex attacks'
19 Jan, 2017
More than 3,000 Yemeni women held a protest rally in the capital Sanaa against exiled president Mansour Hadi and Saudi Arabia's ongoing military onslaught to reinstate his rule.
The activists gathered at a football stadium in Sanaa on Wednesday calling on the women of Yemen to "fight for peace."
The women, mostly dressed in black niqabs and carrying weapons, chanted as they marched to upbeat music.
Missile launchers, machine guns were among the weapons brandished at the event.
Yemen is suffering a humanitarian crisis as the two year conflict continues between a Saudi-led pro-government coalition and the Houthi rebels who forced President Abdrabbuh Mansour Hadi to flee the country in 2015.
People of Yemen are at the brink of famine, with food and aid supplies cut off. UN estimates that at 10,000 casualties, mostly civilian, have occurred since March 2015, when Saudi Arabia began bombing the country to prevent the rebels from taking control of the entire country.
The Kingdom leads the Arab coalition that supports President Hadi, who fled Yemen in February 2015, while the Houthis support former President Ali Abdullah Saleh, who agreed to transfer power to Hadi in 2012, for a two year term. Hadi extended his term in 2014 and was criticized for failing to deliver on his promise to bring change and manage issues facing the country.
The US and the UK have provided support to the Saudi-led coalition, both in terms of weapons and tactical assistance, despite reports of civilian deaths and war crimes.
"As one of the principal backers of this brutal war, Britain needs to end its arms sales and military support to the Saudis and help put Yemen on the road to peace," Oxfam GB chief executive, Mark Goldring said in December.
Amnesty International's director for arms control Oliver Sprague described UK Prime Minister Theresa May and Boris Johnson's efforts to justify the government supplying Saudi Arabia with arms as "a disgrace."
All-women protests against Saudi Arabia are common in Yemen. In October 2015, women condemned the UN for failing to address the attacks which killed women and children.
In June 2015, women gathered outside the attorney-general's office in Sanaa demanding Hadi and his government be prosecuted. "Families of the martyrs of the Saudi aggression demand the trial of the collaborators and traitors," signs carried by the women read.
The UN envoy to Yemen, Ismail Ould Chiekh Ahmed arrived in Yemen on Monday and meet with Hadi in Aden to discuss a proposed roadmap for peace, after Hadi had rejected an earlier proposal that would see a new vice-president step in before new elections were held.
"A peace agreement, including a well articulated security plan and the formation of an inclusive government is the only way to end the war that has fueled the development of terrorism in Yemen and the region. I asked the President to act swiftly and engage constructively with the UN's proposal for the sake of the country's future," Chiekh Ahmed said.
https://www.rt.com/news/374154-yemen-women-protest-saudi/
-------
Views on Abortion Strain Calls for Unity at Women's March on Washington
By SHERYL GAY STOLBERG
JAN. 18, 2017
WASHINGTON — As a self-described feminist and law student who wants to correct racial wrongs in the criminal justice system, Maria Lyon agrees with Hillary Clinton that "women's rights are human rights." But when thousands of women march on the capital the day after Donald J. Trump is inaugurated as president, she will not be there.
The reason: She opposes abortion.
"It's hard, because right now it feels like if you're pro-life, you're anti-woman," said Ms. Lyon, 23, who studies law at the University of Wisconsin. "That's kind of the traditional rhetoric. It's like if you care about women and you care about women's rights then you should be pro-choice."
Ms. Lyon is not the only feminist agonizing. Across the country, women who oppose abortion — including one in six women who supported Hillary Clinton, according to a recent survey by the Pew Research Center — are demanding to be officially included in Saturday's Women's March on Washington. But those requests have been spurned, creating a bitter rift among women's organizations, and raising thorny questions about what it means to be a feminist in 2017.
"If you want to come to the march you are coming with the understanding that you respect a woman's right to choose," Linda Sarsour, a Brooklyn-born Palestinian-American Muslim racial justice and civil-rights activist, and one of four co-chairwomen of the march, said in an interview on Tuesday.
Now these tensions, which have simmered behind the scenes, are spilling out into the open.
On Monday, march organizers revoked so-called partnership status – a kind of official recognition — for a Texas anti-abortion group, New Wave Feminists. (Ms. Sarsour called the initial decision to include the group "a mistake.")
Many anti-abortion women like Ms. Lyon are simply staying home. But one group, Students for Life of America, which organizes college students to oppose abortion, does plan to march, banners and all. Kristan Hawkins, its president, a 31-year-old mother of four, said she, too, made a request for partnership status, which she said was ignored.
She said her marchers will wear Go-Pro cameras: "When they start spitting and screaming at us it will be helpful."
The march comes as abortion foes are newly emboldened by the election of Mr. Trump. He won the support of 53 percent of white women, who flocked to him primarily for economic reasons, pollsters said, but also because he made explicit promises to overturn Roe v. Wade, the 1973 Supreme Court decision that found a right to abortion within the privacy protections of the Constitution.
Kristan Hawkins, president of Students for Life of America, at home with her children in Mahtomedi, Minn. Credit Angela Jimenez for The New York Times
Abortion opponents will mark the 44th anniversary of the landmark ruling with their own event, the March for Life, next week. Kellyanne Conway, who will be Mr. Trump's White House counselor after becoming the first woman to manage a successful presidential campaign, will speak at that march.
At the same time, Republicans on Capitol Hill are threatening to withdraw taxpayer funding for Planned Parenthood, the reproductive rights behemoth. The group is the lead financial sponsor of the Women's March and is helping to organize the event, along with Naral Pro-Choice America and other abortion-rights organizations. Their participation makes it clear: Abortion opponents are out of step with the march.
"Reproductive freedom or reproductive justice means that women decide the fate of our own bodies," Gloria Steinem, an honorary co-chairwoman of the march, wrote in an email message. She said if women "want to make decisions over their own bodies themselves, and want other women to have the same power, then they should feel very welcome at the march."
Yet many women do not. Among them is Charmaine Yoest, a vocal opponent of abortion who is a senior fellow at American Values, a conservative organization here.
"This is what we conservative women live with all the time, this idea that we somehow aren't really women and we just reflect internalized misogyny," she said. Of the march, she added: "I don't think they represent women. I think they are a wholly owned subsidiary of the abortion movement."
The relationship, and sometimes tension, between reproductive rights and feminism goes back decades, to the inception of so-called second wave feminism in the 1960s; the first wave culminated in women winning the right to vote. Its pioneers, echoing the American left's fight for racial justice and its opposition to the Vietnam War, embraced the birth control pill as a way to give women more power over their own lives. Thus a sexual revolution was born.
In 1973, just as middle-class women were abandoning homemaking for the work force, inspired by writers like Ms. Steinem and Betty Friedan, the Supreme Court handed down Roe v. Wade. That drove a wedge in the women's movement, said Carole Joffe, a sociologist and reproductive rights advocate at the University of California, San Francisco.
While many feminists saw the right to abortion as essential to women's empowerment, she said, the decision also galvanized "what we now call the religious right" — Catholics, Protestants and evangelical Christians, as well as churchgoing African-Americans, a number of whom considered themselves liberal on other issues.
"I think this march will be discussed for a very long time, because this march raises in a very powerful way the question of who can rightfully be called a feminist, what does feminist organizing mean in the 21st century," Ms. Joffe said. "Is it even possible to have a conception of American feminism that does not involve pro-choice and pro-contraception?"
Public sentiment on abortion has remained remarkably consistent over time. According to a Pew survey conducted after the election, 7 in 10 Americans oppose overturning Roe v. Wade. Democrats have historically been more in favor of abortion rights than Republicans, but despite a perception that women are more supportive than men, there is often little daylight between the sexes on the issue.
Celinda Lake, a Democratic pollster, said that is because the question is inextricably tied to faith, and women tend to be more religious than men.
With so many causes being represented — from family leave legislation to gay rights to better police treatment of minorities to access to abortion — some disagreements were inevitable. Some Facebook pages for the various marches around the country have broken out in contentious conflicts over ethnicity and race, including whether it was necessary for white women to take a back seat in leading the march.
Officials of Planned Parenthood and Naral, however, say that as soon as word of the march started spreading, their members across the country began asking what they could do. Both groups have a powerful presence here in the capital and are expert at organizing protests.
"There have been some stories about anti-choice folks trying to show up in protest; I'm not worried about them — they're going to be drowned out by hundreds of thousands of folks," Mitchell Stille, Naral's national political director, said in an interview. Asked if those women could march in solidarity with the march, Mr. Stille sounded irked.
"Anti-choice women voted overwhelmingly for Donald Trump," he said. "They got exactly what they wanted, so I'm not sure exactly what the solidarity of that would be."
Ms. Lyon, the law student, did not vote for Mr. Trump; she said she could not support either him or Mrs. Clinton, and picked a third-party candidate.
Living in the liberal-leaning city of Madison, she often feels isolated for her views, which she said she came to through research that reinforced her Catholic beliefs. She also accepts the church's ban on contraception, and sees her position as consistent with her pursuit of racial justice in prisons.
Asked to define feminism, she paused for a moment and said, ''I would define it as the right to live out my womanhood."
https://www.nytimes.com/2017/01/18/us/womens-march-abortion.html?_r=0
-------
Malaysia: 'Women, Feminists Should Support Changes To Shariah Court Powers'
January 18, 2017
KEPALA BATAS: Women and feminists should support the proposed amendments to the Shariah Courts (Criminal Jurisdiction) Act 1965 as it will protect them from being victimised.
Deputy Minister in the Prime Minister's Department Dr Ashraf Wajdi Dusuki said the proposed amendments seek to enhance the power of the shariah courts by raising the fines on offenders.
"I find it strange that feminists object to the proposed amendments as they are actually meant to protect women.
"Presently, the Shariah courts can only impose a fine of RM5,000 for failure to give alimony. This is inadequate for divorcees," he said after witnessing the contract signing by 1,506 Kafa religious teachers here today.
http://www.freemalaysiatoday.com/category/nation/2017/01/18/asyraf-wajdi-women-feminists-should-support-ruu355/
-------
Nigerian govt confirms negotiation with Boko Haram to free Chibok girls
January 17, 2017
The Minister of Information and Culture, Lai Mohammed, on Tuesday reassured that the negotiations for the release of other Chibok girls in captivity were ongoing.
The minister disclosed this at the Air Force Base in Yola in a briefing to conclude a day and night rounds of search sortie of the missing girls to Sambisa.
The News Agency of Nigeria reports that Mr. Mohammed; the Minister of Defence, Mansur Dan-Alli; the convener of the Bring Back Our Girls (BBOG) group, Obiageli Ezekwesili; as well as selected local and foreign journalists participated in the search mission.
Mr. Mohammed said that the success recorded by the military in the theatre of war was helping the negotiation because of the carrot and stick approach of government to ending insurgency.
He recalled that a meeting was recently held which was a near success and added that the government would not rest on its oars in ensuring a safe return of all the missing girls and others in captivity.
"The negotiations are still on, but unfortunately unlike the search operations, we cannot take you along to the negotiation table.
"I want to assure you that these negotiations are going on but they are very complicated and delicate and shift from time to time," he said.
The minister commended the military for the victories recorded in various operations at decimating the insurgents particularly in Sambisa.
He noted that the capture of Camp Zairo in Sambisa, which is the headquarters and stronghold of the insurgents was very crucial to defeating the terrorists.
ezekwesili-bring-back-our-girlsThe minister stressed that the proportion of the camp to the size of the forest notwithstanding, "the capture is a big victory for the military
"Camp Zairo might occupy probably one kilometre out of 60,000 kilometres expanse of Sambisa, but it is so crucial to us in this war.
"It is like imagining that there is a war and the Villa is captured. That is the essence of camp zairo.
"It is not the extent of physical expanse but that we struck at the very heart of insurgency and it does not mean the end of the campaign in Sambisa forest,'' he said.
Mr. Mohammed commended the Air Force for their professionalism and for deployment of modern technology in their operations.
The minister also commended the Chief of Air Staff, Sadique Abubakar for initiating the search mission.
He added that it served its objective of participating and better understanding of the efforts of the military in fighting insurgency.
Speaking on casualty figure of his men, Mr. Abubakar said they were very lucky in terms of suffering casualties on their air operations.
"First and foremost, the enemy does not have air assets and we take training very seriously.
"We do everything possible to ensure capacity development of our pilots and we make judicious use of the personnel that are on ground," he said.
He thanked the minister, the BBOG delegation, the journalists and others that participated in the exercise.
http://www.premiumtimesng.com/news/headlines/220788-nigerian-govt-confirms-negotiation-boko-haram-free-chibok-girls.html
-------
Burqa ban: Almost no women in Perth wear garment, Imam says
January 19, 2017
The West Australian Premier's comments on Burqa s — including that they were not part of Australian culture and he would prefer they were not worn — are medieval and unfounded, as almost no Muslim women wear the garment in the state, a senior Muslim leader says.
Colin Barnett made the comments at the same time Pauline Hanson's One Nation Party was in WA to introduce her candidates for the upcoming election.
Muslim community leader Faizel Chothia said while Senator Hanson's many policies on Islam were "disdainful", the response from the Liberal Party leader was more worrying.
"We all know that Pauline, similar to Donald Trump I guess, is exploiting the current Islamophobic political climate for her own personal gain," he said.
"And I'll be honest, Pauline doesn't feature too prominently on the radar of most Muslims in my neck of the woods.
"But with Colin — the conspicuous leader — his comments are of concern and distasteful."
The religious scholar, who leads a sizeable Muslim congregation in Perth, said the Burqa was rarely worn in Australia.
"As an Imam in the southern suburbs of Perth, I have not come across a single Muslim woman — not one — in the last 10 years who I have seen wearing a Burqa ," he said.
He said he had heard anecdotally the number of Muslim women who wore a full face-veil in the state was less than 50.
"Which is about 0.16 per cent of the state's Muslim population," he said.
'Trailer park nationalism' should concern everyone: Imam
Imam Faizel said considering the rise in parties with these hard-line policies, it was not just the Muslim population which should be concerned.
"I like to describe this as a sort of trailer park nationalism," he said of Mr Barnett's comments.
"And given that it's among mainstream political parties in Australia it's of particular concern, not just to Muslims but to all Western Australians.
"However I think his comments are understandable — opportunistic — but understandable.
"And also maybe symptomatic of the Liberal party's waning fortunes, an indication that they may be horse trading with One Nation probably in a desperate attempt to win a third term."
But Mr Barnett was quick to deny any agenda behind his comments when asked on Thursday morning.
"No I haven't changed my view at all," he said.
"I don't like the full covering Burqa , I don't think that is the Australian way.
"But I'm not about to introduce laws to ban them."
Hanson pledges to move campaign beyond anti-Islam platform
Senator Hanson, who today unveiled 60 One Nation candidates running in the state election in March, said while banning the Burqa was something she strongly believed in, it was not her only concern.
"It is a big issue in the east, I have no idea how big it is over here," she said.
"But do I think it's going to be up there as an election policy, what's really on the minds of the people of Western Australia? No, I don't."
Senator Hanson said Burqa s were a side issue in WA, and was quick to outline jobs, escalating crime and the cost of living as the state's main concerns.
She did, however, add that the issue of Burqa s was something "we must be aware of and prepared to deal with if we need to".
WA Labor leader Mark McGowan also labelled the debate a side issue.
http://www.abc.net.au/news/2017-01-19/Burqa -ban-almost-no-women-in-perth-wearing-burqa-imam-says/8194558
-------
N.J. court upholds firing of Muslim woman for wearing headscarf
January 19, 2017
CAMDEN, New Jersey -- An appeals court has upheld the firing of a Muslim county jail employee who had refused to remove her headscarf because of religious reasons.
Lawyers for Linda Tisby say they plan to appeal the ruling to the New Jersey Supreme Court, nj.com reports.
The three-judge appeals court ruled Camden County Superior Court correctly had dismissed two lawsuits filed by Tisby against the Camden County Correctional Facility.
Tisby had worked at the jail for 13 years but became a Sunni Muslim in 2015. She was fired from her job in May 2015 when she refused to remove her headscarf, also known as a khimar or hijab, because it violated uniform policy.
"We do not minimize the religious significance of the khimar for the women who wear them," the ruling said, the Courier Post reports. "We recognize a compelling sense of religious obligation in the decision to wear a khimar."
The court ruled it would have been an "undue hardship" for the jail to allow Tisby to wear the headscarf because of safety concerns, saying it could be used to hide contraband.
Camden County officials were pleased with the ruling, but Ibrahim Hooper, a spokesman for the Council on American-Islamic Relations, tells the Courier Post it causes concern.
"We've more or less resolved the issue of religious accommodation in what we call the corporate workplace," Hooper said. "The only remaining issues are in the police and correctional institution settings where there's a uniform."
If you'd like to comment on this story, visit Wednesday's crime and courts comments section.
http://www.cleveland.com/nation/index.ssf/2017/01/nj_court_upholds_firing_of_mus.html
-------
URL: https://www.newageislam.com/islam,-women-and-feminism/new-age-islam-news-bureau/afghanistan's-first-all-girl-orchestra-ready-to-perform-at-davos/d/109779
New Age Islam, Islam Online, Islamic Website, African Muslim News, Arab World News, South Asia News, Indian Muslim News, World Muslim News, Womens in Islam, Islamic Feminism, Arab Women, Womens In Arab, Islamphobia in America, Muslim Women in West, Islam Women and Feminism, Moderate Islam, Moderate Muslims, Progressive Islam, Progressive Muslims, Liberal Islam