New Age Islam News Bureau
8 Aug 2017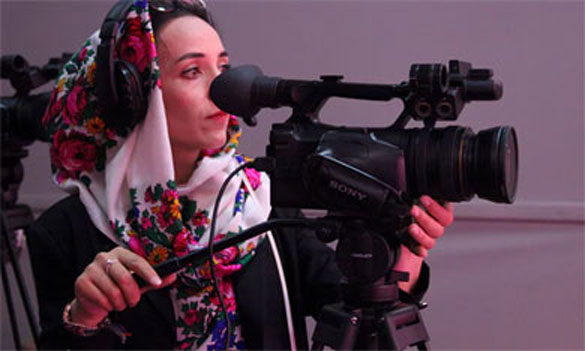 Camerawomen films footage for a Zan TV show. Photograph: Xinhua/REX/Shutterstock
-----
• Raksha Bandhan 2017: Baloch Women Find Brothers, Warmth, Tie Rakhi to Indians
• Women as 'Collateral' In Jirga Justice
• Modi Govt.'S Rs 51k Wedding Bounty for Graduate Muslim Women
• In Many Ways, Muslim Men and Women See Life in America Differently
• Child Marriages among Syrian Refugees Rampant In Jordan amid Poverty, Uncertainty
• Women's Rights at Centre of Pakistan Political Storm
• South Africa: Popular Resort Removes 'Overlooked' Hijab Restriction after 25 Years
• Food Discrimination against Women in Afghanistan
• Australia's Aid Investments in Pakistan Ensure Women's Benefit: HC
Compiled by New Age Islam News Bureau
URL:https://www.newageislam.com/islam-women-feminism/afghanistans-first-all-female-tv/d/112133
--------
Afghanistan's First All-Female TV Station
7 August 2017
After a city-wide billboard campaign featuring a group of young women standing with arms folded, the women's media network Zan TV launched in Kabul, Afghanistan, three months ago, with a panel discussion about the right to vote and a Facebook cover photo that read: "We mirror you all". Zan, meaning "women" in Arabic, is the first TV station in Afghanistan to be made for and run entirely by women. It's a radical initiative for a country where the television industry is run solely by men and where just 16 years ago, journalism and even access to education for women were banned. "We want women to have an active role in politics and society," says Nasrine Nawa, 26, Zan's director of news programming. "We're empowering them to lead independent lives outside the home."
Nawa's mission is to train the next generation of female Afghan journalists. Fifty women aged 17 to 28 work for Zan; half are qualified, half are learning on the job. "Many trained journalists are jobless because most TV stations won't employ women, so we do. We also want to train young women who might not have access to education because of where they live or their family," says Nawa. Zan also employs 10 men to train women in operating cameras and editing film. It posts jobs on its Facebook page, which had an average of 8,000 likes a day in May.
The TV station was founded by the media entrepreneur Hamid Samar, who saw a gap in the market when going through dozens of job applications from women at another TV station. The Afghan media landscape is already packed, with about 70 satellite TV stations, and competition for ratings is rife. Zan's task is to build an audience by developing cutting-edge shows on the issues affecting millennial Afghan women, such as negotiating Islam as a feminist, reproductive rights, managing finances and careers. The most popular shows are the Daily News show hosted by Yasamin Yarmal and a weekly evening show that features conversations with radical Afghan women such as the politician and activist Fareeda Kuchi Balkhi, from Afghanistan's nomadic Kuchi tribe. Zan also runs a daytime cookery programme on how to make speedy healthy meals. In the evening, the hour-long entertainment show In Focus recently showcased an all-female orchestra.
"What makes us stand out is that we talk about everything that has touched women's lives," says Nawa. "Women have been a marginalised community for so long in Afghanistan. We want to prove they have the power to take control and change their lives, if they want."
For a new TV station, the ratings are impressive. According to Samar, an average of 90,000 people are tuning into the morning news programme.
Mehria Azali, 22, is a journalist and presenter at Zan. She is keen to introduce a strong female narrative to the Afghan news agenda and explore issues such as underage marriage, rape and access to education. "During the Taliban's rule, women were wanted in the home to satisfy male needs," she says. "Things have got better, but rights for women are still very bad, especially outside Kabul. When they watch TV, Afghan women don't see issues that affect them being talked about. We want to change that."
In 2015, research by the NGO Global Rights found that nearly nine out of 10 women in Afghanistan were subjected to physical, sexual or psychological violence. Now, Nawa and her team are talking directly to those women. "A lot of abuse towards women is hidden by police, so we have a whole programme about justice for women," says Azali. She is looking for a lawyer to come in and talk about rape within marriage. "We want to lead by example of what women can be," she says. "Increasing their economic potential by showing them a new set of options."
Azali and Nawa also want to challenge the Afghan view of feminism. "Some TV stations in Afghanistan prepare reports about the abuse of women," says Nawa, "but they don't report everything as they don't want to be accused of being feminist. Most forms of women's empowerment are seen as divisive and anti-men, but we want to remove the negative attitude to women's issues in this country."
https://www.theguardian.com/lifeandstyle/2017/aug/07/inside-zan-tv-afghanistans-first-all-female-station
--------
Raksha Bandhan 2017: Baloch Women Find Brothers, Warmth, Tie Rakhi to Indians
Sneha Agrawal
August 8, 2017
While Indians celebrated Raksha Bandhan with much fervour on Monday, Sameena Rakhshani, a 20-year-old Baloch woman living in the Capital who is waiting to reunite with her brothers and sisters back home in Afghanistan, spent the day in gloom.
Born as a refugee in Iran and having dealt with the atrocities there, Sameena went back to Afghanistan in the hope of a better future. But finding unfortunate living conditions even there, she came to India along with her family, and now lives in West Delhi.
Like Sameena, several other Baloch women are waiting to go back to their land and unite with their families. In a symbolic gesture, some of these women tied Rakhi to Indian brothers at Baloch-Hind forum, seeking their support to raise voice for the freedom of Balochistan from the atrocities of Pakistan.
Mahkan, a 25-year-old student of Jamia Millia Islamia, who left Afghanistan two years ago, said that people have been forced to leave their own land and families. "People have lost their family members in front of their own eyes. Nothing can replace the warm memories of being with our own people. The Indian government has been very kind to us and allowed us to stay here. I hope India would raise the issue of Balochistan's freedom even at the international platform," she said.
On Independence Day last year, Prime Minister Narendra Modi in his speech had raised the issue of violence being committed by Pakistan on Balochis. Three days after the speech, a student leader from Balochistan took the occasion of Raksha Bandhan to express her gratitude to the Prime Minister.
In a video, Karima Baloch, the chairperson of Baloch Student Organisation, had asked Modi to be a brother to Baloch women who have lost their brothers in the atrocities inflicted by Pakistan army in the region. Meena, another 23-year-old Baloch woman, told Mail Today that the treatment Pakistan is meting out to Baloch people is awful.
"The (Pakistan) government is worse than the terrorists. They are killing their own people. The human rights violation of Baloch people has crossed all limits. They are not just feeling entrapped by Pakistan but also by Iran," she said.
In the Raksha Parv event organised by Hind-Baloch forum, Baloch women tied Rakhis to the Indian male members of the forum to express their gratitude to Modi for raising voice against the injustice. Ever since PM Modi's speech on August 15 mentioned Balochistan, several Baloch leaders have showered praise for his stance.
http://indiatoday.intoday.in/story/raksha-bandhan-women-baloch-afghanistan-festival-raksha-parv-hind-baloch-forum/1/1021041.html
--------
Women as 'collateral' in jirga justice
August 07, 2017
RAJA RAM (Multan): The rape of a teenage girl in revenge for a crime committed by her brother has left residents of Raja Ram in central Pakistan shaken and questioning a deeply entrenched system of village justice.
Last month, a council of village elders ordered the rape of the 16-year-old victim after her brother was accused of raping a 12-year-old girl.
The ruling highlighted the role such councils – known as panchayats, or jirgas – play in the lives of many rural Pakistanis, who see the country's courtrooms as a distant presence.
The councils have traditionally enjoyed broad support, thanks to their ability to offer immediate justice, compared to courts that can take years to settle a criminal case, and as much as a decade to resolve a civil dispute.
But the recent ruling, which allowed a rape victim's brother to sexually assault another innocent girl, has unsettled Raja Ram, home to some 3,000 people.
"May God have mercy, it was such a strange day and it was such a big injustice," said villager Amina Bibi.
"In our area there is neither a school nor a hospital, and poverty and ignorance rules here... This incident is a mark of this ignorance," said 46-year-old Imtiaz Matila.
"It's a stain on the name of the panchayat," agreed another villager, 65-year-old Manzoor Hussain.
The girls have since been taken to a women's shelter in Multan.
Raja Ram is just a few kilometres down the road, but feels a world away from urban life.
Men sit around on charpoys, sheltering from the blistering heat, while women are conspicuous only by their absence, shielded from view behind the rough stone walls that surround each of the crudely built, single-storey houses.
'Nothing more dishonourable'
Central Punjab is also home to one of Pakistan's most prominent advocates for women's rights – Mukhtar Mai, whose own story offers a window into jirga justice and its brutal mistreatment of women.
In 2002, a jirga ordered Mai to be gang-raped after her brother was falsely accused of rape.
Mai, who lives a few hours north of Multan, made the unusual decision to defy her rapists and take them to court.
But in one of South Asia's most infamous miscarriages of justice, her attackers walked free, and people continued to rely on panchayats, even as she went on to become a high-profile activist.
"It's an honour-based system and there's nothing more dishonourable than the rape of a woman within your family," explained women's rights activist Aisha Sarwari.
The men of the aggressor's family must be shamed through the loss of their women's dignity, Ms Sarwari explained.
"That's the balance of power in these communities, which makes sure that women are some kind of collateral."
'Jirga law'
The Supreme Court, trying to bring jirgas to heel, declared them illegal in 2006.
But in an apparent backtrack this year aimed at unclogging the slow-moving court system the government passed a new law that promotes village councils as an alternative solution to small civil disputes.
The decision, dubbed the "Jirga Law" by activists, has raised concerns about women's rights, given the precedents set by the panchayats.
"The decisions of the jirgas have always had a negative impact on the lives of women," said women's rights activist Samar Minallah.
The new law does not suggest penalties for decisions like the one made by the council in Raja Ram, added Ms Minallah, who brought the original 2006 anti-jirga petition to the Supreme Court.
But the uproar surrounding the rapes at Raja Ram has spurred the court to demand a full investigation.
Despite her concerns, Ms Minallah is confident that the court will "step in at one stage or another to remind the state that these jirgas are against the constitution and humanity".
Whatever the court decides, for some in Raja Ram at least, faith in the traditional system has been shaken.
"There used to be wise people in the old days who were making good panchayat decisions," recalled resident Matila.
"They used to know the realities of the village... but now, these are the panchayat," he said, dismissively.
https://www.dawn.com/news/1350084/women-as-collateral-in-jirga-justice
--------
Modi Govt.'S Rs 51k Wedding Bounty for Graduate Muslim Women
Aug 7, 2017
NEW DELHI: To encourage the pursuit of higher education among Muslim women, those who obtain graduate degrees will soon be given a wedding gift of Rs 51,000 by the Modi government. The scheme has been christened Shaadi Shagun, to start with.
A website is currently being put up by Maulana Azad Educational Foundation where all details of the scheme would be made available. The Shaadi Shagun amount will be made available only to those graduate Muslim girls who have already received MAEF scholarships earlier.
Maulana Azad Educational Foundation, which works under the National Commission for Minorities, has decided to take this step to encourage Muslim women to opt for higher studies. MAEF says this scheme is tailored only for Muslim women and their guardians to egg them on to complete their studies at the college or university level.
Recently the MAEF, headed by minorities welfare minister Mukhtar Abbas Naqvi, held a meeting during which important decisions were taken vis-a-vis scholarships offered to Muslim women. Besides, it was also decided that a sum of Rs 10,000 would be awarded to Muslim girls studying in Classes IX and X. Up to now, only (Muslim) girls studying in Classes XI and XII were eligible to receive a scholarship of Rs 12,000 each.
MAEF treasurer Shakir Hussain Ansari said, "Girl children in a large part of Muslim society are deprived of higher education even today, often due to financial constraints. We mean to encourage girls and their parents and guardians to ensure that the students complete their graduation. Hence, we've decided on the Rs 51,000 wedding gift." He also said, "Though this isn't a large amount, we do believe it would be firm step forward in encouraging higher education among Muslim women."
Attributing the welfare scheme to Nakhvi 'under the able leadership of Prime Minister Modi', Ansari said this shows how PM Modi has indeed walked the talk vis-a-vis his slogan 'Sabka Saath Sabka Vikaas'.
http://timesofindia.indiatimes.com/india/modi-sarkars-rs-51k-wedding-bounty-for-graduate-muslim-women/articleshow/59955530.cms?
--------
In Many Ways, Muslim Men And Women See Life In America Differently
By Claire Gecewicz
August 7, 2017
While many Muslims express wariness and anxiety about aspects of their lives in the United States, Muslim women tend to be more pessimistic about their place in U.S. society than Muslim men.
According to a new Pew Research Center survey, more Muslim women than men say it has become more difficult to be Muslim in the U.S. in recent years (57% vs. 43%).
And Muslim women are more divided on their acceptance by society at large than are men. Half (52%) of Muslim women say they have a lot in common with most Americans and 44% view the American people as friendly toward Muslim Americans, compared with two-thirds of Muslim men who say each of these things.
Muslim women also express more apprehension than men about anti-Muslim discrimination. Eight-in-ten Muslim women (83%) say there is a lot of discrimination against Muslims, compared with a smaller share of men who say this (68%). In fact, about half (55%) of women say they have experienced at least one of several specific types of anti-Muslim discrimination in the past year. These incidents include having been treated with suspicion, called offensive names, singled out by airport security or other law enforcement, or physically threatened or attacked. Fewer men (42%) say they have personally experienced one of these types of anti-Muslim discrimination in the past year.
Muslim women also are more likely than men to say they stand out in society due to their physical appearance. While some Muslim men (27%) say there is something distinctive about their appearance, voice or clothing that people might associate with being Muslim, a much greater share of women (49%) say there is something distinctively Muslim about the way they look. This could in part explain why Muslim women are more likely than men to say they have experienced discrimination. Six-in-ten (64%) Muslims whose appearance identifies them as Muslim have experienced discrimination compared with 39% among those who are not easily identifiable as Muslim.
The survey also finds that women are much more likely than men to perceive unfriendliness from many groups in society, including about seven-in-ten (69%) Muslim women who say the Republican Party is unfriendly toward Muslims and eight-in-ten (81%) who say President Donald Trump is unfriendly to them. By contrast, only 49% and 68% of Muslim men think the Republican Party and Trump, respectively, are unfriendly toward Muslim Americans.
Muslim women also are more concerned than men about the treatment of U.S. Muslims by some American institutions. For example, a majority (68%) of Muslim women also say that media coverage of Muslims is unfair, compared with 52% of men.
But there are some bright spots for Muslim women. Roughly half (56%) of women say that someone has expressed support for them because of their religion, greater than the share of men who say this (42%). And Muslim men and women are equally likely to say they are satisfied with the way things are going in their lives and that they are proud to be American.
http://www.pewresearch.org/fact-tank/2017/08/07/in-many-ways-muslim-men-and-women-see-life-in-america-differently/
--------
Child marriages among Syrian refugees rampant in Jordan amid poverty, uncertainty
Aug 08, 2017
Married at 15 and divorced at 16, a Syrian teen says she regrets having said yes to a handsome suitor — a stranger who turned into an abusive husband.
Yet the reasons that transformed her into a child bride have become more prevalent among Syrians who live in Jordanian exile because of a six-year-old civil war back home. More families marry off daughters to ease the financial burden or say marriage is the way to protect the "honor" of girls seen as vulnerable outside their homeland.
Figures from Jordan's population census document the long suspected increase for the first time. In 2015, brides between the ages of 13 and 17 made up almost 44 percent of all Syrian females in Jordan getting married that year, compared to 33 percent in 2010.
With Syrians expected to remain in exile for years, it's a harmful trend for refugees and their overburdened host country, U.N. and Jordanian officials say.
More Syrian girls will lose out on education, since most child brides drop out of school. They typically marry fellow Syrians who are just a few years older, often without a steady job — a constellation that helps perpetuate poverty. And they will likely have more children than those who marry as adults, driving up Jordan's fertility rate.
"This means we will have more people, more than the government of Jordan can afford," said Maysoon Al-Zoubi, secretary general of Jordan's Higher Population Council.
The figures on early marriage were drawn from Jordan's November 2015 census and compiled in a new study.
The census counted 9.5 million people living in Jordan, including 2.9 non-Jordanians.
Among the foreigners were 1.265 million Syrians — or double the number of refugees registered in the kingdom since the outbreak of the Syria conflict in 2011. The other Syrians include migrant laborers who came before the war, and those who never registered as refugees.
The figures on early marriage include all Syrians in Jordan, not just registered refugees.
Many came from southern Syria's culturally conservative countryside, where even before the conflict girls typically married in their teens. Still, the study shows a higher rate of early marriage among Syrians in exile than in their homeland.
The teen divorcee fled Syria's Daraa province in 2012, along with her parents and four siblings. The family eventually settled in a small town in the northern Mafraq province.
The parents and the teen, now 17, spoke on condition of anonymity because of the stigma of divorce. They said they wanted to speak out, nonetheless, in hopes of helping others avoid the same mistake.
Child brides are traditionally shielded from outsiders, and the family provided a rare glimpse at what drives early marriage.
"When we came here, our lives were disrupted," said the teen's mother, sitting on a floor cushion in the living room of their small rented home. "If we had remained in Syria, I would not have allowed her to get married this young."
The family scrapes by on small cash stipends and food vouchers from U.N. aid agencies, along with the father's below-minimum-wage income as a laborer.
Worse, the family feels adrift.
The parents, fearful their children would be harassed, especially the girls, did not enroll them in local schools, typically overcrowded to accommodate large numbers of Syrians.
In such a setting — girls sitting at home without a seeming purpose — the push to have them get married becomes stronger.
An older sister of the teen also married as a minor. The mother said she often feels regret about her daughter having been robbed of her childhood.
The younger girl spent most of her time at home, brooding. She had no girlfriends since she didn't go to school and was only allowed to leave the house with her mother, in line with traditions. In any case, there was nothing to do in the small desert town.
Two years ago, a young Syrian man asked for the teen's hand, after introductions had been made by a go-between. The intermediary talked up the stranger, saying he had job prospects and could afford his own apartment.
The teen, 15 at the time, accepted. "I was bored and sad," she said. "I wanted to get married."
The parents said the young man seemed immature, but that their daughter insisted. The wedding took place a month later, and the bride wore a white dress.
The marriage contract was sealed by a Syrian lawyer, not a Jordanian religious court judge, meaning it was not officially recognized in Jordan.
Local law sets the minimum age of marriage for girls at 18, though Jordanian judges often allow exceptions for brides between the ages of 15 and 17.
In 2015, 11.6 percent of Jordanian females who married that year were minors, compared to 9.6 percent in 2010, indicating a slight rise that Al-Zoubi believes is caused in part to Jordanians being influenced by Syrian customs.
After marriage, the Syrian teen moved to a different town with her husband, and his promises quickly evaporated. The couple moved in with his extended clan, and the teen turned into a maid, according to her parents. The teen said her unemployed husband beat her.
Despite the abuse, she said she wanted to stay in the marriage, fearful of the shame of divorce. Her father eventually insisted on divorce to extract her from what he felt was a harmful situation.
After returning home, the teen briefly attended an informal education and children's support program called Makani that is run by the U.N. child welfare agency and other aid groups at centers across Jordan. She started making friends, but stayed away again when a new group of students signed up.
Robert Jenkins, the head of UNICEF in Jordan, said that by the time girls are married, it's often too late to get them back to education.
"Our absolute first line of defense is prevention (of early marriage)," he said, adding that the agency tries to support families and teens so they won't opt for early marriage.
In the Zaatari refugee camp, such intervention appears to have had an impact, said Hussam Assaf, 32, who rents and sells white bridal gowns and colorful engagement dresses in the local market.
Assaf said the typical age of his customers in Zaatari is 16 or 17, compared to 14 or 15 in his hometown in rural Syria, crediting counseling programs by aid groups with the change.
The young divorcee, meanwhile, hasn't ruled out marriage in the future. She said it's unlikely she'll ever go back to school because she has already missed five years of learning.
Still, she thinks about what could have been.
"If I had continued my education, it would have been better," she said. Her trauma of her brief marriage "has made me weaker," she said.
http://www.hindustantimes.com/world-news/syrian-refugee-child-marriages-rampant-in-jordan-amid-poverty-uncertainty/story-voVR67g0D2HbmHMR6CifIM.html
--------
Women's Rights at Centre of Pakistan Political Storm
8 August 2017
ISLAMABAD: Parliamentarian Ayesha Gulalai has opened the door to intense debate over women's rights in Pakistan amid the ongoing political storm in the country, experts said.
Her move to accuse opposition leader and Pakistan Tehreek-e-Insaf (PTI) Chief Imran Khan of harassment — just days after Khan's party took credit for building momentum to oust former Prime Minister Nawaz Sharif, and knowing that Khan has millions of supporters who would strike back — has emboldened women to go public demanding greater rights.
"It's good she opened doors for women's rights," Aisha Sarwari, co-founder of the Women's Advancement Hub, told Arab News. "This is no small act of bravery; a woman has come forth with a sexual harassment case and she is being vilified and (her) character assassinated." She questions why "men are to be believed but not women" in similar cases, emphasizing that it still needs to be established "what constitutes sexual harassment."
Within the space of days, Pakistan's political theater has moved from the storm over corruption and money laundering allegations, to one involving women's rights and sexual accusations.
The latest case involved Seemal Kamran, who claimed to have been married to former Punjab Law Minister Raja Basharat and to have been mistreated by him after their alleged divorce.
Addressing a press conference, exhibiting a document, Kamran said angrily, "This is the divorce paper Raja Basharat, based on which you have been destroying my life; this divorce you can't snatch from me." After divorcing Kamran, Basharat allegedly took over her assets, car and jewelry according to Kamran's claims. Basharat has demanded proof, rebutting her allegation.
Gulalai has accused Khan, the legendary cricketer-turned-politician, of sending lewd text messages dating back to 2013 and 2016, harassing his party's women leaders.
Imran's denial
Imran and his party have rejected her "absurd" accusation, saying she "sold her soul" for money to the Pakistan Muslim League — Nawaz (PML-N), which is allegedly seeking political revenge against Khan.
"She was a selected on a reserve seat without a constituency and she was eyeing (a seat in) a hot constituency which she wasn't able to get", Fareed Rehman, senior regional leader at PTI, told Arab News.
"This was her motive and we believe this is the reason of her outburst with allegations against our chief," he added. "If she had any grievances, she should have consulted the party."
Rehman said that the PTI felt Gulalai did not live up to her position as a parliamentarian, as she was unable to pass any legislation or further the party's mandate.
According to Rehman's information, his party has not received any proof from Gulalai regarding her harassment claims.
Gulalai has also alleged that Khan's local government in the northwestern province of Khyber Pakhtunkhwa is embroiled in corruption.
Following Gulalai's accusations, Ayesha Ahad, ex-wife of PML-N parliamentarian Hamza Shahbaz — nephew of deposed Prime Minister Nawaz Sharif — capitalized on the media frenzy by igniting an old allegation that Hamza deceived her.
Ahad also addressed a press conference on Saturday with female PTI leaders, calling Shahbaz a liar. She said he did not divorce his first wife before tying the knot with her in 2010 and then abandoned her.
In reaction, PML-N's Punjab Law Minister Rana Sanaullah defending Shahbaz, using derogatory language to characterize Ahad in an interview with a news network.
Ahad has vowed to file a "character assassination" law suit against Sanaullah.
The political upheaval has also dragged in Khan's former wife, Reham Khan.
In a press conference on Sunday, Reham Khan voiced great disappointment at accusations that she backed Gulalai to accuse Imran Khan. The PTI had claimed Reham Khan is a proxy of PML-N and has been offered a seat in Parliament by the ruling party.
"I swear upon the Holy Qu'ran that I have no association with Ayesha Gulalai," she told reporters. "I am a Khan and I don't attack from the back so don't use my name to save your dying political career," she said, directing her message at Imran Khan.
http://www.arabnews.com/node/1141236/world
--------
South Africa: Popular Resort Removes 'Overlooked' Hijab Restriction After 25 Years
7 AUGUST 2017
A popular Montagu resort, roughly three hours from Cape Town, has removed a sign restricting swimming pool access for Hijab wearing Muslims dating back an estimated 25 years.
This follows a complaint from a Muslim client, who says the sign's removal is all a little too late.
The sign, previously situated near one of Avalon Springs' several natural spring pools, gave an overview of the rules applicable to day visitors.
One of the rules read that Muslim guests are permitted to "wear their attire, but this is restricted to the 'Crocodile Pool' only".
In written answers to News24 on Friday, Avalon Springs' General manager Gavin Hatherley said the sign dates back 25 years and it is unclear how the sign has been "overlooked all this time".
"This is indeed an unfortunate and embarrassing situation for us, and we thank you for helping us to address it."
He said the resort has reviewed all signage on the property, following the complaint, to ensure "none of them causes offence, or has the potential to cause offence".
Muslim cliental have however rejected the "excuse", questioning how the large sign could be overlooked for so many years.
"I am certain there were other people who also complained, but now that the media is involved and that it can affect their pocket, they do something," Gava Kassiem told News24 in Afrikaans.
"It's laughable, any sane person can see it's laughable."
Kassiem, who visited the resort in July, also questioned whether the sign was put up 25 years ago.
"I've had many family gatherings there, for over 20 years my family has been visiting the resort, and there was never a sign prohibiting me from wearing my hijab."
She said that while she is hurt by the discrimination against Muslims, she finds it as nothing new.
"One should think that 20 years after apartheid this thing would be something of the past. But yes, I am used to it. In apartheid, I was told I can't sit here and I can't go there. It still feels the same today."
http://allafrica.com/stories/201708070535.html
--------
Food discrimination against women in Afghanistan
07 Aug 2017
by Weeda Mehran
Afghanistan has been described as the world's most dangerous country for women. Many civil society organisations working on women's rights claim that violence against women (VAW) is on the rise in the country. VAW takes many forms, and has complex and deep roots in the patriarchal culture of the Afghan society. One form of VAW is denying them access to food. This discrimination can be derived from patriarchal norms and the legal system.
Poverty is one of the major issues Afghanistan is struggling with. More than one third of the Afghan population lives below the national poverty line.[i] This has direct effects on the diets of most Afghan households, and often some family members suffer from nutrition deficiency.
In particular, the most vulnerable groups, such as women and children, are more likely to be exposed to malnutrition. Poverty is gendered and women are more likely than men to be poor. Malnutrition is prevalent among Afghan women. Approximately 21 per cent of Afghan women have a low body mass index (BMI), 48 per cent suffer from an iron deficiency, and a staggering 75 per cent suffer from an iodine deficiency.[ii]
In effect, women's malnutrition has serious implications for the health of their children. In Afghanistan, 55 per cent of children under the age of 5 do not get sufficient nutrition to develop physically and mentally, leading to an extraordinary high child mortality rate of 45per cent.[iii] The primary reason for all this is gender inequality, which is institutionalized in Afghanistan.
Access to food is a mean of social power
Gender inequality can be both a cause and a result of food insecurity. Just as women's access to education and health care has been limited by patriarchal norms and structures, so has women's access to nutrition and food been limited. Inequalities in access to food and women's limited decision-making power at the household level can influence women's role in society.
Food and nutrition can be used as a basic form of controlling women's autonomy. For example, it limits women's appearance outside of the household. If a husband does not agree to his wife working outside the house, a woman's decision to go against this can simply mean starvation for her or her children as a form of punishment, since the husband is usually in charge of family expenditures and food purchasing.
Gender segregation and division of labor at the household level can infringe upon women's access to food. In a patriarchal society such as Afghanistan, men's primary role is as a breadwinner, while women's role is traditionally limited to household labor. As such, men are more likely to be in charge of major and even every-day household finances.
It is common practice in some parts of the country, especially in the periphery and in rural areas, for women to ask for money from the head of the household for the daily purchase of food, or request men to buy various food items (particularly among families where women are not allowed to go shopping). While male members of the household are responsible for purchasing food, women are in charge of cooking.
Traditionally many families, even in urban areas, serve meals in separate rooms for women and men. This is particularly common in larger households where three generations live under the same roof. The rational for this is to make women feel more comfortable while eating and allow children to freely play around without upsetting the male members of the household, who can eat in peace and quiet.
Furthermore, male members of the household are more likely to get better food, or a bigger portion of it. This discrimination is especially a problem among households with limited nutritional resources. It is not only perpetrated by men, but also by women, to the extent that mothers feed their sons better than their daughters when resources are limited.
Men often engage in labor intensive jobs such as farming, construction, and armed forces. Hence, food discrimination at the household level is justified based on needs, wherein men get the priority.
Gender inequalities are legally manifested
Women's predicament in the family is to a great extent institutionalized through the laws of the country. The Civil Code of 1977, which is still in effect, contains many discriminatory articles that clearly put women at a disadvantage. By subjugating women to men's authority and requiring them to submit to their will, women are, in effect, treated as legal minors.[iv]
These legal inequalities are manifested even more in Sharia law. Following the sharia rule of nafaqa, a man is obliged to support his wife with food, clothing and shelter as soon as the marriage is consummated. This is derived from the Quran (4:34), which states that "Men are protectors and maintainers of women because God give one more than the other, and because they support them from their means."
A husband can be jailed for not providing nafaqa and the Civil Code[v] of Afghanistan as well as the Shiite Personal Status Law[vi] include the provision that nafaqa is a husband's responsibility.
These strict gender responsibilities enshrined in Sharia law and the legal code of the country have led to systematic discrimination against women. A woman is subjugated to a man's authority for the provision of her food, and a man can easily justify limiting a woman's educational and workforce participation.
These laws have largely been an interpretation of women's "inferiority" to men, as women are considered "weak" and unable to provide for themselves. Consequently, a husband or a male figure in the family is responsible for providing them with basic material needs in life. In turn, women and men are socialized to internalize such gender practices.
In fact, men can suffer from such gendered roles as well. For example, research conducted by the Afghanistan Research and Evaluation Unit (AREU) found that many Afghan men feel that they are unable to live up to the expectations that society sets upon them.
More legal and social reforms are necessary
Since 2001, significant efforts have been made to address legal discrimination against women. Afghanistan's Constitution makes provisions that allow for adopting laws that ensure equality. In fact, Article 7 of the Afghan Constitution states "The state shall observe the United Nations (UN) Charter, inter-state agreements, as well as international treaties to which Afghanistan has joined, and the Universal Declaration of Human Rights."
Ratification of the UN Convention on the Elimination of all Forms of Discrimination Against Women (CEDAW) in 2003 was a major step in this direction. However, bringing family laws on par with the Constitution is a challenging matter, particularly when family laws are based on Sharia law.
In this regard, Article 3 of the Constitution clearly makes the provision that "No law shall contravene the tenets and provisions of the holy religion of Islam in Afghanistan." As a consequence, many religious groups in the country can easily reject a Civil Code that is based on gender equality principles and perceived to violate Sharia law.
To address systematic discrimination against women, the legal code of the country needs to be revised. Evidently, the implementation of progressive reform policies to ensure women's rights will be a very challenging task that needs to be addressed through a comprehensive strategic plan. For example, in 2013, hundreds of women affiliated with radical Islamic groups in Kabul carried out a demonstration against the Law on Elimination of VAW.
They viewed the law as a "plot by the West to strip Muslim women of their Islamic dignity."[vii] Hence, progressive reforms in family law will not be possible without the lobbying of members of parliament and religious leaders and direct engagement of civil society organizations at the local level.
Yet, challenging discriminatory legal codes alone will not be sufficient, due to the lack of law enforcement. To address women's access to food and the broader underlying factors associated with food discrimination, namely gender inequality, longer-term policies need to be put in place.
These policies need to allow for women's education and labor force participation. Educational programs should address discriminatory practices at the family level. Gender studies should be incorporated into the school curriculum so that young boys and girls get formal training and exposure to the issue from an early age. These are first important steps so that VAW in any form including food discrimination can be eradicated in Afghanistan.
http://reliefweb.int/report/afghanistan/food-discrimination-against-women-afghanistan
--------
Australia's aid investments in Pakistan ensure women's benefit: HC
Aug 08, 2017
Islamabad
Australian High Commissioner to Pakistan, Margaret Adamson on Monday said that Australia's aid investments in Pakistan are designed to ensure that women benefit from all our economic growth-related programs.
She expressed these views while welcoming Australian Gender Equality Advocate Elizabeth Broderick (AO) to Pakistan on a visit to engage business leaders on promoting gender equality in the workplace.
High Commissioner Adamson said, "Gender equality and women's empowerment to play their rightful, equal role in economic development and society as a whole was a core element of Australia's foreign policy and underpinned the Australian Government's development partnerships with Pakistan and globally."
"I am hopeful that Broderick's visit and her engagement with private sector leaders will encourage the development of strategies and policies to maximise the participation of women throughout Pakistan's economy," Adamson added. Broderick welcomed the opportunity to meet with Pakistan's private sector leaders and prominent women representatives.
"Gender equality and women's economic participation are key social and economic issues for both our nations. I am excited to be meeting with business leaders and other influential men and women to share innovative strategies, learn from each other and discuss how to accelerate the pace of change," Broderick said.
Broderick, a former Australian Sex Discrimination Commissioner (2007-15), is the Global Co-Chair of UN Global Compact Women's Empowerment Principles, Special Adviser to Under-Secretary UN Women on Private Sector Engagement, and Founder of the 'Male Champions of Change' initiative – working with influential male leaders to become advocates for gender equality.
Broderick will visit Islamabad, Lahore and Karachi to share experience and to discuss the business case for gender equality, building on initiatives already gaining traction among the business community in Pakistan, including the UN Women Empowerment Principles. She will also meet with women members of the national and provincial assemblies, government officials and representatives of UN agencies and the World Bank and lead discussions on accelerating economic growth and innovation in Pakistan by harnessing the talent and potential of its women. The Economist listed Broderick as one of the World's Top 50 diversity figures in public life in 2015.
http://pakobserver.net/australias-aid-investments-pakistan-ensure-womens-benefit-hc/
--------
URL: https://www.newageislam.com/islam-women-feminism/afghanistans-first-all-female-tv/d/112133
New Age Islam, Islam Online, Islamic Website, African Muslim News, Arab World News, South Asia News, Indian Muslim News, World Muslim News, Women in Islam, Islamic Feminism, Arab Women, Women In Arab, Islamophobia in America, Muslim Women in West, Islam Women and Feminism