New Age Islam News Bureau
07 October 2021
• Fatinah Al Beetar, First Arab Female Pilot, Youngest Woman in the World to Fly an Aircraft
• 'Don't Sweep Us under the Carpet,' Says British Daesh Woman, Nicole Jack, Stuck In Syria
• Afghan Women's losing Battle to Remain Visible under Taliban
• My Sister's House, A Sacramento-Based Organization, Opening New Shelter To Support Muslim Women And Children Facing Domestic Violence
• Coalition of Muslim Women Organizes Events to Celebrate Islamic Heritage Month in Canada
• Finding Kiwi: Dhaka Woman Offers $600 Reward for Lost Pet Bird
Compiled by New Age Islam News Bureau
URL: https://www.newageislam.com/islam-women-feminism/afghanistan-female-lawyer-taliban/d/125528
--------
Afghanistan's Female Lawyers Who Prosecuted Criminals, Taliban Militants, Corrupt Bureaucrats Are On the Run
October 07, 2021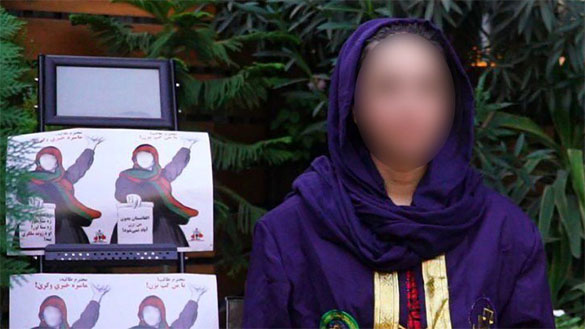 Once an influential lawyer, Farishta is now in hiding, fearing for her life
------
Until August, Farishta was an influential prosecutor who exercised her power for a cause. She prosecuted criminals, Taliban militants, corrupt bureaucrats, and men who beat women and children.
Today, 27-year-old Farishta is in hiding. Like a fugitive on the run, she changes her location often. For her safety, we have changed her name.
Originally from Afghanistan's south-eastern Paktia province, Farishta was among those Afghan women who obtained professional success in the years after the Taliban was defeated, challenging the country's male-dominated and ultra-conservative society.
Five years ago, under the previous government, she became a prosecutor in Afghanistan's Attorney-General's office. Part of her job was "prosecuting and getting sentences for those who committed rape, murder and domestic violence", she told the BBC from a safe house in Afghanistan. It was a "challenging but satisfying job", she said.
But as the Taliban swept across Afghanistan in recent months, before seizing the country, they freed prisoners along the way, including thousands of hardened criminals and Islamist militants.
Among those let go by the crusading Taliban was Mohamad Gol, who faced charges of planning suicide bomb attacks. Farishta had painstakingly gathered evidence against Gol and successfully prosecuted him, putting him behind bars for what should have been a 20-year sentence.
Days after the Taliban took over Kabul, Mohammed Gol called her, Farishta said. "He said he was coming after me to take revenge, and I cannot hide anywhere."
Since then, she has been on the move. With no salary, she is finding it difficult to make ends meet. Farishta and her colleagues say the Taliban are opposed to women working as prosecutors and judges and they want to keep most women away from the workplace, as they did during their rule through the late 1990s.
Women like Farishta have good reason to be afraid. In January, two women judges of the Afghan Supreme Court were shot dead in Kabul - part of a wave of targeted killings widely blamed on the Taliban. And two legal officials who worked in the Afghan Justice Ministry have been killed in Kabul in recent weeks in what are believed to be revenge attacks.
International rights groups including Amnesty and Human Rights watch have reported extra-judicial killings and abductions, despite an amnesty declared by the Taliban for government workers.
Hundreds of women judges went into hiding as the group seized power in August. Some scrambled to leave the country during the US-led evacuation in August, others were left to face their fate in Afghanistan.
"I personally received many phone calls and threats from Taliban and their associated members," said an Afghan woman judge from Parwan province, who was among those to get out.
The judge, who joined the bench in 2018, is now living in the UK. She said her property, belongings and all others assets had been seized by the Taliban and her relatives were at risk of persecution from the Islamist group.
"Female judges played a vital role to establish the rule of law and the fight against corruption inside branch," she said. "If they leave the country, it's a huge vacuum for the judicial branch."
There are still about 230 Afghan female judges stranded in Afghanistan, all of them now in hiding. According to interviews with judges, and activists working on their behalf, former residences have been searched and ransacked and relatives threatened.
"Their careers are over, their bank accounts have been frozen, and their future as women in Afghanistan is grim," said Judge Anisa Dhanji, a UK representative of the non-profit International Association of Women Judges, IAWJ.
The IAWJ, which has trained several Afghan female judges in the past, stepped in to co-ordinate the evacuation of dozens of judges amid the chaos and violence at the Kabul airport after the Taliban take over.
It was a complex operation involving several teams working through the night with maps and interpreters, coordinating intelligence reports about what's happening at the Kabul airport gates.
Against the odds, around 40 Afghan women justices and their families were evacuated. Most are now in the US and Europe and some in Turkey, Tajikistan, Iran and the Gulf. But many more were left behind.
One Afghan judge hiding in Kabul told the IAWJ that a man she sentenced on terrorism charges had not only been released, and threatened her, but had now been appointed as a Taliban judge.
Another judge said she was due to give birth imminently by planned Caesarean section, but she was too afraid to go to a hospital and identify herself there.
And beyond these shocking cases, the sudden disappearance of the judicial system has dealt a blow across the board for women seeking justice in Afghanistan.
"As the courts are closed, women have no avenue to complain about rape or abuse by their husbands and other men," said Zainab, an independent lawyer running a legal firm in several Afghan cities, whose name we have changed.
"No one is coming forward to discuss it, because there are no female lawyers anymore," she said.
All Zainab's offices have been shut down and her 15 staff have lost their jobs. She received her own threat, she said, from a man from Herat she prosecuted for sexual assault but who was freed by the Taliban.
"He said, 'I will find you, even if you hide in Herat, and then I will hand you over to the Taliban'."
A senior Taliban spokesman and minister denied responsibility for the threats and the ransacking of properties of female judges and other legal officials.
"We reject these allegations, our fighters would never do such a thing," Zabihullah Mujahid told the BBC.
Asked whether the female judges and prosecutors will be allowed to return to work, Mujahid said, "A decision will be made and a framework is under process. Then everything will become clear."
Campaigners say time is running out for the Afghan women lawyers and judges in hiding.
"The urgency at present is in assisting those who wish to leave," said Justice Dhanji.
"Their lives and the lives of their families are at risk. They are being hunted simply for having sat in judgement on men."
Source: BBC
https://www.bbc.com/news/world-asia-58742581
--------
Fatinah Al Beetar, First Arab Female Pilot, Youngest Woman in the World to Fly an Aircraft
Afkar Abdullah
October 6, 2021
Image used for illustrative purpose. Germany, Bavaria, Munich, Woman flight captain piloting aeroplane from airplane cockpit.
Getty Images
------
She would have loved to be an integral part of the aviation sector, but fate had other ideas. She found a new passion in education.
Fatinah Al Beetar took to the sky at the tender age of 14 — making her the youngest woman in the world to do so.
Al Beetar was born in Syria in 1959 and came to the UAE, then called the Trucial States, as a three-month-old baby. She enrolled in the first aviation school that opened on May 16, 1971, in the then Arab tribal confederations under colonial British rule.
The courageous teen came from a well-heeled Syrian family, as her father was one of the pioneers in the publishing industry long before the UAE was founded as a model Arab state.
She started taking her flying lessons under the supervision of her mentor, Captain Adel Al Deeb, who founded the aviation school and served as its manager until 1976.
Al Beetar's parents were supportive of her flying ambitions and her cherished dream was realised when she received her licence. She completed 700 flying hours and was the only girl student in her class in 1973.
She became the first Arab female pilot — an astounding feat that caught the global imagination, sending the Arab and the Western press in a beeline to interview her.
"I was interviewed by journalists from Germany, England and Arab nations because of my achievement," she recalled.
She had flown to Abu Dhabi, in and around Sharjah and the northern emirate of Fujairah during her nascent career as a pilot. She had also piloted a flight to Pakistan and Bahrain.
Discovering a new passion
She would have loved to be an integral part of the aviation sector, but fate had other ideas. One day, she had to leave for England, where her husband was moving.
Then, Al Beetar — a picture of Arab pride and dogged determination — found a new passion in education.
Initially, she obtained a bachelor's degree from Damascus University, and later her first post-graduate degree in Islamic studies. She went on to obtain two successive post-graduate degrees in diverse streams, such as business administration and leadership in education. Her third post-graduate degree was from the Abu Dhabi University.
The degrees have stood her in good stead in her glorious professional career as a dedicated educationist for the past 32 years.
Successful educationist
Now, she is the principal of Al Bayan School in Sharjah.
In retrospect, she is content with her professional and personal achievement.
Her four children — two daughters and two sons — take immense pride in their mother's feat, as she chose a path less travelled and managed to excel in it.
However, her attempts to convince the children to take to flying came a cropper, as they chose conventional academic pursuits such as engineering and medicine.
Emirati Civil Aviation Day
Al Beetar's flying achievements came to the fore all over again during the Sharjah Museum Authority's (SMA) annual celebration of the Emirati Civil Aviation Day on October 5 — the day when the first commercial flight landed in the emirate, carrying four passengers on board.
The SMA displayed never-before-seen documents and photographs from the region's first aviation school and some meteorological instruments used at Sharjah International Airport.
Al Mahatta Museum is hosting the exhibition 'Sharjah, the First UAE Flying School', which will be held until September 2, 2022.
Sheikh Khalid Issam Al Qassimi, chairman of the Department of Civil Aviation in Sharjah, and Aisha Deemas, director of Executive Affairs at SMA, were present, when the meteorological instruments were handed over.
The rare exhibits include photographs, correspondence, and documents that shine light on the history of Al Mahatta airport, the aviation school, and the amazing feat of Al Beetar.
The rare Hanno HP42 aircraft model is also being displayed. Only eight of them were manufactured in 1929-30, and data shows that four each were designed for European and the Middle Eastern and African sectors.
The exhibition celebrates how the maiden air link had started commercial activities and cultural exchange with the rest of the world.
The event also chronicles how late Captain Al Deeb had started the flying school on May 16, 1971, after obtaining a flying licence from England in the previous year.
His daughter, Nora Al Deeb, had loaned to the SMA his daily flight records, pilot licence and uniform.
Captain Al Deeb held a degree in civil engineering and came to the then Trucial States in 1957 from his native Lebanon. He had helped build several projects in his adopted homeland, including schools and an eponymous hospital. He passed away in 2015 in the northern emirate of Ajman.
Source: Khaleej Times
https://www.khaleejtimes.com/news/uae-meet-the-first-arab-female-pilot-youngest-woman-in-the-world-to-fly-an-aircraft
--------
'Don't Sweep Us under the Carpet,' Says British Daesh Woman, Nicole Jack, Stuck In Syria
October 07, 2021
LONDON: A 34-year-old British woman who travelled to Syria alongside her husband to join Daesh has urged the UK government to let her return with her three daughters.
Nicole Jack, from London, is being held in Kurdish-administered Al-Roj camp for Daesh families in Syria alongside her three daughters, aged 12, 9 and 7.
She told the BBC that despite traveling to Syria and living under Daesh's so-called caliphate for three years, she does not represent a security threat to the British public.
The UK government has been reticent to allow those who joined Daesh — whether male or female — to return to Britain, and has stripped many of their citizenship in a bid to prevent their return.
That strategy has left thousands of people languishing in Syrian camps in dire humanitarian and security conditions.
Those women and children, Jack said, are "out of sight, out of mind," and the UK government must not sweep them "under the carpet."
The Home Office said its priority is to ensure the safety and security of the UK.
Jack traveled to Syria in 2015 to join Daesh alongside her husband, who died fighting for the group in 2016.
Few people will understand her decision to take her children to Syria's warzone, she said, adding that her husband Ali threatened to divorce her if she did not. "It was about my family being together," she said.
Jack later remarried, but her new husband was then killed in an airstrike alongside her only son, aged 10.
Daesh was known for its war crimes and crimes against humanity, including widely publicized executions, but Jack said: "I haven't seen a beheading in my life."
Her 12-year-old daughter told the BBC that she "misses her grannies and aunties," and hopes to come back to the UK so she can "go to school and make friends."
She said: "I like learning different things, like different languages. When you learn more things, your brain becomes better ... I want to be smart when I grow up."
The girls' grandmother said they should be allowed to return to Britain. "It is not fair and it is not right for these children to be languishing in this place," she said, adding that her daughter should also be allowed to return to the UK to "face the consequences" of her actions.
It is estimated that there are at least 16 British women and 35-60 British children detained in Syrian camps.
Among those is Shamima Begum, who traveled to Syria at the age of 15 and who has been vocal in her desire to return to the UK — a move being blocked by the government.
She too was stripped of her British citizenship, but has argued that she has nowhere else to go.
European countries have been struggling to formulate comprehensive plans to deal with the scores of Europeans still in Syrian camps, though some, such as Germany, have continued to repatriate their citizens.
According to Save the Children, those minors living in Syria's detainment camps for Daesh families face the daily threat of violence and illness.
"These children are experiencing traumatic events that no child should have to go through — and this is after years of living in conflict zones," Sonia Khush, director of the charity's Syria response team, told the BBC. "It is incomprehensible that they are condemned to this life."
The UK government said: "Our priority is to ensure the safety and security of the UK. It's important that we do not make judgments about the national security risk someone poses based on their gender and age."
Source: Arab News
https://www.arabnews.com/node/1943236/middle-east
--------
Afghan women's losing battle to remain visible under Taliban
By Agnieszka Pikulicka-Wilczewska
6 Oct 2021
Kabul, Afghanistan – Marzia Hamidi, a 19-year-old Afghan taekwondoin, had big plans.
She used to dream of national and international championships but fears that those dreams are now dashed forever after the Taliban took control of the country in August.
By the end of September, she had to go into hiding after she heard that some members of the group had come looking for her.
"When the Taliban came [to power], I was thinking about destroying my medals," she told Al Jazeera. "Burn them or keep them? I asked myself."
Even Marzia's Instagram account – with more than 20,000 followers – is a little bit darker now. She wears a black abaya and matching hijab, fearing Afghanistan's new rulers.
She is not alone in her fears. Many women fear a return to enforced invisibility they lived under for five years (1996-2001) when the Taliban controlled Afghanistan last.
When the Taliban came to power, it promised to respect women and allow them to participate in public life "in accordance with Islamic law", but secondary schools remain closed for girls, and many women are finding returning to work difficult, with the exception of some professions such as in the health sector.
Protests erupted across several cities last month, with women demanding their rights, but they were harshly suppressed.
During the first Taliban regime, women virtually disappeared from the public eye as they were banned from working and were not allowed to travel without a male guardian. The violation of strict rules on women's clothing and their behaviour in public attracted severe punishment.
Marzia worries that women like her will soon meet a similar fate.
'Burn them or keep them?'
Marzia was born in Iran to a family of Afghan refugees who were often discriminated against and subjected to racist attacks.
At 15, she went to a taekwondo class and immediately fell in love with the sport, going on to compete and earning several gold medals in the Under 57kg category national competitions.
But three years ago, Marzia's family decided to move to Afghanistan, her father no longer wanted to be a refugee in a foreign land. They would join her brother, who had a profitable business in Kabul.
For the self-confident athlete, this spelled a huge disruption of her career. Kabul would prove to be a difficult place to practice her sport in.
"It's always been hard for female fighters in Afghanistan. My male coach always stared at me, focused on my looks, which made me uncomfortable. Other girls in the taekwondo team always wore headscarves and complained that I did not," Marzia says.
When the Taliban came to power, many Afghans tried to destroy or hide items they feared would incriminate them with the new rulers. Marzia's medals were her "incriminating items" and she pondered long and whether to destroy them. "But my brother talked me out of the idea and told me to hide them in a safe place."
But she soon realised that the medals were not the only thing she had to hide.
Last month, a group of unknown men came to her family home asking for her whereabouts, likely because of her social media activity, she says. They also visited her brother's office.
Marzia decided to go into hiding. She now frequently changes locations and lives in constant fear.
"I want to leave Afghanistan to resume my training because I want to prepare for the 2024 Olympic Games. But I don't want to go back to Iran. The situation of refugees is difficult there, there is a lot of racism. Even if I'm the best, they will not let me attend the Olympics," Marzia says.
"Everything has changed since the coming to power of the Taliban."
'Peace at the expense of eliminating women'
Meena Naeemi could have left Afghanistan after the fall of Kabul, because she works for foreign organisations, but she decided to stay. Now, in the final semester of her master's in Pashto literature, she is waiting to finish her degree before looking for opportunities abroad.
But completing her studies under the Taliban may prove impossible. Classes at her university have not resumed for women and nobody knows when they will.
"I did not expect to face such a fate. It is still very hard for me to believe that my country is in such a state. I have no hopes for completing my education and getting a job because they do not want us to participate in society. They introduced peace at the expense of eliminating women," Meena says.
"I'm afraid that from now on, the girls will be stuck at home, while boys continue their education. I look in the mirror and realise that all my plans are a distant dream. I feel like I am slowly dying."
Homeira Qaderi, a women's rights activist from Herat, believes in civil resistance against the Taliban. But she also knows that most women will be too afraid to stand up for their rights.
"When the Taliban took over Kabul, I went to the media to talk to them. They should see women who will not remain silent. I believe in the power of speech. But with each passing day, we see the Taliban abusing women on the streets again," the 41-year-old says.
"The streets of Afghanistan are no longer a safe place for women. The resistance is a path to light. But what if women's resistance to the Taliban will be met with whips and guns?"
Qaderi remembers the Taliban's previous rule during the 1990s when women had no choice but to get married and raise children.
"Violence against women is systematic in the behaviour of the Taliban government. If the Taliban do not use violence against women, they will lose their identity," she says.
"But the period of slavery is over and any attempt to enslave us will sooner or later fail. I hope the world does not turn its back on Afghan women again."
Source: Al Jazeera
https://www.aljazeera.com/features/2021/10/6/how-one-afghan-woman-became-invisible-under-taliban-rule
--------
My Sister's House, A Sacramento-Based Organization, Opening New Shelter To Support Muslim Women And Children Facing Domestic Violence
October 6, 2021
SACRAMENTO, Calif. — My Sister's House, a Sacramento-based organization that helps Asian and Pacific Islander and other underserved women and children impacted by domestic violence, is opening a shelter to focus on Muslim women and children.
The new Sacramento facility will support up to six people.
"It's a unique shelter. It has cultural awareness for Muslim women experiencing domestic violence, and it's in the northern Central Valley," Executive Director of My Sister's House Nilda Valmores told ABC10. "All Muslim women are welcome, and mothers and their children are allowed to come, even single women escaping abuse."
The shelter will provide an environment that promotes safety and cultural appropriateness for survivors of domestic abuse, according to My Sister's House.
Valmores told ABC10 that all women experiencing abuse can come to the shelter. Young girls who have been emancipated are also welcomed.
"The shelter is short-term, and women are allowed to stay for up to 90 days," Valmores said. "Some women coming to the shelter are immigrant Muslim women."
Services such as counseling and legal assistance will also be provided.
"Women can expect a lot of love and support while staying at the shelter," Valmores said.
Valmores also said that the Sacramento Municipal Utilities District played a big part in starting the shelter and has donated $150k to use over the next three years.
Source: ABC10
https://www.abc10.com/article/news/local/california/my-sisters-house-muslim-domestic-violence-shelter/103-d9f54a05-fd38-4225-999b-9c3b794777eb
--------
Coalition of Muslim Women Organizes Events to Celebrate Islamic Heritage Month in Canada
October 07, 2021
"Islamic heritage month is when we can be unapologetically Muslim and unapologetically Canadian," said Mifrah Abid, who is with the coalition and is also the coordinator of Together Against Islamophobia.
"Most people think of these as two separate identities, but I say they are not mutually exclusive. So it's a great time to be who you are."
The coalition partnered with the Kitchener Public Library (KPL) and the Waterloo Public Library (WPL) to host several virtual and in-person events that include guest speakers, lunch-and-learns and family story time, which celebrates Muslim stories and characters.
"Representation matters in everything," Abid said.
"Young children need to see themselves in the crafts they do and in the culture they abide, and it's not just for Muslim children. It's important for their peers also see them and understand them. That they are part of their celebrations."
The first event kicks off Wednesday night at the WPL with author Uzma Jalaluddin as she talks about her latest book, Hana Khan Carries On. The event is virtual and people can register through the library's website.
There is also a photo exhibition at the Schneider Haus Museum this month called UN/COVERINGS: Mennonite and Muslim Women's heads and Hearts.
The libraries will also be making books, movies and other materials that celebrate Muslim culture, history and authors available for the community.
Abid said she hopes the events will help bring the community closer.
"During Islamic Heritage Month, I hope people will take the time to get to know their Muslim neighbours, to know who we are," she said.
"There's not much difference. We're the same people underneath. I hope that will be the take away from Islamic History Month for most people."
Source: Iqna
https://iqna.ir/en/news/3475932/coalition-of-muslim-women-organizes-events-to-celebrate-islamic-heritage-month-in-canada
--------
Finding Kiwi: Dhaka Woman Offers $600 Reward for Lost Pet Bird
October 06, 2021
DHAKA: A Bangladeshi woman said on Wednesday she had been inundated with phone calls from locals in the area after offering to pay a $600 cash reward for anyone who could return her pet bird, which went missing on Sunday morning.
Many residents of Gulshan, an upscale residential area in the capital city, Dhaka, were calling to ask if Faiza Ibrahim, 28, was serious about paying to find "Kiwi," a male South American sun conure that can say its name, after seeing his "missing" posters in the neighborhood.
"I've had Kiwi since 2018 when he was only three weeks old and didn't even have any feathers," Ibrahim told Arab News. "He's like a member of our family. All of us loved him."
Ibrahim lives with her extended family of 11 people, and she and her mother would take turns to look after Kiwi, who "loved to feed on seeds, fruits and rice."
A pair of sun conures can be bought for $600 at an animal shop in Dhaka. Ibrahim said she was aware that the cash reward was high, but she wanted to protect Kiwi.
"A pet bird is more valuable than money. That's why I announced this huge sum of money as a reward so that people who find him will prefer to return Kiwi instead of selling him to the market," Ibrahim said.
She suspects her neighbors must have found Kiwi "as this species of birds cannot fly for too long."
"There are high chances that Kiwi has landed on someone's shoulders in the area," Ibrahim said, adding that Kiwi had gone missing in January last year and July 2019 too.
"The first time it happened, I paid $200 to a group of construction workers who found him near my house. The second time, a family found Kiwi but didn't want to take any cash for him. So, I gave them gifts instead," Ibrahim said.
She added that since Kiwi was a tamed bird, they would let him roam around the house all day but put him back in its cage at night.
"He probably flew out through one of the windows and has lost his way. I cannot wait to have him back."
Source: Arab News
https://www.arabnews.com/node/1942951/world
--------
URL: https://www.newageislam.com/islam-women-feminism/afghanistan-female-lawyer-taliban/d/125528
New Age Islam, Islam Online, Islamic Website, African Muslim News, Arab World News, South Asia News, Indian Muslim News, World Muslim News, Women in Islam, Islamic Feminism, Arab Women, Women In Arab, Islamophobia in America, Muslim Women in West, Islam Women and Feminis