New Age Islam News Bureau
6 Jan 2014
• In Iran, Violence against Women Highest Among Kurds
• Muslim Mothers Should Be Trained In Computing 'To Help To Spot Radicalisation'
• Violence against Women, Kids: PTI Body to Start Public Move
• Emirati Woman Makes Her Presence Felt
• IIUI Female Hostel Students Facing Victimisation
• Tanzania: Thin Line between Poverty and Teen Pregnancy Should Be Addressed Now
• Nigeria: Esuene Decries Low Percentage of Women in Politics
• Saudi Survey Shows Men Blame Women for Rising Cases Of Molestation
• Rwanda: Gashora Girls Win Top Us Scholarships
Compiled by New Age Islam News Bureau
URL: https://www.newageislam.com/islam,-women-and-feminism/new-age-islam-news-bureau/afghanistan-girl-wearing-suicide-vest-detained/d/35163
--------------
Afghanistan Girl Wearing Suicide Vest Detained
6 January 2014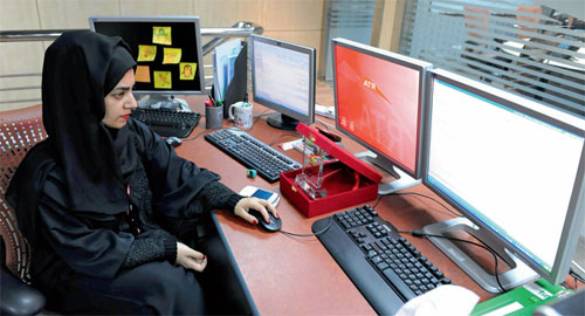 Asma bint Tamim works as a systems engineer in the Transportation Systems Department at the RTA's Public Transport Agency — Supplied photo
------------
A young Afghan girl has been detained wearing a suicide vest in southern Afghanistan, officials say.
She was held on Sunday night in Helmand province, as she tried to carry out an attack on border police, an interior ministry spokesman told the BBC.
The girl, reported to be as young as eight and thought to be the sister of a prominent Taliban commander, is said to be in a state of shock and confusion.
Police told the BBC she was encouraged to carry out the attack by her brother.
According to interior ministry spokesman Sediq Sediqi, one of the Afghan soldiers spotted the girl wearing a suicide jacket.
But she could not operate the button to detonate the suicide vest or she was arrested before she could carry the attack, the BBC's Bilal Sarwary reports from the Afghan capital, Kabul.
The girl has now been transferred to the provincial capital of Lashkar Gah.
http://www.bbc.co.uk/news/world-asia-25620543
----------------
In Iran, Violence against Women Highest Among Kurds
Assyrian Internationsl News Agency
6 January 2014
TORONTO, Canada -- About 88 percent of women in Iran's Kurdistan Province reportedly experience some form of abuse, among the highest in the country.
According to the BBC's Persian service, 66.3 percent of Iranian women experience violence in their lives, but Kurdistan Province and the city of Ahvaz are reported to be the two most violent cities for females.
The United Nations defines violence against women as "any act of gender-based violence that results in, or is likely to result in, physical, sexual or mental harm or suffering to women, including threats of such acts, coercion, or arbitrary deprivation of liberty, whether occurring in public or in private life."
Despite the huge numbers of women living with abuse in Kurdistan Province, abusive men enjoy impunity under the patriarchal laws of Iran's Islamic Republic.
The children of battered women are also victims of domestic violence. Witnessing spousal violence is regarded as a form of child abuse. Children who witness violence in the home have twice the rate of psychiatric disorders as children from non-violent homes.
Kajal, a 33-year-old senior government clerk in Sanandaj and the mother of a two-year-old, was repeatedly beaten by her unemployed husband. He demanded she hand over ownership papers to the family home and the car she bought with her earnings.
Azadeh, 21, a university student in Germany, told Rudaw she decided to leave Iran after seeing her older sister burst into her parents' home with broken teeth, following a severe beating by her husband.
"Nobody has been able to stop him. My sister stays in that marriage to be with her children. Men have custody in Iran," she explained.
Farah, 45, a physical education trainer in Sanandaj, set herself ablaze one year after her marriage.
"It was just a threat when I poured the gasoline on my body, but when he (the husband) dismissed me with indifference, I ended up lighting the match. That was 15 years ago. He divorced me and remarried. The burning marks are still persistent on my body," she lamented.
It is feared that violence against women in Kurdistan is inevitably creating a more unhealthy society, since children are affected by domestic abuse. The children of abused women are likely to become victims or perpetrators of violence later in life.
An increase in the rates of violence against women is seen as proof that this behavior is condoned by society.
Jafar Bolhari, a psychologist and expert in violence against women, believes that many women are "unaware of the crime committed against them." Many consider receiving a slap by the husband or a verbal harassment as parts of life and not a form of oppression, he explained.
According to the Kurdpa news agency, in the Fall of 2013, 33 Kurdish women were reported to have experienced violence. Fifteen women committed suicide, eight were imprisoned (three of them activists) and seven were executed by the Iranian government.
Iran's Kurdish regions are economically among the country's most neglected areas.
Soraya Falah, a Kurdish women's rights activist from Baneh who resides in Los Angeles, believes that the Iranian government promotes violence in the Kurdish regions by deliberately letting them flounder socially and economically.
Recent global prevalence figures indicate that 35 percent of women worldwide have experienced either intimate partner violence or non-partner sexual violence in their lifetime.
Activists say that Kurdish men and women need to receive education about the definition of violence and its effects on women, children and society. They complain that the Iranian government does not seem to have any intention of raising awareness in this regard and only Kurds themselves can make a difference.
http://www.aina.org/news/20140105162745.htm
--------------
Muslim Mothers Should Be Trained In Computing 'To Help To Spot Radicalisation'
6 January 2014
The mothers of Muslims should be trained in basic computing skills so they can spot online radicalisation of their children, a report says.
The study of 350 Muslim women, conducted between last June and October, found that 92 per cent did not understand the term "online radicalisation", nor that their children could be radicalised online. It said three-quarters of all mothers surveyed had seen or heard their children accessing Islamic lectures, yet 90 per cent were unaware of their content.
"We believe that mothers are trusted anchors within many homes which means, if equipped with the right skills, they have a unique capacity to safeguard their children against internet radicalisation," the report from women's charity JAN Trust concluded.
http://www.independent.co.uk/news/uk/home-news/muslim-mothers-should-be-trained-in-computing-to-help-to-spot-radicalisation-9040289.html
--------------
Violence against women, kids: PTI body to start public move
6 January 2014
LAHORE - PTI's Insaf Action Forum is compiling data regarding cases involving violence against women and children in Punjab in an effort to set in motion a public move against the gruesome issue.
The forum will present its findings in a seminar scheduled for January 10 in the provincial capital. The forum met at PTI office on Saturday to ponder the growing cases of violence against women.
With Ijaz Chaudhry in the chair, PTI leaders Dr Yasmin Rashid, Andleeb Abbas, Nosheen Hamid Meraj, Shanila Rout, Aliya Hamza Malik and Bushra Khalid Bhatti attended the meeting. The forum decided it would gather all possible data regarding crimes against women and children in Punjab till January 9, and make the same public in a seminar on January 10 in a bid to raise a public voice against the serious issue. PTI leaders said the recent case of violence involving a maid was a barbaric act against which, they added, society should take a stand. They maintained the sorry state of women security and safety indicated provincial authorities' indifferent attitude to the issue.
They said the failure of the provincial rulers to apprehend the culprits of the Sumbal incident had encouraged criminals, and put young children and women at a greater risk.
They said PTI's seminar would bring the issue to the fore, and would present proposals to the government to deal with it.
http://www.nation.com.pk/lahore/05-Jan-2014/violence-against-women-kids-pti-body-to-start-public-move
--------------
Emirati Woman Makes Her Presence Felt
Lily B. Libo-on / 6 January 2014
A young Emirati engineer is leaving her mark at the Roads and Transport Authority (RTA), where 50 ideas presented by her have either been adopted or are under study. What makes this Emirati woman's achievement remarkable is that she has been employed with the RTA for just about two years.
An enthusiastic learner, Asma bint Tamim works as a systems engineer in the Transportation Systems Department at the RTA's Public Transport Agency. Several ideas have been nominated for awards as a result of her contributions. She participated in compiling the Sipta System — the first-of-its-kind cost and revenue calculation system in the Middle East.
"The system calculates elements such as cost and revenue of bus operations and indicates performance indicators associated with these elements, in addition to linking various technical systems to a unified centralised system, and issuing fiwnancial reports automatically," she explains.
Bint Tamim obtained a Bachelor of Administrative Engineering from Sharjah College of Technology in 2011, in addition to the Higher Diploma in Electronic Engineering from the same college. Her graduation project earned her an excellent rating.
"My graduation project was about installing underground radars capable of sending text messages to speeding motorists stating the speed recorded, location and time of the offence, and the due fine. I have worked on the project's software and scored an excellent rating, which helped me in my current job at the RTA," she says.
She started work at the RTA in April 2012 — her first job after graduation.
Bint Tamim's recent accomplishments here includes her participation in compiling the Wojhati application, which won the Hamdan bin Mohammed Award for Smart Government as the best smart phone service. The application is the first of its kind journey planner worldwide to use the Arabic language.
She also participated in the project to offer Wi-Fi services on inter-city bus routes — a service that enables passengers to use the Internet during their trips. She was also part of the team which developed Hala Taxi and the Nol smart card technology for buses. Bint Tamim also participated in augmenting the RTA's revenues, and sent text messages daily to the agency's officials about the number of bus passengers and revenues generated, which helped them take appropriate decisions quickly.
"I have been keen on learning since my appointment. I developed the habit of participating in any project or idea such as the AVM system, which automatically manages bus operations in terms of the number of kilometres done, performance and arrival times among others. I have also learned to work on the AFC system, which collects fare automatically. Later, I participated in issuing reports using both systems."
lily@khaleejtimes.com
http://www.khaleejtimes.com/kt-article-display-1.asp?section=newsmakers&xfile=data/newsmakers/2014/January/newsmakers_January10.xml
--------------
IIUI Female Hostel Students Facing Victimisation
6 January 2014
ISLAMABAD: Female students of Islamic International University Islamabad (IIUI) residing in hostel are being victimized by university administration for staging protest against increase in hostel charges.
Details said, hostel provost Nighat Shakoor taking action against girls have started rusticating the students from hostel by using force ignoring the intensity of cold weather.
Few days before female students had staged the protest against increase in hostel charges and had suspended all academic activities in university. Resultantly administration assured girls that their concerns will be taken seriously.
But, now university has established a discipline committee to take action against students who led the protest and in this regard hostel provost has launched action against girls.
Sources said, hostel students have decided to seek the court against this action, while spokesperson of university has not given any version of university on new action.
http://www.onlinenews.com.pk/details.php?newsid=249030&catname=Pakistan
--------------
Tanzania: Thin Line Between Poverty and Teen Pregnancy Should Be Addressed Now
6th January 2014
AS one searcher for the 2013 One Africa Award winner, it is true that the region is celebrating the incredible and ingenious organisations that have been finalists in the past.
Let's look at Supporting Orphans and Vulnerable for Better Health, Education and Nutrition (SOVHEN), a finalist in 2012. Richard Bbaale is one of the founders of SOVHEN. He grew up as an orphan. He was lucky to have his grandparents, who took care of him and put him through school.
As Bbaale grew up, he observed his sister miss school regularly, for they could not afford sanitary pads. "How can I change this?" lingered in Bbaale's mind throughout his childhood. This may be the kind of questions that gives all great innovators the ability to create the unknown.
SOVHEN was created from a dream, a dream to answer Richards question "How?" Bbaale started SOVHEN as a university club, where university students took time to volunteer and focused on supporting orphans and other vulnerable groups in rural communities with encouragement, tutoring and more.
He says higher levels of education are significantly associated with decreased chances of very early sex, decreased chances of marrying early and increased chances of using contraception during the teen years. Finding ways of keeping pregnant teenagers in education would therefore seem to be a priority.
This is the message in many areas of the Gender Equality and Women Empowerment programme (GEWEII) being implemented by Tanzania Media Women Association (TAMWA ) in partnership with four other organisations that defend the rights of women and children.
Influencing teenage pregnancy cannot, however, be the result of a single intervention. There is good evidence that providing parents with the skills and knowledge to become active partners in sex and relationships education is effective in preventing teenage pregnancy - young people whose parents are able to discuss issues around sexual health with them are more likely to use contraception at first intercourse.
Strategies to involve boys and men seem also to be missing in a lot of work around teenage pregnancy. Reducing teen and unplanned pregnancy is closely connected to the goal of promoting responsible fatherhood. Rates of sexual activity are higher for teen boys than for teen girls.
It is also true that teen boys have had more sexual partners than teen girls. Consequently, education and community leaders clearly need to focus their efforts carefully on boys as well as girls. For young men who are not yet fathers, activities should focus on the full responsibilities of fatherhood and how to avoid becoming a father too soon.
Policymakers should intensify their focus on the responsibilities of young men in preventing teen and unplanned pregnancy by: addressing pregnancy planning and prevention in programmes serving significant numbers of young men and, reaching young men more effectively in family planning programmes.
Although there has been growing recognition that responsible fatherhood is an important part of promoting child well-being and healthy families, there is still relatively little policy focus on delaying early or unplanned fatherhood in the first place. More must be done to help young men wait to become fathers until they are ready to shoulder the long-term responsibilities of raising a child.
Those who are already young fathers also need help to delay having more children until they are emotionally, financially, and otherwise ready to take on additional responsibilities of fatherhood (such as being in a stable, healthy relationship, including marriage).
Doing so will improve prospects for this generation of young men, their partners, and their children. Pregnancy planning and prevention should be included as a component of such programmes in schools and further education as responsible fatherhood, healthy relationships and marriage, in workplace education and workforce development.
This can be accomplished through language stressing how early and unplanned pregnancy affects the goals of these programmes, accompanied by a modest investment of resources to develop and disseminate materials, support training and technical assistance, and encourage partnerships with relevant organizations.
Parents should be cautious about perpetuating a doublestandard of expectations for sons and daughters -- one that clearly discourages sexual activity among teen girls but too often offers a "wink and a nod" to adolescent male sexual activity. Parents -- perhaps fathers, in particular -- are ideally suited to talk with their sons about responsible sexual behaviour.
For those who already are fathers, programmes should help participants think about how an unplanned pregnancy may affect their goals, their relationships, and the consequences for their children. They should also equip men with skills to communicate with their partners on these topics in order to avoid unplanned pregnancy.
In addition, programmes can help educate fathers to change their attitudes about early marriage for their children and to talk to their sons and daughters about avoiding early pregnancy and teaching responsible parenting.
When we consider young women in extremely poor and remote villages where there is no hope of a better life or education, we might understand the cultural norm in such places that explains why young girls in abject poverty have a higher tendency to get pregnant than their counterparts who are aiming at being educated and becoming influential.
Some researchers are of the opinion that these poor little girls have made some cost- benefit analysis amongst other logical economic assessments of themselves and their futures.
They must have envisaged and concluded that there's no tangible economic success or impact that they can possibly make, hence they opt for childbearing to make up for the void in their lives.
Economists who examined teen sexual behaviours and its consequences in relation to socio-economic class also concluded that teens from lowincome areas with abject poverty are more likely to become teen parents.
In developed nations with financial crisis' poverty plays a big role in teen pregnancy when teenagers feel that they can only get help or receive food stamps and welfare packages when they get pregnant and have children.
Going by the report that says by 2040 Africa will house half of the world's youth population, Africa must avert the economic hopelessness that might result from this.
I think the emphasis shouldn't be merely changing pregnancy rate, rather emphasis should be placed on education and programmes that would boost the self esteem and overall wellbeing of teenagers. It's also important to continue to encourage and make contraceptives readily available.
http://allafrica.com/stories/201401060178.html?viewall=1
--------------
Nigeria: Esuene Decries Low Percentage of Women in Politics
6th January 2014
In order to achieve a reasonable percentage of women's participation in politics, Senator Helen Esuene representing Akwa Ibom South senatorial district in the National Assembly has called for collaborative efforts by the menfolk, government and political parties in this direction.
Esuene, who made the call in Uyo, the Akwa Ibom State capital, at the weekend, expressed regret that men were not doing enough to encourage women, participation in politics.
"The men are not doing enough to encourage women participation in politics. Our men still have that antagonistic altitude that the public sector should be for the men. Men still feel that women should not be publicly engaged," she said.
Consequently, she noted that women were trying to show that they could participate in public activities, business and governance without comprising their duties at home.
She argued that female participation in politics in Nigeria had not reached a stage or level where women could declare that they have arrived, saying Nigeria was really lacking in governance compared to other African countries.
"Nigeria has just about six per cent of women participation in politics whereas other countries in Africa have up 30 and 40 per cent. We need to work harder in this area. And our menfolk, government and political parties have to assist us the women," she stressed.
Esuene, who clarified that her interest in contesting the 2015 governorship election in the state was not because of gender consideration, said: "I am interested in the position (governorship) because I have gathered a lot of experience in public administration, governance at various levels and I have a good track record of achievements goodwill, integrity and very reliable."
According to her, "I see myself as somebody easily acceptable across board. I have something to offer to the people of the state based on experience and knowledge in governance. My experience in government and private sectors will enable me to manage the government in term of civil service, political appointees properly and put in place social administrative process that will encourage transparency and service delivery.
I know the areas of loopholes in government, areas to pay attention to, I have that exposure and know who to bring or fix in a specific position. I believe in government that will transparent and participatory, I mean real democracy."
On the area of her focus if elected as the governor of the state, the Senator said the level of infrastructure so far achieve is a spring board to where the state should really be in future in term self sufficiency and reliable, job creation and empowerment of the people.
She observed that tourism was one area not touched and neglected in the state. "It is an area that will bring revenue to to any community and government if properly harness. We have many tourist attractions, natural ones and others we can create and develop," he said.
http://allafrica.com/stories/201401060727.html
--------------
Saudi Survey Shows Men Blame Women For Rising Cases Of Molestation
6 January 2014
Saudi men believe women are to blame for the rising cases involving molestation of females on the grounds they are seduced by women's excessive make up.
The findings were included in a survey conducted by the Riyadh-based King Abdul Aziz Centre for National Dialogue and involved 992 males and females.
The survey, carried by Saudi newspapers, found that 86.5 per cent of the men polled believe that women's exaggeration in wearing make-up is the main cause of the rise in molestation cases in public places in the conservative Gulf Kingdom.
About 80 per cent of the total persons polled believe lack of deterrent penalties and the absence of specific anti-molestation laws are also to blame for the phenomenon.
The report said 91 per cent of the respondents, all aged above 19, believe another key factor is the "poor religious sentiment" while nearly 75 per cent said the problem is caused by lack of awareness campaigns and warning notices at most public places.
http://www.emirates247.com/news/region/saudi-survey-shows-men-blame-women-for-rising-cases-of-molestation-2014-01-06-1.533620
--------------
Rwanda: Gashora Girls Win Top Us Scholarships
6th January 2014
Ten students from Gashora Girls Academy of Science and Technology in Bugesera District have been awarded scholarships to study their undergraduate programmes at various universities in the US.
The scholarship offer was announced last week to students who had submitted their applications for 2014.
The universities are Yale University, University of Pennsylvania, Smith College, Hamline University, Bucknell University, Lafayette University, Trinity College, Goucher College, University of West Virginia, and Worcester Polytechnic Institute.
The students will benefit from a total of approximately $1.9 million toward the cost of their four years of undergraduate study in such fields such as chemical, civil and biomedical engineering, architecture, finance and economics, computer/IT, according to the school's headmaster Peter Thorp.
"To have 10 of our girls accepted from the most competitive pool of candidates from all over the world affirms the quality of education the girls received during their three years at Gashora Girls Academy. I am proud of the girls and their teachers for their collaborative efforts that resulted in this stunning achievement," Thorp added.
He said the selection of her students is encouraging and a sign of the confidence US universities have in Rwandan students.
"I believe the almost $2 million investment in just these 10 girls is an indication that American universities are eager to support the future development of Rwanda. They believe that when these girls complete their educations, they will return to their homeland to become key players in achieving the goals of the country's development agenda," Thorp said.
Meanwhile, Gashora, Bridge2 Rwanda organisation, and the other leading secondary schools in the country, including Green Hills, Riviera, KICS, ISK, Sonrise and Agahozo Shalom have formed the Rwanda International University Access Consortium (RIUAC).
The goal of RIUAC is to enable the schools to share ideas and expertise and teach young Rwandans how to become competitive candidates for international universities as well to improve their readiness to attend the newly-created University of Rwanda.
Thorp said the members of RIUAC believe the consortium's efforts have already paid off, with visits from 15 American and Canadian universities between September and November last year, including seven of the Master Card Foundation Scholarship universities which offer full scholarships to the most highly qualified Sub-Saharan African students. He appealed to other secondary schools to join the consortium.
"These efforts make this an especially encouraging time for Rwanda's secondary students," Thorp said.
"By ensuring that our students receive world-class 21st Century education, I am confident many of our young scholars will be able to pursue disciplines that will directly impact the future development of Rwanda.
http://allafrica.com/stories/201401060783.html
--------------
URL: https://www.newageislam.com/islam,-women-and-feminism/new-age-islam-news-bureau/afghanistan-girl-wearing-suicide-vest-detained/d/35163