New Age Islam News Bureau
17 Apr 2014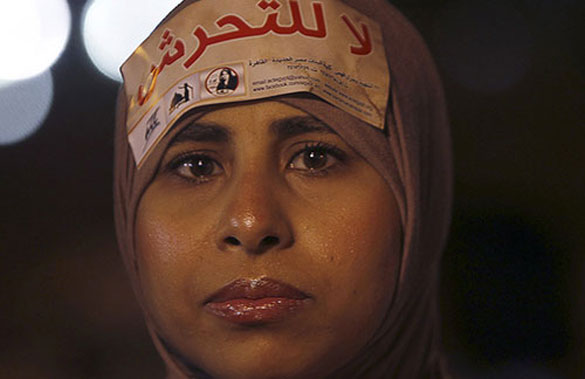 File Photo: An Egyptian youth, trailed by his friends, grabs a woman crossing the street with her friends in Cairo (Photo: AP)
-------------
• Sexual Violence against Egypt Women Goes Unpunished
• Islamists Free Kidnapped Nigerian Schoolgirls
• Successive Egypt Governments Failed To Stop Sexual Violence: Report
• Mind Your Legs! Turkish Women Fight against Mass Transit Abuse
• Indonesian Minister Calls for Harsh Punishments for Sexual Abuse Convicts
• Malala Portrait Up For Auction in New York
• Karachi Gets Second Female SHO
• Iraqi Girl-Marriage Bill Called Vote-Getting Ploy
• Public Awareness Only Way To Counter Violence Against Women: Activist
• Pact Signed To Employ 5,300 Women with Saudi Companies
• Criminalization Will Not Stop FGM in East Africa
• Official Reiterates Rights of Expats with Saudi Mothers
• Saudi Conservatives March against Westernisation, Women's Rights
Compiled by New Age Islam News Bureau
URL: https://www.newageislam.com/islam,-women-and-feminism/new-age-islam-news-bureau/afghan-women-stand-to-be-counted-as-west-begins-to-disengage/d/66600
--------------
Afghan women stand to be counted as West begins to disengage
17 April 2014
KANDAHAR, Afghanistan (Reuters) - Framed by her blue shawl, the solemn, bespectacled face of Serena Faizi peers out from an election campaign poster at a Kandahar city roundabout, while Afghanistan approaches its own crossroads as Western troops prepare to go home.
When the United States first deployed forces in Afghanistan to fight the Taliban and hunt Osama bin Laden, Faizi was barely a teenager.
Having grown up in a city on the front line of the insurgency, she has entered politics, the most dangerous arena of all for a woman in Afghanistan. She is beginning political life just as the West, which has championed women's rights, has begun to disengage.
While the country awaits the outcome of the larger contest to see who succeeds Hamid Karzai as president after 12 years in power, Faizi is awaiting results of the April 5 election to find out whether she has won a seat in Kandahar's provincial council.
Contesting meant becoming a potential target for the Taliban. Police insisted on giving her an armed escort home on the night of the ballot as the risk became more real.
"I was scared," admitted Faizi, a former media relations officer in the provincial governor's administration.
"We are like a challenge. They tell me: 'Serena, you can't do that'. "I say: 'I can," she told Reuters in rapid-fire English perfected through lessons taken over Skype.
"If men can do it, women can also do the same thing."
Named "New Generation" and campaigning for equal rights for women, Faizi says her political movement has only a few hundred followers, but they are determined to take on reactionary Afghan attitudes to women by seeking to be both seen and heard.
Some of credit for that sense of empowerment must go to the promotion of democracy and education for girls, which became hallmarks of U.S. policy in Afghanistan since the fall of the Taliban in 2001.
But rest of the credit would go an unusually enlightened family. Her father, Fazal Mohammad, ran a car dealership, and raised six daughters and a son after his wife, a doctor, died when the children were young.
"I know that Islam gave rights equal to male and female," Mohammad said. "Islam gave women rights to go outside, get an education, even work. I am going with Islam and with the choice of my daughters."
EYE CONTACT
Traditionalists, however, even criticize Faizi's choice of the Niqab, a veil that provides a slit for the eyes, for daily wear outside the home and office.
They would prefer to see her completely hidden, like most Afghan women, under a Burqa, which forces the wearer to view the world through a grill woven into the head-to-toe gown.
"They say, 'You are bad girl'," Faizi said. "But some people are saying, 'No, you are a good girl, because you have a new thinking'."
She knows that wearing a shawl, or Hijab, showing her full face, as she did for the campaign poster, would be a step too far in conservative Kandahar.
Even in the capital Kabul, where the sight of working women out and about has become more common, persuading men to accept the same freedoms for women in their own family is a challenge.
"They don't want the same thing for their wife," said Zakia Wardak, a woman running for election to a council in Wardak province, just west of Kabul. "If it's another woman they see, so bright and strong, then they like it."
The candidacy of women like Faizi and Wardak - more than 300 contested the council elections making up about 10 percent of the field - is in a sense a product of the West's intervention in Afghanistan.
The Taliban would never have let it happen.
Its hard-line Islamist government wouldn't even let girls go to school when it ruled the country from 1996 to 2001, and during the insurgency its militants have regularly bombed girls' schools built with U.S. money.
Even today, just a little over a third of Afghan girls go to school, and education beyond the primary grade is still unavailable to girls in some provinces.
Most girls in the provinces are married off young, often in exchange for money, to men they have never met and who forbid them access to education or work outside the home. At 14 percent, Afghanistan's female literacy is one of the lowest in the world.
Critics say women's presence in Karzai's government has been largely window-dressing, but their place on provincial councils gives more say in decision-making on crucial gender issues, notably forced and early marriage, informal justice, delivery of health services, and education.
DANGEROUS TIMES
The impending departure of Western forces and a dwindling flow of donor funds spell danger for Afghan women fighting for rights to better health, education, justice and jobs.
"We are seeing in fact a waning commitment from the West, from the foreign donors and it's such a critical time," said Patricia Gossman of Human Rights Watch in Kabul.
"We've seen such a push back in the last year in critical women's rights issues … due in a large part to the retreat of the foreign presence giving space to those in society and government who want to close down these opportunities for women."
The plight of Afghan women first caught the attention of the Clinton administration in the mid-1990s, leading to U.N. sanctions against the Taliban regime even before alarm bells sounded over its guests from al Qaeda.
But as the West pulls out, the focus is on whether the Afghan army is strong enough to stop the Taliban making a comeback and whether a democratically elected central government can prevent a repeat of the slide into chaos that followed the Soviet withdrawal in 1989.
If violence against women is any bellwether, insecurity is rising. Last year was the worst on record for women, according to the human rights commission for Afghanistan.
Several senior female police officers in Helmand, another front-line province west of Kandahar, were gunned down in the space of a few months. A female parliamentarian and her children were kidnapped, while gunmen ambushed a woman senator's car, killing a daughter sitting beside her.
Women in outlying provinces are particularly vulnerable.
"The withdrawal of international forces has increased concerns about insecurity, because of the increase of anti-government groups, militias, local commanders and other strongmen," Wazhma Samandary, a researcher at Afghanistan Analysts Network, said. "It has a negative impact on women's rights … they threaten women (to stay at home)."
The lines of women, cloaked in burqas, photographed outside polling stations this month showed their votes count, but their voices are still weak.
There is little faith that whoever follows Karzai will be able to build on the incremental progress made during his presidency.
Unsavoury alliances go with the territory in Afghan politics, and Wardak bemoaned the presence of too many old reactionaries in the leading contenders' camps.
"The power they have should be taken away," said Wardak. "Either they are warlords or very rich."
A year ago, conservatives in parliament quietly amended a law to reduce the quota for seats reserved for women in provincial councils to 20 percent from 25 percent. Parliamentary elections take place next year, and currently 27 percent of seats in the lower house are reserved for women.
Without the West there to firmly prod Afghanistan's next set of leaders there is a strong risk that they will let women's rights slide further down the agenda.
Gossman of Human Rights Watch reckons Western donor governments have a duty to see through what they started when they reluctantly took on the task of rebuilding Afghanistan a dozen years ago.
"The donors could say: 'Well we are not needed any more clearly things are improving and stable enough to hold a very positive election'," Gossman said. "That would be the wrong signal. This is a very critical time ... particularly for women."
http://www.globalpost.com/dispatch/news/thomson-reuters/140417/afghan-women-stand-be-counted-west-begins-disengage
--------------
Sexual violence against Egypt women goes unpunished
17 April 2014
Sexual violence against women has been rife since the 2011 uprising in Egypt, where hundreds of female protesters have been the target of attack with apparent impunity, rights groups said Wednesday.
"Successive Egyptian governments have failed to address violence against women, with serious implications for women's participation in the political transition of their country," said a group of rights organisations led by FIDH, the International Federation for Human Rights.
Sexual assaults on women protesters were reported during demonstrations after the 2011 fall of Hosni Mubarak, and then under the military junta which ruled Egypt after him and again during protests against president Mohamed Morsi, they said in a report.
It said 250 cases of sexual violence against women were reported between November 2012 and January 2014, many of them in and around Cairo's iconic Tahrir Square - the site of anti-Mubarak and anti-Morsi protests.
"Survivors and witnesses reported the same pattern: tens of men surrounded the survivors, tore off their clothes and groped their bodies," the report said.
"Some were raped by multiple perpetrators, who were often armed with sticks, blades and other weapons."
"However, as of March 2014, not a single perpetrator had yet been brought to justice," said the report, which quoted several victims on their experiences.
"The men were like lions around a dead piece of meat and their hands were all over my body and up under my destroyed clothes," said one victim who was allegedly assaulted at a protest in June 2012.
"My pants and underwear were pulled down violently and several men at the same time raped me with their fingers. Suddenly I was on the ground and the men pulled me from my hair, legs and arms while they continued raping me," said the unidentified victim.
The rights groups accused the military-installed authorities of failing to ensure effective investigations and prosecution of perpetrators.
"Comprehensive measures, taken in consultation with civil society, are needed not only to protect and promote the right of women to live free from violence, but to enable women to participate in defining Egypt's future," said Mozn Hassan, executive director of Nazra for Feminist Studies, one of the rights groups.
The report acknowledged tentative legal reform undertaken by the authorities, but charged that post-Mubarak regimes have lacked the political will to combat violence and discrimination against women.
http://www.emirates247.com/crime/world/saudi-who-killed-with-machinegun-beheaded-2014-04-17-1.545958
----------
Islamists free kidnapped Nigerian schoolgirls
AP APRIL 17, 2014
SCORES of female students kidnapped by Islamic militants from a north-eastern Nigerian school are free, Nigeria's military says.
Only eight of more than 100 students are unaccounted for, Major General Chris Olukolade said in a statement that gave no details.
"The others have been freed this evening," he said.
The government had reported that security forces were in hot pursuit of militants who abducted more than 100 females from a high school yesterday.
Borno state Governor Kashim Shettima told reporters that 129 students were kidnapped and at least 14 freed themselves: four of the students - aged between 16 and 18 - jumped off the back of a truck and 10 escaped into the bush when the extremists asked them to cook and were not paying attention.
The abductions came hours after an explosion blamed on extremists killed 75 people in Nigeria's capital, Abuja, angering citizens who are questioning government and military claims that they are containing a 5-year-old Islamic uprising. Two more attacks killed 20 people on Tuesday night and Wednesday morning in north-eastern Nigerian villages.
While the military claims that they have cornered insurgents in a remote northeast corner of the West African nation, attacks have increased in frequency and are becoming more deadly. More than 1500 people have been killed this year, compared to an estimated 3600 between 2010 and 2013.
Mr Shettima told reporters that the insurgents arrived at Chibok government Secondary School for Girls wearing military fatigues and posing as soldiers - a common tactic used by the insurgents. His information came from the school principal, who believed the men were soldiers removing the young women - aged between 16 and 18 - for their own safety. So the principal made no fuss as the students were loaded onto the back of a truck.
It was only as the armed men were leaving, and started shooting, that he realised his mistake, Mr Shettima said. The militants killed a soldier and a police officer guarding the school, officials said.
Such attacks are typical of the Boko Haram terrorist network - the name means "Western education is sinful" - which has vowed to force an Islamic state on Nigeria - Africa's most populous nation of some 180 million people divided almost equally between mainly Muslims in the north and a predominantly Christian south.
The extremists have been kidnapping girls and young women but in one horrendous attack - some of the 59 students killed were burned alive in a dorm - first went to the girl's residence and told them all to leave, go home and forget about education because it was un-Islamic.
Nigeria has Africa's biggest economy. Almost 70 per cent of the population lives below the poverty line and the northeast suffers the most poverty. Only 5 per cent of children get to high school, and only a small percentage of those are girls. The government closed all schools in Borno three weeks ago, but those who were kidnapped were recalled so that they could write their final exams.
http://www.theaustralian.com.au/news/world/islamists-free-kidnapped-nigerian-schoolgirls/story-e6frg6so-1226887579471
--------------
Successive Egypt governments failed to stop sexual violence: Report
April 17 2014
A report blaming consecutive governments in Egypt for not taking measures to terminate sexual violence in the public domain was issued on Wednesday by a coalition of feminists and human rights groups.
"Sexual harassment and assault against women remain rife … constituting major obstacles to their participation in the political transition of their country," read the report conducted by the International Federation for Human Rights (FIDH), the Uprising of Women in the Arab World, Nazra for Feminist Studies and the New Woman Foundation.
The report presented over 250 cases that took place between November 2012 and January 2014 in which women protesters were sexually assaulted, and in some cases raped, by mobs of men.
According to the report "not a single perpetrator has been brought to justice for these crimes."
"This climate of impunity contributes to their repetition and to social tolerance of violence against women," said Karim Lahidji, president of the International Federation for Human Rights.
The report highlights that while attacks in Tahrir Square represented the most visible manifestation of the long-standing systematic practice, women in Egypt are in fact subjected to daily sexual harassment and assault on the streets, on public transport and in the workplace.
Shame and stigmatisation -- generated by the social habit of placing the blame on the victim -- usually means that most survivors do not report the crimes, according to the report, which adds that when complaints are made they rarely lead to the opening of an investigation.
"Survivors say that police and prosecutors tend not to believe them or try to minimise the seriousness of the attack," the report says.
Nevine Ebeid, coordinator of the women and political participation programme at the New Woman Foundation, accuses Egypt of "failing in its duty under international law to ensure effective investigations, prosecutions and sanction of perpetrators, whether they be state actors or civilians".
"The link between pervasive violence and the structural discrimination against women enshrined in Egypt's laws cannot be ignored. Addressing violence against women requires political will to bring about wide-ranging reforms to the justice system as well as to the status of women in law and practice," added Farah Barqawi, co-founder of the Uprising of Women in the Arab World.
Egypt's newly-ratified constitution introduced Article 11, a new clause which hold the state responsible for ensuring the protection of women "from all kinds of violence [and] that she exercises all her rights as a citizen without discrimination against her."
Originally, the article guaranteed certain social rights for women but did not address the question of violence against them.
Last week, an amendment to Egypt's existing law on harassment was revised by the justice ministry's legislative section and sent to the cabinet for a final revision before it is referred to the president for ratification.
According to an April 2013 report by the UN-Egypt's Demographic Centre and the National Planning Institute, more than 99 percent of hundreds of women surveyed across seven of the country's 27 governorates reported experiencing some form of sexual harassment, ranging from minor incidents to rape.
http://english.ahram.org.eg/NewsContent/1/64/99186/Egypt/Politics-/Successive-Egypt-governments-failed-to-stop-sexual.aspx
---------
Mind your legs! Turkish women fight against mass transit abuse
April 17 2014
Turkish women have revolted on social media to demand an end to the increasing number of men engaging in subtle sexual harassment through "leg room abuse" on mass transit.
Two hashtags, #yerimişgaletme (don't occupy my space) and #bacaklarınıtopla (mind your legs), have hit the worldwide trending topic list on Twitter, after hundreds of Turkish women initiated an unusual awareness campaign.
Men who invade women's personal space on buses and metro by sitting with their legs wide open are being named and shamed on Turkish social media.
Women participating in the campaign have been sharing the barefaced men's photographs, condemning the act as uncivilized. Some even argue that the act should formally be accepted as sexual harassment and be legally punished.
"This campaign is one of the most just and most meaningful actions in the recent past," said one Twitter user with the handle @ezgilite.
http://www.hurriyetdailynews.com/mind-your-legs-turkish-women-fight-against-mass-transit-abuse.aspx?pageID=238&nID=65185&NewsCatID=339
---------
Indonesian Minister calls for harsh punishments for sexual abuse convicts
April 17 2014
Women's Empowerment and Child Protection Minister Linda Gumelar demanded that the police go all out in hunting those deemed responsible for sexual abuse, and called for severe punishments for those convicted of such crimes.
"The law enforcement stage is crucial. That is why the police need to pull out all the stops in investigating," Linda said.
However, she also criticized the maximum five-year sentence stipulated in the Criminal Code (KUHP) for people found guilty of sex crimes, arguing that it was too lenient to provide a deterrent effect.
"Someone convicted of such an offense can be released and commit the same crime, while the victims suffer for life. This is not just," she said.
Therefore, she went on, the police should have powers to monitor suspects, as they can under the Child Protection Law, which also carries harsher punishments. She said the Child Protection Law's maximum sentence for similar crimes was 15 years' imprisonment.
Recently, the Jakarta Police detained two people, outsourced cleaners at the Jakarta International School, over allegations gang raping a 6-year-old pupil. The police said they were still investigating the case and searching for more perpetrators.
http://www.thejakartapost.com/news/2014/04/17/minister-calls-harsh-punishments-sexual-abuse-convicts.html
---------
Malala portrait up for auction in New York
April 17 2014
NEW YORK: A portrait of Malala Yousafzai, the Pakistani schoolgirl shot in the head by the Taliban, is expected to fetch up to $80,000 for her charity when it is auctioned in New York next month.
By Jonathan Yeo, one of Britain's leading portrait painters, the oil on canvas has been on display at the National Portrait Gallery in London since September.
The picture, which shows the 16-year-old doing her homework and which measures nearly one meter (three feet) by one meter, goes under the hammer at Christie's on May 14.
The auction house estimates the value at $60,000 to $80,000.
"The funds raised will support the work of the Malala Fund, including helping young Syrian refugees in Jordan and girls freed from child labour now attending school in Pakistan," said Malala, who was badly wounded but survived the October 2012 attack.
"I hope that whoever buys the painting knows that their generosity will directly help children in some of the most challenging environments in the world."
Yeo, who donated the painting, met Malala in April 2013 when she was recovering from the severe head injury inflicted by a Taliban gunman as she sat on a school bus in northwest Pakistan.
She was targeted for her outspoken views on education for girls.
Yeo painted Malala in Britain, where she has settled since the attack, and he said it had been a "privilege."
"I hope the painting reflects the slight paradox of someone with enormous power yet vulnerability and youth at the same time," he said.
Malala last year was nominated for the Nobel Peace Prize.
http://www.dawn.com/news/1100297/malala-portrait-up-for-auction-in-new-york
---------
Karachi gets second female SHO
17 April 2014
KARACHI: The police authorities appointed one more policewoman a station house officer as part of a move to create 'gender balance' in the the law-enforcement agency.
Karachi East DIG Munir Ahmed Shaikh told Dawn that police inspector Zaibunnisa has been appointed Bahadurabad SHO in district east.
Previously, sub-inspector Ghazala Syed had been appointed Clifton SHO in district south.
The move was aimed at creating gender balance as half of the city population was female, while of the total 113 police stations in Karachi 111 police stations were still being headed by male SHOs, said the DIG.
Two police stations in Clifton and Bahadurabad have been selected on an 'experimental basis' where more resources and assistance would be provided by the police department to turn them into model police stations of Karachi, said DIG Shaikh.
http://www.dawn.com/news/1100156/karachi-gets-second-female-sho
--------------
Iraqi Girl-Marriage Bill Called Vote-Getting Ploy
17 April 2014
NEW YORK (WOMENSENEWS)--A bill to roll back the rights of Shiite women and children in Iraq has generated shockwaves in the West, but analysts with knowledge of the country say odds are against its passage.
Manal Omar describes the bill--which would allow some girls as young as 9 to legally marry--as political bait to bring conservatives out to vote in the April 30 legislative elections.
"I think the primary message here is a way to invigorate the masses before the elections," says Omar, associate vice-president for programs in the Middle East and North Africa region at the United States Institute of Peace, based in Washington, D.C. "People who are not going to vote tend to be more from the tribal and conservative parts and more of the working class groups."
Omar traveled last month to Baghdad where she spent March 8, International Women's Day, with women's rights activists who oppose the bill. "There is a very strong concern among Iraqi women's activists," Omar said in an April 16 phone interview. However when questioned on the likelihood to see the text passed she responds, "I would say it is less than 50 percent."
Among other initiatives to stop the bill's passage, the Arab Human Rights Academy, based in London, has launched an online petition to demand the text be abandoned.
The draft law stipulates that Iraqi Shiites refer to Islamic Sharia for such personal status issues as marriage and divorce, as well as issues of inheritance and adoption.
The text has made international headlines mainly for provisions allowing girls as young as 9 and boys as young as 15 to marry. The same text allows an even younger girl to be married if her parents give consent.
Beyond early marriage, other provisions say a wife cannot leave the house without the permission of her husband. A husband is granted the right to have sex with his wives without their consent, which is understood as a legalization of marital rape. Custody is automatically granted to the father of any child over 2 years old in the case of a divorce.
Muslim men can also no longer marry non-Muslim women. The exception would be so-called temporary marriages. "Article 63 of the proposed Jaafari draft law . . . prevents Muslim males from permanently marrying non-Muslim females. They are only permitted to do so temporarily, that is, for sexual pleasure," writes Muhannad Al-Ghaz in an article for Al-Monitor, based in Washington, D.C., that discusses in detail several articles of the draft.
Liberal 1959 Law
Iraq's current personal status law of 1959 is widely regarded as one of the most liberal and secular in the region. It sets the age of marriage at 18 for both girls and boys, prohibits arbitrary divorce, restricts polygamy and guarantees equal inheritance for men and women.
Omar says that when she was in Baghdad last month an Iraqi female politician, a Shiite who supported the bill, described it as a bit of "over compensation" to reaffirm the Shiite identity of Iraq after decades of rule of the secular Baathist regime of Saddam Hussein under which Shiites were persecuted.
Omar cautions Western media and organizations against portraying the bill in terms of secular versus Islamic. "I think what would be more helpful is for organizations to point out that these laws, the way they are being interpreted, are un-Islamic."
Most Islamic scholars agree that a marriage without the consent of the bride or performed under coercion is illegal. And the Quran permits Muslim men to marry non-Muslim women, specifically one from the "People of the Book," which includes Judaism and Christianity.
Haider Ala Hamoudi, a law professor at the University of Pittsburg who advised the 2009 Constitutional Review Committee of the Iraqi legislature on behalf of the United States Embassy in Baghdad, has analyzed the text.
In a phone interview he called it sloppily drafted and poorly organized. "I just dismiss it as publicity to garner votes."
In a March 31 article in the Jurist, Hamoudi lays out the obstacles to transforming religious texts into actual laws and calls the text something of a "political stunt." In the article he quotes Ayatollah al- Bashir Najif, a leading Shiite, as criticizing the bill as "rife with flights of fancy in legal and juristic formulations that render it impossible that a jurist would find it acceptable."
The Jaafari Personal Status bill is named after the Imam Jaafar al-Sadiq, founder of the Jaafari school of jurisprudence and the sixth Shiite imam. It would apply to Iraqi Shiites, who make up about 60 percent of the population.
In late October, Iraqi Minister of Justice Hassan al-Shimari sent a copy of a draft to the cabinet for review. On Feb. 25, the Council of Ministers approved the text, but no date has been set for discussion by lawmakers.
Previous Attempts
Shiite politicians have tried to change the personal status law before.
In late 2003, the Iraqi Interim Governing Council issued Resolution 137 to replace the existing 1959 law by expanding the power of Muslim courts to rule in all disputes on family matters. The resolution was eventually annulled in 2004 by Paul Bremer, the U.S. administrator of the Coalition Provisional Authority of Iraq, after human rights groups indicated the resolution would erode women's rights in the country.
In the fall of 2005, the current constitution--which had U.S. drafting oversight-- was approved in a referendum.
That constitution resurrected Resolution 137 through Article 41, Isobel Coleman, senior fellow at the Council on Foreign Relations, wrote in an article last month in Foreign Affairs. Article 41 is described as saying Iraqis are free "in their commitment to their personal status according to their religions, sects, beliefs or choices, and this shall be regulated by law."
"The seeds of the Jaafari bill were planted specifically in Article 41 of that constitution, which had been highly controversial from the outset," Coleman wrote.
In a phone interview, Coleman said it was expected that this article would have a "negative effect on women's rights, minority rights and would also exacerbate sectarian tensions in the country."
Coleman believes the bill is likely to be tabled. Like Omar she sees it as "an appeal to conservative Shia in the run-up to the elections by the justice minister and by the government."
Hajer Naili is a New York-based reporter for Women's eNews. She has worked for several radio stations and publications in France and North Africa and specializes in Middle East and North Africa women in Islam.
http://womensenews.org/story/the-world/140416/iraqi-girl-marriage-bill-called-vote-getting-ploy#.U08XQVVdU4U
--------------
Public Awareness Only Way To Counter Violence Against Women: Activist
17 April 2014
KARACHI: Lack of education, awareness, non-implementation of laws and difficulty in understanding the laws are the major reasons why incidents of violence against women continue to rise.
These views were expressed by women's rights activist Nuzhat Shireen at a seminar, aptly titled 'Violence against women'. The event was organised at the Mass Communication Department (MCD) of the University of Karachi, by final-year students of MA Previous, under the supervision of Dr Rafia Taj.
According to a report issued by the Human Rights Commission of Pakistan (HRCP), over 7,787 cases of violence against women were reported between 2004 and 2011, said Akhtar Baloch, a board member of the HRCP. Women play an equal role in the development of society, he said, stressing the need to implement the laws punishing violence against them.
Journalist Qaiser Mehmood, had a different view. "This is a male-dominated society," he said. "If women have accepted this evil, no one can help them."
He explained that new laws were made as issues emerged in society. "When a new issue emerges, laws are enacted accordingly." Subsequently, it was the job of the law enforcement agencies, the courts, the government and the general public to ensure that the laws are implemented.
Speaking about his personal experiences, Mehmood said that even in a city such as Karachi where most people were educated, the birth of a girl was frowned upon and could end up in a broken marriage. "What can we expect from the rural areas?" he questioned. He advised the youth present at the seminar to take up the cause in any way they could.
"The world's worst laws can be effective if implemented and the best laws are wasted due to lack of implementation. Change can be enacted only if people are made aware of the existing laws."
The aim of the programme was to spread awareness regarding the pressing issue. Students screened two documentaries highlighting the plight of women who had been made victims of violence. The focus of the documentaries was rape. "Rape is a major issue these days," one of the organisers, Sahar Ali, told The Express Tribune.
The seminar was also part of the curriculum under the 'Development Support Communication' programme. Speaking to The Express Tribune, Dr Taj explained that purpose of teaching this course was to spread awareness about the social issues affecting society.
"The media has played a vital role in raising awareness about the rape cases but it often does not follow-up on the cases to see what happened to the suspects," she lamented. "Witnessing the crime creates fear in the minds of citizens. If the media showed the punishments meted out to the perpetrators, it would encourage more people to raise their voice against the wrong-doers.
The next seminar that the students plan to organise will be based on the theme of acid attack cases.
http://tribune.com.pk/story/696132/a-better-tomorrow-public-awareness-only-way-to-counter-violence-against-women/
--------------
Pact Signed To Employ 5,300 Women with Saudi Companies
17 April 2014
Some 32 agreements with Saudi companies were signed in Jeddah on Wednesday to employ 5,300 Saudi women in various fields during the current year.
The agreements form part of the initiative by Bab Rizq Jameel, one of the social initiatives of Abdul Latif Jameel.
Attending the signing ceremony, Assistant Undersecretary for the Affairs of Special Programs at the Ministry of Labour Dr. Fahd Sulaiman Al-Tekhaifi said that the tourism sector is one of the promising sectors for women to find employment.
"We do not ban women from working in the tourism sector as long as the environment is suitable for them," he said, adding, "Women have the right to work side by side men, get the same rights and work benefits."
The ministry is now working on replacing expatriate men by Saudi women in tailoring shops by organizing workshops in Jeddah, Riyadh and Dammam.
"We have examined the challenges that might face women in this sector. We are working on organizing this sector. We have stopped work visa for foreigners coming to the Kingdom as tailors," said Al-Tekhaifi.
He said unemployment among Saudi women has dropped from 35 percent in 2011 to 32 percent in 2013. This, he said, is due to the private sector's efforts in employing women and abiding by ministry's regulations in this regard. The number of women employed by the private sector has jumped from 50,000 in 2009 to 4, 54,000 in 2013. This has changed the dynamics of the labour market, the official said.
The ministry wants women to be productive in society and advance from being saleswomen to owners of businesses, he added.
Al-Tekhaifi said they have not identified specific sectors that women can work, but have set regulations for setting a suitable environment where women can work.
"The ministerial decision regarding employment of women is clear. It states that women are allowed to work in any sector as long as these jobs are suitable for them. The work environment is the main challenge. Therefore, the ministry will be strict about it and impose heavy penalties on violators," he said.
Al-Tekhaifi said there is a need for more cooperation among different government bodies, especially the education sector. Unifying the efforts of the Ministry of Interior and the Ministry and Labour along with the Ministry of Trade "is essential."
The ministry will soon have a National Observatory which will have a data of all employees – both Saudis and expatriates, he announced.
http://english.alarabiya.net/en/business/economy/2014/04/17/Jobs-in-Saudi-Arabia-Pact-signed-to-employ-5-300-women.html
--------------
Criminalization will not Stop FGM in East Africa
17 April 2014
Somalilandsun - Criminalisation of FGM in Ethiopia has not saved girls from being at risk of the harmful practice. Photograph: Philip Lee Harvey for the Guardian
Since female genital mutilation (FGM) has been outlawed in Ethiopia, some rural families have been holding clandestine circumcisions, said parents at confidential focus group discussions in Ethiopia for Oxford University's Young Lives study. Often, the ritual takes place at night in order to evade prosecution, with girls at even greater risk due to poor lighting or the use of less experienced practitioners.
As a 10-year-old, Ayu, who lives in the rural Oromia region, wanted to complete her education and become a teacher instead of getting married young. But at the age of 14 she underwent FGM and by 16 she had left school and got married.
Ayu's mother explained that the cutting was done at Ayu's request. "After she heard a girl insulting another who was not circumcised, my daughter came home and asked me to organise her circumcision. She told me she does not want to be insulted in the same way." And while her mother thought Ayu was not ready for marriage at 16 she was much more concerned about the risks her daughter would face as a young woman without the protection of a husband. "We live in corrupt and dangerous times," she said. "It is better that she is married early."
In Somaliland, the health messages about the risks associated with FGM (sometimes referred to as FGC, female genital cutting) have led to more girls undergoing clitoridectomy (the removal of the clitoris) instead of the more extreme infibulation (which involves the removal of the clitoris as well as the narrowing of the vaginal opening by creating a covering seal). But a forthcoming World Vision study, Examining the links between the practices of FGM/C and early marriage (available from 28 April on World Vision's website), found that since the pressure to stop infibulation has increased, the pressure on girls to marry young has intensified because they fear being perceived as more open to premarital sex if they have not had the procedure. As 15-year-old Faiza explained: "It is better for my dignity to have a husband and children now."
Martha Tureti, World Vision's gender and development co-ordinator in Kenya, believes criminalisation has failed to eradicate the practice in the country. And stand-alone interventions, such as setting up rescue centres or introducing alternative rites of passage, have not been enough to alter deeply imbedded attitudes that put a high premium on girls' sexual reputations and premarital virginity.
"If you only focus on the girls, the community still go ahead with the cutting anyway," Martha told us. "We realised the importance of including boys so that they understand the dangers of FGM because otherwise they still demand to marry girls who have been cut."
In northern Kenya, World Vision has sponsored the development of rites of passage that retain traditions like teaching the girls about their future adult roles, but replace FGM with reproductive health education that includes knowledge about the effects of genital cutting. One key to success has been persuading communities to identify their own adaptations to old traditions instead of trying to impose change from outside; holding ceremonies that include public endorsements from community leaders; and offering alternative income sources to the cutters. For example, a World Vision-sponsored ceremony involving 10-year-old girls in the northern district of Naivasha included the public endorsement of a local politician, as well as pledges from former cutters that they would abandon the practice in return for the gift of some goats that would provide them with alternative means of earning a livelihood.
A clear message from both the Young Lives and the World Vision research is that legal prohibition and intensive advocacy campaigns have not been enough to eradicate FGM. This is often because families feel unable to take the social consequences of making changes that go against the norm in close-knit traditional communities. So work towards the abandonment of FGM and early marriage must engage with the whole community and address the social norms that underpin the practices.
It is difficult for outsiders to predict what unintended consequences might arise in each circumstance as every community responds to change in different ways. But the Young Lives' focus group findings demonstrate the importance of understanding from community members why some continue practicing FGM despite prohibition. World Vision's experience has been that change is more likely if all the different interest groups in a community are involved in a non-judgmental dialogue about which solutions will work for them.
Ultimately, strategies to prevent FGM need to engage with the root causes of both FGM and early marriage: namely the unequal status of women and men, the desire to control female sexual activity and limited economic opportunities for women and girls.
Names have been changed at the request of World Vision.
Kirrily Pells is policy officer at Oxford University's Young Lives study of childhood poverty, and Lorriann Robinson is senior child rights policy adviser at World Vision UK. Follow @WorldVisionUK on Twitter.
http://somalilandsun.com/index.php/community/5545-somaliland-criminalization-will-not-stop-fgm-in-east-africa
--------------
Official reiterates rights of expats with Saudi mothers
17 April 2014
Children born to expats married to Saudi women will be treated as Saudis for work, education and medical purposes, said Maj. Gen. Sulaiman Al-Yahya, director-general of the Passports Department.
They can also reside in the country at the state's expense and will be allowed to work in the private sector without transferring their residency permits, he said.
The statement was issued after several half-Saudis, especially girls on their mother's sponsorship, expressed fear of deportation following the death of their mother.
Many explicitly marry Saudis whether they like them or not just to be able to stay in the country, while others resort to marrying Saudi men with several wives and children. Some even marry in secret.
"These privileges are contingent upon the approval of the original marriage contract and the children being in possession of IDs," he said.
"This decision comes in accordance with a decree issued by the Council of Ministers in 2012," he said.
"Expat children who had transferred their sponsorships onto their mothers following this decision and prior to their mother's death will be treated as Saudis," he said. "Expats who had not transferred their sponsorships prior to their mother's death will, however, remain under the sponsorship of their companies until a decision is issued by a jurisdictive body."
Half-Saudis are also included in nationalization quotas in the private sector. Expats married to Saudi women can also reside in the Kingdom on their wives' sponsorship provided the original marriage contract had been approved by local authorities.
http://www.arabnews.com/news/556906
--------------
Saudi Conservatives March Against Westernization, Women's Rights
By Reuters
17 April 2014
RIYADH (Reuters) - Saudi Arabian conservatives have staged a rare protest outside the Royal Court in Riyadh against "Westernizing" reforms including moves to allow physical education for schoolgirls, local media reported on Thursday.
Photographs in the Saudi edition of pan-Arab daily al-Hayat showed dozens of men in traditional garb walking towards the court, the seat of government, and sitting on the grass outside as they demonstrated against social change.
Last week the consultative Shoura Council decided to urge the government to look into allowing sports classes for girls in state schools, something that many conservatives have long opposed. Most private schools for girls already offer physical education.
Some powerful clerics, conservatives and their supporters fear the kingdom is losing its Islamic values in favor of Western ideas.
In Saudi Arabia, women are banned from driving and must gain the approval of a male "guardian" to work, open a bank account, travel abroad or even to undergo some forms of voluntary surgery.
The newspaper quoted one of the men as saying they had come to the Royal Court to meet officials and discuss decisions that they regarded as a step towards Westernization, particularly the move towards allowing girls' sports classes.
The conservative kingdom, which practises sharia Islamic law, has made gradual reforms over the past decade aimed at giving women a bigger role in society and encouraging a more tolerant attitude towards other faiths.
But the al-Saud dynasty has always ruled in conjunction with powerful clerics of the kingdom's official Ahab school of Sunni Islam and treads carefully around questions of religious or social change for fear of provoking a conservative backlash.
Some clerics have complained about encouraging female employment, the appointment of 30 women to the Shoura Council which advises the government, reforms to the judiciary and moves to make education focus more on subjects other than religion.
All protests in Saudi Arabia are banned and on Wednesday a court sentenced an unidentified activist to six years in jail on charges including of taking part in illegal demonstrations and organizing women's protests, the state news agency reported.
http://www.newsweek.com/saudi-conservatives-march-against-westernization-womens-rights-246578
--------------
URL: https://www.newageislam.com/islam,-women-and-feminism/new-age-islam-news-bureau/afghan-women-stand-to-be-counted-as-west-begins-to-disengage/d/66600