New Age Islam News Bureau
17 September 2021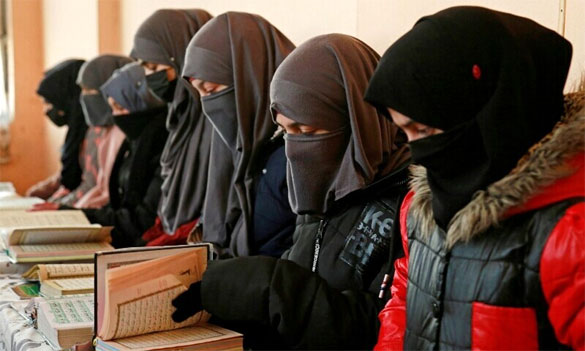 • Taliban Ban Female Employees from Entering Ministry Of Women
• UAE Makes Paradigm Shifts in Equal Pay for Both Sexes
• To Escape Taliban Afghanistan's Women's Footballers Take Refuge In Pakistan
• Braving Intimidation, Hundreds of Iraqi Women Run For Parliament
• A Female Could Head Saudi State-Owned Military Company, CEO Predicts
• A Tale of Afghan Women, Music, and Freedom
• South Africa's Muslim Women Face the Injustice of a State That Refuses To Recognise Their Marriages In Terms Of Sharia Law
Compiled By New Age Islam News Bureau
URL: https://www.newageislam.com/islam-women-feminism/afghan-women-identity/d/125379
--------
Afghan Women Residing In Foreign Countries Dress Up In Colourful Attire in 'Fight for Identity'
16 Sep 2021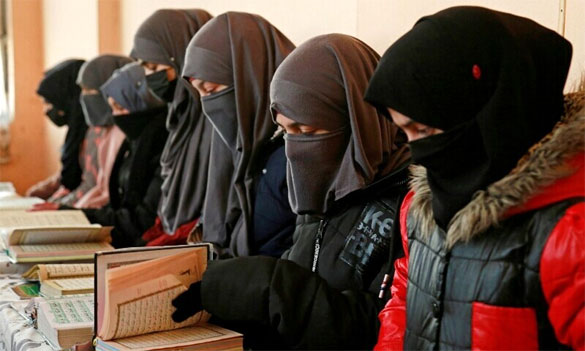 Women pose in traditional Afghan attire, in Rotterdam, Netherlands [Instagram/@lemaafzal/via Reuters]
------
Afghan youth rights activist Wazhma Sayle says she was shocked to see a photograph online, apparently of women dressed in black all-enveloping Niqabs and gowns, staging a demonstration in support of the country's new Taliban rulers at Kabul University.
The 36 year old, who is based in Sweden, later posted a photograph of herself on Twitter dressed in a bright green and silver dress captioned: "This is Afghan culture & how we dress! Anything less than this does not represent Afghan women!"
"It's a fight for our identity," Sayle said in a telephone interview.
"I don't want to be identified the way Taliban showed me, I cannot tolerate that. These clothes, when I wear them, speak for where I come from."
Other Afghan women overseas have posted similar pictures, striking a chord in Kabul.
"At least they are able to tell the world that we, the women of Afghanistan, do not support the Taliban," said Fatima, a 22-year-old in the Afghan capital.
"I cannot post such pictures or wear those kind of clothes here anymore. If I did, the Taliban would kill me."
Many women said they believed the purported protest, which has appeared on social media and in Western media, was staged and that several people dressed in the head-to-toe black Burqa gowns were men.
Reuters news agency said it has not verified the authenticity of the pictures.
"It is good our women (overseas) were able to protest about it," said Khatima, another young woman in Kabul. "The reality is, the burqa is not representative of women in Afghanistan."
When the Taliban was in power two decades ago, women had to cover themselves from head to toe. Those who broke the rules sometimes suffered humiliation and public beatings by the Taliban's religious police.
While the new Taliban regime has promised to allow women more freedoms, there have been reports of women being barred from going to work, and some being beaten in recent weeks for protesting against Taliban rule.
Universities have installed curtains inside classrooms to segregate men and women.
The online campaign with hashtags such as #DoNotTouchMyClothes and #AfghanistanCulture began when US-based Afghan historian Bahar Jalali tweeted to criticise the black garments worn by the university demonstrators.
"No woman has ever dressed like this in the history of Afghanistan. This is utterly foreign and alien to Afghan culture," she said.
Jalali then posted a photograph of herself in a green dress with the caption, "This is Afghan culture," and urged others to post too. Dozens of women did.
"We don't want the Taliban to dictate what Afghan women are," said Lema Afzal, a 25-year-old Afghan student in Belgium.
Afzal, born in Afghanistan under the first Taliban rule that lasted from 1996 to 2001, said she was horrified when she saw the picture of the black-clad demonstrators.
Her mother had worn the long blue burqa gowns forced upon women at the time and found it hard to breathe or see from under them, she said.
"The picture made me worried that history is repeating itself. My mum's family didn't cover their heads at all in the 70s and 80s, when it was fancy to be wearing mini skirts in Afghanistan."
Source: Al Jazeera
https://www.aljazeera.com/news/2021/9/16/afghanistan-women-colourful-attire-social-media
--------
Taliban ban female employees from entering ministry of women
SEP 16, 2021
Taliban have barred female employees from entering the Ministry of Women Affairs in Kabul, allowing only males into the building, an employee of the ministry said.
"Four women were not allowed to enter the building", Sputnik quoted the employee as saying.
The women intend to protest the move near the ministry.
As the Taliban took control of Afghanistan once again after 20 years, experts believe that Afghan women are most likely to face an uncertain future under the terrorist group regime.
Previous generations remember the ultraconservative Islamic regime that saw regular stoning, amputations and public executions during Taliban rule before the US-led invasion that followed the September 11, 2001, terror attacks.
Under the Taliban, which ruled in accordance with a harsh interpretation of Islamic law, women were largely confined to their homes.
The US has completed the withdrawal of its troops from Afghanistan, ending one of its longest wars.
The Taliban's seizure of the war-torn country came after international forces withdrew from Afghanistan, with the United States officially beginning its departure back in May.
Last month, in its first-ever presser after taking over Kabul, the Taliban had assured that the group is committed to providing women with their rights based on Islam.
"Taliban are committed to providing women with their rights based on Islam. Women can work in the health sector and other sectors where they are needed. There will be no discrimination against women," said Taliban spokesperson Zabihullah Mujahid.
After coming to power last month, the group backtracked from its assurances to respect women's rights in Afghanistan and announced a ban on coeducation.
Taliban early this month announced a new government sans any women.
Source: Hindustan Times
https://www.hindustantimes.com/world-news/taliban-ban-female-employees-from-entering-ministry-of-women-101631813122505.html
--------
UAE Makes Paradigm Shifts in Equal Pay for Both Sexes
September 17, 2021
ABU DHABI -- The UAE has made a paradigm shift in closing the gap related to pay disparities between men and women in the same workplace or businesses of the same value over the last three years, the Emirates News Agency Wam reported.
Equal pay for men and women constitutes one of the critical components of respect for human rights and its commitment to strike a gender balance. The country was ranked 18th globally and 1st regionally in the Gender Inequality Index (GII) of the United Nations Development Programme's Human Development Report 2020.
On Saturday, September 18, the UAE will join countries worldwide in celebrating International Equal Pay Day. It was approved by the United Nations (UN), as an annual occasion to intensify efforts to empower women and girls and remove all obstacles to achieving equality between them and men in the labor market, Wam said.
According to the World Bank's 2021 "Women, Business and the Law" (WBL) report, the UAE has topped the MENA region rankings due to several legislative reforms related to women's economic participation enacted over the last three years. The annual report comprises eight indicators structured around women's interactions with the law as they begin, progress through, and end their careers. The indicators are, Mobility, Workplace, Pay, Marriage, Parenthood, Entrepreneurship, Assets, and Pension.
This year, the UAE achieved 82.5 points out of 100, compared to 56 scored in the report's 2020 edition and 29 points in the 2019 edition. The UAE also achieved a complete score (100 points) in five indicators in the latest report: Movement, Workplace, Wages, Entrepreneurship, and Pension.
The UAE was ranked first across the Arab world in the World Economic Forum (WEF) Global Gender Gap Report for 2021. The UAE also ranked first globally in four of the report's indicators: women in parliament, gender ratio at birth, literacy rate, and enrolment in primary education.
The UAE Labor Law states, ''Female employees shall receive wages equal to that of males if they perform the same work or another of equal value.''
The Decree of Federal Law No. 06 for 2020, stipulating equal wages for women and men in the private sector came into force in September 2020.
The UAE Labor Law provides for the abolition of all restrictions imposed on women working at night and working in complex jobs such as mining, construction, manufacturing, energy, agriculture and transportation, to give women the right to work in these industries. The law does not allow the employer to terminate a working woman's services or warn her because of her pregnancy.
The law prohibits discrimination between employees regarding access to jobs and promotion and gender discrimination in jobs with the same job functions.
Emirati women maintained a remarkable presence in various business sectors; for example, females make up 64 percent of workers in the education sector, the same percentage of the total doctors, nurses and technicians in the health sector, and 31 percent of the total workers in the finance, banking and insurance activities.
The number of licenced companies owned by women is 80,025, while women constituted 21.5 percent of management positions and 32.5 percent of workers in specialised professions.
According to the UN, the General Assembly urged action to reach the goal of equal pay for work of equal value for all. It encouraged all stakeholders to continue to support the goal of equal pay for work of equal value. – SG
Source: Saudi Gazette
https://saudigazette.com.sa/article/611015/SAUDI-ARABIA/UAE-makes-paradigm-shifts-in-equal-pay-for-both-sexes
--------
To Escape Taliban Afghanistan's Women's Footballers Take Refuge In Pakistan
15 Sep 2021
Thirty-two women football players from Afghanistan, who were facing threats from the Taliban, have reached Pakistan along with their families after the government issued emergency humanitarian visas to evacuate them, according to a media report on Wednesday. They may even seek asylum in Pakistan. (More Football News)
The footballers belonging to the national junior girls' team had been originally due to travel to Qatar, where Afghan refugees have been housed at a facility for the 2022 FIFA World Cup, but were left stranded after a bomb blast at the Kabul airport that killed 13 US service members and at least 170 Afghans on August 26.
These women were facing threats from the Taliban due to their involvement in the sport, Dawn newspaper reported. The Taliban took control of Afghanistan in August. These women football players had since been in hiding to evade the Taliban, according to the report.
The move to bring the 32 footballers to Pakistan was initiated by British-based NGO Football for Peace in cooperation with the government and the Pakistan Football Federation (PFF), which is not recognised by FIFA.
FIFA president Gianni Infantino had visited the Afghan refugees during his trip to Doha last week, but the global football body has been criticised for its inaction in aiding the female footballers who were still in Afghanistan.
The footballers will proceed from Peshawar to Lahore where they will be housed at the PFF headquarters.
Source: Outlook India
https://www.outlookindia.com/website/story/sports-news-afghanistans-women-footballers-escape-to-pakistan-after-taliban-threat/394667
--------
Braving intimidation, hundreds of Iraqi women run for parliament
16 September ,2021
A powerful mix of insecurity and traditional prejudice against more liberal female politicians put Awatef Rasheed off running for parliament when she returned to Iraq in 2014 after years abroad.
Seven years later, with Iraq less unstable, Rasheed has decided to contest a Oct. 10 election for the assembly, even if abuse and intimidation of women would-be lawmakers persist.
For the latest headlines, follow our Google News channel online or via the app.
Today, she is one of the 951 women, representing close to 30 percent of the total number of candidates, running for election to the country's 329-seat Council of Representatives.
Passing a new domestic violence law, and more representation for women in the executive branch of government, are among the goals of some of the would-be female lawmakers.
For Iraq's women politicians, elections can be an excruciating experience.
Rasheed scrolled through her smartphone and looked at pictures of one of her campaign banners that had been ripped up, with the tear precisely crossing the image of her face.
"Out of 38 banners we put up in my city of Basra, 28 were damaged and four disappeared," she said.
Back in 2000, Rasheed had fled Saddam Hussein's regime to Canada, where she first started to campaign for women's social and political empowerment. It led to a career path she continued after returning to Iraq.
But at the time "political parties did not easily accept women like me, who have a gender perspective," she said, adding her family also worried about Iraq's political violence.
Discrimination still looms large, although Iraq this year introduced steps to protect women candidates. They can directly report violence to judicial investigators instead of having to notify the police first. The interior ministry has dedicated hotlines to receive complaints from women candidates.
Human rights activist Hanaa Edwar said in elections in 2018 female candidates were subjected to defamation, smears and threats, abuses which deterred some from running this year.
Domestic violence
Edwar had worked to advance women in politics in 2003 after Saddam's fall, in a campaign that sought a gender quota of at least 40 percent in parliament and government. In the end, a quota was introduced guaranteeing women 25 percent of parliamentary seats.
Nada al-Jubori, a medical doctor and politician, has been elected to parliament through the gender quota twice since 2005.
"Defending women's issues has never been easy", Jubori told Reuters from her office in Baghdad's Adhamiya neighborhood.
She cited years of violence, sectarian strife and tribal pressure as additional challenges for women trying to put their agendas forward in parliament.
Religious political parties expect their female members to be adopt their mostly conservative social agenda, she said.
Ola al-Tamimi, 35, an engineer and candidate of the secular National Awareness Movement, is among a new generation of women entering politics for the first time. To her, passing a new domestic violence law is a pressing issue.
"Women remain marginalised and the amount of domestic violence in Iraq is dangerous," she said. "Passing a law against domestic violence is very important, and it really requires the unity of women."
Women's rights advocates who have campaigned for a domestic violence law for about 10 years want to introduce shelters for victims of domestic violence and stricter punishment of so-called honour crimes, for example the murder of a woman accused of shaming her family. But opposition, mostly from religious parties, means no law has so far been adopted.
Beyond parliament, Jubori wants to see a better representation of women in the executive. In the current government, only three women have ministerial positions.
According to Jubori, more women should be nominated to top jobs in public institutions to enable them to acquire political capital and visibility over time. "They will get the chance to become better known and increase their resources, so that in future elections, we won't need the quota anymore."
Source: Al Arabiya
https://english.alarabiya.net/features/2021/09/16/Braving-intimidation-hundreds-of-Iraqi-women-run-for-parliament
--------
A female could head Saudi state-owned military company, CEO predicts
September 16, 2021
The head of Saudi Arabian Military Industries (SAMI) believes the state owned business could be run by a Saudi female engineer in the future as it seeks to attract top talent back to the Kingdom.
Speaking to Arab News at the DSEI trade fair in London, SAMI CEO Walid Abukhaled, argued that attracting the best and brightest to work in the industry was key to hitting the 50-percent goal, and that included tempting back female Saudis who are employed abroad.
Abukhaled was referring to the government's goal to see 50 percent of all defense spending focused in the Kingdom by 2030.
Abukhaled said: "I'm convinced they will be the future leaders of the company.
"I absolutely believe we will have a female chief executive of SAMI in the future. Maybe not in the immediate future, but it will happen.
"There are Saudi female engineers working in Europe and the US who are gaining good experience and may want to come back to the Kingdom.
"You want to give top positions, like the CEO's job, to the best, not because of gender, but because they are the best for the job and have the best experience. The Kingdom is very supportive of women."
The defense company, a wholly owned subsidiary of the Public Investment Fund, launched in 2017 and is a key player in the Kingdom's drive to reduce its reliance on foreign military products.
Joint venture deals have already been struck with French company Thales and Belgium based firm CMI Defence, and memorandums of understanding have been signed with Russia's Rosoboronexport, US's Boeing, and France's Naval Group.
Female participation in the Saudi labor market has risen dramatically in recent years, shooting up from 19.7 percent in 2018 to 33 percent by the end of 2020 - an increase of 64 percent in just two years.
Abukhaled said that in the defence sector women now make up 22 percent of the workforce, yet the jobs are mainly centered around human resources, finance, and legal.
Overseas Acquisitions
Speaking more broadly, Abukhaled said SAMI was looking to expand through overseas acquisitions but declined to comment on specific targets.
He said: "We first need to identify gaps in our capability, and then see where it can be filled. We should be clearer by next year in terms of a business case for where the gaps are and what we need to acquire."
He added: "We want SAMI to be one of the top 25 companies in the world by 2030. We cannot do that all internally and we will have to acquire ability from both inside and outside the Kingdom."
Abukhaled added he was also confident in delivering the Kingdom's 50 percent localisation target.
He said: "We're already over 50 percent in terms of a number of the contracts we have won. Some will be less of course, but overall I think the target will be achieved."
Abukhaled said it was likely there would be more information on acquisitions and partnerships to coincide with next year's World Defence Show which is due to take place in Riyadh in March 2022.
SAMI is the strategic partner for the event which promises to be the world's biggest defence trade fair.
While praising what he called the "transformation" of the Kingdom in recent years, Abukhaled, an engineer by training, admitted more needed to be done to create the localised skill base for the sector desired by the 2030 Vision program.
Abukhaled insisted that while he was confident that SAMI will achieve its target of employing a skilled workforce of 20,000 local staff by 2030, that depended on the training of more domestic technicians and engineers.
That concern was also flagged up by Ahmed bin Abdulaziz Al-Ohali, the governor of the Kingdom's General Authority for Military Industries (GAMI) in a separate interview with Arab News.
Al-Ohali admitted the success of the 50 percent strategy depends heavily on creating a "healthy ecosystem" which includes research centers, universities, academic institutions, and public and private institutions.
GAMI has a vision to establish partnerships with academic institutions to close the local skills gap in areas like engineering and skilled craftsmanship, said Al-Ohali.
Source: Arab News
https://www.arabnews.com/node/1929801/business-economy
--------
A tale of Afghan women, music, and freedom
By Namita Bhandare
SEP 17, 2021
When she came to India as part of the first all-female orchestra in the history of Afghanistan, Maram Ataee was just a girl of 15. The ensemble, Zohra, named after the Persian goddess of music, was performing at the 2017 Hindustan Times Leadership Summit and had already made waves in Davos and Germany. Everywhere they went, they sparkled — these fresh-faced 30-odd girls, the youngest, just 13.
Since I was introducing the girls at the summit, I got to spend time with them as they lounged backstage in their purple scarves and black salwar-kameez. They were the ambassadors of something larger: The triumph of hope and the power of music to transform lives and rebuild a country ravaged by violence.
The Taliban banned music, but 10 years after its fall, musicology professor Ahmad Sarmast returned to Kabul from exile in Australia with the vision to reclaim his country's musical identity by setting up the Afghanistan National Institute of Music (ANIM). Its students were the first in their families to study music. Most had never touched an instrument. Many came from the provinces and had no education. Some girls faced parental and social opposition.
Ataee was born in Egypt where her parents were studying, and had begun playing the piano when she was five. In 2016, her father returned to Kabul to take up a government job. But, he told her: No more piano. There's no future in music. It was a security risk. Moreover, what would people say?
For the girls, music was an act of resistance. Ataee prevailed and joined ANIM a year later. "It was the first friendly environment for me," she said. "Many of the girls had faced opposition at home and we supported each other."
In 2020, with no inkling of the future, Ataee and some of the older students began applying for admission to American universities. On August 10, five days before Taliban fighters entered Kabul, Ataee landed in Michigan where she is now a student. Her parents, she said, are safe in the United Arab Emirates.
There is as yet no official ban on music by the Taliban, Dr Sarmast said on the phone from Melbourne, where he is now. ANIM has not been shut down, but classes are suspended and the future is unknown. The 300-odd students and 85 faculty members are waiting at home. "I have advised my students to keep a low profile. But I am not much hopeful that we will be allowed to resume", he said.
The early signs do not look good. The Taliban's new rules include strict dress codes for women who can study only in gender-segregated classrooms that are taught by women, or old men. Working women have been asked to stay home. No woman figures in the new council of ministers.
Ataee is "thankful" that she "left Afghanistan in the nick of time". But, she adds, "I had hoped one day to teach the younger girls." That hope, like so many others, is now on hold.
Namita Bhandare writes on gender
Source: Hindustan Times
https://www.hindustantimes.com/opinion/a-tale-of-afghan-women-music-and-freedom-101631881284806-amp.html
--------
South Africa's Muslim Women Face the Injustice of a State That Refuses To Recognise Their Marriages In Terms Of Sharia Law
Ray Mwareya
17 September, 2021
Hundreds of women in South Africa have been suing their government demanding that the country recognises Muslim marriages in terms of Sharia law.
On August 5, South Africa's constitutional court – it's highest – declared the common law definition of marriage should be maintained on the basis that it excludes Muslim marriages.
With origins in 100 years of Euro-centric-Christian colonialism, upon which the modern South Africa state was founded, the non-recognition of marriages in terms of Sharia law has since had far-reaching implications for women and children.
Muslims make up between 1.3-3 percent of South Africa's 60 million population, thus placing them among the country's strongest minority identities. Yet, South Africa's constitution, which is considered one of the most liberal on earth, does not accept marriages conducted under Sharia religious rules.
"Yes. Religious marriages (are) not recognised in South Africa. Broadly, religious marriages, Muslim, African, Hindu marriages all fall outside the domain, though the country guarantees freedom of religion," Seehaam Samaai, the director of The Women Legal Centre tells The New Arab in an interview.
Suing South Africa
Since 2014, the Women Legal Centre (WLC), one of South Africa´s most active gender-rights non-profits, has taken South Africa's president and justice minister to court on behalf of hundreds of Muslim women who approach its offices annually seeking legal recognition of Muslim marriages in South Africa.
"The state has for the past 27 years in different fora indicated, (actually) since 1994 (year of independence), (it) has been indicating that they will broadly regulate Muslim marriages. Until today, it has not been done," reveals Seehaam.
At the heart of the disappointment is the pervading racist Eurocentric attitudes upon which South Africa was constructed. These forces associate Muslim and African traditional marriages with polygamy argues Yasin Kakande, TEDx-speaker, anti-colonial critic and author of Slave States: The Practice of Kafala in the Gulf Arab Region.
In operational matters, South Africa's Marriages Act Law has three pieces of legislation that currently governs relationships of marriages. These are the Marriages act, the Recognition of Customary Marriages Act, the Civil Unions Act. All those regulate marriages/relations of persons. In simple terms this means, a South African Muslim can't get married in terms of Sharia and register that marriage in line with the Marriage Act requirements.
"(South Africa's) Marriages Act doesn't take into account religious marriages which is very challenging," explains Seehaam.
Danger for women
For Muslim women, the challenges can be devastating because South Africa is globally often referred to as the 'destination of femicide', because of its gruesome record on gender-based violence.
According to Africa Check, in 2017/2018 a woman was murdered in South Africa every three hours. Refusing legal recognition for marriages conducted under Sharia has a direct impact of limiting the divorce, custody, or financial rights of Muslim South African women who are in relationships with violent men.
South Africa's children suffer consequences fast, Seehaam argues. "When it comes to Muslim marriages the issue of children is never dealt with which means they don't get the protection that children coming from families married in terms of the (country's) Family Act; Customary or Civil Unions laws.
"Because of the social circumstances, we all know that women, Muslims in South Africa first, are Black and secondly, that women, in particular, have had to deal with multiple forms of oppression: Black, issues of class, gender, and that their marriages are not legally binding," stresses Seehaam.
The patriarchal nature of South Africa's society has hit Muslim women hardest. The only way to protect them is to bring a broad umbrella of legislation that protect women whose marriages are organised under the Muslim faith.
Islamophobia at play?
The challenges of the broader lack of recognition might include issues of Islamophobia, but the broad reason is the state's lack of political will to push through legislation that recognises Muslim marriages. In recent years, the South Africa Muslim Network has been dismayed by growing anti-Muslim verbal and physical criminal attacks in the country.
But within the South Africa Muslim community, there are vested parties that want the status quo on non-recognition of marriages to continue. There is no agreement within the Muslim community, they need to have a consensus on what the law will be when it comes.
"Within the (South Africa) Muslim community, there is a small group, I think small group, of conservative Ulama that has a very particular view in relation, and they do have the view that regulation is not required," says Seehaam.
Seeham adds: "However, we are saying that the vast majority of the Ulama supports the view of the Women Legal Centre because they understand there is no broader enforcement of orders of Fasakh, and it is required."
Doing nothing
In December 2020, the Supreme Court of South Africa instructed the state to take steps to recognise marriages conducted under the Muslim faith in South Africa in 24 months. To date, implementation is dismal. "The state has not done anything. The only thing they have done is issue a green paper, which is the first process to bring around any laws," says Seehaam.
However, a couple of years ago, the South Africa justice ministry actually brought in what they call The Imam Project, encouraging people to regulate their marriages in terms of the country's Marriage Act and sign contracts or prenuptial contracts. "However, the bigger challenge that we have is: what happens to women that (are) in polygamous marriage (because) the Marriage Act doesn't take (that) into account," probes Seehaam.
Advocates for Muslim women like the WLC sense that tangible progress won't likely happen until 2024 – South Africa's next presidential election. In the meanwhile, the non-recognition places a huge burden on Black people, especially Muslim women, and those in relationships that are not recognised.
The pain is sobering. "It has been a long, long road for women that have sought recognition for their marriages over the past 27 years," reflects Seehaam.
"We also want the courts to understand that South Africa is a diverse place. The state has an obligation to recognise the diversity of families, and respect the rights of the vulnerable."
Ray Mwareya is a freelance writer in Ottawa, Canada whose work appears in The New Arab, The Guardian and Reuters
Source: The New Arab
https://english.alaraby.co.uk/features/why-south-africa-needs-recognise-muslim-sharia-marriages
--------
URL: https://www.newageislam.com/islam-women-feminism/afghan-women-identity/d/125379
New Age Islam, Islam Online, Islamic Website, African Muslim News, Arab World News, South Asia News, Indian Muslim News, World Muslim News, Women in Islam, Islamic Feminism, Arab Women, Women In Arab, Islamophobia in America, Muslim Women in West, Islam Women and Feminism