New Age Islam News Bureau
22 Jun 2012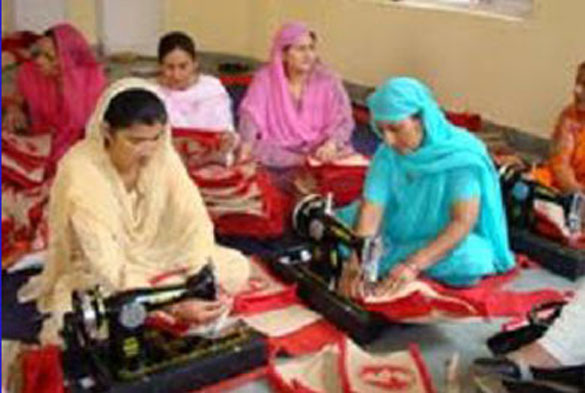 • Kashmiri Women Stitch Stories of Survival and Strength
• Madarsa Making Muslim Women Self-Reliant
• Women's Rights Law No Match for Kurdistan Tradition
• Other War on Women, Waged By Feminists
• Sinhalese Carmelites Have Dedicated Their Missionary Lives to Educate Girls in Pakistan
• Advisor to Chief Minister Punjab Stresses Women's Education, Empowerment
• Working-Women and Young Girls Rally Against Load Shedding In Lahore
Complied by New Age Islam News Bureau
Photo: Kashmiri Women Stitch Stories of Survival and Strength
URL: https://www.newageislam.com/islam,-women-and-feminism/new-age-islam-news-bureau/afghan-women-in-shelters-are-prostitutes-says-justice-minister/d/7698
---------
Afghan Women in Shelters Are Prostitutes, Says Justice Minister
By Dean Nelson
21 Jun 2012
Afghanistan's justice minister Habibullah Ghaleb has claimed women in shelters for domestic violence victims are prostitutes.
His comments at a conference organised by the Afghan parliament's Women's Affairs Committee provoked outrage among human rights campaigners and demands for President Hamid Karzai to sack him.
Mr Ghaleb told delegates that 250 women living in 12 foreign-funded shelters were being encouraged to disobey their parents.
"Mostly they were encouraging girls, saying, 'If your father says anything bad to you don't listen to him, if your mother says anything to you don't listen to them. There are safe houses for you where you can stay.' What safe houses? What sort of immorality and prostitution was not happening at those places?" he said.
Baroness Ashton, the EU foreign minister, said she was "deeply troubled" by his comments which sabotaged efforts to protect women from violence and sexual abuse.
"Too many Afghan women have experienced violence, gender based and sexual, often on a repeated basis," she said in a statement. "Women forced to resort to shelters are amongst the bravest Afghans we know."
http://www.telegraph.co.uk/news/worldnews/asia/afghanistan/9346779/Afghan-women-in-shelters-are-prostitutes-says-justice-minister.html
---------
Kashmiri Women Stitch Stories of Survival and Strength
By Bismah Malik
22 June, 2011
From helping their families tide over the tough, violent times of the 1990s to securing a suitable career for themselves, Kashmiri women's foray into the tailoring and apparel sector have transformed them from voiceless "homemakers" to confident "money-makers".
It all started during the years of the late 1980s and '90s. Those were the dark days of civil unrest and regular 'bandhs' (curfews) and 'hartals' (strikes), which made it difficult for the men, especially those living in and around Srinagar, to step out of their homes and seek regular work. Under this shadow of violence and unemployment, women like Tehmeeda Bano, now in her mid-forties, decided to break norms – social customs had prohibited them from taking on any kind of remunerative work outside the home – to ensure their family's survival.
Recalls Bano, a housewife who started her own dressmaking enterprise in the 1990s, "In those days, there would be more 'hartals' than working days in a week. In the wake of a huge threat to the lives of our men, women like me had to take a decision and do something to save our families from monetary ruin. Dressmaking was the natural livelihood option, as it could be done from home."
So, even as guns boomed in the streets below, this mother of three daughters and a son, would quietly work along with a couple of tailors she managed to rope in, to produce functional, good quality salwar-kameezes and other made-to-order clothes.
The violence that raged on with the passing of the years accelerated a much-needed professional shift in the tailoring business: This once all-male profession slowly passed into the very capable hands of local women. In the process, something interesting happened – a sector that once had only low-scale jobs for men, was turned into one that supported profitable businesses. It was, incidentally, the only sector that flourished in those turbulent times and continues to do so even now.
In fact, with peace returning to the Valley, families that had started their own small ventures back then are doing very well for themselves. Even Bano's initiative, which started off as a small-time community shop, became a full-fledged enterprise. She has been able to do this as several of her friends, who had little or no knowledge of tailoring, wanted to collaborate with her to open their own small boutiques in various localities within Srinagar.
Today, Bano works with three such off-shoot centres on a profit sharing basis. As for her own shop, she now has a group of five women tailors and one male 'masterji' (professional tailor) – who takes care of the embroidery and design – catering to at least 50 to 60 customers on a monthly basis. Of course, during the wedding season, the work increases exponentially. Besides this, there is also a group of young women who come to her shop to brush up on their stitching skills.
Srinagar resident Arifa Jabeen is another success story. This businesswoman and busy mother owns Libaas Boutique, one of the most popular clothing stores in the Kashmiri capital. She employs more than 100 women, who look after the stitching, designing and manufacturing aspects of her business. And, with a turnover of more than Rs 50 lakh per annum, Jabeen has emerged the success story within the family. Nothing captures this better than the fact that her husband has now joined her business and is playing a supporting role in it. Reveals Jabeen, "My husband got a premature retirement from the government department where he was working as an engineer. His salary was equivalent to the profits we make in our business right now and so he decided to join me instead. Fortunately, he does not have any ego hassles and helps me wherever he can."
Like Bano, Jabeen would not have made it big in life had it not been for a small, but prudent, decision she took in 1994 when she was a newlywed and her husband was jobless. She recalls, "Financially, we were doing badly. So I convinced my in-laws and husband to let me start a small business with a couple of my female friends. They agreed and we established our own small shop in one of Srinagar's suburbs. I had no knowledge of designing or stitching then and learned this craft from a 'masterji' who hailed from Bihar. I also roped in some talented young girls into my business."
For both Bano and Jabeen the initial challenges were many. Unlike today, when it's not difficult to get loans to the tune of Rs 2.5 lakh from the Jammu and Kashmir Women Development Corporation – till date the Corporation has funded around 132 women-led businesses under two of its schemes, the National Minorities Development and Finance Corporation (NMDFC) and Empowering Skilled Young Women (ESW) – these women had no such institutional support. They had to dip into their meagre personal savings or borrow at a high interest rate. Their early customers were friends and relatives and it's through word-of-mouth publicity that their work caught on.
Nowadays, Jabeen's Libaas boutiques cater to a wide spectrum of people, women and men, young, middle-aged and even the elderly. In keeping with the demands of the market, she produces everything from uniforms to party wear to casual outfits. While the cloth is sourced from bigger centres like Delhi, Mumbai and even Dubai and Pakistan, the outfits made are still very much traditional – Kashmiris prefer to don their local styles and so it's the salwar-kameez for women and khan suits for men.
Talking about her store's speciality Jabeen points out, "Our basic Kashmiri embroideries like Tilla, Aari, Zardosi and Moti work, popularly known as 'kashidakari', on salwar suits and shawls are a must-have. Every Kashmiri woman wants some outfits like these to be a part of her wardrobe. They are also very popular with the tourist crowd. Of course, the prices vary depending on the amount and style of work and also whether it is handcrafted or machine made."
Interestingly, Jabeen is a strong supporter of Kashmiri women artisans and feels that it is these women who have put Kashmir's rich clothing heritage on the world map today. "Usually, it is the women in Kashmir who specialise in doing fine embroidery work. Therefore, the great reputation that Kashmiri fabric and embroidery has earned today has to be attributed to the women of the region," she asserts.
Of course, Bano and Jabeen, are inspirations for others. Bano has motivated her daughters to value financial independence and they are keen to join her and take their mother's venture to newer heights. The two that are still in college intend to enrol for high-end tailoring and stitching courses. Says Mabruka, one of Bano's girls, "Although most of my friends want to pursue engineering, medicine and other such professional courses, my interest lies in the apparel business. For me, my mother is the biggest influence in my life and she constantly amazes me with her attitude and spirit."
Jabeen has a long list of admirers as well, many of whom are her employees. She has handpicked each one. Since not many of them are literate or very skilled, they are happy to take home a regular salary of anywhere between Rs 5,000 to Rs 8,000 a month. She sums it up this way, "Tailoring in Kashmir has become an all-woman business because it is the women who sustain this profession here. Despite the odds, thanks to their deft needlework and an inherent flair for fashion, women have successfully been able to not just eke out a living for themselves but support their families and communities as a whole.
http://kashmirwatch.com/opinions.php/2012/06/22/india-kashmiri-women-stitch-stories-of-survival-and-strength.html
---------
Madarsa Making Muslim Women Self-Reliant
Jun 21, 2012
VARANASI: Family troubles forced Sharmeen Ansari (19) to quit studies after completing her intermediate. However, her dream of becoming an interior designer is still intact as she proudly showcases the handmade interior decorative items made by her. And, she has further dreams to prepare curtains, pillows and matching handmade artefacts with plaster of Paris and stone.
Similarly, Shabnam (15) a school dropout and a native of Pilikothi area, is of the opinion that she could lend a helping hand to her family business as well as make money with her creative skill of dress designing. On the other hand, Tasneem (14) has already decided that she would become a computer engineer.
The phrase 'dreamers cannot be tamed' best describes the courage of hundred of women like them living in a densely-populated Muslim area of Chhitanpura who had just received professional training of various job-oriented courses at a vocational training camp organised by Bahrul Uloom Madarsa (an Islamic seminary) at Chhitanpura area.
It is noteworthy that this was the eighth annual summer training programme organised by the seminary and thousands of girls and women have already benefitted from the free of cost programme which started on May 20 and culminated on Wednesday.
Several courses like interior designing, dress designing, art and craft works, zari zardogi, bag making, mehendi, tailoring, embroidery, wood art, glass painting, pottery, diya and matka decoration and painting were held on the occasion. Apart from this, there were several levels of computers as well language courses.
According to Shalina Khanam, computer teacher, number of girls in computer courses is increasing year after year. "Most of the girls who attended the classes were already familiar with basics, while there were also a group of women who did not know how to hold a mouse and now they can work on operating system which has boosted their confidence to study the subject at advanced level," she informed.
Interestingly, Mehzabeen, mother of two kids, who dropped out from school about eight years back, has fulfilled her dream of learning English speaking during the training programme. "I am happy, I can brush up my basics, English speaking is necessary at all levels, I can at least attend the parent-teacher meeting of my kids who are going to an English medium school," she shared.
Said Haji Mukhtar Ahmed, general secretary of the seminary, "Launched with 120 girls in 2005, the strength in the training programme is now 582. More and more girls and women who sit at home after completing school or basic education and even those who have never been able to attend basic education are coming forward to learn a work of art and job oriented works."
According to Ahmed, the idea behind the vocational training programme is to add feathers to the dreams of hundreds of women. It aims at providing social and financial strength to women.
"Since most of the families of the area do not allow women to work out of the house, girls after getting training for one month start their own 'work from home' venture by making hand bags, purses, artificial jewelleries, zari and zardozi works in sarees and earn a good amount of money as they receive a certificate during the training.
On the other hand, most of the girls enroll themselves repeatedly in various courses to grasp the basics and impart training to other girls in different localities of the area.
Some girls have already started computer job and earn as compositor at few places," he added. He said opportunities are also provided to girls so that their articles can be displayed at various handicarft and handloom stores of the city.
The training programme culminated with an exhibition of prepared articles by trained girls at the madrssa premises on Monday. A prize and certificate distribution ceremony was also held to praise the talent of these girls.
http://articles.timesofindia.indiatimes.com/2012-06-21/varanasi/32351688_1_training-programme-vocational-training-basic-education
---------
Women's Rights Law No Match for Kurdistan Tradition
20 June, 2011
ARBIL: In June 2011, Iraqi Kurdistan passed a landmark law that criminalised female circumcision and domestic violence, but one year on, activists remain frustrated with its patchwork implementation.
In what is a conservative society even by Middle East standards, the passage of the law last year was hailed by rights groups and NGOs as a major step forward after years of struggle.
The law punishes physical, sexual and psychological assault committed within the family, creates conditions for the protection of victims and mandates the establishment of specialised courts.
It also carries penal and financial punishments for those who promote or practise female genital mutilation.
Kurdistan is a three-province region in Iraq's north that enjoys great autonomy from the central government, with its own parliament, budget, and armed forces.
The region benefits from a markedly more stable security situation than the rest of the country, and an improving economy, two factors that mean life for women in Kurdistan is widely regarded as better than Iraq's other provinces.
But terrible problems remain, one of which is female genital mutilation.
Though often perceived as a problem mostly prevalent in Africa, the practice is widespread in Kurdistan, according to German NGO Wadi, which published a report in 2010 on the subject, based on interviews with 1,700 women in the region.
According to that report, 72.7 per cent of women in the region's two biggest provinces of Arbil and Sulaimaniyah were victims of female genital mutilation, with the rate rising to almost 100 per cent in some areas.
Wadi pointed to a "clear link" between the practice and illiteracy, pegged at 51.1 per cent among women in Kurdistan.
The adoption of the law marked a "big victory", said Suzan Aref, head of the Women's Empowerment Organisation, a local NGO established in June 2004.
"At least now we are talking about this," she said.
Pakhshan Zangana, secretary general of the High Council for Women's Affairs, a Kurdish government agency, agrees: "In our society, just to recognise domestic violence is very important. Society recognised that, yes, we do have domestic violence, it is a crime.
This is so important.
"In other societies, it is (considered) the right of the family, that they have the right to do anything," she said.
But both women agree the battle will not be won until the law is fully applied, which appears a long way off.
"Yes, we have laws, but… we don't have implementation," Aref said. "This is a big problem. You cannot find that the numbers (for female genital mutilation) have reduced because of this law, because no one knows about it," she said, adding: "We need a campaign of awareness."
Women losing hope
Police in the region are widely seen as reluctant to investigate deeper in to violence against and the causes of apparent suicides, which may well be so-called honour killings, Aref noted.
Women see the law not being applied, she said, and "they lose hope." Ramziya Zana, head of the Arbil-based Gender Studies and Information Centre Organisation, is more direct.
"It has been one year since the law was passed, and it has still not been applied," she said.
"It's a disaster. Now, you have to either return the law to parliament, or apply it".
According to her, judges and religious leaders have stood in the way of the law's full implementation.
"Most judges think this is harmful for the family," and those who apply it "can be counted on one hand," she said. As for religious leaders in Kurdistan, "there is nothing in the law that they like" and many have called for it to be amended or scrapped.
Zangana admitted there have been difficulties in applying the new law, particularly in the creation of special courts, but insisted an implementation plan was being developed with the United Nations, and said patience was needed.
"It is new in a society like our's—anything against traditional culture, we cannot measure within months," she said.
Aref also said she remained optimistic about long-term trends in the region, but voiced regrets that the law did not appear to address the root causes of domestic violence.
"We are dealing with the results of the problem, not the roots," she said.
"There is something that leads to honour killings and suicide—forced or early marriage, illiterate women who have no income. You can see how the mentality (of people in Kurdistan) cannot accept women's issues," she said.
http://dawn.com/2012/06/20/womens-rights-law-no-match-for-kurdistan-tradition/
---------
Other War on Women, Waged By Feminists
June 22, 2012
WASHINGTON — By now most sentient Americans have heard about the war on women. That is, the so-called Republican war on women, which has been framed as a battle waged by stodgy old white guys who want to deny women reproductive freedom.
One can debate the validity of these claims, but for now, let's give equal time to the other war on women. This one is manned not by men but by a dwindling number of women whose understanding of equality is so narrowly defined that only a certain kind of woman can be recognized as having achieved anything of value.
Twenty-two such women recently wrote a letter to the Sewall-Belmont House and Museum protesting an award to be given to former first lady Laura Bush. The Alice Award, which honours a woman who has helped other women, previously has gone to Hillary Clinton, Katie Couric, Nancy Pelosi and Olympia Snowe.
Full report at:
http://www.reporternews.com/news/2012/jun/22/kathleen-parker-other-war-on-women-waged-by/
---------
Sinhalese Carmelites Have Dedicated Their Missionary Lives to Educate Girls in Pakistan
By Jibran Khan
22 June, 2011
For over 30 years, a group of nuns has been working in the country, in education and health. Studies alternate with moments of prayer, Mass and catechism. Sister Mary: the first challenge, which has been overcome, was to "convince families to send girls to school." Regret for the girls' school in the "wonderful" Swat Valley, destroyed by the Taliban.
Lahore (Asia News) - They have dedicated their missionary lives to the development of education in Pakistan, with particular attention to women's education that today - in many cases - is even better than that of males. Over the years, they have started schools and high schools in various parts of the country; even in the Swat Valley, which in many parts is a Taliban stronghold, they had managed to establish a centre for studies, which ended up in the crosshairs of extremists who - after some time - devastated it, destroying all the material contained within. However, in spite of difficulties and threats they have wished to continue their work, which continues still today. This is the story of five Sri Lankan nuns who have been in Pakistan for years helping to develop the educational sector; an important element in the life of the country, to whom Asia News in the past dedicated a detailed report (see Education can stop the Taliban in Pakistan).
Sister Mary Dorothea, from the congregation of Carmel, originally from Sri Lanka, set foot for the first time in Pakistan on April 21, 1981. She was the pioneer, the first of a group of five nuns - over time she was joined by Sister Theolinde, Sister Kanthi, Sister Luke and Sister Helen Theresa - called to the country by the then Archbishop of Lahore Msgr. Armando Trindade (in office from 1973 to 2000) to contribute to the development in education and health care.
Full report at:
http://www.asianews.it/news-en/Sinhalese-Carmelites-educate-girls-in-Pakistan-25096.html
---------
Advisor To Chief Minister Punjab Stresses Women's Education, Empowerment
June 22, 2012
LAHORE: ADVISOR to Chief Minister Punjab Zakia Shahnawaz has stressed the significance of women's education and economic empowerment through development sector.
She said this while addressing the Women's Resource Centre organised by the Punjab Policy Dialogue on Monitoring Implementation of Millennium Development Goals in Pakistan.
She added that the Punjab government was committed to providing better health services to reduce the maternal and child mortality.
The event was held to review the implementation of MDGs to improve the maternal health whereby the government pledged to reduce maternal mortality by 2015 and to achieve the universal access to reproductive health.
Full report at:
http://www.thenews.com.pk/Todays-News-5-115913-Womens-education-empowerment-stressed
---------
Working-Women and Young Girls Rally Against Load Shedding In Lahore
22 June, 2011
LAHORE: Hundreds of working-women and young girls took out a protest rally against load shedding and water scarcity on Thursday. The rally was organised by the Women Workers' Help Line (WWHL) and the Progressive Young Girls (PYG). The protesting women and girls said that the span of load shedding had been increased during extreme hot weather. They said that load shedding had caused closure of factories and thousands of workers had become jobless. They said children were suffering from different diseases due to the hot weather. They said that load shedding had also caused water scarcity, which was driving the people crazy. They urged the government to end load shedding as soon as possible.
http://www.dailytimes.com.pk/default.asp?page=2012\06\22\story_22-6-2012_pg13_4
---------
URL: https://www.newageislam.com/islam,-women-and-feminism/new-age-islam-news-bureau/afghan-women-in-shelters-are-prostitutes-says-justice-minister/d/7698