New Age Islam News Bureau
15 December 2021
• Saudi Filmmaker Hamza Jamjoom's 'Rupture' Puts Women Centre Stage to Address Misconceptions about Saudi Arabia
• Belgium Allows Muslim Women To Wear Headscarves In Court
• Use Your Position to Preach Against Sexual, Gender-Based Violence – FOMWAN Tells Muslim Clerics
Compiled by New Age Islam News Bureau
URL: https://www.newageislam.com/islam-women-feminism/afghan-women-footballers-burqa-britain/d/125966
--------
Afghan Women Footballers: 'Got Kicked Off Bus, Wore Burqas for Disguise' - Harrowing Journey to Safety in Britain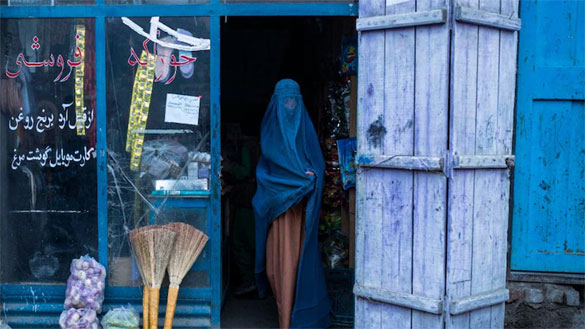 An Afghan woman wearing a burka exits a small shop in Kabul. (photo: AP/PTI)
-----
December 15, 2021
The love for football has earned the women and girls in Afghanistan the ire of the Taliban that took over the country earlier this year. They recount the horror of their arduous and harrowing journey to safety in Britain.
Captain of the Afghan National Youth Development team 24-year-old Chelsea fan Saberyah and her teammates lived through months of torment after the Taliban seized control of their homeland. They suffered thrashings that left them "screaming".
According to British media organisation The Independent, Saberyah, who is now in a hotel in the UK with her team and some of their relatives, said: "When the Taliban came to Herat, I was at work. My husband came to get me.
"We were scared because the only people we saw in the streets were the Taliban. They were shooting. There was gunfire. Everyone was so scared."
She could no longer attend university or continue working after the Taliban seized the whole country,. The football dream was far fetched. Saberyah said it became "very dangerous for the girls as being footballers, they were widely recognised". This was when they began planning their escape.
They first gathered at a hostel in the capital, Kabul. "When we arrived in Kabul, it was very scary because the Taliban were everywhere," she said.
"They had checkpoints. They were beating people. They had guns, they had leashes. You could see violence on every street. We were hiding in a hostel, we locked down all the doors in the hope they would not find us."
ESCAPE FROM KABUL
According to Saberyah, there were girls in the hostel whose parents were not there. "They struggled financially, but were supported by other team members," she added.
They were living in "very bad" and "dangerous" conditions in the roughly 30 days they spent in Kabul, she added. She said they could not leave the hostel unless their faces were covered and they were accompanied by a man.
Evacuation efforts failed as the girls were blocked from getting to Kabul airport because of the terror threat. "It was a very bad situation," Saberyah explained. "I sat in the street when we were kicked off the bus. Everyone was asking: 'How can we get out?'. I had no answer. There was no hope."
It was not before another 10 days that the girls could get temporary visas to cross the border into Pakistan. During that journey, the girls were forced to wear worn-out clothes and burqa.
However, as they waited at the border to cross over to Pakistan, the girls were thrashed by the Taliban for displaying their faces in the blistering heat of a jam-packed crowd.
"The Taliban were beating us with leashes on our hands and on our backs for not covering our faces," said Saberyah, who started playing football on the streets in her home province of Herat when she was 13.
"We were screaming. But we were in the middle of the crowd and the weather was so hot, we could not cover our mouths and noses."
They were later forced to show a letter which immediately made it obvious they were footballers. "The Taliban saw the letter in their hands and saw the logo of the Afghanistan Football Federation (AFF)," she added.
"They started saying: 'Who are you? Are you football players? I had no choice than to say: 'Yes, we are'. The Taliban started saying: 'You are all non-Muslims. If you stay longer here you will be killed. Our government will take you on the ground in front of everybody. You will be hanged'."
Fortunately for the girls, Pakistan border control said they had permission to come into the country. Saberyah fears the Taliban would have taken them away had Pakistan refused them entry. The Taliban recently declared that Afghan women were not allowed to take part in sports. The last time the hardline Islamist group ruled the country, women were barred from working, girls were blocked from going to school, and women had to be chaperoned by a male relative if they so much as wanted to leave the house.
'TALIBAN KILLED WOMEN'S SOULS'
Saberyah said their football team had received so many death threats from the Taliban back in 2014 that they were forced to stop training for some time. They had received letters ordering them to stop playing football. "But things are far worse now," she added.
"I was an active, independent woman," she said. "Everything was taken from me, leaving the country was the only option for me. They have killed the souls of women and just left their bodies."
TROUBLES NOT OVER
But Saberyah is hopeful of embarking on a new life in the UK. However, their arrival in Britain has been mired with problems.Former Afghanistan women's team captain Khalida Popal, who played a critical role in helping the girls escape the Taliban, said they had encountered racist protesters outside the hotel they are staying in.
"I have tried to protect them from the Taliban but I don't know how to protect them from racism," Ms Popal, who was forced to escape Afghanistan in 2011 as helping set up the national women's football team had put her life in danger, said. "There are a lot of negative comments about their arrival. A lot of hate and racist comments."
Popal said all of the girls have lost their homes, with some having even lost family members. She said helping them leave Afghanistan was "traumatising" for her because it reminded her of her own childhood.
"It was scary," she says. "It was difficult. It was traumatising. It was a lot of mental pressure. They have been through a lot of trauma. Some of their houses were bombed. They thought when they arrived in their new home, they would be welcomed. The first thing they faced was a protest against them. They are human beings, they deserve a second chance, they deserve kindness. They were forced to leave, they had no choice."
But Popal remains hopeful about the girls' future. Leeds United chairman Andrea Radrizzani and Kashif Siddiqi, a London-born footballer who played for Pakistan's international team, are helping the team. The girls are back on the field and will soon return to classrooms.
"The UK government gave us another chance to start our lives," Susan, who is 23 years old and also plays for the Afghan football team, said. "My mum, dad and sister are still in Afghanistan. I see them in my dreams and I cannot save them. I wake up and I call them feeling desperate."
Fellow footballer Sonia explained that her mother, father, and sister are still back in Afghanistan, as well as some teammates and friends. "They are contacting us telling us to save their lives," the 20-year-old added. "We don't know how to help."
PLAYERS RECALL LAST PRACTICE ON AFGHAN SOIL
Recounting their last football practice in Afghanistan, Sahar, her teammate, said their lives changed when they understood the terror. "Around 100 metres from the football pitch, the Taliban attacked," the 18-year-old said. "There was bombing, explosions and ambulances and also the screams of people. The coach stopped the training and said the Taliban has taken over."
Their dejected coach suggested they take one last team photo and head home. Sahar said the girls struggled to come to terms with news of the Taliban's takeover. "We said, it is not possible our country has collapsed that easily, we are not giving up. We had our bags packed ready to go to Tajikistan to play in the Central Asian World Cup."
Fatima, a 20-year-old midfielder, is also plagued with nightmares about her home country. "Every night a Taliban man with a long beard, a turban and a gun followed me," Fatima recollected. "I see my city Herat full of blood. For 15 days and nights in a row, my village in Herat was without electricity. There was continuous fighting, there was continuous gunfire, bombing, and helicopters. Half of the house where I was living went down."
Fatima said her entire family of nine were in the basement hiding for nine straight days. She added that the youngest member of her family was just three years old. She said only her father would leave the basement to buy supplies.
"We could not go close to the window," she says. "The day the Taliban took over they were celebrating their victory, guns were firing everywhere. So many people were killed because of their celebration. They were constantly firing."
Source: India Today
https://www.indiatoday.in/world/story/taliban-terror-afghan-women-footballers-try-to-rebuild-their-lives-uk-leeds-united-1887920-2021-12-15
--------
Saudi Filmmaker Hamza Jamjoom's 'Rupture' Puts Women Centre Stage to Address Misconceptions about Saudi Arabia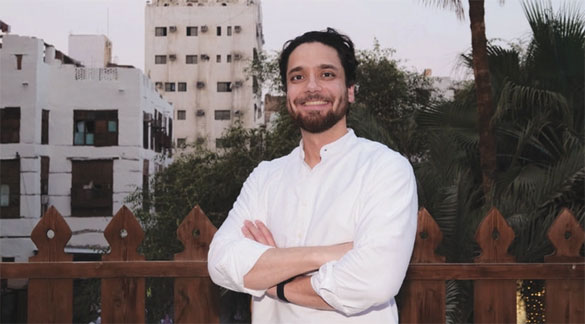 To address misconceptions in the West, Hamza Jamjoom has ventured into the world of cinema — specifically through his thriller, 'Rupture.' (Photo/Huda Bashatah)
-----
December 15, 2021
JEDDAH: As the Kingdom opens up to the world, filmmakers are turning to cinema and visual content to address misconceptions about the country and show true Saudi talent. One such story is the work of up-and-coming Saudi filmmaker Hamza Jamjoom.
Born and raised in the coastal city of Jeddah, Jamjoom grew up surrounded by positive female influences, a safe environment, and lived a good life, in contradiction to how the West has viewed Saudis generally and portrayed Saudi women as being oppressed. To address these misconceptions, he has ventured into the world of cinema — specifically through his award-winning psychological thriller, "Rupture."
Jamjoom directed the film, which won the Red Sea International Film Festival's Best Saudi film category. He told Arab News that although Saudi Arabia has its own problems, he, like many, has lived in an otherwise peaceful and calm community.
"My mission in life is to clear misconceptions about Muslims, Arabs and Saudi Arabia. Every product I touch in my life, I have to do that. Personally, the film format is probably the most impactful tool to use in the current day to clear misconceptions.
"I grew up in a family that supported women. My sisters and mom make men look like nothing. I have very accomplished sisters, a very accomplished mother, and the boys in the family are barely catching up with them."
While studying abroad, Jamjoom realized that Saudis were not exporting their stories enough, which prompted him to address certain taboos in the community, tackle social issues, and show the good, the ugly and the real issues regardless.
He decided to create movies with a genre and relay messages subtly as a means of normalizing Saudis to the outside world, specifically in global cinema.
Influenced by his faith, he said that Saudi, Arab and Muslim societies have always had storytelling tools.
"Rupture," a complicated psychological thriller, tells the story of a pregnant Saudi woman who must distinguish reality from dreams and drug-induced delusions and perceptions of death, before a killer gets to her and her family. Her fractured life and memory are not the only things that stand in her way.
Each choice made for the film was carefully thought through, using "engineered methodology," as Jamjoom calls it. "Everything is super structured, and I draw so many maps for all the characters."
Selecting a Saudi female star was a choice the director made so "symbolically she can represent our society and our culture. Through her, we tapped into a lot of themes and hidden messages that we deal with."
Jamjoom said that he "studies stories from the Qur'an and the Bible because they have stood the test of time because they are metaphorical." He wanted to come up with a story with deep, profound and multiple layers that engages thoughts, emotions and the spirit and leaves the audience wanting to know more.
"Just like any art piece, you make the art and let the people try to figure it out. I respect the intelligence of the viewer, I don't want to dumb it down," he said.
Source: Arab News
https://www.arabnews.com/node/1987071/lifestyle
--------
Belgium allows Muslim women to wear headscarves in court
DEC 14, 2021
Muslim women in Belgium no longer have to take off their headscarves in the courtroom as the corresponding article of the law was overturned on Monday, media reports said.
Most judges in Belgium have made exceptions to the wearing of the hijab in the past, but many judges have nevertheless called for a general ban on the wearing of the hijab.
In 2018, a Muslim woman took her case to the European Court of Human Rights (ECtHR) after she was denied access to a court hearing – because she was wearing a headscarf.
The ECtHR had condemned Belgium for banning the headscarf and ruled that the practice violated religious freedom. However, Belgium kept the headscarf law.
In this regard, the Interfederal Center for Equal Opportunities applied in March 2019 to the Committee of Ministers of the Council of Europe, which monitors compliance with ECtHR judgments, to indicate that Article 759 of the judicial code would need to be amended so that such a ban could be lifted. Amendments have been made to the Law on the Constitution of Courts.
Earlier in 2019, the ECtHR ruled by a majority of six votes to one "that there had been a violation of Article 9 (freedom of thought, conscience and religion) of the European Convention on Human Rights." According to the court's ruling, excluding Muslim women "from the courtroom on the grounds that she had refused to remove her headscarf had amounted to a 'restriction' on the exercise of her right to manifest her religion."
"The Court therefore held that the need for the restriction in question had not been established and that the infringement of Mrs Lachiri's right to freedom to manifest her religion was not justified in a democratic society," read the ruling. The court ordered Belgium to pay Lachiri 1,000 euros (about $1,650).
In 2007, the applicant, referred to by the European Council court as "Mrs Lachiri," was attending a court hearing in a case concerning the death of her brother. The presiding judge of the court told Lachiri "that she could not enter the hearing room unless she removed her headscarf." She refused to comply and did not attend the hearing. Lachiri challenged the decision in local courts before lodging a complaint at the top EU court in December 2008.
Belgium has always been embroiled in anti-Muslim discussions due to its large Muslim population. For the rest of Europe, reports show that anti-Muslim and racist attacks have been on the rise. The influx of refugees into European countries has led to the rise of populist anti-immigration political movements, thereby leading Europe's right-wing populists to score election successes from Italy to Sweden and from Austria to Hungary.
Source: Daily Sabah
https://www.dailysabah.com/world/europe/belgium-allows-muslim-women-to-wear-headscarves-in-court
--------
Use your position to preach against sexual, gender-based violence – FOMWAN tells Muslim clerics
December 14, 2021
By Hafsat Abdulhamid
The Bauchi State chapter of the Federation of Muslim Women Associations of Nigeria (FOMWAN) has charged Muslim clerics in the state to use their vintage position to always preach against the menace of sexual and gender based violence, particularly against women and girls.
The charge was given by the state Amira of the association, Hajiya Aisha Ibrahim Kilishi, while speaking at a two-day capacity building for stakeholders to bridge the gap created by impunity towards sexual and gender based violence (SGBV) and how to mitigate the practice in the state organized by Attah Sisters Helping Hand (ASHH) Foundation.
According to Kilishi, gender based violence was more of culture, tradition and attitude rather than religion, declaring that Islam had clearly stipulated the rights of women.
In her words, "Actually what I want mallams and the Ulamas to know is that gender based violence is not religious; it is more of culture, attitude and tradition. So we want them to be sensitising the people about the punishment and the rights of women as stated clearly in the Qur'an and also in the hadith (sunnah of the Prophet)."
She further submitted that, "when we look at girl-child education and handling of the right of women to economic empowerment, all these are well stated and spelt out for the followers and if they are well informed about these, they will do well and the society will be a best place to be."
They asserted that women are given their rights as stipulated by Islam, they "will be well empowered to support their husbands, support their children".
According to the FOMWAN Amira, "if a woman is not well educated, actually she will not be able to contribute to the decision that is taken as enshrined in the Qur'an.
"We want to see our women well educated and also in terms of entrepreneurship, not about a woman going out of the house and work but it is for the woman to be an entrepreneur in her home so that she can contribute to the well-being of the family."
Kilishi submitted that religious leaders were not responsible for the misconception against women, adding that culture and tradition were responsible for this.
"Actually, religious leaders are not responsible for the misconception. Religion and culture go hand in hand. If you look at the way we dress, our languages, these are all part of the culture and it is difficult to separate them from religion. So actually, that is the reason for the misconception.
"On some of the negatives, people don't look at the positives of the culture but pay more attention to the negatives and erroneously place it under religion. So all of the negatives are termed to be culture," Kilishi submitted.
According to her, rather than subjugating women, Islam did not only encourage women but also empower them, adding that it was also against violence against women.
"It is our culture that a woman should be well covered and religion has now put more emphasis on that. But when it comes to some negatives sides of it like the violence against women, some are saying that the woman must not go out to interact, to engage in entrepreneurship, do some economic empowerment things. It is because it is not religious that prevented her from doing it.
"One thing is that religion encourages women to be engaged in something that will enable them to support their husbands just as the Prophet (SAW) did when he married a well established entrepreneur woman, Nana Khadijah who used to send her caravan to far countries to sell and make money."
She submitted that rather than preventing women to engage in entrepreneurship, Muslim women should be allowed to engage in it for them to be well positioned to husbands and families.
Kilishi added that women should be allowed to have education and also have a say in decision making in the society, adding that this will eventually rub off positively on their children, especially the girls.
"Women should be well educated, they should have a say in some of the social issues that affect them and their children. It is when they do so that they will be able to pass across issues that affect their children, especially the girls in the decision making within the family. They need to be given that opportunity so that they will be able to contribute.
"I am encouraging the Ulamas to use their sermons to preach against SGBV in the mosques because it is a serious issue, a menace that is affecting the entire society," the FOMWAN Amira urged.
According to her, mosques should have counselling sections with a view to guiding children about marriage before they go into it, at least three months before the marriage.
"We have seen how it is done in Malaysia, Indonesia, Saudi Arabia and other countries. In our own context, we have to do something. It will help to avoid violence against women in marriage from domestic violence," Kilishi asserted.
Source: Daily Post
https://dailypost.ng/2021/12/14/use-your-position-to-preach-against-sexual-gender-based-violence-fomwan-tells-muslim-clerics/
--------
URL: https://www.newageislam.com/islam-women-feminism/afghan-women-footballers-burqa-britain/d/125966
New Age Islam, Islam Online, Islamic Website, African Muslim News, Arab World News, South Asia News, Indian Muslim News, World Muslim News, Women in Islam, Islamic Feminism, Arab Women, Women In Arab, Islamophobia in America, Muslim Women in West, Islam Women and Feminism