New Age Islam News Bureau
1 March 2020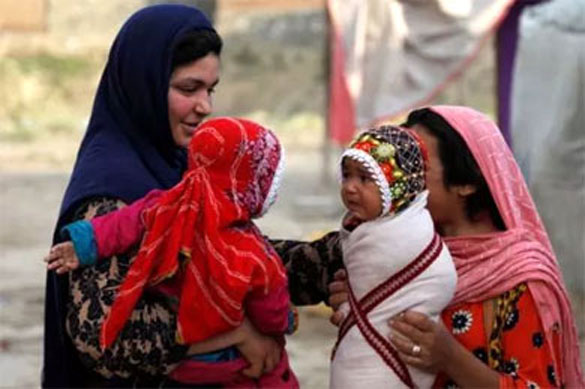 Afghan women: For representation. (Reuters/Omar Sobhani)
-----
• Afghan Women Fear Losing Their Freedom with Taliban's Return
• Peshawar mosque opens doors for women after 25-year hiatus
• Hijab and Handgun: Israel's First Muslim Female Detective Is Breaking The Mold
• Violence Against Women, Turkey's New Normal
• African Women's Diplomatic Garden A First in The Country
• Fighting Discrimination Against Women Is Key to Beating AIDS
• Women's Discussion Forum Calls for More Female Inclusivity in G20 Policies
Compiled By New Age Islam News Bureau
URL: https://www.newageislam.com/islam-women-feminism/afghan-women-fear-losing-their/d/121191
-------
Afghan Women Fear Losing Their Freedom with Taliban's Return
Mar 1, 2020
KABUL: As US troops prepare to leave Afghanistan, opening the door for a potential Taliban comeback, women across the war-torn country are nervous about losing their hard-won freedoms in the pursuit of peace.
The militants were in power for around five years until the US invasion of 2001. They ruled Afghanistan with an iron fist that turned women into virtual prisoners under a strict interpretation of sharia law.
The Taliban's fall transformed women's lives, much more so in urban areas like Kabul than in conservative rural Afghanistan.
But across the country, women remain wary of the insurgents, desperate to see an end to the violence, but fearful of paying a heavy price.
Under the Taliban, women were barred from seeking education or work -- rights that Afghan female professionals are fiercely protective of today.
"There are thousands of women like me in Afghanistan, we are all worried." Akrimi's anxieties are echoed by Kabul-based veterinarian Tahera Rezai, who believes "the arrival of the Taliban will affect women's right to work, freedom and independence".
"There has been no change in their mentality," the 30-year-old told AFP. Passionate about her career, Rezai said she was pessimistic about her prospects if the insurgents return to government, even in a truncated capacity.
"Looking at their history, I feel less hopeful... I believe the situation will get harder for working women like me," she said.
In the run-up to the US deal, the militants made a vague commitment to respect women's rights in line with "Islamic values", prompting warnings from activists that the pledge was mere lip service and open to broad interpretation.
The Taliban control large swathes of Afghanistan and while they now allow girls to attend primary school in some areas, occasional reports of floggings and even the public stoning of women persist, fuelling fears they will turn back the clock if they return to power.
"Every family here is grieving because they have lost their children, sons, husbands, brothers in the war," government official Torpekay Shinwari told AFP in eastern Nangarhar province, which witnessed fierce battles between the Taliban and the Islamic State group's Afghanistan affiliate.
The 46-year-old said she was praying for peace, but was increasingly concerned that "women would be looked upon as the second sex and suppressed" if the militants gain ground.
But in Kandahar, the birthplace of the Taliban, schoolgirl Parwana Hussaini struck a rare optimistic note.
Furthermore, she added: "The young generation has changed, and will not allow the Taliban to enforce their old ideology upon us."
For those who bore the brunt of the insurgents' merciless rule, however, there is little doubt that a Taliban comeback will bring anything other than a repeat of "dark and painful memories".
Factory worker Uzra, from the mainly Shiite Hazara ethnic minority, sobbed as she recounted life as a young mother, alone at home with her children when the Sunni-fundamentalist Taliban arrived in her village.
"I still vividly remember the day... They massacred all the men, and then came to my house," the 40-year-old said, too frightened to give her full name.
The militants threatened to behead her then three-year-old daughter, she told AFP from her home in central Bamiyan province.
The family survived and fled to Pakistan, but her husband was disabled and traumatised by the brutal beatings he suffered.
"To this day, when the word 'Taliban' comes up, he starts crying," she said. "Everybody wants peace, but not if the Taliban returns. I don't want this so-called peace."
https://timesofindia.
------
Peshawar mosque opens doors for women after 25-year hiatus
February 29, 2020
By Shahzeb Khan
PESHAWAR: Women in Peshawar will be able to offer Friday prayer in congregation after a gap of over two decades as the law and order situation in the province has improved significantly following the launch of successful military operations.
Until mid 1990s, women would offer Friday prayer in congregation at Sunehri Masjid (Golden Mosque) situated in the Peshawar cantonment but the practice was abandoned after terrorism badly hit the Khyber-Pakhtunkhwa capital.
In 2016, 16 people were killed and dozens wounded when a powerful bomb went off as the bus carrying mostly government employees cruised past the mosque in the crowded marketplace of Saddar.
Now, with a substantial improvement in the security situation, the authorities have decided to resume the practice and arrangements for women's congregation prayer have been finalised.
The authorities have also put up a banner outside the mosque carrying message "that women are now welcomed to offer Friday prayer at Sunheri Masjid".
The move is being praised as a good step to discourage the patriarchal nature of spaces like mosques and hujras from where women are excluded.
Pakistan was once known to the world as a terror-ridden country because of the frequent terror attacks that its people had to endure for more than a decade. In the past 10 years, however, incidents related to terrorism have significantly decreased.
In the decade following 2010, the Pakistan Army and other state institutions, under a successful strategy, ended the unrest and restored peace in the country.
https://tribune.com.pk/story/2166898/1-peshawar-mosque-opens-doors-women-25-year-hiatus/
------
Hijab and handgun: Israel's first Muslim female detective is breaking the mold
02.29.20
Sa'adi was born and raised in the northern Bedouin village of Basmat Tab'un and studied in Haifa.
After graduating from high school, Sa'adi volunteered for national service in the police, trying to enlist after her service was up.
Since at the time there were no open positions, she worked as a retail manager for a clothing store in Haifa in the meantime.
Everything changed after three years ago, she received a phone call from Deputy Commissioner Jamal Hakrush for the Israel Police Northern District, who offered her to join the force after positions were open to religious Muslim Arab women.
Sa'adi leaped on the opportunity, enlisted and went through basic and investigation training at the National Police Academy in Bet Shemesh.
After she finished her training, she was posted to the Kafr Kanna police station, a newly built station that oversees the 60,000 residents of Kafr Kanna, Tur'an, Mashhad, Al-Batuf, Hoshaya and Kibbutz Beit Rimon.
Sa'adi is the only investigator for the station's juvenile division, along with two youth inspectors.
"I want to convey a message to all other religious Muslim women like me," she said. "The police is a good home for us, the organization lets you climb up the ranks, to prove yourself and feel equal."
Despite her prestigious position, the way to the top was not easy for her. Along with the admiration and encouragement from her family and friends, she has had to deal with some unwanted side effects.
"When I first enlisted there were threats to hurt me on Facebook," she says. "I'm not afraid, I live by my beliefs and I am not hurting anyone. I'm only afraid of God."
Even today Sa'adi says that she comes across comments by other Arabs who don't want to see a religious Muslim Arab woman in police uniform.
Northern District Commander Maj. Gen. Shimon Lavie emphasizes the importance of Arab women joining the force.
"The Northern District is working to promote the enlistment of Arab women in a variety of roles and work for their advancement," he says.
"We wish the best of luck to Sabrin in officers' training and await her return as an investigative officer in our district."
https://www.ynetnews.com/article/H1mo11a8QI
------
Violence against women, Turkey's new normal
01/03/2020
ISTANBUL - Five years ago, 19-year-old university student Ozgecan Aslan was killed by a minibus driver who attempted to rape her on her way home. In a country where femicide and violence against women is at epidemic proportions, the woman's death marked a watershed moment.
Across the country, people took to the streets to protest violence against women, policies that protect perpetrators and the perceived inaction of Turkish state institutions. Hundreds of thousands of women spoke about their experiences of violence, harassment and abuse.
Following Aslan's death, a petition demanding an end to reduced sentences for perpetrators of gender-based violence gathered more than 1 million signatures, making it the most popular petition in Turkish history.
Despite the widespread protests, the number of femicides rose significantly. The We Will End Femicide Platform, a women's rights group, said almost 2,000 women had been killed since February 2015, often by their husbands or boyfriends. In 2019, 474 women were slain in Turkey.
Women's rights activists said the necessary legal tools for the protection of women against violence already exist. In 2012, Turkey was the first country to ratify the Council of Europe Convention on Preventing and Combating Violence Against Women and Domestic Violence, also known as the Istanbul Convention.
Introduced in 2011, this treaty specifically targets violence against women and obliges ratifying countries to prevent gender-based crime, provide adequate protection and services for victims and assure the prosecution of perpetrators. The same year, Turkey's government passed Law Number 6248 to Protect the Family and Prevent Violence Against Women and introduced gender equality policies.
Despite the legal efforts, violence against women in Turkey has increased. Few perpetrators are punished to the full extent of the law, leading to a culture of impunity.
"The enactment of law Number 6248 and the ratification of the Istanbul Convention happened because of the women's rights movement in Turkey and because of the pressure of women's rights groups on the government," said lawyer Funda Ekin. "However, the problem is with the implementation of existing laws. The general attitude in society has not changed. Women are still urged to stay at home with the children, to serve and obey. There is still the attitude that in some cases, violence against women is acceptable."
She said that view was widely espoused by government officials, judges, prosecutors and the police, making the fight against gender-based violence more difficult. "There is no awareness of what violence against women can mean. Many forms of violence are not even taken into account, such as psychological abuse and other forms of degrading treatment," Ekin said.
Measures stipulated by the Istanbul Convention, such as the provision of enough women's shelters and rape crisis centres, were not being met, Ekin said.
Prominent politicians of the ruling Justice and Development Party (AKP), including Turkish President Recep Tayyip Erdogan, espoused misogynistic views. During a speech at an international women's rights summit in 2014, Erdogan said women were not equal to men and that manual labour was not suitable for women because of their "delicate nature." He accused feminists of "rejecting motherhood."
He has criticised women who chose work over having children as "half-persons" and equated abortion to "murder." Other AKP politicians suggested that women who were raped should carry babies to term and should not laugh loudly in public. For years, the Erdogan government urged women to each have at least three children.
Ekin said that what was needed was a holistic change of the societal mindset regarding gender equality and gender-based violence, starting with children's education. "The image of masculinity needs to change but is happening only very slowly in Turkey. TV shows, books, schoolbooks — everywhere we look we only see a very traditional, very harmful gender image," she said.
Communication between women's advocacy and civil society groups and the AKP government has all but ceased. "After 2015, the little cooperation we had was cut entirely," Ekin explained. "People perceived to be in the opposition are being shut out. They don't invite women's rights activists anymore to work on important issues together."
Also, numerous women's rights NGOs were closed by emergency decree following the 2016 coup attempt.
In February, Erdogan said his government would have another look at the 2011 women's rights accord. "We will review the Istanbul Convention again," he told fellow party members. "We will take measures that will increase the birth rate."
It is not the first time the treaty has come under attack. For years, conservative politicians and pro-government media urged the government to scrap it, arguing that it threatened family values in Turkey and "scapegoated men."
"There is a constant stream of negative messages," Ekin said. "The convention is constantly being violated anyway. What the government should be saying is how much work there still is to be done."
Despite mounting difficulties, the resolve of Turkey's women's rights activists has grown stronger and Ekin stressed that this yielded important successes. For example, because of close monitoring of femicide court cases by activists, courts rarely hand down reduced sentences for "unjust provocation," a widespread practice until a few years ago.
https://thearabweekly.com/violence-against-women-turkeys-new-normal
------
African Women's Diplomatic Garden a first in the country
March 01 2020
African Women's Diplomatic Garden, launched recently by the Qur'anic Botanic Garden (QBG) in celebration of Qatar Environment Day, is a first in the country.
To mark the event, a tree-planting ceremony was held on February 26 in the presence of ambassadors from 10 African countries, members of the African Women's Diplomatic Group and senior Qatari dignitaries, as well as local community leaders.
Fatima Saleh al-Khulaifi, project director at QBG, said: "Qatar has dedicated a day to spreading greater awareness of the need to protect our environment, and the special tree-planting ceremony is an example of QBG's commitment – as part of Qatar Foundation's wider mission – to promote environmental values in Qatar and support an important pillar of our national vision.
"We hope, through the African Women's Diplomatic Garden, to highlight the importance of uniting globally around the common goal of environmental conservation. We also look forward to strengthening our cultural relations with the countries represented here and working together to cultivate the garden."
Launched at QBG Pilot Garden in Education City, the African Women's Diplomatic Garden is part of QBG's Ghars tree-planting campaign, and aims to highlight the importance of green conservation initiatives in Qatar.
Emphasising a global sustainability message to conserve the environment, the garden incorporates a variety of saplings representing several African countries, including Mali, Djibouti, South Africa and Senegal.
African Women's Diplomatic Group president Anika Moosa, spouse of the South African ambassador in Qatar, said: "It's a pleasure to be a part of this ceremony organised by Qur'anic Botanic Garden and show support for their work, and that of Qatar Foundation. The planting of trees signifies life, as trees support the environment. In keeping with the Ghars initiative, the African Garden is a means of building that relationship through the planting of trees and 'greening' the environment.
"The Qur'anic Botanic Garden, being affiliated to Education City, plays such an important role in advancing education in this country to leave an everlasting legacy. Planting these trees is a symbolic gesture to ensure that Africa remains a part of that legacy and has a presence in the garden. We are also pleased at the opportunity to strengthen bilateral relations and we hope it will represent a garden of friendship between Africa and Qatar, with all 54 African countries represented eventually."
The launch, which also featured cultural shows from Africa and Qatar, concluded with a tour of the QBG Botanical Museum, which displays photographs, murals and Islamic inscriptions.
To date, over 1,800 trees have been planted as part of the Ghars campaign, which aims to cultivate 2,022 trees by the FIFA World Cup Qatar 2022.
QBG – a member of Qatar Foundation – also engages the local community through diverse year-round education activities designed to encourage responsibility and respect toward the environment, promote the value of planting trees in the Islamic religion, and preserve Qatar's natural resources and botanic diversity.
https://www.gulf-times.com/story/657258/African-Women-s-Diplomatic-Garden-a-first-in-the-c
------
Fighting Discrimination Against Women Is Key to Beating AIDS
29 February 2020
Women
"The struggle to beat AIDS is inseparable from the struggle for women's rights and from the struggle against all forms of discrimination". This is the message from Winnie Byanyima, Executive Director of UNAIDS, on Zero Discrimination Day, which falls on Sunday March 1. The theme of this year's Day is the fight against discrimination faced by women and girls, and the organization aims to raise awareness, mobilize action, and promote equality.
Time for change
Discrimination against women and girls occurs in many different forms, across the world. These include laws that limit women's sexual and reproductive rights, criminalize people for their gender identity or sexual orientation, or for transmitting HIV.
UNAIDS has outlined several societal changes that need to take place, to end discrimination and help in the fight against AIDS.
These include ensuring equal participation of women in political life, uphold human rights for women, and guaranteeing them economic justice, which includes ending the ongoing gender pay gap.
Violence against women must end, and laws that protect women form violence must be put in place and respected, with policies to support and protect survivors of violence.
Health care must be available, without any stigma, discrimination or barriers, and care for women must respect their autonomy, with guaranteed sexual and reproductive health and rights.
Any age of consent for health services should be lifted, and married women should not need the permission of their spouse to access care.
UNAIDS also calls for free education for all, and an end to the large gender gap which still exists in access to education, and a response to climate change that takes into account the fact that women are disproportionately affected, and are particularly vulnerable to sexual and gender-based violence during climate-related emergencies.
This is personal
Ms. Byanyima, who has lost family members to AIDS, said that it can only be beaten if the international community takes on social and economic injustices faced by women and girls, and spurs scientific innovation to help those living with the disease.
"Both my own family experience, and our collective experience at the United Nations, have highlighted the same key lesson: the struggle to beat AIDS is inseparable from the struggle for women's rights and from the struggle against all forms of discrimination".
AIDS is the biggest killer of women aged 15-49. For UNAIDS, gender-based violence, inequality and insecurity must end, and women and girls must have equal access to education, health and employment, if AIDS is to be beaten by 2030.
In addition, society must be transformed so that there are no second-class citizens, and everyone's human rights are respected, said the UNAIDS chief.
"AIDS cannot be beaten while marginalized communities (such as the LGBTQI community, people who inject drugs and sex workers) live in fear of the state or of socially sanctioned violence and abuse", said Ms. Byanyima.
https://news.un.org/en/story/2020/02/1058341
-----
Women's Discussion Forum Calls For More Female Inclusivity In G20 Policies
28 February 2020
ASEEL BASHRAHEEL
JEDDAH: The second leg of National Dialogues on Saudi Women promoted the inclusion of gender equality and economic empowerment for women in policies and decisions made by G20 leaders.
This came in conjunction with Al-Nahda Foundation becoming president of Saudi Arabia 2020 Women (W20), an official G20 initiative.
Speeches and discussions focused on technical and economic promotion of women, inclusion in work and leadership positions and empowering more women to be entrepreneurs.
"This will help the Kingdom advance. Whether in health advancement, women's empowerment and cybersecurity, these discussions will help generations to come," said Princess Lulwah Al-Faisal, vice chair of the board of trustees and the general supervisor of Effat University during her welcoming speech.
She emphasized the importance of cooperating with countries that are less fortunate and exchanging knowledge and resources.
W20 chair, Thoraya Obaid, guided the audience through a rundown of what W20 means and how the team behind it has worked to make it meaningful and unique.
"The W20 will focus on four pillars: Financial inclusion, how to get into the financial field and facilities that are already helping women, and technical inclusion, to make sure women are part of producing technology, not just using it. It will also focus on inclusion in labor," said Obaid.
The fourth and final pillar, she explained, is usually chosen by the hosting county, through analyzing past G20 data, going through various reports relating to women's issues, and delegations with organizations like the UN and the Organization for Economic Cooperation and Development.
"Finally, we chose inclusion in decision-making: Not only to reach leadership positions, but also making those decisions," she said.
As for the G20, Obaid said that the Kingdom specifically chose to focus on human empowerment for youth and women, preserving the earth and new horizons.
During the first panel discussion, Hind Al-Zahid, undersecretary for women's empowerment at the Ministry of Human Resource and Social Development, said that the share of women in leadership positions has gone up from 1.6 percent to 2.3 percent.
She added that the ministry is aiming to reach 5 percent by the end of 2020.
Al-Zahid announced that by March 8, on International Women's Day, the ministry will be launching an initiative called Qiyadiyat (Female Leaders), acting as the first ever platform for women in leadership positions to network.
https://www.arabnews.com/node/1634271/saudi-arabia
----
URL: https://www.newageislam.com/islam-women-feminism/afghan-women-fear-losing-their/d/121191
New Age Islam, Islam Online, Islamic Website, African Muslim News, Arab World News, South Asia News, Indian Muslim News, World Muslim News, Women in Islam, Islamic Feminism, Arab Women, Women In Arab, Islamophobia in America, Muslim Women in West, Islam Women and Feminism