New Age Islam News Bureau
9 Nov 2018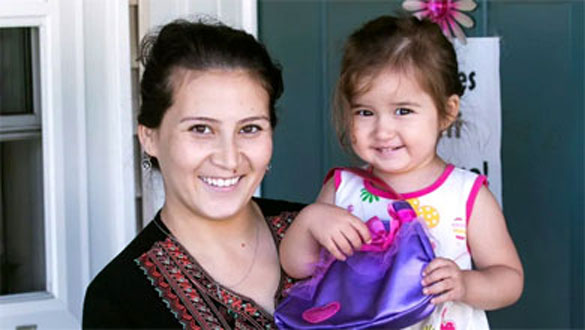 This Aug. 31, 2018, photo shows Safiya Wazir and her daughters Aaliyah, 2, and Mahwash outside their home in Concord, N.H. (Geoff Forester/the Concord Monitor via AP )
-----
• 'I Did It for Every Single Girl': The First Afghan Woman To Scale Mount Noshaq
• Under UN Review, Putrajaya Defends Female Circumcision, Insists No LGBT Bias
• Saudi Female Employment in Private Sector Rise 8.8 Percent
• Pakistani Women Less Likely To Own a Mobile Phone than Men: Study
• 34 Women Killed In October In Turkey: Women's Rights Group
• Turkey congratulates elected Muslim congresswomen in US
• Syria Forces Free 19 Druze Women, Children Held Hostage by ISIS
• Azad University Bans Wearing Comfortable Clothing in Girls' Dormitories
Compiled by New Age Islam News Bureau
URL: https://www.newageislam.com/islam-women-feminism/afghan-woman-fled-taliban-wins/d/116835
--------
Afghan Woman Who Fled Taliban Wins Seat in Hampshire State Legislature
BY JUSTIN WISE -
11/07/18
A woman who escaped persecution from the Taliban in Afghanistan won a seat in the New Hampshire state legislature on Tuesday.
Safiya Wazir, 27, is believed to be the first former refugee to serve in the New Hampshire House of Representatives, The Concord Monitor reported.
Wazir defeated GOP opponent Dennis Soucy by almost 200 votes, according to unofficial election results.
"Thank you to everyone who helped me win my state rep. race tonight, 907-718," Wazir tweeted. "I am grateful for all your support and I'm ready to get to work for Concord's Ward 8 and for NH!"
The Monitor notes that Wazir's election came a couple of months after she gained national attention for winning the Democratic primary over incumbent Dick Patten.
Patten, a four-term state representative, had been critical of Wazir and the immigrant population in the region. He also said he would support Soucy in the race, according to the Monitor.
The newspaper reported that Wazir and her family fled the Taliban when she was a child. She later spent several years in a refugee camp in Uzbekistan before moving to Concord, N.H.
Wazir is a member of the board of directors for the Community Action Program of Belknap-Merrimack Counties in New Hampshire. She also serves as vice chair of the Head Start Policy Council.
She is one of many female candidates from a diverse background to be elected to state or U.S. office in this year's midterm elections.
https://thehill.com/homenews/state-watch/415568-afghan-woman-who-fled-taliban-wins-seat-in-new-hampshire-legislature
--------
'I Did It for Every Single Girl': The First Afghan Woman To Scale Mount Noshaq
9 Nov 2018
In a quiet corner of Kabul, a dozen young women welcome their friend back from the summit of Afghanistan's highest mountain. Like many Afghan women, Hanifa Yousoufi had always been made to believe, growing up, that she shouldn't go to school or play sport. Yet the 24-year-old has become the first Afghan woman to climb Mount Noshaq.
The young women gathered here are among the 70-strong cohort meeting six days a week to learn the art of climbing, something many never imagined they would have a chance to do.
Yousoufi explains that because her family are illiterate, there was no encouragement for her to get an education. Instead, she worked as a cleaner to help support the family.
"I used to watch other girls in their school uniforms going to school, and I wanted to go," she says. "But I would just think: 'No Hanifa, you are not clever like them. Even if you tried, you are not on their level.' But also, I wanted to stay home and support my family and for my father to feel better about life – he was always working."
A friend introduced Yousoufi to Ascend Afghanistan, run by US organisation Ascend Athletics. When she joined the group in 2016, she had never heard of a crampon – or even attempted a sit-up. Yet in 2017 she ran a marathon, and after months of training she became part of a small team preparing to tackle Noshaq.
Climbing in Afghanistan is risky, not just because of the dangers involved but because active insurgency is still a constant threat. The day before the team set off, the Taliban launched an attack nearby, almost scuttling the attempt.
"I was nervous because of the fighting so close by," recalls Yousoufi, who suffered frostbite in one of her toes and altitude sickness during the expedition. "I was so tired and didn't think I would be able to make it down. But I was so determined."
The programme was founded in 2015 by Marina LeGree, who had previously worked for development organisations in Afghanistan for several years, and was employed by Nato at the height of the war. LeGree explains that witnessing the relentlessly disparaging way in which Afghan women are treated by men was the impetus for a programme that targets empowerment through mountaineering and leadership training.
"I just thought we need to have some bad-ass women who can shut people up a little bit," says LeGree. "At the time I was developing the idea for the programme, I was living in Kabul and would often go and play basketball with the Afghan women's basketball team. They faced danger getting to and from the gym because of the civil unrest, were ridiculed by all the boys, and then had to deal with comments about what they looked like from the security guards.
"This is symbolic of what women face every day in Afghanistan; ridicule and constant harassment, but always expected to deliver. It made me want to … help them do things that most men couldn't do."
In 2015 the first group of women to attend the programme, aged between 15 and 22, completed a 17-day trek taking in three of the region's highest peaks, all over 4,876m. They named one unclimbed mountain Daughters of the Afghan Lion peak.
The girls all look up to project coordinator Freshta Ibrahimi, says LeGree. Coming from an illiterate family, Ibrahimi has experienced extreme poverty and understands the challenges the girls go through from bitter personal experience.
In 2016, while a student at Kabul's American University of Afghanistan, Ibrahimi and her friend were only a few metres away from two attackers who stormed the campus with guns and explosives. Twelve people were killed in the attack, Ibrahimi's friend among them.
"The girls have to deal with so much on a daily basis," says LeGree. "We are lucky none of our girls have been hurt, but every time there's an attack it hits close. Someone always knows someone who's been there."
Yousoufi trekked to base camp with Ibrahimi, as well as another teammate and two guides, including Norwegian Vibeke Sefland, who reached the summit with her. For Yousoufi, the trek was as much about striking a blow for gender equality in a society dominated by men as it was about scaling the second highest mountain in the Hindu Kush.
"Climbing Noshaq was much harder than the other mountains I'd climbed," she says. "But I kept telling myself that finally this was the moment an Afghan girl was going to make it to the top.
"I did this for every single girl. The girls of Afghanistan are strong and will continue to be strong."
https://www.theguardian.com/global-development/2018/nov/09/for-every-single-girl-first-afghan-woman-to-scale-mount-noshaq-hanifa-yousoufi
--------
Under UN Review, Putrajaya Defends Female Circumcision, Insists No LGBT Bias
09 November 2018
PUTRAJAYA, Nov 9 — The Malaysian delegate to its Universal Periodic Review (UPR) on human rights in Geneva, Switzerland yesterday defended the practice of infant female circumcision as "a cultural obligation".
Replying to recommendations from peers such as Sweden and Denmark, a representative from the Women, Family and Community Development Ministry denied female genital mutilation (FGM) is practised here despite evidence pointing otherwise.
"Malaysia objects to any practices that are harmful to young female babies and children. Malaysia does not practise FGM, but the practice of female circumcision on babies is allowed as it is part of a cultural obligation," said the representative.
"The type of circumcision practised is very mild and does not involve any cutting. The Health Ministry provides a guideline which specifies only accredited medical professionals are allowed to perform the procedure," he added.
Female circumcision is considered a form of FGM by the UN World Health Organisation, but Muslim groups disagree with this.
In Malaysia, the most prevalent form of FGM among Muslims is Type I, where midwives or doctors remove the clitoral hood of women, usually when they are still infants or children.
Some practise Type IV, a ritual form that includes pricking or nicking of the genitals.
In February, representatives from Muslim-majority countries in the United Nations Convention on the Elimination of All Forms of Discrimination against Women (Cedaw) committee had criticised Malaysia for allowing FGM even when it is no longer considered to be in line with Islamic teachings.
When the issue of discrimination against the lesbian, gay, bisexual and transgender (LGBT) community was brought up, the same representative insisted that the government "upholds the rights and dignity of all persons in Malaysia in accordance to the law". However, he simply cited Article 8(2) of the Federal Constitution, which states "there shall be no discrimination against citizens on the ground only of religion, race, descent, place of birth or gender".
Among countries who urged Malaysia to protect its sexual and gender minorities were Germany, Austria, Canada, Chile, Argentina and the United States.
Other recurring recommendations made to Malaysia included setting the minimum marriage age to 18, imposing a moratorium on the death penalty, ensuring rights for migrant workers and refugees, tackling human trafficking and ensuring freedom of religion for all.
The final report on the recommendations will be published on Monday, and the UPR Working Group will adopt the recommendations made to Malaysia by Tuesday.
Led by Foreign Affairs secretary-general Datuk Seri Ramlan Ibrahim, the Malaysian delegation included representatives from several ministries, the Attorney General's Chambers, Jakim, the Orang Asli Development Department and the Sarawak state government.
https://www.malaymail.com/s/1691549/under-un-review-putrajaya-defends-female-circumcision-insists-no-lgbt-bias
--------
Saudi Female Employment in Private Sector Rise 8.8 Percent
8 November 2018
The number of Saudi female employees in the private sector- covered by social security- increased by 8.8% during this year.
According to Saudi newspaper Aleqtissadiya's analysis, based on data from the General Statistics Authority in Saudi Arabia, the number of Saudi women in the work force at the end of the second quarter of this year, increased to 593.4 thousand employees, accounting for 6.3% of employment in the private sector, with a work force of both sexes at 9.37 million.
The number of female employees increased by 48,000 to reach 593,400 at the end of the second quarter of 2018 compared to 545,400 employees, for the same quarter of last year, the report said.
The Saudi Ministry of Labor has launched a series of initiatives within the National Transition Program to address the high unemployment rate among Saudis. The Ministry aims to raise the number of jobs available in the kingdom to the private sector for both male and female from 1.8 million when the program was launched to 3 million job opportunities by 2020.
It also aims to reduce the unemployment rate from 12.3 per cent at the start of the program to 9 per cent by 2020 and to increase the proportion of Saudi women from the total Saudi workforce from 22 percent to 28 percent by 2020.
https://english.alarabiya.net/en/business/economy/2018/11/08/Saudi-female-employees-in-the-private-sector.html
--------
Pakistani Women Less Likely To Own a Mobile Phone than Men: Study
Jamal Shahid
November 09, 2018
COLOMBO: A new study shows majority of women, less educated and the poor in Pakistan do not own smartphones, lack awareness of and do not have access to the internet.
The study Information Communication Technology access and use in Asia and the Global South notes that 37pc women between 15-65 years are less likely to own a mobile phone than men.
In the same age group, 43pc women are less likely to use internet putting already disadvantaged women in a more vulnerable position than their male counterparts.
These results put Pakistan alongside India and Bangladesh with the highest gender gap in Asia when it comes to internet and mobile phone accessibility.
"This marginalisation and lack of access is exacerbated in rural and social contexts limiting their access to technology. Also, mere access is not enough if they cannot utilise due to structural and social constraints," said LirneAsia CEO Helani Galpaya as she announced the results of the report launched at a local hotel in Colombo on Thursday.
LirneAsia, a think tank undertakes research focusing on ICT in Asia.
The report based on a survey of 2,000 households in Pakistan was undertaken to understand how users use or do not use ICT services.
"The 152 million active cellular subscribers mentioned on Pakistan Telecommunication Authority [PTA] website, despite a good SIM registration system, tell nothing about the subscribers, whether they are men or women, rich or poor and does not really help one understand access and usage gaps," Galpaya said.
The report describes Pakistan better than its peer countries in Asia, noting that 57pc Pakistanis own a mobile of some kind. However, it points out that lack of internet awareness, is a considerable problem across Asian countries, including Pakistan where 69pc population do not know what the internet is. Around 50pc do not see the relevance of internet while 18pc complain of its high costs.
When contacted the Pakistan Telecommunication Authority and two mobile operators did not agree with the findings describing them as painting a dismal picture of teledensity in the country.
https://www.dawn.com/news/1444520/pakistani-women-less-likely-to-own-a-mobile-phone-than-men-study
--------
34 Women Killed In October In Turkey: Women's Rights Group
November 08 2018
Thirty-four women were killed in October across Turkey, according to a report by Kadın Cinayetlerini Durduracağız Platformu (We Will Stop Femicides Platform), a women's rights organization that monitors violence against women.
The number of murders committed against women declined in October compared to the previous month.
While 26 percent of those women were murdered for making decisions regarding their own lives, three percent of the women were murdered for refusing to reunite with their former partners.
Six percent of the women were murdered because they sought divorce, while three percent were killed because they wanted to break up with their partners.
Ten of these women were murdered by their husbands, their relatives or acquaintances.
According to the report, in October two women were killed by their boyfriends and another two by their ex-boyfriends.
One woman was killed by her son-in-law and another one woman was murdered by her son.
Of the 34 victims, 44 percent of the women were between 36 and 65 years old, three percent were older than 66, and 23 percent were between 25 and 35 years old. Three percent were between 12 and 14 years old.
Three percent of those women were under state protection when they were killed, while six percent had courts issued restraining orders against potential assailants.
Twenty-nine percent of those murdered were killed with sharp objects, while 21 percent with fire arms. Nine percent of the female victims were choked to death.
Some 38 percent of those women had children.
Istanbul saw eight reported femicides in October, while the southern province of Adana and western province of Tekirdağ each saw two such violent crimes against women.
Fourteen women were subjected to sexual violence in the month, the rights group also said in the report, adding that the actual figure could however be much higher.
According to data provided by the platform, five of those 14 women suffered from sexual violence at home, while seven others were subjected to sexual violence in public spaces such as streets, hospitals, schools and buses.
One woman was subjected to sexual violence on social media, the group said.
In 2017, a total of 409 women were killed and 387 children sexually abused in Turkey, according to data compiled by the same group.
http://www.hurriyetdailynews.com/34-women-killed-in-october-in-turkey-womens-rights-group-138683
--------
Turkey congratulates elected Muslim congresswomen in US
08.11.2018
Turkey's foreign minister on Thursday congratulated the two newly elected Muslim congresswomen in the U.S.
"Congratulations to Ilhan Omar and Rashida Tlaib for being elected to the U.S. Congress. This is a great achievement for Muslim Americans," Mevlut Cavusoglu posted on Twitter.
Minnesota's Omar and Michigan's Tlaib both made history Tuesday by winning their elections and becoming the first Muslim congresswomen to be elected to the U.S. Congress.
https://www.aa.com.tr/en/americas/turkey-congratulates-elected-muslim-congresswomen-in-us/1306133
--------
Syria Forces Free 19 Druze Women, Children Held Hostage by ISIS
8 November 2018
Syria's army has freed a group of 19 women and children who were abducted by ISIS during a raid on the city of Sweida and neighboring villages in July, Syrian state television reported on Thursday.
The terrorist group, which lost most of its territory in Syria last year, seized about 30 people when it rampaged through Sweida from a desert enclave outside the city, killing more than 200 people and detonating suicide vests.
The hostages were freed in an area northeast of the desert city of Palmyra after the army fought with ISIS extremists in what state television described as "a precise operation". It did not saw when the fighting took place.
Six other hostages from the same group were freed in October. A war monitor, the Britain-based Syrian Observatory for Human Rights, said in August another of the hostages had been beheaded.
Sweida, which is under state rule, has a mainly Druze religious community. Druze authorities and ISIS have held negotiations for the release of the hostages.
Seven years into Syria's civil war, the government of President Bashar al-Assad controls more than half the country with military backing from Russia and Iran.
The frontlines with areas controlled by Turkish or US-backed forces appear to have stabilized for now. ISIS still controls a small area in the far east of Syria and a patch of desert in the south.
Russian negotiations
Late in October, it was reported that Moscow was seeking to negotiate a deal with ISIS by recruiting young men in Syria's Sweida and enlisting them in compulsory conscription in return for the release of abducted women that are held by the extremist group.
Sweida residents were awaiting the results of these negotiations over the release of Druze women and children kidnapped by the terrorist group on July 25, after a series of coordinated attacks in the southern province of Sweida that killed more than 250 people, mostly civilians.
According to the Syrian Observatory for Human Rights, anticipation was very high in the province, where many were saying that the release of the abductees was expected to happen soon in October itself.
Opposition to the Syrian war
Sweida residents, who are mostly a Druze religious minority, have been in fierce opposition of the Syrian war, as many of their youth serve in the army.
Russian news agency Sputnik revealed another deal between the Assad regime's forces and ISIS to release six of the abductees, in exchange for 17 ISIS members detained by the regime, without specifying the date for the implementation of the agreement.
These deals come 24 hours after the signing of the first ceasefire agreement in Tulul al-Safa, a mountainous region in eastern Sweida.
On July 25, ISIS carried out a series of coordinated attacks in the southern province of Sweida that killed more than 250 people, mostly civilians.
It was the deadliest attack ever to target the mostly government-held province and the Druze religious minority that populates it.
https://english.alarabiya.net/en/News/middle-east/2018/11/08/BREAKING-Syrian-regime-forces-free-Druze-hostages-held-by-ISIS.html
--------
Azad University Bans Wearing Comfortable Clothing in Girls' Dormitories
08 November 2018
Azad University officials have banned students living in girls' dormitories from wearing comfort clothing. According to Azad University officials, if a person does not meet the criteria for this instruction, the "Individual Adornment Committee" can prevent them from entering the university.
The Individual Adornment Committee is one of the new organs set up to crack down on girl students and impose the compulsory veiling on female students of Azad University.
According to the university's instructions, the covering of female students should be the chador with suitable manteaux, trousers, scarves and socks in decent colors, or long sleeves and under the knee manteaux with conventional trousers and stockings.
Also, the hair and body of the woman should be covered according to the religious hijab. Women's makeup is also forbidden.
The new bans by the Azad University have been announced to various units of the university since September 29, entitled, "Authorized and unauthorized examples of covering and appearance of the Azad University."
The instructions also prohibit short sleeves for men, and the chador and manteaux for women are mandatory. (The state-run Fars news agency - November 3, 2018)
The research center of the mullahs' parliament (Majlis), published a report in July 2018, according to which nearly 70 percent of Iranian women either do not believe in the Sharia veil (Chador) or are among "the improperly veiled" and protest the compulsory veil in Iran.
The report confirms that Iranian women observe the veil only through coercion and harsh restrictions. The report says there actually is a distaste regarding the (Chador) in part of society which leads them to choose the Customary Veil over the (Chador).
Chador is a head-to-toe, usually black, veil that covers all the body except for the face.
The term, Customary Veil, used in this report is meant to refer to the scarf or shawl that Iranian women use to cover their hair only to comply with the regime's compulsory dress code and not out of their own religious convictions. The regime has made up the term, "improperly veiled" or "Bad-Hijab" in Farsi, to refer to this group of women.
https://women.ncr-iran.org/iran-women-news/5555-azad-university-bans-wearing-comfortable-clothing-in-girls-dormitories
--------
URL: https://www.newageislam.com/islam-women-feminism/afghan-woman-fled-taliban-wins/d/116835
New Age Islam, Islam Online, Islamic Website, African Muslim News, Arab World News, South Asia News, Indian Muslim News, World Muslim News, Women in Islam, Islamic Feminism, Arab Women, Women In Arab, Islamophobia in America, Muslim Women in West, Islam Women and Feminism