New Age Islam News Bureau
16 May 2020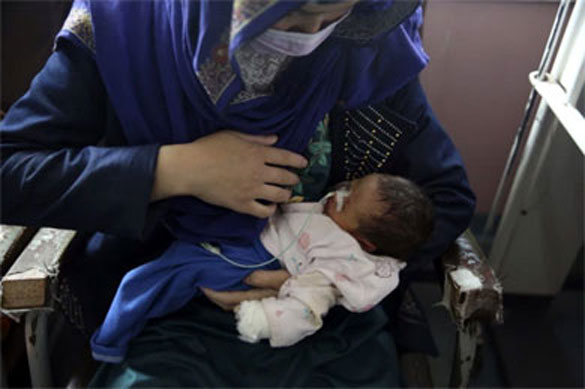 A mother holds her two-day-old baby at the Ataturk Children's Hospital, a day after they were rescued following a deadly attack on another maternity hospital, in Kabul.
------
• Afghan Woman Volunteers to Breastfeed 20 Babies After Maternity Ward Attack
• Muslim Woman, Alisha Khan, Donates Blood to Hindu Patient After First 'Roza'
• Gantz Introduces Israel's First Female Ultra-Orthodox Minister
• New Hunt for Jihad Widow Hayat BoumeddieneIn Refugee Camp
• Pakistani-American Woman Sentenced To 13 Years byUS Court for Funding ISIS
• Wife of the Oyo State Governor Distributes Palliatives To Muslim Women
• Challenging Stereotype: Meet MaysounDouas, Madrid's First Muslim Councilor
• Meet the Courageous Pioneer Getting Muslim Women Playing Netball InBradford
• 'She's Starting to Lose Hope.' Two Years On, Sister of Jailed Saudi Women's Rights Activist Pleads for Justice
• 75 Pregnant Women Leave Dubai For India On One Single Flight As Repatriations Enter Second Phase
• Afghanistan: Man Chops Off Wife's Nose for Asking For Divorce
• Women's Employment In Afghan Airline Industry Threatened By Lockdown
• 48,000 Yemeni Women Could Die Giving Birth AsUN Starts Shutting Down Maternity Services Due To Funding Gap
Compiled ByNew Age Islam News Bureau
URL; https://www.newageislam.com/islam-women-feminism/afghan-woman-volunteers-breastfeed-20/d/121870
-------
Afghan woman volunteers to breastfeed 20 babies after maternity ward attack
May 14, 2020
A woman in Afghanistan has volunteered to breastfeed as many as 20 newborn babies after a vicious attack on a Kabul hospital, according to a report.
Feroza Younis Omar, who works for the country's economic ministry, said she felt compelled to step in the wake of the tragic attack on the Doctors Without Borders ward on Tuesday that killed 24 — including infants, mothers, and nurses.
"All of us have been damaged by criminals who are destroying humanity in Afghanistan. I am one of those," she told local television station Tolo News.
Some 20 newborns who survived the attack earlier this week were transferred to Ataturk Hospital. Omar rushed to the hospital just hours after the newborns were brought there, and has since inspired other women to join her in helping nurse them.
"I am ready to adopt one of the babies who have lost their mother or whose families do not have the financial ability to raise them," Kermani told the news station.
"Feroza Omar is a true hero," Sadjadpour told alarabiya. "Twenty newborn babies lost their caretakers after the barbaric attack on a maternity hospital in Kabul. Feroza, the mother of a 14-month-old child, rushed to the hospital to feed them, and inspired women to do the same."
At least three gunmen wearing police uniforms stormed the government-run, 100-bed Dasht-e-Barchi hospital Tuesday and opened fire — gunning down two dozen people, including children. Soldiers were seen carrying out infants after the attack, some of them wrapped in bloody blankets.
In a separate attack on Tuesday, a suicide bomber in Nangarhar province — an ISIS hotbed — targeted the funeral of a militia commander, killing 24 people and wounding 68.
https://nypost.com/2020/05/14/afghan-women-volunteer-to-breastfeed-after-ward-attack/
--------
Muslim Woman, Alisha Khan, Donates Blood To Hindu Patient After First 'Roza'
Apr 28, 2020
Twenty-nine-year-old Alisha Khan displayed a rare show of humanity and brotherhood, when soon after her first 'roza' (fast during Ramzan) she decided to donate blood to Vijay Rastogi, one she hardly knew.
On Saturday, Jaspal Singh Pali who runs an NGO, under the aegis of Shahid Bhagat Singh NishwarthSeva Samiti, to help those in urgent need for blood approached her.
She was well-aware that her 'O-negative' blood group was rare to find, so without paying even a little attention towards the identity of the person, she told Jaspal to just wait till she is done fasting. And just as promised, immediately after completing her fast she reached the district hospital herself.
Tripti Awasthi, a social activist said, "Vijay Rastogi, an inverter-battery shop owner was suffering from serious liver infection since long. A few days back his condition deteriorated with a sharp decline in hemoglobin level. The doctor advised his family members to arrange for blood at the earliest but despite several efforts at various blood banks in Kheri, they couldn't get 'O negative' blood."
They then approached Jaspal, and also posted on social media, requesting people with the same blood group to help. Jaspal said when he came to know about the requirement he looked at the list of blood donors with him and found Alisha with the desired blood group.
"When I talked to her and told her about the situation she readily agreed. She was rather happy that her blood was going to help a person in the holy ramzan month." Rastogi's family members were all praise for Alisha Khan and expressed immense gratitude.
https://www.hindustantimes.com/lucknow/muslim-woman-donates-blood-to-hindu-patient-after-first-roza/story-rUbteBDWxw8C66J8lEd8mM.html
--------
Gantz introduces Israel's first female ultra-Orthodox minister
Rina Bassist
May 15, 2020
The swearing-in ceremony of Israel's new government was delayed yesterday, May 14, and pushed to Sunday as Prime Minister Benjamin Netanyahu struggled to distribute some ministerial portfolios. The unity deal between Netanyahu's Likud and Blue and White divides 34 ministries and leadership of Knesset committees equally between the two parties. Each party is responsible for offering ministerial positions to the smaller coalition partners in its respective political camp.
Contrary to Netanyahu, Blue and White leader Benny Gantz had finished the allocation of ministerial portfolios to his party members and partners on time. It included the Ministry of Diaspora Affairs, allocated to Blue and White Knesset member Omer Yankelevich.
Yankelevich is not a new face in Israel's civil society, but her nomination as minister generated many reactions, as she will be the first female ultra-Orthodox minister in Israel's political history. Yankelevich will be taking over this position from another religious woman: Tzipi Hotovely of the Likud. Hotovely defines her-self as "religious right-winger," but is certainly not part of the ultra-Orthodox community.
The new minister-to-be was born to secular parents who adopted an ultra-Orthodox lifestyle and beliefs when she was very young. She studied in ultra-Orthodox institutions, including teaching studies in the United Kingdom, but then continued to a master's degree in law at Bar Ilan university. Her studies in Bar Ilan also marked the beginning of her social activism. In 2015 she founded the "Just Begun" foundation, which sponsors social initiatives to help integrate peripheral populations, especially from the ultra-Orthodox community. Contrary to some other ultra-Orthodox politicians, she also has experience with dialogue groups among sectors in Israeli society and has met with Jewish Reform and Conservative leaders. In 2019, she joined the Israel Resilience party, which later became part of Blue and White. She was elected to the Knesset with the Blue and White first in April 2019, then in September 2019 and again in March 2020.
At the moment, only six women have received ministerial positions in the new government. The most senior is the Likud's Miri Regev, who will head the Transportation Ministry for the first year and a half until Netanyahu hands over premiership to Gantz. Then she will switch over to the Ministry of Foreign Affairs.
While the diaspora portfolio is not considered a major ministry, it will certainly offer Yankelevich visibility both inside Israel and abroad. It will also put her in a position to confront sensitive issues in the relations between the ultra-Orthodox community, the government, Israeli society and Jewish diaspora, such as Pluralistic Judaism prayer by the Western Wall or conversions to Judaism.
https://www.al-monitor.com/pulse/originals/2020/05/israel-benjamin-netanyahu-benny-gantz-ultra-orthodox-women.html
--------
New hunt for jihad widow Hayat Boumeddiene in refugee camp
May 16 2020
France has begun a new search for a female jihadist who allegedly helped to organise a terrorist attack in Paris, after a witness contradicted earlier accounts that she had been killed.
Hayat Boumedienne, 31, often described as France's most wanted woman, was in a camp for sympathisers of Islamic State at al-Hol in northeast Syria in October last year, a "credible" witness has told French investigators, but she subsequently escaped.
That contradicts reports that she had been killed in February last year in a US airstrike on a house where French citizens were staying in Baghouz, the last stronghold of Islamic State and its followers before it was overrun.
https://www.thetimes.co.uk/article/new-hunt-for-jihad-widow-hayat-boumeddiene-in-refugee-camp-tjq03xp8p
-----
Pakistani-American woman sentenced to 13 years by US court for funding ISIS
15th May 2020
NEW YORK: A Pakistani-American woman -- Zoobia Shahnaz -- has been sentenced to 13 years of imprisonment by a United States' Federal Court for providing material support to terror fronts of Islamic States in Pakistan, China and Turkey.
The verdict was pronounced by District Judge Joanna Seybert on Wednesday. Zoobia Shahnaz had pleaded guilty in November 2018 for providing material support to a foreign terrorist organisation, specifically more than USD 150,000 to the Islamic State of Iraq and al-Sham (ISIS), and attempting to travel to Syria to join ISIS.
"As set forth in court filings and facts presented at the sentencing hearing, between March 2017 and July 2017, Shahnaz defrauded numerous financial institutions to obtain money for the ISIS, including a loan for approximately USD 22,500," reads a statement by US Department of Justice.
"Shahnaz also fraudulently obtained more than a dozen credit cards and used them to purchase approximately USD 62,000 in Bitcoin and other cryptocurrencies online. Shahnaz then made multiple wire transfers totaling more than USD 150,000 to individuals and entities in Pakistan, China and Turkey that were fronts for ISIS," added the statement.
On July 31, 2017, Shahnaz was arrested at John F Kennedy International Airport in Queens, New York, while attempting to board a flight with a layover in Istanbul, Turkey -- a common point of entry for individuals travelling from western countries to join ISIS in Syria.
Shahnaz had accessed ISIS violent jihad-related websites and message boards, and social media and messaging pages of known ISIS recruiters, facilitators and financiers. She also performed numerous internet searches for information that would facilitate her entry into Syria.
Court-authorized search warrants executed at Shahnaz's residence on Long Island resulted in the seizure of terrorist and jihad-related propaganda, including a photograph of a suicide belt of explosives and a night vision scope, the statement further said.
https://www.newindianexpress.com/world/2020/may/15/pakistani-american-woman-sentenced-to-13-years-by-us-court-for-funding-isis-2143778.html
-----
Wife of the Oyo State Governor Distributes Palliatives To Muslim Women
May 13, 2020
Wife of the Oyo State Governor, Mrs TamunominiMakinde has distributed palliatives to Muslim women in Oyo State.
Presenting the palliatives, Mrs Makinde said the gesture was borne out of the need to felicitate with Muslims during the Ramadan.
Represented by the Oyo State Commissioner for Women Affairs, AlhajaFaosatSanni, Mrs Makinde said women were the most affected and vulnerable in the Ramadan and covid-19 pandemic, hence the need for the packages.
In a remark, President, Federation of Muslim Women's Association in Nigeria, BushrahOlosho, said the gesture was laudable, urging other well-meaning Nigerians to emulate the goodwill by giving to the society.
Two of the beneficiaries, Iyabode Idowu and BosedeAkanbi commended the wife of the governor and called other philanthropists to follow suit.
https://radionigeriaibadan.gov.ng/2020/05/13/mrs-makinde-distributes-palliatives-to-muslim-women/
------
Challenging stereotype: Meet MaysounDouas, Madrid's first Muslim councilor
MOUNA EL-HAIMOUD
May 16, 2020
MADRID: In May 2019, MaysounDouas became the first Muslim councilor in Madrid.
Born in Spain to Moroccan parents, she describes herself as a Muslim feminist, an entrepreneur, a social activist and an innovation expert. She has a doctorate in physics, and launched her career in politics with the Más Madrid (More Madrid) party.
Douas said she was invited last year to run for a seat on Madrid's municipality council by the then mayor Manuela Carmena, who placed her 12th on a list of 25 candidates. She had no previous experience or involvement with political parties or movements.
"When I received the call … I agreed to join an open platform (developed) by politicians and professionals who want to leverage the positive effects of previous years, especially in terms of social budget expenses, good financial figures, fair taxes, innovative management of mobility, and civil participation in city governance," she said.
"Previously, I was the ecosystem builder for urban innovation hub La Nave, so I was very aware of the city's potential when innovation and entrepreneurship are encouraged."
"My aim is to make Madrid a city with a more innovative character by making it more welcoming to disruptive and technological startups," she said.
Douas was the first councilor in Madrid to wear a hijab; in fact it is unusual in Spain to see public figures wearing the traditional head covering. However, she said that the challenges she has faced at the start of her new job have more to do to with a lack of experience than her Muslim identity.
"It is a new experience for all of us, for my colleagues in the party and also my colleagues in the city hall, and of course for me," she said. "The challenges I faced were related to my political skills, which I am still developing."
There had been an expectation that she would focus on issues related to ethnic and religious minorities, Douas said, even though some of her colleagues have devoted their political lives to such issues. She urged the people of Madrid to look beyond her appearance and religious beliefs and listen to her ideas and plans for the city.
"I consider myself more than just a Muslim woman wearing a hijab," she said. "Like everyone I have my values, many of which are universal, yet my responsibility goes beyond minority representation; it is about loyalty to the city of Madrid and about serving my neighbors and advocating for their interests and welfare."
Douas, who is married with four children, said that she relies on her diverse experience outside of politics to help her better serve the people of the city.
"My professional experience as a doctor of physics, entrepreneur, social activist and innovation expert is what really allows me to serve Madrid the best I can," she explained. "Together, all these experiences make me aware of the issues affecting the city and citizens."
People in Spain are still often shocked to learn that she is a Muslim and a feminist, Douas said, but she believes that what matters most is for women to support each other, regardless of their backgrounds.
There is no single, definitive form of feminism but several schools of thought, she added, and the unifying factor is that each person "agrees to advocate for women rights."
She believes there is a need for global society to embrace a more inclusive approach, especially with regards to feminism and women's rights.
"It is time….to let everyone know that women are supporting women in achieving their rights regardless of religion, ethnicity, culture or origins," she said.
It is natural to wonder whether Douas has shattered any stereotypes about Muslim women in Spain, but she said the real question should be whether the attitudes of people in Spanish society are starting to change as they engage more with Muslims.
"I was born in Granada (in southern Span, and raised in Madrid," she said. "Along the way I had had to break many stereotypes. I do not see it as a bad (thing but rather) the way to push diversity as part of our society."
She added that it might be better to pose the question the other way around, by asking her friends and colleagues, and the wider public, if and how their thoughts about Islam, Muslims and Muslim women changed after meeting her or other Muslim women.
Some observers consider Spain to be lagging behind some other European countries in embracing diversity. It is still rare, for example, to see a woman wearing a hijab in the workplace. However, Douas said there has been a shift toward the acceptance of diversity as a value, and taking pride in it.
While many Muslim women might have struggled to gain acceptance at work and build a career, the challenges have made them more resilient, she said, and provided the motivation to push themselves to develop skills and abilities so that they are more qualified than their colleagues for promotions and career advancement.
She said young Muslim women in Spain with political ambitions should not necessarily view politics as a career but instead as an opportunity "to be a part of the social decisions that end with the political process."
She added: "Political participation is very wide ranging, and there is room for many initiatives and social roles to be fulfilled."
https://www.arabnews.com/node/1675306/world
--------
Meet the courageous pioneer getting Muslim women playing netball in Bradford
12th May 2020
A Muslim netball coach has encouraged hundreds of religious women to play the sport through her all-inclusive club.
Based at the Karmand Community Centre in Bradford, MusarathSoofi provides an outlet for her players to enjoy the sport without disrespecting their beliefs.
With a closed-off sports hall that prohibits male attention and a lenient dress code that includes religious head and dresswear, the club promotes the acceptance of women from all walks of life.
After developing a strong passion for the sport whilst living in Dubai, Soofi was able to play regularly for seven years through a nearby club.
She returned to the UK last year and soon realised that Muslim women in Yorkshire were not being given the same opportunities to participate in netball.
Determined to make a difference within her local community, Soofi formed the club last April with the aim of sharing her passion alongside people of the same faith.
Speaking on her inspiration for the club, she said: "Being in a Muslim community, a lot of us cover our faces or we wear the hijab so we're quite restricted in where we can play.
"There might be facilities that offer netball, but they have see-through doors and windows where people can look in on these women playing and they're not very comfortable with that.
"My mission was to find a place where it was completely safe and sealed and these women could just enjoy playing a fun game of netball."
Approved by England Netball, Soofi is now a Level Two qualified coach, running open weekly sessions on Mondays, Wednesdays and Saturdays.
She believes that it represents much more than just sport to her players. "When these women know they've got somebody who is also like them, they feel more connected because they respect what background you have come from and appreciate the limitations you have got.
"Families send their wives and daughters to the club knowing that it's within their beliefs and values, especially with their faces being covered and not being in a male environment.
Last year, England's Vitality Roses were the main driving force behind growing netball's popularity in the UK when they competed in the 2019 World Cup on home turf in Liverpool. Despite this however, there has yet to be an individual from a Muslim background to represent England in a major professional netball tournament. Although not age specific, Soofi has seen a greater increase in the number of teenage girls joining her club since last summer's World Cup.
She believes that providing opportunities at grassroots level is key in growing netball's popularity amongst aspiring young players. "A lot of the girls have a real passion for netball," she said.
"One of the players who comes here was studying netball for a course at her school, she's been coming to watch me coach and is aspiring to do the same as me.
"I'm hoping that I'll be able to coach a lot more youngsters to get into the sport as I'd love to see one play for England one day.
When sessions resume at Karmand Community Centred, Musarath's sessions are played on Monday from 8.30pm-10pm, Wednesday from 8.45pm-10pm and Saturday from 8pm-9:15pm
Almost certainly you are here because you value the quality and the integrity of the journalism produced by The Yorkshire Post's journalists - almost all of which live alongside you in Yorkshire, spending the wages they earn with Yorkshire businesses - who last year took this title to the industry watchdog's Most Trusted Newspaper in Britain accolade.
And that is why I must make an urgent request of you: as advertising revenue declines, your support becomes evermore crucial to the maintenance of the journalistic standards expected of The Yorkshire Post. If you can, safely, please buy a paper or take up a subscription. We want to continue to make you proud of Yorkshire's National Newspaper but we are going to need your help.
Postal subscription copies can be ordered by calling 0330 4030066 or by emailing subscriptions@jpimedia.co.uk. Vouchers, to be exchanged at retail sales outlets - our newsagents need you, too - can be subscribed to by contacting subscriptions on 0330 1235950 or by visiting www.localsubsplus.co.uk where you should select The Yorkshire Post from the list of titles available.
If you want to help right now, download our tablet app from the App / Play Stores. Every contribution you make helps to provide this county with the best regional journalism in the country.
https://www.yorkshirepost.co.uk/sport/other-sport/meet-courageous-pioneer-getting-muslim-women-playing-netball-bradford-2849777
--------
'She's Starting to Lose Hope.' Two Years On, Sister of Jailed Saudi Women's Rights Activist Pleads for Justice
MAY 15, 2020
When Saudi Arabian security forces raided her family's Riyadh home on May 15, 2018, dragging her sister Loujain out at gunpoint, Lina al-Hathloul was thousands of miles away in Brussels. Two months earlier, UAE security forces had arrested Loujain in Abu Dhabi, where she lived and worked. After being forcibly returned, Saudi authorities detained her for a few days before placing her under a travel ban so the renowned women's rights activsit could not leave the country. But Lina, then 23, knew none of this; she was working on her masters' thesis on trade secrecy law in Belgium and her parents hadn't wanted to worry her.
"To be honest they didn't tell me anything. I didn't even know Loujain had been kidnapped from the UAE," she tells TIME from Brussels, where she still lives. "It was only after she got arrested on May 15, that I heard the full story."
Global audiences were being sold a different story. Fresh off a charm offensive that included a sit-down with Oprah, and interviews with dozens of media outlets including TIME, Saudi Arabia's Crown Prince Mohamed bin Salman was preparing to lift the Kingdom's ban on women driving. He eventually did so on June 24, less than six weeks after the co-ordinated arrest of al-Hathloul and other women's rights defenders who had long opposed it. They were taken to an unofficial prison known as "the hotel," where human rights groups say they were tortured and sexually abused. Transferred to an official prison in Jeddah in August 2018, and then another prison near Riyadh in December that year, Loujain's trial was scheduled to begin this March. It has been indefinitely postponed as the Kingdom contends with the COVID-19 pandemic.
Loujain might have avoided trial altogether, Lina says, if she'd accepted an offer of release, conditional on publicly denying she had been tortured. "She'd rather be in prison, following her values and fighting than be released and lose these two years for nothing."
In the two years since her sister's arrest, Lina watched as other changes swept through Saudi Arabia. The powers of the once-feared religious police were blunted; since August 2019 women no longer require the permission of a male "guardian" to travel or marry; and a host of international celebrities, from soccer star Cristiano Ronaldo to singer Mariah Carey, performed at stadiums and arenas recently opened to women.
But MBS's attempt to cast himself as a modernizing reformer has been undermined by his brutal suppression of dissent. The most egregious incident came in October 2018, when a Saudi hit squad murdered journalist Jamal Khashoggi at the Saudi Arabian embassy in Istanbul, before dismembering his body. Even after the CIA concluded the Crown Prince had ordered his killing, authorities continued to target dissidents as far afield as Norway and Canada. And in 2019, Saudi Arabia executed 184 people, according to Amnesty International, more than the organization has recorded in any previous year.
The ongoing detention of Loujain, along with other prisoners of conscience, continues to hurt MBS' credibility abroad, says Irwin Cotler, Canada's former Justice Minister. As Saudi Arabia prepares to host the G20 summit in November, MBS, "can either come in the docket of the accused, or he can come as somebody who has released political prisoners," says Cotler, who also serves as international legal counsel for Raif Badawi, another high profile political detainee.
Around the world, the COVID-19 pandemic has raised concerns for prisoner welfare. Saudi Arabia's Justice Ministry did not respond to TIME's request for comment on provisions taken to protect inmates, and the Kingdom does not allow independent human rights groups to monitor its prisons. But in a worrying indication that inmates' general health is at risk, another prominent activist, Abdullah al-Hamid, died on April 24, after falling into a coma in prison. For months, authorities had denied the 69-year-old a life-saving heart operation, according to the World Organisation Against Torture.
In an interview on the second anniversary of her sister's detention Lina al-Hathloul discussed the lack of adequate investigation into her sister's alleged torture, and how Saudi Arabia has changed under MBS. (This interview has been edited for length and clarity.)
My parents are allowed to talk to her once a week. Since they postponed the trial, Loujain is really getting tired. When you have things to plan for and you know that you're going to see people, it's easier, psychologically. But now no one is telling her anything and she doesn't know when the next session is going to be. She's starting to lose hope.
For the first 10 months after she was arrested, there were no official charges. The only thing we had was what Saudi media used to say: that she was a traitor, or a spy, or an agent for Qatar. When she received her charges, it was basically all of her activism. Things like going to international conferences to talk about the human rights situation in Saudi Arabia, or being in contact with an E.U. delegation in Saudi Arabia. They also say that she's been fighting for women's rights in Saudi Arabia that have already been granted by the Sharia Law. One of the accusations is based on the cyber-crime law but all of the other charges aren't based on any specific law.
The first time my parents were allowed to visit Loujain was when she was brought back to the official prison, towards the end of August last year. At first, they couldn't even tell [my siblings and I] how they felt; they were depressed. But gradually, after more visits, they told us that Loujain was not well. That she could barely walk. That she could barely sit. That she had marks all over her body. After all the reports came out on the Khashoggi case, my parents knew that Loujain had been tortured. They asked her and she admitted everything. Bit by bit she started giving them more details. One day she told my parents that Saud al-Qahtani [a former advisor to the Royal Court and close confidente of MBS] was the one supervising the torture. That he was the one giving the orders, and that he was laughing at her, belittling her. He would threaten her, saying that if he wanted to he could rape her before killing her, and that he could make her body disappear in the sewage system. [Saudi Arabia's deputy public prosecutor has in the past denied allegations that any activists were tortured.]
Al Qahtani was implicated in Jamal Khashoggi's murder, but last year Saudi Arabia cleared him of any wrongdoing in an investigation U.N. Special Rapporteur Agnes Callemard called a "mockery of justice." Are you aware of any investigation into his alleged role in Loujain's torture?
Nothing. Nothing has been carried out. One day, [Saudi Arabia's] Human Rights Commission visited Loujain. She told them everything that happened to her. But at the end, she asked, "can you assure me that you can protect me with everything I'm telling you?" They told her, no, honestly we can't. So, she just took the paper she had written and kept it to herself. [Saudi Arabia's Human Rights Commission did not respond to TIME's request for comment on the torture allegations in general, or on Al Qahtani's alleged presence.] It's important to remember MBS's statements on this. In a 2018 interview, Bloomberg asked MBS about Loujain and the other women's rights activists in prison. He said that they are spies and that tomorrow we'll show you the videos that prove it. A year later, 60 Minutes asked him the same question about these women, and about their torture. MBS said he can't get involved in specific cases. That it's not his job. But if torture happened, he would personally make sure it was investigated.
Since Loujain's arrest, dozens of sports and entertainment stars have performed at lucrative events in Saudi Arabia. Do you have a message for celebrities considering performing at events in the Kingdom?
Saudi people have long been thirsty for concerts, and for art, and it's nice of artists to come and perform. But they should understand that their presence is the only window the West has into Saudi Arabia. They are representing a false image because when people think of Saudi Arabia now they think of these events, not what is happening to people. I'm not asking for anyone to boycott Saudi Arabia, but if they go they should at least mention the women who have been fighting for these changes to happen. I think that they have to make a public statement about what is happening. Otherwise, their presence is just a whitewash.
Saudi Arabia has undergone some major reforms. But what's different about the Kingdom now, under MBS, that most people living overseas struggle to understand?
What's really different is that before people knew where the red lines were. Now they don't. For instance, before we didn't have concerts and we had the religious police. Now we don't have the religious police and we have concerts, but there's a [new] public decency law. So, women can get arrested and imprisoned for dancing at a concert. That's created an atmosphere of fear because you don't really know what is allowed and what is not. What you have to understand is that Saudi Arabia is becoming a police state. It's an authoritarian regime.
Last August year, your brother Walid wrote on Twitter that Saudi officials had offered Loujain the chance to be released if she would state on video that she had not been tortured. She refused. What does that say about her?
At first they wanted a written document. Then they came back and asked her for a public statement. She told my parents she could not accept this. She knows she can't trust them and there's no guarantee that if she does it she will be released. Even if they would have released her, Loujain is in prison because she's been fighting for other women and for all the Saudi people. I don't think it would make any sense for her to be free while accepting this. She'd rather be in prison, following her values and fighting, than be released and lose these two years for nothing.
I have so many questions. How is it possible for people to still believe Saudi Arabia's responses when they're asked about Loujain? After two years of arbitrary detention, nothing they say can be believed anymore. It's just time to release her now.
https://time.com/5837473/loujain-al-hathloul-torture-saudi-arabia/
--------
75 pregnant women leave Dubai for India on one single flight as repatriations enter second phase
May 16, 2020 11:50
Ashley Hammond
Dubai: Seventy five pregnant women will leave Dubai for India on one single flight to Kochi today, as the second phase of coronavirus repatriation flights gets underway on Saturday.
Today flight IX434 to Kochi is very different as it carries many pregnant women, 35 medical cases, Sr citizens and few who lost their near ones, back in India.Check in and medical screening going on smoothly #VandeBharat @MEAIndia @IndembAbuDhabi @DDNewslive @airindiain @MOS_MEA
Tweets from the Consul General of India's Office in Dubai confirmed that today's flight to Kochi, scheduled to depart at 12.45 is "very different" as it carries "181 passengers including 75 pregnant women on board, with doctors and nurses to assist, if needed."
IX 434 to Kochi ready for departure at 1245 hrs local time with 181 passengers including 75 pregnant women on board, with doctors and nurses to assist, if needed. CG Vipul and team at airport.Happy to assist.@MEAIndia @IndembAbuDhabi #VandeBharat @MoCA_GoI @MOS_MEA @DrSJaishankar
Eleven Air India Express flights are planned to depart Dubai for India in the second phase of Vande Bharat (Hail India) Mission, starting today May 16 until May 23, earlier tweets had stated.
We are happy that 11 Air India Express flights are planned to India from Dubai in the second phase of Vande Bharat Mission, starting tomorrow, May 16 and ending May 23.
Statistics from the first phase of repatriation flights from Dubai to India, which started on May 7-14, were also announced by the consulate.
In the tweets the Consul General's office confirmed that the first phase of the mission had been "eminently successful" with 11 flights and 2,079 passengers transported from Dubai to India.
1/2 First phase of Vande Bharat Mission was eminently sucessful with 11 flights and 2079 passengers from Dubai to India. We are thankful to Govt of Dubai and the entire Indian community. #VandeBharat @MEAIndia @MOS_MEA @DrSJaishankar @IndembAbuDhabi @DDIndialive @MoCA_GoI
Of these 2,079 passengers, 760 were workers, 438 were stranded tourists and students, 398 were medical emergency cases, 190 were pregnant women, 126 were senior citizens and 167 were classed as 'others'.
2/2 Following is the break up of passengers: Workers 760, Stranded Tourist, Visitors and Students 438 , Medical Emergency Cases 398, Pregnant Women 190, Senior Citizens 126, others 167 #VandeBharatMission @MEAIndia @MOS_MEA @DrSJaishankar @IndembAbuDhabi @DDIndialive @airindiain
"All of them are our own people and they will have to return to their homes," she said. "This is going to be a crucial phase and hence everyone has to be more cautious and alert to see that nothing is taken lightly.
"There will be more number of people who will have to be under observation and it's very important that all follow the guidelines, if not, things will go out of hand."
https://gulfnews.com/uae/transport/75-pregnant-women-leave-dubai-for-india-on-one-single-flight-as-repatriations-enter-second-phase-1.71528862
--------
Afghanistan: Man chops off wife's nose for asking for divorce
May 16, 2020
A 24-year-old Afghan woman had her nose cut off by her husband on Friday after she sought a divorce from him. The mother of a seven-year-old boy wanted to escape her abusive husband, Reuters reported.
According to KhoshbooMaidanwal, head of the provincial women's affairs department for the province of Paktika, the husband used a kitchen knife to chop off her nose. There has been a surge in domestic violence in Afghanistan triggered by the coronavirus lockdown.
With forced and underage marriages, honour killings and domestic violence, Afghanistan ranks near the bottom of global indices on gender equality.
During the Taliban rule from 1996-2001, women were banned from getting an education or working. They had to be always clad in a burqa and could step out only with a male companion.
When US-backed forces overthrew the rule of the militant group in 2001, women found some respite by winning some of their freedom back. But now, with uncertainty around intra-Afghanistan peace talks, women fear that they would be restricted to their homes again.
Rights watchers say that Afghan women do not have much faith in local police to help them in case of domestic abuse. And though domestic abuse was criminalised in Afghanistan in 2009, it is still not considered a serious offence.
https://www.theweek.in/news/world/2020/05/16/afghanistan-man-chops-off-wifes-nose-for-asking-for-divorce.html
--------
Women's Employment In Afghan Airline Industry Threatened By Lockdown
MAY 16, 2020
With the airline industry in Afghanistan taking heavy financial hits due to the COVID-19 pandemic, female flight attendants are fearful they will lose their jobs. Women are also on edge with the news of the possible resurgence of the Taliban in government forcing them out of the working world and losing their only form of independence.
Free of Taliban rule since 2001, Afghanistan and human rights advocates have been working to guarantee girls had access to education and women with access to job opportunities.
Women and girls have made gains in the areas of education and work but as of 2017, two-thirds of girls do not attend school and in 2018, about 67% of women in the country were seeking work. The airline industry served as a great opportunity for women and now many female flight attendants have been furloughed, while others fly less frequently due to the pandemic.
Afghan airlines Ariana and Kam are seeking help from the government as they've lost millions of dollars in revenue and have been forced to furlough employees. Out of 580 employees at Ariana, about 30% are women. Kam airlines employ 106 women, with 48 of them working as flight attendants.
Female flight attendants all over the world are experiencing job losses due to the global lockdown. But these jobs are a form of independence and escape for women in Afghanistan. While gains have been made in the workforce, women are still experiencing a high rate of unemployment. A job with the airlines gave women a chance to be financially independent and travel beyond the borders of the country, in a society that prefers women to take on traditional domestic roles.
What a devastating moment for them. And there's the threat of the Taliban coming back into the government. They say they've changed and would allow women to work but who can trust anything they say when they've caused so much grief for women in the past? Time will tell what happens next but my heart goes out to the women of Afghanistan.
https://therealistwoman.com/womens-employment-by-afghan-industry-threatened-lockdown/
--------
48,000 Yemeni women could die giving birth as UN starts shutting down maternity services due to funding gap
MAY 15, 2020
London — The United Nations agency that runs maternity wards and maternal health services across war-torn Yemen says the program is nearly out of money. The agency notified authorities this week that it will no longer be able to support 140 of its 180 facilities in the country.
It's a new, imminent threat to medical care for women in a country ravaged by years of war and disease. The U.N. says tens of thousands of expectant mothers will be at risk of dying during childbirth if funding isn't secured.
UNFPA, the U.N.'s sexual and reproductive health agency, provides basic reproductive healthcare to hundreds of thousands of Yemeni women. The agency says that without its services, 320,000 pregnant women will be cut off from care and 48,000 could die from complications during delivery. The situation is only expected to worsen with the spread of the coronavirus.
"By cutting support to UNFPA, you've basically cut the umbilical cord of the reproductive health system in the country," Nestor Owomuhangi, representative for UNFPA in Yemen, told CBS News.
"It's grave," he said. "It was bad before corona. We have weekly meetings, and… you can see an aura of hopelessness, given the corona that's knocking on our doors."
Before the coronavirus pandemic, aid groups were already calling the situation in Yemen the worst humanitarian crisis in the world. Years of brutal conflict between the Iran-backed Houthi rebels and the Saudi Arabia-backed government have decimated the country's infrastructure and led to widespread famine and disease.
"And then you have a situation where you have the coronavirus that has devastated the world, and for Yemen, we are looking at a population that has been resilient in a sense, but has gone through all kinds of catastrophes - of cholera and malnutrition - and therefore their immunity levels are low," Owomuhangi said.
People in Yemen already have very limited access to healthcare, with only about half of the health facilities functioning across the country. Of those, only 20% offer maternal and child health services - many of which are supported by UNFPA. If it is unable to raise more funds by July, it will be forced to close up to 90% of its services in Yemen.
"They have no health system, and there is no political organization to support them. So how hopeful are we? We only know that the hopes of the population are on us," Owomuhangi said.
UNFPA operates a wide range of sexual and reproductive services in many countries, but in Yemen it focuses primarily on life-saving interventions during childbirth.
"It's already the minimum service," Arthur Erken, UNFPA's director of strategic partnerships and communications, told CBS News. "These health facilities that lack staff, that lack supplies, that have been bombed or been severely damaged by the war, are already in a difficult state - these 140 need to stay open. Otherwise the consequences will be directly – the health and death will be directly a result of closing (them). Of course, if you have no money, that's pretty much end-of-story," he said.
Even before the coronavirus started spreading across the world, the agency didn't have enough funding to make it to the end of this year. When a donor conference was cancelled in April because of the pandemic, it left them in dire straits. UNFPA says it now needs $59 million to continue operations in Yemen until the end of 2020, plus another $24 million to deal with the extra burden of COVID-19 in the country.
"Women are pregnant. They were pregnant before the crisis. They're pregnant now. How do you deal with that?" said Erken. He said the crisis can only be addressed by the international community collectively, and he urged nations to step up through the U.N., "to make sure that being pregnant is not a death sentence in the coronavirus crisis."
Only a few dozen cases of COVID-19 have been confirmed in Yemen, but on Friday, the international healthcare nonprofit Doctors Without Borders said that, because testing capacity in the country is "extremely limited, it is impossible to know the full extent of the spread of the virus." The charity Save the Children said it has seen a surge in deaths of people with coronavirus symptoms in the southern city of Aden - approximately 50 people a day over the last week.
"Our hope is in the hope of the people who believe that we can make a difference," Owomuhangi said. "And for that reason we have no choice but to believe that we can be able to provide support, whatever we can, not to let the population down."
https://www.cbsnews.com/news/coronavirus-news-un-maternity-wards-in-yemen-are-out-of-money/
--------
URL: https://www.newageislam.com/islam-women-feminism/afghan-woman-volunteers-breastfeed-20/d/121870
New Age Islam, Islam Online, Islamic Website, African Muslim News, Arab World News, South Asia News, Indian Muslim News, World Muslim News, Women in Islam, Islamic Feminism, Arab Women, Women In Arab, Islamophobia in America, Muslim Women in West, Islam Women and Feminism