New Age Islam News Bureau
19 March 2016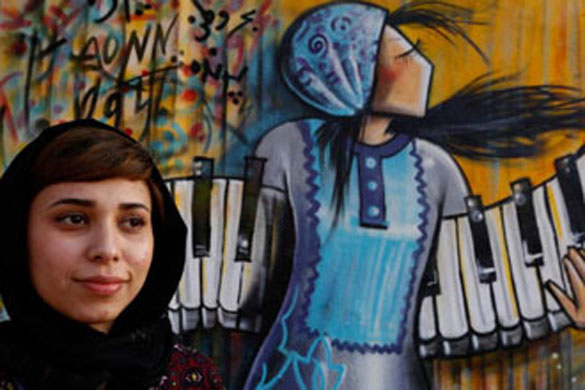 Photo: Francine Orr / Los Angeles Times via Tribune News Service Artist Shamsia Hassani stands in front of one of her murals earlier this month in Los Angeles. Hassani is an Afghan street artist who paints murals in Kabul. She's in Los Angeles this month for a Hammer Museum residency and recently painted a West Adams mural.
--------
• Young Afghan Woman, Boxer Sadaf Rahimi, Packs a Punch against Patriarchy
• India: Madras HC Stays 'Triple Talaq' Issued To Muslim Woman Allegedly Tortured For Dowry
• Baptist Woman Wearing Muslim Hijab to Show 'Solidarity'
• Protesters Mark 1 Year since Killing of Afghan Woman, Farkhunda
• Women Try On Hijabs at Catholic Boston College Islamic Awareness Week Event
• Kimberley Motley: From Beauty Pageants to Afghanistan's Only Foreign Lawyer
• Rep. Rangel Marks Iraq War Anniversary by Pushing For Women in Selective Service
• Schoolgirl Mob Tear Off Muslim Worker's Hijab and Hurl Racist Abuse in Sutton Poundland Store
• Syrian Swimmer Hopes To Represent Refugees at Rio Olympics
• Adela Raz Appointed Afghanistan Deputy Foreign Minister for Economic Affairs
Compiled by New Age Islam News Bureau
URL: https://newageislam.com/islam,-women-and-feminism/new-age-islam-news-bureau/afghan-woman-uses-street-art-to-bring-colour-to-war-torn-kabul/d/106707
-------------
Afghan woman uses street art to bring color to war-torn Kabul
Mar 19, 2016
LOS ANGELES — Armed with cans of spray paint, 28-year-old Afghan graffiti artist Shamsia Hassani ventures into the streets of Kabul to create feminist murals on the walls of abandoned, bombed-out buildings.
She has to work fast — only 15 to 20 minutes before she flees. Some works are left incomplete. But for a woman like Hassani, that's what it takes when art is a weapon of mass expression.
Hassani's art shows women in traditional clothing with musical instruments. In subtle ways, they defy gender roles: These women are not playing the instruments to entertain someone else but, rather, wielding them on their own terms.
"It's to show they have a voice," Hassani says.
Hassani, who teaches art at Kabul University, is nearing the end of a two-month residency at the Hammer Museum in Los Angeles. She was invited by curator Ali Subotnick, who traveled to Afghanistan in 2014 for a carpet-weaving project and was impressed by Hassani's work.
"The fact that she's a woman going into the streets to paint, where it's dangerous just to walk alone outdoors in Kabul — she's so fierce and independent and strong," Subotnick says. "She's giving women in Afghanistan a voice."
Hassani says the residency has been a welcome break from the streets of Kabul, where suicide bombings seem routine, like traffic jams in L.A., and every mural mission brings palpable dangers from "closed-minded people who don't like art."
"Because I'm a girl, even if I don't do art, if I just walk in the street, I will hear a lot of words," Hassani says from the Westwood apartment the Hammer has provided. "And if I do art, then they will come to harass me."
Despite the dangers, Hassani says her mission is to beautify the city with color amid the darkness of war and to expose people in Kabul to contemporary art, specifically graffiti as a form of social and political expression. In a place where art galleries are scarce, she does what she can to bring the gallery to the streets.
Hassani's Instagram and Facebook accounts feature pictures of her Kabul murals, including one of a determined young woman swinging a red electric guitar. In the photo, men passing by stare at the art.
Image-based graffiti is not unheard of in Kabul, but much of it is created by Afghan and U.S. soldiers, says street art historian G. James Daichendt, author of "Stay Up! Los Angeles Street Art." It's extremely rare to find a woman involved, he says.
"It's already a male-dominated art form in the Western sphere," Daichendt says. "So in that culture, where it's a much more dangerous culture for a woman to participate, you'd have to be that much more convicted and brave."
Hassani was born into an Afghan family living at the time in Tehran, Iran. As long as she can remember, she carried a sketchbook.
Her father, a carpenter and engineer, and her mother were supportive of her creativity. But society was not. She wanted to study art in Iran, but she wasn't allowed because she was Afghan, she says. When she was 16, Hassani's family returned to Afghanistan, where she studied painting at Kabul University, earned her master's and started teaching.
Trained as a classical painter, Hassani eventually segued to contemporary mural art. Hassani knew nothing about graffiti art, though, until she took a workshop in 2010 in Kabul organized by the arts advocacy group Combat Communications, an anonymous group of international artists based in Afghanistan. In a poor country fraught by war, Combat's intention was to empower young Afghans by teaching them street art as a tool for social expression. The group no longer exists, but it set Hassani on her path.
Passion despite risks
She risks being physically attacked on her graffiti runs, "like having stones thrown at her or worse," says Shannon Galpin, a women's rights activist and co-organizer of the Combat Workshop. Given those dangers, Hassani mostly paints canvases in a small balcony-turned-studio off her Kabul living room.
She incorporates traditional graffiti elements like stenciled text in her Dari language and spray can designs. She executes more detailed line work with an acrylic brush.
Only rarely does she venture outside to paint. "Mostly not very public spaces, like small roads or the roads of the university — some place I feel is more safe," Hassani says. "The university will sometimes give me permission and support me."
Once every six months or so, Hassani will paint in a more public place. She makes those works smaller because she has to work so fast.
"Then usually people take it off the walls or paint over it," she says.
That process has affected how she paints her studio works.
"I make my paintings very, very fast because that's what I'm used to in the street," she says.
Despite those dangers, Hassani remains passionate about graffiti art and teaching it to others. In 2013, Hassani co-organized, with funding from the Netherlands-based Prince Claus Fund, Afghanistan's first national graffiti art festival in Kabul. Over 10 days, artists from three provinces attended workshops that culminated in an exhibition.
"Mostly, the young generation came," she says. "We did some (murals) outdoors as well, but not a lot because the situation was not very good and I was scared something would happen to the artists."
During her Hammer residency, Hassani finished a West Adams mural — a young woman dancing with an electric keyboard on the side of 4900 Gallery at 4900 W. Adams Blvd. The Hammer introduced Hassani to the artist Kenny Scharf, who helped her to secure permission to paint the wall. His characteristically cartoon-like mural, painted in 2014, appears beside hers.
Hassani also had some paintings on canvases exhibited at Seyhoun Gallery on Melrose Avenue. She sold a few of them for upward of $3,000 apiece.
These new gallery paintings, like the murals, are depictions of women in Afghan clothing, with a guitar or keyboard, surrounded by Dari text. They share a sense of childlike optimism but also a melancholic edge.
"I call my latest body of work 'Birds of No Nation,'" Hassani says. "People in my country are all the time traveling somewhere to stay safe and find a peaceful life. And we are missing a lot of our friends and family who have left the country. Usually birds are traveling all the time; they have no nation."
Hassani will return to Kabul on March 17. With her West Adams mural completed and the gallery show wrapped up, she plans to spend much of her time left in L.A. viewing, rather than creating, art.
When she travels, people assume she's focused on the beauty of the land, but mostly she's thinking about the fact that she feels safe.
"That's the only thing that I want," she says. "To feel safe, to be happy, to make art and to feel free."
Sitting in her living room, surrounded by recently finished paintings, she adjusts the dark scarf draped around her head and shoulders.
"In Afghanistan, it's difficult just to walk in the street at night. You will not see women in the street alone at night," she says. "But here, everybody can go outside alone. For me, freedom is to be OK with the thing that you are, who you are. Here, I can paint with a free mind. I can paint any time I want — and I can finish it, if I want."
bendbulletin.com/nation/4131938-151/afghan-woman-uses-street-art-to-bring-color
--------
Young Afghan Woman, Boxer Sadaf Rahimi, Packs a Punch against Patriarchy
Mar 19, 2016
Nineteen-year-old Afghan boxer Sadaf Rahimi slams her punching bag deep in the bowels of Kabul's Ghazi stadium, dealing blows to gender stereotyping and doing her part to exorcise history: it was on these very grounds that the Taliban carried out public executions.
Sadaf, whose shy gaze seems at odds with her muscular 60kg (130lb) frame, pulls on her gloves. A liberating spasm accompanies each blow that crushes the leather mitts of Agha Gul Alamyar, one of her trainers.
Sadaf is a brilliant boxer. But she is also an exception in this conservative Muslim country where women participating in sport remains a taboo.
Her black pirate bandana serves not just to hold her hair in place, but to cover it. "I also wear a scarf in my everyday life because we live in a conservative country," she says.
The Taliban's regime, known for its brutal treatment of women, was toppled in 2001 by a US-led military alliance. Since then, women's rights have improved, but a bitter patriarchal aftertaste remains for many Afghan women pressured to stay at home to cook and raise children.
At all of 19 years of age -- seven of which she has spent in the ring —Sadaf sees a moral obligation "to prove that men and women can be equal. Girls are not forced to stay at home".
Going back in time
Born to a middle-class family from the Tajik ethnic group, Sadaf had to first make the case for boxing — which she discovered by watching Mike Tyson and Laila Ali on TV -- to those closest to her.
"At first my family was opposed to me boxing. They were saying: 'Why is a girl boxing? She should stay home, do the chores and cook.' My aunt is still against it," recalls the young woman, who is also pursuing a degree in economics.
She is taking a stand on misogyny and against the darkest hours of Afghan history, by training inside Ghazi stadium which the Taliban used for their public executions during their 1996 to 2001 regime.
One of these executions was filmed in secret in 1999. The images show a woman, Zarmina, being executed by Kalashnikov fire for having killed her violent husband.
"It's a pleasure to train her," says Agha Gul Alamyar, Sadaf's trainer. Like other young women, Sadaf has to contend with poor equipment and basic infrastructure.
The mats are threadbare and the gloves and punching bags are old and worn out.
"We lack everything, gloves, and boots. There is no encouragement for the girls," he says. The federation currently counts only 20 women in its ranks.
Thirst for gold
In an effort to boost the sport among women, Sadaf wants to set up her own club and become a trainer. But first she must mount the podium in international competitions, a distant dream.
She has already brought home three bronze medals in regional competitions, but isn't yet up to Olympic standard -- the sport's Holy Grail.
In 2012, Sadaf lied in order to accept an invitation by the Olympics organiser. But the International Boxing Association eventually did not allow her to leave for London, fearing her better trained opponents could seriously injure her.
And this year, she won't be going to Rio. This time around the reasons are more prosaic -- her defeat in the South Asian Games in India in mid February means she won't be Olympics bound.
"I am disappointed," she said. "In India I was completely alone. No trainer came with me, I had no support at all."
asianage.com/other-sports/young-afghan-packs-punch-against-patriarchy-582
--------
India: Madras HC Stays 'Triple Talaq' Issued To Muslim Woman Allegedly Tortured For Dowry
March 19, 2016
The Madras High Court on Friday came to the rescue of a Muslim woman by staying the order of a lower court in Periyakulam which upheld the "triple talaq" sent by her husband through telegram in 2009.
Hearing the petition by Nazeema, whose husband Mydeen Batcha divorced her via telegram, Justice R Mahadevan directed the husband to file his counter in three weeks.
Nazeema submitted that she married Batcha in 2007 when 35 sovereigns of gold and Rs 40,000 was provided as dowry.
However, her husband and in-laws tortured her and demanded more dowry, she alleged.
She further submitted that she had lodged a complaint with the all-women police station against her husband and his family for illegally detaining her, criminally intimidating her and also under Dowry Prohibition Act.
Even as a case was pending in the Judicial Magistrate's court, her husband offered to lead a peaceful matrimonial life.
Believing his words, she withdrew the complaint, she stated. However, after the withdrawal of the complaint, he divorced her by sending talaq by telegram on July 16, 2009.
When she moved the sub-court, it ruled that the talaq was null and void. But the Additional District Court Judge of Periyakulam allowed the appeal filed by her husband and upheld the talaq last year.
The issue should be discussed before the elders and there were procedures to be followed after that. Sending talaq by telegram was against the Muslim Marriage Act, her counsel contended.
thenewsminute.com/article/madras-hc-stays-%E2%80%98triple-talaq%E2%80%99-issued-muslim-woman-allegedly-tortured-dowry-40486
---------
Baptist Woman Wearing Muslim Hijab to Show 'Solidarity'
3/18/2016
To protest the anti-Muslim rhetoric of this presidential campaign, high school counselor Martha DeVries decided to wear a hijab in public every Monday.
DeVries, 47, attends a Baptist church and identifies as "a follower of Jesus," but said she felt a responsibility to outwardly display her acceptance of Muslims and refugees.
In the January/February 2016 issue of Herald, Baptist News Global's magazine, where her story first appeared, she said, "We have a lot of immigrants living close to the high school where I work," adding that when the weather's nice the local park "looks like the United Nations."
DeVries said she also felt inspired by a sermon her pastor delivered on making a difference.
She started in December and hasn't received any negative comments on the street or in the school. But one commentator who read her story on Facebook wrote: "Just wait till theymake you wear that, or they chop off your head if you don't agree with that."
"I've also had people ask, 'Don't you think you are perpetuating this really ultraconservative, degrading view of women by wearing a hijab?'" DeVries said.
She said her motivation is merely to "walk in someone else's shoes," which she plans to continue until the end of the school year in May.
"It's really easy to be a Christian in the United States. Lots of people share my faith, lots of people share my holidays, so it's not really a struggle," she said.
"What's a headscarf? It's 3 yards of material. That shouldn't separate me from someone whose humanity is so much like mine."
Her husband, Mike DeVries, a part-time youth pastor, supports his wife's gesture.
"Christians need to take a step back and evaluate their actions," he said. "Are we really making a difference, in what our purpose is, by bashing people?"
DeVries has made Facebook friends with Muslim people all over the world interested in her story.
And to the critics, she responds that her friends who wear hijabs are by no means subservient.
"They are very strong, independent women who choose to cover their heads as part of their faith. I don't feel like it's because they feel intimidated to do that," said DeVries, who is not the only American Christian to don a hijab out of solidarity.
Several months ago, a tenured professor at Wheaton College near Chicago posted a photo of herself wearing one with a caption that said Muslims and Christians "worship the same God." The evangelical school suspended her and she eventually agreed to leave her post.
Laeeq Azmat, secretary of the Islamic Center of Northland in North Kansas City, said he appreciates DeVries' gesture.
"This particular act is very helpful—a Christian sister helping us or helping other Christians realize how a person might feel in the scenario," he said.
charismanews.com/us/55945-baptist-woman-wearing-muslim-hijab-to-show-solidarity
-------
Protesters Mark 1 Year since Killing of Afghan Woman, Farkhunda
18 Mar 2016
KABUL, March 18, (AFP): Wearing masks bearing an impression of her bloodied face, dozens of Afghans protested in Kabul Thursday to demand justice for a woman savagely killed a year ago after being falsely accused of blasphemy.
The mob killing of the 27-year-old woman known as Farkhunda in broad daylight last March triggered angry nationwide protests and drew global attention to the treatment of Afghan women. Protesters, some with fake blood on their faces, chanted "Justice for Farkhunda!" on the banks of Kabul River where the frenzied mob turned on her. "The murder of Farkhunda touched us all. It was an unforgettable crime against humanity," Laila Qarayi, a women rights activist.
Street plays reenacted her grisly death, symbolising public anger over a Supreme Court ruling last week that upheld reduced sentences for the men convicted of her murder. The court vacated the death penalty in four cases, reduced prison terms to 20 years in three others and 10 years in the fourth.
It also cut the sentences of nine other defendants. "It is a matter of great shame for our political and justice systems that justice was not delivered in this case," said Kabul University lecturer Saifuddin Saihoon. A spokesman for Afghan President Ashraf Ghani told AFP that the country's attorney general has been "instructed to make justice for Farkhunda his top priority and review the case".
But when contacted by AFP, a spokesman for the attorney general said they had not received instructions from the president for any review. Farkhunda was attacked on the banks of the Kabul River after an amulet seller, whom she had reportedly castigated for peddling superstition, falsely accused her of burning a copy of the Holy Quran.
arabtimesonline.com/news/protesters-mark-1-year-since-killing-afghan-woman/
----------
Women Try On Hijabs at Catholic Boston College Islamic Awareness Week Event
18 Mar 2016
The first Islamic Awareness Week at Boston College featured an event in which women were invited to wear the Muslim hijab and learn more about the lives of Muslim women.
The "Hijab Booth" has been a popular event worldwide used to encourage Western empathy for Muslim women.
"A lot of people want to stereotype and say that Islam oppresses women and makes them cover their hair, or something like that," Muslim Student Association (MSA) president Ahad Arshad said, according to The Heights, the newspaper of the Catholic Jesuit school and its surrounding community. "But obviously there are women who do it in their own free will, and it's better if people can just see that."
Arshad said the hijab event helps non-Muslims understand why Muslim women choose to wear the head garment.
"It eliminates that fear factor, like that 'Oh this is so foreign to me, I've never seen that before,'" he said. "If you see it on campus, you know girls wearing hijabs and talking openly about it and how they've made that choice on their own, independently, it definitely makes it less alien."
However, a recent Muslim educational video – "Salma and the Hijab" – featured a young Muslim girl who is taught by her mother that to choose not to wear the hijab – or to wear Western style clothing – would bring her "closer to Satan."
Salma's mother says in the animated video produced by Qatar's government-owned Islamweb.net:
The hijab, my daughter, is a natural thing for the Muslim woman. The Prophet Muhammad ordered us to wear it, so anyone who abides by this is being obedient to Allah and His Prophet, and she gets many rewards. As for someone who does not wear the hijab, revealing parts of her body, like her hair, her arms, her neck or her legs – she is closer to Satan and denying Allah, the All Merciful. A Muslim woman must wear the hijab, and must not wear just any item of clothing she sees in the market. Islamic clothes have special requisites.
In December, Muslim women Asra Q. Nomani and Hala Arafa denounced these "hijab booth" events in which they claim Americans are getting "duped" by a Muslim sexist agenda. They say they would rather see Americans stand against the ideology of Islamism that represses women and demands Muslim women cover themselves.
Nomani and Arafa explain that while both were born into conservative families that had no edict for women to cover their hair, following the Iranian revolution of the minority Shia sect in 1979 and the rise of the "well-funded" Saudis from the majority Sunni sect, they "experienced bullying to cover [their] hair from men and boys."
"This ideology promotes a social attitude that absolves men of sexually harassing women and puts the onus on the victim to protect herself by covering up," the women write. "The Muslim Reform Movement, however, supports the right of Muslim women to have the option of wearing the hijab or not."
"As Americans, we believe in freedom of religion," the women state, adding:
But we need to clarify to those in universities, the media and discussion forums that in exploring the "hijab," they are not exploring Islam, but rather the ideology of political Islam as practiced by the mullahs, or clerics, of Iran and Saudi Arabia, the Taliban in Afghanistan and the Islamic State.
Though Arshad says he himself has not experienced any "ignorance or hatred" at Boston College (BC), other colleges' MSAs have been holding these types of awareness events.
"I have never really faced any stereotyping or ignorance or hatred, at least not to my face," admits Arshad. "I can't think of anyone who has done or said anything Islamophobic."
The MSA president said the goal of Islamic Awareness Week is to present Islam as a "religion of peace."
"Given that this is a Catholic university, and most students are Catholic, what better topic for Muslims to engage students with than someone as revered as Jesus?" he said.
The MSA at BC was reportedly launched six years ago as a means to educate people about Islam and gather together the Muslims on the campus.
The Investigative Project on Terrorism (IPT) observes that the MSA of the United States and Canada was incorporated in January 1963, when members of the Muslim Brotherhood came together at the University of Illinois Urbana-Champaign with the goal of "spreading Islam as students in North America."
"Islamic extremism is on the rise on college and university campuses across the United States," IPT states. "The spread of radical Islamism on campuses has proven to be an effective tool to garner support and gain legitimacy, exploiting the right of free association with academic institutions."
IPT maintains that the Muslim Brotherhood-influenced MSA often uses college and university campuses as a means to gain support through campaigns based on diversity and tolerance.
"International and domestic groups that advocate extremist or radical causes frequently host lectures and other events on campuses to shore up support and recruit members," IPT states. "Indeed, universities are a fertile field for radicals searching for the next generation of activists and sympathizers."
Islamic Awareness Week at BC also featured lectures, presentations, art, free henna tattoos, snacks and chai, and a forum for open questions about Islam.
breitbart.com/big-government/2016/03/18/women-try-on-hijabs-at-catholic-boston-college-islamic-awareness-week-event/
----------
Kimberley Motley: From beauty pageants to Afghanistan' s only foreign lawyer
18 Mar 2016
Kimberley Motley's clients range from imprisoned Afghan women to foreign security contractors
When the US lawyer Kimberley Motley first arrived to work in Afghanistan in 2008, she admitted she had come for the money, "like half the people here". She had student loans to pay off and a family back in America to support.
Eight years later, the former Wisconsin beauty queen is the only foreigner with a licence to litigate in Afghanistan's courts, and her work is the subject of a new documentary, Motley's Law.
Her clients range from imprisoned Afghan women in Kabul's Badam Bagh prison to foreign security contractors, as well as kidnap and rape victims. She also offers free legal advice to children in juvenile detention centres.
In one of her most high profile and contentious recent cases, she represented the family of Farkhunda Malikzada, the 27-year-old woman beaten to death by a mob after being falsely accused of burning a Koran. Speaking to The Independent, Ms Motley expressed her frustration at the way that the case against Ms Malikzada's attackers eventually unfolded. In the original trial, there were 19 criminal convictions. Eight were for police officers failing to render assistance. Four men were sentenced to death.
"It puts people on notice that if you see a person getting hurt, you have not only a moral obligation to step in, but also a legal obligation," Ms Motley says of the conviction of the police officers. "I don't think the verdicts were perfect but with mob violence-like cases, it is very difficult to get everybody."
But the euphoria at the decisions of the "first" court soon evaporated. Ms Motley and the family came under "heavy pressure" to step aside. "The reason I got off that case was that the family was heavily pressured by the government to get off that case. Actually, I was pressured specifically by people at the Presidential Palace to the point where I was forced to go to the Palace late at night to talk about why I was representing the family."
In subsequent rulings, the sentences were watered down. Ms Motley suggests that various requirements of Afghan law were ignored as the original decisions were overturned. "I was satisfied by the first court. The second and third courts have been a real travesty. I think it definitely is step backwards for Afghanistan legally and morally," the lawyer states. "It is just another example that women's lives in Afghanistan just do not mean as much as men's do."
Motley's Law, directed by Nicole Nielsen Horany reveals that Ms Motley is both extremely respectful of Islamic law – and fiery and stubborn in the extreme when it comes to defending her clients. She is an inspirational figure, "a badass lawyer fighting for justice" as she has often been styled.
After first arriving in Kabul, Ms Motley immersed herself in the workings of the Afghan legal system. She describes herself as "a legal archaeologist," always trying to "dig up laws" that might help her clients. In particular, she points to chapters and verses in Islamic texts that protect women. For example, she points to a passage which says that, in order to accuse someone of adultery, you must have four eye-witnesses. "There are never four eye-witnesses in court but I can use that chapter and verse in court to litigate successfully for my client." She also cites a line, "a woman is never to be inherited", which she interprets as "never be forced to marry".
In the hope of hot water, security and electricity, Ms Motley had gone to the Serena Hotel in Kabul just before it was attacked by Taliban gunmen in March 2014. She hid in a hotel room during the shooting. Witnessing the bloodshed was a reminder of just how dangerous the city could be.
In spite of having lived with the constant threat of violence throughout her time in Afghanistan, Ms Motley was shaken by the incident. In 2014, she relocated her law firm to a new, undisclosed location in Afghanistan. She has also begun to take on more cases outside the country. Nonetheless, her commitment to the country remains. Ms Motley grew up in Milwaukee, the daughter of an African-American father (who served in the US Navy) and a Korean mother. As she invariably jokes when asked if she is intimidated by Afghanistan, "I always tell people that I grew up in a tough neighbourhood."
The documentary, which opens with her coming back to her Kabul apartment to discover that somebody has lobbed a grenade into her building, makes it very clear Ms Motley is not the type to be cowed by the threat of the violence. "I can't work like that, I work better angry than fearful," Ms Motley declares. "Fearful – it just cripples you. If I am too afraid in Afghanistan, I don't need to be there. I am not going to be effective. It just is what it is."
Motley's Law is released on 1 April
independent.co.uk/news/world/asia/kimberley-motley-from-beauty-pageants-to-afghanistan-s-only-foreign-lawyer-a6940456.html
---------
Rep. Rangel Marks Iraq War Anniversary By Pushing For Women In Selective Service
March 18, 2016
(CNSNews.com) - Rep. Charlie Rangel (D-N.Y.) posted a video Friday marking the anniversary of when the U.S. and its allies invaded Iraq and says that "everybody has to be eligible between 18 and a reasonable age" for Selective Service, including women.
"We're now going through the 13th anniversary of the Iraq war," Rangel says in the video. "Guess what? War has never been declared."
"The tens of thousands of Americans have sacrificed their lives for political reasons – and yet – the Constitution requires the president and the Congress have to do this.
"That's why it's so important before these decisions are made, we have to make certain how much it's going to cost, that national security really requires it, and the president has to have the Congress to vote for war," Rangel adds.
"That means everybody has to be eligible between 18 and a reasonable age. Men and women have to be prepared to serve – and if they're not – Congress needs to respond and say, 'why not?'"
Rangel has introduced bills to reinstate the draft in every Congress since January of 2003.
According to his website, Rangel's Draft Act requires all men and women between the ages 18 to 25 to register for the Selective Service System and for the reinstatement of a lottery to draft them into the military whenever an authorization on the use of military force or declaration of war is in effect.
cnsnews.com/news/article/eric-scheiner/rep-rangel-marks-iraq-anniversary-pushing-women-selective-service
----------
Schoolgirl mob tear off Muslim worker's hijab and hurl racist abuse in Sutton Poundland store
Wednesday 16 March 2016
A mob of schoolgirls hurled racist insults at a Muslim shop worker and tore a hijab from her head in shocking town-centre abuse.
Masoomeh Jafari, 26, was left terrified when she was targeted after a group of "20 to 30" young people poured into Poundland in Sutton High Street.
About five of the girls, thought to be aged between 11 and 14, called her a "f***ing Muslim" after she tried to stop them stealing things at about 3pm on Sunday. One girl was said to have repeatedly ripped off the shop worker's headscarf.
Miss Jafari, who lives in Sutton town centre, said: "They came in here shouting and stealing things and I told them to stop.
"A group started swearing at me, saying things about my religion and the clothes I wear. Then they grabbed my head scarf twice.
"I was very frightened."
A member of the public who came to Miss Jarafi's help and later called the police said she was appalled by what she witnessed.
Patricia Rose, 69, of Belmont, said: "I was sat in Costa when a big group of girls and a few boys come into the shop.
"They were saying 'f*** this' and 'f*** that' and they were trying to get back into the shop after they had tried to steal things.
"I then went into Poundland and saw the lady. She is a delightful person and her head was down.
"She told me that the children had pulled at her hijab and had sworn at her.
"It's so, so wrong what they did."
Police officers attended the shop but the group had left and there was no CCTV footage to help identify those involved.
Shop staff believe some of the young people were Greenshaw High School pupils who have previously stolen from the store and shouted Islamophobic abuse at Miss Jafari, who has worked there for six years.
The shop worker said: "This has happened before. Sometimes they come in after school, sometimes on the weekends, we catch some of the children stealing from the shop and they are rude to us.
"I was really upset after it happened.
"I told my parents about it and they said that I should think about finding work somewhere else.
"But I have been here for so many years and this was not a problem until recently."
A spokesman from Sutton police said it had no record of the abuse, adding: "We would encourage anyone who has been a victim of hate crime to report it and we will investigate it robustly.
"Hate crime is an under-reported crime and should be reported when it occurs."
Greenshaw High School said it had not received a complaint about it pupils but would investigate if it did.
A Poundland spokesman: "We cannot comment on this at the current time but we are looking into the matter."
asianimage.co.uk/news/14348485._Schoolgirl_mob__tear_off_Muslim_shop_worker_s_hijab_and_hurl_racist_abuse/?ref=ebmpn
------
Syrian swimmer hopes to represent refugees at Rio Olympics
March 19th, 2016
BERLIN: One year after swimming for her life in Greek coastal waters, Syrian refugee Yusra Mardini could be swimming at the Olympics.
The 18-year-old Mardini is hoping to be selected for a small team of refugees that will compete under the Olympic flag in Rio de Janeiro in August. Yusra says: "I want refugees to be proud of me."
Yusra fled Damascus with her older sister Sarah last August and survived a hazardous crossing on the Aegean Sea to reach Europe.
Now she trains at a pool built for the 1936 Olympics in Berlin. She is among 43 refugees from different countries in contention for the International Olympic Committee's "Refugee Olympic Athletes" team.
dawn.com/news/1246542/syrian-swimmer-hopes-to-represent-refugees-at-rio-olympics
-----
Adela Raz Appointed Afghanistan Deputy Foreign Minister for Economic Affairs
By Ghanizada - Sat Mar 19 2016,
President Mohammad Ashraf Ghani has appointed Adela Raz as the new Deputy Foreign Minister for economic affairs, the Administrative Office of the President said.
Adela Raz was serving as deputy spokesman to the former Afghan President Hamid Karzai and her appoint as deputy foreign minister for economic affairs has been widely welcomed.
According to the Administrative Office of the President, Raz was appointed based on the recommendations of the Ministry of Foreign Affairs and President Ghani's decree.
This comes as Ghani vowed to pay more attention for bringing positive changes in the lives of the Afghan women as he was preparing for the Presidential Elections earlier in March 2014.
During a gathering organized on the occasion of International Women's Day, Ghani said the women will be given more opportunities in economic, education and health sectors.
Meanwhile, he reaffirmed commitment to provide more opportunities to the women in the government of national unity during a gathering earlier in March last year.
Ghani further added that the women should be confident that the assignments in his government will be based on qualification not relationship.
Meanwhile, the United Nations Assistance Mission in Afghanistan (UNAMA) noted the progress mainly in constitutional guarantees on non-discrimination, the enactment of the Elimination of Violence Against Women (EVAW) law criminalizing harmful traditional practices, and, most recently, the adoption of the National Action Plan on UN Security Council Resolution 1325 (2000) committing to promote women in leadership and their meaningful participation in conflict-prevention, peace negotiations and post-conflict processes.
The UN mission in Afghanistan issued a statement earlier this month on the eve of International Women's Day, under the global theme of Planet 50-50 by 2030: Step It Up for Gender Equality.
UNAMA said it also recognizes the increased representation of Afghan women in the workplace – including within Afghan Ministries, Parliament and civil society – and Afghan women's significant contribution to the economic and social development of the country.
khaama.com/adela-raz-appointed-deputy-foreign-minister-for-economic-affairs-0385
URL: https://newageislam.com/islam,-women-and-feminism/new-age-islam-news-bureau/afghan-woman-uses-street-art-to-bring-colour-to-war-torn-kabul/d/106707
New Age Islam, Islam Online, Islamic Website, African Muslim News, Arab World News, South Asia News, Indian Muslim News, World Muslim News, Womens in Islam, Islamic Feminism, Arab Women, Womens In Arab, Islamphobia in America, Muslim Women in West, Islam Women and Feminism