New Age Islam News Bureau
16 Jun 2020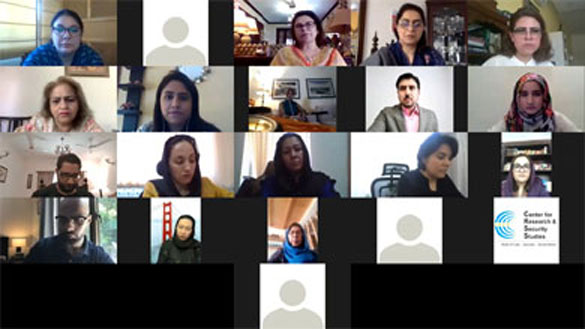 Formulation of a Pak-Afghan Bilateral Women Commission in which women leaders from all sectors come together to address and resolve current challenges faced by women in both countries
-----
• Egyptian TikTok Girls Face Criminal Trial
• Saudi In Renewed Bid to Empower Women in Judiciary: Report
• Women Groups Condemn JUI-F's Campaign Against Academic Dr ArfanaMallah
• Religious Women's Centre in Iran Blames Child Marriage Opponents for Honour Killing
• Egypt Parliament Allocates 25% Of Seats to Women
• UAE-Based Female Pilot, Captain MadhusmitaPatnaik, Does A First, Flies Repatriation Flight to Her Hometown in India
Compiled by New Age Islam News Bureau
URL: https://www.newageislam.com/islam-women-feminism/afghan-woman-leaders-seek-help/d/122136
--------
Afghan Woman Leaders Seek Help from Pakistan In E-Commerce, E-Learning
JUNE 16, 2020
Mehnaz Akbar Aziz, Member of Parliament, Pakistan, Mehnaz on Tuesday said that Afghan President Ghani has recently said that Afghanistan now has the closest alignment with Pakistan on the peace process and hopes that it would translate into cooperation in other areas as well.
Speaking at a virtual cross-border women's dialogue on "Socio-Economic Impact of COVID-19 on Women in Pakistan and Afghanistan", she was of the opinion that additionally appointing a woman co-ambassador or deputy ambassador would be a tangible gain. This would help in resolving women related issues across the border in a swift manner. Commenting on the global pandemic, she said that for COVID-19 approaches to be responsive and to address the gendered impact, women must be at the center of COVID-19 recovery efforts. This starts with women's equal representation and participation in decision-making. She also suggested formulation of a Pak-Afghan working group on COVID-19.
The dialogue was organized by Center for Research and Security Studies (CRSS), as part of its Pakistan-Afghanistan Track 1.5/II diplomacy – Beyond Boundaries.
ShinkaiKarokhail, senior Afghan politician and rights activist, stated that COVID-19's impact has doubled or tripled women's responsibilities in Afghanistan and it will slow down the access of girls to education even more. It is feared that because of the economic impact of COVID-19, families will further prioritize educating boys rather than girls, while the number of out of school children is feared to increase – especially the number of girls. Online learning is better than nothing, but it has created a digital divide. People who have access to these devices can benefit, but the majority of the students in rural areas do not have access to computers or TVs and internet. The pandemic also added to the miseries of Afghan women, often working in informal sector. Now, they are at verge of losing their jobs; a large number of which are widows. Besides that, these women also face physical and psychological abuse. She also recommended that a mechanism be devised for Afghan women entrepreneurs to learn from Pakistani business women the techniques of e-commerce.
Moreover, she added that the COVID-19 crisis represents an opportunity to empower women as key leaders and decision makers to respond effectively and to build longer-term resilience and social cohesion of communities. Lack of diversity and failing to leverage women's expertise and talent in decision-making can limit an effective response.
Earlier, ImtiazGul, Executive Director CRSS, while welcoming the delegates stated that adding the women component in Beyond Boundaries is good way of building on what CRSS has been doing since 2015. He opined that while the politics remains toxic and most of the leaders keep clinging to the baggage of history, we at the civil society should at least try to detach from official narratives. Instead, we should mine on positives, to generate significant goodwill and resolve bilateral issues together, in a positive environment, he added.
MuzammilShinwari, who heads the organization for Economic Studies and Peace (OESP) – counterpart of CRSS in Afghanistan, enunciated that Pakistan has a good experience in distant learning such as Virtual University and Allama Iqbal Open University of Pakistan. Recently, Pakistan also started Tele-School amid pandemic. So, Kabul can get technical assistance from Islamabad regarding remote education.
Later on, after a comprehensive discussion on the socio-economic impact of COVID-19 on women in both countries, AmmaraDurrani, who was moderating the session, along with CRSS team, penned the following joint policy recommendations, which were proposed by the delegates on both sides.
Formulation of a Pak-Afghan Bilateral Women Commission in which women leaders from all sectors come together to address and resolve current challenges faced by women in both countries through collaborative measures via this platform. Considering the current COVID-19 situation, personal and household hygiene awareness needs to be raised by government agencies, media, civil society platforms and donor organizations. In addition, personal hygiene kits can be provided to those in need.
Furthermore, participants recommended that, as during the pandemic domestic abuse has been on the rise in both countries, females in Afghanistan can also avail the e-medical and psychotherapy services provided by Pakistan to get help and awareness on how to deal in this difficult time. Also, Afghanistan can also adopt the same model on their online platforms.
Representatives of Islamabad Women Chamber of Commerce & Industry (IWCCI) extended their offer to Afghanistan Women Chamber of Commerce & Industry (AWCCI) to provide e-commerce training services, particularly on how to digitalize businesses using online platforms to Afghan businesswomen in order to enhance their skill development and help expand their businesses.
Inclusion of women leaders/activists in the peace process for their first-hand representation as they constitute 46% of the Afghan population and can best voice their issues on their behalf. Currently, there is limited women representation in the peace process but the participants urged to increase the numbers as well as engage women activists from all sectors of the Afghan society.
Furthermore, participants urged there should be women representation from the Taliban side as well in the intra-Afghan talks to include their voices.
https://dailytimes.com.pk/627322/afghan-woman-leaders-seek-help-from-pakistan-in-e-commerce-e-learning/
--------
Egyptian TikTok girls face criminal trial
SALMA AHMED
June 16, 2020
CAIRO: The defendants in the case known as the "TikTok Girls" faced their first criminal hearing on June 15.
The defendants, HaneenHossam and MawadaEladhm, are accused of violating family principles and values in Egypt and inciting debauchery. They were also charged with creating private accounts online for purposes of decadence.
The two are currently facing nine charges as well as three felonies. Most prominently, they are accused of participating in soliciting and exploiting girls through live broadcasting, violating the values and principles of the Egyptian family, human trafficking, sharing videos that incite immorality in order to increase their viewership and followers, and encouraging teenage girls to publicly share videos similar to theirs in terms of immorality.
They were also charged with fleeing justice and attempting to disguise and encrypt their phones and social media accounts.
"I didn't do anything that deserves this punishment. All of Egypt is on the app (TikTok) posting content," Eladhm, who reportedly has 3.1 million followers on the popular social network, said during her hearing.
If the pair are convicted over the accusation of publishing inappropriate images and videos, they will be given jail terms of up to two years and forced to pay a fine of up to 10,000 Egyptian pounds ($618). The punishments are in line with publishing inappropriate images according to Article 178 of the Egyptian law on such penalties.
If they are convicted of encouraging prostitution through social media, they will face a prison sentence of a maximum of three years and a fine that could reach 100 pounds ($6). Again, such punishment is imposed on anyone who promotes prostitution, according to Article 14 of Law No. 10 of 1960.
Criminal trial
The public prosecution had ordered Hossam and Eladhm as well as three other defendants to be referred to a criminal trial. The decision came after Hossam, a Cairo University archaeology student who has 1.2 million followers on the social media app, was reimprisoned after being faced with new evidence that resulted in her electronic devices being seized.
Cairo Economic Court delayed an initial hearing into the case to June 29.
Hossam and Eladhm are not the only TikTok creators to get in trouble with Egyptian law. On June 14, the judge in the South Giza Court renewed the detention period of the defendant, popular TikTok star Menna Abdel-Aziz, for 15 additional days as the investigation surrounding the case is still in progress.
Authorities revealed that 17-year-old Abdel-Aziz was physically assaulted and raped. Authorities also revealed that Abdel-Aziz was robbed of her phone and cash, which were on her possession, by a male friend who allegedly assaulted her, while another reportedly raped her.
A female friend of Abdel-Aziz is said to have filmed the incident, then went on to publicly share some of what she filmed on social media.
Video-sharing platforms such as TikTok have been gaining popularity in Egypt in recent years, but their content creators have been condemned for making videos in which they dress and behave in a way that many in Egypt deem suggestive, inappropriate and against the law.
https://www.arabnews.com/node/1690456/offbeat
--------
Saudi In Renewed Bid to Empower Women in Judiciary: Report
16 JUNE 2020
Riyadh, June 16 (IANS) Two years after the Saudi Shura Council blocked a call for appointing women as Judges in the Kingdom, the consultative body is expected to vote on Wednesday on a recommendation specifically suggesting to appoint women as judges in the personal status courts, a media report said on Tuesday.
The council''s member Isa Al Gheith has tabled the latest proposal that has received backing from some colleagues, the Gulf News report said.
"The Saudi judicial system has not made judicial posts limited to males," Latifa Al Shaalan, a female council member backing the new bid, was quoted by Saudi newspaper Okaz as saying.
"Nor is there any clear text in the Islamic Sharia banning women from being judges," she said.
The Shura member pointed to the appointment of women as judges in several Arab countries including Kuwait and Egypt.
In recent years, Saudi Arabia has adopted a series of dramatic social and economic reforms, mainly towards women, the Gulf News report said.
In 2018, women were allowed to drive cars, ending a decades-old ban in the kingdom.
Last August, Saudi women were allowed to travel without a male guard''s approval and to apply for a passport, easing long-time controls on them.
https://www.outlookindia.com/newsscroll/saudi-in-renewed-bid-to-empower-women-in-judiciary-report/1867558
--------
Women Groups Condemn JUI-F's Campaign Against Academic Dr ArfanaMallah
June 16, 2020
Various women rights groups have jointly condemned the levelling of false accusations against Sindh University academic and activist Dr ArfanaMallah by a religious party, and said that they strongly oppose the weaponisation of blasphemy and sedition charges that are repeatedly used as an instrument to silence dissenting voices in this country.
In a joint statement, the Women Action Forum, the Women Democratic Forum, the SindhiyaniTehreek, the Sindhi AuratTanzeem, AuratHaq (Karachi), Hum Aurtein (Lahore), the Feminist Collective, the Girls at Dhabas, the Feminist Fridays and Auat March have shown their concerns over attempts being made by the JamiatUlem-e-Islam-Fazl (JUI-F) to lodge a false case against Mallah.
"We believe that this attack on Dr ArfanaMallah is a dangerous development, and targets not only Dr Mallah and her personhood but also the women's movement in Pakistan. We see it as continuation of the coordinated attack and collusion by patriarchal forces within and outside the state, corporate and state media, and religious-political forces against all critical intelligentsia, student movements and people's resistance movements across the country," they said. "We also believe that this is a collective attack on the critical voices within the academia."
The women rights groups said they stood together to collectively resist all those – within and outside the state – who attempted to attack or undermine the struggle for women's emancipation in Pakistan.
"We also reject the state backing of the religious right that seeks to uphold patriarchal structures in Pakistan and subjects women to state violence and exploitation on a daily basis."
The women groups also announced they would rise against the draconian colonial-era laws, the laws made by Zia's military regime and the ruling elite, and the laws made under the pretext of the war on terror, which, they said, were continuously relied on to silence dissenting voices in Pakistan. "It is high time all laws that are continuously used as a coercive means to crush innocent voices were repealed. Pakistan needs democratic legislation that advances democratic values, social justice, equality and freedom of expression."
SHRC's concerns
The Sindh Human Rights Commission has also shown its concerns at the current reports regarding harassment, intimidations and vindictive actions against human rights activists, including Mallah.
A statement issued by SHRC chairperson Justice (retd) MajidaRazvi on Monday said that the commission was considerably alarmed at the harassment of human rights activists across the Sindh province under the cover of blasphemy, particularly in the case of Dr Mallah, wherein reportedly police are being pressurised to lodge an FIR against her.
"Although the police have shown restraint in lodging an FIR against Prof Mallah, the commission finds this trend of settling ideological rivalries under the cover of blasphemy very dangerous for peace and security of the province.
"The commission, therefore, urges the authorities and all the stakeholders not to use the religious card to counter each other's ideological differences." Rather, the commission said, stressed the need adopting the path of dialogue and discourse in the interest peace and stability, justice and preserving pro-rights and humanitarian character of the province.
https://www.thenews.com.pk/print/673267-women-groups-condemn-jui-f-s-campaign-against-academic-mallah
--------
Religious Women's Centre in Iran Blames Child Marriage Opponents for Honour Killing
June 16, 2020
The Center for the Management of Female Islamic Seminaries in Iran has lambasted human rights advocates for protesting child marriage.
Referring to the case of the fourteen-year-old RominaAshrafi whose father recently beheaded her for eloping, the fundamentalist center said in a statement on Monday, June 15, that the groups against child marriage should also be charged in the murder case.
Romina was killed with a sickle on May 21, in the city of Havigh, Talesh county, northern Iran. Her father was detained after widespread reaction to the tragedy across the country and on social media.
RominaAshrafi had fallen in love with a man in her hometown and after her father vehemently opposed their marriage, she fled with him. Later, regardless of Romina's warning that her father would kill her, police arrested and handed her over to the family.
The center in charge of seminaries for women argues that if she could have married the man no murder would have taken place. But in fact her family was opposed to the marriage.
The center has presented a list of what it calls "low-key suspects" involved in Romina's murder, accusing them of defending western-style women's rights.
Furthermore, the statement published on its official site has blasted "people who label the under-eighteen-year-old brides as children.
The statement has also accused women's rights activists of "sending a message to families to consider their teenagers as children.
The media has also been targeted by the center's statement, which maintains, while the "Taleshi girl incident is widely covered", the media disregards "the crime of [abortion and] dismembering nearly 300,000 silent and oppressed fetuses each year."
Although a few Shi'ite seminaries in Iran have been able to resist incorporation into the state bureaucracy, women's seminaries are totally run and funded by the state.
Exclusive seminaries for women was initially established by the founder of the Islamic Republic, Ayatollah Ruhollah Khomeini in 1984.
Women in the fundamentalist seminary consider themselves proselytizers for political Islam (mobaleghīn); they participate in a plethora of women's religious gatherings, popularizing the idea of revolution and religious world order.
https://en.radiofarda.com/a/religious-women-s-center-in-iran-blames-child-marriage-opponents-for-honor-killings/30673410.html
--------
Egypt parliament allocates 25% of seats to women
June 15, 2020
The Egyptian Parliament has approved an amendment to an article in the constitution to allocate 25 percent of seats to women, local daily Egypt Today reported.
During the years of 1979, 1984 and 2010, when Egypt applied a quota for women in the House, the Parliament witnessed high female representation, according to a report by The Egyptian Center for Women's Rights (ECWR) in 2014, which called for at least 30 percent of the Parliament to be allocated for women.
Sunday's approved amendment came as part of other amendments approved via public referendum in 2019, including setting the number of members of parliament at 568.
The approved articles also included the expanding of the two presidential terms allowed for any president, from four years to six.
A separate transitional article gave an exceptional right to President Abdel Fatah El-Sisi, who was re-elected in 2018, to run for a third 6-year term after he finishes his second term in 2024 instead of 2022.
https://www.arabnews.com/node/1690091/middle-east
--------
UAE-Based Female Pilot, Captain MadhusmitaPatnaik, Does A First, Flies Repatriation Flight to Her Hometown in India
June 15, 2020
SajilaSaseendran
Sharjah: A UAE-based female pilot has hit the headlines for flying the first charter flight of repatriating stranded Indians during the COVID-19 pandemic to Bhubaneshwar, the capital city of the Indian state of Odisha.
The Air Arabia flight from Sharjah on Sunday took home 215 stranded and distressed Odias in the UAE, occupying the full capacity of the flight G9 645.
Dr Chandra SekharKhuntia, a volunteer with the Odia Society of UAE which chartered the flight, said it was the "first of its kind by any Odia community around the world".
While the first repatriation flight under the Vande Bharat Mission from the UAE to Bhubaneswar in May was the first ever international flight to land in the capital city of the state, this was the first ever international charter flight to land there, he said.
"It was a pleasant surprise for the 215 Odias on board when the pilot, Flight Commandant Captain MadhusmitaPatnaik made the pre-departure announcement in Odia language," Dr.Khuntia told Gulf News on Monday.
A video of the inflight announcement in her mother tongue, which received a huge applause from the passengers, has gone viral among Odia community members.
In a tweet, Chief Minister of Odisha Naveen Patnaik said he was glad to know about the charter flight and that it was piloted by Captain MadhusmitaPatnaik who is an Odia. He also expressed his gratitude to the Odia Society for their efforts in sending home the 215 stranded Odias.
The long-desired homecoming was extra special for the stranded expats as it fell on the special occasion of Raja Parba festival celebrations in Odisha.
In a video after the successfulflight, the pilot said: "Being a daughter of Odisha, I express my immense joy and pride in being able to carry out this huge mission."
"I thank the Odia society of UAE for spearheading this noble mission and bringing about so much joy for the travellers who could be united with their families on the day of the biggest Odia festival," she said.
She added that she was looking forward to helping many more people who seek help and repatriation.
While about 85 per cent of the passengers were distressed workers, the rest comprised stranded families including pregnant women, senior citizens, people whose parents are sick or had died recently, Dr Khuntia said.
He said the society sponsored tickets of 15 deserving passengers and also partly paid for the ticket fares of some others. Each ticket was priced at Dh1,230.
"We are sincerely grateful to CaptMadhusmita for taking home all of them safe and joyous," he said.
He also thanked the Indian Consulate, UAE and Indian authorities and volunteers for their support.
https://gulfnews.com/uae/coronavirus-uae-based-female-pilot-does-a-first-flies-repatriation-flight-to-her-hometown-in-india-1.72053271
--------
URL: https://www.newageislam.com/islam-women-feminism/afghan-woman-leaders-seek-help/d/122136
New Age Islam, Islam Online, Islamic Website, African Muslim News, Arab World News, South Asia News, Indian Muslim News, World Muslim News, Women in Islam, Islamic Feminism, Arab Women, Women In Arab, Islamophobia in America, Muslim Women in West, Islam Women and Feminism