New Age Islam News Bureau
24 Jul 2013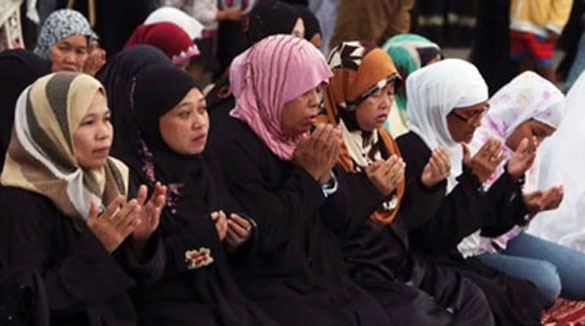 While female Muslim schoolteachers can wear the veil outside class, they are told to remove the veil during lessons so they can interact better with students. (File Photo: Reuters)
-----------
• Imrana refuses to accept compensation from father-in-law
• Majority-Catholic Philippines Told Muslim Teachers to Remove Veils
• Two Women Part-Timers Equal to One Full-Time Staff: Saudi Ministry of Labour
• Malala Fund to Focus on Quality Education for Girls
• Organiser Regrets Ban On Muslim Girls to Join Pageant In Malaysia
• Female Jirga Head of Swat Flays 'Flawed' Legal System
• Moro: Women Welcome Deal on Wealth-Sharing
• Ideas Arabia to Launch Saudi TV Channel for Women
• Afghan, Myanmar women win Magsaysay awards for work amid conflict
• '99 Hijab Stories' Explores Women's Spiritual Journey
• Christian Youths Fault Etsu Nupe on Alleged Abduction of Pastor's Daughter
• Dubai Woman Wins 217km Badwater Ultramarathon in California
Compiled by New Age Islam News Bureau
URL: https://www.newageislam.com/islam,-women-and-feminism/new-age-islam-news-bureau/afghan-religious-leader-approves-of-restrictive-edict-on-women/d/12740
----------
Afghan Religious Leader Approves Of Restrictive Edict on Women
24 July 2013
One of Afghanistan's top religious figures has defended a series of religious decrees that observers warn could further erode women's rights in the country.
The eight-article fatwa was issued by a local Ulema, or religious council, in the district of Deh Salah in the northern province of Baghlan last month. Among the edicts was a ban on women leaving their homes without a male companion and another that banned the sale of cosmetics on the basis that they are "un-Islamic" and promote adultery.
The fatwa, reminiscent of the strict edicts imposed by the Taliban during its rule of Afghanistan, prompted condemnation from rights activists and many of the district's residents. But while only senior clerics have the right to issue such edicts, the country's top religious figures have stayed silent on the issue up to now.
That changed when Mawlawi Enayatullah Baligh, a presidential adviser who serves on Afghanistan's top religious panel, the Ulema Council, staunchly defended the edicts while discussing the closure of cosmetics shops. "There is no way these shops could have stayed open," he told the Reuters news agency on July 20. "Shops are for business, not adultery."
The fatwa also barred women from clinics without a male escort and ordered strict dress codes for women, although it did not elaborate.
The document also threatened unspecified "punishments" for those who did not obey. During its rule, the Taliban's notorious vice and virtue police publicly beat women for breaking rules imposed by the group.
Civil Liberty Concerns
The controversy has cast a spotlight on the state of women's rights ahead of the expected pullout of foreign troops by the end of 2014. As international scrutiny has waned, powerful religious and conservative circles have taken steps to undermine women's civil liberties.
In Afghanistan, a deeply religious and conservative country, religion is often above the law. That has meant that religious figures have frequently been the main obstacle to women winning the rights afforded them under the Afghan Constitution.
Such is the power wielded by the country's religious leaders that even female lawmakers and activists appear resigned to the fact that cooperation with them is necessary to forge a path for women's rights.
Fawzia Koofi, a lawmaker and outspoken campaigner for women's rights, has warned that, without religious leaders' support, gains made by women could quickly be wiped out once foreign troops withdraw.
"The role of the mullahs is crucial because we're an Islamic nation and the mosques are being used against women," Koofi told Reuters on July 16. "Why not use them for women?"
Many residents of Deh Salah, home to 80,000 people, disagree with the Ulema's decrees, saying local religious leaders are flexing their muscles.
One resident, who did not want to be named, told Radio Free Afghanistan that the decrees were just an excuse to crack down on women.
"When these Ulema members give their opinions on cosmetic shops, can't they see that outside their homes and mosques there are drugs like hashish and opium?" he asked. "Thousands of people are dying from drugs. [Afghanistan] has a thousand other [pressing] issues. They haven't issued decrees about any of these things."
The clout of local religious council members recently prompted Abdul Rasul, who was the district mayor of Deh Salah, to take steps to shut down cosmetics shops.
Rasul took action after Ulema members threatened to burn the shops down if he did not act. He was shot dead on July 6 by a shopkeeper who refused to close his business.
http://www.rferl.org/content/afghanistan-fatwa-womens-rights/25053528.html
----------
Imrana refuses to accept compensation from father-in-law
Jul 24 2013
Imrana has refused to accept compensation deposited in court by her father-in-law, who had allegedly raped her eight years ago, saying she would not compromise with her honour. Imrana's lawyer Sitaram Verma said she did not want to claim the compensation deposited by Ali Mohammed.
Mohammed was convicted by a local court which had imposed a fine of Rs 10,000 on him and directed him to pay Rs 8,000 to Imrana as compensation. He had deposited the amount in court in April, but Imrana has refused to accept it, Verma said.
On July 17, the Allahabad High Court granted bail to Mohammed on the ground that he has already spent eight years in jail since his arrest in June 2005. On October 19, 2006, the district and sessions court had held Mohammed guilty of raping Imrana and sentenced him to 10-year prison term.
The incident, which occurred on June 6, 2005, had grabbed much attention when the minority community panchayat passed an edict that after the rape, Imrana, mother of five, would have to treat her husband as her son and that her marriage will be
null and void.Despite the panchayat ruling, Imrana continues to live with her husband Noor Ilahi at Kookra village near here.
http://www.indianexpress.com/news/imrana-refuses-to-accept-compensation-from-fatherinlaw/1146106/
----------
Majority-Catholic Philippines Told Muslim Teachers to Remove Veils
24 July 2013
The majority-Catholic Philippines told Muslim teachers Tuesday to remove their veils inside classrooms, in part to promote better relationships between teachers and pupils.
Education Secretary Armin Luistro said the move was part of reforms to make schools more sensitive to religion.
Muslim schoolgirls will still be allowed to wear the veil or "hijab" on campuses as well as "appropriate clothing" in gym class, according to the order, a copy of which was obtained by AFP.
But while female Muslim schoolteachers can wear the veil outside class, they are told to remove the veil during lessons so they can interact better with students.
"Once the (teacher) is in the classroom, she is requested to remove the veil," the order said.
Having Muslim female teachers remove their veils allows for "proper identification of the teachers by their pupils, thus promoting better teacher-pupil relationship", it said.
Being able to see the teachers' faces also helps in teaching language, where "lip formation" plays a role in pronouncing certain letters, it said.
The government's Office of Muslim Affairs said it agreed with the education department's measures, although it had not yet received a copy of the order.
Roque Morales, an adviser to the office, said that while he did not know how many Muslim Filipinas were working as teachers, the practice of wearing veils is widespread in the southern Philippines.
"You would almost see it everywhere," he told AFP.
He said the office had so far not received any complaints from Muslim teachers.
The office said that Muslims make up about 15 percent of the Philippine population, mostly based in the southern regions which they consider their ancestral home.
Armed separatist Muslim insurgencies have been a persistent problem for the Philippines since the 1970s, and the government has tried to accommodate the Muslim minority by respecting many of their practices.
http://english.alarabiya.net/en/life-style/art-and-culture/2013/07/23/Philippine-Muslim-teachers-told-to-remove-veils-.html
----------
Two Women Part-Timers Equal to One Full-Time Staff: Saudi Ministry of Labour
July 23, 2013
Faris Al-Qahtani
RIYADH – The Ministry of Labor has clarified that owners of women's apparel shops are entitled to employ Saudi women as part-timers. However, two part-time employees will be counted as one full-time employee.
The ministry enforced a mandatory feminization of women's wear shops from July 7.
Ministry sources disclosed that owners of women's wear shops must sign a labour contract with the Saudi women employees.
The shop owner and the employee must comply with the terms and conditions stipulated in the work contract.
The contract must ensure all rights of employees, including their salary and allowances, in addition to medical insurance to them as well as their dependents.
The ministry's regulations also stipulate that the employees are entitled to take advantage of all other benefits that are guaranteed as per the labor law.
These conditions are in line with the ministry's keenness to facilitate women working in a safe and appropriate environment.
The ministry started intensive inspections on women's apparel shops to check whether they are complying with its decision to employ Saudi female staff by a July 7 deadline.
The inspection campaign comes in the second phase to feminizing shops selling women's dresses, abayas and accessories.
It is complementary to the first stage of feminizing lingerie shops, and its implementation is compulsory as it is considered to be a national program aimed at employing as many Saudi women as possible.
http://www.saudigazette.com.sa/index.cfm?method=home.regcon&contentid=20130723174466
----------
Malala Fund to focus on quality education for girls
July 23, 2013
Improvement in the quality of education of girls will be the central focus of activities undertaken from Malala Fund for Girls' Right to Education.
To discuss modalities for the Malala Fund, a meeting was held between Assistant Secretary General (Education) of Unesco Qian Tang and Minister of State for Education Training and Standards in Higher Education Balighur Rehman on Monday.
The meeting was also attended by Secretary Education Training and Standards in Higher Education Ahmed Baksh Lehri and Dr. Kozue Kay Nagata, Hayashikawa and Roshan Chitrakar from Unesco Pakistan.
The Unesco representatives recommended that improvement in the quality of education of girls should be the central focus of activities undertaken by Unesco from this fund. It was also proposed that a few model schools and technical and vocational training centres for girls could be established from this fund. The minister urged the need for attracting more donors globally for Malala Fund geared towards girls' education. He also emphasised the need of reduction in operational and transactional costs. The fund world be used in line with current government policy on education called National Action Plan which has been finalised by the federal government and has been sent to provinces Fata, GB etc and their response is awaited. The Malala Fund will be used under two heads including special fund and fund in trust. Out of the 10 million contribution made by Pakistan, (US$7 million) may be placed as a fund in trust which will be used, advised and approved by Pakistan. The reaming US $ 03 million would be used as a special fund that can be used by Unesco. Around 80 per cent of the fund would be used for formal education and 20 per cent would be used to support non formal education. The areas for that fund have been identified as Balochistan, Interior Sindh, Southern Punjab, KPK, Fata, AJK and Gilgit-Baltistan. The minister termed Afghanistan and Afghan refugees in Pakistan as areas of preference for spending the global component of the fund. A special committee (also called Quality Assurance Committee) would implement the plan. Unesco, Government of Pakistan and selected civil society members would be given representation in the committee.
http://www.thenews.com.pk/Todays-News-5-191638-Malala-Fund-to-focus-on-quality-education-for-girls
----------
Organiser regrets ban on Muslim girls to join pageant in Malaysia
24 July 2013
Miss Malaysia World official pageant organiser Anna Lim and the disqualified finalists are surprised and sad over the banning of Muslim girls participating in the 2013 beauty contest.
Four finalists for the Miss Malaysia World beauty pageant - Sara Amelia Bernard, Wafa Johanna De Korte, Miera Sheikh and Kathrina Ridzuan - were dropped from the competition after criticism from Federal Territory mufti (Islamic scholar) Wan Zahidi Wan The that their participation was "sinful".
"I disqualified the girls because he (Wan Zahidi) posted a comment online saying that these girls are doing something illegal and against the Muslim law," said Lim.
"So out of respect for the religion we had to follow the rules and disqualify the four girls. However, I haven't actually received a copy of that particular rule before," she told The Star Online.
Lim said she had been trying to arrange for a meeting with Wan Zahidi to discuss his statement and had been unsuccessful so far, but was hoping to get a favourable reply.
"If Miss World pageant can be held in Muslim countries such as Indonesia, I don't see why it cannot be so in Malaysia," added Lim.
Sara Amelia, one of the four Miss Malaysia World 2013 pageant finalists who were disqualified, also expressed her disappointment.
"I think it came from a 1996 ruling. However, since then, the first Muslim woman (Rima Fakih) won the title in the United States in 2010. Even United Kingdom had a Muslim winner (2006 Miss England Hammasa Kohistani)," said the 20-year-old of British Malay and German Iban decent.
She said she wanted to know if the ruling also meant that Muslim women were banned from wearing swimsuits and taking part in fashion shows.
Bernard said her reason for joining the pageant was to "promote intellectual women" as beauty pageant was not about parading in sexy outfits but it was about charity and personality.
Another contestant who was dropped, 19-year-old Wafa, said that she was saddened by the disqualification.
"We were informed at the Miss Malaysia interview that Muslim women are allowed to join," she said.
"I was so excited that Muslim women are able to represent our country at one of the largest international competitions."
"We were told that all Malay girls will be wearing sports attire in the Malaysian finals and that the swimsuit section was taken out of the whole competition in the Miss World finals," she added.
Wafa believes that the situation had been blown out of proportion.
"Steps were already taken to ensure that Malay girls were not put in a position where they had to show off too much skin," she said.
Former Miss Malaysia Universe of 1978 Yasmin Yusoff also expressed her surprise because the beauty pageant world had pretty much accepted the fact that Malay girls could not enter the contest.
"In a way it is sad because we have so many beautiful Malay girls out there. But now let's focus on the girl who is going to win," she said.
Sisters in Islam (SIS) expressed concern over the reach of 1996 ruling to control public conduct of Muslims in terms of dress and indecency, especially when the organisers had given an assurance that the contestants will be wearing long pants instead of swimming suits.
Pengerang district MP Azalina Othman questioned as to why the Miss Malaysia organisers were unaware of the Fatwa ruling.
"The girls shouldn't have joined in the first place. The ruling has been known for the past few years," said Azalina.
"They should also have been more sensitive. It is a sensitive environment right now especially during the fasting month," she said.
http://www.thejakartapost.com/news/2013/07/23/organiser-regrets-ban-muslim-girls-join-pageant-malaysia.html
----------
Female Jirga Head of Swat Flays 'Flawed' Legal System
July 24, 2013
Haroon Siraj
SWAT - Swat female jirga Head Tabassum Adnan said that now no woman would be left at the mercy of males and their Jirgas which "make woman a scapegoat", and added that the new Jirga's purpose was to protect women's rights under the Constitution of Pakistan.
In her exclusive interview with The Nation at Swat Valley, Tabassum said that on daily basis the jirga would solve all the problems being faced by women. "We have solved several cases of domestic and other issues on daily basis. I first offered to join the main Swat Qaumi Aman Jirga to ensure justice for women, but they refused. So, we have formed our own Jirga now and we will decide cases involving women. Our only aim is to provide legal support to women by involving police and government authorities."
Tabassum, who got divorce from her husband after 20 years of what she called a troubled marriage, said her jirga is called Khwaindo Tolana, which means 'sister's group'. It was born as a result of a women's empowerment programme being run by a local aid group.
"The tremendous response by women motivated us to organise a separate jirga to fight for our rights," Tabassum said. She claimed to have helped 11 women get justice so far. To a question, Tabassum said that the main purpose was to protect women's rights and stop the violation of women. She said that now-a-day, numerous types of violation are going on against women such as men kill their female relatives, children and other teenage girls due to minor mistakes. She said why they were killing women, girls and children. "Is there any law for the violation of women's rights? If yes, why does the judiciary free the persons who kill women and girls? The need for a women's jirga shows the incompetency of our legal system and reiterates that our government does diddlysquat to protect women," she said.
She detailed, "We have got success in one case and our efforts brought satisfaction to the effected family. A few days ago, an old man contacted the female jirga and said that a person jumped into his home through a wall and raped her daughter who is 12 years old. After the incident, the old man went to the nearby police station but the police refused to register a case. When I myself visited the police station along with the old man and asked about the story, the police registered a case and court sentenced the accused to 12 years of imprisonment."
She further said that currently there are two murder cases registered with Swat women Jirga. "I will raise my voice at every platform for women's rights and also raise a voice against the violation of women's rights. The demand of the group is to promote free education for girls and make it compulsory up to class X," she added.
She further said that the jirga's other demands are to: 2. establish new schools for girls within a radius of 1.5 kilometers of each community; 3. provide healthcare and safe locations within the same radius; 4. protect girls, adolescents and women's health rights; 5. facilitate female teachers in remote areas by providing transport, accommodation and security; 6. accommodate local talent through relaxation of hiring criteria in schools etc; 7. make vocational centres for girls and women to give conventional training; introduce sewing, cooking, beautician, unconventional training, computer, plumbing, electrical, carpenter courses; 8. make interest free microfinance and SME (small and medium entrepreneurs) services available and accessible for women; 9. Ensure inclusion of women in all peace and reconstruction activities; 10. Ensure exercise of right to vote; 11. abolish all parallel justice systems; and 12. Get implemented women friendly laws especially punishment for forced marriage and acid throwing.
Female jirga system has been introduced for the first time in Pakistan. We have seen and heard a lot about Jirga system in tribal areas and urban areas of Khyber Pukhtunkhwa but it was all about male participants while females kept themselves miles away from such activities.
Jirga is considered the main pillar of Pukhtoon culture because it is faster system of justice. Justice through Jirga is a speedy process as compare to the court of law as cases are resolved in a few days whereas justice through the judiciary incorporates a lengthier process.
http://www.nation.com.pk/pakistan-news-newspaper-daily-english-online/editors-picks/24-Jul-2013/female-jirga-head-flays-flawed-legal-system
----------
Moro: Women Welcome Deal On Wealth-Sharing
24 July 2013
Moro women leaders praised the recent deal on wealth-sharing struck between the negotiating panels of the Government of the Philippines (GPH) and of the Moro Islamic Liberation Front (MILF) during the culmination of the 38th round of peace talks in Kuala Lumpur, Malaysia on July 13, 2013.
The Moro women leaders welcome the deal on wealth-sharing recently concluded by the negotiating panels of the Government of the Philippines (GPH) and Moro Islamic Liberation Front (MILF) during the culmination of the 38th round of peace talks in Kuala Lumpur, Malaysia on July 13, 2013.
Baibon D. Sangid, former chairperson of Young Moro Professionals Network (YMPN) said, "Personally, I am pleased that the government panel agreed on the percentage of wealth-sharing at 75% in favor of the Bangsamoro and 25% to the national government."
The two parties agreed for a 75-25 sharing on the taxes collected in the proposed Bangsamoro territory in favor of the Bangsamoro.
Bangsamoro is the new political entity that will replace the Autonomous Region on Muslim Mindanao by 2016.
The new political entity will also get 100% revenue share for exploration, development and utilization of non-metallic minerals while it will get 75% share for metallic resources. However for fossil fuel, there will be equal share.
She opined that the agreed ratio is the "government's modest and sincere effort to propel development in the Moro communities."
"I thought it could have been 20%-80% in favor of the Bangsamoro. Be as it may, am glad the Bangsamoro Panel has accepted it knowing how contentious these issues were."
Sangid continued, "I congratulate the Bangsamoro panel for their unwavering efforts to negotiate and demand economic justice for our homeland to restore economic freedom of our people."
"To correct historical injustice and build confidence for the leadership in the Bangsasamoro, the provisions in the wealth sharing annex is truly a welcome development," Zuraida Anayatin, convener of Mothers for Peace in General Santos City said.
She added, "We commend both panels for seeing to it that they will bring home a signed agreement."
"I am particularly pleased with the special allocation for women (5%). This supports advocacy for gender and development and reaffirms women's role in the peace process," Anayatin noted.
"If it will be implemented, well and good, but when will this happen?" Wahida Abtahi asked, President of Katiyakap, Incorporated, a peace advocacy group.
She hopes that the agreement will be realized during the administration of the incumbent president.
On wealth sharing from fossil fuels, Dr. Bae Hanina Tito, Chairperson of Halal Consumers Association in General Santos City, suggested that the ratio should be 60:40 in favor of the Bangsamoro.
She, however, congratulates the two panels for surmounting one of the contentious issues of the peace talks.
Tito, former Education Secretary of the Autonomous Region of Muslim Mindanao, echoed the position of MILF Vice-Chair Ghadzhali Jaafar which suggests 60:40 formula on energy resources in favor of the Bangsamoro.
http://www.unpo.org/article/16199#sthash.nJlx4GTe.dpuf
----------
Ideas Arabia to launch Saudi TV channel for women
Rebecca Hawkes
23-07-2013
Saudi Arabia is launching a satellite TV channel on 25 July to challenge the stereotype of Arab and Muslim women abroad.
The channel, run by businessman Sheikh Yusuf bin Awad Al-Ahmadi's Ideas Arabia company, will be aimed at, and dominated by Saudi women showcasing their capabilities, Arab News reports.
Speaking at a launch event, board chairman Abdullah Al-Nazawi said: "The objective of the channel is to highlight the skills, traditions, culture, education, Islamic thought and problems facing Arab women in general, and Saudi women in particular.
The programming will reportedly cover a variety of areas to explore women's aspirational needs, including technology, politics, culture, science, education, psychology and medicine.
The channel's launch event was attended by Information Minister Abdul Aziz Khoja and Riyaz bin Kamal, president of the General Authority to regulate audiovisual media.
http://www.rapidtvnews.com/index.php/2013072328946/ideas-arabia-to-launch-saudi-tv-channel-for-women.html
----------
Afghan, Myanmar women win Magsaysay awards for work amid conflict
Reuters | Jul 24, 2013
MANILA: Afghanistan's first woman governor and a Myanmar civil society organiser, who both helped families displaced by conflict in their home nations, are among five winners of Asia's equivalent of the Nobel Prize this year.
The Ramon Magsaysay Award Foundation on Wednesday singled out Afghanistan's Habiba Sarabi, a 57-year-old doctor, for her "bold exercise of leadership to build up a functioning provincial government against great odds."
Sarabi, currently the only Afghan woman in such a role, also devoted her energy to helping Afghans in refugee camps, providing medical care and supervising literacy courses secretly in a Taliban-ruled state in the late 1990s.
"I'm not a warlord. I'm just a modern woman," said Sarabi, the governor of Bamyan province since 2005, who has pushed for education and empowerment of women in a society scarred by widespread discrimination against women and minorities.
The Foundation also recognised Lahpai Seng Raw from Myanmar, for her "quietly inspiring and inclusive leadership in the midst of deep ethnic divides and prolonged armed conflicts."
The 64-year-old widow, founder of the largest civil society group in the military-ruled country, did relief work among displaced people besides setting up schools and clinics. She was once detained on suspicion of being in contact with a brother who is with rebel forces in Myanmar.
In addition, the Manila-based foundation honoured Ernesto Domingo, a 76-year-old Filipino doctor who saved millions from life-threatening illness by vaccinating babies against hepatitis B and almost eliminating the chance of their getting infected.
Other winners include Indonesia's independent anti-corruption government body, the Komisi Pemberantasan Korupsi (KPK), which has a 100-percent rate of conviction of corrupt officials and has recovered $80 million in stolen assets.
Nepal's Shakti Samuha, a group that combats human trafficking and helped rebuild the lives of thousands of trafficked and abused women, was another winner.
The winners will receive prizes of $50,000 each at a ceremony set for August 31 in Manila.
"The foundation wishes to raise awareness about the Magsaysay Award and specifically, about this year's five awardees, who are collectively advancing causes to improve lives and transform societies across Asia," foundation president Carmencita Abella said in a statement.
The awards, named for a popular president of the Philippines who was killed in a plane crash, were established in 1957 by the trustees of the New York-based Rockefeller Brothers Fund.
More than 300 people and groups, including the US Peace Corps and the Association of Southeast Asian Nations, have been recognised since 1958.
http://timesofindia.indiatimes.com/world/rest-of-world/Afghan-Myanmar-women-win-Magsaysay-awards-for-work-amid-conflict/articleshow/21302671.cms
----------
'99 Hijab Stories' Explores Women's Spiritual Journey
22 July 2013
Wearing an Islamic headscarf, or a hijab, is a personal choice for millions of Indonesian Muslim women. For many it is a representation of faith and a way to practice modesty.
But increasingly, the hijab is also becoming an icon of individual expression and in many cases a fashion statement that is testament to the number of Islamic designers and exhibitions currently making waves in the industry.
For Muhammad Assad exploring the hijab, its symbolism and the modern-day women it adorns has become an extensive project in which he has profiled 99 of the country's leading women who choose to wear the headdress.
Aged just 25, Assad, who heads an investment corporation and chairs a youth training group, launched his fifth book "99 Hijab Stories" at Jakarta's Kinokuniya bookstore on Wednesday.
The avid blogger, who was educated at the Hamad bin Khalifa University in Qatar, has previously written books about his time living in the Arab state.
"99 Hijab Stories" is a compilation of stories from 99 Indonesian Muslim women on the reasons they wear a hijab. Seventy of the women are public figures, including actress Inneke Koesherawati, fashion designer Dian Pelangi, social activist Fahira Idris, singer Dewi Sandra and comedian Cici Tegal. Assad also included inspiring figures in the book, such as businesswoman Dewi Motik and politician Yenny Wahid.
"These are 99 women who are in their own process becoming a better person by wearing the hijab," he said.
To compile these stories, Assad interviewed the women. He took 18 months to collect the material, which was inspired by the "99 Names of Allah."
"Ninety-nine [people] are a lot, but it sounds like a good number," he said. "I had to take a three-month break during the write because it was exhausting."
He was inspired to write "99 Hijab Stories" after he was invited to speak at a gathering of the Hijabers Community. Assad said he had not seen a compilation of stories about why women wear hijab, because they were usually stories told by individuals.
Before the launch, Assad said the book drew controversy on social media because not all the women in the book wear a syar'i hijab, or full hijab. Some women, including Nafsiah Dahlan Iskan, Nurhayati Ali Assegaf, Arimbi and Yenny Wahid, still show parts of their head and hair.
Assad said he did not want to exclude them as he wanted his book to erase the dichotomy between "a proper hijab" and "not so proper," which is a common topic for discussion among Muslim people.
"We still have to respect these women, because it is a matter of interpretation," he said.
Assad said the book also aims to show that it is not just older people who identify with the hijab. He wanted to capture a wide variety of women who wear the hijab in their own distinctive style. By doing so, Assad hopes the book can encourage more women to start wearing the hijab.
"The young people usually want to express themselves through clothing, so I want to show them that you can wear a hijab and still look nice," he said.
Assad, who was an undergraduate at Malaysia's Universiti Teknologi Petronas, also noted that the way the hijab was worn in the neighboring country was different.
"They usually wear a full hijab, but with T-shirts and jeans," he said.
Having lived in a few Islamic-majority countries, Assad said the stylish hijab, which is usually colorful and often accessorized with twisted shawls, is a cultural phenomenon that is very Indonesian. This country's creative approach to the hijab could be viewed as a national asset, Assad suggested.
Last year, Industry Ministry director general Euis Saedah has said the ministry is hoping to turn Indonesia into an Islamic fashion capital by 2020.
It comes as Islamic fashion starts to gain traction in Indonesia, particularly in the capital. At this year's Jakarta Fashion Week, Dian Pelangi was praised for displaying daring designs for Muslim women. The FX Mall in Central Jakarta is holding a special section for Muslim fashion.
The Indonesia Islamic Fashion Fair is yet another example of the popularity of Islamic fashion.
The event last month was opened by Coordinating Minister for the Economy Hatta Rajasa, whose wife Okke Hatta Rajasa also appears in "99 Hijab Stories." Okke is head of Cita Tenun Indonesia, an association of women who share a passion about the country's traditional tenun textile.
To kill the myths surrounding the difficulty of wearing the hijab, Assad identifies early in his book 10 common reasons for women refusing to wear the garment. The main reason is a claim that they are not ready, followed by wanting to "hijab their hearts" first.
Apart from these personal reasons, some also don't wear hijab because of the hot weather and difficulty in getting a job.
Catik Yustina Mart, a guest at the book launch and also a Twitter user, began wearing the hijab a year ago.
"I work in the hospitality industry, a hotel to be exact, and they will not accept a woman with a hijab," she said.
When she started wearing it, her colleagues said she was merely following the trend and would give it up within a few days. It has now been a year, and Catik said she does not want to go back.
"I came to the book launch because I wanted to seek inspiring stories to keep me wearing the hijab," she said. "I hope Assad can build his own hotel someday so there won't be discrimination against women wearing the hijab."
Other than famous people, "99 Hijab Stories" also received more than 1,000 submissions from Assad's Twitter followers of which he selected 25 for his book.
One of his favorite online submissions was by Lily Damayanti, a TransJakarta bus driver who began wearing the hijab after her mother passed away in 2007. Soon after that, she got a job at TransJakarta and often works night shifts. The hijab became her shield to avoid unwanted attention.
Twitter: @99HijabStories
Siti Gretiani, left, editorial manager of Gramedia Pustaka Utama, with Muhammad Assad, author of '99 Hijab Stories.' JG Photo/Lisa Siregar
99 Hijab Stories
Muhammad Assad
Available at Gramedia bookstoresfor Rp 99,000 ($10)560 pages
http://www.thejakartaglobe.com/features/99-hijab-stories-explores-womens-spiritual-journey/
----------
Christian Youths Fault Etsu Nupe on Alleged Abduction of Pastor's Daughter
23 July 2013
THE Northern Christian Youth Solidarity and Emancipation Movement for Justice and Self-Determination (NCYSEM), has faulted the alleged forceful abduction of 24-year-old Charity Raymond Uzoechina, daughter of a pastor.
The group, which is an affiliate of the Christian Association of Nigeria (CAN) called on the Federal Government to investigate the alleged forceful abduction of Christian girls into Islamic marriages.
The girl, who had since been renamed Aisha, was said to have been forcefully abducted by some Muslim fanatics and since then, had been kept out of the reach of her parents, under what was described by the Bida Emirate as "protective custody" of Etsu Nupe, Alhaji Yahaya Abubakar.
The organisation also condemned the comment by the acting Director of Publicity for the Nigerian Supreme Council for Islamic Affairs (NSCIA), Muhammed Kabir Kassim, which asked government to call the president of CAN, Pastor Ayo Oritsejafor, to order for criticising the action of the Etsu Nupe.
The NCYSEM, in a statement by its Director of Publicity, Mr James Gani, which was made available to journalists on Monday, in Abuja, said Oritsejafor's condemnation of the Etsu Nupe's action was the reaction of the whole Christian community in Nigeria.
According to him, in a bizarre manner, orchestrated to mislead the general public, the NSCIA was very economical with the truth.
He said: "For the benefit of those not aware or conversant with the facts of the matter, Miss Charity Raymond Uzoechina is a Nigerian and a daughter of Pastor Raymond Uzoechina, who was forcefully abducted by some Muslim fanatics and since then, had been kept out of the reach of her parents under the so-called "protective custody" of the Etsu Nupe.
"We would like to call on the Federal Government to take a critical look at the issue of abducting Christian girls into forceful Islamic marriages with impunity by some influential Muslims, particularly in the North, with a view to invoking the relevant laws that deal with crimes of this nature on them. This case should be seriously viewed as such.
"Why should an Emir of the status of the Etsu Nupe be as insensitive to his responsibility as a royal father to an extent of abducting and keeping someone under a "protective custody?" Does he have such powers? Against whom is he protecting the lady?" it said.
The group also stated that an attack on the person and personality of Pastor Ayo Oritsejafor, is an attack on the Christian Community in Nigeria.
"Pastor Oritsejafor stands for and represents the Church and the less-privileged in Nigeria. To us, his utterances and actions as CAN president are what Nigeria needs to survive as a nation today," it said.
The NCYSEM said, "whereas, we appreciate the provisions of the Constitution of the Federal Republic of Nigeria (1999 as amended) that provides for the freedom of worship and choice of religion, we do not believe and cannot be deceived that the case under reference has to do with choice of religion and or wilful conversion.
"Everyone knows that Christians are lovers of peace; if it were not so, the story would have by now been different in the face of this outright and senseless provocation on the Church. We want to categorically state that in this matter, the Emir is an abductor and if the story credited to Oritsejafor in this respect be true, then he is right as ever and, therefore, needs no one to call him to order.
Reacting to the allegation, the Bida Emirate had refuted the allegation, saying the girl in question was in court's custody after she ran away from home.
The Emirate had said that one Aisha Uzoechina had approached the royal father for protection over her change of faith from Christianity to Islam on February 15, a move which was vehemently opposed by her father.
"On the issue of Alhaji Sanusi Lamido Sanusi, the Central Bank governor, we are proud to be associated with the CAN president's position on the matter. No one is against a bank or any organisation coming to do business in Nigeria, but such organisation must follow the rules.
"Sanusi has been championing the course of the Islamic Bank as if he is its Managing Director. What concerns us most is the use of public funds to establish and promote a religious organisation of this nature which Sanusi is doing. Time and posterity will one day vindicate Pastor Oritsejafor on these and other allied matters."
http://www.tribune.com.ng/news2013/index.php/en/news/item/17340-christian-youths-fault-etsu-nupe-on-alleged-abduction-of-pastor%E2%80%99s-daughter
----------
Dubai woman wins 217km Badwater Ultramarathon in California
University of Wollongong professor completes course in under 30 hours
By Noor Nazzal
24 July 2013
Dubai: A teacher from the University of Wollongong in Dubai (UOWD) has won the first prize after completing one of the toughest 217km marathons in the world.
Australian Catherine Todd, electrical engineering assistant professor, aged 34, was the woman champion of this year's 'Badwater Ultramarathon' which took place from July 15 to 17 in California, USA.
Todd succeeded in becoming the highest placed woman among other elite athletes from across the globe after completing the 217km course in 29 hours, 55 minutes and 29 seconds.
"It was an amazing challenge where I got to be part of a great community of runners. I wanted to take part in the race in order to raise funds for the 'Back on your bike' charity to support my friend, Richard Holland, who was badly injured in a road accident in Dubai."
The 'Badwater Ultramarathon' is known for being one of 'the world's toughest footraces' as it requires runners to run non-stop for 48 hours in a 217-km course from the hottest, driest place in North America to the highest summit of continental United States.
Though the race course is known for its physical challenges, Todd stated that the hardest challenge for her was a psychological one.
"The toughest challenge for me was when I passed the first female runner. Knowing that she was behind me and that she could catch up with me at any time made me run even faster and harder."
As for physical challenges, Todd stated that they included running in the heat and the last part of the race where she had to run up the mountains.
This is the second time that Todd has taken part in the race where she previously took sixth place in the women's category.
This year however; she emerged the fastest woman after facing extreme temperatures of up to 55 degrees Celsius, while scaling a cumulative elevation of around 4,000 metres.
Todd was chosen out of the 96 runners selected to take part in the race. Out of the 96 runners only 81 succeeded in completing the course. Runners are selected based on experience in running 200-metre races.
The professor trained for the event with members of her support team in the UAE. Her regime involved road, desert and mountain runs, including back-to-back ascents of Jebel Hafeet, starting from three in the morning.
"I recommend people take part in races and marathons, it is a good way to meet friends and be part of a supportive community," she added.
For future plans, Todd stated that next she will take part in the Transomania race, a 241km race across Oman's desert.
http://gulfnews.com/news/gulf/uae/general/dubai-woman-wins-217km-badwater-ultramarathon-in-california-1.1212211
----------
URL: https://www.newageislam.com/islam,-women-and-feminism/new-age-islam-news-bureau/afghan-religious-leader-approves-of-restrictive-edict-on-women/d/12740