New Age Islam News Bureau
15 Jul 2019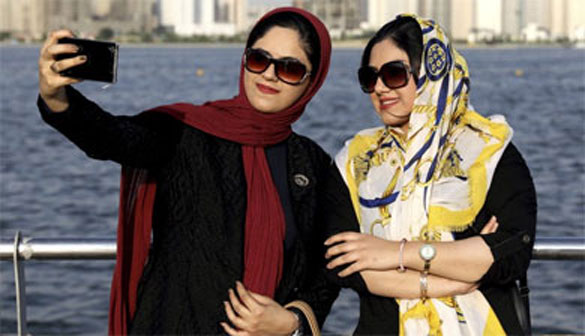 Ayatollah Ali Khamenei, have supported a softer attitude toward women who don't comply with the official dress code
-----
• Iranian Women Take Off Their Hijabs As Hard-Liners Push Back
• 'Tackle Child Marriages among Non-Muslims Too': Women's Aid Organisation, Malaysia
• View From The Courtroom: New Law Soon To Check Child Marriages In KP
• Birmingham School Protests: Muslim Women's Voices Are Being Lost In the Debate
• Special Haj Training Camp Held for Women
• Princess Duaa is Supreme Chairwoman of the Arab Women Foundation
• 40 Emirati Women To Gain Tourism Skills
• In Agony, Yazidi Women Torn Between Islamic State Kids And Return Home
Compiled by New Age Islam News Bureau
URL: https://www.newageislam.com/islam-women-feminism/afghan-radio-station-shuts-down/d/119195
--------
Afghan Radio Station Shuts Down After Threats by Suspected Taliban Over Women Presenters
July 15, 2019
Kabul: A private radio station in Afghanistan has shut down after numerous threats from a suspected Taliban commander who objected to women working as presenters, officials at the radio station said on Monday.
The incident comes as the Taliban are discussing a peace deal with the United States that could see them re-joining mainstream society, and that has brought new scrutiny of their attitudes to issues like women's rights and the media.
The private radio station, Samaa, has been broadcasting political, religious, social and entertainment programmes in the central province of Ghazni since 2013. Its 13 employees, including three women presenters, broadcast in Afghanistan's two main languages — Dari and Pashto.
The radio station's director, Ramez Azimi, said Taliban commanders in the area had sent written warnings and telephoned in, to tell the radio station to stop employing women.
"The Taliban also came to my house and issued a threat," Azimi said. He said the threats had forced him to suspend broadcasts.
Taliban spokesman Zabihullah Mujahid denied that a Taliban commander had issued the threats. "We are trying to find details," said Mujahid.
The Taliban say many people falsely identify themselves as Taliban, often in the course of private disputes. Several districts of Ghazni are under Taliban control.
The militants hold sway over about half of Afghanistan and they have been intensifying their attacks despite efforts towards a peace agreement to end the 18-year war.
The Taliban ruled most of Afghanistan from 1996 until 2001. Under their hardline interpretation of Islamic law, women were banned from working or going to school.
But the Taliban have recently been projecting themselves as a more moderate force. In a recent statement they said Islam gave women rights in areas including business and ownership, inheritance, education, work, choosing a husband, security and well-being. But they denounced "so-called women's rights activists" who encouraged women to defy Afghan customs.
The Taliban have staged numerous deadly attacks against the media and Afghanistan is one of the world's most dangerous countries for journalists. The Taliban say they only target media that is biased against them.
https://www.news18.com/news/world/afghan-radio-station-shuts-down-after-threats-by-suspected-taliban-over-women-presenters-2231461.html
--------
Iranian Women Take Off Their Hijabs As Hard-Liners Push Back
July 15, 2019
TEHRAN, Iran: The simple act of walking has become a display of defiance for a young Iranian woman who often moves in Tehran's streets without a compulsory headscarf, or hijab.
With every step, she risks harassment or even arrest by Iran's morality police whose job it is to enforce the strict dress code imposed after the 1979 Islamic Revolution.
"I have to confess it is really, really scary," the 30-year-old fire-safety consultant said in a WhatsApp audio message, speaking on condition of anonymity for fear of repercussions.
But she is also hopeful, saying she believes the authorities find it increasingly difficult to suppress protests as more women join in. "They are running after us, but cannot catch us," she said. "This is why we believe change is going to be made."
The hijab debate has further polarized Iranians at a time when the country is buckling under unprecedented US sanctions imposed since the Trump administration pulled out of a 2015 nuclear deal between Iran and world powers last year. It's unclear to what extent the government can enforce hijab compliance amid an economic malaise, including a currency collapse and rising housing prices.
There's anecdotal evidence that more women are pushing back against the dress code, trying to redefine red lines as they test the response of the ruling Shiite Muslim clergy and their security agencies.
An Associated Press reporter spotted about two dozen women in the streets without a hijab over the course of nine days, mainly in well-to-do areas of Tehran — a mall, a lakeside park, a hotel lobby.
Many other women, while stopping short of outright defiance, opted for loosely draped colorful scarves that show as much hair as they cover. Even in Tehran's Grand Bazaar, frequented by many traditional women, most female shoppers wore these casual hijabs. Still, a sizeable minority of women was covered head-to-toe in black robes and tightly pulled headscarves, the so-called chador.
The struggle against compulsory headscarves first made headlines in December 2017 when a woman climbed atop a utility box in Tehran's Revolution Street, waving her hijab on a stick. More than three dozen protesters have been detained since, including nine who are currently in detention, said Masih Alinejad, an Iranian activist who now lives in New York.
Despite attempts to silence protesters, public debate has intensified, amplified by social media.
Last month, a widely watched online video showed a security agent grab an unveiled teenage girl and violently push her into the back of a police car, prompting widespread criticism.
President Hassan Rouhani and Iran's supreme leader, Ayatollah Ali Khamenei, have supported a softer attitude toward women who don't comply with the official dress code. However, hard-liners opposed to such easing have become more influential as the nuclear deal is faltering.
They have called for harsh punishment, even lashes, arguing that allowing women to show their hair leads to moral decay and the disintegration of families. The judiciary recently urged Iranians to inform on women without hijabs by sending photos and videos to designated social media accounts.
"The more women dress in an openly sexual way, the less we'll have social peace, while facing a higher crime rate," Minoo Aslani, head of the women's branch of the paramilitary Basij group, told a rally last week.
Another gathering was attended by several thousand women in chadors. One held up a sign reading, "The voluntary hijab is a plot by the enemy."
Reformist lawmaker Parvaneh Salahshouri said coercion does not work. "What we see is that the morality police have been a failure," said Salahshouri, who wears a headscarf out of religious belief.
Changing hijab rules through legislation is unlikely because of the constraints on parliament, she said.
Instead, women should engage in non-violent civil disobedience, Salahshouri said. She cautioned that it's a slow, difficult road, but that "Iranian women have not given up their efforts."
The hijab controversy goes back to the mid-1930s when police forced women to take off their hijabs, part of a Westernization policy by then-Shah Reza Pahlavi. Under his son and successor, women could choose. Western apparel was common among the elite.
A 2018 survey by a parliament research center indicates that most women wear a casual hijab and only 13% opt for a chador.
Attitudes have changed. In 1980, two-thirds believed women should wear hijabs. Today, fewer than 45% approve of government intervention in the issue, the research said.
Iran has seen waves of anti-government protests, including an outcry after a 2009 election many contended was stolen by hard-liners. Those with economic grievances frequently protest.
Alinejad, the activist, argued the campaign against forced hijabs carries symbolic weight, saying that mandatory headscarves were "the symbol that the Iranian government used to take the whole society hostage."
In recent years, she has posted videos and photos of activists, including of women filming themselves as they walk in the streets without a headscarf. Alinejad said she receives more than 20 images a day, but posts only some.
The activists in Iran take risks.
In March, human rights lawyer Nasrin Sotoudeh, who has represented female protesters, was sentenced to 38.5 years in prison, of which she must serve 12, according to her husband.
In April, activists Yasaman Aryani, her mother Monireh Arabshahi and Mojgan Keshavarz were arrested after posting a video showing them without headscarves in the Tehran metro. In the video, they distributed flowers to female passengers and spoke of a day when women have the freedom to choose.
Others have pushed boundaries more gradually.
The 30-year-old fire-safety consultant said she tries to avoid policemen when she walks the streets without a hijab. She said she grudgingly complies with the dress code when she delivers lectures or sings in a mixed choir — activities she would otherwise be barred from.
At the high-end Palladium Mall in northern Tehran, several shoppers casually ignored a sign reminding customers that the hijab is mandatory. One woman only pulled up her scarf, which was draped around her shoulders, when she stepped into an elevator and found herself next to a security guard.
Nearby, 20-year-old Paniz Masoumi sat on the stone steps of a plaza. She had dyed some of her hair blue, but kept that funky patch hidden under a loose scarf.
She said police recently impounded her car for two weeks, fining her amid claims that a traffic camera snapped her with a below-standard hijab.
If hijabs were voluntary, she'd throw off hers, Masoumi said. But for now, "I am not looking for trouble."
http://www.arabnews.com/node/1525911/middle-east
--------
'Tackle Child Marriages among Non-Muslims Too': Women's Aid Organisation, Malaysia
By Ashley Tang
15 Jul 2019
PETALING JAYA: Women's groups and academicians want the government to seriously look into the rising number of child marriages among non-Muslims in the country, saying that the previous debate had focused too much on Muslims.
"The rise of child marriages among non-Muslims is perhaps due to urban poverty and the lack of comprehensive sex education.
"It is time for the government to look into the increasing statistics and to understand what policies should be in place, and how we should combat this rise," said Women's Aid Organisation (WAO) assistant treasurer Meera Samanther.
Meera, who is also the Association of Women Lawyers vice-president, said in view of the statistics by the National Registration Department (NRD), child marriages should not be seen as mostly involving Muslim youths.
These youths, regardless of their religious background, were also getting involved in sexual activities from as young as 10 or 12, she said, adding that it was also worrying that there was a lack of information on the ages of the partners the girls were marrying.
Noor Aziah said her research in 2017 showed that there were only 15 cases of huge age gaps among the 2,143 Muslim child marriage cases she looked into.
"The rest of these Muslim marriages were children marrying children and also children between the ages of 16 and 18 marrying those in their twenties. These are boyfriend and girlfriend cases," she added.
International Women's Alliance For Family and Quality Education (Wafiq) president Assoc Prof Dr Rafidah Hanim Mokhtar said if child marriage continued to be addressed as a Muslim issue, then the issue would be neglected in many non-Muslim communities.
"The Orang Asli, for example. They also have a high number of child marriages and there could be problems where they don't go to schools. So when we talk about child marriages, do not subject them to religion or even ethnicity," she said.
Dr Rafidah believes that there are many child marriages in Sabah and Sarawak as well as a high number of teenage pregnancies, adding that this issue goes "hand in hand".
Dr Rafidah said before the government or social activists could talk about banning child marriages in the country, crucial issues such as the accessibility of children to education had to be made a priority.
"How can you talk about making it compulsory not to marry but you don't have schools? Some of them don't even have (exam) certificates to begin with.
"We need education. We must have these infrastructures before we impose these very strict laws," she added.
https://www.thestar.com.my/news/nation/2019/07/15/tackle-child-marriages-among-nonmuslims-too/
--------
View from the Courtroom: New law soon to check child marriages in KP
Waseem Ahmad Shah
July 15, 2019
After over five years of deliberations by different stakeholders, the social welfare department has finalised draft of a proposed law to replace the colonial-era Child Marriage Restraint Act, 1929. In the draft of the Khyber Pakhtunkhwa Child Marriage Restraint Bill, 2019, the department has also finalised the most controversial issue related to the permissible minimum marriageable age for a female.
The Child Marriage Restraint Act (CMRA) 1929, which is still applicable to Khyber Pakhtunkhwa, defines a child as a person, if a male, is under 18 years of age, and if a female, is under 16 years of age. A working group constituted by the KP Child Protection and Welfare Commission continued to discuss the issue of prohibitory age of a male and female in the proposed law and finally it came to conclusion that the prohibitory age of marriage for both male and female should be 18 years.
A summary has now been moved by the department for approval of the chief minister after which it would be referred to the provincial cabinet for final approval. In a recent function, provincial information minister Shaukat Yousafzai said that the Bill would be tabled in the KP Assembly after its approval by the cabinet.
Deliberations over the issue continued during the previous provincial government of Pakistan Tehreek-i-Insaf, but it could not be finalised because of the controversy revolving around the permissible age for a female to marry.
The prohibitory age of a female for the purpose of marriage has been under discussion across the country for the last many years as in past the Council of Islamic Ideology had declared as against injunctions of Islam the raising of marriageable age for a female from 16 years to that of 18 years.
In March 2014, the CII in its meeting had ruled that laws related to minimum age of marriage were against Islamic teachings and that children of any age could get married if they had attained puberty.
Deputy chief child protection officer of the province, Ijaz Mohammad Khan, had in a recent function given comparison between the existing law and the draft bill. The proposed law provides for punishment of up to three years imprisonment and a fine of Rs45,000 for the offence of child marriage. He said that the offence under the proposed law should be cognizable, non-bailable and non-compoundable (which could not be compromised) and the trial court should conclude the trial within 90 days.
He said that it would be binding on a nikah registrar to check the national identity card of both the parties to the registration of marriage.
Presently, the CMRA 1929 provides punishment of simple imprisonment up to one month or fine of Rs1,000, or both, for contracting a child marriage by a male above 18 years of age; for performing or conducting a child marriage; and for parent or guardian involved in a child marriage.
Furthermore, no court shall take cognizance of any offence of child marriage except on a complaint made by the concerned union council or by such authority empowered by the the provincial government for that purpose.
Prior to the enactment of Constitution (Eighteenth amendment) Act, 2010, the issue related to "marriage and divorce" was in the Concurrent Legislative List of the Constitution and both the federal and provincial legislatures were empowered to legislate on it and in case of any conflict between the two laws the federal law had to prevail. This issue is now a provincial subject and only the provinces are empowered to legislate over it.
After the 18th Constitutional Amendment, Sindh province took lead from other provinces over the issue by enacting the Sindh Child Marriage Restraint Act, 2013, which was published in the official gazette in June 2014. In that law the prohibitory age of a female was enhanced to 18 years from the existing 16 years. The law enhanced punishment for contracting a child marriage to maximum three years rigorous imprisonment along with fine. This law has made the offence, cognizable, non-compoundable and non-bailable.
Afterwards, the Punjab government enacted the Child Marriage Restraint (Amendment) Act, 2015, in March 2015, but instead of repealing the CMRA 1929 it made several amendments to that law. Under those amendments imposition of a six-month prison term and fine of Rs50,000 was introduced for a person contracting child marriage. However, the issue of changing the prohibitory age for marriage was not touched and in the definition of a female child the age given is 16 years.
In April this year, the Senate passed a bill – Child Marriage Restraint (Amendment) Bill, 2018 – tabled by Senator Sherry Rehman. However, the said bill has yet to be passed by the National Assembly. The said bill is only meant for Islamabad Capital Territory. That bill also provides for enhancing the permissible minimum age of marriage to 18 years.
Moreover, another bill was tabled in the National Assembly in May 2019 by Dr Ramesh Kumar, a PTI MNA, which also proposed enhancement in punishments as well as the permissible age. The said bill was referred to the concerned standing committee for discussion.
Experts on the subject believe that the KP government should not only make it possible to pass the proposed bill at the earliest, but it should also take steps for proper implementation of the law as even the existing law has very rarely been implemented. https://www.dawn.com/news/1494162/view-from-the-courtroom-new-law-soon-to-check-child-marriages-in-kp
--------
Birmingham School Protests: Muslim Women's Voices Are Being Lost In the Debate
15 July 2019
People need to be listening to the voices of Muslim women during the Birmingham school protests debate, according to a prominent activist.
Gay Muslim woman Saima Razzaq is the Co-Chair of Supporting the Education of Equality and Diversity in Schools (SEEDS), a campaigning group set up in light of recent protests outside schools in Birmingham.
The protests (led by the Muslim community) are surrounding the LGBTI-inclusive No Outsiders program.
Razzaq believes Muslim women are the key to breaking the 'male choke hold' of the school protests.
'We as Muslim women need to find a way to detach ourselves from this continuous male choke hold of a narrative that sees men representing the British Muslim experience,' she said. 'When in fact they represent no one but themselves.'
She then added: 'Women need to and should be at the forefront of the conversation on gender and sexuality in an Islamic context. Our bodies and our sexuality need to be defined by our voices.'
Muslim women are 'leading the way' on reform
Saima Razzaq believes it is Muslim women who are leading the way on implementing progressive reform within the community.
So why is it majority Muslim men 'taking the stage' during the recent protests outside Birmingham schools, she asks.
'In this debate, our voices are simply being lost,' she said. 'We must not forget that historically, it's Muslim women who have championed equality in our communities. That also includes LGBTI equality.'
But she warned it's also important to keep the debate respectful.
She said: 'I'm not prepared to stand by and watch the demonization of the communities who showered me with an abundance of love during my childhood and continue to do so to this day.'
Razzaq then added: 'I think all parents will agree that we need to raise and nurture future leaders who will stand tall in society.
'As people of color and as Muslims, we must continue to fight for proportional representation both in society and places of work. We must educate children to become model citizens who respect equality for all, which essentially will see them employed into positions of power where they can instigate change for the better,' she said.
What caused the Birmingham school protests?
The school protests began at the start of this year when a parent at the Parkfield Community School complained her child was learning about LGBTI relationships.
This is due to the work of teacher Andrew Moffat, who led the charge on implementing the No Outsiders program to the 98% Muslim cohort at the school.
The protests outside several schools in Birmingham became a highly political and volatile situation.
Politicians, activists, and more began taking sides in the debate. The head of the UK school watchdog Ofsted, Amanda Spielman, came down in favor of the schools and LGBTI-inclusive lessons.
However, Esther McVey, a Conservative MP, said parents should have the right to remove their children from primary school lessons on LGBTI-inclusivity if they do not agree with the classes.
Fatima Shah was the first parent to pull her daughter out of lessons.
She said at the time: 'We have said we don't want children in reception to be shown books with same-sex relationships. It's confusing for them.'
As a result of the disruptive school protests, teachers stopped the No Outsiders program to try to 're-engage' with parents.
They tweaked the program, but parents were still unhappy.
They then staged a mass protest on Friday (12 July) by keeping around 500 students from attending school.
The school protests and debate rages on.
https://www.gaystarnews.com/article/birmingham-school-protests-muslim-women-debate/#gs.p7qw0k
--------
Special Haj Training Camp Held for Women
15 July 2019
Moghalpura : A one day Haj Tarbiyati Ijtema (Training camp) for women was organised at Jamiat ul Mominath in Moghalpura at seminary's conference hall on Saturday. This was the first time that a training camp was organised specially for women. The programme started with the recitation of Quran and hamd-o-naat (hymn in praise of Allah and Prophet Muhammad). The chief guest of this programme, Mohammed Masiullah Khan, chairman of TS Haj committee, addressed the women pilgrims. He said this was the first time such a unique training camp for women Haj Pilgrims in Telangana state was being organised.
He felt that this was an opportunity for women who gathered at Jamiatul Mominath and taking part in the camp to clarify all kinds of doubts, as women Muftiyas (Women Islamic Scholars) were taking questions from those who were about to embark on an pilgrimage for the first time. "This is women-only camp, where a woman can freely ask questions and seek guidance from women muftiyas about important issues related to women. Haj is one of the five pillars of Islam which is done one in a lifetime so all pilgrims including women has to know all the rituals to be performed during Haj," he felt.
In this programme, women muftiyas interacted with women and clarified their apprehensions. Dr Muftiya Rizwana Zareen, Principal Jamia tul Mominath explained about different rituals to be performed during the visit and stay in the second holiest city of Madina, where holy mosque of prophet Mohammed is situated. Dr MuftiyaTehminaTehseen explained about the values and virtues of performing Haj, while Dr Muftiya Nazima Aziz elaborated on how to do all the rituals while performing haj (step by step).
Guest of the programme, Alhaj Afareeda Banu provided insight about the whole journey of Haj and how to deal with things which a pilgrim may face during the course of journey and while performing Haj. Later, the women scholars interacted and answered the questions from women pilgrims and allayed all their doubts about performing the Haj. Dr Mufti Hafiz Mohammed Mastan Ali welcomed the audience and guests. Dr Hafiz Mohd Sabir Pasha, Alhaj Moiz Chowdery were also present on the occasion. Later two books of Jamiat ul Mominath were also released by chairman of Haj committee.
https://www.thehansindia.com/news/cities/hyderabad/special-haj-training-camp-held-for-women-546702
--------
Princess Duaa is Supreme Chairwoman of the Arab Women Foundation
July 15, 2019
DUBAI – Princess Duaa Bint Muhammad from the Kingdom of Saudi Arabia was unanimously named as Supreme Chairwoman by the Board of Directors of the Arab Women Foundation in Dubai on Friday.
All the authorities and bodies that come under the Foundation will now function under Princess Duaa.
Muhammad Al-Dulaimi, secretary general of the Arab Women Foundation, said the selection of Princess Duaa for the highest post in the Foundation is an expression of the great appreciation for and pride over Princess Duaa's initiatives and contributions to highlighting Arab woman's bright image and supporting her successes and accomplishments.
These include encouraging and supporting the cultural and intellectual forums that call for peace and positive dialogue between cultures and communities so as to enhance the common human values and her shouldering responsibilities in leading posts in a number of charitable and development societies and foundations.
Al-Dulaimi said that with Princess Duaa in this new post will provide a qualitative addition to the Foundation's initiatives and open new vistas for its programs meant for the interest of women in developing countries and striking strategic partnerships with related international organizations.
Princess Duaa had launched an international initiative for humanitarian work by setting up centers for early detection of breast cancer in countries suffering from hardships and lack of healthcare programs.
http://saudigazette.com.sa/article/571926/SAUDI-ARABIA/Princess-Duaa-is-Supreme-Chairwoman-of-the-Arab-Women-Foundation
--------
40 Emirati Women To Gain Tourism Skills
July 14, 2019
Over 40 Emirati women graduates attended a training programme designed by the Sharjah Commerce and Tourism Development Authority (SCTDA).
The initiative offered a 'career path plan' to support the success and empowerment of female Emirati professionals within the tourism industry. The promotion of equality through community initiatives and advocacy was also a focus area of the programme.
The training of the first batch of candidates was held from July 7 to 11 and the second batch is scheduled from October 13 to 17.
The training was announced earlier in conjunction with Nama Women Advancement Establishment during the Women Economic Empowerment Global Summit (WEEGS) 2017 which was held in Sharjah.
Khalid Jasim Al Midfa, chairman of the SCTDA, said: "We consider investment in the empowerment of women and girls as one of the priorities that has the potential to accelerate sustainable development.
The programme is set to have a wider impact and social reach to resonate with the UN-Women Women's Empowerment Principles. - sandhya@khaleejtimes.com
https://www.khaleejtimes.com/40-emirati-women-to-gain-tourism-skills
--------
In Agony, Yazidi Women Torn Between Islamic State Kids And Return Home
By MAYA GEBEILY
14 July 2019
BAADRE, Iraq (AFP) — Freed after years in jihadist captivity, Jihan faced an agonizing ultimatum: abandon her three small children fathered by an Islamic State fighter or risk being shunned by her community.
"Of course I couldn't bring them home. They're Daesh (IS) children," said Jihan Qassem matter-of-factually, sitting in a sparse concrete structure she now calls home.
"How could I, when my three siblings are still in IS hands?," she added, highlighting the harsh reality that the children serve as constant reminders of the brutalities inflicted on the closed, tight-knit Yazidi community by the so-called Islamic State group.
Dozens of Yazidi women and girls systematically raped, sold and married off to jihadists after being abducted by IS from their ancestral Iraqi home of Sinjar in 2014 have faced the same gut-wrenching dilemma. What to do about the children born of these forced unions?
Now freed, the women are desperate to heal from the wounds inflicted on the conservative minority — but raising jihadist offspring would make closure impossible, they said.
Kidnapped at 13, Jihan was forced to marry a Tunisian IS fighter at 15 and then fled with him and their children from IS's bombarded Syrian holdout of Baghouz four months ago.
When US-backed forces learned she was Yazidi, they whisked her and her 2-year-old boy, 1-year-old girl and 4-month-old infant to a northeast Syria shelter hosting other mothers from the brutalized minority.
The safe-house, known as the Yazidi House, circulated her photograph on Facebook and her older brother Saman, still in northern Iraq, recognized his long-lost sister.
He wanted her home. But without the children.
After days of an anguished back-and-forth, Jihan decided she would leave her infants with Syrian Kurdish authorities in exchange for what she said was her real family.
"They were so young. They were attached to me and I to them… but they're Daesh children," she murmured.
She said she does not have any pictures of her children and does not want to remember them.
"The first day is hard, and then little by little, we forget them," she said.
'No one asks about them'
For centuries, Yazidis who married outside the sect — even against their will — were ex-communicated.
Girls forcefully taken by IS in 2014 risked suffering the same fate, but a landmark decree by Yazidi spiritual leader Baba Sheikh said survivors of IS's sexual abuse should be honored by the community.
That compassion however has not been extended to their children.
In April, the Yazidis' Higher Spiritual Council issued an ambiguous decree welcoming "children of survivors," sparking hope of a second reformation to accept those born of a Yazidi mother and IS father.
But a ferocious backlash from conservative Yazidis prompted the Council to clarify that nothing had changed: it would only welcome children born to two Yazidi parents.
Any further reform was seen as a threat, opening the floodgates of change to a traumatized community, said Yazidi activist Talal Murad.
"If there's this kind of change in the creed, other things could change too — there will be a breakdown, a total collapse of the Yazidi religion," said Murad, who also heads Ezidi24, an outlet covering Yazidi affairs.
Council representative Ali Kheder told AFP the debate wasn't solely about dogmatic reform.
"First, according to Iraqi law, any child with a missing father will be registered as a Muslim, automatically," said Kheder in the Council's headquarters in Sheikhan.
Islamic law, on which the Iraqi constitution is based, stipulates that religion is inherited from the father.
Psychologically too, Kheder said the Yazidi society remained too scarred by the prolonged abduction of their own people to accept raising the children of their abusers.
"Until now, we have thousands of Yazidi women and girls in IS hands. No one asks about them. They ask about a few children that can be counted on one hand," said Kheder.
The Council said it does not keep statistics on returning Yazidi survivors with infants born of rape.
Flesh, blood, tears
While most Yazidi mothers leave their children at the Yazidi House in Syria, some brought IS-born infants home to Iraq. They declined interviews because of the subject's sensitivity.
One woman insisted to her Yazidi family that she would raise her year-old infant fathered by a missing IS fighter, but balked when she discovered she could not acquire Iraqi identification papers for him as his father was not present.
She gave him up for adoption, her doctor said.
Another 18-year-old arrived in Iraq in the spring after finally being freed, but was heavily pregnant by her IS captor, according to a social worker involved in her case.
She spent weeks in a safe-house without her family's knowledge until she gave birth, sent the newborn away and joined her relatives in a displacement camp.
Last year, five children born to Yazidi mothers and IS fathers were left at an orphanage in Mosul, which helped local Muslim families adopt them, according to Mosul's director of women and children's issues Sukaynah Younes.
They are now registered as Muslim.
The psychological impact of this separation will likely be long-lasting. Jihan herself still seemed torn.
Weeks ago, she had described her children to a social worker as her "flesh and blood," saying she missed them.
While she sounded more detached when speaking to AFP, a shy smile crossed her face as she remembered them. When she was out of her brother's earshot, she cried quietly.
"If it was up to me, I would have brought them," she said.
'The genocide goes on'
Yazidis believe the events of 2014 were the 74th "genocide" suffered by the minority in its 4,000-year history, and that it has not ended.
The most painful wound is that hundreds of men, women, and children remain missing, despite hopes they would be found after IS's "caliphate" collapsed in March.
Some 100,000, nearly a fifth of the pre-war community, have been resettled abroad and another 360,000 remain displaced in Iraq with their villages lying in ruins.
"The genocide is ongoing. People can't go home to Sinjar, we still have women and girls missing, everyone is looking to leave to Europe," said Kheder.
Baba Shawish, a cleric and custodian of the Yazidis' holiest site at Lalish, blamed Baghdad.
"The federal government in Baghdad knows very well that thousands of Yazidis remain captive, but it has not decided to arrest the kidnappers. It's not cooperating with us."
A bill introduced in April by Iraq's president proposes reparations for Yazidis and a way to determine children's legal status, but parliament has yet to debate it.
Gripped by such pressing issues, Yazidis expressed frustration with what they saw as misplaced global pressure to enact religious reform and welcome children born of IS.
The best option, community figures said almost unanimously, was for Yazidi mothers to be resettled abroad.
"It's a very complicated issue, and the most appropriate solution right now can be found outside Iraq," said Vian Dakheel, a Yazidi and former parliamentarian.
"In my view, it's for these women to go to Europe with their children."
Dr. Nagham Hasan, an obstetrician-gynecologist who has worked extensively with Yazidi survivors since 2014, said patients with young children had all but given up on Iraq.
"I've been warning that we would be dealing with the issue of mothers for years," she said.
"Everyone wants to leave. The Yazidi community is broken."
https://www.timesofisrael.com/in-agony-yazidi-women-torn-between-islamic-state-kids-or-return-home/
--------
URL: https://www.newageislam.com/islam-women-feminism/afghan-radio-station-shuts-down/d/119195
New Age Islam, Islam Online, Islamic Website, African Muslim News, Arab World News, South Asia News, Indian Muslim News, World Muslim News, Women in Islam, Islamic Feminism, Arab Women, Women In Arab, Islamophobia in America, Muslim Women in West, Islam Women and Feminism