New Age Islam News Bureau
10 Dec 2013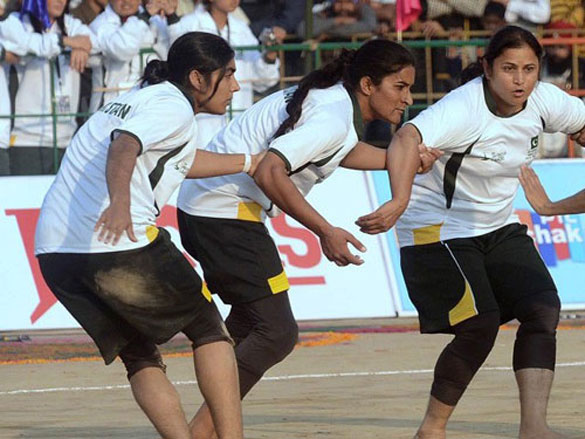 Pakistan Women Kabaddi Team Secures Place In World Cup Semifinal PHOTO: AFP
---------------
• Egypt's Women: Covered-up or Locked-up
• 'Sexual Violence a Crisis in Sudan' - Victims of Rape Speak Out
• A Step Forward: Women to Be Part of First Reconciliatory Jirga
• More Than 60 Women Raped or Killed in Bangladesh: Activists Worried Over Tribes' Rights Violations
• One-Wife Rule Hits Arab Homeowners In Turkey
• Fox News Freaks over Swim Class for Muslim Girls
• England: State Schools 'Making Gender Bias Worse'
• Rukhsana Khan: Uniting World through Children
• American Teen Arrested For Harassing Women
• 16 Honoured With Arab Woman Awards 2013
• MOL: Businesswomen Can Recruit Housekeepers Now
• Pakistan Women Kabaddi Team Secures Place In World Cup Semifinal
• Conference on women, peace and social harmony In Pakistan
Compiled by New Age Islam News Bureau
URL: https://www.newageislam.com/islam,-women-and-feminism/new-age-islam-news-bureau/afghan-police-rescue-woman-from-taliban-stoning/d/34795
-----------
Afghan Police Rescue Woman from Taliban Stoning
December 10, 2013
KUNDUZ, Afghanistan: Police in a remote northern Afghan village rescued a woman from being stoned to death after she was condemned by the Taleban for allegedly cheating on her husband, officials said Tuesday.
Taleban militants, who often run informal justice systems in rural Afghanistan, handed down the death penalty on the woman after her husband accused her of having an affair.
"When police rescued her, she was locked in a room in a compound that was used as a Taleban base," Sayed Sarwar Hussaini, police spokesman for Kunduz province, told AFP.
He said the rescue operation in the village, a militant stronghold, was launched after the woman's relatives told police the Taleban had sentenced her to death.
The husband, a supporter of the Islamic insurgent group, handed her over to the militants on Friday.
The incident happened in Dasht-i-Archi district of Kunduz, a province where the Taleban have had an active presence in recent years after they were ousted from power nationally in 2001.
"The Taleban were preparing to stone her when the police reached the compound. The Taleban ran away and the woman was rescued. She's now in police protective custody," Hussaini said.
Enayatullah Khaleeq, a spokesman for the Kunduz provincial administration, confirmed the rescue and give a similar account.
"Her husband was with the Taleban. He had divorced his wife and, perhaps to justify this, he accused her of cheating on him and wanted to get her killed by the Taleban.
"We are investigating this," Khaleeq told AFP.
The Taleban, the biggest militant group behind a 12-year insurgency in Afghanistan, implemented a harsh version of Sharia law during their rule of Kabul between 1996 and 2001, stoning women to death and chopping off thieves' hands.
In July last year a 21-year-old woman was stoned to death in a Taleban-controlled village just 60 kilometers north of Kabul, sparking international condemnation.
http://www.arabnews.com/news/490431
-----------
Egypt's Women: Covered-up or Locked-up
December 10, 2013
"If you take out uncovered meat and place it outside on the street...and the cats come and eat it, whose fault is it, the cats' or the uncovered meat? If she was in her room, in her home in her hijab, no problem would have occurred." — Sheikh Taj Din Al-Hilali, Grand Mufti, Australia, 2006
Although she survived the attack, what is really instructive is how she was demonized and blamed on Egypt's talk shows for the violence she endured. Commentators accused her of deliberately wearing a blue bra to invite the attack -- as if it even could have been seen beneath the black Islamic veil she wore before she was attacked.
The ancient Egyptians created a sophisticated civilization, particularly regarding the status of women. On women's rights, ancient Egyptian society was considerably more liberal and progressive than Athens and Rome. Ancient Egypt's eight female pharaohs and a number of influential queens led the country as it achieved astonishing feats in a wide range of fields that include engineering, fashion and astronomy. From the archaeological evidence of the art on the ancient temples, at least in the realm of law, it appears Egyptian women had achieved equality with men. Women could own land, divorce their husbands and represent themselves in court. Women also played a central role in the how their society was governed.
Those days are long gone. In today's Egypt, women, even when they just walk on the street, every day endure violence, aggression, and sexual harassment. Women are often discouraged from seeking justice, both by officials, who want to protect Egypt's reputation and by their own relatives, who want to protect their family's honor.
What happened? The answer seems to lie with Islam's Sharia Law and how it is interpreted by the clerics at Egypt's -- and Sunni Islam's -- foremost religious establishment, Al-Azhar University in Cairo, and by other hardline fundamentalist groups in the country. The clerics at Al-Azhar, all men, seek to keep women behind the veil and under the thumb of the country's theocracy.
Last week, things came to a head when a new draft of the Egyptian constitution was approved by a 50-member committee appointed by Egypt's Interim president, Adly Mansour. The current draft includes Article Two of the old constitution which states that "Islam is the state religion, Arabic is its official language and the principles of Islamic Sharia law form the main source of legislation."
To its credit, the committee also approved Article 89, which criminalizes child marriage, forced marriage and female genital mutilation ["circumcision"]. Two members of the committee did not vote in favor of this article; they were outside the country; and Salah Abdel-Maboud, a representative from the Salafists' ultraconservative Nour Party, refused to vote on this article. He left the room. Abdel-Maboud also objected to Article 11 of the proposed constitution, which addresses the equality between men and women and states that those women's rights are defined in Sharia's laws. Islamists keep repeating that Sharia laws have all the solutions to the world's problems.
At the outset, the Islamists, who seek to shape Egyptian society, would deny women the right to participate in their country's governance. Women's involvement in politics is now a Western idea; it has no place in Muslim Egypt. Sheikh Abu Ishaq al-Heweny recently stated that the successes enjoyed by women leaders such as Margaret Thatcher, Indira Gandhi and Golda Meir were abnormal phenomena in history, and that no nation could enjoy any progress with a women at the helm.
The oppression, however, does not stop there. It goes much deeper. In the minds of Egypt's theocrats, a woman's body should not be seen in public. In televised interviews and sermons, leaders of the Nour Party have stated that when a man sees a woman, his testosterone hormones are activated. Therefore women, according to his interpretation of Sharia law, need to be covered-up or locked-up.
Many of the Islamists damn non-Muslim societies for granting women their freedom -- to men, the biggest danger.
These ideas, unfortunately, have a real impact on how girls and women are treated in Egyptian society. Instead of protecting women from the violence of men, ideas promoted by the Nour Party, and by clerics at Al-Ahzar and the educational system they control, have given men license to behave like animals toward women.
A few weeks ago, a 7-year-old girl, Ehssan, was kidnapped and raped while playing front of her family's house in Alexandria. The community's elders discouraged the father -- to protect both the honor of his daughter and the honor of his family -- from going public about what had happened to her. The police and the local hospital initially refused to get involved in the case. The father stated in a televised interview that what happened to his daughter happens regularly to girls of a similar age in Egypt.
Hania Moheeb -- an ordinary Egyptian woman who was attacked in her way to Tahrir Square in January 2013 to celebrate the second anniversary of the January 25 Revolution -- can also testify to the problem of violence against females in Egyptian society. Moheeb told the BBC what happened: "All of a sudden I found myself inside a very, very huge circle of men who were attacking every inch of my body," she says in a voice that is soft but unflinching. "They stripped me - their hands were all over my body, violating my intimate parts. I thought I was going to die because they were very aggressive. At a certain point I think I fainted because one of them was trying to strangle me with a scarf that was around my neck." What happened to Hania Moheeb happens every day to Egyptian women.
In December of 2011, during one of the youths' demonstration against the SCARF (Supreme Council of the Armed Forces), a young woman wearing the Islamic niqab was severely beaten by Egyptian soldiers. This graphic and horrifying video captures the attack, during which soldiers pulled the niqab over her head and exposed her blue bra and stomach.
Although she survived the attack, what is really instructive is how she was demonized on Egypt's Islamic talk shows and blamed for the violence she endured. Commentators seemed obsessed with the color of her bra, and accused her of deliberately wearing a blue bra to invite the attack -- as if it could even have been seen beneath the black Islamic veil she wore before she was attacked. The question they asked was not how the soldiers could attack a defenseless woman in such a way, but how she could dare to wear such a bra. Others accused her of being a whore. Other hosts asked why she didn't wear multiple layers of clothing under her niqab to protect herself in Tahrir Square, as if the niqab were not enough. Azza Hilal Suleman, an activist who tried to help the victim, was beaten by the same soldiers.
Ideas about women disseminated by Al-Azhar have made their way to the West where they have been embraced by both men and women. On October 11, 2013, Diane Sawyer, anchoring an ABC News show, interviewed hardliner fundamentalist women in UK as part of a segment about the 16-year-old Pakistani girl, Malala Yousafzai. The interviewees wore the same Islamic niqab [veil] that was worn by the woman who was beaten in Egypt in 2011. It is a black garment designed to conceal a woman's shape and is required by ultra-conservative Muslims.
The women explained that the niqab was to honor and protect them, unlike Western women, who are seen as no more than sex objects, and, they said, have to expose their cleavage to get a job. The women emphasized that Islam cannot co-exist with freedom and democracy, and they told Sawyer that she was oppressed because she was not covered-up.
If the niqab is intended to protect and honor women, then how does one explain the violence endured by a completely veiled Egyptian woman in 2011?
The problem is not with the clothes that women wear, but with the ideas that are in the heads of men who attack the women.
To get a taste of what these ideas are, it is useful to listen to the testimony offered by Australian Grand Mufti, Sheik Taj Din Al-Hilali, in a 2006 sermon about adultery. Speaking in a mosque in Sydney, the mufti blamed women for rape. He stated that, "If you take out uncovered meat and place it outside on the street, or in the garden or in the park, or in the backyard without a cover, and the cats come and eat it ... whose fault is it, the cats' or the uncovered meat?…The uncovered meat is the problem."
The sheik then said: "If she was in her room, in her home, in her hijab, no problem would have occurred."
He said women were "weapons" used by "Satan" to control men.
"It is said in the state of zina [adultery], the responsibility falls 90 per cent of the time on the woman. Why? Because she possesses the weapon of enticement [igraa]."
It is no surprise that Sheik al-Hilali feels this way about women. According to a video produced by Al-Ahzar TV in Egypt, the Mufti was described as a jihadist who fights for Islam in the West and whose entire education took place in Al-Azhar-operated schools.
To deflect the outrage over his statement --many Australians demanded his resignation -- Sheik Al-Hilali fabricated a story about people breaking into and vandalizing his mosque. He blamed the incident on his opposition within the mosque but was caught in the act of vandalizing his own mosque by security cameras.
After Al-Hilali was forced to resign his post as the Grand Mufti, he went back to Egypt and condemned his former host country, Australia. In an interview with Amr Adeeb in Al Qahera-Al Youm (Cairo Today), Al-Hilali confirmed his views about women, but denied that he vandalized his own mosque. He said, "There is no freedom and no democracy [for Muslims] -- the most dishonest and unjust people are Western people and the English in particular."
I witnessed the impact of Sharia's interpretation on the status of women first-hand before immigrating to the United States. After my family had moved to Cairo, I saw my mother crying in the kitchen upon her return from the market. She always responded to inquiries about what happened with "nothing" or "Walad el Kalb…haywannat" -- sons of a dog…animals." Her tears kept coming, but she never answered any questions.
I could only guess what happened to my mother until I saw "Cairo 678," an Egyptian movie based on real stories. It addresses the sexual harassment problem in Egypt through the lives of three women from three different economic, religious and social backgrounds. The movie also highlights the weapons available to women to fight their attackers and the techniques used by men to deny any charges. For example, women who have to use the public transportation have to use hairpins to keep harassers away.
Although she never articulated how deeply she was affected by the inequality that pervades Egypt today, my mother communicated her fear and sadness through denial, silence and quiet tears.
As a male in this society, I was unaware, until many years later, of the discrepancy between the personal freedom I enjoyed as young man in Egypt, free to come go as I pleased, and the utter lack of true freedom that was intentionally withheld from women like my mother. In countries governed by Islamists, including Egypt, sexual harassment is a taboo subject. Women are told that if they are sexually harassed, it is their fault. Victims are told that they had better not to show their country's dirty laundry.
Egypt today is constantly featured in the media: its political unrest, its economic challenges that plague the country, and increasingly, its mistreatment of women.
It is high time for Islamists to face the reality that their ideas are hurting Egypt, and for the civilized world to speak up.
Michael Armanious, a U.S.-based news analyst and video producer, was born and raised in Egypt.
http://www.gatestoneinstitute.org/4081/egypt-women
-----------
'Sexual Violence a Crisis in Sudan' - Victims of Rape Speak Out
December 10, 2013
Ottawa — Women who report being raped in Sudan are threatened and often accused of adultery. Victims of sexual violence are denied access to medical treatment, while they face many legal disadvantages.
"The women of Sudan are facing a crisis of sexual violence with no end in sight," according to the report 'Survivors Speak Out: Sexual Violence in Sudan', released on 6 December. It has documented the pervasiveness of sexual violence against women in Sudanese regions. The research team consists of Nobel Peace laureates, in the International Campaign to Stop Rape & Gender Violence in Conflict.
In an equivalent report from 2011, the Nobel Women's Initiative stated that in Darfur, rape is used by armies and Janjaweed to terrorise and displace mostly non-Arab tribes. Also other parties have committed sexual violence during the war that arose in Darfur in 2003.
'Raped while doing daily jobs'
Médecins Sans Frontières (MSF) has treated almost 500 raped women and girls during a five-month period in 2012. In August 2006, Human Rights Watch reported 200 sexual assaults in South Darfur's Kalma camp in five weeks. MSF also found that 82 per cent of the interviewed Darfuri rape survivors is assaulted while "undertaking daily activities", and less is abused when fleeing from an attack on their community.
Rape 'a weapon of war'
South Kordofan, which includes Abyei and the Nuba Mountains, has witnessed an increase in clashes between the Sudanese army and opposing armed groups since the division of Sudan and South Sudan in July 2011. Sexual violence has been perpetrated by both sides, according testimonies from civilians. According to the report, systematic rape has been used as a weapon of war and political repression in Sudan's campaign to "eliminate the Nuba identity", terrorise the population and "cleanse" them from the area.
The research on sexual violence in Blue Nile is thin as the United Nations mandate for peacekeeping expired in July 2011, and human rights groups were denied access to the region since then.
More vulnerable in IDP camps
Gender-based violence occurs in the cities as well. Internally displaced women living in refugee camps or urban centres such as Khartoum are more vulnerable to sexual violence. It is unsafe inside the centres, and the women going outside are exposed to attacks as they venture for water or firewood. Gangs that regularly rape women have emerged in and around camps for displaced people in Khartoum, the report says.
Women are silenced
"Several publicised cases hint at the heavy-handed treatment of women by government forces in Khartoum," the researchers state. Safiya Ishaq for example was 25 years old at the time she was kidnapped and gang-raped by three men of the Khartoum security forces in February 2011. She has revealed this publicly in her testimony on YouTube.
Ishaq has told the Nobel Women's Initiative that she was harassed by police agents when she wanted to file a police report. Journalists who reported about her sexual abuse were threatened or imprisoned as the National Intelligence and Security Services accused them of 'spreading false allegations'.
It is rare among people in Sudan to speak out and report being raped, because "there is are weaknesses in the legal system" according to a local activist working in camps for the displaced in Khartoum in 2012. One of them is that it is not a crime for men who rape their wives in a marital relationship.
Adultery
Also, in Sudan's Criminal Act of 1991, rape is defined as adultery without consent. "And because adultery is a serious crime in Sudan, the woman who alleges rape risks being charged if she cannot convince the court that the sexual interaction was non-consensual," the report explains. "Simply being unmarried and pregnant is ample grounds to prove adultery."
Besides, the perpetrator must either confess, or four adult male witnesses have to testify to prove the sexual interaction has occurred without the victim's consent.
Another obstacle for victims of rape, is a document known as Form 8. Between 1991 and 2005, the government required women to obtain it at the police station in order to receive medical treatment after a sexual assault. Although the form is no longer required by law, doctors refuse to provide medical exams without the form for fear of reprisal.
Little help from organisations
The Nobel Women's Initiative complains about the government's effort nowadays to prevent their study on sexual violence. In 2009, many of the international humanitarian organisations in Darfur that delivered medical and psychological services to women were expelled from Sudan. "The local civil society groups that replaced the organisations are largely unable to fulfil the need for sexual violence programming in Darfur."
According to the report, one step toward ending the sexual violence would be "to distinguish the crime of rape from that of adultery." Finally, it demands that the International Criminal Court's (ICC) arrest warrant against President Omar Al Bashir be enforced so that he can stand trial for his war crimes against the people of Darfur.
In 2008, Bashir is accused by the ICC of using mass-rape to destroy target groups in Darfur. A year earlier, he had claimed: "It is not in the Sudanese culture or people of Darfur to rape. It does not exist."
http://allafrica.com/stories/201312080104.html?viewall=1
-----------
A step forward: Women to be part of first reconciliatory jirga
December 10, 2013
PESHAWAR: For the first time in its history, the Khyber-Pakhtunkhwa (K-P) government will include women as members of the alternate dispute resolution (ADR) forum.
Also known as a musalehati jirga, the forum shall consist of a minimum of nine and a maximum of 13 conciliators, out of which two will be women. According to an initial copy of the proposed K-P Musalehati Jirga Bill 2013 available with The Express Tribune, the women could be appointed by the government.
This historic decision will help empower women in the province. Meher Taj Roghani, Adviser to the Chief Minister on Social Welfare, said a woman can make an informed decision in a male dominated society once she is educated.
"Appointing a woman as a member of the ADR forum will empower women and set an example for others," said Roghani. "If the women of the jirga are educated professionals, they will be able to convince the men too."
The proposed jirga will be responsible for solving civil and criminal disputes at union council levels free of cost. The bill reached the law department on September 25, and once approved by the provincial cabinet will be adopted by the provincial assembly.
The musaleheen or jirga members will be selected for four years by a committee from a list of 39 people submitted by the relevant police station, patwari halqa and union council chairman. The candidates also need clearance from the tehsildar and district's special branch.
"In case of nine members, one should be a woman while in case of 13, the number of females shall be two," the bill read, limiting the age of every single member to at least 35 years and above. The members should not have been convicted of an offence, have a good reputation with no political affiliation and a sound background.
The draft further reads the jirga would be led by a convener, who will be elected by the members for a year, under the supervision of an assistant commissioner and in charge of the relevant police station. The jirga members can be reappointed for a second term.
According to the proposed bill, the jirga shall consist of three panels for case hearings which will prepare a schedule and maintain a record. A monthly report will also be sent to the assistant commissioner and in charge of concerned police station.
The jirga will not accept matrimonial dispute cases unless filed by the husband or wife. Civil and criminal complaints can be filed verbally or as a written application.
The jirga will have a fixed time and date to hold proceedings. It will have the authority to file a complaint against anyone who does not accept the jirga's verdict. It can also consult experts if need be.
Home and Tribal Affairs Secretary Akhtar Ali Shah said the jirga will reduce the burden on judiciary and help resolve disputes.
http://tribune.com.pk/story/643004/a-step-forward-women-to-be-part-of-first-reconciliatory-jirga/
-----------
More Than 60 Women Raped or Killed in Bangladesh: Activists Worried Over Tribes' Rights Violations
December 10, 2013
'More than 60 women were either raped or killed and many had to face various forms of abuse and torture.' says Chanchana Chakma
Rights activists yesterday expressed their worries over violations of the human rights of tribal women and children, and blamed the Bangalee setters for creating conditions not conducive to multi-ethnic coexistence.
Chanchana Chakma, president of Hill Women's Federation (HWF), citing a report concerning Jumma women and children, said tribal communities had to live in fear and anxiety amidst what she called a "hegemonic presence" of Bangalee setters and the Army.
According to the report; which corroborated the findings of Parbatya Chattagram Jana Sanghati Samiti (PCJSS), HWF and local newspapers; at least 122 Jumma women and children were victimised by setters between January 2007 and December 2012.
Of them, Chanchana said, more than 60 women were either raped or killed and many had to face various forms of abuse and torture.
She was speaking at a discussion on the human rights situation in the tribes, held in the auditorium of the Women's Voluntary Association.
"Tribal people do not have a level playing field when it comes to business. There are too many checkpoints in Bandarban and Khagrachari, which make you feel as if you are captive in your own land. Additionally, this Operation Uttaran of the Army has also become quite unnerving," Chanchana said.
She accused army officials of masterminding the abduction of HWF Organising Secretary Kalpana Chakma on June 12, 1996.
Rakhi Das Purkayastha, organising secretary of Bangladesh Mahila Parishad, stressed the need for increased awareness of the inequality and discrimination faced by tribal women.
Rokeya Kabir, executive director of Bangladesh Nari Progati Sangha, alleged that many army officials posted to the region were leasing land for their own use under false identities.
Among others; Binotamoy Dhamai, assistant general secretary of Bangladesh Adivasi Forum, Dipayan Khisa, a media consultant of PCJSS, Chandra Tripura, organising secretary of HWF, and Rubaiyat Ferdous, a teacher of journalism in Dhaka University; also spoke at the conference.
http://www.dhakatribune.com/crime/2013/dec/10/activists-worried-over-tribes%E2%80%99-rights-violations#sthash.6YbiDg6H.dpuf
------------
One-wife rule hits Arab homeowners in Turkey
December 10, 2013
Polygamous Arab men have been attempting to bring all four of their wives to Turkey after buying a house in the country, giving a headache to the Turkish authorities, which can only give a residence permit to one wife.
The Ministry of Environment and Urban Affairs are now reported to be working on a new regulation to resolve this issue, upon demands from Arabs.
"Many Arab men say they want to buy house in Turkey, but also ask for help from us to bring all of their wives," said the chairman of Demir Construction, Hamit Demir.
"The existing law in Turkey, which only offers work permits to only one wife for foreigners, discourages many Arabs from buying houses in Turkish cities," Demir added.
The demand has been rising for estate in Turkey among Arabs, specifically after the Reciprocity Law went into effect, increasing the minimum residence permit for foreigners to one year from three months.
Polygamous Arabs are, however, having difficulties in obtaining residence permits for all of their wives in Turkey, where polygamy is not legal.
According to the existing law, foreigners must apply once a year to get the temporary permit for eight years. Then they are able to apply for a permanent residence permit only after eight years of their residence in Turkey. This is also the case for their (one) spouse.
Saudi Arabians most prominent
Saudi Arabians in particular want to bring all of their wives to Turkey, sector representatives said, adding that such demands are on the rise. Saudis ranked top of the list of the Arabs who bought houses in Turkey in the first 10 months of the year, with approximately 773 properties sold to Saudis. They were followed by Iraqis, Kuwaitis, UAE citizens and Jordanians.
Overall, around 15,000 foreigners acquired 21,691 houses in Turkey in the first 10 months of the year. The highest demand came from Russia, Germany and Britain, but sales to Arabs will surpass all others when the latest sales are officially declared, according to sector representatives.
"I believe Arabs should not have a problem in coming to Turkey," said the chairman of Agaoglu Group, Ali Agaoglu, who has sold over $800 million worth of real estate to foreigners up to now.
Such an easing in procedures could, however, disturb Turkish people, according to Ferhat Bakgör, chairman of Bak Construction, which develops property projects in Istanbul for rich Arabic families.
"Turkish people have not yet become comfortable with living with Arab people in same apartment blocks. They will feel worse if Arab men come to Turkey to live with their all wives," he said.
http://www.hurriyetdailynews.com/one-wife-rule-hits-arab-homeowners-in-turkey.aspx?pageID=238&nID=59298&NewsCatID=344
--------------
Fox News freaks over swim class for Muslim girls
World Bulletin / News Desk
December 10, 2013
Fox News anchor Heather Nauert announced that a YMCA swim class that respected the religious traditions of Muslim girls was proof that "Sharia law is now changing everything."
The Minneapolis StarTribune reported last week that the downtown St. Paul YMCA had teamed up with the St. Paul police department to teach a group of Somali-American girls to swim.
To respect the religious traditions and modesty of the girls — ages 5 to 17 — men were not allowed in the pool area during the one-hour class.
But for the Fox News host, this was a sign that Sharia law was creeping in "towns across the Midwest."
"Well, the minority becoming the majority at one community pool," Nauert pointed out on Monday. "Sharia law is now changing everything."
"Similar classes are now starting at towns across the Midwest. We'll keep watching this story for you," she concluded.
http://www.worldbulletin.net/?aType=haber&ArticleID=124599
-----------
England: State Schools 'Making Gender Bias Worse'
December 10, 2013
Almost half (49%) of state-funded mixed schools in England are "reinforcing gender stereotypes" in terms of the subjects students study at A-level.
This is according to a report published on Monday by the Institute of Physics (IoP).
It says these schools are failing to counter the idea that certain subjects are for girls and others are for boys.
The institute is calling on schools to address the issue to avoid inadvertently limiting pupils' options.
The study used information from the National Pupil Database, which contains a record of students' A-level choices.
It looked at six A-level subjects, finding three with a very female-biased student base - English, biology and psychology - and three that are studied by many more boys than girls - physics, maths and economics.
The research went on to score schools based on how well they were doing compared to these already skewed national average ratios.
"We found that nearly half of the co-educational state-funded schools we looked are actually doing worse than average," explained Clare Thomson, curriculum and diversity manager at the Institute of Physics.
"That means they're actually making this gender bias in terms of progression worse, rather than even meeting the national average."
Although the figures in this study are from a database of schools in England, the researchers say that similar gender bias is evident in Wales, Scotland and Northern Ireland and that this likely to be a UK-wide issue.
Unfair bias
Crucially, Ms Thomson added, the research showed that this bias was much less of a problem in single sex schools.
"So we really want those mixed schools to think about this issue and see if there are ways they can address it," she told BBC News, "because it means that it's unfair for the students who are attending those schools."
Some schools are bucking this trend.
Cheney School, a mixed, state-funded school in Oxford was one of 28 that received the highest score.
Head teacher Jolie Kirby stressed the importance of male and female role models, including teachers and outside speakers to inspire the students.
"[People are] willing to come into school and talk about their careers and experiences," Mrs Kirby told BBC News.
"We have a number of staff in school that come from quite humble backgrounds, and they're able to talk about how they've challenged stereotypes in their own lives.
"So I don't think it's about additional resources, I think it's about an approach that will work for students and young people and about bringing people into the school to help you with that."
And this does seem to be working.
One student, Emma, who is studying the very male-biased physics and maths at A-level, told BBC News: "It's never really occurred to me that, just because I'm a girl, I wouldn't be able to do these subjects."
Education Minister, Elizabeth Truss, said that physics and maths were "increasingly important for a wide range of careers from business to culture".
Responding to the report, Ms Truss told the BBC: "It is worrying that we perform worse than international competitors and this waste of talent is holding our country back.
"We are putting huge focus on raising standards in maths, physics and computer science to make sure these important skills are universal - and not just for boys."
http://www.bbc.co.uk/news/science-environment-25243274
-----------
Rukhsana Khan: Uniting world through children
December 10, 2013
Her stories unite young child readers, from all religions and culture backgrounds, perhaps that is the reason her book Big Red Lollipop has been selected as one of the 100 greatest books by the New York Public library, and has found a permanent place in there.
Rukhsana Khan, Internationally acclaimed Author of some of the Best selling children's books like Big Red Lollipop, Wanting Mor and others. She in her own way tries to spread positivity through humor laced stories, some about Muslims in young minds.
A tete with this gentle and god fearing Author reveals life's challenges and victories which never come easy and behind this successful women is her man! Changing the proverb along too.
How was your childhood? Was there anyone back then, who read out or told you stories?
I had a very difficult childhood. My father decided to leave Pakistan when I was six months old because he wanted his children to grow up without a lot of wrong cultural thinking. We were the only Muslim family in a very small town in Canada in the 1960's and '70's.
It was very hard to stay Muslim and there was lots of racism. The children in my class used to tell me that I was brown because I was dirty. I went home and took five baths a day to try to make my skin white and 'clean'.
My father always stressed education when we were growing up, but he also wanted us to keep our Muslim identity. Sometimes he'd work sixteen hours in the day and he'd still come home and read us Qur'an. My parents are also natural storytellers. They're very funny! They would tell us stories of when they were growing up, and they constantly talked to us about what we were going through.
From being a biological chemical technician to an award winning International writer, what brought about this major shift?
When I was thirteen years old, my English teacher told me I should become an author when I grew up, but I thought it was impossible. I thought authors were white people, from England and America.
My teacher's suggestion started me dreaming about it. I even tried writing a picture book about a worm named Waldo, and it was eventually sent to a New York publisher. When it was rejected, I thought, "See? I can't do it!"
I thought I should be sensible. Become a scientist! Then it doesn't matter how you dress, or what color skin you have.
My parents, like most Pakistani parents, always emphasized sciences and maths, so they were pleased when I decided to become a biological chemical technician. And if I'd made a good living as a biological chemical technician I wouldn't have pursued my real dream of being an author.
I graduated at the top of my class but was the last person to get a job because by this time I was married and wearing hijab and sometimes the interviewer would take one look at me and tell me the job was filled.
I finally did get a job but it was only twenty cents more than minimum wage and it took an hour and a half to get to work every day. It wasn't worth it. When my first daughter was born, I decided it was more important to stay home and take care of her, and while taking care of her, I began writing again.
And while I was writing I noticed how many young people were abandoning their Islamic identity. There were no stories that validated their experiences. I wanted to write stories that would humanize Muslims. Show that we have good stories too, so that we can earn our place in society and be proud of who we are.
Very few of your age can come this far, in being successful and handling the family along, how do you reminisce it now at this point?
I think I've had a very condensed life. I can't seem to find many places in my life that wasted time. Even the years that I was working to get published, I don't consider any of that time wasted because it was necessary to learn how to write well.
I have two Islamic priorities: my family and my work. I do believe taking care of my family is taking care of the trust that Allah has bestowed on me, and if I do so properly, then I will be serving Allah, and working for my family can even be considered an act of ibadat (worship).
I write books that will tell good stories, encourage good relations between different cultures and convey good morals, then my books can also be considered a means of serving Allah and an act of ibadat (worship). That is my intention.
A good friend of mine once warned me, he said, "Be careful your words will either bear witness for you or against you on the Day of Judgment." And I remember that always!
I want my words to bear witness for me, not against me!
On your biggest support system?
My biggest support system is definitely my family! Especially my husband.
I got married very young. I was seventeen when I got married to a good Muslim man who fears Allah as I do.
I remember years ago, one night my husband asked me to tell my deepest dream. I was scared he would laugh. He assured me he wouldn't, so I told him, "I want to be an internationally famous children's author." I waited for him to laugh but he didn't. In fact, without even hesitating he said, "I believe you can do it."
And even though the writing classes cost money and it meant he had to watch our daughters one night a week, he encouraged me to take the classes and workshops.
By this time I had a total of five books under contract. And he said to me, "I knew you could do it."
I asked him, "How did you know? Was it my talent?" he said. "It was the fact that you didn't give up."
And when I thought about it, I knew he was right.
There are lots of people with talent. To get published, to make it as an author, you have to have more than talent, you have to never give up. perseverance! In the beginning, it's more important than talent.
Also, my children were very supportive and provided good criticism of my stories. I would often read them a story to see their reaction. If they started to fidget or get restless, I knew I had a lot of work to do. If they just said, "That's nice Mom." I also knew I had a lot of work to do. I encouraged them to be honest with me. It really helped.
Tell us how your affair with writing began, and about your first commercial success?
My love of writing really came about because I wasn't always finding books I loved to read any more. I wanted books that reflected my own reality. I was sick and tired of books written by non-Muslims that showed us Muslims as barbaric savage terrorist types!
My first commercial success was my novel Wanting Mor. Up till then I was earning more money from school presentations than from the actual books.
Wanting Mor is set in Afghanistan and based on a true story. It's been published in the U.S. and Canada, Japan, Australia and New Zealand, Italy and in India. (In fact I'm going to India in November to launch the book there and I went to Italy in 2009 to launch the book because it was selling so well alhamdu lillah!) It's also just been sold to Sharjah in the UAE, to be published by Kalimat publisher in Arabic.
How important is it to imbibe cultural tolerance among children from a young age?
I think it is extremely important to encourage children to be tolerant of other cultures! I think it is respecting the tradition of Prophet Muhammad (peace be upon him) to do so, and definitely it says in the Quran for the believers not to laugh at people in other faiths lest they turn around and ridicule Allah and the Messenger (Peace be upon him).
We need to teach our children to learn about and respect the religious observances of other faiths as well.
In fact I've often felt humbled at the tolerance and good will that non-Muslims have shown me. In fact, my non muslim hosts have taken great pains to accommodate my religious beliefs and observances! At one event they even sat me with all the people who didn't drink alcohol so I'd feel comfortable!
My hope is that when people get to read my stories they are really in effect getting to know their Muslim neighbors and it will help to create more peace and harmony in the world. But the effort has to go both ways.
On understanding a child's psychology, are your grand kiddies helpful in any way while writing for the present generation?
My creative process doesn't look that much at other children, even my grandchildren. Sometimes they will influence me slightly with regards to a story, but mostly the stories I write are from my own childhood or even adult experiences. But I do read to my grandchildren—a LOT! And I watch and see what kind of stories they like best.
But the stories I write, they're more about myself. They're stories about things I might be even wrestling with today.
About your book, Big Red Lollipop making its way into the New York Public library's 100 greatest children's books list, how does it feel, what all has gone into this success?
The New York Public Library is the third biggest library system in the world. For them to recognize my book… to have my work listed in the company of some of the most excellent children's books in the world…books that I loved while growing up, books that kept me going through difficulty and hardship …it brings tears to my eyes!
Imagine working and struggling for more than 24 years on your craft, on becoming excellent in writing—or at least trying to be excellent. Imagine being passed over many times for awards and recognition, and coming to terms with that. Believing Allah gives to whom He pleases.
Having just enough success over those 24 years to keep going but not enough to say that you've actually 'made it' and then finally,having this kind of honor!
There were so many times during those 24 years when I thought of giving up my dream, just going back to being a wife and mother.
And now I feel like the first step has been accomplished where people are more likely to take note of my writing. Getting really good stories into the hands of eager young children, all kinds of eager young children, Muslim and non-Muslim is all i wish.
What else does Rukhsana Khan do beyond writing books laced with humor?
When I am not writing I do presentations at schools, festivals and conferences in North America and around the world.
Over the last fifteen years, I've been honing my skills as a storyteller. I've gathered folktales from around the world as part of my repertoire. I've been featured at storytelling festivals around the world and developed my skills as a public speaker.
And I've developed excellent educational presentations designed for school children from very young students to high school students. All my presentations are geared towards addressing aspects of curriculum. The children learn even as they are being entertained.
In 2008 the International Board on Books for Young People (IBBY) was holding their biannual congress in Copenhagen, Denmark. This was soon after the Danish cartoon incident.
IBBY is the largest organization for children's literature in the world and has a membership of about 65 different countries.
I approached the organizers to do a session on freedom of speech versus cultural sensitivity in light of the Danish cartoon incident. It became one of the major plenary/keynote sessions in the congress!
My speech was received so well in fact that it was turned into an article for the most prestigious children's literature journal in America and I was asked to give the speech on two subsequent occasions.
Your upcoming books?
I'm very excited to say that Kalimat Publishing is publishing my novel Wanting Mor in Arabic.
Wanting Mor is my tenth book, a novel based on a true story of an Afghan girl. It won the Middle East Award in Texas and was shortlisted for thirteen other awards around the world. It's been published in Canada, the U.S., Italy, Australia, New Zealand, Japan and India, and now U.A.E.
Also I have another picture book coming out in January called King for a Day. It's published by Lee & Low.
I still have so many more stories in me to write! And so much that I want to do with my writing! In many ways it feels like I'm only beginning!
http://www.arabnews.com/news/487106
-----------
American teen arrested for harassing women
December 10, 2013
The Commission for the Promotion of Virtue and the Prevention of Vice (Haia) arrested an 18-year-old American man in Hail recently on charges of harassing females in a public park reserved for families.
The Haia had apparently received complaints from several citizens about his behavior. Members of the Haia first watched the young man for some time. When they determined he was harassing females, they took action against him.
The Haia members confronted him and said he was acting in an objectionable manner. However, it is claimed that the young man then resisted arrest by police officers who were with the Haia.
After he was questioned, it was discovered that he lives with his mother, who teaches at Hail University.
He was turned over to the Al-Muntazah police station in northern Hail on charges of behaving in an immoral manner and resisting arrest.
The matter has been referred to the country's public prosecution agency for further action, said a police spokesman.
http://www.arabnews.com/news/490326
-----------
16 honoured with Arab Woman Awards 2013
December 10, 2013
ABU DHABI – Arab Woman Awards UAE 2013 winners were announced at a gala reception here.
The awards ceremony which was attended by 350 women from the seven Emirates got underway with a special video speech from the patron of the awards, Sheikh Nahayan Mabarak Al Nahayan, Minster of Youth, Culture and Community Development in which he applauded the efforts made by Arab women everywhere and their participation in the growing economy and development of their nations.
The annual event awarded 16 inspirational women from diverse industries that included business, education, literature, entrepreneurship, art, fashion as well as the "Lifetime Achievement Award" that went to Raja Al Gurg, Managing Director of the Easa Saleh Al Gurg Group.
"Women are at the forefront of this achievement. They play a pivotal role in the vision of this nation and this can only be achieved if we continue to reflect on the spirit of our founding fathers," said Raja Al Gurg.
Established in 2009, the Arab Woman Awards has recognized over 150 women from various sectors.
The sixteen winners were privately selected by a panel of judges of highly influential women carefully handpicked for their credentials and achievements in different industries.
"The Arab Woman Awards UAE 2013 is a combined awards that encompasses all the seven emirates. The awards have grown and each year we are overwhelmed by the number of nomination but more so by the achievements of the entries. Women are becoming key players in sectors that were previously considered as male roles. This is evident tonight as we celebrate our fifth anniversary in the UAE with 16 of the most inspiring women," said Sue Holt, Deputy Managing Director at ITP Publishing.
http://www.saudigazette.com.sa/index.cfm?method=home.regcon&contentid=20131210189061
-----------
MOL: Businesswomen can recruit housekeepers now
December 10, 2013
DAMMAM — The Ministry of Labor has approved a decision allowing female college professors and employees to recruit housekeepers, an Arabic daily reported quoting a senior ministry source.
The decision stipulated that the female applicant should be financially capable and have a proven need for such labor, the source said.
The ministry's approval came in response to a letter 50 businesswomen sent to the ministry few weeks ago.
In it, the petitioners called on the ministry to give them permission to recruit workers.
Before the decision had been issued, only divorced women and widows were allowed to bring labor over to the Kingdom.
The source said all the ministry's branches around the Kingdom have been instructed to accept recruitment applications for drivers and housekeepers from all female applicants.
Dr. Aisah Al-Maneh, member of the businesswomen's forum for development, said over 800 female employees in public and private sectors who are not widows or divorcees have already gotten their recruitment applications approved thanks to the new decision.
She thanked the ministry for their swift approval, but she said more clarification was needed regarding the condition concerning the financial capabilities of the applicants.
"This condition is not clear and needs a lot of explanation," she said.
Al-Maneh said the ministry should set a maximum and minimum number for visas issued to businesswomen, adding that the applications of families and female college students should be given priority because they are in dire need of drivers.
http://www.saudigazette.com.sa/index.cfm?method=home.regcon&contentid=20131210189088
-----------
Pakistan women kabaddi team secures place in World Cup semifinal
December 10, 2013
KARACHI: Pakistan's women kabaddi team on Tuesday created history by marching into the semi final of the Women Kabaddi World Cup, beating Mexico 49-24 in their last group-B match in India.
With this victory, Pakistan accumulated four points from the three matches they played and set up a date with arch rival India in the semi final match.
Team Green needed this win to proceed into the semi finals as England and Pakistan both had two points each before this match.
Pakistan was narrowly beaten by Denmark 45-39 in the opening match while the team bounced back against England in their second match winning 41-30.
The team is placed in Group B in the competition along with England, Mexico and Denmark as eight teams fight for the title and have a chance to win a handsome prize of INR10 million.
http://tribune.com.pk/story/643659/pakistan-women-kabaddi-team-secures-place-in-world-cup-semifinal/
-------------
Conference on women, peace and social harmony In Pakistan
By Kiyya Qadir Baloch
December 10, 2013
ISLAMABAD: To highlight the issues of inter-faith harmony and rights of women at the national level, AAWAZ, in collaboration with five well-known civil society organisations – the Aurat Foundation, South Asia Partnership-Pakistan, Strengthening Participatory Organisation, Sungi Development Foundation and Sustainable Development Policy – held a national conference on women, peace and social harmony on Monday.
The conference was chaired by National Commission on the Status of Women (NCSW) Chairwoman Khawar Mumtaz, while speakers included Federal Secretary for Law, Justice and Human Rights Barrister Zafarullah Khan,
Justice (r) Nasira Javed Iqbal, Pakistan Ulema Council Chairman Allama Tahir Ashrafi, Provincial Commission on the Status of Women Chairwoman Neelam Toru, Naeem Mirza from Aurat Foundation and Sajid Mansoor Qaisrani from the Sungi Development Foundation.
The speakers demanded gender reforms, implementation of pro-women laws and enactment of legislation on domestic violence. The conference started with the welcome note by Sajid Mansoor Qaisrani.
Speaking on the occasion, he said that justice could never be established in society unless women who constitute half the population were freed from violence.
Anbreen Ajaib shared a brief history of 16 days of activism campaign and its relevance with the current socio-political situation of women in Pakistan.
Naeem Mirza addressing the participants said that the women's ministry had been devolved, so the NCSW must be represented in the cabinet. He said that the National Commission for Human Rights should be established without any further delay.
He regretted that the Ministry of Human Rights had been downgraded to a wing in the Ministry of Law and Justice.
He pointed out that the gender crime cell was an ineffective body as only two out of 22 vacancies had been filled. "The representation of women in the parliament and local governments had been reduced, which is worrisome," he noted.
Qaisarani said that although the local government in Balochistan retained 33 per cent of women seats, women were not allowed to vote in some areas.
"Why there is no follow-up on GRAP recommendations, the National Plan of Action 1997 and the National Policy of 2002," he questioned. He demanded that all discriminatory legislations against women and religious minorities must be repealed.
Barrister Zafarullah while agreeing that there were still many areas that need improvement expressed the view that things had improved at many levels.
He said that there were more women lawyers and judges in the country and the women were more active in public life in general.
"Unless we have justice for all, there will be no justice in society," he said. He said the role of law was limited as compared to customs, values and norms. He said that his ministry was working to push forward the bills related to laws of marriages and divorce for Christians and Hindu citizens. He also said that the domestic violence bill should be adopted by the parliament as soon as possible.
Allama Tahir Ashrafi said that peace and social harmony were not possible in a country where religion had become a tool to achieve personal and political goals.
He criticised the government for appeasing banned organisations. "Laws exist to discourage hate speech and promote religious tolerance in Pakistan, but are not implemented. Things will not improve until the citizens stand up and reclaim the space that has been appropriated by ignorant and retrogressive forces who use religion for political purposes," he said.
He said that it was difficult for him to handle the situation emerging after Salmaan Taseer's assassination, as well as issues about Hindu girls' marriages and the Council of Islamic Ideology (CII) ruling regarding DNA testing. "The Pakistan Ulema Council is trying to reclaim the true spirit of Islam which stands for peace, tolerance and equality among men and women."
He said that Islam preaches that there should be no violence against women, children, the elderly persons and non-combatants, yet women and children were murdered in Lahore, Peshawar, Quetta and Karachi in the name of jihad.
Justice Nasira threw light on the history of Qisas and Diyat laws. She said that Qisas and Diyat law had also been reviewed by the NCSW, which also suggested that they be repealed.
Neelam Toru said that women faced a lot of socio-political barriers in Khyber Pakhtunkhwa. She said that literacy rate among girls was very low. "They are afraid to go to schools following the militant attacks on schools in KP."
She also said that the provincial commission on the status of women was seeking to have marriage certificates registered and raising awareness on the importance of women's right to divorce.
Khawar Mumtaz said that despite several difficulties, especially threats from terrorists and extremists, the struggle for women's rights would continue.
She noted that laws were important but awareness at the local and national levels was also necessary.
http://www.dailytimes.com.pk/default.asp?page=2013%5C12%5C10%5Cstory_10-12-2013_pg11_2
-----------
URL: https://www.newageislam.com/islam,-women-and-feminism/new-age-islam-news-bureau/afghan-police-rescue-woman-from-taliban-stoning/d/34795