New Age Islam News Bureau
9 Jul 2012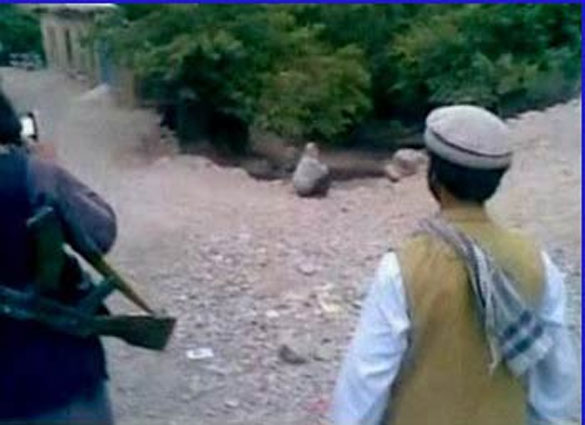 • Afghan Police Hunt Woman's Executioner, Taliban Militants
• An Emirati Student Accused of Raping Woman
• Baby in baggage; parents arrested
• Gynaecologist on trial for attempted abortion
• Tehran Hosts World Conference on Women and Islamic Awakening
• NO 'INDECENT' Dress In Schools, Please: Tamil Nadu Directorate of School Education
• Yes we fit! Sunita Williams tries out her space suit
Compiled by New Age Islam News Bureau
Photo: Afghan Police Hunt Woman's Executioner, Taliban Militants
URL: https://newageislam.com/islam-women-feminism/afghan-police-hunt-woman-executioner,/d/7868
--------
Afghan Police Hunt Woman's Executioner, Taliban Militants
July 09, 2012
A manhunt was under way on Monday for Taliban militants who publicly executed a woman accused of adultery, Afghan authorities said, as outrage mounted after a video of the cold-blooded killing surfaced.
The commander of NATO's 130,000 troops in Afghanistan, General John
Allen, offered to help local security forces track and capture the men involved in what he called "an atrocity of unspeakable cruelty".
The brutal shooting of the lone woman before a cheering mob of men is shown in graphic detail in a video of the event in a village in Parwan province some 100 kilometres north of the capital Kabul.
"We have sent a police force to the area," Parwan provincial governor Basir Salangi told AFP, adding that the government had no permanent presence in the valley.
"They are searching for the Taliban who are responsible but the Taliban, including the killer, have fled to the mountains."
Roshna Khalid, Salangi's spokeswoman, separately told AFP the 22-year-old woman, named as Najiba, was married to a member of the hard-line Islamist Taliban and was accused of adultery with a Taliban commander.
"Within one hour they decided that she was guilty and sentenced her to death. They shot her in front of villagers in her village, Qol," she said.
Public executions of alleged adulterers were common when the Taliban regime was in power from 1996 until 2001, when they were ousted by a US-led invasion for harbouring al-Qaeda leader Osama bin Laden after the 9/11 attacks.
The Taliban have since waged an insurgency against the Western-backed government of President Hamid Karzai.
"There has been too much progress made by too many brave Afghans, especially on the part of women, for this kind of criminal behaviour to be tolerated," Allen said.
The video also drew international condemnation, with British Foreign Secretary William Hague saying he was "shocked and disgusted" by the execution.
"Such deplorable actions underline the vital need for better protection of the rights of women and girls in Afghanistan," he said.
US Secretary of State Hillary Clinton, before the video surfaced, made a powerful plea yesterday for the rights of women in Afghanistan, amid fears that recent gains for women are under threat as NATO troops prepare to leave in 2014.
Clinton, who was addressing a world conference in Tokyo on Afghanistan's future, said: "The United States believes strongly that no nation can achieve peace, stability and economic growth if half the population is not empowered."
http://www.hindustantimes.com/world-news/Afghanistan/Afghan-police-hunt-woman-s-executioner/Article1-885722.aspx
---------
An Emirati Student Accused of Raping Woman
Marie Nammour
9 July 2012
An Emirati student allegedly raped a woman compatriot in his place after promising to marry her, a court heard on Sunday.
According to prosecution records, the 24-year-old defendant had been in a love relation through the phone with the complainant. On the day of the incident, he lured her to see his place where, he said, they would live after marriage. There, he illegally confined her in his bedroom and raped her.
The student faced charges of rape and molestation with the use of force, kidnap and illegal confinement by deceit in the Court of First Instance.
The complainant, a 28-year-old writer, told the prosecutor that the defendant fooled her into believing that he would marry her and on that day in January he lured her to go to his place in Mizhar. She said that the defendant had been calling her on her mobile phone as he knew one of her brothers.
Her brother had had a sword fight and the defendant gave him a ride from the police station. Her brother used the defendant's mobile phone to call her.
The accused kept on her calling her and sending text messages alleging her loved and wanted to propose to her.
On the day of the incident, he called her on her mobile phone and said that he had a car accident and he wanted to see her. He led her to his villa in Mizhar and when she reached there he grabbed and dragged her by her hand inside. He took her to his bedroom and then locked her inside.
There, he slapped her on her face and forced her to take off her head cover and abaya. He then undressed her and molested her. He beat her when she tried to run away from him into the bathroom. He also threatened that he would call her brother by phone and tell him that she was with him.
He told her not to tell her parents and her sister promising that he would visit her family to propose to her. When the accused ignored her calls later in the day the complainant told her sister, who in turn informed her husband. She filed a complaint with Al Qusais police station.
A police lieutenant quoted the defendant as admitting that he knew the complainant and that he had sex with her in his bedroom. He alleged it happened with her full consent.
The forensic medicine report of the General Directorate of Criminal Evidence confirmed that the complainant had had sex at the time the complaint was filed. She also had bruises on her body.
http://www.khaleejtimes.com/nation/inside.asp?xfile=/data/courtroundup/2012/July/courtroundup_July25.xml&section=courtroundup
---------
Baby in baggage; parents arrested
Afkar Abdullah / 9 July 2012
An Arab couple who tried to smuggle their five-month-old child into the country by hiding him in their luggage were arrested at the Sharjah airport on Sunday.
The parents put the boy in their hand-baggage and tried to run it through the scanning machine, but were arrested in the nick of time. They have been charged with putting the boy's life at risk and for attempting to smuggle him into the country as he had no visa.
Sharjah Police officials said the couple arrived from an Arab country two days ago on Friday, a holiday, and since the child did not have an entry visa stamped on his passport, they were advised to wait until Sunday when the immigration office at the airport opens. But the impatient parents waited for the shift to change on Saturday morning at 10, and the father allegedly convinced the mother to join a queue at the immigration counter and place the child in the luggage, only to be spotted by an alert officer.
The police arrested the parents and saved the child from being exposed to the dangers of radiation. The couple were charged with endangering the life of the child and infiltration.
http://www.khaleejtimes.com/kt-article-display-1.asp?xfile=data/courtroundup/2012/July/courtroundup_July21.xml&section=courtroundup
-------
Gynaecologist on trial for attempted abortion
Marie Nammour / 9 July 2012
An Iraqi woman gynaecologist stood trial in absentia on Sunday in the Court of First Instance on the charge of attempting to abort a pregnant woman.
According to prosecution records, the 56-year-old defendant administered a medical pill to the patient and when the patient did not have a miscarriage, she tried to conduct a caesarean operation on her. She stopped short of it as the hospital administration where she worked did not give her the necessary authorisation to do the operation. The case dates back to May 2010.
The complainant, a 41-year-old Iraqi housewife, said during the investigation that she had many miscarriages in the past prior to the incident. She began seeing the defendant, who was a gynaecologist, in 2008.
In September 2009, she became pregnant and visited the defendant for check-ups.
As of the third month of pregnancy, she developed symptoms of fever, exhaustion, swelling and bleeding. The defendant used to give her medicine and reassure her that the foetus was healthy. As of the sixth month, the complainant became unable to walk and she used a wheelchair. The defendant kept reassuring her that the baby was normal.
When the complainant checked at a specialised medical centre at the Healthcare City she was told that the baby had many deformities. She was told that such abnormalities could have been detected long time before. She said that the defendant was reassuring her that everything was alright and the baby was fine.
The following day the defendant put a pill inside the complainant, claiming that it was a sedative but the complainant knew later that it was an abortion pill.
When confronted about it by the complainant, the defendant denied the pill was for abortion. The complainant then had a file opened for her elsewhere. She gave birth to an abnormal baby, with brain haemorrhage and swelling allover his body.
He lived for about one hour and died.
A British woman doctor at another hospital confirmed that the defendant had given the complainant a pill for aborting her deformed foetus, which was about seven-month-old. She said that the defendant was about to conduct a caesarean operation on the complainant when the pill did not had any effects on her.
The doctor added that abortion was not allowed here unless the foetus causes a risk to the mother's life. It also necessitates official authorisation.
http://www.khaleejtimes.com/nation/inside.asp?xfile=/data/courtroundup/2012/July/courtroundup_July24.xml&section=courtroundup
---------
Tehran Hosts World Conference On Women AndIslamic Awakening
July 9, 2012
The two-day conference will be attended by 200 female representatives
from 80 world countries and 300 Iranian women.
The conference's secretary Seddiqeh Hejazi told Iranian IRNA news
agency the objective of the gathering is to seek ways to turn threats
into opportunities.
She said paving the way for women's activities in the Islamic world is
among other aims at the event.
-- BERNAMA
http://www.bernama.com.my/bernama/v6/newsworld.php?id=679085
---------
NO 'INDECENT' Dress In Schools, Please: Tamil Nadu Directorate of School Education
By M. C. Rajan
Jul 09 2012,
Stunning the teaching community and women activists alike, the Tamil Nadu Directorate of School Education has called for strict adherence to an "appropriate dress code". In the absence of any provocation or complaints, the step has raised eyebrows. And naturally it has sparked off a debate on what is "decent". Barely a month has passed since the new academic year has commenced and the directorate issued an advisory on June 29 in this regard. It asked all district and chief educational officers to direct the principals of government as well as recognised schools to ensure that teachers conform to an "appropriate dress code". On the school campus, they should not wear any attire which is against "our cultural ethos", the advisory says.
Complaints about improper attire by teachers have been far and few. In the recent past, the high court had to restrain a private college management in Chennai, which termed the salwar- kameez as "indecent". The court ruled that it was the right of teachers to wear salwar- kameez . Similar cases were reported in Madurai and elsewhere. However, there was never a furore over what teachers wear.
However, the argument put forward by the directorate is that while students have been prescribed uniforms to do away with discrimination among them, it was expected of teachers to be role models right from their choice of how they dress. It was also pointed out that wayward dressing created disaffection among the public.
This might sound similar to the views of a moral policing brigade. Even in 2009, the directorate had come out with a detailed circular on dress code for teachers. It had banned jeans and T- shirts for men while women had been banned from sporting low- cut blouses and transparent sarees.
Now, going a step further, the directorate is preaching the values of appropriate dressing. " The attire of teachers must be consistent with the dignity of their post," the advisory says, regretting the deviation found among the teaching community.
Mail Today
---------
Yes we fit! Sunita Williams tries out her space suit
Bharat Yagnik,
Jul 9, 2012,
AHMEDABAD: What is going through Sunita Williams's mind as she makes last-minute preparations before embarking on her second space odyssey on July 14?
A lot, according to an email her family sent to TOI. In quarantine and going through trials with her space suit, the Indian-American astronaut was thinking about her family and friends, whom she will be leaving behind for the next six months.
"Leaving again was difficult... life has been full of "maybe lasts" for me these last months," she wrote from Baikanor in Kazakhstan from where she will blast off to space with her Russian and Japanese companions. "Leaving Houston and Mike (her husband Michael Williams), leaving Boston, mom, dad, Dina, Gorby, Elsie and Thomas, and this last time leaving Star City and all my family there. Sort of emotional, but I know I will see all these friends again!" Her spirits were as high as ever as she added that change was good and it meant that something else, which was full of fun, was just round the corner.
Sunita tried out their space suit only recently. "Yes we fit!" she exclaimed in jest after what she called the 'fit check'. Despite the seriousness of the exercise, she did not lose her sense of humour. "Check out our cool Nancy Sinatra boots!" she said, referring to the American singer best known for her 1966 hit "These boots are made for walking".
"I feel really comfortable in my suit and in the spacecraft," she added. "Maybe, it is the test pilot in me that makes all this stuff seem natural. What is unnatural and uncomfortable for me still is talking to people and the press. For some reason I get sort of chocked up. Flying spacecraft is easier for me."
http://timesofindia.indiatimes.com/city/ahmedabad/Yes-we-fit-Sunita-Williams-tries-out-her-space-suit/articleshow/14755623.cms
URL: https://newageislam.com/islam-women-feminism/afghan-police-hunt-woman-executioner,/d/7868