New Age Islam News Bureau
15 March 2021
• Minority Females Fight For Education in Pakistan
• Human Rights Board of OIC Slams Switzerland over Burqa Ban
• 'Daughters of Kobani' Balances Eye-Opening Details with Broad Take On Women in Battle
• For Turkish Women Headscarf Is as Much about Women's Rights as About Religion
• Sham Al-Ghamdi a Step Closer to Becoming Saudi Arabia's First Female International Referee
• The Female Afghan Tech Entrepreneurs Inspiring Each Other
• Pakistan- Women Must Not Always Look Towards Men for Help: Shagufta Malik KP Assembly Member
Compiled by New Age Islam News Bureau
URL: https://www.newageislam.com/islam-women-feminism/afghan-officials-reverse-ban-girls/d/124547
--------
Afghan Officials Reverse Ban on Girls Singing After Social Media Backlash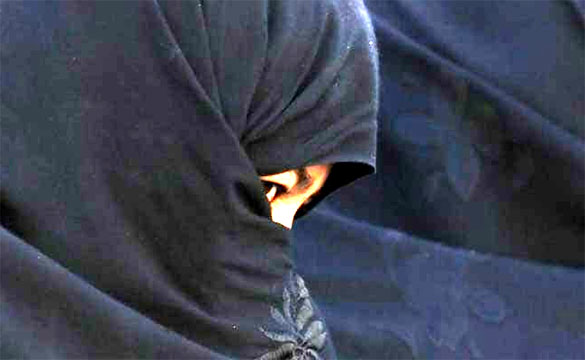 Education authorities in Kabul had banned the participation of teenagers in public singing.
-----
MAR 15, 2021
A ban on girls singing in public imposed by education officials in the Afghan capital last week has been overturned after a social media campaign that included local women uploading videos of themselves belting out their favourite songs.
Schoolgirl choirs are a regular feature of official Afghan events, but when education authorities in Kabul banned the participation of teenagers it prompted an immediate backlash.
The order raised fears that education officials were "Talibanising" the country, heralding a return to when the authoritarian Islamist group barred the participation of women in almost all parts of society outside their own homes.
Late Sunday, the education ministry issued a statement saying the ban "does not reflect the positions or policies of the Ministry".
The announcement followed a furious backlash from social media users using the hashtag "#IAmMySong" to raise awareness.
"In Afghanistan today the Ministry of Education suffocated the voices of our little girls by making it illegal for them to sing," tweeted Shamila Kohestani, former captain of the national women's football team.
"They are quite literally teaching girls that they have no voice. #IAmMySong.'
On Facebook, Tayeb Safa wrote: "I feel the Taliban are making a comeback."
The controversy comes amid fears for a possible Taliban return to power as the US mulls pulling its remaining troops from the country in the coming weeks in accordance with a landmark deal signed with the insurgents last year.
Peace talks between the Taliban and the government have largely stalled in recent months, while a targeted assassination campaign -- including the murders of high-profile Afghan women -- has further rattled the country.
Afghanistan continues to be one of the most oppressive countries for women despite decades of international aid and the fall of the Taliban.
Gains in urban areas, however, have raised hopes that opportunities for women were slowly gaining traction.
https://www.hindustantimes.com/world-news/afghan-officials-reverse-ban-on-girls-singing-after-social-media-backlash-101615795477322.html
--------
Minority Females Fight For Education In Pakistan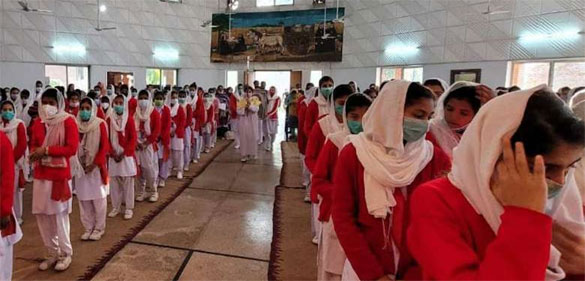 Students at the Convent of Jesus and Mary in St. James's Parish in Sialkot in Punjab province. (Photo supplied)
-----
Kamran Chaudhry
March 15, 2021
When Roshni Chahat asked her parents for permission to study in Lahore, they referred to nearby cities.
"It was a challenge to convince them. I argued and cried for four days. They were afraid of the ongoing forced conversions of Hindu girls in Sindh province," said Chahat.
"Similar fears lead to early marriages of minority girls. We cannot step outside without family members. It affects our education as well."
The activist hails from the southern Pakistani city of Shahdadkot in Sindh province where the enrollment of girls in schools has declined while the dropout ratio has risen, according to Alif Ailaan, a pro-education NGO. More than half a million of Hindus are settled in Sindh where several cases of forced conversion and marriages of Hindu girls have been reported.
In Lahore, Chahat was asked about her nationality by her classmates.
"They asked if I own an Indian identity card. Minority women have to struggle more in our patriarchal society. Discussions and group visits to different places of worship can clear the myths," she said.
Since 2019, Chahat has been promoting peace and interfaith harmony among youth. She was one of the female speakers at a March 9 conference on the "Status of Minority Women and their Rights and Challenges" by the Centre of Social Justice (CSJ) in Lahore.
The speakers discussed the socioeconomic and legal rights of minority women in terms of education, health, forced conversions and gender-based violence. The conference resolution urged the government to gather credible data to assess the socioeconomic status of minority women.
"They lag behind in literacy rates, employability in prestigious professions, equal wages, job security, etc., therefore affirmative action should be brought to make them equal in rights and as beneficiaries of opportunities," it stated.
"Through legislative and educational measures, women and girls must be ensured that they are free from physical abuse, domestic violence and rape, or being subjected to any medical procedure without informed consent, and deprivation of reproductive autonomy and rights."
Christians pioneered modern education on the subcontinent. In 1849, two Presbyterian missionaries established the first English-medium school in Lahore. Anglicans and Catholics organized education at primary and secondary level. After the creation of Pakistan in 1947, missionary schools were known for their discipline and quality education.
Several political and government leaders studied at missionary schools and colleges. Prime Minister Imran Khan received his early education at the Cathedral School Hall Road Lahore run by the Church of Pakistan. Former premier Benazir Bhutto, the first woman elected to lead an Islamic state, studied at the Convent of Jesus and Mary in Karachi and Murree.
According to CSJ research published last year, the nationalization of Pakistan's private schools in 1972 resulted in low literacy levels among the Christian community, weakened church institutions and created fear among them.
As per the latest Catholic Directory, the Church manages more than 500 educational institutes in the country. The Catholic Bishops' Conference reviewed the progress of church-run schools, along with other commissions, during their annual meeting earlier this month.
"Hate material in syllabus and the upcoming single national curriculum were the major issues raised by the Catholic Board of Education and National Catholic Education Commission," Bishop Samson Shukardin of Hyderabad told UCA News.
"The literacy rate of Christian females is higher than that of the Hindus. We are trying to enroll more females in our schools. However, a large percentage of Hindu-majority districts in Sindh province have no schools at all."
Survey findings
In 2017, the Punjab Bureau of Statistics and Punjab Commission on the Status of Women (PCSW) undertook the "Women's Economic and Social Wellbeing Survey" with women, minority women, women with disability (aged 15-64) and a survey for male perception (aged 15-64). Separate industrial surveys for employers and working women were carried out in eight big cities of the province.
It included an additional purposive sample of 1,645 women with disabilities and 2,488 minority women. As per its key findings, 50 percent of non-Muslim women never attended school, 13 percent studied to primary level, 12 percent to grade 10, and 3 percent to graduation or above.
While 22 percent of mainstream (Muslim) women aged 18-29 could study until grades 12 and above, the literacy rate of minority women was lower (11 percent). Four percent of non-Muslim women sought employment and 2.6 percent were employed.
Fifty one percent were employed in the formal sector while 48 percent were in the non-agriculture sector. In villages, 48 percent were employed while 57 percent were employed in urban areas. Twelve percent of minority women could make their own decision about marriage while only 4.2 percent of Muslim women could do that. None of them sought shelter seeking help against violence.
According to Fauzia Waqar, former chairperson of the PCSW, it was the first time data was gathered on minority women of Punjab.
"There is a need to work on employment of educated non-Muslim women. Their political participation is slightly better. Sadly, the results were never published," she said.
"Early child-bearing of minority women in Punjab is lower than the mainstream; this is good news. However, most of the young mothers, poor and uneducated, are from minorities. A lower literacy rate of minority women is a matter of concern. Their labor force participation is also lower than the mainstream."
https://www.ucanews.com/news/minority-females-fight-for-education-in-pakistan/91749#
--------
Human Rights Board Of OIC Slams Switzerland Over Burqa Ban
Dilara Hamit
13.03.2021
The human rights board of the Organization of Islamic Cooperation (OIC) on Saturday strongly condemned last Sunday's referendum in Switzerland passing a ban of facial coverings.
On Twitter, the OIC's Independent Permanent Human Rights Commission (IPHRC) said it "strongly condemns Swiss ban on facial veils as grossly discriminatory, disproportionate, contrary to ideals of pluralism and tolerance" and violating international and regional human rights obligations.
It added: "Such Islamophobic measures are counterproductive for societal cohesion."
It further urged the Swiss government to accord precedence to its obligations under international human rights law and reject the ban.
It said Swiss Muslims should exhaust domestic remedies and approach the European Court of Human Rights, UN treaty signatories, and the international community to engage Swiss civil society to "strengthen communal respect and solidarity," it said.
In the controversial March 7 referendum, the Swiss voted narrowly in favor of banning face coverings in public, including the Burqa or niqab worn by Muslim women.
The "Burqa ban," launched in 2016 by a right-leaning initiative committee, was accepted by 51.2% of those who cast ballots, with voter turnout of 51.4%.
Sunday's referendum was put forward by a group associated with the right-wing Swiss People's Party, which campaigned with slogans such as "Stop extremism" and in some areas with posters of Muslim women in veils.
https://www.aa.com.tr/en/europe/muslim-bloc-committee-slams-switzerland-over-Burqa-ban/2175080
--------
'Daughters of Kobani' Balances Eye-Opening Details with Broad Take On Women in Battle
Joseph Hammond
March 15, 2021
Los Angeles: Women were often at the forefront in the brutal house-to-house, street-to-street fighting to free Syria from the grip of Daesh. The "Daughters of Kobani" offers a compelling profile of some of the women in these units. Readers may be familiar with the Women's Protection Units (YPJ) which first received international attention in 2014 during Daesh's siege of the Syrian border town of Kobani. In addition to the YPJ, the author also notes that after the creation of the Syrian Democratic Forces (SDF), many Arab women joined their fight. The stories of some of these brave women are covered in the book, including one woman who survives the Daesh occupation of her town by reading the works of Naguib Mahfouz. The book's strength lies in its ability to juggle such small details with the broad swathe of crucial battles and the lives of the women involved. The horrendous treatment of women and minority groups by Daesh is another motivation for the SDF forces that the author discusses, given the large number of women enslaved by Daesh. The book's overall message is that, rather than becoming victims, a large number of women fought back and indeed spear-headed the ultimate defeat of Daesh as a nascent state.
Author Gayle Tzemach Lemmon spent hundreds of hours interviewing participants in the various battles of the campaign. Lemmon's previous books have also looked at conflict issues related to women, from entrepreneurship in Afghanistan to the first women in an elite US army unit. A company founded by former US Secretary of State Hillary Clinton and her daughter Chelsea has purchased the rights to the book to develop it as a television mini-series.
https://www.arabnews.com/node/1825626/lifestyle
--------
For Turkish Women Headscarf Is as Much about Women's Rights as About Religion
3/15/2021
Turkey has a long history of pigeonholing women. Women who chose to cover their heads were labelled 'backward' and uneducated while those who went uncovered represented the modern ideal of a woman bravely rejecting religious conservatism.
The headscarf symbolized the battle between the forces of modernity and arch-conservatism. But for a new generation of women, it is as much a political statement about their rights as about their religion.
Wearing the headscarf was banned in public institutions, including universities, in the early 1980s, but morphed into a women's rights symbol in the 1990s and 2000s as Muslim women campaigned on university campuses all over Turkey for the right to wear it.
Often, the campaigners found themselves doubly isolated. Harassed by the secular authorities and denied public-sector jobs, the wider women's movement also shunned them as a 'single issue' regressive group.
The battle appeared to be won when President Recep Tayyip Erdogan and his Justice and Development Party (AKP) came to power in 2002. Veiled women had worked hard for the party, canvassing door-to-door, but it was another eight years before the ban on head coverings in universities was lifted.
Worse, the AKP took full credit for it, trivializing, denigrating or simply ignoring the part played by the many female activists who had striven for years to bring about that outcome.
And now the headscarf – and those who wear it – is again at the center of a protest movement.
For a long time, the AKP has viewed headscarf-wearing women as loyalists, and in truth, many were. The party is popular among a significant portion of religious women who credit the AKP for making it possible to live their faith openly and for legitimizing Islam as a central pillar of Turkish national identity. Many of these women fear losing those rights if Erdogan were no longer in power.
So it came as a shock to the party to see young, headscarf-wearing women protesting against the appointment in early January of an AKP member as rector of Boğaziçi University, Turkey's most prestigious seat of learning.
Traditionally, rectors are chosen by teaching staff. Students, present and past, and academics alike decried the appointment of Melih Bulu, a former parliamentary candidate for the AKP, as an abuse of political power, an attack on academic freedom and further evidence of Turkey's diminishing commitment to democracy.
Covered Muslim women were also among those defending a students' art exhibition that featured a poster depicting Islam's most sacred site surrounded by LGBT+ flags. Once praised for their piety, they found themselves recast by the authorities as un-Islamic, amoral, unpatriotic puppets of the West. The interior minister denounced them on Twitter as 'deviants.'
Sociologist Feyza Akinerdem, a Boğaziçi graduate, summed up the reaction thus: 'When a woman in a headscarf is visible or heard in a way that the patriarchy deems politically damaging to their cause, she is denigrated as morally corrupt or as failing her religion.'
In reality, pious women in Turkey – as everywhere in the Middle East – have never been a homogenous bloc. The main opposition party, the secular Republican People's Party (CHP), has religious women among its membership.
Muslim women took part in the protests against urban development plans for Istanbul's Gezi Park in 2013 and some joined the left-wing group, Anti-Capitalist Muslims. No one paid them much attention then and things are no better now, they claim.
'I cannot breathe, my friends cannot breathe,' says Seyma Orhan, a literature student at Boğaziçi. 'We live in perpetual limbo where we don't belong in either the government's neighborhood or the secular neighborhood. We are in no-man's-land.'
Another student, Seyma Altundal, was arrested and handcuffed during the Bulu protest and claims she was not allowed to put her headscarf back on after it fell off.
News of her arrest exploded on social media and when she was released later the same day, she posed outside the courthouse making the peace sign with one hand and holding up the index finger of the other, signifying the indivisibility of God. She explained, 'We are servants of Allah and not the state and we know Him as the only authority.'
Recent years have seen the emergence of women's groups and bloggers talking about the challenges of womanhood, motherhood and feminism from a Muslim perspective.
In December, the Havle Women's Association, which claims to be the first Muslim feminist organization in Turkey, hosted an online conference on how Muslim identity is compatible with feminist goals. One of the speakers was Amina Wadud, an American Muslim theologian, known variously as the Lady Imam and the 'rock star of Islamic feminists.'
'The Muslim women's movement evolving into a Muslim feminist movement has expanded the parameters of what is permissible for us to talk about and stand up for,' says Rümeysa Çamdereli, one of the founders of Havle.
Unlike the previous generation of women, who were forced to remove their headscarves if they wanted to work in the civil service, the young Muslim women of today demand the right to express their culture, their religiosity and their dissent. For them, their faith is not incompatible with speaking truth to unchecked political power.
They have also highlighted the need to keep an eye on the future. Turkey is a young country; more than 15% of the population is aged under 25.
It is difficult to gauge the influence this young generation of proudly headscarved women wields, but it is not negligible. As student Seyma Orhan put it, 'We may not represent the majority of Muslim women in Turkey today, but we are also more than just a handful.'
https://menafn.com/1101752393/In-Turkey-headscarf-is-a-womens-rights-issue
--------
Sham Al-Ghamdi a step closer to becoming Saudi Arabia's first female international referee
ZAID KHASHOGJI
March 15, 2021
DUBAI: Sham Al-Ghamdi looks set to become the Kingdom's first international female referee after the Saudi Arabian Football Federation (SAFF) took an official decision that will enable her to obtain a FIFA license.
Speaking to Alwatan newspaper, Al-Ghamdi, a former player herself, revealed that gaining certification from the SAFF was a major step towards accreditation by world football's governing body.
"I am happy to have been approved by the Saudi Football Federation, and this is the first step before obtaining a FIFA license," she said. "It had to be approved by the federation in order to be able to apply for a FIFA license."
The 24-year-old Al-Ghamdi has long had a dream to officiate at the game sights level.
"I spend hours reading and listening to advice from refereeing experts," she told Arab News in 2019. "To referee a World Cup match would be a dream come true."
Al-Ghamdi was the first Saudi football referee to oversee matches in the Women's Football League (WFL), which launched in the Kingdom in November 2020, and she also took charge of a number of friendly matches that preceded this competition.
"My experience in league officiating is very distinctive, because it was part of a program of coexistence with international referees from whom I gained so much experience," she told Alwatan.
"I lived with them day-to-day, where I learned different methods, more than attending any session."
Al-Ghamdi says she fell in love with football from a very young age, but after representing Jeddah Eagles she suffered an injury to the knee which prevented her from playing again.
But she was determined not to leave football and instead turned to refereeing.
She took courses in officiating under the supervision of former international referee Marai Al-Awaji, and then received practical lessons at the hands of Dr. Ayman Al-Rifai.
"As a soccer referee, I made sure to be familiar with all the laws, provisions and updates that should be available in the game on the field," she said.
She also attributed her success in refereeing to her passion for the game.
The young Saudi referee strongly believes in the future of sports in the Kingdom, and hopes to play a vital role in helping achieve success in her field.
"Sport is part of the vision of Crown Prince Mohammed bin Salman, and it is our duty to raise the flag of the homeland and compete for future titles and successes," she said.
"And I hope we continue to get support from the bodies specialized in this field of sports related to women."
As a referee, Al-Ghamdi is also no stranger to criticism, something which she accepts as part of the game.
"Criticism is part of any field, and refereeing is one of the areas that face the sharpest criticism," she said.
"But I must accept the strong opinions and listen to directions to avoid and help change them in the coming times."
Al-Ghamdi believes that in time, and with the right support system, more women will take up refereeing duties in the Kingdom.
"I ask the Saudi government to set up a special referees committee for women under the umbrella of the Ministry of Sports and the Saudi Arabian Football Federation," she concluded.
https://www.arabnews.com/node/1825736/sport
--------
The female Afghan tech entrepreneurs inspiring each other
By Lynzy Billing
15 Mar 2021
As a child, Somaya Faruqi would watch her father fix cars in the motor repair shop that he owns in Herat city, in western Afghanistan.
"His work is what got me interested in mechanics and engineering," says Somaya. "I am the eldest of four children so even though I am the only girl, I used to help him out in the shop after school, and I learned how things work in a very simple sense, but I always wanted to learn more, and have access to more knowledge in this area."
The musty old shop is packed full of old tools and salvaged car parts. "When I was younger," says Somaya, "I used to only fix car radios but now I help my father with big works also."
Now 18, Somaya is the leader of the Afghan Girls Robotics Team – also known as the "Afghan Dreamers", a name they gave themselves. All five girls in the team are aged between 14 and 18 and attend different high schools in Herat. Every day after school, they meet for an hour and a half to learn and practice programming and robotics.
"When I work in engineering I feel so proud of myself because in Afghanistan, there are not a lot of girls that work in this field and it can be a complex area but I'm good at it so I feel confident building and creating things," Somaya says.
"There are a lot of people in our community and across Afghanistan that think that only boys should be mechanics, but I don't know why because girls can be mechanics also. They just need their society to believe in them and have the support of their family and then they will prove it. It was always a goal of mine to prove it."
Somaya's mother had to leave school when she was 10. It was 1996 and the Taliban had come to power and banned education for girls. "I think this is why she supports me as much as she does because she can see that I'm doing what she never got to do," says Somaya. "Now she tells me how much I inspire her."
Designing and building a ventilator
Somaya and the team first made headlines in 2017 when, despite displaying their remarkable ingenuity in robotics, they were denied visas to the United States to attend a robotics tournament. (When their story got the attention of international media and some US politicians, then-US president Donald Trump eventually granted their visas.)
Then, in March 2020, Abdul Qayum Rahimi, the then-governor of Herat, put out a design challenge after doctors told him how few ventilators there were in the region, which at the time had the largest number of coronavirus cases in the country.
The Afghan Dreamers were one of six teams (and the only all-girls team) contacted to design a low-cost ventilator to help treat COVID-19 patients.
Somaya explains how the team looked online for open-source design ventilators and came across a low-cost, low-tech ventilator design called the MIT E-Vent, released by the Massachusetts Institute of Technology (MIT) in the US. Working around their classes, the girls spent months building an emergency ventilator prototype based on this design.
Components for the device were hard to come by, but undeterred, they made do with what they had. "We had never worked on ventilators or any medical devices before. It was completely new," Somaya explains.
"I think our biggest challenge at the time was that we didn't have the facilities to build some of the parts in, so my father would drive us to a workshop 20 minutes outside the city where we would work on the ventilator but we didn't have access to a lot of resources and materials that we needed to build a ventilator, so we had to build the prototype out of spare parts from old Toyota Corollas."
Following feedback from doctors and the ministry of public health, the team members have continued to refine their design.
"We are trying to get the machine to be able to sense a patient's breathing pattern and adjust the amount of air they get accordingly. We had to wait to receive the pressure sensors critical to the ventilators for this," says Somaya, explaining that for the ventilator to do this, the team needs two parts: a "pressure transducer" – a sensor that converts pressure measurements from breath into electrical signals – and a microprocessor, neither of which they can source locally or ship into Afghanistan.
Last December, Minister of Industry and Commerce Nizar Ahmad Ghoryani donated $10,000 to the team and also secured land to build a factory where the ventilators will be produced in the near future.
"These girls shone a spotlight on the importance of girls' education. And they put Afghanistan on the global stage – for all the right reasons," said Mustapha Ben Messaoud, acting representative for the United Nations Children's Fund (UNICEF).
Somaya says it is important for girls to have female role models to look up to and that one woman in particular has inspired her. Roya Mahboob is an Afghan tech entrepreneur and businesswoman who has supported the Afghan Dreamers since they formed and is always just a phone call away for Somaya.
The teenager says that seeing Roya, another Afghan woman from Herat, building a successful career in tech, shows her what she can achieve.
"For girls in Afghanistan, technology and engineering is so new and we don't have enough information about it …. I feel that I should share my knowledge with other girls, just like Roya shared hers with me. Roya always told me not to give up on my goals, to keep going because it's not only for me but for the women and girls in Afghanistan that follow also."
Discovering computers
Roya Mahboob remembers the first time she discovered computers and the possibilities they offered.
"My family had just returned to Herat in Afghanistan from Iran in late 2003/early 2004," she recalls. "I was 15 years old and at the time, there were no computers and just one old library that only had a few old books, and most of the information in them was out of date."
Then, one day, she came across a computer shop in Herat.
"I went in and before I had even sat down, the owner told me to leave, saying it was a place for boys only."
She returned a few days later and asked the owner to teach her how to use a computer. "He finally agreed to but only if there … [were] at least 20 of us in the class, so I asked all my relatives and friends to join me," she says. "And that's how I first learned to use a computer and that was really the moment that I was opened up to how big the world really was, and the wealth of information I could have access to."
Today, Roya is the CEO of the Herat-based Afghan Citadel Software Company, which works to create jobs for recent university graduates – particularly women – in Afghanistan's growing tech market. In 2012, Citadel of New York was founded to develop and promote Examer, an interactive and educational social networking platform with a Micro Scholarship Payment System, which Roya also helped to develop.
In 2013, Roya was named one of TIME Magazine's "100 Most Influential People in the World" for her work in building internet classrooms in Afghan high schools through the Digital Citizen Fund (DCF), a non-profit she founded that helps girls and women around the world access technology. According to UNICEF, 3.7 million Afghan children are out of school, 60 percent of whom are girls. In the hardest-to-reach areas of Afghanistan, and conflict zones, around 85 percent of out-of-school children are girls.
"Our mission through internet classrooms and STEM (science, technology, engineering and mathematics) education is to increase women's participation and advancement in the workplace and [to help them] be ready for future jobs," says Roya. "[We plan] to expand our internet classes programme in villages in the provinces. We are also working on our online education platform so that would help girls have access to our online education from everywhere."
"I started the Digital Citizen Fund with a goal and a dream," she explains. "That goal was to make technology an accessible option for everyone. The dream was that everyone, especially young women and girls even in conservative countries, would have the same opportunities and education available to them, regardless of gender or social status."
Roya says she wants to see young women design and implement digital solutions to problems in their local communities, as the Afghan Dreamers are doing.
"I would tell young Afghan women who want to get into tech or robotics or engineering that in the new world young women will need to seek out opportunities for building individual wealth and, in the process, high-value economic models for their nations."
She believes STEM education is the key to their futures in an increasingly globalised world.
"In the West, kids are having conversations about how robots are replacing people in the workforce," she says. "[But] the problem is Afghanistan is so far behind. It is behind in the education system. What is the point in training girls for jobs that barely exist for women now and likely won't exist when they finish their studies? I'm talking about preparing these girls for real opportunities in their futures. They have already been set back and now we need to catch them up, but we need to be realistic."
After a meeting with the Afghan President in 2019, the Ministry of Education pledged to incorporate STEM into the national curriculum and Mahboob's dream of building the country's first STEM school is set to become a reality. The school is due to open in 2022 and will be named 'The Dreamer Institute' commemorating the Afghan Dreamers and their accomplishments.
Roya believes it was seeing her mother, who was a manager at the Ministry of Labour and Social Affairs, "working and opening doors for herself so that she could be financially independent" that made her want to be independent and brought her "to that small computer shop … trying to learn, all those years ago".
"After my studies [at the computer shop], opportunities started opening up for me and I realised I could have the career that I dreamt of as a girl but I knew that there were millions of girls just like me," Roya says. "Girls who were curious, but given only a narrow world to explore."
It was this that inspired her to launch the DCF. Today, the Afghan Dreamers hold weekly workshops with the DCF in Kabul and Herat to teach girls the basics of robotics.
'Just kids working hard'
While the Afghan Dreamers have received nationwide praise, Roya believes they have also been placed under more pressure than the many other teams working on ventilators using the MIT design, including some in Afghanistan. They have been singled out by the media, she says, "because they were the only all-female team".
"If the girls do great things they will be under the limelight, but if they do normal things they are under the limelight also," she says. "But they are girls so if they fail they will be more criticised and if they do well it will be triumphed more. It's the curse of being an Afghan woman working in any area. But the reality is they are just kids working hard to do something good. And that should be good enough in itself. It shouldn't be amazing because they are girls but because of the skill the challenge takes itself. For example, the Afghan Dreamers were the first to figure out that windshield-wiper motors could be finagled into powering a working ventilator."
Roya agrees with Somaya that it is important for young Afghan girls to have role models and mentors. "It's important for any teenager, anywhere in the world. And it's important to show young Afghan girls what is possible, and having more women in the tech and science industry will inspire them to be more ambitious and change the view of women's ability in … [a] male-dominated industry," she says.
"I have seen the incredible power of technology and education in my personal and professional life and I believe that the internet and technology is able to not only open new realities but also to break down barriers."
She describes how by embracing the tools of the global information society, she has become something bigger than herself: a digital global citizen.
New projects
The Afghan Dreamers' prototype ventilator is part of a series of projects organised by Roya.
"What we built was an automated add-on solution to a pre-existing bag; we call it the bag-valve-mask," she explains. "This ventilator could reduce the load of existing ventilators, acting as a manual ventilator to help patients who are in respiratory difficulty, but it was never intended as one to replace ventilators in hospitals assisting patients in critical condition."
She says that the team connected with many people around the world who were willing to help from afar, including an MIT professor and Harvard-educated surgeon.
A year on from the first prototype ventilator, the team have taken on two other projects that they designed. The UVC Robot is equipped with UV sterilisation lamps to fight against COVID-19 by sanitising indoor areas. The Spray Robot is a disinfection robot, which is able to sanitise indoor and outdoor areas.
"They were approved by the Ministry of Health and we are building a factory to produce them in now," says Roya.
'She is their role model now'
Roya remembers the first time she met Somaya in person. It was 2017, when the team arrived in Washington, DC to participate in the robotics tournament.
"She was really very shy and a bit nervous as it was her first time outside of her country. Of all the girls, Somaya was the most quiet," she says. But her protege is no longer the quiet girl she first met.
"In the beginning, I was concerned how she would handle the pressure with her country and the West watching her. But although she was quiet, she was determined and I look at her now and she has grown up so much. She is patient and a good listener and these are great leadership qualities. Younger kids, both girls and boys, look up to her and she is their role model now."
Roya believes that Afghanistan's deteriorating security situation is now the biggest hurdle for the girls she aims to help. "I had a lot of challenges in my career, I mean, people will try to stop you in any way and it's targeted. But I think the challenges for Somaya and other girls her age are security with the way things are in Afghanistan, lasting cultural issues and a lack of resources and access to good quality of education, but I see opportunities, adventures, and great success in all the girls' futures."
https://www.aljazeera.com/features/2021/3/15/the-female-afghan-tech-entrepreneurs-inspiring-each-other
--------
Pakistan- Women Must Not Always Look Towards Men for Help: Shagufta Malik KP Assembly Member
3/14/2021
PESHAWAR: In our society, women cannot openly tell men about all their problems, and neither men can solve all the issues of women, so it's better for women to take part in political activities and don't always look at men for help.
This was stated by the Awami National Party (ANP) Member Khyber Pakhtunkhwa Assembly Shagufta Malik in a special interview with TNN. She believes that the problems related to women's basic rights, education, healthcare and other issues can be resolved in a better way if they are made part of the decision-making process.
Shagufta says most women in Pakhtun society are still deprived of their basic rights due to lack of awareness and conservative approach. 'This is the reason why women are still subjected to domestic violence and mental torture,' she said.
The ANP lawmaker says she had presented a bill against domestic violence in the KP Assembly. She says when people were confined to their homes due to coronavirus lockdown, the complaints of domestic violence increased, and finally the bill was passed from the assembly.
'It was a difficult task, but it became possible due to the special efforts of women lawmakers,' she said.
Salient features of the bill
According to the bill, those indulging in violence against women would face up to five-year imprisonment and fine. A helpline would also be established for reporting domestic violence cases. The applications regarding domestic violence would be submitted in courts within 15 days of such incident.
Shagufta says the court would be bound to announce its verdict in two months. Upon non-implementation of the court verdict, the violators will face one-year imprisonment and Rs300,000 fine. The amended bill has ensured that women remain safe from violence and no injustice is made with men as well. District committees would be formed under the bill which would include deputy commissioner, social welfare officer, public prosecutor, representatives of police, khateeb, gynecologist and psychologist who would decide about the extent of violence in the cases brought before them. The committees would also work for reconciliation between parties to dispute and also arrange shelter home accommodation for the complainants. The district protection committee would also provide legal help and advice to the affected women.
A brief introduction
Shagufta Malik from Peshawar started her political career in 2004 and was elected district president of ANP in 2005. She holds a Master's degree in political science. The ANP awarded a ticket of KP Assembly to Shagufta Malik in 2008.
Shagufta says she originally belongs to a Khudai Khidmatgar family that is why she initiated her political journey from the platform of ANP as she wanted to follow the footsteps of Bacha Khan. She says the ANP is a great champion of women's rights. She says several Jirgas of women have been organised at Bacha Khan Markaz in Peshawar in which a message has been given to the world that Pakhtun women are peace-loving and they are promoting peace at their homes and in the entire country.
https://menafn.com/1101748795/Pakistan-Women-must-not-always-look-towards-men-for-help-Shagufta-Malik
--------
URL: https://www.newageislam.com/islam-women-feminism/afghan-officials-reverse-ban-girls/d/124547
New Age Islam, Islam Online, Islamic Website, African Muslim News, Arab World News, South Asia News, Indian Muslim News, World Muslim News, Women in Islam, Islamic Feminism, Arab Women, Women In Arab, Islamophobia in America, Muslim Women in West, Islam Women and Feminism