New Age Islam News Bureau
6 March 2015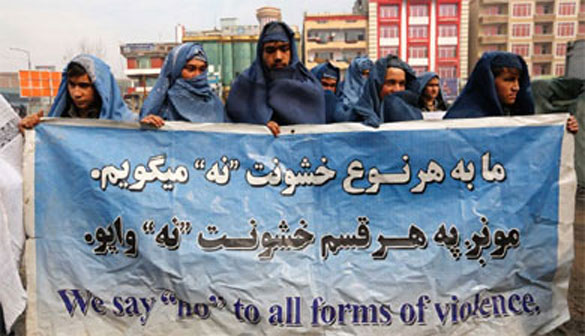 PHOTO: Men wearing burkas with the veils raised to reveal their faces march in Kabul. (Reuters: Mohammad Ismail)
----------
• Afghan Men Don Burqas to Highlight Women's Rights
• Pakistan Activist Honoured With International Women of Courage Award
• Saudi Women Married To Foreigners Urge Govt to Solve Their Problems
• Girlfriend of First Briton to Die Fighting Islamic State Says She Has Received Abuse
• RSS Group to Address Concerns of Muslim Women
• Vulnerable Women to Get Housing Services in Bahrain
• Can A Good Muslim Be A Good Girl Scout?
Compiled by New Age Islam News Bureau
URL: https://www.newageislam.com/islam,-women-and-feminism/new-age-islam-news-bureau/afghan-men-don-burqas-to-highlight-women's-rights/d/101838
-----------
Afghan Men Don Burqas to Highlight Women's Rights
March 6, 2015
KABUL: A group of Afghan men marched through Kabul on Thursday to draw attention to women's rights by donning head-to-toe Burqas.
The men marched under a leaden sky, with the bright blue Burqas falling over their heads down to muddy sneakers and boots.
The demonstrators, associated with a group called Afghan Peace Volunteers, said they had organised the march ahead of International Women's Day on March 8.
"Our authorities will be celebrating International Women's Day in big hotels, but we wanted to take it to the streets," said activist Basir, 29, who uses one name.
"One of the best ways to understand how women feel is to walk around and wear a burqa."
The march by about 20 men drew a mixed reaction.
Traffic policeman Javed Haidari, 24, looked bemused and slightly annoyed.
"What's the point of this?" he wondered. "All of the women in my family wear burqas. I wouldn't let them go out without one." Several of the men said wearing a burqa felt "like a prison". They carried signs reading "equality" and "Don't tell women what to wear, you should cover your eyes".
Some men stopped to watch, laughing and heckling. Some were confused; others said women's rights encouraged prostitution.
Some female passersby were also nonplussed. "We don't need anyone to defend our rights," said Medina Ali, a 16-year-old student wearing a black veil that showed only her eyes and woolly gloves on a cold morning.
"This is just a foreign project to create a bad image for the burqa and Afghanistan. They're trying to make those of us who cover our faces feel bad."
An older woman, who wore a burqa herself, was less affronted. "My husband and son tell me I should take my burqa off," said Bibi Gul, who thought she was around 60.
"But I'm used to it. I've been wearing this for 35 years."
http://www.dawn.com/news/1167690/afghan-men-don-burqas-to-highlight-womens-rights
-----------
Pakistan Activist Honoured With International Women Of Courage Award
March 6, 2015
After youngest ever Nobel peace prize winner Malala Yousafzai, the scenic Swat valley is again in the limelight on the world scene due to another brave woman from the area -- Tabassum Adnan, the founder an NGO.
In recognition of her service for women's rights, the US has awarded Adnan the 2015 Secretary of State's International Women of Courage Award, Dawn reported.
Deputy Secretary Higginbottom presented 10 extraordinary women from 10 countries the award. US First Lady Michelle Obama would join Higginbottom and the award winners as a special guest.
A victim of child marriage, Adnan was married at the age of 13. The marriage and spike with domestic abuse, ended after 20 years when she gathered courage to divorce her husband.
Later she started her NGO, Khwendo Jirga, or Sister's Council, a women-only Jirga, where women meet weekly to discuss issues such as honor killings, acid attacks, and swara, or giving women as compensation for crimes.
The Jirga launched awareness campaigns on women security, right to vote and offer free legal help to victims of violence.
According to a press release by the US Department of State, "the Secretary of State's International Women of Courage Award annually recognises women around the globe who have demonstrated exceptional courage and leadership in advocating for peace, justice, human rights, gender equality and women's empowerment, often at great personal risk."
The award was launched in 2007, and since then, 86 women from more than 50 different countries have been honoured.
"This year's recipients reflect women's roles as agents of change and leaders in many of the crises and challenges facing the world today, from countering violent extremism to promoting security and recovery from the Ebola Virus Disease," said the press release.
http://www.business-standard.com/article/news-ians/pakistan-activist-honored-with-international-women-of-courage-award-115030600068_1.html
-----------

Saudi Women Married To Foreigners Urge Govt to Solve Their Problems
6 March 2015
Ali is sure that he will pack his bags to leave the Kingdom at the end of this year and head to the United States or a European country to enrol in the King Abdullah Scholarship Program, where the Ministry of Education will take care of his expenses for the whole period of his studies. His cousin Basem is packing too, but to go to Egypt to join military service, now that he is turned 18.
For some people this can sound strange, but the reality is that Ali was born to two Saudi parents, while Basem has a Saudi mother and an Egyptian father. Their paths will eventually separate, and Basem's situation (having a Saudi mother and a foreign father) can't even be compared to the years before the late King Abdullah issued decrees giving rights to Saudi women who are married to foreigners.
Many Saudi women married to foreigners said the law still doesn't fathom their situation and hasn't done them justice, just because they are women, which increases their burden. Many women in this situation claim that the common thought in the Kingdom is that they are being punished for marrying a foreigner.
The demeaning glances, even though they are less intense now, are accompanied by verbal comments, women say. Most of them who made the decision of marrying foreigners looked for family stability, which should be guaranteed by the system for everyone in the country, whether man or woman.
The number of Saudi females married to non-Saudis currently stands at 700,000, representing around 10 percent of the overall population. The Ministry of Justice issued a report in 2012 stating that the number of Saudi women who marry foreigners is on the rise.
The report revealed that 13,117 Saudi women married foreigners in 2012, a much higher number compared to the 2,583 Saudi men who married foreign women the same year.
Rawan, who married a non-Saudi in 2008, describes her life as chaotic. Her suffering is embodied in the fact that she has to cross the border to renew the visa. She often pictures herself as lost between borders, living in a tent in the desert. "I can't count the number of times I traveled from Saudi Arabia to Dubai, to renew my husband's visa, under the title husband to Saudi citizen and the father of a Saudi citizen," she said.
During her pregnancy, she had to travel to Dubai for one day, and it was impossible to board the plane when she was eight months' pregnant. "I had no choice but to go through land ports and then to the embassy. This coincided with the Haj season, and the embassy doesn't renew visas at that particular time," she added.
Rawan's suffering wasn't limited to issuing a visa, which can only be renewed three times, she also fought to register her son in kindergarten. "I suffered while looking for a kindergarten prepared to take my child without a residency visa, and all of them stressed the importance of bringing his residency ID before he finishes kindergarten," she added.
She describes her situation as sad and funny at the same time, pointing to the guardianship issue. "Before my father died, he was my guardian, and now I am married but my brother is my guardian. He is the one who finalizes my travel permit procedures, not my husband. After I got married, I received a marriage contract with the following statement written on the periphery, 'It is essential to go to Civil Status Department to transfer her name to the husband's register.' When I went to Civil Status Department, they told me I need to bring my husband's residency visa number to be able to transfer my name to my husband's register," she said.
Rawan's suffering echoes with the other 700,000 Saudi women married to foreigners. They said decisions issued by the late King Abdullah works in their favor and eases their suffering, but the system doesn't consider them as citizens. For these women, one of their saddest realities, is the fact that they can't give their children the nationality even though they live in their country.
In recent years, Saudi children born to foreign fathers were able to study in government schools and universities, but they won't be allowed to enroll in the scholarship program. They have the right to work and be treated like Saudis when calculating Saudization rates, but at the end of the day he isn't a citizen, unlike Saudi children born to a foreign mother and a Saudi father. They have the right to get aid from the labor Ministry's Hafiz program, but they don't have the right to receive nationality, in addition to the problems surrounding the iqama.
http://www.arabnews.com/saudi-arabia/news/714426
-----------
Girlfriend of First Briton to Die Fighting Islamic State Says She Has Received Abuse
05 Mar 2015
The former girlfriend of the first Briton to die fighting Islamic State has told how she received abuse and intimidation after speaking publicly of his heroism.
Jemma Weston, 23, said she was subjected to taunts online and on the street after describing her relationship with Konstandinos Scurfield, who was killed fighting jihadists in Syria.
Speaking exclusively to the Telegraph, Miss Weston said she also feared being physically attacked because of her links with a man who lost his life combating Muslim extremism.
She said she had faced widespread criticism after she described her former boyfriend as an "amazing man" who had been in Syria to "give something back".
"Someone on the street told me I was 'sick' for speaking about Kosta," she said.
"People who were our mutual friends have accused me of tarnishing his memory – but I don't understand why.
"I also had a message on Facebook from a man of Muslim appearance who asked me 'Are you a friend of Kosta?' which I found rather intimidating. I just didn't reply"
She went on: "There are people near where I live who will be glad he is dead.
"I'm worried that if I'm walking through town there may be repercussions.
"Since the news of his death I've been hearing his voice in my head all the time.
"I'm not going to back down. He would have urged me to stay strong.
"All I have done is pay my respects to a man that I had very strong feelings for."
Mr Scurfield, 25, from Barnsley, was killed fighting the jihadists of Isil alongside Kurdish resistance forces in the north east of Syria earlier this week.
"When I went out to my local shop this morning many people, especially the older generation, were very kind and said they were sorry to hear what had happened," said Miss Weston, from Nottingham.
"But other people were very unkind. One person in their 20s, who I didn't know, said 'You're sick' behind my back.
"Mutual friends of myself and Kosta, people I haven't seen for years, were saying on Facebook that I was a liar and that I was nothing to him.
"They didn't know about him and me because we were together after college.
"I'm very surprised at the reaction I had from people."
Miss Weston said she intended to write to Mr Scurfield's parents, Chris and Vicci, to offer her condolences.
"I just feel empty and numb. Just knowing that he won't be coming home to laugh with me, tell me off or do all those silly little things you do with close friends," added the former dancer, who is now training to be a professional horse rider.
The couple met at college in Nottingham when they were both enrolled on performing arts courses.
Mr Scurfield, a Greek-born British citizen, studied on an acting course but later took a very different career route and served with the Royal Marines.
He volunteered to fight in Syria alongside the Kurdish People's Protection Units, and is thought to have been killed in a mortar attack close to Hasakah in the north east of Syria.
His father, an archaeologist and his mother, an aspiring writer, said earlier this week they were extremely proud that their son had taken a stand against the evil Isil regime, and were "devastated" by his death.
Miss Weston revealed to the Telegraph earlier this week how in her final conversation with him a few months ago he said: "I want to come back and I want to come back to you."
http://www.telegraph.co.uk/news/worldnews/islamic-state/11453415/Girlfriend-of-first-Briton-to-die-fighting-Islamic-State-says-she-has-received-abuse.html
-----------
RSS Group to Address Concerns of Muslim Women
5 March 2015
Often accused of propagating smear campaigns against Muslims, the Sangh Parivar is planning an interaction for women from the minority community so it can address their concerns and then push for ameliorative measures and legislative interventions.
The Muslim Rashtriya Manch (MRM), the only organisation for Muslims in the Sangh Parivar, plans to organise an interaction of women from semi-urban and rural areas of the state with National Commission for Women (NCW) chairperson Lalitha Kumaramangalam in Pune on Wednesday.
The aim is to improve the lot of Muslim women and address their gender equity concerns. "We are planning to hold this interaction with women from regions like Marathwada and Khandesh on March 4," MRM Maharashtra co-convenor Irfan Ali told dna. He added that these women could discuss issues like education, oral one-sided talaq (divorce) and lack of inheritance rights in ancestral property on this platform.
"The discussion is meant to push ameliorative measures... by the government on these issues," Ali added. He noted that the interaction would also give the women an opportunity to have a debate over these problems.
Muslims form around 10.6% of Maharashtra's 11.23 crore population. However, only 2.2% of the community has completed education till graduation, while the proportion is even lower 1.4% for women. According to the Rajinder Sachar committee report, Muslims form just 4.4% of government service employees. The community also suffers from regressive social practices like patriarchy, oral, triple talaq, polygamy, low literacy and low work participation of women.
Muslims comprise just 4.4% of the police force, have no IAS officers in the Maharashtra cadre, while 58% of them in urban areas live in slums. In urban pockets, room density for Muslims is 4.6 persons per room, while it is 3.7 in rural areas.
The participation of Muslim women in the organized sector employment and their representation in the political system is negligible. The percentage of women using contraception among Muslims is still lower than other religious groups. One of the reasons for this is the non-availability of the preferred method of contraception (spacing methods). Chief minister Devendra Fadnavis' study group, headed by former IAS officer Mehmood-ur-Rehman, had submitted a report on the 'Socio-economic and educational backwardness of the Muslims in Maharashtra,' which pointed out that Muslim women suffer double disadvantages as women and as members of a minority religious group.
The MRM was established in 2002 at the behest of then Sarsanghachalak K S Sudarshan. It has senior RSS functionary Indresh Kumar as its chief margadarshak (guide). The MRM plans to establish a facility in central Mumbai to counsel victims of oral talaq and domestic violence. This facility will also impart legal aid, pre-marital advice and skill development programs for Muslim women.
In September 2014, the body had held its first program in Mumbai where Kumar, who was questioned by the CBI in the 2007 Mecca Masjid blasts at Hyderabad, addressed participants while making a strong pitch against cow slaughter, the need for men to give talaq (divorce) to the bottle rani (liquor) instead of their wives and on the common ancestry between Hindus and Muslims.
http://www.dnaindia.com/mumbai/report-rss-group-to-address-concerns-of-muslim-women-2066198
-----------
Vulnerable Women to Get Housing Services in Bahrain
March 5, 2015
Manama: King Hamad Bin Eisa Al Khalifa has provided vulnerable categories of women in Bahrain with the opportunity to benefit from housing services.
Under directives from King Hamad, unmarried women, divorced and widows without child custody who even though they do not meet eligibility terms will enjoy housing services, without ownership rights.
The decision was based on a recommendation by the Supreme Council for Women (SCW), the official entity seeking to empower women politically, socially and economically in the kingdom.
King Hamad has issued directives to take the necessary legal measures to assist the women set to benefit from the services, Bahrain News Agency (BNA) reported late on Tuesday.
King Hamad, seen as a champion of women's rights since he assumed power in 1999 following the death of his father, announced the decision as he received Princess Sabeeka Bint Ebrahim Al Khalifa, the chairwoman of the Supreme Council for Women.
King Hamad said at the meeting that he valued the significant role of Bahraini women and their outstanding competence in the positions of responsibility they have assumed, BNA said.
The monarch said that opportunities were available for all Bahraini women to contribute to the nation-building process and to serve their society as the country moves forward, the official news agency said.
The establishment of the council as an advisory body with a mandate to follow up on Bahraini women's advancement is a living proof of the kingdom's appreciation of the status of women, he said.
The Council has been spearheading a national drive to elevate the social, economic and political status of women through a series of national programmes that highlight the competence of women and the significance of their active involvement in the nation-building process.
Princess Sabeeka, Bahrain's First Lady, has been pushing to empower women and to help them benefit from social advantages.
In 2012, she called for the implementation of a recommendation issued by SCW in 2010 to extend the social umbrella to include Bahraini women married to foreigners.
Women's needs should be integrated in Bahrain's development process and the gender opportunity equality units set up in some government and official establishments should be invigorated, Princess Sabeeka said.
Several ministries, official establishments and the bicameral parliament have set up special units to boost women's chances in employment and promotion.
The units are part of a national plan to meet the needs of women employees and to bolster their contributions to the nation-building process
Despite a very challenging social environment, Bahrain is one of the most forward-looking countries in the Arab world in empowering women.
http://gulfnews.com/news/gulf/bahrain/vulnerable-women-to-get-housing-services-in-bahrain-1.1466944
-----------
Can A Good Muslim Be A Good Girl Scout?
03/05/2015
Seeing someone eating Girl Scout cookies makes me happy. Seeing Girl Scouts selling them makes me even happier.
I was a Girl Scout leader for my daughter's troop from the time she was in first grade until she graduated high school, so I have an affinity for Girl Scout cookies and the Girl Scout organization. Girls learn a lot when selling cookies, including self-confidence, marketing, public speaking skills, money management and a slew of other skills. As Muslim Girl Scouts, my troop and I benefited in other ways as well. ...
I started both a Girl and Boy Scout troop in 1995 at the Islamic center where my children attended weekend Islamic school. I wanted my children to build camaraderie with their fellow Muslims while also engaging with people of other faiths and backgrounds. I wanted them to learn that being a Muslim living in America didn't mean they had to choose one identity over the other.
I was surprised that as I introduced the idea of scouting to the Muslim community I met with some resistance. Muslims living in America have ethnicities from all over the world. Many are born in the USA, but some are immigrants. As with any immigrant group, many of its members are concerned with the loss of culture/heritage. While some describe America as a melting pot, it's important to recognize that many immigrants fear the fire of that pot. They fear becoming homogenized into a generic entity. However, America is more of a stew or a salad where each ingredient adds to the flavor of the dish and enhances the whole.
The Scouting program exists in many forms around the world, but its roots are in the program started by Lord Baden-Powell in the UK in 1911. In some countries indigenous populations see Scouting as an entity that came from the "colonizing" power, either through missionary groups or at times through the military. This history sometimes left negative impressions with which I had to work in order to help community members understand that the Scouting program is in harmony with Islamic ideals.
The Girl Scout promise states: "On my honor, I will try: To serve God and my country, To help people at all times, And to live by the Girl Scout Law."
The Girl Scout Law states: "I will do my best to be honest and fair, friendly and helpful, considerate and caring, courageous and strong, and responsible for what I say and do, and to respect myself and others, respect authority, use resources wisely, make the world a better place, and be a sister to every Girl Scout."
An example of these ideals in Islamic doctrine is the following verse from the Quran: "You are the best of people ever raised for the good of mankind because you have been raised to serve others: you enjoin what is good and forbid what is evil and believe in God." 3:110
By all measures, being a Girl Scout makes a young woman a better Muslim, and being a Muslim makes her a better Girl Scout. The girls were able to maintain and strengthen their identity as Muslims while also interacting with others from all over the county and building a sisterhood with Girl Scouts and Girl Guides all over the world. The girls learned that one can be different from others while adding flavor to the salad/stew that makes America great.
http://www.charlotteobserver.com/living/religion/article12670601.html
-----------
URL: https://www.newageislam.com/islam,-women-and-feminism/new-age-islam-news-bureau/afghan-men-don-burqas-to-highlight-women's-rights/d/101838