New Age Islam News Bureau
31 Jul 2016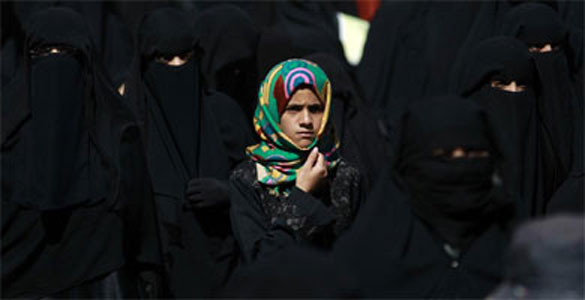 A young girl looks out in a crowd, Saudi Arabia, January 21, 2016. MOHAMMED HUWAIS/GETTY
-------
• Afghan Man Arrested For Marrying His 6yr Daughter to A 60yr Cleric
• Women Singers from India, Pakistan to Perform In Melbourne
• Taliban Militants Gang Rape Woman in Helmand, Official Claims
• PM Modi Announces Free Check-Up Scheme for Pregnant Women
• Father of British-Pakistani 'Honour-Killing' Victim Claims Daughter Committed Suicide
• Amid Zika Outbreak, England Warns Pregnant Women to Delay Travel To Florida
Compiled by New Age Islam News Bureau
URL: https://newageislam.com/islam-women-feminism/afghan-man-arrested-marrying-his/d/108133
------
Afghan Man Arrested For Marrying His 6yr Old Daughter to A 60yr Old Cleric
By KHAAMA PRESS - Sun Jul 31 2016
A man has been arrested in the western Ghor province of Afghanistan for marrying his 6-year-old to a religious cleric who is believed to be around 60-year-old.
According to the local security officials quoted in a report by RFE the father of the little girl has admitted he forced his daughter to marry with the cleric against some cattle, a sack of rice, some tea and sweets.
Head of the Criminal Investigation in provincial police commandment, Mohammad Azim Wakili, confirmed the arrest of the father of the man.
Wakili further added that the religous cleric is also in the custody of police forces after he was held from Obe district.
The forced marriage of the kid sent shockwaves across the country as well as globally after reports emerged recently following the arrest of the cleric and the child four days ago.
The issue has been widely shared in the local media as well as internationally which comes amid growing violence against women and forced child marriages in the country.
The cleric identified as Mohammad Karim earlier claimed that the family of the kid had offered her to him as a 'religious offering'.
But the family of the kid had said their daughter was kidnapped and was missing from western Herat province of Afghanistan.
This comes as a 14-year-old pregnant girl was burned to death in Ghor, in a case that caused shockwaves in Afghanistan during the recent weeks.
The family of that girl, Zahra, said she was tortured and set alight by her husband's family.
khaama.com/afghan-man-arrested-for-marrying-his-6yo-daughter-to-a-60yo-cleric-01613
----
Saudi Women Have Had Enough of Men Saying No
BY KRISTINE BECKERLE: 7/31/16
A few months ago, I was lucky enough to meet a young Saudi woman—we'll call her Zahra. Zahra was smart, eloquent, and funny. She wanted to pursue a degree outside Saudi Arabia in a field not yet available in her country.
But, Zahra said, her father, her male guardian, told her "no." When Zahra's sister asked to travel abroad to study, he said the same. When Zahra needed to travel for work, yet again, it was no. Zahra called lawyers seeking help. Once more: No. In Saudi Arabia, the choice was his, not hers. Zahra and her sister were stuck.
Over the past year, I interviewed dozens of Saudi women for a Human Rights Watch report on the Saudi guardianship system. Repeatedly, I heard stories like Zahra's —ambitious women who have accomplished incredible things, who want to accomplish more, but to whom their male guardians and their government keep saying "No."
Try Newsweek for only $1.25 per week
The veto power a male guardian retains over a woman's choices lasts throughout her life. Every Saudi woman must have a male guardian, usually her husband or her father, but in some cases, even her son. She must obtain his permission to travel abroad or to marry, and may be required to get his consent to work or get health care. She may have difficulty taking various other steps as well without a male relative, from renting an apartment to filing legal claims.
As Zahra said, "We all have to live in the borders of the boxes our dads or husbands draw for us."
Women's rights activists in Saudi Arabia have called on the government for years to abolish the male guardianship system. The government has made some changes—encouraging women to work, increasing education opportunities, passing a law in 2013 against domestic violence. When Deputy Crown Prince Mohammed bin Salman unveiled Vision2030, the country's wide-ranging plan for its future, many hoped more change would follow.
Yet, in today's Saudi Arabia, women continue to be boxed in. The male guardianship system not only hampers the ability of half of Saudi Arabia's population to show their country just how much they could contribute, but also undermines the Saudi government's own dreams for the country's future.
Vision2030 wants to enable women to contribute to the economy. The government encourages women to work, but doesn't penalize employers who won't hire a woman without a male guardian's permission. The state pays for women to study abroad on government scholarships, but officially requires male guardian's permission before they can go and a male relative to accompany them while abroad. I spoke with women who were prevented from attending conferences for work or higher education abroad because they were fighting with their husband, or their father disagreed.
Zahra told me: "Whenever someone tells me, 'You should have a five-year plan,' I say I can't. I'll have a five-year plan and then my dad would disagree. Why have a plan?"
Guardianship doesn't just hamper women economically. It can condemn women to a life of violence. Saudi Arabia has criminalized domestic abuse, but continues to recognize legal claims brought by guardians against female dependents for disobedience or fleeing the guardian's home.
The male guardianship system itself is inherently exploitative, according men an incredible amount of power. Some men have conditioned their consent for a woman to work or travel on her paying him large sums of money. One woman told me that her close friend, who worked at a prestigious university abroad, had to hire a lawyer to negotiate with her father, who was seeking financial compensation in return for granting his daughter travel permission.
I spoke with four women who were physically abused by their male guardians. They told me they felt there were no real options for them since the authorities might return them to their abusers or their abusers might bring legal claims against them, perhaps sending them to prison. They wanted to flee Saudi Arabia. But, without their male guardian's permission, they couldn't even leave the country, let alone apply for asylum somewhere else.
When Zahra called lawyers asking for their help to transfer guardianship from her father to another male relative, she told them that her father had beaten her and her sister when they were younger, and now was preventing them from work and educational opportunities. Zahra paraphrased their response, "As long as he is not beating you, he can do whatever he wants."
The Saudi government should immediately abolish the male guardianship system and let women choose for themselves what paths they will pursue. It is long past due.
Zahra, her sister and the millions of other Saudi women held back by this system deserve nothing less. They've heard enough of no.
Kristine Beckerle is a fellow at Human Rights Watch and author of a new report on the Saudi guardianship system. She works in the Middle East and North Africa Division, where she focuses on Saudi Arabia and women's rights.
newsweek.com/saudi-women-guardianship-control-male-relatives-enough-men-restricting-human-484947
-----
Women Singers from India, Pakistan to Perform In Melbourne
IANS| Mumbai July 31, 2016
The Indian Film Festival of Melbourne, which celebrates Indian cinema internationally, will have women singers from India and Pakistan perform at its sixth edition this year.
The festival in August will be following the theme of woman empowerment with performances by Pakistani singer-songwriter Sara Haider, award-winning Indian singer Shalmali Kholgade, singer Suzanne D'Mello and other notable performers.
Kholgade, popular for songs like "Pareshaan" and "Balam pichkari", is looking forward to the event.
"It is an honour to represent Indian film music in a foreign country. I am truly excited about my performance at the Indian Film Festival of Melbourne. I will be doing a solo performance of my Bollywood hits followed by a collaboration with the wonderful artist from Pakistan, Sara Haider," Kholgade said in a statement.
The guest list of the festival includes names like Rishi Kapoor, Srijit Mukherji, Rituparna Sengupta, Vidya Balan
business-standard.com/article/news-ians/women-singers-from-india-pakistan-to-perform-in-melbourne-116073100357_1.html
-----
Taliban Militants' Gang Rape Woman In Helmand, Official Claims
By KHAAMA PRESS - Sun Jul 31 2016
Taliban gang rape womanA group of the Taliban militants have reportedly gang raped a woman in southern Helmand province of Afghanistan, a local security official has claimed.
The official speaking on the condition of anonymity said the incident took place four days ago in Balo Jan village in Nahr-e-Saraj district.
The official further added that four Taliban insurgents were involved in the incident who were fighting under the command of commander Omari.
According to the official, the Taliban insurgents forced into a residential house in the village and attacked the woman and raped her in front of the children, including a 14-year-old boy.
The individuals involved in the incident have been arrested by commander Omari, the official said, adding that commander Omari has warned the woman to keep the issue as a secret without informing anyone.
The Taliban militants have not commented regarding the report so far.
This is the not the first the group has been accused of sexual violence against the ordinary civilians of the country.
Earlier the group was accused of raping some women in a hostel in northern Kunduz city which was briefly captured by the group last year.
khaama.com/taliban-militants-gang-rape-woman-in-helmand-official-claims-01614
-----
PM Modi Announces Free Check-Up Scheme For Pregnant Women
July 31, 2016
Expressing concern over pregnancy related deaths and other complications, Prime Minister Narendra Modi on Sunday said government hospitals and other facilities will provide free medical care to needy pregnant women in the country.
During his 'Mann Ki Baat' address to the nation, PM Modi called upon doctors across the country to join in the government's mission to provide free medical care once in a month to pregnant women in their areas.
"The government of India has started a mission to help such women. Lots of doctors have already written to me, but we will need more," he said, adding that on 9th day of every month pregnant woman will be checked and given medical aid at government hospitals free of cost.
ndtv.com/india-news/on-mann-ki-baat-pm-modi-announces-free-check-up-for-pregnant-women-1438405
----
Father Of British-Pakistani 'Honour-Killing' Victim Claims Daughter Committed Suicide
By Babar Naveed: July 31, 2016
LAHORE: In yet another twist to the suspected 'honour killing' case of a British woman of Pakistani origin, who was found dead inside her family home in Jhelum earlier this month, her father claimed on Sunday his daughter had committed suicide.
'Honour' killing — a custom in which a relative is killed by another for bringing the family dishonour — are a near daily occurrence in the country. The victims are overwhelmingly women, with hundreds killed each year.
Chaudhry Shahid, father of Samia Shahid — the woman whose husband Mukhtar Kazam has accused his wife's family of killing her for converting to Shia faith, recorded his statement in front of the four-member investigation team formulated on the orders of Punjab Chief Minister Shahbaz Sharif.
The investigation team headed by Punjab DIG Abu Bakar Khuda Bakhsh arrived in Jhelum Saturday to probe into the matter.
British woman's parents killed her for converting to Shia faith: husband
"The victim's father has told the new investigation team his daughter committed suicide," sources privy to the development told The Express Tribune.
Chaudhry had earlier denied any charges that his daughter was killed for 'honour', insisting he did not want an investigation as she had died of natural causes.
On Tuesday, Kazam had called for the UK and Pakistani governments to ensure his wife received justice. Presenting a copy of the post-mortem report at a press conference, which said the 28-year-old had marks on her neck, he suggested Samia had been strangled.
The investigation team on Saturday visited Mangla police station and held a meeting with officials at Police Lines. The investigators also gathered details of the case from DPO and other officials concerned.
Investigation team also recorded the statement of Muhammad Shakeel, Samia's former husband, who has reportedly said he was out of town at the time of the victim's death.
Man alleges British wife killed for 'honour' in Pakistan
Sources said police had broadened the scope of investigation, and it will also interrogate SI Ifzal Mehdi of homicide unit of the Jhelum Sadar Circle, who was previously investigating the case, Mangla SHO Malik Aqeel Abbas and other officials concerned.
Earlier this month the murder of social media star Qandeel Baloch by her brother, who said it was for 'honour', provoked international shock and revulsion.
Rights groups and politicians have for years called for tougher laws to tackle perpetrators of violence against women in the country.
tribune.com.pk/story/1152925/father-british-pakistani-honour-killing-victim-claims-daughter-committed-suicide/
----
Amid Zika Outbreak, England Warns Pregnant Women to Delay Travel to Florida
By MORGAN WINSOR Jul 30, 2016
Public health officials in England are advising pregnant women to delay nonessential travel to Florida after the first known cases of likely local transmission of the Zika virus were discovered in the U.S.
In its updated travel advice, Public Health England increased the risk designation for Florida from low to medium.
"The risk in Florida is considered moderate based on the number and spread of cases and their demonstrated ability to implement effective control measures for similar diseases such as dengue -– a virus transmitted by the same mosquito," the health agency said in its public guidance. "Pregnant women should consider postponing nonessential travel to affected areas until after the pregnancy. At present, only a zone of about 1 square mile in Miami-Dade County is considered at risk of active transmission."
State health officials confirmed Friday that they believed people ill with Zika acquired the infection locally, marking the first time the virus has been suspected to have been transmitted via infected mosquitoes within the continental United States. At least four people -- three men and one woman -- have been infected through local transmission so far, officials said.
The medical director of England's public health agency said officials there weren't surprised by the outbreak in Florida.
"We know the Aedes aegypti mosquito, which is known to carry Zika virus, is present in Florida," said Paul Cosford, director of health protection at Public Health England.
He added that the previous success in Florida of controlling similar diseases such as dengue, transmitted by the same mosquito as Zika, led British health authorities to classify the current risk to pregnant women visiting the state as moderate.
"Pregnant women are advised to consider postponing nonessential travel [to Florida] until after pregnancy," he said. And, all English visitors to the state are advised to avoid mosquito bites, he added
A small area north of downtown Miami that is about a square mile in size is believed to be the only place where the Zika virus is being transmitted from mosquitoes to people. The area is under close surveillance and door-to-door outreach is under way there, officials said at a press conference Friday.
State and local officials have also been contracting with local companies to eliminate mosquito habitats through increased spraying, including of aerial liquid larvicide.
"Florida has become the first state in our nation to have local transmission of the Zika virus," Florida Gov. Rick Scott said Friday.
"We're being very aggressive at testing people there. we are testing the mosquitoes there, and we spraying to make sure it's contained," Scott said, adding that health officials do not think that the transmission was ongoing.
For months, health experts have warned that a small local outbreak of the disease was likely to occur within the U.S. and that local and state health departments should be ready. The Zika cases in Florida come at a time when tourists from around the world are visiting the Sunshine State's theme parks, beaches and urban arts districts.
And while public health officials in England have updated the country's travel advice in light of the outbreak in Florida, the leading national public health institute in the United States is not yet advising pregnant women to avoid non-essential travel to the southern state.
"All the evidence we have seen indicates that this is mosquito-borne transmission that occurred several weeks ago in several blocks in Miami," Dr. Tom Frieden, director of the Centers for Disease Control and Prevention (CDC), said in a statement Friday. "We continue to recommend that everyone in areas where Aedes aegypti mosquitoes are present -— and especially pregnant women —- take steps to avoid mosquito bites. We will continue to support Florida's efforts to investigate and respond to Zika and will reassess the situation and our recommendations on a daily basis."
Since the start of the Zika virus outbreak in Central and South America, the CDC has recommended pregnant women postpone travel to countries where local transmission has occurred, even in some instances where the number of cases was small. Frieden said the CDC would not be issuing travel advisories based on the cases in Florida at this time because there's currently no evidence that the transmission is ongoing and there have been "intense mosquito control efforts" in southern Florida for the past several weeks.
A CDC spokesperson said the question of whether to issue a travel recommendation is "literally a day-by-day decision."
ABC News' Richard Besser, Dan Childs and Gillian Mohney contributed to this report.
abcnews.go.com/US/amid-zika-outbreak-england-warns-pregnant-women-delay/story?id=41012619
URL: https://newageislam.com/islam-women-feminism/afghan-man-arrested-marrying-his/d/108133
New Age Islam, Islam Online, Islamic Website, African Muslim News, Arab World News, South Asia News, Indian Muslim News, World Muslim News, Womens in Islam, Islamic Feminism, Arab Women, Womens In Arab, Islamphobia in America, Muslim Women in West, Islam Women and Feminism