New Age Islam News Bureau
22 October 2021
• Pakistani Journalist Asma Shirazi Faces Wrath Of Ministers
• Iran: Women Bike Riders Will Be 'Definitively' Dealt With, Says Traffic Chief
• Expo 2020 Dubai: AR Rahman-Led All-Female Orchestra's Performance To Close Space Week
• In Iraqi Kurdish City, Women Gain Power Without Parity
• Afghanistan Ranks Last in Global Women Peace and Security Index
• Hindu Woman's Burial Denied In Muslim Graveyard In Pakistan; Police Helped Hindus To Bury The Body
• York Army Open Day Encourages Muslim Women Recruits To Inspire More Muslims To Join The Armed Forces
• Iran's Female Hockey Team Win 2nd Place in Int'l Dubai Competition
Compiled by New Age Islam News Bureau
URL: https://www.newageislam.com/islam-women-feminism/afghan-leader-fawzia-koofi-nobel-peace/d/125621
--------
Afghan Leader Fawzia Koofi, A Nominee For The Nobel Peace Prize Keeps Fighting From Exile
Oct 22, 2021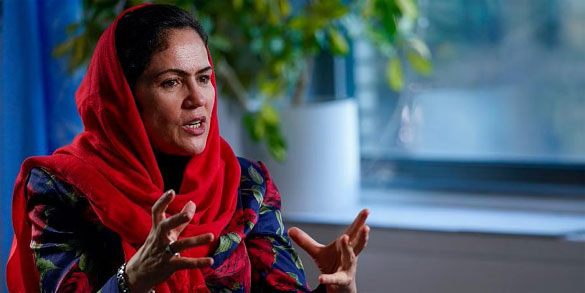 One of the Afghanistan's once-prominent female leaders, a Former parliament member, candidate for president and a nominee for the Nobel Peace Prize, Fawzia Koofi. (Photo | AP)
----
NEW YORK: Two months after the Taliban seized power in Afghanistan, one of the country's once-prominent female leaders _ a former parliament member, candidate for president and a nominee for the Nobel Peace Prize is visiting the United Nations, not as a representative of her government but as a woman in exile.
In an interview with The Associated Press, Fawzia Koofi called for humanitarian aid sent to Afghanistan to be contingent on the participation of women in its distribution, as well as free and safe travel for Afghans into and out of the country.
Aid ``should not be politicized. ... Women should be involved in every stage of it and they should be listened to. Women should not be only the recipients,'' said Koofi, part of a delegation of Afghan women visiting the UN to urge member states not to compromise on inclusion and equal rights in Afghanistan.
Since fleeing Kabul in August, Koofi has been living in hotel rooms in Europe. She described the pain of separation from her country, of two decades of hopes dashed and of searching for permanent residence for herself and her two daughters.
``This is not an Afghanistan I fought for,'' she told the AP. ``The Afghanistan that I was hoping for was (that) women should not suffer as much as I suffered during my childhood, during the time that I was a teenager, when (the) Taliban took over.''
``I wanted other girls to enjoy at least the freedom of choosing which school they should go. But now, their choice is limited to which room in their houses they should spend during the day. This is heartbreaking.''
Koofi, a former deputy speaker of parliament, was one of only four women in talks to reach a power-sharing deal with the Taliban, which ultimately failed. She described watching the Taliban's commitment to negotiations change after they signed a peace agreement with the United States in February 2020.
``After they signed the agreement, they were more extreme and they were more into buying time, preferring a military strategy,'' she said.
Taliban fighters pursued that strategy in the summer, seizing province after province until they reached Kabul in August. When then-President Ashraf Ghani fled, the Taliban entered the capital, sparking panic among many who had opposed their rule and feared for their lives and futures.
That was the fatal blow to reaching a political settlement many had hoped would cement the gains women had achieved in access to education, work and the legal system, Koofi said.
She also blamed ``world leaders,'' seeming to point a finger at US President Joe Biden. ``As a superpower, the United States has a major responsibility and should be held accountable,'' she said.
When he announced withdrawal plans, Biden said he was bound by the timetable set by the Trump administration and that the US could not continue to extend the military presence in Afghanistan and expect a different result.
Still, Koofi said she thinks the breakdown of peace talks and the Taliban takeover could have been avoided. Pausing as tears ran down her face, she said: ``I mean, every day we are actually dealing with this trauma.''
Her former female colleagues in parliament, female judges who used to sentence people affiliated with the Taliban and some journalists who spoke out against the group are now fearful, she said.
The Taliban must also be held accountable, she added, for their pledges that women would be able to go to school and work ``within the principles of Islam.''
Each day, Koofi said she gets hundreds of text and voice messages largely from women still in Afghanistan, hoping she can help them.
``They're very angry ... that I am not with them at these difficult times,'' she said. ``The women, especially, they keep sending me messages expressing their anger that, you know, `We need you to be here with us in the streets of Kabul,' and they are right.''
Women she used to work with and who were the breadwinners in their families send her photos of themselves as reminders.
``Psychologically to process this and to be able to adjust and accept, it's not been easy,'' she said. ``Not only for me, for every woman and man that I have met in the last two months after I left Kabul.''
For now, Koofi is focused on resolving residency status for herself and her daughters, ages 22 and 23. For security reasons, she declined to say where.
Some 100,000 Afghans have fled the country since the Taliban took power, though many were unable to leave in the final chaotic airlifts. The 38 million Afghans who remain are facing `` universal poverty '' within a year, the UN development agency said in September.
Koofi also warned of the threat from the Islamic State group in Afghanistan _ known by its Arabic acronym Daesh _ and called for renewed political negotiations because, she said, stability does not just come from the cessation of violence, but strong and inclusive institutions.
``If we think that one military extremist group, which is Taliban, is going to defeat Daesh it's not going to work that way,'' she said.
``You need to continue to empower the nation, empower the people, educate them, support the political process.''
Source: Times of India
https://timesofindia.indiatimes.com/world/south-asia/from-exile-female-former-afghan-leader-keeps-fighting/articleshow/87199900.cms
--------
Pakistani Journalist Asma Shirazi Faces Wrath Of Ministers
Kalbe Ali
October 22, 2021
Journalist Asma Shirazi, in her article, criticised the government without naming it or any individual, including the prime minister's wife. — Photo via Asma Shirazi Twitter
-----
ISLAMABAD: An article written by journalist Asma Shirazi for BBC Urdu service criticising the current economic conditions in the country and reports relating to supernatural remedies around Prime Minister Imran Khan's private residence Banigala have brought several cabinet members face-to-face against the journalist at both mainstream and social media.
Several local and international journalist organisations, however, have expressed concern over the attitude of the government's ministers.
Special Assistant to the Prime Minister on Political Communication Dr Shahbaz Gill on Thursday held a fiery media conference in which he lashed out at Ms Shirazi for criticising the government's economic policies in her article.
In the article, Ms Shirazi criticised the government without naming it or any individual, including the prime minister's wife. The article, however, said the economy cannot be fixed by "slaughtering of goats" or "spilling the blood of pigeons".
Media organisations warn govt against using intimidating language
Dr Gill accused Ms Shirazi of hurling allegations at the first lady, saying that "if you dislike the prime minister's family, you can hold a grudge against them, but there are ethical limits".
He said Ms Shirazi had a right to report news if there was any proof of it, "but do not make news out of assumptions". He wondered whether the journalist was doing "all this after failing to find any scandal of the prime minister in the last three years". He claimed that Ms Shirazi had good ties with Pakistan Muslim League-Nawaz (PML-N) vice president Maryam Nawaz and that the journalist spoke to her several times in a day.
Dr Gill said there should be a limit for criticism in politics. The late wife of former prime minister Nawaz Sharif, Kulsoom Nawaz, took part in political activities, but the Pakistan Tehreek-i-Insaf (PTI) had never made a statement on her character, he added.
He expressed resentment against some senior journalists for supporting Ms Shirazi on Twitter with hashtag 'IStandWithAsmaShirazi'.
Meanwhile, the Belgium-based International Federation of Journalists (IFJ), which has over 50,000 tweeter followers and claims to be the global voice of journalists representing 600,000 journalists in 146 countries, has voiced concern over the remarks made by Minister for Human Rights Dr Shireen Mazari on the issue.
The IFJ tweeted that Pakistan's minister for human rights attacked journalist Asma Shirazi on Twitter after she had written an article on the country's economic difficulties. "We urge her to apologise for harassing and targeting a journalist for simply doing her job."
In response, Dr Mazari tweeted: "I stand by my right to respond to @asmashirazi - no abusive language was used nor was it an "attack"! Absurd to paint it as such. I have a right to respond & critique without abuse. There is nothing to apologise about. Perhaps she shd apologise for unsubstantiated allusions made!"
Earlier, Minister for Ports and Shipping Ali Haider Zaidi said in tweet: "I usually refrain from commenting on such nonsense but you've crossed the line!
"Behaviour usually shows character & mindset. Sadly, yours is clearly visible in the language of your tweet & your oped! Disgusting for lack of a better word."
Minister for Energy Hammad Azhar tweeted: "Asma sister, you should join the PML-N. I am not making a taunt – because if like or dislike or affiliation cross its limits than the political announcement should be made."
Dr Mazari quoted the tweet of Hammad Azhar, saying: "Actually I have maintained for a long time that BBC is a closet Bharat Broadcasting Corporation! they would run strategically placed Indian Army ads during Kargil at peak times!! Sad to see @asmashirazi reduce herself to such pathetic and downright low life writing!"
Meanwhile, the Pakistan Federal Union of Journalist (PFUJ) has warned of serious consequences of the use of abusive and intimidating language against Asma Shirazi by Shahbaz Gill.
In a joint statement, PFUJ president Shahzada Zulfiqar and secretary general Nasir Zaidi took exception to Mr Gill's tirade against Ms Shirazi, saying that such behaviour of the PM's official spokesperson reflects the training and mental capacity of a cabinet member who is supposed to improve relations between the government and the media.
Source: Dawn
https://www.dawn.com/news/1653302/journalist-asma-shirazi-faces-wrath-of-ministers
--------
Iran: Women Bike Riders Will Be 'Definitively' Dealt With, Says Traffic Chief
Oct 21, 2021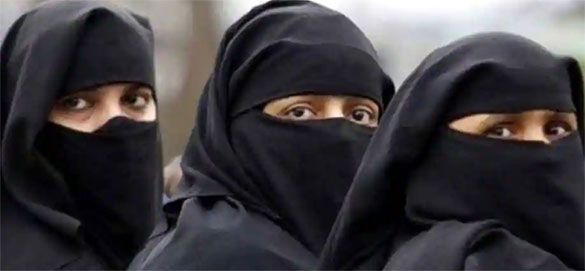 Representative image Photograph:( Zee News Network ) Women Bike Riders
-----
A traffic chief of Iranian police's NAJA special forces units has hit headlines for reportedly saying that Iranian women who ride motorcycles will be 'definitively' dealt with. Kamal Hadianfar, the traffic chief told this to Iranian media on Tuesday (October 19).
The assertions didn't stop there, Hadianfar said further that only men's names could appear on motorcycle licenses and that no woman could legally drive one.
"This issue needs to be amended in law," he was quoted as saying by the Iranian media.
Women riding motorbikes in Iran are often harassed and even arrested by police.
Iranian women have found no respite from Iran's supreme leader Ayatollah Ali Khamanei who in 2016 reportedly said, "Women's cycling in public and in the presence of male non-relations, often attracts the attention of men. It tends toward sedition and corruption in society, and runs contrary to women's chastity."
He was responding to a question from Fars New Agency about ban on women riding bikes.
Iran, a prominent and influential country in West Asia is still battling age-old beliefs that deny its citizens, especially women basic freedoms that are afforded or even taken for granted in many other countries across the world. The issues have often hit headlines globally.
Source: WIO News
https://www.wionews.com/world/iran-women-bike-riders-will-be-definitively-dealt-with-says-traffic-chief-422655
--------
Expo 2020 Dubai: AR Rahman-led all-female orchestra's performance to close Space Week
October 22, 2021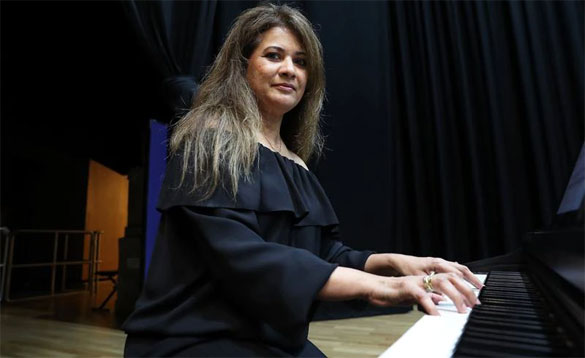 Nerissa Lobo playing the piano as the musicians tune up. AR Rhamn Truoup
-----
Firdaus Orchestra, the pioneering all-women musical ensemble led by Academy and Grammy Award-winning composer A.R. Rahman, will close Expo 2020 Dubai's Space Week on Saturday October 23. The orchestra will render a stellar space-themed repertoire comprising Western classical music and an original composition by Rahman.
Starting at 7pm at Expo 2020's Jubilee Park, the Firdaus Orchestra, led by conductor Yasmina Sabbah and representing a melange of musical talent from across the Arab world, will bring their spellbinding showcase to Expo's Space Week celebrations.
The one-hour performance will include "Also Sprach Zarathustra," the theme from 2001: A Space Odyssey, as well as music from Star Wars and ET – Adventures on Earth. It will also feature Karl Jenkins' "Palladio," Beethoven's "Symphony No. 5," and a grand finale performance by A.R. Rahman who will present an exclusive new composition, Humanitas-Proorismós-Al Amal – an ode by the composer to explorers of space. 'Al Amal' is the Arabic word for 'Hope', which, fortuitously, is also the name of the first Arab mission to Mars.
AR Rahman said: "To know the unknown is the quest of life, and by exploring space we explore ourselves."
Expo ticket-holders wishing to attend the orchestra's inaugural performance on Saturday should arrive early. Due to limited capacity at the venue, access will be given on a first-come, first-served basis. Expo tickets can be purchased online at www.expo2020.com.
Running from October 17 to October 23, Expo 2020's Space Week is hosting astronauts, thought-leaders, and other space experts – highlighting the latest innovations in space research and travel and providing a platform to discuss critical issues.
Source: Khaleej Times
https://www.khaleejtimes.com/uae/expo-2020-dubai/expo-2020-dubai-ar-rahman-led-all-female-orchestras-performance-to-close-space-week
--------
In Iraqi Kurdish city, women gain power without parity
October 22, 2021
HALABJA: In the Kurdish city of Halabja in northeastern Iraq, municipal director Kwestan Faraj recalls the day when being a woman saved her life.
Though equality may be a distant reality for many women in Iraq, in Halabja women have reached top levels of local government.
Mayor, university dean, director of the veterinary department, and health spokesperson are some of the senior posts held by women in the city of around 115,000 inhabitants.
It marks something of a departure for Iraqi Kurdistan, where public affairs have long been dominated by a handful of men. Tradition and conservative values have meant that women face routine discrimination and are largely confined to the private sphere.
"When you are a woman, climbing the ranks comes with a lot of sacrifices," Faraj, 55, said.
A former deputy head of the municipality for 15 years, Faraj launched her political career many years earlier when as a student she handed out leaflets against Saddam Hussein's regime, which carried out an infamous chemical attack on the city shortly before the end of the Iran-Iraq war in 1988.
She recalled one day when an armed man arrived demanding that she sign dubious paperwork. She refused.
"I thought he would pull out his gun and shoot," she said.
"He got up and told me: 'If you weren't a woman, I know what I would have done'."
She said that in her city the drive for gender equality was largely led by the Patriotic Union of Kurdistan (PUK), one of two historical parties in Iraqi Kurdistan.
Yet some residents complain that the advances are largely cosmetic and aimed at masking the shortcomings of public services.
A junior partner in the Kurdistan regional government in Irbil, the PUK holds the post of speaker in the regional parliament, which it also awarded to a woman, Rewaz Faiq.
The party "believes in equality between men and women in all domains," Faraj said.
"This has allowed us to achieve gender balance in administrative posts in Halabja," said the head of the municipality, who has held the post since 2016.
Halabja prides itself on having had a woman mayor, Adela Khanum, in the first decades of the 20th century. Now it has another, Nuxsha Nasih.
It also has Kurdistan's first female university dean, Mahabad Kamil Abdullah. "The Islamist parties were among the first to congratulate me when I became the president of Halabja University," she said.
But it is by no means representative of the situation of women in Kurdistan as a whole. A 2018 UN report found that women in the workforce represent barely 15 percent of the women of working age. About three quarters of those work in the public sector.
In Iraq's Oct. 10 parliamentary election, more than 90 women were elected according to preliminary results, exceeding the minimum 83-seat quota established for women in the 329-seat chamber.
Though the Kurdistan region has cultivated an image of relative stability and tolerance, women's rights activists say key issues like forced marriage and female genital mutilation have gone unaddressed.
"It is not enough to have women in high posts. There need to be more women in the lower ranks," said Gulistan Ahmed, who heads the governmental commission for human rights in Halabja.
Many residents are more preoccupied with the failings of public services than with seeking gender equality.
"There have been no notable changes in the city under their mandate, whether at the level of public services or with the launch of new projects," complained Wshyar Abdulkarim, a 45-year-old spice merchant.
Female market trader Mujda Ahmed said having women in top jobs had yet to lead to an improvement in services for women.
"I have worked in the market for six years and not a single person has built public toilets for women," she said.
"I have the impression that they are being used by their parties, which simply want to improve their image on the issue of equality, nothing more."
Source: Arab News
https://www.arabnews.com/node/1952846/middle-east
--------
Afghanistan Ranks Last in Global Women Peace and Security Index
October 21, 2021
Islamabad: In the global ranking of women's peace and security, Afghanistan sits at the last place as the country's women fear complete and outright discrimination since the Taliban have taken control of the Asian country.Also Read - Taliban To Allow National Polio Vaccination Campaign in Afghanistan: WHO Confirms
According to a report published by Georgetown University's Institute for Women, Peace, and Security, Afghanistan sits at the bottom among at least 170 countries. Jeni Klugman, Managing Director, Georgetown Institute for Women, Peace and Security said, "Afghanistan has fallen to last place out of 170 countries. The country's absolute score is almost 30 per cent lower that in 2017, driven by worsening rates of violence and worsening community safety." Also Read - Taliban Intimidation Causing School Attendance Rates to Remain Low
The Taliban takeover in August has only added more fuel to the existing dire situation of women, peace and security in the country, which global powers fear, may remain the same or get even worse in the times to come under the Taliban rule. The report also highlights that "future data to show that the Taliban takeover of Afghanistan in August has only exacerbated these conditions". Also Read - Aghanistan Terror Attack: India Condemns 'Heinous And Cowardly' Act, Calls For United Fight Against Terrorism
Mariam Safi, Founding Director of Organization for Policy and Research Studies (DROPS), said "What makes the findings of these index more worrisome that ever before is that with the return of the television, many expect for these indicators mentioned in the index further deteriorate."
The report sheds light on a wide range of ground realities in Afghanistan and highlights factors that are pivotal to the evaluation of how women are faring in 170 countries around the world. Norway, Finland, and Iceland are the top three countries in the index, while the last 12 countries, at least 11 are highly fragile states, while Pakistan stands at 167.
"While the Nordic countries feature at the top of the index, we are not perfect. In every society, there are those who experience unequal treatment and exclusion. It is imperative that we recognize this, it helps us to look forward to addressing gaps, especially structural ones to achieve achieving gender equality," said Mona Juul, Norway's ambassador to the United Nations.
In Afghanistan, the world is still waiting for the Taliban to fulfill their promise of giving rights to education and freedom to women. However, no signs of revival of women education schools or rights of women in the country, have come into practice. Afghan women are left with no other option but to hope that global pressure on the Taliban may result in some respite from the existing discrimination, they are subjected to suffer, a heavy price being paid for living in their home country.
Source: India.Com
https://www.india.com/news/world/afghanistan-ranks-last-in-global-women-peace-and-security-index-5064156/
--------
Hindu Woman's Burial Denied In Muslim Graveyard In Pakistan; Police Helped Hindus To Bury The Body
Sameer Mandhro
October 22, 2021
KARACHI:
Dozens of people reportedly stopped Hindus from burying a body in a Muslim graveyard in Thull town of district Jacobabad, though both the communities have shared the facility for years, locals said.
The incident took place on Wednesday when the Hindu Oodh community members came to the town's main cemetery to enter the remains of Nazi wife of Kevo Mal.
Thull-based journalist, Zahid Gul Mastoi told The Express Tribune that the minority community people were harassed and were asked to take back the body.
"The body was lying in the open ground for about three hours," he said.
The Oodh community staged a protest outside the graveyard and demanded the Muslim residents to allow them to bury the body.
"Hindu men and women were requesting Muslims but no one was listening to them," Mastoi said.
He said that police reached the spot after a few hours and dispersed Muslim residents and helped Hindus to bury the body.
"It was first such incident in Thull," he added.
The area residents said that the graveyard has been used by both the communities for years.
According to Mukesh Meghwar, a Hindu activist, these issues were being reported for last 10 years.
"Hindus, especially those from the lower castes, do not have separate graveyards anywhere in Sindh," he said.
"We have a small portion in almost every small and major town of the province," he added.
Meghwar reminded that grave of Bhoro Bheel was dug out in Badin in 2013.
"That was the first such kind of incident," he said.
He said that the fear prevails among Hindus when such incidents are reported.
"Where should they bury their bodies without a graveyard," he questioned.
Source: The Tribune Pakistan
https://tribune.com.pk/story/2325805/hindu-womans-burial-denied-in-muslim-graveyard
--------
York Army Open Day Encourages Muslim Women Recruits To Inspire More Muslims To Join The Armed Forces
October 22, 2021
A group of Muslim women from Bradford has been given a taste of Army life.
They were given a chance to tackle an assault course and take part in paintballing and other activities at barracks in York.
The event was designed to inspire more Muslims to join the armed forces.
Latest figures from the MoD show there are currently 650 Muslims serving in the RAF, Army and Royal Navy out of a total force of just under 150,000 service personnel.
Maj Kate Haniford, from the Royal Artillery, said the day was designed to show those taking part what the Army did, adding that all roles were now open to women.
"The Army is an organisation that should represent the society that it serves," said Maj Haniford.
"It's really super-important that more Muslim women are aware of the opportunities in the Army. If they are more aware then they are more likely to consider the Army as a career of choice."
As well as the outdoor activities, the Army held information sessions about available careers.
One of the participants, Salina Choudhry, 27, a data analyst, said if she were younger she would have considered joining the Army.
"I guess you have this perception of what the Army is, and coming here and seeing all the opportunities available to you it's definitely opened up my eyes," she said.
Meanwhile, another participant, Hareem, said the day had made her consider a career in the forces.
"It's totally changed my mind. After today, I would definitely look into it just because they've got so many amazing experiences and all these opportunities."
Source: BBC
https://www.bbc.com/news/uk-england-58999157
--------
Iran's Female Hockey Team Win 2nd Place in Int'l Dubai Competition
2021-October-21
The Iranian women could get the title during their first official presence in the international competitions held on October 18-20.
In final, the Iranian ice hockey team faced powerful Russia but could not win it and was defeated 3-1.
Dubai ice hockey championship is the most reputable one in the region.
Source: Fars News Agency
https://www.farsnews.ir/en/news/14000729000456/Iran%E2%80%99s-Female-Hkey-Team-Win-2nd-Place-in-In%E2%80%99l-Dbai-Cmpeiin
--------
URL: https://www.newageislam.com/islam-women-feminism/afghan-leader-fawzia-koofi-nobel-peace/d/125621
New Age Islam, Islam Online, Islamic Website, African Muslim News, Arab World News, South Asia News, Indian Muslim News, World Muslim News, Women in Islam, Islamic Feminism, Arab Women, Women In Arab, Islamophobia in America, Muslim Women in West, Islam Women and Feminism