New Age Islam News Bureau
24 May 2022
• Honour Killing: Spanish Sisters of Pakistani Origin, Killed By Their Close Kin, Were Tricked Into Coming to Pakistan
• Iran Films Criticised For Showing 'Parallel Reality' On Women
• Can't Ask Women 'To Wear, Remove Hijab' Says Boxing Champ Nikhat Zareen, Urges 'Peace, Harmony'
• Sisters allegedly murdered by husbands in Pakistan 'honour' killing
• Freed British Woman Says Iran Forced Her to Sign False Confession to Spying
Compiled by New Age Islam News Bureau
URL: https://newageislam.com/islam-women-feminism/afghan-journalist-anisa-award/d/127080
--------
Afghan Journalist Anisa Shaheed Receives the Knight International Journalism Award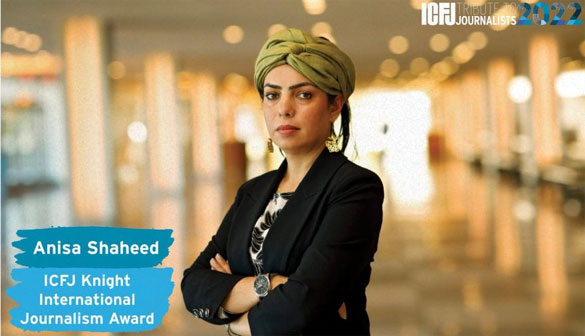 By Saqalain Eqbal
24 May 2022
The International Center for Journalism (ICFJ) awarded Afghan journalist Anisa Shaheed the Knight International Journalist Award 2022.
An international journalist award was also given to a group of Ukrainian journalists for reporting and documenting "horrific" images of the Mariupol siege. As Russian bombs poured down on Mariupol, the Ukrainian team reporting for the Associated Press stayed in the city to show the world what was going on.
For her research article on resource management during the Covid-19 crisis, Anisa Shaheed was selected the winner of the annual International Journalism Awards.
Last year, Anisa Shaheed was also recognized as "The Face of Freedom of Speech" by Free Speech Hub and was awarded the best journalist of the year.
Anisa Shaheed was born and educated in Kabul. She received a journalism degree from Kabul University and has worked in the field ever since.
Shaheed was one of the TOLONews reporters who has been with the organization since the inception and has worked in a variety of capacities.
She was compelled to evacuate alongside many of her colleagues and other residents when the Taliban reappeared in 2021, reversing women's rights and threatening journalists with death.
Source: Khaama Press
https://www.khaama.com/anisa-shaheed-receives-the-knight-international-journalism-award43749/
--------
Honour Killing: Spanish Sisters of Pakistani Origin, Killed By Their Close Kin, Were Tricked Into Coming to Pakistan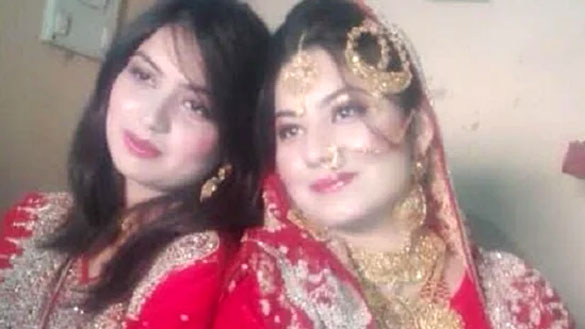 Arooj Abbas, 21, and Aneesa Abbas, 23.(TWITTER/@Xadeejournalist)
-----
Waseem Ashraf Butt
May 24, 2022
GUJRAT: The two Spanish national sisters of Pakistani origin who were killed by their close kin had been emotionally blackmailed as they were called to Pakistan on the pretext that their mother was on the deathbed and she wanted to see them. On being misinformed about the condition of their mother, both the sisters arrived in Pakistan a day before their murder on May 20.
A close kin to victims Arooj Abbas and Aneesa Abbas told Dawn, on condition of anonymity, on Monday that Azra Bibi, the mother of deceased women, had also been evacuated from village Nothia of Gulliana police precincts in Kharian tehsil following the burial of her daughters last Saturday since she also faced a threat to her life. He said one of suspects, Hassan Aurangzaib, whose nikah was done to Arooj Abbas, had also hurled threats to kill the victims' mother. However, Hassan is in custody now. A relative of the mother immediately took her out of the village after the burial and now she had been shifted to a safer place in another city. The woman is in contact with police and might record her statement before the police within a few days after coming out of the trauma.
The mother was one of the eyewitnesses of the brutal killings as her statement could prove vital in the case, an official of the Gujrat police said. The area people and family sources said Azra Bibi had been confined by her in-laws in a room after she came to Pakistan a couple of months ago and they did not let her talk to her daughters in Spain. However, Muhammad Abbas, the father of deceased remained in Spain and did not accompany his daughters to village Nothia where the plot of their killing had already been prepared.
Another family source said the deceased sisters were dragged by the suspects who put their headscarves around their necks to suffocate them before shooting. All this happened in front of the children at home as 12-year-old Fakhar Abbas, the youngest brother of the slain sisters, had also been missing since then.
It is said the mother was worried about the whereabouts of her youngest son as two of her sons, Shehryar, the main suspect and Asfandyar had already been arrested along with four other suspects, the uncles and two cousins of the deceased who were also their fiancé.
Moreover, Azra Bibi had already been passing through the agony of a tragic death of her elder son, Haroon Abbas, who was 18 years old when he drowned in a Jhelum canal around seven years ago when he went there along with his cousins. Now his both daughters are killed and two sons have been booked for killing their sisters, leaving her whole family in disarray, the source said and added that the suspects also had an objection to the both sisters for wearing western dresses.
Similarly, the sisters were against their forced marriages to the cousins and had been demanding divorce whereas the relatives in Pakistan and parents would ask them to expedite the process of documentation for visas for their husbands to move to Spain.
Police had booked at least nine people, including seven nominated and two unidentified suspects in the case of sisters' killing. An ASI of Gulliana police became the complainant in the case after which six suspects were arrested whereas a woman, Farzana Haneef, wife of Haneef, and two unidentified suspects were yet to be arrested.
Meanwhile, all the arrested suspects were produced in the court of area magistrate Kharian on Monday who granted five days physical remand of the suspects to police until May 28.
Source: Dawn
https://www.dawn.com/news/1691193/spanish-sisters-were-tricked-into-coming-to-pakistan
--------
Iran Films Criticised For Showing 'Parallel Reality' On Women
May 24, 2022
CANNES: An Iranian director, who unsettled Cannes with a film about a serial killer "cleansing" the holy city of Mashhad of prostitutes, on Monday criticised the way women are represented in Iranian films.
Ali Abbasi, whose film "Holy Spider" is in the race for the Palme d'Or at the French Riviera film fest, said any serious movie that manages to get made in the Islamic Republic "is a miracle".
But the country's film-makers "have been presenting a parallel reality of Iran in the past 50 years", he told reporters.
"In this parallel reality, women sleep with all their clothes on. They always have five metres of cloth around their head… They never fart or have sex or touch anyone. They barely walk. A kiss on the cheek – you cut to a flower in the wind.
"That is not an inspiration to me. It shouldn't be," he added.
Despite restrictions, Iranian cinema has had remarkable success internationally – not least director Asghar Farhadi, who has won two Oscars and is on this year's jury at Cannes.
Abbasi, who was born in Iran but now lives in Denmark, said he asked permission to film in Mashhad, home to the holiest shrine in Shiite Islam.
He was even willing to accept restrictions – which include a ban on filming women without a headscarf – but eventually realised the Islamic authorities would never agree.
The crew was also prevented from filming in Turkey and ultimately shot the film in Jordan.
Abbasi told AFP that if Iranian censors had a problem with the graphic violence, drug use and prostitution in his film, they have "a problem with reality, not with me".
'Serial killer society'
The film is inspired by the true story of a working class man who killed prostitutes in the early 2000s and became known as the "Spider Killer".
"Holy Spider" suggests there was little official pressure to catch the murderer, who ends up a hero among the religious right.
"The movie is not only about a serial killer … it's about a serial killer society," Abbasi said.
In the film, a journalist from Tehran who helps solve the case is herself a victim of lascivious rumours and male predation.
The story bears similarities to the real-life experience of the actress playing her, Zar Amir Ebrahimi, who was forced into exile in 2006 after a smear campaign around her love life.
She told the press conference she was inspired by her real journalist friends in Iran.
"I know the difficulties they face every day," she said. "Many of my journalist friends, especially women, left Iran just after me."
Abbasi insisted the film should not be seen as controversial.
"Everything shown here is part of people's everyday life. There is enough evidence that people in Iran have sex, too. There's ample evidence of prostitution in every city of Iran," he said.
Source: Free Malaysia Today
https://www.freemalaysiatoday.com/category/leisure/entertainment/2022/05/24/iran-films-criticised-for-showing-parallel-reality-on-women/
--------
Can't ask women 'to wear, remove hijab' says boxing champ Nikhat Zareen, urges 'peace, harmony'
TANUSHREE PANDEY
24 May, 2022
New Delhi: After losing the Tokyo Olympics trials against Indian boxing legend Mary Kom three years ago, Nikhat Zareen hit rock bottom. Not one to give up, however, the boxer from Telangana ensured she came back stronger, and went on to win a gold medal at the World Boxing Championships in Istanbul last week.
Zareen won in the flyweight category (50-52kg), defeating Thailand's Jitpong Jutamas.
Not only has the feat made her a celebrity across the country, but even Kom — whom Zareen refers to as her 'idol' — took to Twitter to congratulate the younger boxer.
"Congratulations Nikhat for winning Gold medal. So proud of you on your historic performances and all the best for your future endeavors," wrote Kom.
Born in Telangana's Nizamabad city, 25-year-old Zareen told ThePrint in an interview Wednesday that she had always wanted to break gender stereotypes — the reason for her taking up boxing. She was in the national capital for a felicitation ceremony.
The journey from choosing to take up boxing to winning the world championship, has been an easy one, however. On the way, she has battled patriarchy, social pressure, injury and more. And believes in "freedom of choice", when it comes to the hijab controversy that has rocked the country in the past few months. The boxer also pushes for "peace and harmony" in the country.
"I was an athlete since the age of 10. My father was also a sports person, so he used to coach me. Once he took me to a nearby stadium and I realised that all the sports had women players other than boxing. I asked my father if women can't box," recalled Zareen.
She added: "He said women can do anything, but the world thinks that women can not play a tough sport like boxing. That sentence inspired me to choose boxing. And today I am very happy that I chose to box, because I think I was meant to do this. And today, even if I have been able to inspire a single woman to come in the field of boxing, I think I have won my actual medal."
Zareen, who also works as assistant manager at the Bank Of India, Mumbai, spoke of her interest in music, shayari, shopping and Salman Khan. The boxer not only hopes to meet the actor one day, but also marry him, he he agrees.
'Hijab a personal choice'
While Zareen describes herself as a "deeply religious" person, boxing for her is "above religion".
"I am a religious person but a lot of times I have even missed reading namaz for my training sessions. I believe that if you are putting in all your hard work for something, God will reward you. If you do good, good will come back to you. More than prayers. I believe in being a good person and wanting the good for others, that is the only way to make God happy," said Zareen.
The Telangana boxer also believes in giving agency to women to make their decisions.
Asked about the recent controversy in Karnataka over the hijab ban in educational institutions, Zareen said, "No one can or should ask women to wear hijab, no one should ask them to remove it either. At the same time hijab should not stop women from doing anything."
Talking about her own field, the boxer added, "Even boxing (rules) allows women to wear hijab inside the ring. I was never asked to wear one by my family. But if women want and if they feel more comfortable in hijab, they should not be stopped."
'Faced backlash from my community'
Recalling the reaction of the "orthodox Muslim community" around her to her choice of taking up boxing, Zareen said, "When I decided to pursue boxing professionally, my father supported my decision, but my mother was very scared. She had only one concern, that boxing could injury to my face and body. But my relatives and people in the community really demotivated me."
The 25-year-old added: "They always used to criticise me for wearing shorts, being a Muslim woman. They had a very orthodox mindset — that women should stay indoors and do household chores. But my father stood with me against all odds. Initially when I started boxing, I was hurt very badly by some boys, it left bruises on my eyes and nose, and when I reached home, my mother started crying and said who will marry you if you damage your face in boxing. I promised her that one day I will make a big name for myself, and that boys will queue outside my house to marry me. Today, my mother has become very chilled, in fact she has become my half-coach. I am happy that I could change my mother's mindset, along with others."
'My Hindu friend and I pray together'
Replying to ThePrint's question on an alleged incident of a man in Madhya Pradesh being beaten up on the suspicion of being a Muslim — he was later found to be dead — Zareen said, "As an athlete, we have never paid heed to the religion of any person because that's the sportsman spirit we have been taught. Country comes first for us. But when I see communal incidents taking place around me, I feel very bad."
She added: "I am a Muslim, but my best friend is a Hindu. I do the namaz and she does her puja together, in one room very happily. I do not see any problem here. Indians should never fight on the lines of religion. We are one, we are equal, we should live with peace and harmony."
'Dealt with mental health issues'
While preparing for the World Championships in 2019, Zareen got to know that the Boxing Federation of India (BFI) would not be holding trials to choose participants for the event, and had already chosen Mary Kom to represent the country. When Kom won a bronze at the World Championships, she automatically became the choice to represent the country at the 2020 Tokyo Olympics.
Zareen had then written to the then sports minister Kiren Rijiju for a "trial" and "fair chance". A furious Mary Kom was then reportedly quoted as saying, "Who is Nikhat Zareen?"
Though the minister chose not to involve himself in the matter, a trial for the event was finally held. Mary Kom defeated Zareen 9-1. After the match, Kom reportedly did not even participate in the customary handshake between adversaries.
Talking to ThePrint about the incident, Zareen said, "I was very upset about losing the bout against Mary Kom. And more than that I was upset with what followed. I hit rock bottom mentally, because I felt very lonely."
She added: "Nothing could make me happy. But God also had a plan for me. I think God also knew that I should not train myself in that dark zone, I should come out of it and then train myself with a positive mindset, which I could not achieve after the trials. I went home to take some time off and soon after that Covid (pandemic) happened. So coincidentally I got to give myself time and came back stronger."
Zareen also spoke about seeking professional help to overcome her mental crisis.
"My psychologist also helped me get through those times. All you need is for someone to hear you out and understand you, and fortunately enough I had my family and close friends who really had my back. But I would always suggest everybody to talk to someone, anyone, but talk, because keeping things inside only does more harm. I will tell all the youngsters to take a break or talk when they feel upset, otherwise the mind can push you towards harsher things."
Source: The Print
https://theprint.in/sport/cant-ask-women-to-wear-remove-hijab-says-boxing-champ-nikhat-zareen-urges-peace-harmony/968540/
--------
Sisters allegedly murdered by husbands in Pakistan 'honour' killing
Haroon Janjua
24 May 2022
Two sisters with dual Pakistani and Spanish citizenship were allegedly killed by their husbands, uncle and brother in a so-called "honour" killing a day after they were tricked into travelling to Pakistan.
Aneesa Abbas, 24, and Arooj Abbas, 21, were strangled and shot dead on Friday after arriving in the eastern city of Gujrat with their mother, Azra Bibi.
It is understood that, on arrival in Pakistan, the sisters were pressured to help their husbands, who they were forced to marry last year, apply for spouse visas so they could travel to Europe.
It is alleged Aneesa and Arooj were killed when they refused to help. Both women wanted to divorce their husbands, who were also their cousins, so that they could remarry in Spain.
"The investigations have confirmed that both the sisters were killed in the name of 'honour'," said investigating police officer Muhammad Akhtar.
Police said the women's husbands, Hassan Aurengzeb and Atiq Hanif, their uncle, Hanif Goga, and their brother, Shehryar Abbas, have been arrested and confessed to the killing. Two other men have been arrested in connection with the attack.
Hundreds of women are murdered by family members in Pakistan each year in so-called "honour" killings for violating conservative norms governing women's relationships, despite 2016 legislation ending the loopholes in the law that allowed culprits to walk free in the country's deeply patriarchal society.
Earlier that year, the murder of Qandeel Baloch, known as "Pakistan's Kim Kardashian", by her brother Waseem Azeem sparked national outrage and demands for changes to the law. Azeem was sentenced to life imprisonment but was acquitted in February this year after his parents pardoned him.
Samar Minallah, a human rights activist, said: "This is yet another brutal murder of innocent girls raised in another culture valuing basic human rights, yet treated like inanimate objects by their own families."
According to the Human Rights Commission of Pakistan, an independent rights group, more than 470 cases of "honour" killings were reported in the country last year.
It is not uncommon for parents with dual citizenship to force their daughters to marry cousins in Pakistan to secure European visas. A report on forced marriage, published by the UK government in 2020, found almost 40% of cases involved British citizens being taken to Pakistan to marry against their wishes.
In 2016, Samia Shahid, a British Pakistani beautician from Bradford in the north of England, was raped and killed when she returned to Jhelum district after marrying a man from outside the family. She had previously left her first husband, a first cousin from their village in Pakistan. Her ex-husband and father were arrested for her murder. Six years later, the case is ongoing.
Source: The Guardian
https://www.theguardian.com/global-development/2022/may/24/sisters-allegedly-murdered-by-husbands-in-pakistan-honour-killing
--------
Freed British woman says Iran forced her to sign false confession to spying
23 May 2022
LONDON — A British-Iranian charity worker who was detained in Tehran for almost six years says she was forced by Iranian officials to sign a false confession to spying before she was freed two months ago.
Nazanin Zaghari-Ratcliffe said British government officials were present at Tehran airport when, "under duress," she signed the false admission to spying. She said she was told by Iranian officials, "You won't be able to get on the plane," unless she signed.
"The whole thing of me signing the forced confession was filmed," Zaghari-Ratcliffe told the BBC in an interview broadcast Monday. "It's a tool. So I'm sure they will show that some day."
Opposition Labour Party lawmaker Tulip Siddiq, who represents Zaghari-Ratcliffe's home district in London, said the revelation raised "serious questions" for the British government. She said Foreign Secretary Liz Truss "must set out in Parliament what she knew about this shocking revelation and what consequences it could have for my constituent."
Zaghari-Ratcliffe was detained at Tehran's airport in April 2016, as she was returning home to Britain after visiting family in Iran. She was employed by the Thomson Reuters Foundation, the charitable arm of the news agency, but she was on vacation at the time of her arrest.
Zaghari-Ratcliffe was sentenced to five years in prison after she was convicted of plotting the overthrow of Iran's government, a charge that she, her supporters, and rights groups denied. She had been under house arrest at her parents' home in Tehran for the last two years.
She and another dual citizen, Anoosheh Ashoori, were released and flown back to the UK in March. Their release came after Britain paid a 400 million pound ($503 million) debt to Iran, stemming from a dispute over tanks that were ordered in the 1970s, but were never delivered.
Source: Times Of Israel
https://www.timesofisrael.com/freed-british-woman-says-iran-forced-her-to-sign-false-confession-to-spying/
--------
URL: https://newageislam.com/islam-women-feminism/afghan-journalist-anisa-award/d/127080
New Age Islam Islam Online, Islamic Website, African Muslim News, Arab World News, South Asia News, Indian Muslim News, World Muslim News, Women in Islam, Islamic Feminism, Arab Women, Women In Arab, Islamophobia in America, Muslim Women in West, Islam Women and Feminism