New Age Islam News Bureau
29 October 2020
• Nahid Taghavi, German-Iranian Women's Rights Activist Detained In Tehran
• Docuseries 'Hi Emirates' Follows The Lives Of 24 Emirati and Other Female Achievers
• KSRelief Signs Deal To Counter Gender Violence In Yemen
• Lack Of Political Will Hinders Women's Rights Reforms In Iran
Compiled by New Age Islam News Bureau
URL: https://www.newageislam.com/islam-women-feminism/afghan-first-lady-rula-ghani/d/123310
--------
Afghan First Lady Rula Ghani: Afghan Women Want Peace But Not At The Cost Of Women's Rights
by David A. Wemer
October 28, 2020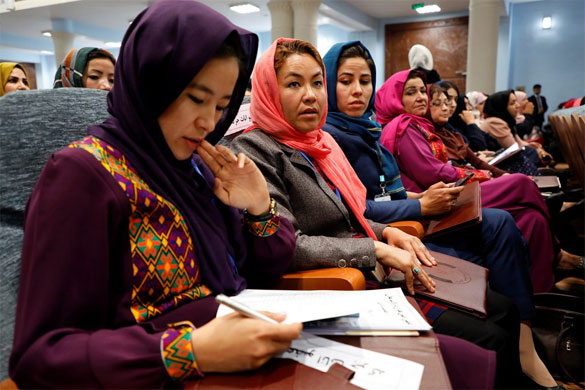 Afghan women attend a consultative grand assembly, known as Loya Jirga, in Kabul, Afghanistan April 29, 2019. REUTERS/Omar Sobhani
-----
As negotiations between the Afghan government and Taliban on a potential peace deal continue in Doha, Qatar, Afghan women are working to ensure that they are not forgotten in any settlement. Once Afghan women "figured out [that] they were being sidelined by the Doha talks," First Lady of Afghanistan Rula Ghani said on October 28, "they really have made their voices heard and protested very clearly."
The progress Afghan women have made in the years since the fall of the Taliban regime could be at risk, Ghani continued, should the Taliban be given too much power as part of a peace settlement. "Don't get me wrong: Afghan women want peace," she clarified. "We all want peace. Who wouldn't after living for forty years in such a situation of insecurity and violence at every corner? But we don't want peace at any cost."
In addition to Ghani, the Atlantic Council Front Page event also included remarks from former US First Lady Laura Bush, who warned that Afghanistan remains "a very fragile democracy and there are a lot of people—the Taliban obviously—that would rather take over and have [Afghanistan] be like what it was before: a failed country."
Here's a quick look at what Ghani and Bush said about the prospect of a settlement with the Taliban, the progress Afghan women have made, and what the future may hold for Afghanistan:
Women are sending a message that there's no going back
Women are not the "cost of peace": As Afghan government and Taliban representatives struggled to agree to terms to start their negotiations this year, many international observers suggested that women would have to "quietly relinquish all the rights you have" in order to achieve peace with the Taliban, sacrificing new-found freedoms as "the cost of peace," Ghani recalled. These suggestions, she argued, are "why the women [have] stood up so quickly" and pushed for a greater seat at the negotiating table.
Thinking through the future: Four of the forty-two negotiators representing the Afghan government are women, but Ghani explained that these women "don't feel…that they are just there for women's issues; they are national actors." Importantly, these women have forced negotiators to "think through what life would be like" under a peace agreement, including "how would the Taliban rule over us if there is ever power-sharing." The women have proven to be "formidable interlocutors to the Taliban" she added, and "have really managed to rise from everyday issues and see the big picture."
No new rules for the Taliban: Ghani made clear that the Taliban must be allowed back into Afghan society. "They are our brothers, they are our sisters, and if they are Afghans, they have a right to live in Afghanistan." But at the same time, she suggested, the Taliban needs "to understand that that if they want to come back and live in Afghanistan, that they have to adhere to the law of the land. They cannot come and impose their own convictions, their own brand of religion on the population."
Doubts about Taliban sincerity: An increase in violence by the Taliban since the ceasefire agreement between the United States and the Taliban, signed in February, demonstrates to Ghani that "the Taliban has not changed," but are rather "still following the same strategy of fear and intimidation." Ghani worries that the February agreement with Washington still has "several clauses that have not been made public," and that the uptick in violence casts doubt over whether the Taliban actually wants peace. Bush said she was "not happy about the idea" of the United States "negotiating with the Taliban," as it risked saying that "they are more important [to the US] than the elected government."
Real progress at risk
Afghanistan's untapped potential: Bush worries that the rush to an agreement with the Taliban could mean that Afghan women "lose everything" that they have gained since the Taliban regime fell. "Right after September 11, when the spotlight turned on Afghanistan," she explained, "what we saw was a failed country and it was failed because half of the population was left out." She recalled that "women could not leave their home without being fully covered and without a male escort," a restriction made worse by the number of widows left in a country that had been ravaged by war. But after years of hard work, Afghan women have made "great, great strides," Bush said, and are now "able to work and contribute to the economy, [and] able to contribute to government."
Education as the catalyst: Bush pointed to the growing number of educated Afghan women as an important sign of progress. She noted that more than half of the students at the American University in Kabul are female, including the latest valedictorian. "It shows how hungry Afghan women are to be educated," she argued. Ghani noted that "we still have a very large proportion of women who cannot read or write," but "Afghan women are…progressing very, very fast, it is almost exponential."
Women are leading: While there are still many illiterate women in Afghanistan, Ghani emphasized that "these women also can think." When her office visited all thirty-four provinces of Afghanistan to speak with 15,000 women about the peace process, Ghani said that her officials found the women everywhere to be "incredibly sophisticated. They knew not only what was happening around them, but they knew [also] what was happening in the country, in the region, in the world." Ghani remembered that in 2017 she told the United Nations that women in Afghanistan were finally "visible," but now, she said, "I can add that they are not only visible but also active and effective." She noted that in her position she has met many women who are now taking leadership positions at the local and national level "to be real strong actors in the rebuilding of the country."
A continued role for the world
Afghanistan still needs support: As the Afghan government attempts to reach an agreement with the Taliban that manages to retain the freedoms won over the last two decades, Bush argued that the United States and other allies "have a moral obligation really to continue to support the people of Afghanistan." While Bush said she understands the desire for peace and to bring US troops home, a durable peace in Afghanistan "is in our moral interest…and in our security interest," which requires the United States to "continue to try to send money to Afghanistan for the legitimate government and legitimate projects." Bush said that she admires "the way the women of Afghanistan have been able to step out and secure their rights and be full contributing members to their economy and their society in every way," and that these women should know that she and many others in the United States are still "standing with them."
Clarity above all else: It is important for all Afghans and the international community to understand that "achieving peace is going to take time, especially building peace," Ghani said. The international community can help Afghanistan, she added, by providing "clarity." With competing views on peace and various timelines for withdrawal, Ghani explained, Afghans "hear so many voices with so many different messages—sometimes dissonant messages—and it really is very confusing." At this crucial time for Afghanistan, a consistent message from international partners can go a long way in supporting Afghanistan's push for peace.
https://www.atlanticcouncil.org/blogs/new-atlanticist/afghan-first-lady-rula-ghani-womens-rights-cannot-be-the-cost-of-peace/
--------
Nahid Taghavi, German-Iranian Women's Rights Activist Detained In Tehran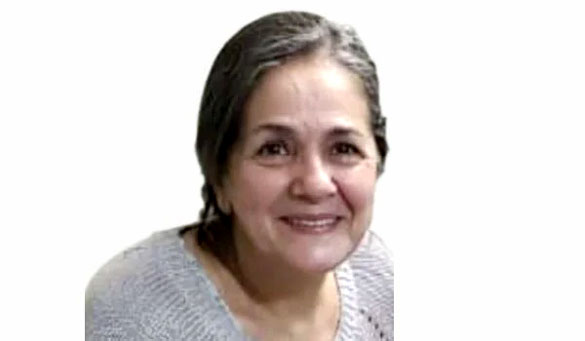 Nahid Taghavi was arrested inside her house in Tehran. (Twitter)
-----
German-Iranian Nahid Taghavi's arrest has come to light exactly a week after she was seized at her Tehran apartment. Her daughter says she's been accused of endangering security.
German-Iranian women's rights activist Nahid Taghavi has been arrested in Iran, the Frankfurt-based International Society for Human Rights (ISHR) said Friday.
Citing information provided by her daughter, ISHR said Taghavi was detained on October 16 and accused of "endangering security."
ISHR said the 66-year-old is being held in solitary confinement at Tehran's notorious Evin prison.
The jail has housed political prisoners since the 1970s and has been dubbed Evin University because of the number of academics detained there.
"No sign of life from my mother for 7 days! I demand clarification, I demand intervention, I demand her release! #FreeNahid," Taghavi's daughter Mariam Claren wrote on Twitter.
ISHR spokesman Martin Lessenthin called on the German government to "act quickly" to pressure Tehran to free Taghavi, saying the allegations against her are unfounded.
"The Islamic Republic pursues political goals with the imprisonment of persons with dual nationalities — they are thus a political bargaining chip for the regime," Lessenthin said in a statement.
Claren told ISHR she has not heard from her mother since October 15. The family only found out about the arrest when their brothers arrived at their home in Tehran three days later.
Taghavi's German identity card and passport, laptop, smartphone and cash were confiscated during the arrest, ISHR wrote, citing the family. The Iranian-born architect has lived in Cologne since 1983 and gained German citizenship in 2003.
For the past 15 years, she has commuted between Tehran and Germany to campaign for women's rights and freedom of expression in Iran. Her family is concerned that she is being denied medication — including those she takes for high blood pressure.
https://www.dw.com/en/german-iranian-womens-rights-activist-detained-in-tehran/a-55377452
--------
Docuseries 'Hi Emirates' Follows The Lives Of 24 Emirati and Other Female Achievers
Emily Judd
28 October 2020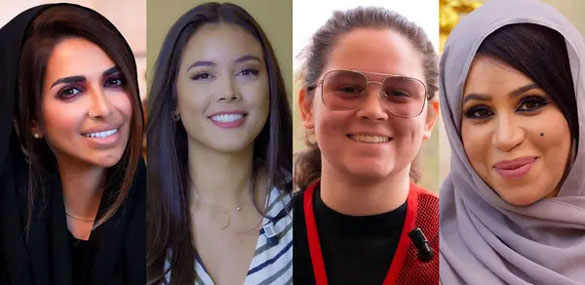 From left to right: Sara al Madani, Raquel Victoria Flores, Yasmin Abdul Rahman Tahlak, and Meera Ali al Naqbi. (Supplied)
------
The real lives of successful women in the United Arab Emirates - including royals, politicians, entrepreneurs, and celebrities - are being revealed in a new docuseries set to premiere next month in time for the country's national day.
"Hi Emirates" follows the lives of 24 female achievers across all seven emirates in the UAE and across all different careers and backgrounds.
About half the women featured are Emirati and the other half are ex-pats from countries including Italy, Lebanon, Algeria, Egypt, Palestine, Russia, and Venezuela.
The Emirati cast includes famous entrepreneurs Thoraya al Awadhi and Sara al Madani, members of parliament Dr. Mouza bint Mohammed al Ameri and Sabrein Hassan al Yammahi, pilot Ghada Mohammed al Rousi, ecologist Ameera Mohamed al Haranki, shooter Yasmine Abdul Rahman Tahlak, Vice President of Applied Intelligence at Expo 2020 Dubai Iman Abdulla al Omrani, and members of royal families Sheikha Aisha bint Rashed al Mualla, Dr. Sheikha Hind bint Abdullaziz al Qassimi, and Sheikha Noora bint Humaid al Nuaimi.
Kholoud Saleh Al Marzouqi, the Emirati woman responsible for the 2019 Special Olympic Torch Run, is also featured in an episode about the athletic event held in the UAE last March.
Italian producer Benedetta Paravia told Al Arabiya English that her series will showcase "how women in the UAE are truly considered a pillar of the nation."
"I have chosen to raise the voice of Emirati and ex-pat women to the world because I truly believe that their stories of achievement will be a source of inspiration for many other women who will watch the series," said Paravia in an interview with Al Arabiya English.
"The UAE can be a great example of leadership and women empowerment for the rest of the world," she added.
The series aims to show talented women dedicated to pursuing their dreams, as well as what has made them successful in their various fields.
Italy's national television channel RAI will also air the series, which will be available in English and Italian.
Dubai entrepreneur Thoraya Al Awadhi said the series is very important for people all over the world "to get to know the United Arab Emirates."
"The series shows that women in this part of the world have gotten the chance to acquire all kinds of positions, and that if they are the right person for the position, then gender and age is not important," Al Awadhi told Al Arabiya English, adding that the county's rulers stand behind women empowerment.
Another cast member, Venezuelan producer of Cana Dorada Film Festival Raquel Victoria Flores, said she feels proud and grateful to be a woman in the Middle East and part of its future.
"Hi Emirates," which has been endorsed by the Italian Embassy in the UAE and the UAE's Ministry of Culture and Knowledge Development, finished taping in February just before the coronavirus pandemic outbreak in the country.
Paravia, who first arrived to the UAE in 2002, said that for those familiar with the nation, the series will be a "touching tribute to the country of Sheikh Zayed, the late founder of the nation, and his wife Sheikha Fatma bint Mubarak."
"For those who don't know the UAE, the series will be a learning experience about how the nation is modeling the way to a more connected and harmonious society," she said.
https://english.alarabiya.net/en/features/2020/10/28/From-royals-to-female-shooter-influential-UAE-women-revealed-in-new-TV-series
--------
KSRelief Signs Deal To Counter Gender Violence In Yemen
October 29, 2020
JEDDAH: The King Salman Humanitarian Aid and Relief Center on Wednesday signed an agreement with the UN Population Fund (UNPF) to provide relief to the victims of gender-based violence in Yemen. The project aims to provide emergency services and support to the affected women.
KSRelief General Supervisor Dr. Abdullah Al-Rabeeah signed the agreement during a virtual meeting with the UNPF.
The project will help victims of violence to integrate into society and ensure they receive psychological and social support to start their lives afresh.
It will also strengthen mechanism to protect women from violence. Vocational training will also be provided to 28,640 women in Aden, Shabwa, Lahj, Mahra, Marib and Hadramout governorates.
Since its inception in May 2015, the center has contributed to several humanitarian projects worth $4.4 billion in partnership with different global nonprofit organizations. Since its establishment, the center has implemented over 1,295 different projects in 51 countries.
According to a recent KSRelief report, the countries that benefited the most from its various projects include Yemen ($3 billion), Palestine ($358 million), Syria ($295 million) and Somalia ($192 million).
https://www.arabnews.com/node/1755656/saudi-arabia
--------
Lack Of Political Will Hinders Women's Rights Reforms In Iran
By KOUROSH ZIABARI
OCTOBER 29, 2020
Iran's Guardian Council, the powerful body in charge of electoral oversight, caught the public by surprise by announcing that women may run for the presidency in the 2021 polls that will decide the successor to Hassan Rouhani.
Some women's rights activists welcomed the announcement as a harbinger of change in a highly conservative, patriarchal society. Others suggested the gesture was grandstanding by the government to draw more voters to the ballot box and polish its image.
More than 60% of university students in Iran are female. Some of the country's most brilliant authors, academicians, scientists, artists, philanthropists and media personalities are women. Global examples are 2003 Nobel Peace Prize winner Shirin Ebadi, the late mathematics prodigy and recipient of the Fields Medal Maryam Mirzakhani, and Anousheh Ansari, the first female space explorer, who is Iranian-American.
Yet the road to justice and elimination of disparities that cast a dark shadow over the fortunes of Iranian women remains rocky. The Statistical Center of Iran reported in 2014 that women constituted only 16.6% of the workforce.
Iranian women continue to complain about stringent male-guardianship laws, a rigid compulsory hijab code, and being excluded from social and cultural participation.
Leila Alikarami (above) is an Iranian lawyer and human-rights advocate. She is an associate member of the Center for Iranian Studies at the School of Oriental and African Studies in London. She is also the recipient of an Anna Politkovskaya Award from RAW (Reach All Women) in War.
Asia Times spoke to Dr Alikarami about women being permitted to run for the presidency and the gains and challenges of the women's rights movement in Iran.
Kourosh Ziabari: Is the Guardian Council's backtracking from its long-standing position about women's eligibility for running in presidential elections a significant precursor of change? Is this something that should make Iranian women optimistic about the future?
Leila Alikarami: Based on Article 115 of the constitution, the president must be elected from among religious and political personalities – rejal – who possess specific qualifications mentioned in the same article.
During the ratification of the constitution, there was disagreement among members of the Guardian Council about this term. There were two opinions about the word rejal. One view was that rejal refers to both men and women. Therefore, both men and women are eligible to be candidates for presidency. The other group believed that the president should only be elected from among men.
At the end, the word rejal was approved, which in Arabic refers to both men and women.
Therefore, based on the constitution, there is no restriction for women to be president. However, we have witnessed that the ambiguity of Article 115 prevented women from being qualified as candidates for the presidency.
Women have been applying for candidacy since 1997 and have been disqualified every single time. The late Azam Taleqani tried very hard to address this issue throughout her lifetime. She applied in 2001, 2009 and in 2017. She was disqualified each time after the vetting process conducted by the Guardian Council. The Council did not give an explanation for disqualifying her and other women.
As there is no consensus about the word rejal, the recent position of the Guardian Council would not change the current situation for women. Majles [the parliament] is clarifying the criteria for qualification of the candidates, which did not include the definition of the word rejal. Therefore, the ambiguity of Article 115 remains the same as before.
As women are, in practice, excluded possibly because of their gender and narrow interpretation of the word rejal, Iranian legislators should address this issue clearly and settle the ambiguity of law.
KZ: Does it make you proud that there are female vice-presidents and cabinet members in the administration and female members of parliament? Are they representing the voices and aspirations of the collective of Iranian women with all of their differences and heterogeneous interests?
LA: Iranian women are highly educated and talented. They make up half of university graduates in Iran, for example. Still, I cannot say that I am proud that a few women are amongst the high-level politicians in Iran. Unfortunately, we do not have [anywhere] close to the number of women present in decision-making positions that one would want to see.
According to the 2020 Global Gender Gap Report, Iran ranks among the worst countries in terms of female political empowerment. Moreover, most women who rise to the level of decision-makers do not usually advocate for a women's rights agenda, and those that do are often quickly driven out of government by socially conservative forces.
KZ: What are the most notable demands Iranian women are fighting for? Are you positive that under the current political climate, Iranian women can make headway in securing more civil liberties and personal, social freedoms?
LA: Iranian women are still fighting for gender equality. They have suffered legal discrimination both before and after the 1979 revolution. Their struggle to bring the country's laws in line with social realities is an ongoing process.
Despite periods of intense bargaining and large-scale campaigns, which receive popular support even from within the complex echelons of the Islamic Republic's political elite, the underlying political-legal framework has resisted this round of efforts to bring about tangible change.
There are many reasons to explain these challenges in Iran. But the real issue is the various interpretations of sharia law and, more important, the resistance of the conservative establishment to significant improvements in the status of women.
The hardliners in the government mistakenly saw women's rights advocates as political opponents and worked to control, confront and repress them. Yet they explicitly expressed their major aim: to change the laws that discriminate against women in Iran. These do not include constitutional provisions, but just a focus on changing provisions in civil and criminal codes.
Strong opposition shown by Iran's religious and conservative establishment to change or amend the codes has decreased the likelihood of any substantial positive reforms for Iranian women in the foreseeable future.
KZ: Saudi Arabia has lately introduced a series of reforms pertaining to women's rights, including abandoning its strict dress code, lifting a ban on female singers performing publicly and allowing women into stadiums. We know that Saudi Arabia is a conservative Sunni kingdom and hosts the two holiest sites of Islam. Do you think such reforms are replicable in the context of Iran, a similarly conservative theocracy? Or will resistance by the religious authorities preclude women from achieving equality and improved rights?
LA: The recent move toward reforms in Saudi Arabia is a clear sign of the political will of the Saudi government to change the face of the country when it comes to half of its population. Central to the reforms has been the apparent break between the state and hardline clerics.
To move ahead with its reforms, Saudi Arabia understands that it has no choice but to part ways with such voices and rather move to more tightly control them. This has not been the case in Iran, where a strong connection between hardline clerics and the ruling authorities still persists.
Of course, one cannot separate religion and tradition from either society. Saudi Arabia appears to have opened up opportunities for women by realizing that the country cannot advance until women's rights are improved in the kingdom.
But it is clear that in the case of Iran, women are unlikely to be able to effectively continue the advancement of their rights until religious figures change their outlook toward women and the government demonstrates political will to engage in such reforms, too.
KZ: Do you attribute the restrictions, discrimination and violence Iranian women face in different aspects of their daily life to the edicts of Islam and that the religion is inherently misogynistic? Or is it that there is nothing inherently bigoted in Islam and they are the religious hardliners who are cracking down on the Iranian women's exercise of their personal and social rights by abusing and contorting Islam?
LA: I think the problem of inequality lies in tradition and the internal contradiction between the ideals of sharia and the norms of Muslim societies. The religious edicts harming women's rights are limited readings of flexible Islamic legal thought.
Islam introduced the right of women to receive a fixed share of inheritance at a time when no such system was in place, bringing about a massive change in Arab societies.
While Iran is a society with rapidly changing norms in relation to women's social status – literacy and primary-school enrollment rates for women and girls are estimated at more than 99% and 100% respectively, and gender disparity in secondary and tertiary education is reportedly almost non-existent – discourse with respect to women's rights has its place in Islam.
It is a discourse that challenges hardline Muslims who oppose women's rights on the grounds that they are not Islamic, and also speaks to a government and legal system that claims it is based on Islamic law.
But Islamic discourse is important for the average person who wants to marry his or her religious beliefs with a belief in human rights, equality and dignity. These people are empowered to stand behind their human-rights principles, without abandoning their religious beliefs. So to build a broad movement and unite like-minded people, it is important to be able to argue that Islam and human rights are not mutually exclusive and that Islam supports human rights.
Women's rights is an issue that cannot be easily or quickly changed even within the legal and political system of the Islamic Republic. This was also a lesson from Iran's reform era of 1997 to 2001, during which women's rights activists and reformist politicians tried unsuccessfully to bring about Iran's accession to the Convention on the Elimination of All Forms of Discrimination Against Women, the primary human-rights treaty safeguarding the rights and equality of women.
And born out of political contention, there is a lack of political will that hinders women's rights reforms in Iran's legal system. Adopting a sharia-based strategy supported by well-known clerics to combat discriminatory laws justified by the government's interpretation of sharia, nonetheless, has proven to be an effective way to gain the support of the public.
Naturally, this is not a matter that can be resolved overnight but requires a steady and systematic approach.
Kourosh Ziabari is a journalist based in Iran. He is the recipient of a Chevening Award from the UK's Foreign and Commonwealth Office. He is also an American Middle Eastern Network for Dialogue at Stanford (AMENDS) Fellow.
https://asiatimes.com/2020/10/lack-of-political-will-hinders-womens-rights-reforms-in-iran/
--------
URL: https://www.newageislam.com/islam-women-feminism/afghan-first-lady-rula-ghani/d/123310
New Age Islam, Islam Online, Islamic Website, African Muslim News, Arab World News, South Asia News, Indian Muslim News, World Muslim News, Women in Islam, Islamic Feminism, Arab Women, Women In Arab, Islamophobia in America, Muslim Women in West, Islam Women and Feminism