New Age Islam News Bureau
19 Nov 2017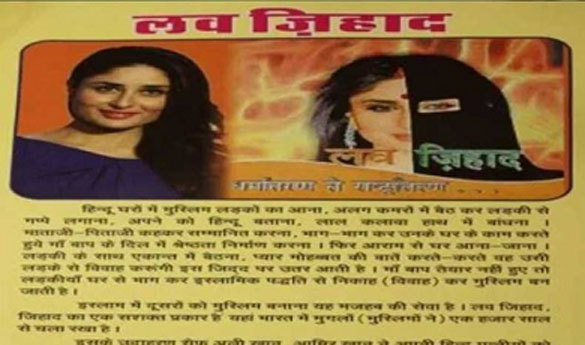 Photo: As per reports doing rounds, many pamphlets and manuals present at the fair carry a morphed photo of Bollywood actress Kareena Kapoor Khan as warning against 'love jihad'
----------
• Love Jihad In Mumbai? Former Model Accuses Husband Of Physical Abuse, Forcing Her To Convert To Islam
• Hijab Is No Hurdle As Salva Fatima Is All Set To Join Airline After Being One Of Four Muslim Women To Hold CPL
• Terengganu Gov't Strongly Opposes Hotels Discriminating Muslim Women with Headscarves
• Driving Schools For Saudi Women Operational From March
• Muslim Woman Entrepreneur Starts Party to Empower All Women
• Spectre Of Deportation Gives Muslim Women Sleepless Nights
Compiled by New Age Islam News Bureau
URL: https://www.newageislam.com/islam-women-feminism/actress-kareena-kapoor-khans-photo/d/113271
------------
Actress Kareena Kapoor Khan's photo morphed to spread awareness on love jihad at Rajasthan fair
By NewsXBureau | Updated: 19 November 2017
The pamphlet aimed at spreading awareness read, "Frequently check the female's belongings, call and SMS details, warn the Muslim boy if found with a Hindu girl, call Muslims as disgusting/terrorist/smuggler/traitor/Pakistan supporter in front of females at home." Commenting on the fair, Dinesh Peetaliya, treasurer of the Foundation said that the HSSF works to promote human and family values, ecological causes, and patriotism.
As per reports doing rounds, many pamphlets and manuals present at the fair carry a morphed photo of Bollywood actress Kareena Kapoor Khan as warning against 'love jihad'
A five-day fair organised by Hindu Spirituality and Service Foundation (HSSF) is making headlines across the nation over the teachings which they aim to provide to the children. Following the fair which is being organised in Rajasthan, the government had asked the students and teachers to visit the fair so that they can learn about the love jihad, Christian conspiracies, vegetarianism along with other practices. Many stalls have been put up by right-wing groups with pamphlets and manuals to spread teachings on how girls can save themselves from love jihad.
As per reports doing rounds, many pamphlets and manuals present at the fair carry a morphed photo of Bollywood actress Kareena Kapoor Khan as warning against 'love jihad'. According to sources, the 5-day fair organised by Chennai based foundation is aimed at spreading a message on adopting 'Hindu lifestyle'. The pamphlet aimed at spreading awareness read, "Frequently check the female's belongings, call and SMS details, warn the Muslim boy if found with a Hindu girl, call Muslims as disgusting/terrorist/smuggler/traitor/Pakistan supporter in front of females at home."
As per a report published by The Wire, when the publication was questioned on using the image of Bollywood actress on the cover of pamphlets Bajrang Dal's Coordinator, Chauthmal Gupta said, "The reason for using Kareena Kapoor Khan's case was to make these kids, who idolise all the Khans, understand that love jihad is a trap." However, this is not the first time that a Bollywood celebrity was unknowingly roped in to spread awareness on love jihad. Earlier in 2015, Vishwa Hindu Parishad's (VHP) young women's wing DurgaVahini had used the same morphed face of filmstar on the cover of its magazine HimalayDhwani.
Commenting on the fair, Dinesh Peetaliya, treasurer of the Foundation said that the HSSF works to promote human and family values, ecological causes, and patriotism. Peetaliya further added that the fair that was kicked off on November 16, was laid down with an objective to give a platform to all Hindu organisations so that they can showcase their work to the people.
newsx.com/national/actress-kareena-kapoor-khans-photo-morphed-to-spread-awareness-on-love-jihad-at-rajasthan-fair
---------
Love Jihad In Mumbai? Former Model Accuses Husband Of Physical Abuse, Forcing Her To Convert To Islam
By: Sriparna Ghosh November 19, 2017
A former model based in Mumbai has alleged that her husband has been continuously assaulting her and forcing her to convert to Islam, in what appears to be another case of love jihad.
The model, who has been identified as one Rashmi, has also levelled charges of domestic violence against her husband Asif.
Hindu by birth, Rashmi married Asif 12 years ago, and he had apparently not objected to she continuing to follow Hinduism back then.
However, for the past few years the 47-year-old Asif had been forcing her to convert to his religion, Rashmi claimed. When she refused, he started physically assaulting her, she has said.
Husband married another woman
Rashmi has claimed Asif pressurises her to convert to Islam by saying "if I don't follow Islam I can't be his wife."
But this is not the end to Rashmi's trauma. The model has also alleged that the accused has married a 28-year-old woman and she lives in their house.
According to an ABP Live report, the second wife has already converted to Islam, and together the duo has been forcing Rashmi to leave her marital house.
Husband and family brainwashed his son?
Asif and his family have also brainwashed Rashmi's seven-year-old and have said his mother is a monster as she is not a follower of Islam, Rashmi has claimed.
Rashmi said her son has been told that she is "a monster" because she "goes to a temple and doesn't follow Islam," and also that she "isn't a good woman for she doesn't follow Islam".
Meanwhile, the police have registered a complaint against Asif and are investigating the case.
ibtimes.co.in/love-jihad-mumbai-former-model-accuses-husband-physically-abuse-forcing-her-convert-islam-749963
---------
Hijab Is No Hurdle As Salva Fatima Is All Set To Join Airline After Being One Of Four Muslim Women To Hold CPL
IANS NOVEMBER 19, 2017
"I want to become a pilot." When she instinctively answered a question at an event over a decade ago, the dream of a humble bakery worker's daughter had started growing wings. Hijab-wearing SyedaSalva Fatima is now all set to join an airline and is one of the four Muslim women in India who hold a Commercial Pilot's Licence (CPL).
SyedaSalva Fatima
TWITTER
Fresh from multi-engine training in New Zealand and type-rating in Bahrain, this Hyderabad woman is waiting for an endorsement from the Director General of Civil Aviation (DGCA) which will enable her to fly the Airbus A320.
It was, however, not a smooth ride as she had to overcome many odds to attain her life's ambition. The daughter of a bakery worker, Salva comes from the poverty-stricken neighbourhood of Sultan Shahi in the old city of Hyderabad.
What makes Salva's story stand out is her lower-middle-class background and the fact that she wore a "hijab" (head scarf) during the entire course of training in India and abroad.
"I had it all the time on my head and wore it over the uniform. There was never a problem because of the hijab," Fatima told IANS.
At the Gulf Aviation Academy in Bahrain, she was lauded for wearing "hijab" and her pictures were published in its magazine.
"Where there is will, there is a way," says Salva, who calls for removing misconceptions that "hijab" is a hurdle in pursuing careers in aviation.
"It's your education and ability which help you, be it aviation or any other profession. Nothing else matters. You have to prove that you are capable of doing what you are supposed to do."
From her school days, she used to collect articles about the aviation industry and pictures of different aircraft, but people laughed at her dream. Her parents suggested that she prepare herself for engineering. After passing 12th standard, she enrolled for coaching conducted by Urdu daily Siasat for the engineering entrance examination.
At a programme during her coaching, Zahid Ali Khan, editor of Siasat, asked her what she wanted to become. Prompt came the reply -- "Pilot". Khan was surprised by her confidence.
"If I had not uttered the word pilot, I wouldn't have been here," she said recalling the incident which became a launching pad for her career.
Khan, along with his friends and philanthropists, decided to give wings to her dreams and she was enrolled in the Andhra Pradesh Aviation Academy in 2007.
"I failed thrice in navigation papers. I used to get demotivated, but Zahid Sir kept encouraging me. He used to tell me that failure is next step towards success."
Five years later, she completed her training at the Aviation Academy, logging 200 hours of flying in the Cessna 152 aircraft and 123 hours of solo flight.
After obtaining a CPL in 2013, she found that she needed huge money to go for multi-engine training and type-rating to be able to fly big airplanes.
She was then 24 and her parents asked her to get married. "I didn't have any other option. I was not sure how the funds will come."
She was in four months of her pregnancy when the Telangana government announced financial assistance of Rs 36 lakh for her multi-engine training and type-rating .
"My daughter was lucky for me," she said with a big smile looking at her daughter, playing in the arms of her father who works at a two-wheeler showroom.
When she delivered the baby, people asked her if she would still pursue the career in aviation. "I told myself I spent such a long time to achieve the goal, why should I step back? I need to move ahead."
After waiting for one year, she joined Telangana Aviation Academy for multi-engine training, but the aircraft was not available there. When the government transferred the money to GMR Aviation Academy and she was about to begin the training, the aircraft was grounded due to an accident.
"Some or the other problem kept cropping up but I didn't give up and appealed to the government to send me abroad for training."
SyedaSalva Fatima
TWITTER
In New Zealand, she flew a multi-engine aircraft for 15 hours and also trained on simulator for 10 hours. At Gulf Aviation Academy in Bahrain, she did the type-rating on Airbus. It was a 52-hour multi-function display training and 62 hours of training on a motion simulator, which gives the trainee a feeling of actually flying an aircraft.
Salva has no preference for any airline and is open to joining any carrier that has an Airbus fleet. "I will join whichever airline first offers me a job."
"Have a clear goal and positive thinking. Dedication and hard work don't go waste," is Salva's message to girls with dreams like hers.
The captain wants to give something back to society. She will spend part of her salary on the needy for their education, treatment or marriage.
(This feature is part of a special series that seeks to bring unique and extraordinary stories of ordinary people, groups and communities from across a diverse, plural and inclusive India, and has been made possible by a collaboration between IANS and the Frank Islam Foundation. Mohammed Shafeeq can be contacted at m.shafeeq@ians.in)
Inputs From IANS
indiatimes.com/news/india/hijab-is-no-hurdle-as-salva-fatima-is-all-set-to-join-airline-after-being-one-of-four-muslim-women-to-hold-cpl-333996.html
---------
Terengganu Gov't Strongly Opposes Hotels Discriminating Muslim Women With Headscarves
19/11/2017
KUALA TERENGGANU, Nov 18 (Bernama) -- The Terengganu government strongly opposed any hotels in the state which prohibits or discourages its Muslim women employees from wearing headscarves.
MenteriBesar Datuk Seri Ahmad Razif Abdul Rahman said he had instructed the local government authorities (PBT) to look into such cases, and if there was any hotel found to impose such a restriction, it would not be allowed to operate.
"Our country's official religion is Islam, and we respect other religions. So, do not restrict women employees from wearing the headscarf as a condition for them to work in hotels," he said.
He was speaking to reporters after opening the Terengganu Puteri UMNO IT machinery, which was also attended by Puteri UMNO chief Datuk Mas ErmieyatiSamsudin, Terengganu Puteri UMNO chief ErniesalwaniSaidi and Terengganu UMNO Youth chief Johari Abu Bakar.
Meanwhile, Mas Ermieyati, who is also Deputy Tourism and Culture Minister, said Puteri UMNO was strongly against any employer who did not allow Muslim women to wear headscarves to work.....
bernama.com/bernama/v8/ge/newsgeneral.php?id=1411890
---------
Driving schools for Saudi women operational from March
Minimum of 30 training hours required for driving licence
Manama: Driving schools for women in Saudi Arabia will be operational in March, almost four months ahead of the day when women are officially allowed to drive on Saudi roads.
The date should be enough for women to go through the training process and acquire the necessary skills to pass the test and drive, Saudi daily Okaz reported on Sunday, citing sources it did not name.
However, the sources did not mention whether the driving schools would be new ones exclusively for women or set up within the already existing schools across the kingdom.
Saudi reports last month said that all the driving instructors would be women and that the first ones would be from Egypt and Jordan.
Under new traffic rules, all those who apply for driving licences should go through training sessions.
Those who do not know how to drive have to sit through 90 training hours whereas those who already have experience in driving should spend 30 hours in training.
Prior to the rules, applicants were tested without the need to show they have gone through any training.
The new rules will help ensure that those who had acquired driving licences abroad were fit to drive.
Several Saudi women acquired driving licences in other countries, mainly in the Gulf and in the Arab world.
On September 26, Saudi Arabia said that women would be allowed to drive for the first time in the country's history starting June 24.
The nine-month period is to be used to prepare the logistics, including driving schools and training, to ensure a smooth application of the breakthrough reform.
zawya.com/mena/en/story/Driving_schools_for_Saudi_women_operational_from_March-SNG_103935451/
---------
Muslim woman entrepreneur starts party to empower all women
By AREEBA FALAK | New Delhi | 18 November, 2017
A political party dedicated to empowering women has been launched by a Muslim woman entrepreneur from Hyderabad who has pitched herself against AsaduddinOwaisi'sMajlis-e-IttehadulMuslimeen (MIM). Dr Nowhera Shaik, founder and CEO of Heera Group and a human rights activist, who has launched the All India Mahila Empowerment Party (AIMEP), is going to contest the next year's Assembly election in Karnataka. Speaking to The Sunday Guardian about the need of a political party one of whose prime objectives is to empower women, Nowhera Shaik explained, "A political party is necessary for women to be able to empower themselves. Public policy plays a key role in ensuring that people get equal rights. We intend to mobilise women across the country and encourage them to join politics. If there are a higher number of women playing leading roles in politics, our case for women's reservation bill will get stronger too." Coming from a Muslim background, Shaik, who wears a hijab, made no bones about AIMEP being a political party for women across religion and castes. "I am not a Muslim icon. I intend to lead women of all religions and castes under the AIMEP banner. Though from the same region, AIMEP is different from MIM. Owaisi talks only about the Muslim cause. AIMEP is for all women in this country. Our ideologies are different too. I do not want AIMEP to be seen as a party for Muslim women only because I am a follower of Islam. Even in its nascent stage, AIMEP has a mixed membership," said Shaik. Claiming membership of at least 16 lakh women cutting across all religions, AIMEP will fight its first election next year in Karnataka where Shaik plans to field candidates in all constituencies. Explaining the high number of members, Aakil, an NRI who was earlier based in Saudi Arabia and is now the Delhi State president of AIMEP, said, "A lot of women are associated with Shaik's social work that has allowed them to earn their livelihood. Most of our primary members are people who have benefited from Dr Shaik's philanthropy."
The AIMEP agenda includes the demand for tax reliefs for women irrespective of whether they work in the government or private sector. It also wants relief in income tax for women entrepreneurs. Ensuring health and education services and strict measures to curb crimes against women are also the party's agendas. On the issue of triple talaq, Shaik said, "I support the Supreme Court's verdict on instant triple talaq, but the monitoring system is making it impossible for women to reap the benefits of the court's decision. It would be better if the government could do more in terms of implementation."
Nowhera Shaik's Heera Group is a consortium of two educational institutions, and 18 companies dealing in diverse fields including, but not limited to, gold, investments, textile, tours and travels, real estate, electronics, Hajj and Umrah services, etc.
sundayguardianlive.com/news/11700-muslim-woman-entrepreneur-starts-party-empower-all-women
---------
Spectre of deportation gives Muslim women sleepless nights
By PrasantaMazumdar | Published: 19th November 2017
GUWAHATI: As Assam's BJP-led government is updating the National Register of Citizens (NRC) under the hawk's eye of the Supreme Court (SC), nearly 30 lakh people—mostly Muslim women—are apprehensive of being declared illegal immigrants and deported.
A whopping 47 lakh people had submitted residency certificates issued by panchayat authorities as a link document to claim citizenship. The Gauhati High Court (HC), however, found certificates of only 17 lakh people as genuine, while others were declared as invalid. Now, the fate of the latter will be decided on November 22 when the SC hears a PIL filed by the All Assam Minority Students' Union (AAMSU) challenging the HC ruling.
Adding to the panic is recent charge by JamiatUlema-e-Hind chiefMaulana Arshad Madani's that a conspiracy is being hatched to deport lakhs of Muslims and create a Myanmar-like situation in Assam. He had warned that Assam would burn and there would be loss of lives if 50 lakh Muslims are declared illegal immigrants. Taking exception to his alleged provocative statement, some organisations in Assam have filed cases against him with the police. The police are examining video footage of his statement made in Delhi.
"For years, the people in Assam have been living peacefully. Now, they are trying to destroy that communal amity. Ninety nine per cent Muslims in Assam have documents to establish they are genuine Indians. The Congress and the AsomGanaParishad governments accepted these certificates. (Former CM) TarunGogoi has asserted umpteen times that there is no foreigner in Assam. Assam will burn if their nationality is snatched away," Madani had warned.
Under the ongoing NRC exercise, names of only genuine Indians will be included in the updated draft with March 24 (midnight), 1971, as the cut-off date in accordance with the Assam Accord. As per the accord, which the then Rajiv Gandhi government had signed with the All Assam Students' Union (AASU) at the end of a six-year-long bloody anti-foreigners agitation of early 1980s, a foreigner (read Bangladeshi) who entered Assam after the above mentioned date will be declared an illegal immigrant and deported.
As per the 2011 Census, Assam has a population of 3.12 crore. The NRC authorities have received applications from 68.33 lakh families with a population of 3.28 crore. The difference of 16 lakh has been attributed to the growth in the state's population.
The AAMSU claimed that people had submitted certificates of residency as advised by the government authorities. "To establish linkage with their fathers, women were told to submit documents issued by panchayat authorities. The documents were countersigned by officers. We have informed this to the SC," AAMSU general secretary Ainuddin said.
He alleged that while the NRC is being updated, the police are harassing people by serving them notices suspecting their citizenship. The cases of immigrants are handled by some 100 foreigners' tribunals based on police reports and there have been instances where people, declared Bangladeshis and sent to jail, walked free in due course by winning their cases in the court.
The BJP views the non-Muslim Bangladeshi immigrants as victims of the Partition who had fled the neighbouring country in face of torture and religious persecution, and as such, favours granting them Indian citizenship. But various organisations in the state insist that these immigrants, irrespective of their faith, have to be deported. The AASU has made it clear that under no circumstance should the names of foreigners be included in the NRC.
It demanded a fool-proof system to keep foreigners out of the rolls. The SC had set December 31 as the deadline for the publication of the draft NRC. However, the Registrar General and Census Commissioner of India told the court on Thursday that it could happen only by next July, as "hurriedly preparing the draft NRC may cause a law and order problem in the state".
newindianexpress.com/thesundaystandard/2017/nov/18/spectre-of-deportation-gives-muslim-women-sleepless-nights-1704842.html
URL: https://www.newageislam.com/islam-women-feminism/actress-kareena-kapoor-khans-photo/d/113271