New Age Islam News Bureau
1 October 2020
• Mayar Sherif Makes Egyptian Tennis History
• Sudanese Women Keep Pushing for Democracy
• Harassers Face 'Naming and Shaming' After Saudi Shoura Council Ruling
• Working on the Ground to Meet Basic Needs of Beirut's Women And Girls
• Sudan: West Darfur Women's Forum for Peace
Compiled by New Age Islam News Bureau
URL: https://www.newageislam.com/islam-women-feminism/actor-politician-nusrat-jahan-receives/d/123007
--------
Actor-Politician Nusrat Jahan Receives Death Threats on Social Media after Posing As Goddess Durga
SEPTEMBER 29, 2020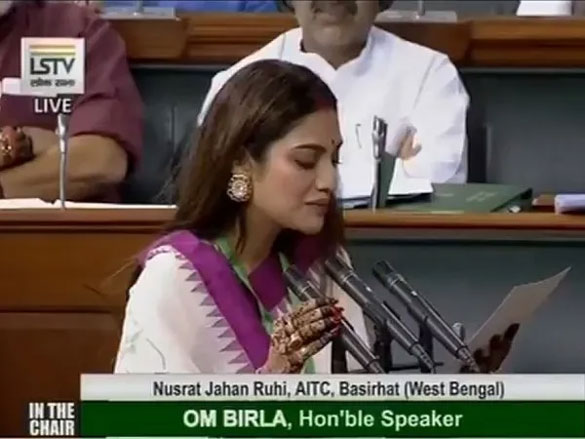 Nusrat Jahan received death threats on social media after she posted pictures and video of herself dressed as Goddess Durga
----
Actor-politician Nusrat Jahan Ruhi yet again found herself receiving threats on social media. This time for posing as the Hindu Goddess Durga. Jahan is reportedly receiving death threats for dressing up as the Goddess. She is currently visiting London for work.
Jahan took to her Instagram on the occasion of Mahalaya (September 17, 2020) and posted the image of herself dressed as Goddess Durga. She also posted videos from the photoshoot, following which, she started receiving a lot of hate texts and abuse online. Many users have sent her abusive threats in the post where she is seen posing as Durga. The Trinamool Congress (TMC) MP, Jahan is a Muslim born and is married to Nikhil Jain, a Hindu man.
Hours after posting the picture on Instagram, she was also reminded of the need for "modesty". An Instagram user told her to follow "Islamic values". Another user demanded her to change her surname.
This is not the first time that MP Jahan has received threats online. Last year, the photographs of the actress, attending Durga Puja with her husband had gone viral and she was targeted. "She has been offering puja to Hindu Gods despite the fact that Islam orders its followers to pray only to 'Allah'. What she has done is 'haram'" a cleric had said on camera.
Jahan spoke about online abuse targeted at women and said, "Just because it is virtual, doesn't mean it is not real. There has been a widespread increase in the spread of negativity. Online abuse towards women is on the rise," TOI reported. She further added,"Women will be judged on just about anything – cooking, wearing certain kinds of clothes, opinions, and for any generic activity. People giving rape and death threats online are ones with a sick mentality. All they have is a fake name or ID as cover and a lot of time to carry out such activities. I am concerned about this growing negativity in the online space but I do not pay much heed to such things. In real-life, I have dealt with stalkers and crazy fans so I know how to deal with all such people. My mantra is to ignore the negativity."
https://www.shethepeople.tv/news/mp-nusrat-jahan-durga-receives-death-threats-after-posing-as-goddess/
--------
Mayar Sherif Makes Egyptian Tennis History
September 28, 2020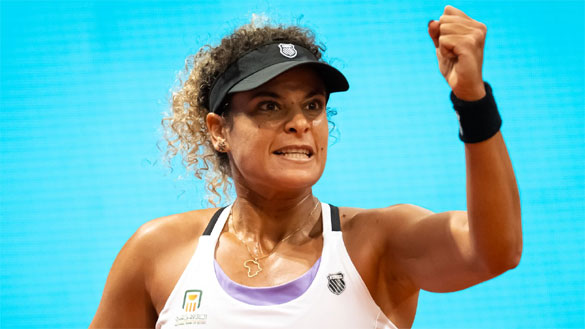 Mayar Sherif hopes she has inspired young Egyptian female tennis players after her performances at Roland Garros
----
CAIRO: Egyptian tennis player Mayar Sherif has made history by becoming the first Egyptian to qualify for the main draw in the French Open.
Egyptians took to social media to celebrate the player known as "Egypt's Golden Star," who became the first Egyptian woman to win a Grand Slam match.
The National Council for Women in Egypt also praised Sherif's qualification. The body said it was an unprecedented achievement for Egyptian sport.
Sherif was also the first Egyptian tennis player to qualify for the 2021 Olympic Games, after she beat Colombian Maria Osorio 6-4, 6-0 in the French Open, also known as Roland-Garros Series.
She also beat American tennis player Caty McNally 6-2, 6-4.
In statements to the Egyptian media, Sherif expressed her happiness with the achievement, adding that she was proud of the historical achievements made by Egyptian tennis.
Sherif said she is preparing for the 2021 Tokyo Olympics by taking part in major tournaments.
The 24-year-old player won eight singles and six doubles titles in the International Tennis Federation World Women's Tour.
She also won a gold medal at the 2019 African Games in Morocco, after defeating South African player Storm Simmons 2-0 in the final match. Ahead of the French Open 2020, Sherif also played in the Prague Open.
She studied at Pepperdine University in Malibu, California, and graduated in 2018 with a bachelor's degree in sports medicine.
The Roland-Garros Facebook page celebrated her success with a picture captioned: "Making history. Mayar Sherif becomes the first woman representing Egypt to win a Grand Slam match!"
Egyptian football star Mohamed Salah also praised Sherif, tweeting: "You make history."
https://www.arabnews.com/node/1740946/sport
--------
Sudanese Women Keep Pushing for Democracy
By Naba Mohiedeen
September 30, 2020
KHARTOUM - Sudanese women helped organize the protests that resulted in the ouster of former President Omar al-Bashir in 2019 after three decades of iron-fisted rule.
After his removal and the creation of a new transitional government, women are playing a prominent role in Sudan's politics.
A woman has been appointed a chief justice — the first, not only in Sudan but in the entire Arab world.
An unprecedented four women were appointed to cabinet positions in the new government, including the country's first female minister of foreign affairs, Asma Mohamed Abdalla.
But women are still marching to amend the laws and restore the rights taken from them under the strict Islamic code enforced by Bashir's government.
The Sudanese Professionals Association, or SPA, was one of the key groups behind the demonstrations that led to Bashir's ouster. Samahir Elmubarak, who heads the SPA's pharmacist's association, remains active in politics.
Elmubarak says she has never felt that they have reached a level where they should stop. She says the motivation that powered people to overthrow the Bashir regime is the same motivation that is pushing people to continue to reach the revolution's goals of freedom, peace and justice.
The June 3, 2019, crackdown on pro-democracy protesters in Khartoum left more than 120 people dead, including the eldest son of Amira Kabous.
Her son's death did not deter Kabous from being involved in the democratic movement, and she is now the deputy chief of an organization of people who lost relatives in the uprising.
Sitting beside a portrait of her late son in her house in Khartoum, Kabous is insistent.
She says what they are doing is the continuance of the martyr's role, and their sacrifices, but they have not reached their goals yet. They will continue, she adds, until they achieve all of the revolution's goals that their children sacrificed for, and until they see Sudan the way their children dreamed about, and they all are dreaming about.
Kabous and Elmubarak were recently awarded the 2020 Freedom House Award for their role in advancing democratic change in Sudan. The award was given under the theme "the power of protest."
https://www.voanews.com/africa/sudanese-women-keep-pushing-democracy
--------
Harassers Face 'Naming and Shaming' After Saudi Shoura Council Ruling
October 01, 2020
JEDDAH: Violations of Saudi Arabia's anti-sexual harassment laws could be punished by "naming and shaming" following a decision by the Kingdom's Shoura Council to approve a defamation penalty.
The council voted in favor of the penalty during its session on Wednesday after previously rejecting the move in March this year.
Council member Latifah Al-Shaalan said the proposal to include the penalty was sent by the Saudi Cabinet.
Saudi lawyer Njood Al-Qassim said she agrees with the move, adding that it will help eliminate harassment in workplaces and public places as well as in schools.
"The penalty will be imposed according to a court ruling under the supervision of judges, and according to the gravity of the crime and its impact on society," Al-Qassim told Arab News.
"This will be a deterrent against every harasser and molester," she said.
Al-Qassim said that legal experts are required to explain the system and its penalties to the public.
"The Public Prosecution has clarified those that may be subject to punishment for harassment crimes, including the perpetrator, instigator and accessory to the crime, the one who agreed with the harasser, malicious report provider, and the person who filed a malicious prosecution lawsuit," she added.
"The Public Prosecution also confirmed that attempted harassment requires half the penalty prescribed for the crime," said Al-Qassim.
In May 2018, the Shoura Council and Cabinet approved a measure criminalizing sexual harassment under which offenders will be fined up to SR100,000 ($26,660) and jailed for a maximum of two years, depending on the severity of the crime.
In the most severe cases, where the victims are children or disabled, for example, violators will face prison terms of up to five years and/or a maximum penalty of SR300,000.
Incidents that have been reported more than once will be subject to the maximum punishment.
The law seeks to combat harassment crimes, particularly those targeting children under 18 and people with special needs.
Witnesses are also encouraged to report violations and their identities will remain confidential.
The law defines sexual harassment as words or actions that hint at sexuality toward one person from another, or that harms the body, honor or modesty of a person in any way. It takes into account harassment in public areas, workplaces, schools, care centers, orphanages, homes and on social media.
"The legislation aims at combating the crime of harassment, preventing it, applying punishment against perpetrators and protecting the victims in order to safeguard the individual's privacy, dignity and personal freedom which are guaranteed by Islamic law and regulations," a statement from the Shoura Council said.
Council member Eqbal Darandari, who supports the law, said on Twitter that the defamation penalty has proven its effectiveness in crimes in which a criminal exploits a person's trust.
"The defamation of one person is a sufficient deterrent to the rest," she said.
Social media activist Hanan Abdullah told Arab News the decision "is a great deterrent for every harasser since some fear for their personal and family's reputation, and won't be deterred except through fear of defamation."
The move will protect women from "uneducated people who believe that whoever leaves her house deserves to be attacked and harassed," she said.
"Anyone who is unhappy with this decision should look at their behavior."
https://www.arabnews.com/node/1742611/saudi-arabia
--------
Working on the Ground to Meet Basic Needs of Beirut's Women And Girls
September 13, 2020
BEIRUT — A month after the Beirut Port explosion, life remains uncertain for thousands of women and girls. Among the displaced are an estimated 84,000 women and girls of reproductive age.
UNFPA, the agency specializing in reproductive and maternal health worldwide, is working with 12 partners on the ground to distribute dignity kits, which contain sanitary pads, soap, toothbrushes, toothpaste and towels.
These items are helping women and girls maintain their personal hygiene even amid the destruction and displacement. This is essential, community members have emphasized.
"Just like I would want my girls to be fed, I would also want them to have these basic hygienic needs," said Hayat Merhi, a woman with three adolescent daughters whose family was affected by the blast.
Pandemic, economic turmoil
The blast and its aftermath comes on top of the COVID-19 pandemic and an economic crisis, years in the making. Job losses have curtailed family spending, even as disease prevention is becoming more urgent than ever.
Too often, the needs of women and girls are the first to go unmet.
"There was a time when my daughters were using a piece of cloth instead of pads," said Lina Mroueh, who also has three adolescent daughters.
UNFPA partners have been canvassing blast-impacted areas as they distribute the dignity kits, speaking with women and girls about their circumstances. The work is challenging, but rewarding, they say.
"Bringing light into their broken homes and telling women and girls that their dignity, safety and personal needs matter to the world in these difficult times is the least we can do," described Rima Al Hussayni, director of Al Mithaq Association.
Life-saving information
The distribution of dignity kits is also an opportunity to address yet another crisis: gender-based violence, according to UNFPA.
Gender-based violence is known to increase in humanitarian settings and in times of economic stress. Amid the pandemic, many countries are reporting increased violence against women and rising demands for support services.
"It is very important to remember that dignity kits are helpful to women and girls, not only for the menstrual hygiene products, soaps and other items, but also as a way to reach women and girls with key messages about sexual and reproductive health and rights, gender-based violence, the prevention of sexual exploitation, and abuse services and information," said Felicia Jones, UNFPA's humanitarian coordinator.
The dignity kits contain referral information to connect survivors with help. The people distributing the kits are also trained to provide this information.
In some cases, they explain even more.
"We trained our staff to demonstrate how to use and maintain the items in the kit", said Gabby Fraidy of the Lebanese Council to Resist Violence Against Women. "We had 11-year-old girls who came to us, and our role was to share information about menstruation and explain to them that it is a natural and a biological process that occurs, and that it's a part of growing up."
Additional vulnerabilities
Akkarouna and Al Makassed associations are also distributing dignity kits to women and girls with disabilities, who often face additional vulnerabilities and challenges accessing sexual and reproductive health services and commodities.
It is estimated that around 12,000 disabled persons have been affected by the blast. — UN News
https://saudigazette.com.sa/article/597905
--------
Sudan: West Darfur Women's Forum for Peace
23 SEPTEMBER 2020
El Geneina — The West Darfur Women's Forum, that convened in the state capital El Geneina yesterday to involve women in the peace process, attracted broad participation of women in the state.
The forum also aims to achieve social peace and a democratic transformation. The participants seek to restructure women's organisations, and to set up an office in the area.
The West Darfur women will also select members for a delegation that will participate in the Darfur Women's Forum scheduled to be held in El Fasher, North Darfur, next month.
West Darfur Governor Mohamed El Doma acknowledged during the opening ceremony that his state government had made a mistake when no women were appointed to leadership positions. He pledged that women would be given more positions in the future, especially in the Legislative Council.
He called on the women to play a major role in fighting tribalism and achieving peace. "At this moment, community dialogue is the foundation we need to be able to normalise public life in our state that suffered so much from war, and to create political stability and security," he said.
Radio Dabanga's editorial independence means that we can continue to provide factual updates about political developments to Sudanese and international actors, educate people about how to avoid outbreaks of infectious diseases, and provide a window to the world for those in all corners of Sudan. Support Radio Dabanga for as little as €2.50, the equivalent of a cup of coffee.
https://allafrica.com/stories/202009230923.html
--------
URL: https://www.newageislam.com/islam-women-feminism/actor-politician-nusrat-jahan-receives/d/123007
New Age Islam, Islam Online, Islamic Website, African Muslim News, Arab World News, South Asia News, Indian Muslim News, World Muslim News, Women in Islam, Islamic Feminism, Arab Women, Women In Arab, Islamophobia in America, Muslim Women in West, Islam Women and Feminism