New Age Islam News Bureau
13 October 2022
• Women Wearing Burqas in Public Face $990 Fine under Swiss Draft Law
• Pak Private Schools Screens Anti-Malala Documentary Day after Her Visit
• Nada Radwan Wins Women's Gold at Arab Golf Championship
• Al-Nassr, Sama to Kick off Inaugural Saudi Women's Premier League On Thursday
• Malala Visits Women in Pakistan's Flood Camps
• Egyptian Women Play Prominent Role In Political, Legislative Life: Parliament Speaker
Compiled by New Age Islam News Bureau
URL: https://newageislam.com/islam-women-feminism/elnaaz-norouzi-strips-iranian-nudity/d/128171
--------
Actor Elnaaz Norouzi Strips In Support Of Protesting Iranian Women: 'Not Promoting Nudity but Freedom of Choice'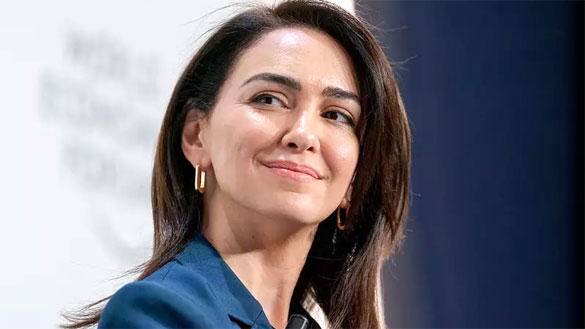 Actress Elnaaz Norouzi
-----
Oct 12, 2022
Actor Elnaaz Norouzi, known for starring in Sacred Games, has shared a video in which she stripped nude in support of the ongoing protests in Iran. Taking to Instagram, Elnaaz posted a video in which she wore several outfits highlighting that women have their own choice to wear whatever they want.
The video started with Elnaaz wearing a Burqa covering her head and entire face except for the eyes. She then took off the headscarf followed by the Burqa. She wore a dress underneath the burqa and a denim shirt and pants under that.
After that Elnaaz looked at the camera sporting a crop top and shorts. This was followed by Elnaaz wearing undergarments. As the video ended, Elnaaz took off her bikini top and covered her chest with her hands.
The words 'my body, my choice' was written in the video followed by 'if this is your choice, it's ok', 'and this is ok too', 'your choice, also ok', 'and so is this', and 'and this is ok too'. The video ended with the words 'woman life freedom'.
She captioned the post, "Every Woman, anywhere in the world, regardless of where she is from, should have the right to wear whatever she desires and when or wherever she desires to wear it. No man nor any other woman has the right to judge her or ask her to dress otherwise. Everyone has different views and beliefs and they have to be respected."
Elnaaz added, "Democracy means the power to decide… Every Woman should have the power to decide over her own body! (Muscles and collision emojis). I am not promoting nudity, I am promoting freedom of choice!" She also added the hashtags--Mahsa Amini, women, free Iran, women supporting women, women empowerment, freedom, freedom of choice, freedom of speech, women, and my body my choice.
Elnaaz's post comes in solidarity with protests that erupted in Iran after 22-year-old Mahsa Amini died in custody after she was detained for allegedly violating strict Islamic dress codes for women.
Source: Hindustan Times
https://www.hindustantimes.com/entertainment/bollywood/elnaaz-norouzi-strips-nude-in-solidarity-of-iran-protests-watch-video-101665561277272.html
--------
Women Wearing Burqas in Public Face $990 Fine under Swiss Draft Law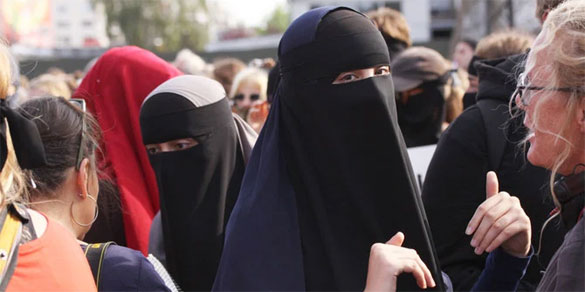 Switzerland's government has drafted a new law to issue 990 Swiss franc ($990) fines to women wearing burqas in public. (Shutterstock)
----
October 12, 2022
LONDON: Switzerland's government has drafted a new law to issue 990 Swiss franc ($990) fines to women wearing burqas in public.
However, the draft law sent to parliament on Wednesday does not mention the burqa by name, and includes several exemptions for wearing face coverings on aircraft, as well as in diplomatic premises and religious sites.
Artistic performances and advertising are also exempt from the ban.
About 5 percent of Switzerland's population is Muslim, with many originating from Turkey and Balkan states, including Bosnia and Kosovo.
Within Europe, Denmark, Austria, the Netherlands and Bulgaria have partial or complete bans on wearing face coverings in public.
The Swiss move was launched by the same political group that oversaw the 2009 ban on new minarets in the country. The proposal to ban face coverings in public was passed in a binding referendum in 2021.
After political consultations this year, the Swiss Cabinet reduced the penalty for breaking the burqa law from a proposed 10,000 Swiss francs.
A Cabinet statement said: "The ban on covering faces aims to ensure public safety and order. Punishment is not the priority."
Source: Arab News
https://www.arabnews.com/node/2180046/world
--------
Pak Private Schools Screens Anti-Malala Documentary Day After Her Visit
October 12, 2022
Lahore: A private schools' association that claims to represent a combined 20 million students in Pakistan held "I am not Malala Day" across schools on Wednesday in response to Malala Yousafzai's controversial views on Islam and marriage, a day after the Nobel laureate landed in her home country after more than four years.
Ms Yousafzai arrived in Pakistan on Tuesday to inspect regions hit by the cataclysmic floods and meet flood-hit victims.
More than 1,700 people have been killed, 33 million displaced and a third of the country submerged under water in the worst floods to hit Pakistan, which brought about unprecedented rains since mid-June.
"I am not Malala Day" is an event named in reference to Ms Yousafzai's autobiography titled "I am Malala," in which private schools in Pakistan hold lectures and seminars to expose her "western agenda." The All Pakistan Private Schools Federation (APPSF), an organisation that claims to represent a combined 20 million students in Pakistan, also showed a documentary film titled "I am not Malala-II".
"In this documentary, Malala's acts of attacking the institution of marriage and family structure by advocating that people should live in sin, has been highlighted," Kashif Mirza, president of All Pakistan Private Schools Federation (APPSF) told PTI.
In November 2021, Ms Yousafzai married Asser Malik at a private ceremony in Birmingham.
Through lectures and seminars, the APPSF has educated 26 million students through its 1.5 million teachers across 200,000 schools regarding Malala's controversial views on marriage, Mr Mirza noted.
In response to Ms Yousafzai declaring the Pakistan Army as 'terrorist' in her book, Mr Mirza said:"October 12 is also observed as a black day and all teachers of the private schools associated with the federation wear black armbands condemning Ms Malala for her controversial views about Islamic practices." YMs ousafzai, 25, last visited Pakistan in March 2018.
On Wednesday, she visited flood-affected district of Dadu, in Sindh province.
The timing of her return to Pakistan coincides with rise in terror incidents in her hometown in Swat Valley.
On Monday, unknown terrorists opened fire at a school van taking school students to Gulibagh area in the Swat Valley, which killed the driver and injured two students.
The latest attack has brought residents to streets, who are demanding justice to the victims and an end to the unrelenting wave of terror attacks in the restive region. Overall, this is her second visit to Pakistan since she survived a Taliban attack in Swat Valley in October 2012, following which she was flown to a specialised hospital in Birmingham in the UK.
After her recovery, Ms Yousafzai announced that she would launch a movement for the promotion of girls' education.
In December 2014, Ms Yousafzai aged 17, became the youngest to become the Nobel Prize laureate.
Source: ND TV
https://www.ndtv.com/world-news/pak-private-schools-screens-anti-malala-documentary-day-after-her-visit-3426096
--------
Nada Radwan wins women's gold at Arab Golf Championship
13 Oct 2022
Doha: Qatar's Nada Radwan claimed the gold medal of women's event at the 2022 Arab Golf Championships held in Tunisia with participation of 100 players from 11 countries.
Nada Radwan took the first place ahead of Alia Al Emadi of United Arab Emirates in the second place while Kenza Ladhari of Tunisia finished third.
Mohamed Faisal Al Naimi, Board Member of the Qatar Golf Association (QGA) congratulated Nada Radwan on her achievement and stressed that team Qatar has showed a great level in the championship.
Source: The Peninsula Qatar
https://thepeninsulaqatar.com/article/13/10/2022/nada-radwan-wins-womens-gold-at-arab-golf-championship
--------
Al-Nassr, Sama to kick off inaugural Saudi Women's Premier League on Thursday
October 12, 2022
RIYADH: The inaugural Saudi Women's Premier League will kick off on Thursday when Al-Nassr take on Sama at the Prince Faisal bin Fahd Stadium's reserve pitch in Riyadh.
The historic fixture will mark the start of the new competition organized by the Saudi Arabian Football Federation, which will include eight teams facing each other on a home-and-away basis over a total of 56 matches.
In 2020, the Women's Football League, established by the Saudi Sports for All Federation, took place and that was followed last year by the SAFF Regional Football League.
The revamp of the women's football pyramid in the Kingdom means that alongside the eight-team Premier League, the SAFF Regional Football League will now be known as the First Division and will include 17 teams competing across three cities.
The SAFF also announced that ticket prices for the Premier League would be set at SR40 ($10.60).
Friday's two Premier League fixtures will see Al-Yamamah face Eastern Flames (Al-Sharqiya), also at the reserve pitch of Prince Faisal bin Fahd Stadium, and Al-Shabab take on Al-Hilal at King Abdullah Sports City in Jeddah.
The final match of the opening round will see Al-Ittihad meet Al-Ahly on Saturday at King Abdullah Sports City.
The SAFF has set aside total prize money of almost $370,000 for the competition, with the winners walking way with $133,000. Second place will receive around $80,000, and third $53,000.
The clubs finishing in fourth to eighth positions will receive prizes ranging from $27,000 to $16,000.
Source: Arab News
https://www.arabnews.com/node/2179751/sport
--------
Malala visits women in Pakistan's flood camps
October 13, 2022
Nobel Peace laureate Malala Yousafzai met Wednesday with victims of Pakistan's devastating monsoon floods, in only the second visit to her home country since being shot by the Taliban a decade ago.
Catastrophic flooding this summer put one-third of Pakistan under water, displaced eight million people, and caused at least an estimated $28 billion in damage.
Yousafzai visited camps in rural Sindh province where she met families who have fled their submerged villages.
"The scale of the destruction is astounding and the psychosocial and economic impact on the lives of people, especially women and girls cannot be overstated," Yousafzai said in a statement released by her organisation, the Malala Fund.
"World leaders must step up, accelerate their response plans and mobilise funds needed to help Pakistan rebuild and support impacted populations."
The Malala Fund has committed up to $700,000 to organisations in Pakistan.
More than three million children have also had their education disrupted while thousands of schools have been damaged.
Authorities are also battling a health crisis of malaria, dengue and malnutrition that has broken out among flood victims living in thousands of makeshift camps across the country.
Yousafzai was 15 years old when the Pakistani Taliban –- an independent group that shares an ideology with the Afghan Taliban –- shot her in the head over her campaign for girls' education in the Swat Valley.
She was flown to Britain for life-saving treatment and went on to become a global education advocate and the youngest-ever Nobel Peace Prize winner.
The militant group, known as the Tehreek-e-Taliban Pakistan (TTP), waged a years-long insurgency that ended with a major military crackdown in 2014.
But the group has surged again in the region since the Taliban returned to power in Kabul last year, with thousands of people protesting on Tuesday against the deterioration in security.
Source: UCA News
https://www.ucanews.com/news/malala-visits-women-in-pakistans-flood-camps/99074
--------
Egyptian women play prominent role in political, legislative life: Parliament speaker
12 Oct 2022
Addressing a meeting held by the Inter-Parliamentary Union on 'The Role of Parliaments in Promoting Gender Equality' in Rwanda on Wednesday, Gibali said "women have always represented a basic cornerstone of progress and human prosperity, not to mention an effective force in building up world civilisations."
"Women have even become a basic guarantee and vital condition for the durability and stability of nations and peoples," said Gibali.
"As for Egyptian women, they have always been a unique icon and an effective player, and thanks to initiatives taken by the country's political leadership in recent years, they have gained a lot of political, economic and legislative rights," said Gibali.
Gibali explained that "Egypt's constitution and legislations have banned all of forms of gender inequality, allowing women to actively play political, legislative and economic roles in all sectors and perform all kinds of public jobs and responsibilities."
Gibali urged the parliaments of all world countries to do more to empower women, adding that current global challenges should not stand as an obstacle in the way of allowing women to play active roles on all fronts, as this is a basic guarantee for the progress of societies.
Source: Ahram
https://english.ahram.org.eg/NewsContent/1/2/477740/Egypt/Society/Egyptian-women-play-prominent-role-in-political,-l.aspx
--------
URL: https://newageislam.com/islam-women-feminism/elnaaz-norouzi-strips-iranian-nudity/d/128171
New Age Islam, Islam Online, Islamic Website, African Muslim News, Arab World News, South Asia News, Indian Muslim News, World Muslim News, Women in Islam, Islamic Feminism, Arab Women, Women In Arab, Islamophobia in America, Muslim Women in West, Islam Women and Feminism